Ready to fall in love again, but these times not with you're soon to be husband but with elegant wedding hairstyles perfect for summer 2023. I for sure can say that you have planned everything for your wedding.
From your wedding ceremony place to the seating arrangement, from the music band to your steps to first dance together as husband and wife, from the food menu to all the cocktail drinks to be served, you are well prepared. And now the only thing you are worried about is your wedding dress and leaving another important thing to decide is your hairstyle.
As the summer of 2023 is copping up, we here in this article shortlisted the best-braided wedding hairdos for all the pretty brides.
We choose to shortlist only the braided hairstyle as this hot season it is better to have braids to accessories your special look. Whether you are a bride with straight silky, bouncy curly or decided to go with natural texture hair before we go on, we want to tell you will look fascinating on your special day.
The braids hairstyle adds a lot more softness, tenderness, and romantic vibe. Adding braids will make your hairdo traditional as well as modern and along with all these 20 years later looking back to the wedding pictures will not be regret session as braids are every green to style your perfect hairdos.
We have gone from each and every hairstyle and gather around 35 stunning wedding hairstyles with braids. This hairstyle has covered every type of braided wedding hairdo; whether you are in search of light, easy and romantic, or looking more for a modern elegant look, this article has it all. Let's keep going so we could find the perfect braided hairstyle for your special day.
1. Dutch Style Crown Braid Hairstyle
We are starting our list with a relaxed, simple hairdo for an easy-going bride. If you are having a close ceremony and nothing to fancy, then you have to go through this hairstyle. As not so fancy but a cool, relaxed as well as an elegant ceremony we have a perfect hairdo to go with your wedding theme.
To achieve this relaxed, elegant look, you just have to ask you're stylish to design a Dutch braid wrapped around her head as a braid crown.
The braid crown is done by braids piled high on the top of each other especially at the back to add more volume to the hairstyle. By doing this, there is no need for other adornment or accessories to style the hairstyle.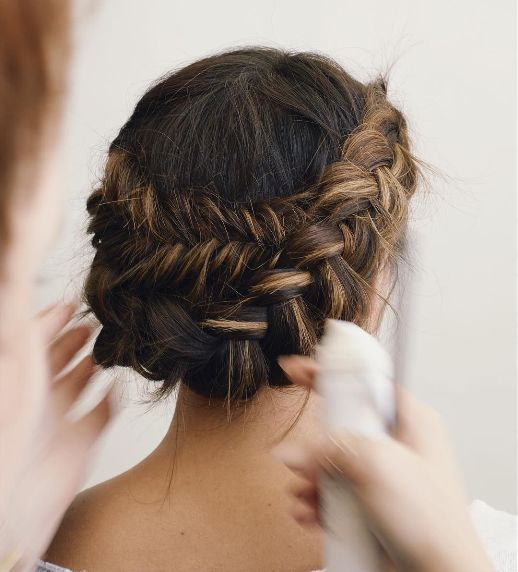 2. Full-Volume Loosens Out French Fishtail Braid Hairdo
The second hairstyle on our list is another one without the requirement of any accessorizing to make it beautiful. And to add more volume to your hair, we have gone for full French loosen braids.
As from the above image, we can see the white-blonde hairs are wrapped in twisted French fishtail braids from her head to the end. The hairstyle is finely done, which makes it every strand neatly.
The hairstyle is perfect if you have ultra-thick and ultra-long locks, then this is for you. This and easy to carry hairstyle for a bride who wants to enjoy her wedding too fully.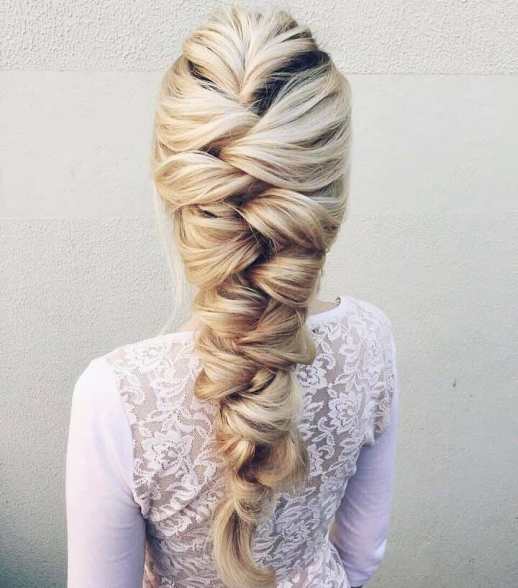 3. Filled With Romance Celtic Braided Hairstyle
Who does not want an outdoor breezy wedding? And to go with the wedding theme, we have a perfect soft romantic hairstyle. This simple hairdo includes a simple braid on the side.
In this hairstyle, it is a simply done braid but to add little more charm you can go with French fishtail for the hairdo. The glossy, bouncy curls in her hair are perfectly romantic.
According to us, there is no need for an accessory but if you want we suggest you go with real flowers as the theme is outdoor. This hairstyle is perfectly breezy, sweet and romantic for the outdoor ceremony.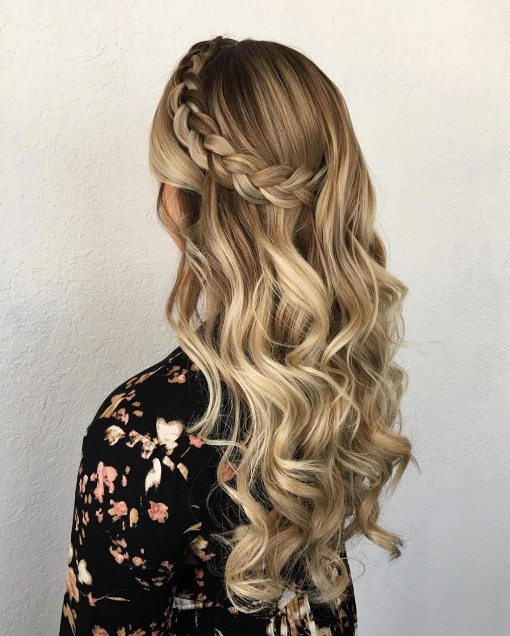 4. Swoon-Worthy Low Bun
The low bun is a modern wedding hairstyle. Center puff gives your face a little height, and side thick braid is rolled into a bun.
Front to back small flicks lose freely which frames your entire face. It is a comfortable option for short hairs and gives you a princess looks.
5. Nostalgic Twisted Updo
The girl wants to look beautiful and best on her special day. While choosing your outfit or hairstyle, keep in mind your wedding location.
This twisted updo is perfect for the beach wedding. If you are a bride, then add some flowers into your bun or if you are going as a bridesmaid, then keep it simple and stylish.
6. Lookalike Rapunzel
some different and famous animated princess hairstyle on your wedding. Rapunzel inspires this hairstyle.
Front hairs are backcombed and others are converted into a braid which is decorated with a vine. An of shoulder dress with floral earrings completes your overall look.
7. Floral Infused Messy Braid
Hairstyle requires long hairs just because of the braids involved in this beauty. At first, two braids will be made on each side which will join together to form a V shape. Then, these four braids will make a big braid but it will look messy.
In the end, some flowers will be added to give it a natural tone. This hairstyle looks great in photoshoots and French models love the hairstyle.
8. Loose Dutch Braid
Hairstyle requires your hands only, no equipment, and no professional. The overall look of it is messy while slaying also.
At first, a braid is made, and then a knot is made to use the remaining hairs. This can be paired with everyday dresses however, it can also be used on special occasions.
9. Crown Braid Natural
The classic crown braid is so refreshing and elegant for a wedding. Change your regular braid with a fishtail braid with some messy strands. This fabulous wedding hairstyle is perfect for a summer wedding when paired with a chic white gown.
For face-framing front fringes are loose freely on the face and other hairs are converting into a fishtail braid and turn the braid around the head. On the bottom part, decorate it with small white flowers or vine. It is a versatile hairstyle for every hair type or length.
10. Barely-There Braided Bun
A messy bun is a new trend, so your natural hair texture is best for a messy bun. This wild and free cool hairstyle looks so classy. Even if your hair is highlighted this one-sided loose braid beautifully shows your hair high lightning.
It is only suitable for shoulder length hairs. Messy hairstyle is not comfortable for the summer season so we can say it is a winter hairstyle. Wear a strapless gown with small ear studs to look more alluring.
11. Full Volume Teased Out
Long hairs are not easy to maintain, especially at your wedding. This fishtail braid is thick, full of volume and gorgeous. It takes time and a professional hairstylist because of its incredible pattern. An animated princess hairstyle inspires it.
Put your braid on the right side which makes your overall look different from other hairstyles. Paired it with a simple outfit. If your hair is medium but you want a voluminous long hairdo, then use extensions to fulfill your choice.
12. Unstructured Updo
Updos are in trend because of its effortlessly and polished look. The best way to style your curl is this unstructured boho updo. Tousled locks with an undone and backcombed rounded bun.
In most of the bridal hairstyles, 10-15 pins are used which is quite hectic to remove after the wedding but in an unstructured updo, only 2-3 hairpins are used.
Front and sides are different which look so amazing on bright colored hairs. It is a simple hairstyle which can easily wear by bridesmaids also.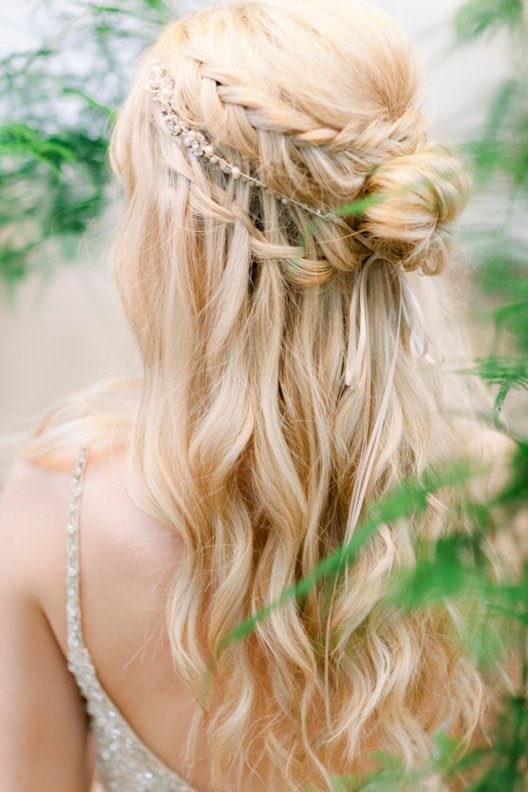 13. Grecian Goddess Braid
Long hairs get the entire spotlight, but short ones do not be considered as a white elephant. It is a wraparound thin braid that looks like a goddess braid. This short hairstyle looks so great on icy blonde hairs. The natural and blonde hair mixture is so stylish.
It is a simple hairstyle that is so versatile and wears on every special occasion. Pair it with a one-shoulder gown and a beautiful necklace.
It is easy to do hairstyle and does not require any help from a professional which is pocket friendly. Front hairs are styled according to your face and choice.
14. Celtic Braided Romance
It is a type of half updo with some creative braid. Medium curly hairs have many options for your special day. This romantic and carefree hairstyle is perfect for every season. To make this hairstyle divide your hair into two parts and start making braids on each side like a crown braid.
Use a curler to make loose curls on the rest of the hairs. Most of the pattern and braids of the hairstyle is perfect shows in bright or light-colored hairs so Celtic braided is one of them.
15. Dressed Up Milkmaid Braid
This one is quite popular in French and Italy because of its off the hook looks. However, this one is being used normally at a wedding ceremony by the bride. This hairstyle has a braid at the top of the head, which will go around the head.
Then all the remaining hairs will be curled by the stylists to give that spiral look. All these hairs will be hanging freely like pigtails hairstyle.
This is one of the toughest to execute and can be done only by a professional. The last thing to keep in mind is that it will only suit only light hair color, not the dark ones.
16. Draped Crown With Curls
This hairstyle involves a tremendous amount of steps to accomplish the final look. At first, all the hairs will be curled by hairstyling equipment. In the second stage, a braid will be maid going from upward to downward, then it will be twisted around the head.
It will look like a ring of the planet Saturn. If all the steps will be done correctly, then the outcome will decimate the hairstyle of the other women.
This one is also for special occasions like the previous one and they share some similarities between them. This looks good on strawberry blonde and simple blonde hair color.
17. Timeless Bridal Look
This is one of these hairstyles which requires only two things, one your hair and second a friend of yours. At first, tell your friend to do two braids at the side of the right side and the braid will go along to the left side. The braids should have a proper size, not too thick or thin.
The rest of the hairs should be not touched and they will remain as their natural position. This will look great at night parties, or if you are running late from any event, you can rely on this beauty.
18. Snow-White Double Layered Braided Hairdo
Giving a glance to the above picture, we can see how beautiful the snow-white hairs are turned into a beautiful elegant hairstyle. The Celtic knot in the hairstyle is a beautiful sign of romance and elegance in her attire.
The double-layer braids are done in a waterfall hairstyle hat again is making it a perfect hairstyle for an outdoor ceremony. The snow-white hair color will be a gorgeous fit with a lace white bride dress.
19. Bouncy Short Hairstyle with Fluffed Outside Braid
Too much for long hair brides now, let's introduce you to a short hair bridal hairdo on our list. This hairstyle is sweet chic vide hairdo with a side all fluffed out braid. The soft waves added in the hairstyle are perfect for a destination wedding on the beachside.
Again the white blonde hair color with dark roots making it a bold choice for a bride. In my opinion, this hairstyle is all about feminism and boldness with a traditional touch.
20. Elegant Simple Wrapped Bun with Touch of Braid Hairdo
If you are not into braiding hairstyles especially not seeing yourself walking down the aisles with a braid hairstyle but you are getting suggestions to try it as you have an aspiring wedding then stop worrying angel!. We have got your back.
With this elegant bun hairstyle with just a touch of braid, you are good to go. This hairdo is a simple bun with some front fullness. The bun is a twisted messy wrapping of hairs but with a thin braid along with other strands. The braid in the bun is working as a beautiful, elegant accessory.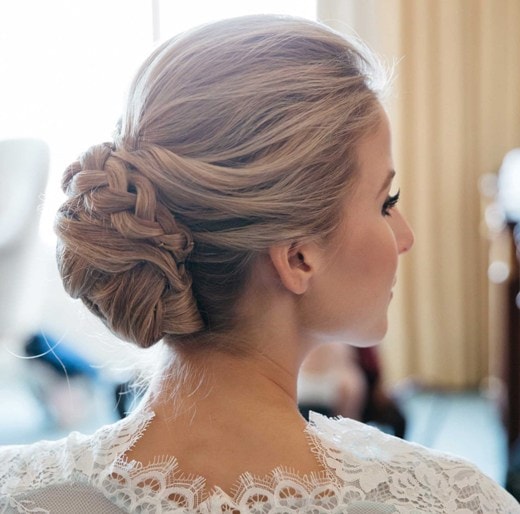 21. Daisy Crown Braided Hairdo
If you have a personality of simple and unique and want to showcase it throughout your wedding day, then here is a good hairdo option for you. The hairstyle is different and unique as in here we have opted for a simple braid throughout the hairstyle.
There is a French touch on the crown part but it is followed by simple braid. Most of the brides want to go with open hair hairdos or some with buns and very few with French tails but there are less than few braids who ever think of going all simple with elegant traditional braid on their special day.
22. French Style Midis Waterfall Hairstyle
Adding the French touch to the braid makes it fancier and gorgeous for a special event. In this hairstyle too the case is similar. The French braid midis are done on both sides. They are tied to gather at the back to form a sophisticated waterfall.
The messy, uneven soft waves to her hair are brought more focus to her hairstyle and her face. This hairdo will go hand in hand with a flower printed fluffy gown on the bride.
23. Classic Side French Hairstyle Along With Fluffy Bun
Searching for a simpler easy to do hairstyle for your special event then go through the hairstyle and put your search to an end. The hairstyle is classic as well as stunning. The golden shiny blonde hair of the lady in the above picture is classically styled by French braid on one side.
She has gone for a traditional bun but according to our stylish, the rest of the hair can be left open or scooped together to form a ponytail. The choice can be done by taking consideration of your theme for the wedding.
24. Sharpen Fished Posh Fishtail Side Bun Hairdo
The above hairstyle and this hairstyle are a bit similar to each other. The only differences between these hairdos are that the above hairstyle is intact to gather and is a classic elegant look the bride's attire but this hairdo is more of boldness and sharpens to the bride's attire.
The neatly done French braid, as well as the braid bun on one side, is all about sophisticated and feminism at the same time. These two hairstyles will go perfectly with other colored bride dresses along with the traditional white one.
25. French Tugged Out Braid Bun Hairstyle
If you are fond of braids and in search of a perfectly braid hairdo including all braids, then this hairstyle is absolutely for you. The above hairstyle is gorgeous, elegant and all braids.
The hairstyle looks a combination of inverse braids along with the touch of French fishtail braids that are settled beautifully on her head.
The hairstyle is finished with an arcing, offset hair accessory. The silver accessory wrapped around the braids brings a focal point to well done designed braids. The hairstyle all together looks pretty.
26. Crowing Glory Bridal Hairstyle
If you wish for a style that gives a sleek and elegant finish, you can opt for this hairdo. A single thin and tighter plait is added at the top like a tiara. Your lustrous curls are tied into a side low bun.
The shiny accessories add shine, completing the crown look. Apply soft eye make-up to accent a smooth and classic style.
27. Messy Side Braid
An outdoor spring wedding with flowers in full bloom is a dream of every bride. A messy side braid goes with the theme. A French side braid keeps your hair in place but allows enough movement with those messy loose strands.
The hairstyle maintains the structure of your face and enhances your overall beauty. You can further accessorize the braid with flowers.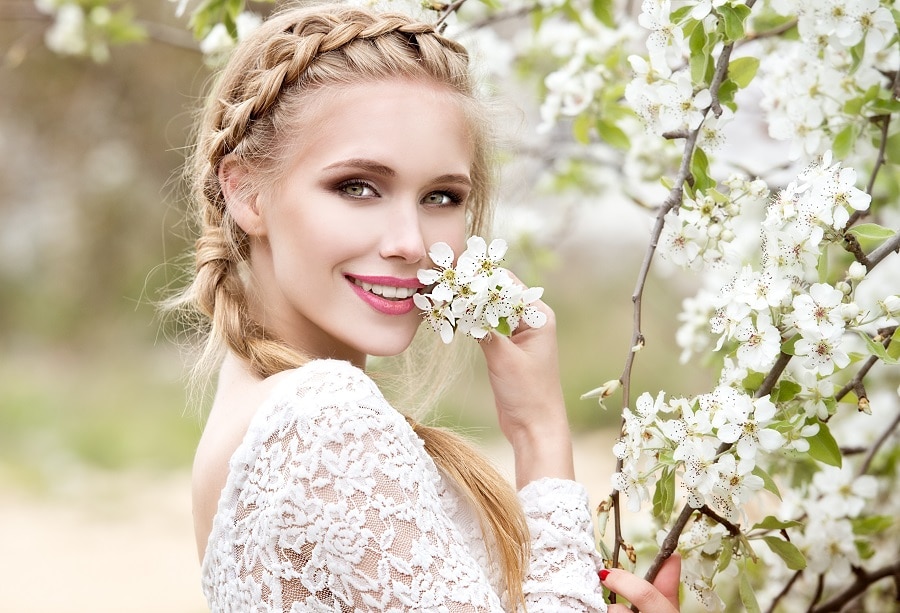 28. Dreamy Bridal Style
A dreamy hairstyle that is soft, wavy, easy to wear, and highly customizable takes us back to the era of romanticism. Create a fishtail braid around your forehead on both sides; when you have braided more than halfway down, connect the braids and secure them.
Pull on each section of the braid to create a more textured braid. Curl your hair with curling irons and decorate with flowers.
29. Braided Chignon
An updo hairstyle is a great way of taming your long tresses and is appropriate for more formal weddings. A chignon is a classic style for the bride of such a wedding. Middle-part your hair and start braiding backward.
Make a low chignon bun with the rest of your hair. The long lengths translate into more volume, which looks full and royal. Decorate your bun with lavender, the symbol of grace and perfect for a bride.
30. Half Up Half Down
Half up half down is a captivating hairstyle and the perfect way to create a chic look for any occasion, even a wedding. Flower accessories add an extra touch of elegance and femininity.
Start plating your hair from the sides of your forehead and connect them at the back. Curly hair and the balayage make this hairstyle out-of-the-world. Flaunt the royal Khaleesi look.
31. Gathered Braided Flowers
Long thick hair can be designed in beautiful patterns, and what better pattern for a bride than roses. Brush your hair back. Braid from the front, making two side braids.
Braid to the end, and then you're your braids around to make flower patterns. This Wedding hairstyles with braids may require professional help. The silver headpiece adds drama to this updo.
32. Fishtail Braid
The fishtail braid can easily add volume and texture to fine hair structure. A loosely done fishtail braid adds fun to your hairstyle, like your personality.
Style your front hair in tousled waves. Tie the rest of your long hair into a loose fishtail braid. Pull the sections to make the braid appear thicker. The lace headdress with a large white flower makes a bold statement.
33. Crown Braided Bridal Hairstyle
A beautiful lace braided crowning hairstyle among Wedding hairstyles with braids is perfect for a summer afternoon nuptial. This undone braided style is versatile.
All the wispy strands and loose hair creates a lovely lush volume. Blow-dry your hair to give a lift at the roots. Bejeweled hair clips go well with the blond hair color.
34. Boho Braided Hairstyle
You wish to subdue your thick long hair but don't want an updo, A boho style braid can be your answer. Start plating from the top and slowly graduate towards the center.
Connect the plates and weave a loose fishtail braid. The subtle highlights give a two-tone effect to the braid. You can accessorize your hair with small flowers or clips.
35. Side Fishtail Updo
This fishtail updo is fit for any season. Unlike the usual fishtail braid, where the sections are taken from the top back, take sections of your hair from the sides.
Accessorize with flower headpins for a bridal finish. The contrast between light and dark hair colors will easily make you stand out.
With all the braids going on in the above gorgeous hairdos, we provide you some easy to do tips for creating these elegant and gorgeous braid hairstyles.
To create a full-volume braid which will look plump up to the hairstyle is to do by adding texturizing spray as well as gently tugging the edges in until it's your desired width. If you do not have extra volume, then consider adding extensions.
It does not matter what you were or don with your hairstyle until you are happy to marry your love of life. No matter what, you are going to be the most beautiful woman in the hall marrying her prince charming. We wish you a happy lovely married life and hope this article helped you with your big day.