Brides have a knack for looking effortlessly polished. But in reality, it takes a lot of work to look so good! These beach wedding hairstyles are delightfully simple yet highly elegant and absolutely stunning.
If you're looking for a hairdo to wear to your special day on the sandy shores, then you'll need a little inspiration. There are many different types of 'dos that'll make you look your best on this big day.
Most Delightful Beach Wedding Hairstyles
Look below for all the inspiration you need. These 25 brides have fabulous hair that you'll certainly love to replicate.
Thick Blonde Curls
Have you ever tried blonde curls? They create such a simple look, which is also incredible. You'll need a skilled hairstylist to help create this perfect curl pattern.
There's so much volume here. The curls fall effortlessly into place, and long bangs are pinned back. It's so summery and absolutely stunning.
Loose Low Updo
Updos are great beach wedding hairstyles as they help you tame long tresses. This one is very loose so it still has that gentle summery vibe.
Draw the back of your hair up into the updo. Twist the sides back into it, too. Leave the curly bangs free to frame the face in a controlled manner.
Messy Topknot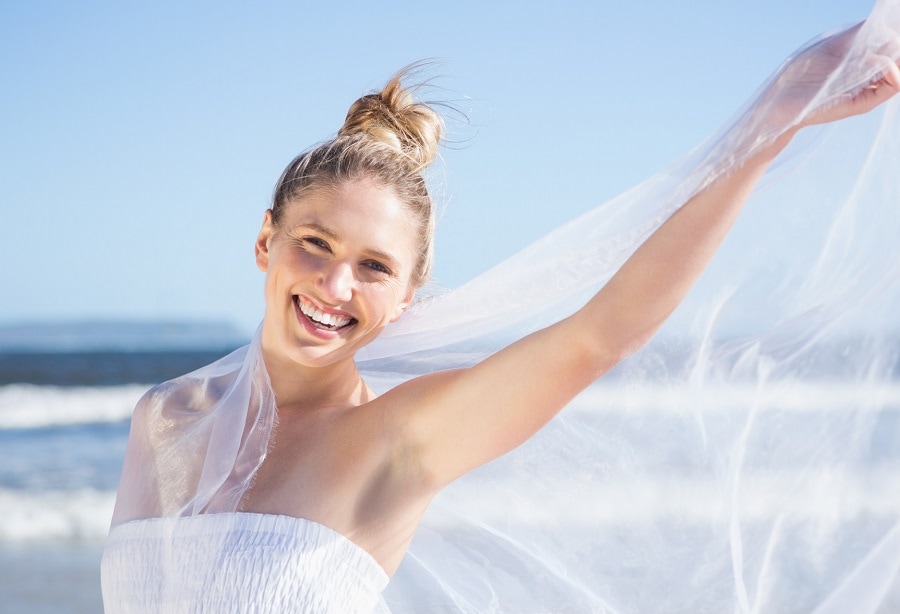 Some brides may prefer a more casual hairdo. This is perfect for that. All the locks are pulled up sleekly into a perfectly round topknot. It's elegant, but it still looks like something you could easily style at home on your own if you'd rather not use a stylist.
Shoulder Length Loose Locks
Here's another casual beach wedding hair that totally matches the vibe of your sunny special day. The layered locks are left loose to brush the shoulders. The main focus of this is a large flower crown to match your dress.
Voluminous Glamorous Curls
If you're going for something a little more glamorous, then here you go! These large curls have a ton of volume on top and at the back. Pairing the pale blonde color with bold red lipstick makes this a super daring wedding look.
Medium Curly Updo
Medium-length hair is perfect for styling into an updo. It won't be too voluminous, and it'll be easy to tame. Pull your locks back and pin them into place. Arrange some curls on top of your head. Leave a loose strand by your face.
Messy Wavy Locks
Wavy hair is a classic hairstyle for beach weddings. Adding a veil adds a touch of elegance that makes it perfect for your big day. It's a youthful, fun, and summery style.
Braided Updo
Braided hairstyle are classic bridal hairdos. Most of the hair is pulled back tightly towards the back of the head. A single braid forms along the top of the head. It blends into the large, round, braided updo so well.
Retro Vintage Rolls
Vintage looks never go out of fashion and this type of hairstyle is perfect for beach. Pull the sides of your hair back. Form a large victory roll right on top of your head using the back section of your hair. It's retro-chic and elegant enough to go well with your beautiful dress.
Elegant Short Bob
Sometimes it is difficult to style short hair for a beach wedding. However, this short bob looks effortless. There's a side parting to create an interesting appearance. The ends of the locks form a large curl that pulls back towards the neck.
Curly Updo with Flower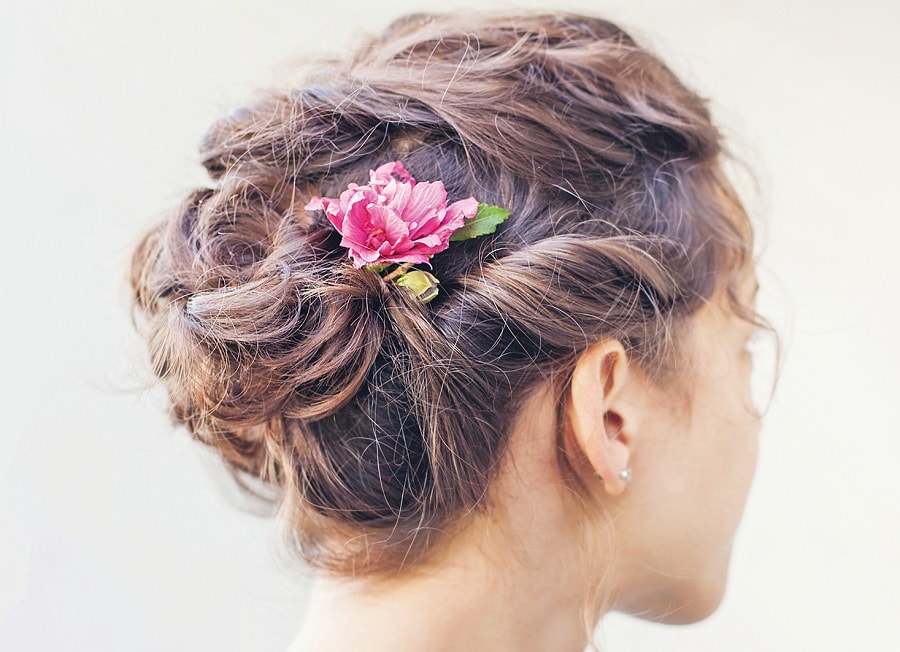 Curly hair has such a beautiful texture when it forms an updo. Create twists at the side of your hair. Pull these back into a perfectly pinned updo.
Give the top a nice texture as you pull it back also. Leave some wispy curls by the face. Add a flower for decoration.
White Blonde Waves
Incredibly white blonde hair colors go nicely with white wedding dresses. These light shades often get washed out with plain hair, though.
Having wavy hair makes sure this doesn't happen. Pull back some of the sides and pin them very loosely. Add a nice floral decoration to add some contrast.
Long Brunette Locks
Hairdos that have been styled very minimally look so effortless. Here there's a slightly long brunette curly hair for beach wedding. A stunning, simple flower crown adds a graceful touch.
Funky Boxer Braids
Modern boxer brides with colored hair may like to color sections of their hair white for their beach wedding. It looks so good when worn in a pair of braids like this. It's such a simple look, and it's very playful.
Buns are a very chic type of beach wedding hairstyle. They're surprisingly elegant. Pull your hair toward the back of your head with a center parting. Create a textured bun on the nape of your neck.
Wedding Hairstyle with Veil
Flower crowns are very common for brides who get married on the beach. They have a vibe that screams "summer" and it's perfect for your special day. They pair well with simple wavy hairdos like this one.
Layered Side Bangs
Creating a nice curly updo is a wonderful idea for this special event. Pull your curly locks to the back of your head and add a veil. At the front, you can style some layered side bangs. They cover most of the forehead, but they're angled to one side.
Ethereal Beauty
Women with red hair look surprisingly carefree when they leave their hair down.
If your hair is very thick with a naturally wavy texture like this, then it's perfect. It's an excellent beach wedding hairstyle for long hair that requires very little effort on your part.
Half Updo with Highlights
Adding highlights to your look creates contrast that's visually dynamic and appealing.
This is an easy style you can do by pulling the sides of your hair back. They're pinned at the back and blend in with the rest of your locks. They then cascade nicely down your back.
Fishtail Ponytail
At first glance, this beach wedding hairstyle looks like a ponytail. The top section of hair is styled very specifically to pull into it.
However, you can see it's loosely braided in a fishtail style. A large hairpiece adds elegance as it decorates the hair. It's made of clear jewels that match the band that secures the end of the braid.
Thick Curls with Twists
Thick curls are absolutely to die for. This is especially true if they're blonde. Here the locks are pulled out of the face with little twists along the sides of the head.
On one side, the twist forms more of a braid shape. The braid and twist look like they're forming a crown on your head. That's perfect if you don't wish to wear a veil or tiara.
Twisted Red Hair
Once again, this is a very naturally playful hairstyle for red hair. The sides are pulled back together in an elegant manner.
They blend in with the rest of the curly hair that's very carefree. The way the sides twisted together looks elegant despite the overall carefree vibe. It's an interesting combination.
Long Side Twist
Long locks look so wonderful when they're twisted or braided. At first glance, this looks like a side braid.
When you look closer you can see the vivid hair is actually pulled into a twist. It's decorated with stunning light flowers. These go very well with your dress. They contrast well with this vivid hair color, too.
Half Up Braided Look
Half-up beach wedding hairdos are incredibly relaxed which makes them very beautiful. There are several nice braids at the front of this look that pull back into the looser locks. It's a nice look for thinner hair.
Leave your hair with its natural texture to create even more of a casual touch. You'll look like a very casual and easy-going bride who's effortlessly beautiful.
Loose Bun Updo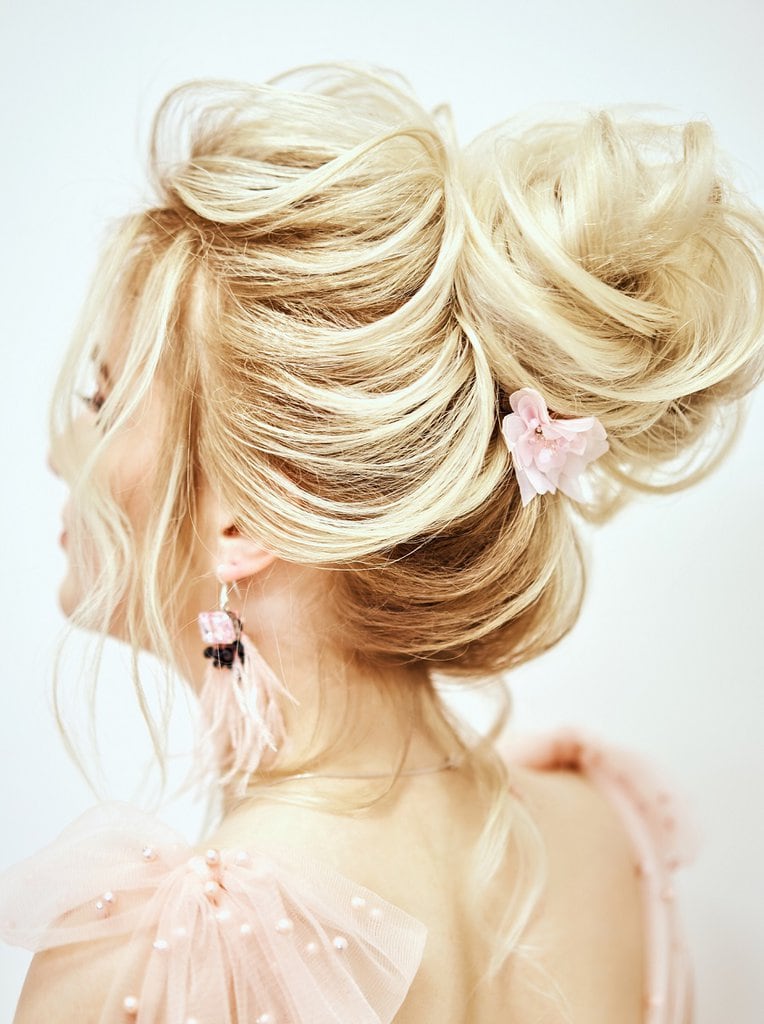 Wearing your updo loose creates a lot of volume with an aura of relaxation. This is perfect for a summer or beach-based wedding day. It's so gentle and girly, but it's also regal.
Pull your hair very loosely into a large, round bun. Leave some free by the face to frame it. It's a fantastic look for brides who love elegance.
Many beach wedding hairstyles have casual, summery vibes. There are plenty of more elegant and regal looking ones, too. You're sure to find something you love in the styles above!
It's never been easier to look perfect and absolutely stunning on your big day. You can DIY some of these styles, but others will require the touch of a talented stylist to get just right.