One month down to the year 2020 but still haven't get your fresh and new start, then you are actually at the right place. Let's discuss some of the fresh and brand new pixie cuts with the touch of traditional cutting along with the bangs in this article.
A pixie cut is a short hair cut having a length that will be between one-half to three inches long which can be styled with either front or side bangs. The fundamental reasons to choose pixie cuts are how they can perfectly fit on any hair type, color, and on every face structure and shape.
But before taking this step, we suggest you take an expert consultation. Pixie cuts with bangs are a special fall in your option if you are fashion-forward women who have lots of potentials as well as the confidence to rock an extra-edgy chopped and cropped haircut.
The pixie cut can also be a terrific option for you if you're one of those types of people who would like their hair ready as wash-and-go and free of high maintenance. Ready for the fresh start and as well as stylish chopped locks and versatility looks then keep scrolling.
1. Cropped Chopped Pixie Cut
Pixie cuts can add the hair a whole new dimension. The pixie cuts are known for their short length. Most of your hair is going to be chopped off; you get that perfect pixie cut. If you are new to this hair cutting and ready to chop your hair, then we suggest you go with this particular haircut.
As from the image provided, we can say it is simple and elegant. In this haircut, the length is crop and hair is chopped. There is no need for highlights just go with your natural color as the woman has done by going with her jet black shiny hair.
This is best to get used to short hair if you haven't have cropped hair before in your life. The tiny bangs hanging in front are completing the ladies' look.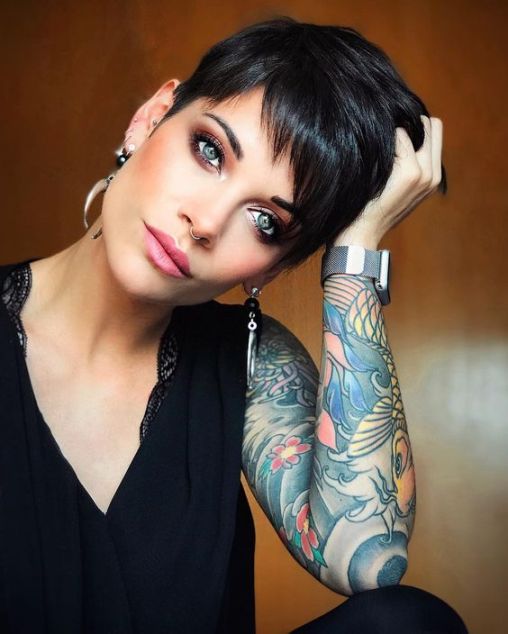 2. Silver Disconnected Short Haircut
As we have said before, pixie cuts are just about the short length of your hair. Here is another hairstyle that has cropped hair. In this haircut, the hair is chopped so tiny and neat that they have the shape of one's head.
From the provided picture, we can see how the woman present is rocking the chopped hair and the long bangs in front. Pixie cuts and bangs go hand in hand with each other.
Being finely chopped, the hair is disconnected from each other. The silver blond color of her hair is giving a shining look to the outcome of pixie cutting.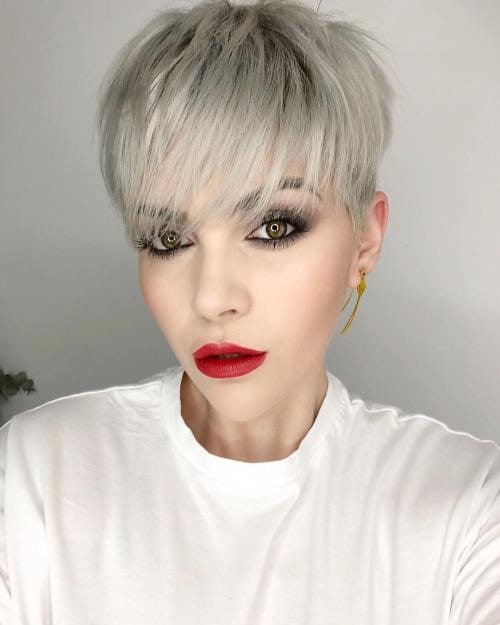 3. Edge Highlight Hair Cut
Cutting edge and styling always have on top of the charts when talking about pixie cutting. If you were in the search of a similar thing, then you are reading the right hairstyle for you. The haircut is all about the edge and highlighting your face structure.
This hairstyle will work when you don't want to go short but want to try the look. The cutting involves long bangs that provide structure to your face.
The woman in the picture has highlighted her long pixie bangs with a pitch of brown and golden color which is working to give warmth to her face but as always, the color choice depends on you.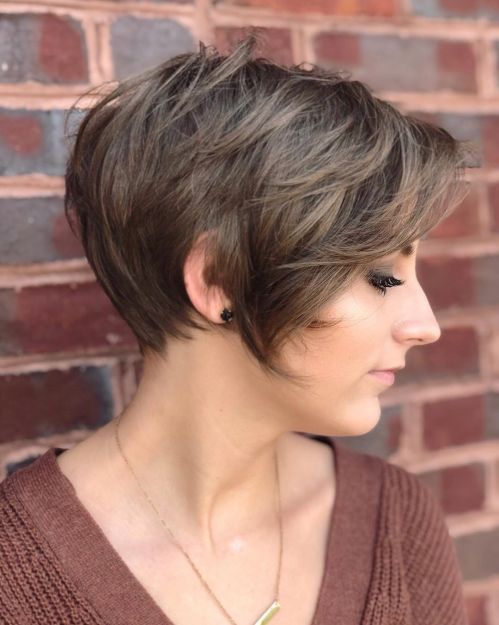 4. Side Bang Undercut
Looking for haircuts that hide your weak's hair strength, then you have landed on the perfect hairstyle for you. The shorter you cut your hair more, you get to the solutions to your hair problem.
If you have weak hair, then just go to your hairstylist right now and tell her to do an undercutting with your hair. An undercut is generally known as razor cutting.
The Razor cutting will hide your actual strength and make your head fuller similarly done in the image above. In this, the styling game depends on your bangs. In this particular hairstyle, we have gone with side bangs.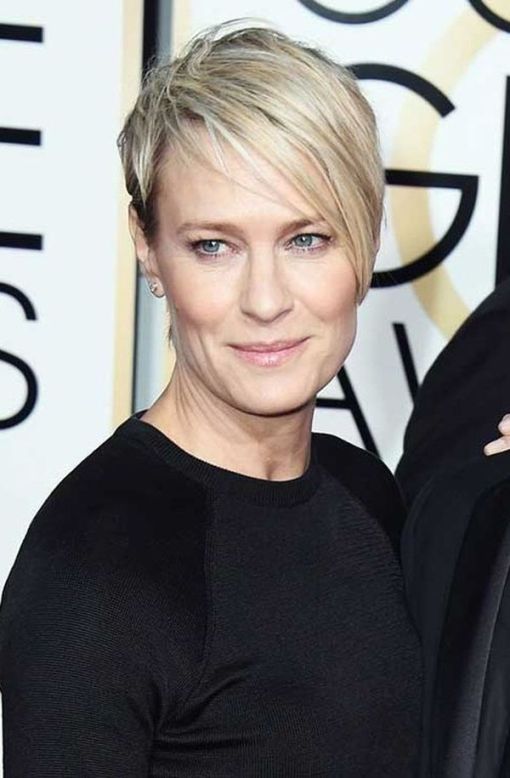 5. Blond Bold Undercut
This year 2020 should be all about boldness and a fresh start. So in this context, we have to bring you a very bold and confident pixie haircut.
All the bold moves such as short-length cutting, undercutting, highlights as well as bangs are included in this particular hairstyle.
The undercutting or razor trimming is done to the hair all over leaving the crown hair which is cut short but is not chopped or trimmed.
They are the hair that is hanging in front as bangs. These blond highlighted bangs are providing fluffiness and fullness to the cut.
6. Blue Wavy Pixie Cut
If you are not into highlighting or lighting your face structure, then this will be your next hairstyle as this is not all about face structure but much more about bringing your little naughty and cute child out. Bring out your cute face by going with curly messy bangs.
The all-over hairstyle will provide more of a tender, feminine look to your personality. If you have naturally curly textured hair, I might say you are lucky but if not, then it's easy by the help of barrelled iron you can achieve that messy look.
If you are ready to go the extra mile, then we suggest you choose silver with the touch of pastel blue color to your hair for extra cuteness.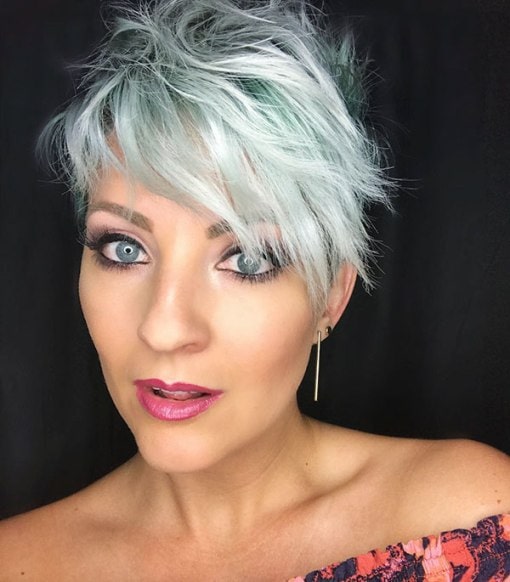 7. Pixie Punk Haircut
To add a little punk to your personality, you should defiantly consider this punk funky pixie haircut. This specific hairstyle will look pretty and gorgeous with a simple basic wardrobe.
The pixie haircut is instantly building a chic, feminine look to you. This is the cut where you can just have a wash, spray, comb and you are ready to go.
No maintenance is required for this pixie cut. The side swap of front bangs is giving a soft warmth to the eyes and face structure.
8. Silver Chic Pixie Style
Forget about razors now let's talk about the fuller sides. Razors provide the haircut with a neat and tidy look but the mess is in trend too. For a messy fuller as well as a chic look, we have come up with a versatile silver look.
In this style, the hair is chopped till the ears. Leaving bounce and messy hair on the sides. This deep side is building a traditionally feminine shape to the face.
The long side bangs are enhancing the playful quality. This hairstyle is a perfect fusion of girl-next-door.
9. Classic Short Pixie With Bangs
Most of the time we think having short hair puts a limit on your experiment but here through experiments, we have combined your short hair with layering. Yes, you read it right layering.
Now you can enjoy the full benefits of short hair and layer at the same time. The layers add too much style to simple and boring haircuts.
This short pixie cut is full of layering and feminine layered bangs at the front. The classic pixie cut is giving some major old Hollywood chic glamour vibes.
10. Very Short Piece-Y Pixie
Everyone knows that pixie cut is famous for both men and women. Your hairstyle is the reflection of your personality, so this short piece-y pixie cut is perfect for those girls who are a little bit tomboyish.
This pixie cut comes with bangs on the front. The sides of the head are shorter than the top part. It is a very low-maintenance hairstyle and comfortable for the summer season.
Shorter sides give depth to your face structure. You can easily show off your piercings or rings. Most of the popstars or female models can be seen in this short piece-y haircut.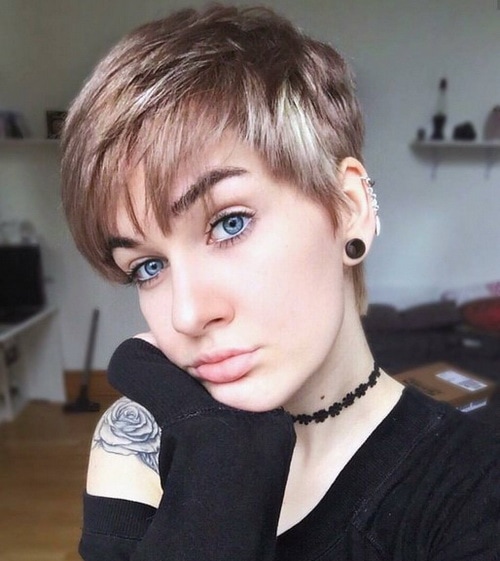 11. Shaggy Pixie With Extra Long Bangs
This shaggy pixie with bangs hairstyle is given a feminine look. Traditional pixie cuts are mostly very short types, but modern pixies add bangs, layers, etc.
Long bangs always come with a texture. Front bangs are in trend these days with deep side parts. This hairstyle is a good combination of short hair with long bangs for a funky style.
It looks so cool on highlighted hair. Shaggy pixie cut frames your face and is easy to style. To execute this hairstyle, one should take help from a professional person.
This shaggy hairstyle changes your attitude towards a short hairstyle.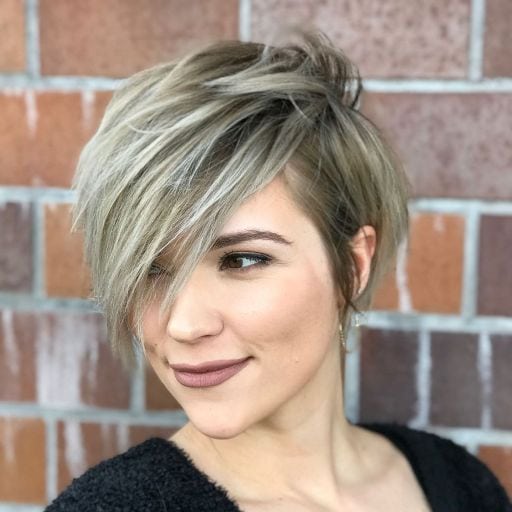 12. Messy Brown Pixie For Thin Hair
Everyone has different types of hairlike thin, thick, wavy, etc. Women with thin hair often find it difficult when it comes to choosing a perfect hairstyle for themselves so this brown messy pixie hairstyle is best to try.
According to your choice, you can add bangs on the front or sides. Style it with black winged eyeliner and bold lip color.
There are many techniques to add volume to your natural thin hair, so for the occasion, you must use them. With proper jewelry pieces and outfits, this hairstyle looks so amazing.
13. Neatly Tapered Pixie
A short tapered pixie cut with bangs for fine hair features a lot of short layers that add neat texture to an individual's hair.
Like wavy hairs, fine, straight hair is not easy to style; it requires a perfect haircut. This hairstyle is perfect for women with a round or oval face shape. It enhances your cute and calm personality.
Because of its sleek and neat look, you don't require high coverage makeup or anything else. Front round bangs perfectly displayed your ear studs or long tassel earrings etc.
14. Polished Brunette Pixie
A polished brunette pixie is appropriate for an office look. This sophisticated hairstyle looks so classy on natural black fine hairs. Brunette's pixie hairstyle doesn't look very girlish or modern, so women above 30s like it.
It is a very low-maintenance hairstyle and saves your money and time. Long bangs falling on the forehead hides your face imperfections.
A well-coordinated simple outfit and nude lipstick give a classy touch to your entire outlook. You can add some costumes to this haircut to stand out on any special occasion.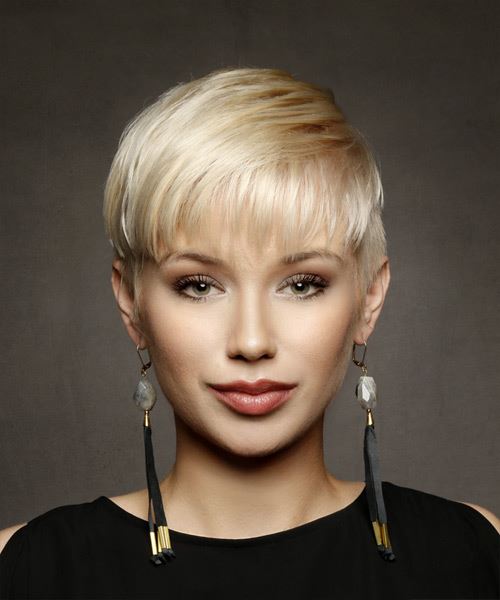 15. Airy Feathered Pixie With Balayage Highlights
The feathered cut always looks so beautiful on long to short hairs. But for this trendy, fashionable hairstyle balayage highlights adds uniqueness. The front and sides are a little longer than a regular pixie that stands out.
According to face structure, you can choose how to make a partition of your bangs. Pixie with layers or feathers well suited each other.
Balayage highlights need time-to-time touch-ups so it is quite a time-consuming hairstyle. Short hairstyles are always a great option for a bold and chic look so whenever in doubt, just go with pixie haircuts.
16. Dishwater Blonde Undercut Pixie
Pixie haircut with long bangs is easy to style with every outfit. This dishwater pixie cut comes with side-swept bangs that look so bold and sexy.
The bangs in this hairstyle are not so long but cover your forehead area. Side partition or bangs gives a more attractive attitude to your personality.
Style this blonde hairstyle with a deep-neck short outfit and minimal makeup. Undercut pixie is easy to maintain for daily busy routines.
Individuals having different types of hair can choose this hairstyle because of its neat and sleek look.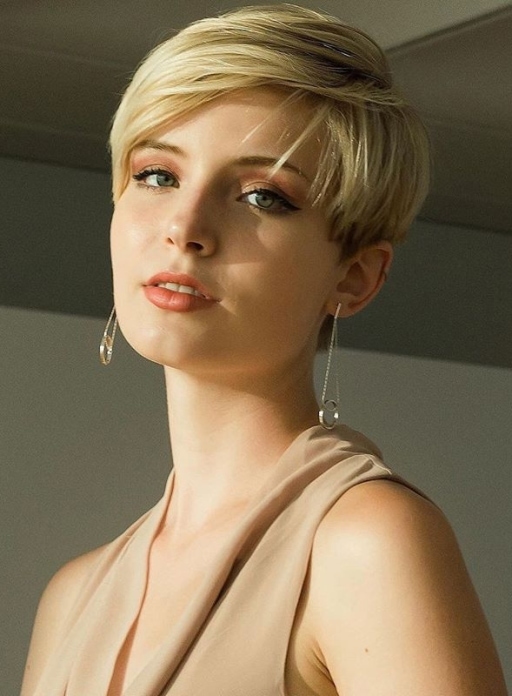 17. Disconnected Blonde Pixie
A classic pixie with bangs provides enough length to play with color and texture. Try this disconnected pixie with a soft nape line and piece-y bangs.
Hair ends are looks slightly messy but the overall look is so soothing and eye-catching. Disconnected pixie is too extreme for working professionals because of its modern, sassy look.
Everyone does not have naturally blonde hair so if you want this hairstyle, then you should go with temporary blonde color.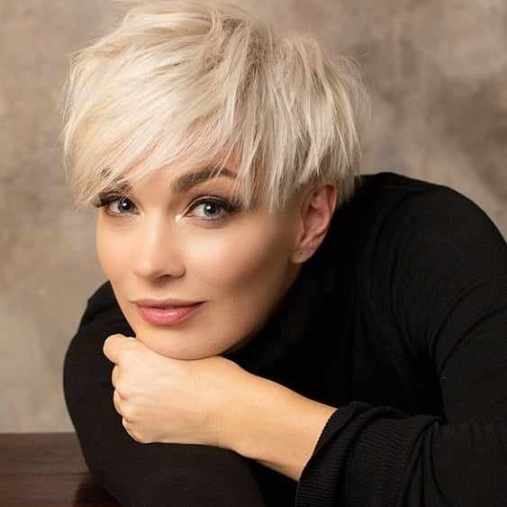 18. Wispy Cut With Bangs
Long pixie hairstyles are a trendy way to wear short hair. A perfect pixie cut looks so elegant and glamorous. Many celebrities sport the wispy cut because of its high flowy layers.
From front to back, this hairstyle is filled with long to short layers. The length of this hairstyle is below the ear length. Front and side fringes cover all your forehead and ears which is comfortable in the winter season.
This is a high volume and coverage hairstyle so it does not require wearing any makeup or accessories.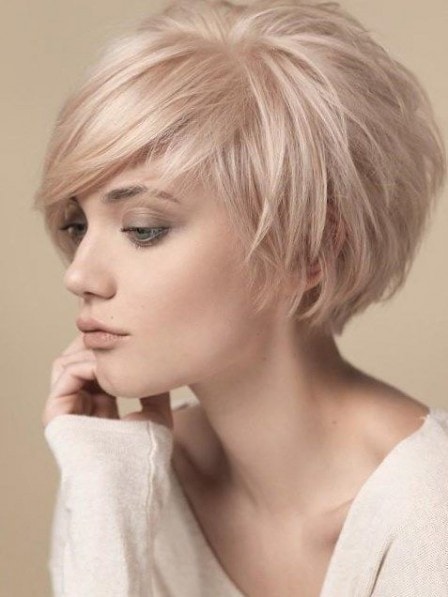 19. Pixie Cut With Spikes
It is a natural-looking pixie hairstyle. The short back and side cuts create a lot of interesting volume on the hair on top. It is a perfect hairstyle for a round face. This hairstyle works well on thin hair.
Nowadays, spikes are quite famous among females. This incredible hairstyle adds a dramatic touch to your look or personality. This hairstyle needs hair styling sprays or gels for a proper look.
You can wear a formal suit or funky outfit with this hairstyle. A bold eye makeup adds more drama to your life.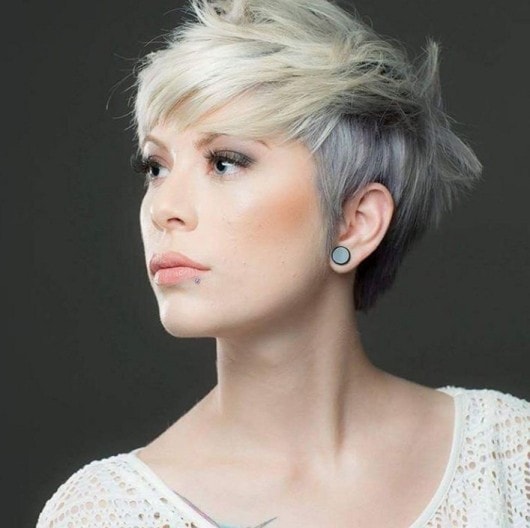 20. Long Choppy Pixie Cut With Side Bangs
The length of this pixie is between a short and medium bob. The longer pixie is suitable for women who don't need time for styling. It can be changed according to any face shape and hair type.
A long-layered pixie is all about texture. These asymmetrical long bangs work so well for broader faces. This is a messy hairstyle, and the latest color trends make them ashier.
You can easily convert your long bangs into wavy styles. You can wear golden shiny ear studs with this hairstyle.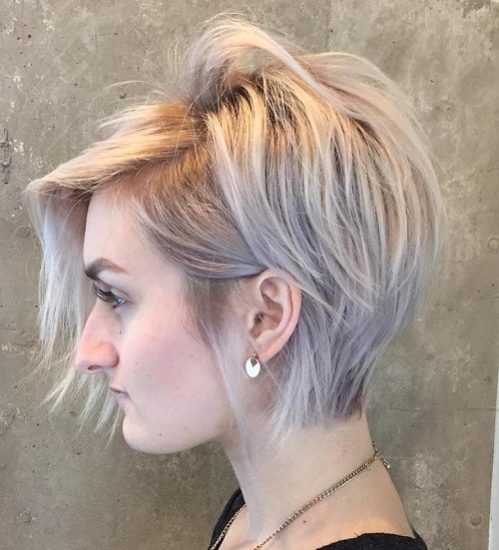 21. Brown Polished Pixie With Sideburns
We can clearly see how much this brown polished hair compliments the short pixie cut. The rough asymmetrical bangs add more definition to the polished hair and make them look less clean in a good way.
The best part about these stylish layers in the cut is that you can enjoy them even if you have short hair. These layers also help you add dimension and offer body to the haircut. They also offer a gorgeous hairstyle silhouette.
The classic sideburns into which the haircut ends near the ears give some serious vibes of Old Hollywood glamour. This cut will suit the most for heart-shaped faces. But it can also go for many other faces.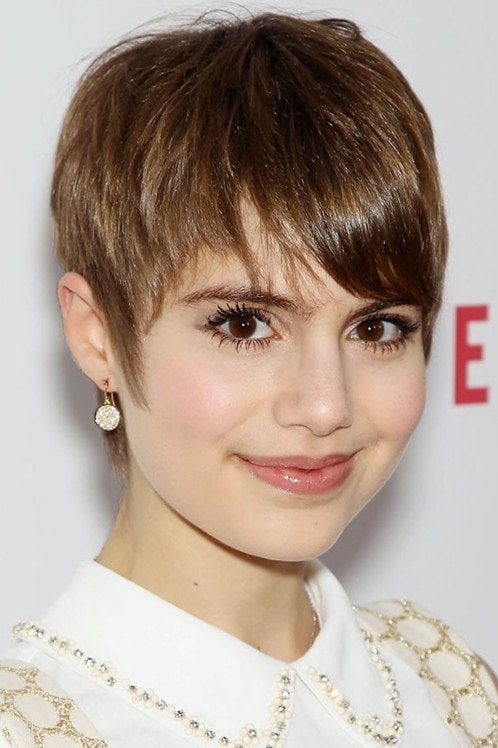 22. Undercut and voluminous pixie
If you are looking for a haircut that will bring out your personality. Especially if you are a shaggy chick and want to look simply elegant, this hairstyle is just for you.
The pixie cut with long bangs helps you look both ways. The pixie cut with an undercut like this enables you to achieve a very edgy look. Keep bangs tapered and side-swept for a smoother look.
This is a very good option for girls with straighter and thinner hair. It provides a lot of volume to your haircut.
Brush your bangs across your eyebrows. This hairstyle is best in helping you upgrade your current boring hairstyle.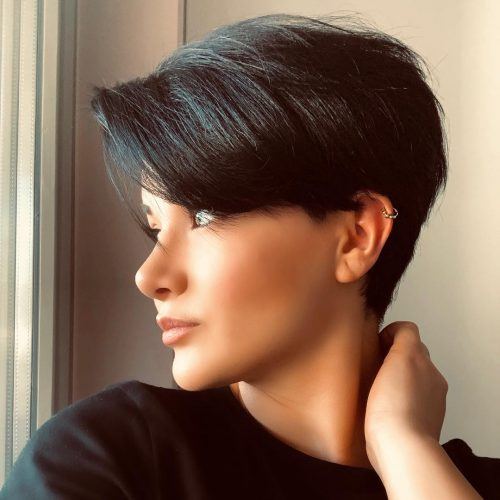 23. Well Structured Short Pixie
This is a nicely structured pixie cut with soft layers and asymmetrical bangs. This style helps you to switch up your styles very easily. And if you are someone who loves to do this, you must go for this.
This hairstyle makes you look vampy in particular but in a positive way. This is a combination of messy and elegant because the asymmetrical bangs add an edge and casualness while the soft layers smooth it out.
Therefore, they create a genuinely versatile hairstyle by working as a team. These gorgeous short bangs are oozing major chick vibes, which is never a bad thing.
In this case, the choppy bangs are kept simple which helps in bringing more attention to the face. You can style those cropped layers in many ways like ruffled and spiked or slick down. Everything looks better than the other.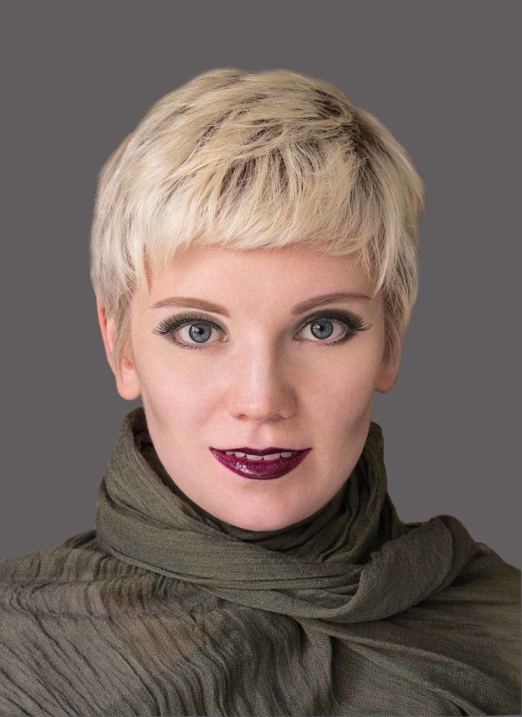 24. Feathered Pixie Cut
This is an absolute vintage-looking pixie cut. The shaggy layers and messy fringe provide a pleasant and exceptional twist to your look. It gives you every 70's looking vibe.
The warmth of black hair also adds a goddess-like glow. This will contrast beautifully with any complexion. Go for an undercut; it will give you a funky and contemporary twist — the featured black pixie amps up the volume of fine hair.
The best part about this side-parted pixie haircut with bangs is that it can be grown out with ease. integrate some pieces, layered strands along with this cut and leave the longer, textured hair in front of the ears. This will offers a softer touch for your medium pixie.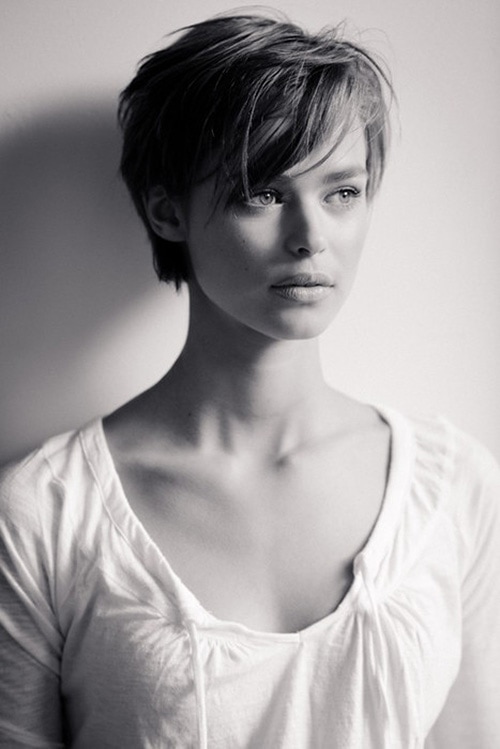 25. Round Pixie With Full Bangs
This type of pixie is perfect for thicker hair; this hairstyle looks so bold and fierce. Maybe because of the blonde color and the messy bangs that cover the whole of the forehead.
The cut is made in a very messy way that adds loads of texture and volume. The shape of the pixie is made as rounds like a mushroom or a bowl.
This is done by adding undercuts beneath the cut and all the volume is focused on the crown section. This hairstyle makes us crave shaggy bangs and gilded blonde highlights.
This is one of the amazing hair looks achieved with a pixie cut. We think this hairstyle truly deserves a forever standing ovation.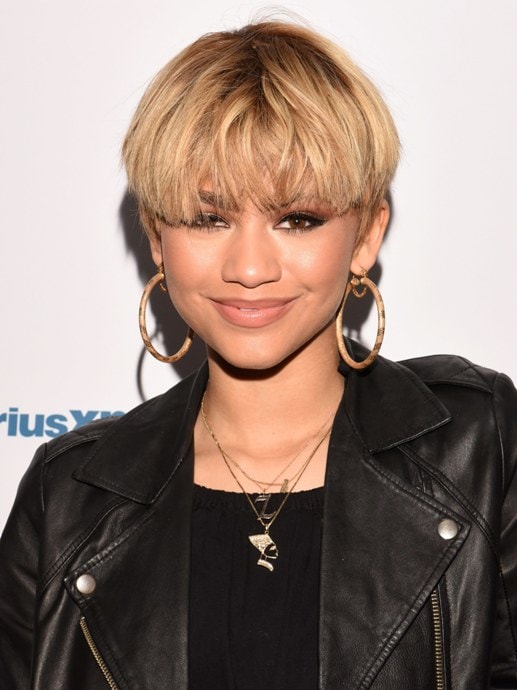 26. Short Pixie With Short Bangs
This is by far the cutest pixie cut. It is short and has short bangs. And short things are almost always cute. The layered cut is done to bring attention to the crown of volume over an undercut.
The key to this style is short asymmetrical bangs and short sides. You will need to maintain the undercut with frequent trims. This is also an old favorite and all-time favorite classic pixie cut.
This classic cut really suits everyone because of short razored layers and forehead bangs. This is typically a feminine hairstyle because the effortless appeal adds an edge to this haircut. We can also see the slight spikiness in this hairstyle.
27. Shaggy Blonde Pixie
We have got you a perfect hairstyle that'll work with your straight hair. This is A shaggy pixie cut like this one. This will give you plenty of texture and dimension.
Unlike other typical pixie haircuts, this one allows for more styling options because of the longer length. Side-swept bangs are the core of this hairstyle.
They are kept long enough to pin back or braid for a more formal updo. This is very different and makes you look unique. You will definitely feel like the center of attraction with this haircut.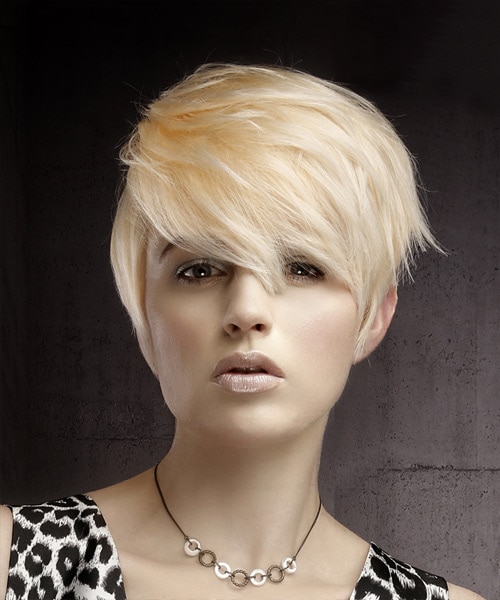 28. Fierce And Fuller Burgandy Pixie
This is a very rocking piece of ombre pixie with layers galore. This style is definitely making a vivid fashion statement. But more importantly, it is still very efficiently maintaining wearability.
The cut is made in a very fuller shape and helps you keep a lot of hair while still going short. The ombre hair color also helps in achieving this look as it gives the illusion of more length.
The cut and color combination add texture and provides a natural volume! Overall this hairstyle looks very bold and makes you look very fierce.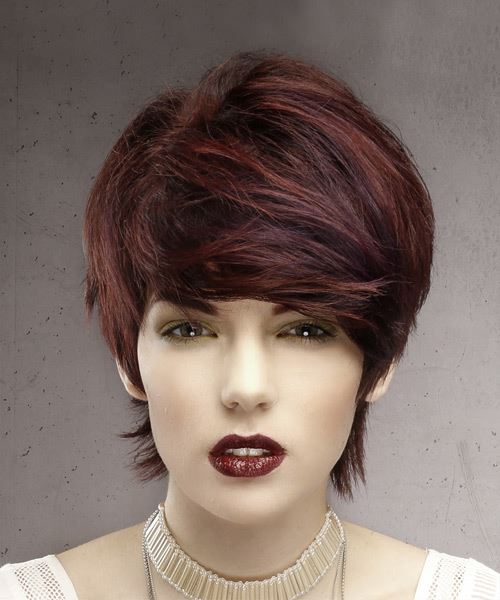 29. Short Two-Shaded Pixie
This is a Super short choppy cut. This looks very minimal but trusts us; it is the finest of all other pixies. We can call it Two-toned hairstyles because the color of the hair combines two colors black hair with brown highlights.
We can definitely figure out that two-shaded hair is back and here to stay. This is a classic cut that proves that even the simplest cuts can also look the chicest.
You should definitely Try two shades of layered brown or blonde with black. The possibilities of the looks you will get are endless!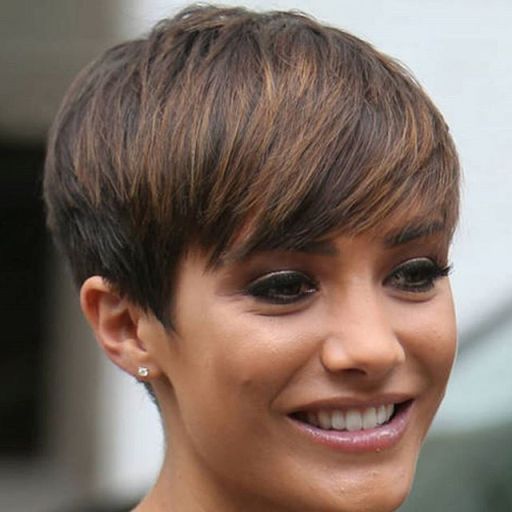 30. Extra-Long Side Bangs
In this hairstyle, the two parts give two different qualities. Firstly, the extra-long side bangs add a very playful quality to your look while the deep side part adds a very feminine look.
When these are combined, they make a very gorgeous hairstyle. The short hair and long bangs combo is a forever-perfect fusion. It looks like a combination of a girl-next-door and a punk rock star.
Wispy bangs, when brushed onto the forehead, will help you get even more beautiful pictures. It looks like a normal pixie because of Rezoned edges on the long pixie with bangs. An edgy look is added to the haircut by An undercut that's also visible from the sides.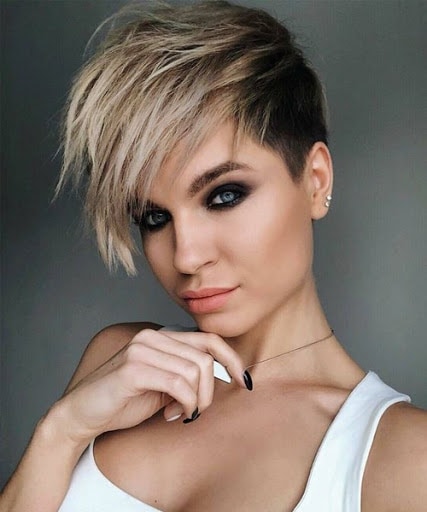 31. Layered Purple-Gray Pixie Hairstyle
Gray and purple color combination throughout the head brings out a unique look. Therefore, be assured of standing out anywhere you go.
This is also among the pixie cut with bangs hairstyles with a layered look. Trim hair on both sides of the head and at the back. You can also go for faint curls on some hair edges.
32. Green One-Side Shave Hairstyle
The green color automatically makes this a casual hairstyle. This beautiful hairstyle is also characterized by a layered look.
Choose the side to shave off one of the side hair. Your hair should rest in the opposite direction which was trimmed low. Yellow highlights can also be visible on your hair.
33. Layered Natural Pixie Cut
Choose this one of the few pixie cut with bangs hairstyles that bring out a natural look. This hairstyle allows you to sleek your layered hair in different directions.
In short, there are different styling options to choose from. This is a casual hairstyle but you easily transform it into an official look whenever necessary.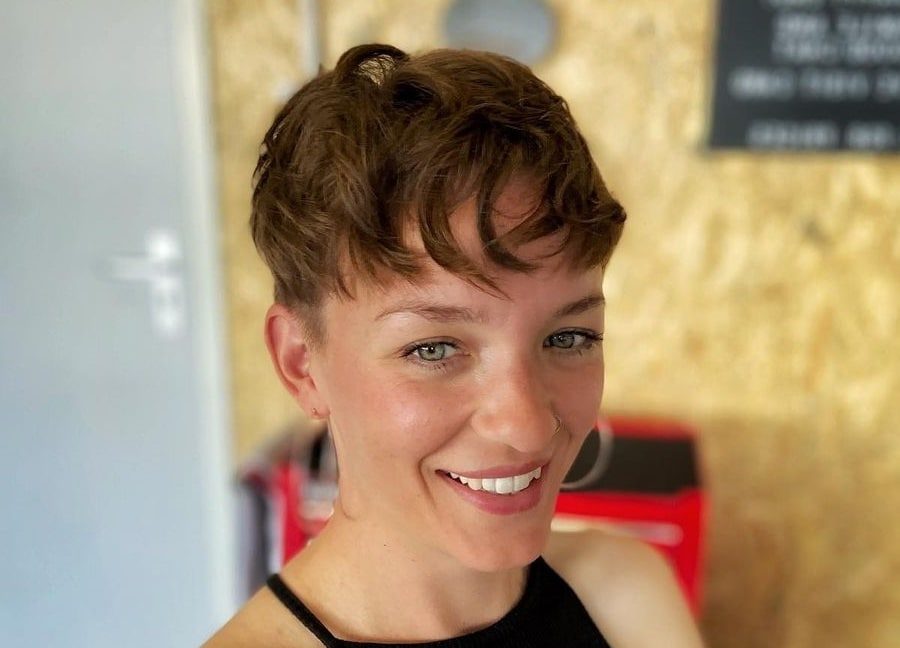 34. Colorful Messy Pixie With Layers
Go for a layered look to easily attain the messy look. Sleek your hair in different directions for a messy look. Your hair should also attain blue color.
This is a bright color and anyone will notice you as you move around. People who love casual outings should rock this amazing hairstyle.
35. Uptown Colored Pixie With Bangs Hairstyle
This amazing pixie hairstyle is characterized by a curvy look on your layered hair. A bright color should also be used when setting up this hairstyle.
Rest your bangs on your forehead, turning either towards the right or left side of the head. This pixie cut is easy to walk with or rest since it's not lengthy.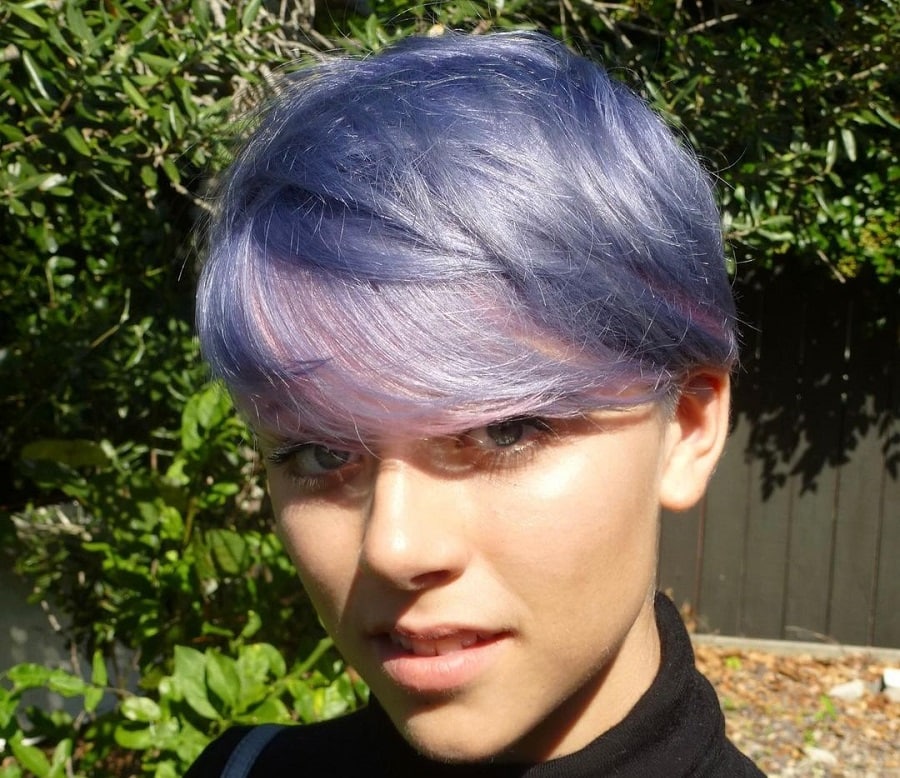 36. Purple Pixie Cut With Side Bangs Style
Purple always stands out on any hairstyle. This is why this should be your next hairstyle. A layered look should be a must do thing on this marvelous hairstyle.
Direct your bangs on either side of your forehead. Form a pixie look and trim your hair edges if necessary.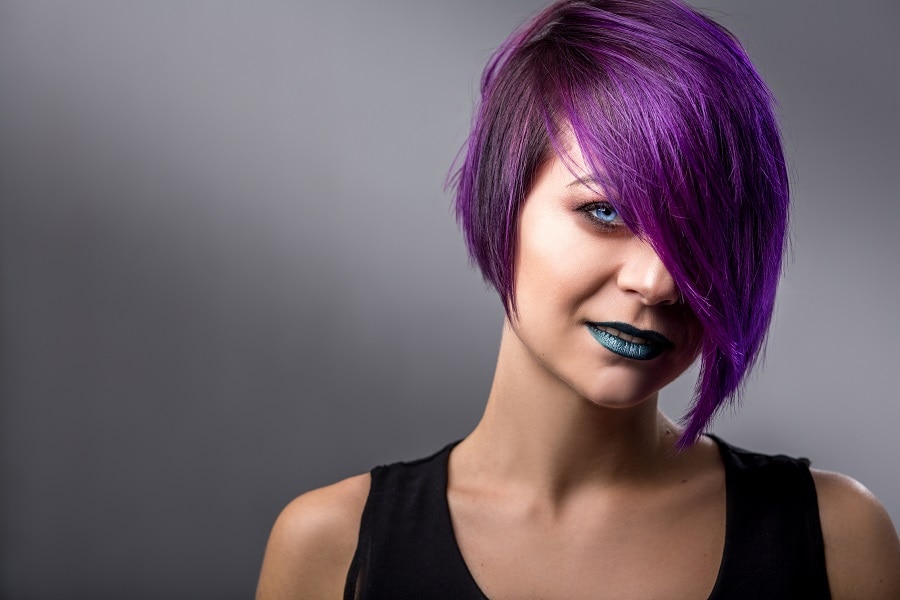 37. Super Short Pixie
It's hard to find a hairstyle that blends with any occasion. The brown and black colors on the head allow you to wear any outfit you want.
This hairstyle also has a layered look that spices up the looks of this hairstyle. Hair products can be used on this hairstyle to style up looks.
38. Side Swept Bangs
Go for this hairstyle if you want to showcase your long bangs. Blonde and a layered look describe this hairstyle.
This marvelous hairstyle allows you to trim your hair edges if you consider your hair lengthy. Blunt edges also enhance the looks of this hairstyle. This is both an official and a casual hairstyle.
39. Feathered Pixie Cut With Wispy Bangs
The wispy bangs on the forehead and the layered look throughout the head make everyone admire this hairstyle.
Additionally, many ladies opt for this hairstyle, thanks to its maintenance requirements. Therefore, you can go for two weeks with this hairstyle before worrying about your hair.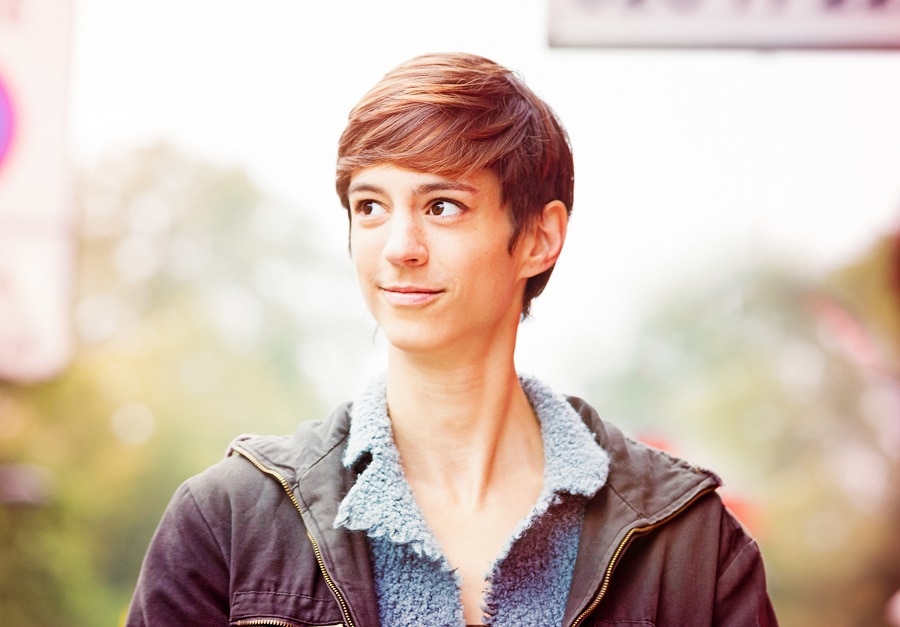 40. Side Swept Pixie Cut
Determine which side of the hair gets the most hair. Black or any dull colors can be used when setting up this hairstyle. You are also required to form a layered look.
This is an excellent temporary hairstyle that is easy to set. You can also improve your looks by using hair products.
Pixie cuts are perfect for summer, gym lovers, and sportspersons because of their short-length hair. The best part is that they have been in trend in like forever. They require minimal effort and time to style.
This is the perfect hairstyle for girls who are tomboys at heart. People who just want to shake things up a bit and don't mind a crop, just go for a pixie cut with bangs without any second thoughts.
You will definitely love a pixie haircut. You might have to cut short your hair but you will get a very trendy yet easy-to-maintain hairstyle. It is a simple wash-and-go style. It adds an extra edge to your look and will definitely fetch you lots of compliments.