The Short hairstyle comes with an amazing and gorgeous style. The new short haircuts are bold, beautiful and also provide great versatility. You can see how the gorgeous icons of Hollywood squeeze these short haircuts.
But before you rush to place your gorgeous and stunning bangs under the hairstylist's tender and yet merciless scissors consider a few steps. Consider the facial shape as well as the texture of your hair. Does the short hairstyle complement your face; does your hair have enough volume along with texture to support a short hairstyle?
Usually, oval facial shapes carry this particular style very well but not so for the long face, wide or round faces. Trying the Short Pixie Cut Hairstyle will help you to look ravishing. Another easy way to understand a suitable hairstyle is to pull your hair back and envisage how you would look with the shorter hair.
Balayage Pixie
The Balayage Pixie cut can easily provide a classy look. The sharp ends of the hair in this style make the entire appearance more remarkable and prominent in the crowd. This style is absolutely perfect for women who have both curly and straight hair.
This hairstyle makes the shape of your face absolutely prominent. The longer and uneven hair strands on the front side of your forehead make you look smart.
Curly Short Pixie
This Curly Short Pixie is another stylish and fashionable haircut, which can easily hide your age and then thin hair volume. In this specific style, you need to back brush the middle portion of the front hair.
The entire highlighted hair in the golden color actually makes your appearance classier and prominent. The hair length also remains up to your shoulder on the backside.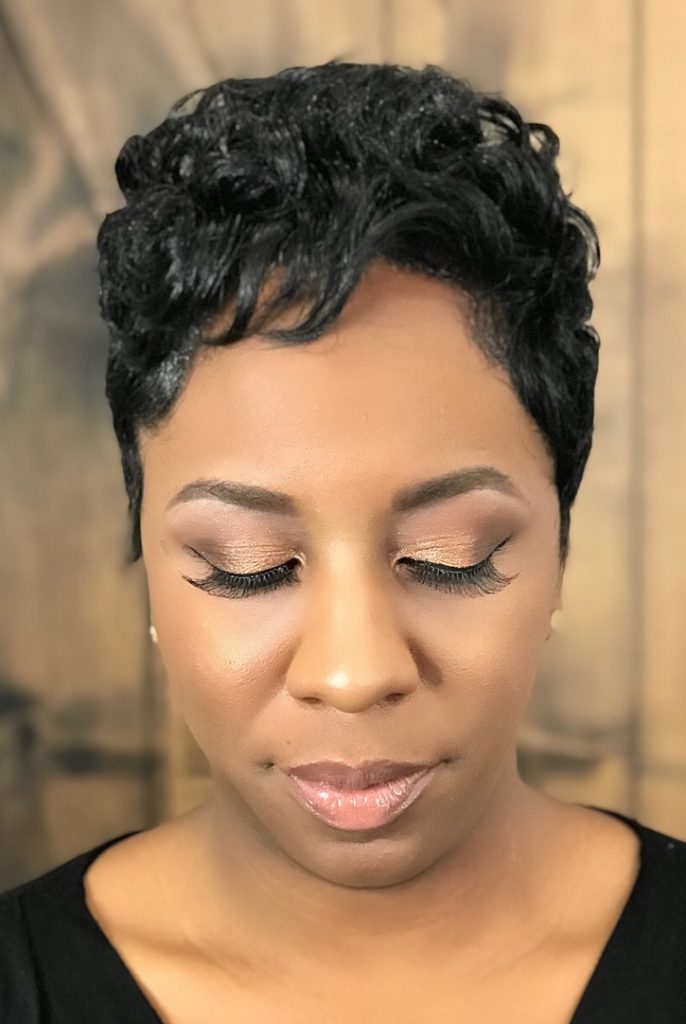 Undercut Pixie
Do you like the undercut pixie hairstyle? Then to entice people with your look, you can easily go for this specific style when you have short and blonde hair. The hair looks good in black color in this style.
The undercut pixie hair on one side makes it absolutely exciting as well. This style looks ideal on straight hair, and you can easily manage this style as well. Here you can check more undercut short hairstyles.
Blonde Pixie Cut
If you have blonde and short hair, then trying this particular hairstyle can help you a lot in making you look bold and beautiful. This particular hairstyle will look great on the straight white-blonde hair as well.
To make this hairstyle amazing, you have to little brush it and make a side part as well. The rest of the messy hair can be kept the same in the front.
Textured Pixie Cut
When you are going to attend an event or party, you must want to look attractive in the crowd. The Textured Pixie Cut can actually fulfill the desire rightly. The amalgamation of these particular two colors on the short-length hair makes your appearance smart and classy.
You have to back brush the entire hair well to look absolutely elegant and classy. Keep the hair straight only by brushing it properly and it will create the look.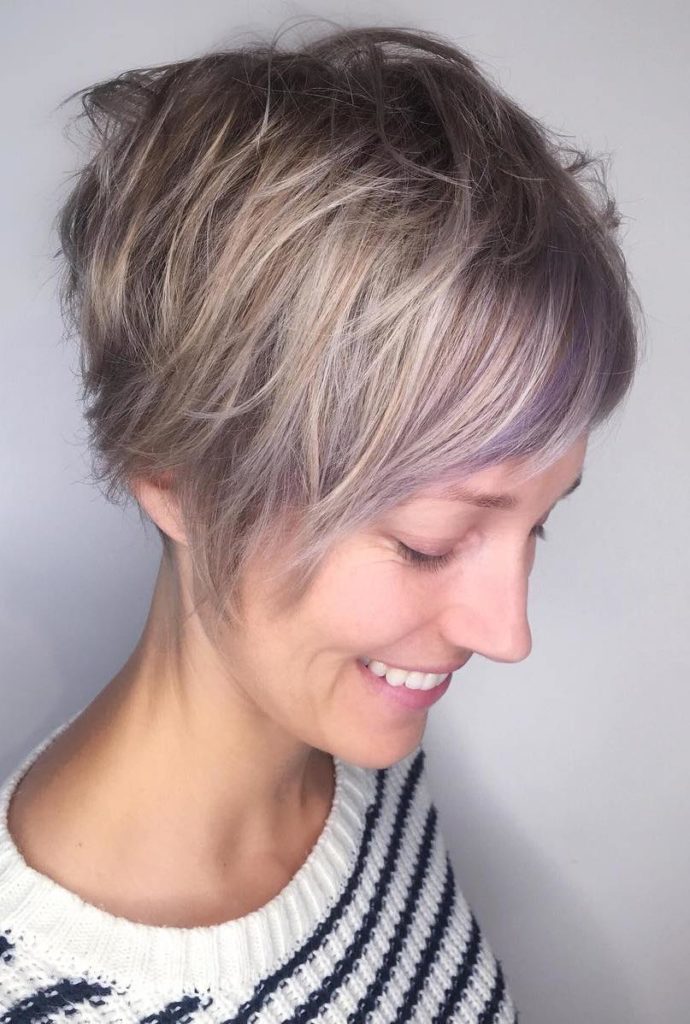 Side Shaved Pixie Cut
If the short-length hairstyle suits your personality then Side Shaved Pixie Cut can be a good option for you. This particular hairstyle assists you to get a round facial shape.
To create this hairstyle, you have to comb back your hair and make it a side parting as well. Brushing the hair and keep the front bangs the same on the forehead, you will look absolutely amazing.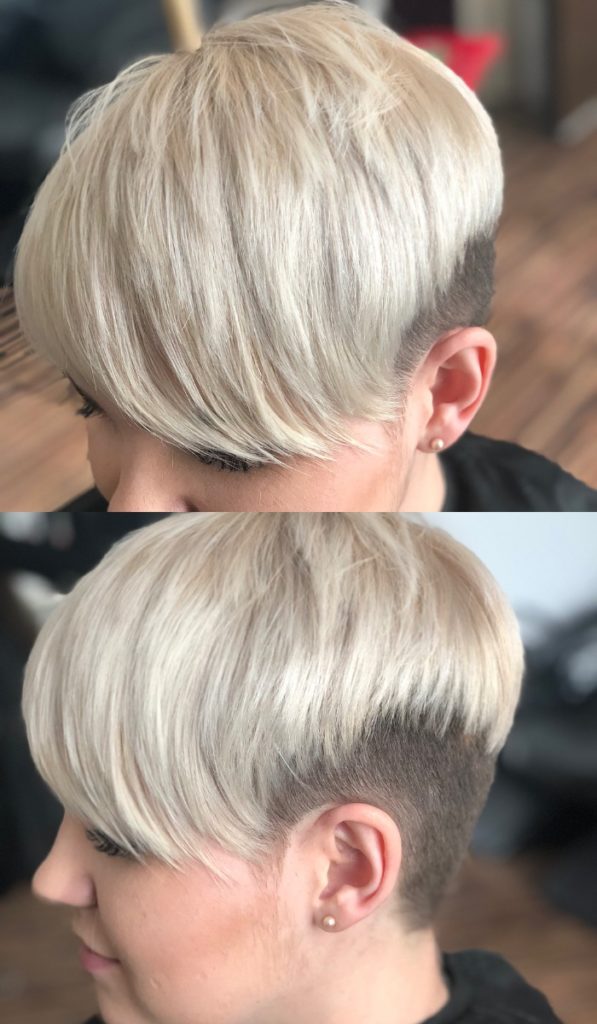 Pixie Cut with Red Color
Do you have short and blonde hair? Then you must opt for the accurate hairstyle that will help you to look classier. But to create this hairstyle, first, you need to make it red and then try to brush your hair in a messy way.
Comb it properly and make a messy part as well. The natural curls are actually cut in a quite short length in this style up to the neck.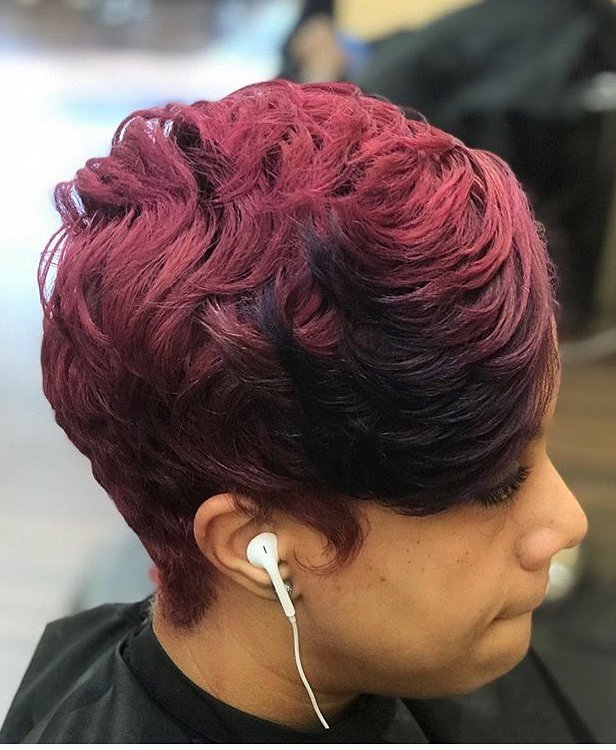 Dark Roots Blonde Pixie Hair
If messy hairstyles attract you, then Dark Roots Blonde Pixie Hair is the ideal option for you. The sharp edges of your hair create the style more prominent and fashionable as well.
The entirely curly hair in a tousled pattern creates your look more modern and also stunning. Try to comb your hair in the front, and you can also use some gel to give a volume.
Messy Pixie Cut
It is another hairstyle, which easily suits women who are crossing middle age. The short-length hair is promptly flipped up in this style for hiding the volume of the hair. If you want to create the Messy Pixie Cut you have to comb your hair in a back way.
Back brushing will both give the volume and leave a messy look on your personality and look absolutely gorgeous as well.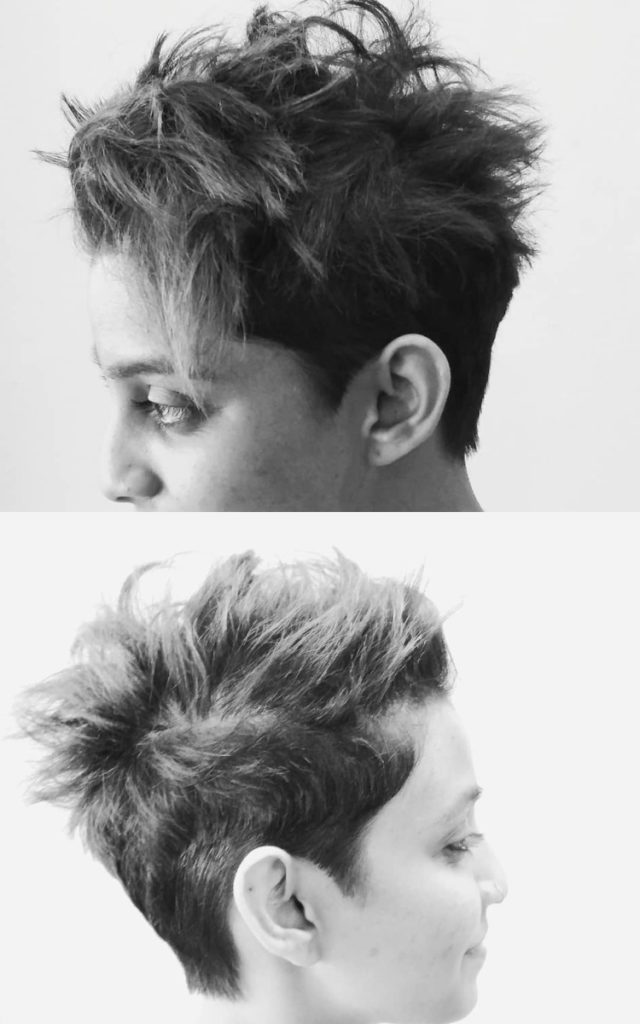 Fringe Pixie Cut
The combination of Fringe Pixie Cut and bangs is a correct choice for those women who really want to look stunning at the age of 50. In this style, your blonde strand is parted from one side. The length of the hair remains straight and amazing.
The longer bangs on the front of one side of hair create your appearance classily. To get this look, you need to brush your hair smoothly and part it in such a way that you can also look classier.
Curls Pixie for Black Women
This is Curls Pixie Cut for Black Women for the women who love to look gorgeous and bold as well. This style is absolutely perfect for short hair which is cut up to your neck.
The uneven tresses of your hair slightly make your look messy. To get a perfect style, you can brush the hair in a back way. The thick and curly hair will create a gorgeous look on your personality.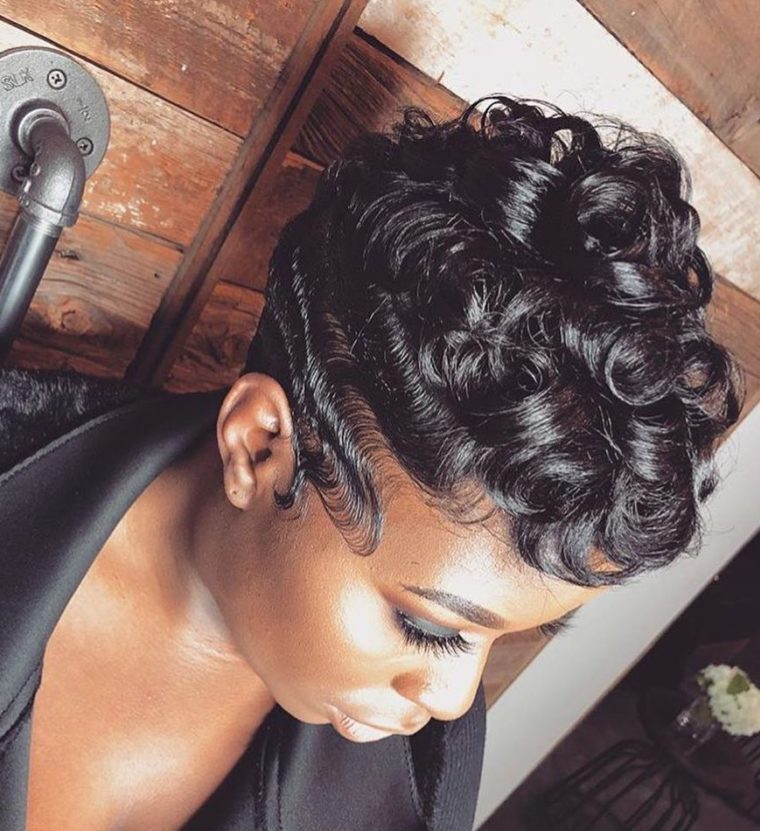 Rose Gold Pixie Cut
When you are opting for an amazing and contemporary haircut, the Rose Gold Pixie Cut can be absolutely ideal. To get the classic look, you have to comb your rose gold blonde hair in a side part and keep the front bangs as it is.
The side-parted hair along with uneven front side bangs creates the cut gorgeous and unique as well. This hairstyle also hides the wide foreheads of middle-aged women.
Silver Pixie Cut
In recent times, the polished silver look is an in-thing in fashion. If you really like the short haircut, then this hairstyle would be absolutely perfect as well.
To get this polished look, you have to backcomb your hair properly and do not leave a messy look. It will absolutely smooth and straight. This style looks perfect on straight hair and then you can manage this style easily as well.
Choppy Curly Pixie Cut
The highlight of this haircut is the brown and black shade. Perfectly rolled bangs over the forehead provide this a little edgy texture. The brown crown is teased and stands out in the whole cut.
So, to get this look you will have to brush and roll back your hair. The hairstyle looks absolutely amazing and gorgeous as well. It looks quite contemporary and you can sport this hairstyle in any event.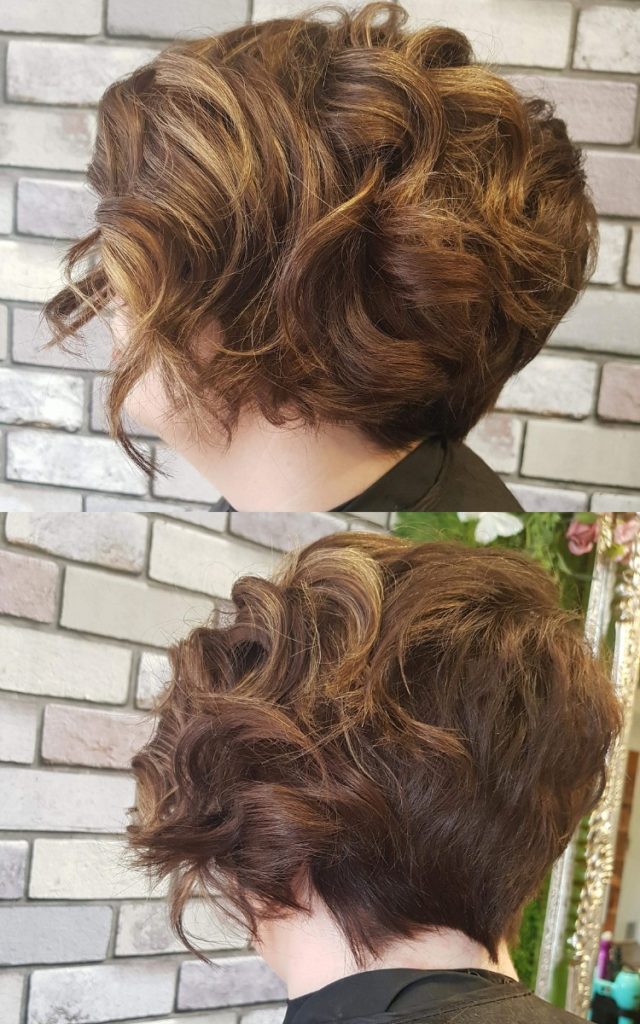 Layers Pixie Cut
When you have short and curly hair, you will always want to try an amazing hairstyle as well. So, trying out this Layers Pixie Cut will help you to look gorgeous. To create this hairstyle, you have to brush back your hair.
The soft waves in this hairdo provide this ruffled look. Soft waves also provide the right kind of impression of volume and luscious glossy hair.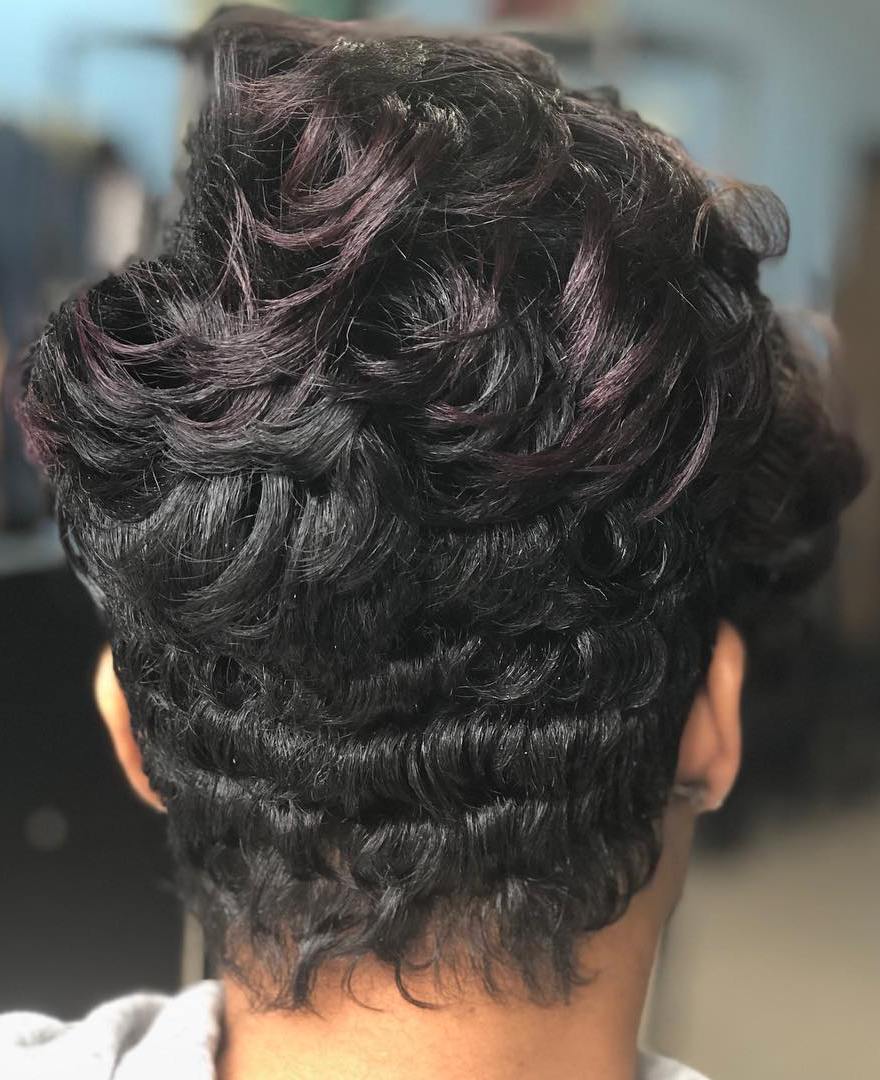 Slicked Back Pixie Cut
Women with absolute straight hair can select the Slicked Back Pixie Cut. In this particular style, your hair is cut up to your neck.
To create this entire look you have to comb back your hair and to get the polished look you can also use some hair gel. The longer hair on the backside of the forehead makes you look more interesting and smart.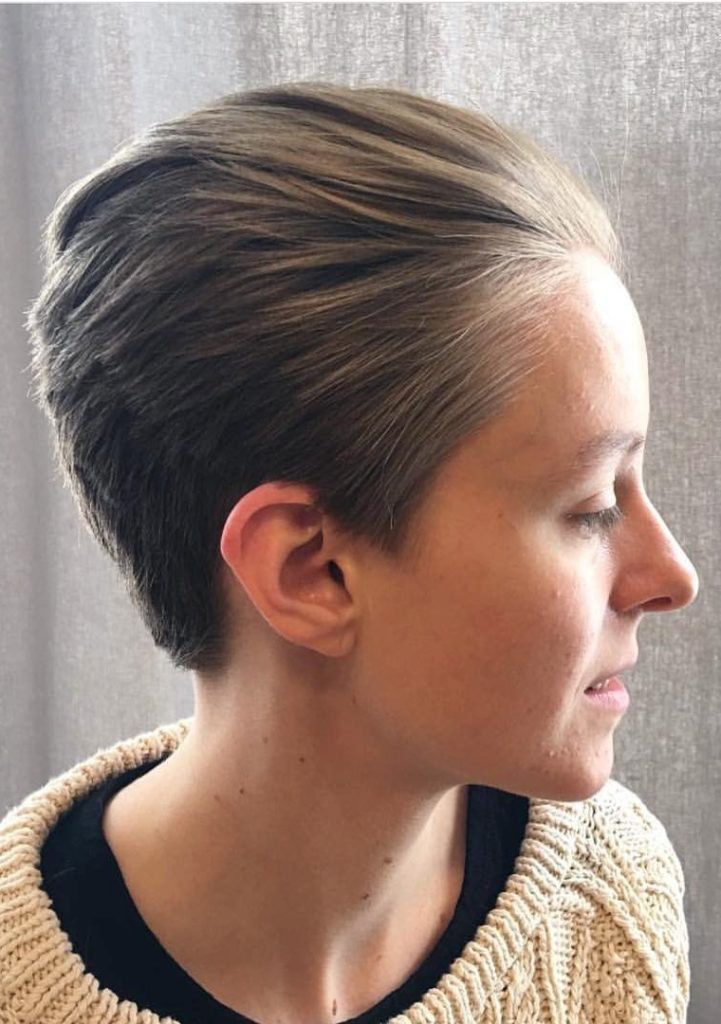 Short Choppy Pixie Cut
Who said he can only lose himself to the long strands and hairs? The nape-length trademark of the short pixie against the royal black chin long ringlets is absolutely the coolest haircut you will see on the internet today!
The face-hugging curls create this difficulty to take the eyes away at once! To get the Short Choppy Pixie Cut you have to comb it in a back or sideways as well.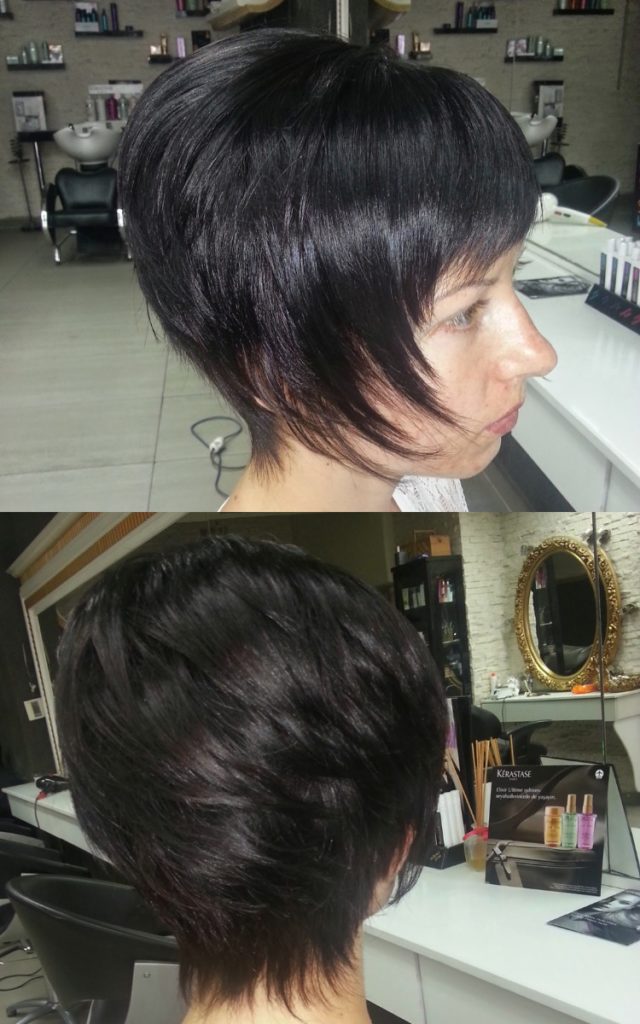 Pixie Cut with Silver Blond Hair
The blonde and silver color of the manes makes the pixie looks daring and fiery as well. Brush the hair back too looks bold and gorgeous as well. Put the side hair behind the ear for a neater and cleaner look.
Team this up along with sultry eyes and glossy lips to balance the look. The little messy and uneven look will create a great personality.
Aquamarine Pixie
Your choppy messy pixie style is unique and eye-catching, so why go for the usual colors like red, brown, and grey when opting for hair color.
How about ocean blue. The vibrant pastel shade gives an entirely new meaning to the beach mood. Create a vibrancy and depth with your layers by side-sweeping them to ooze a tropical vibe.
Clean And Tidy Short Pixie
You don't always have to mess things up for a classy look. This Short pixie style has every strand of hair in its place.
Shave clean both sides of your head. Keep all the emphasis in the middle. You can add layers to the top for a slight lift. Blonde hair color will add shine to your hair.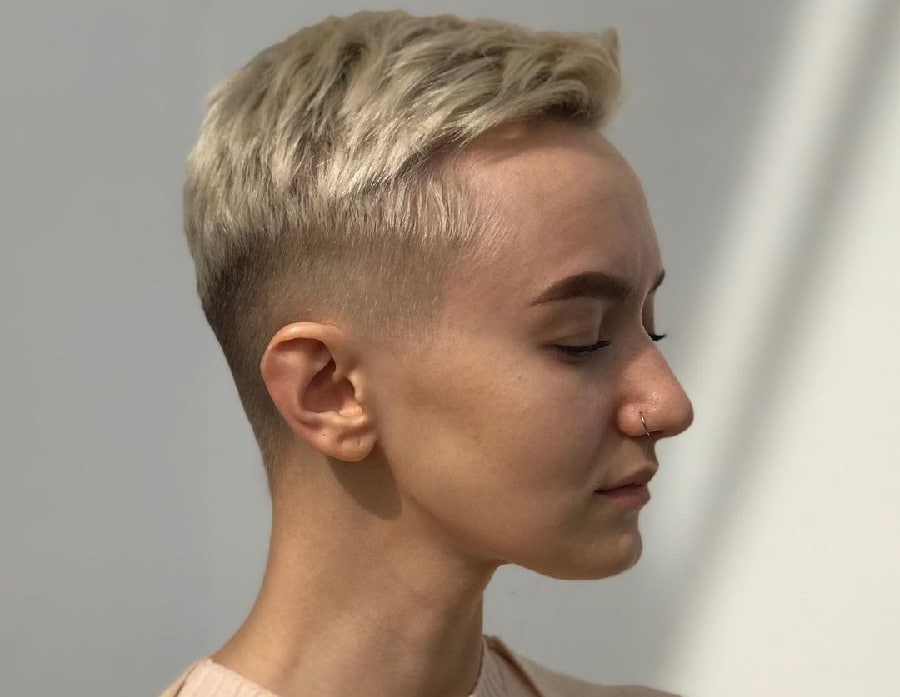 Grown-Out Pixie
If you are not sure about a short pixie, a grown-out Pixie can be a good idea.
Get long bangs covering your forehead, and side-sweep your hair for an airy and flattering look. You can tapper the side shorts to make your bangs more prominent. The long side-swept bangs add a curve to your round face.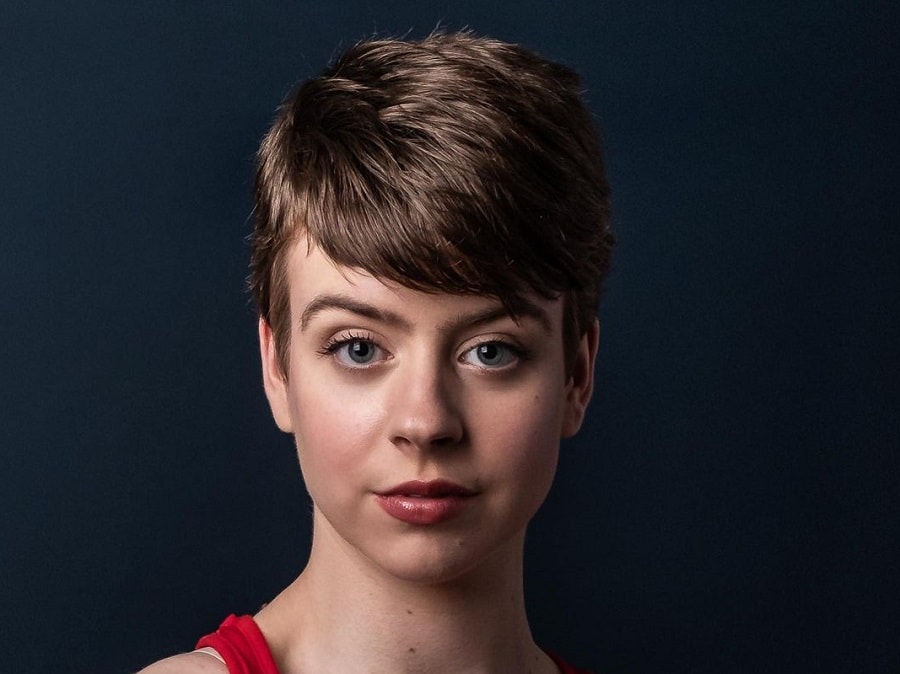 Androgynous Pixie
If you want to show off your curls but don't wish to look girly, then an androgynous pixie can be your choice.
Give your hair a shaggy look and tousle them to fall on your forehead like bangs. You can add subtle highlights to give a soft effect to the curls. A high undercut reflects an unshakable you. You can easily style your hair into a chic, party hairstyle.
Sleek And Shiny Style
You can opt for a sleek short Pixie to tame your thick hair. A sophisticated and stylish short pixie is also low-maintenance.
Leave the sides slightly longer with the top shorter. Part your hair to the side. Comb your hair so that it stays close to your scalp. You can use a shine serum. You can show off your bone structure with this hairstyle.
Variegated Pixie
Pastel colors are bold and not for the faint-hearted. You can play with pastel shades for a dramatic and stunning effect.
Layer your cut for a fluffy look: Dye the roots and the top violet. Dye the uneven bangs and razored ends in platinum blue for an unusual balayage. With large round nerdy spectacles and minimum make-up, keep them guessing.
Structured Pixie
If you want to flaunt your thick hair instead of taming them, then a structured pixie is exactly what you are looking for.
Side-part your hair before blow-drying to give a lift at the top. Brush your hair in an angular direction with a fine brush. Use a hair gel to fix your hair in its place. A structured Pixie is abundant in texture and style.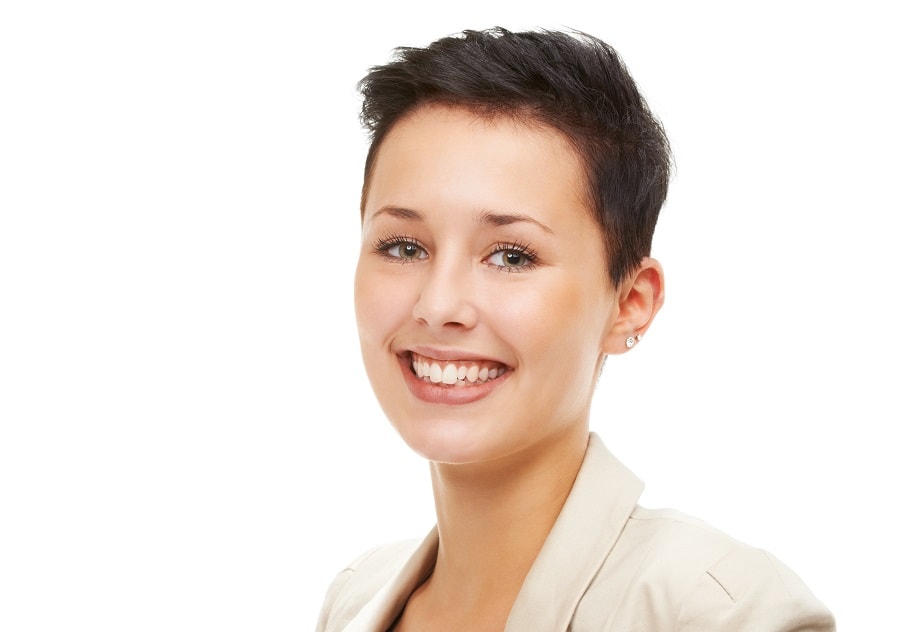 Asymmetrical Pixie
You can try an asymmetrical pixie for an edgy and daring look.
Combine a high taper with long hair on the top. Side-sweep the long strands. Brush the hair in front to make them fall on the forehead as short side bangs. Blonde color with deep roots will add dimensions to your hairstyle.
Pixie With A Pompadour
A pompadour is all about elegance and nobility. A Pixie with a pompadour will highlight a strong personality and also bring forth your fun side.
Make a clean side part. Start teasing your hair on the top. Use a hair cream to push your hair to the side and fix it with a hair spray. You can give burgundy touches to your hair at the side part to add more drama. Short pixie with pompadour adds length to round faces.
Neat And Boyish Pixie
If you run through your door every morning with no time to style your hair, a short Pixie is best for you. A very short pixie with fine hair gives a boyish appearance.
Sweep your hair at the front for illusory side-swept bangs to make your face appear delicate. Chestnut-colored hair also enhances your femineity. Short pixie cut hairstyles at this length require no more styling than towel dry to make you look gorgeous.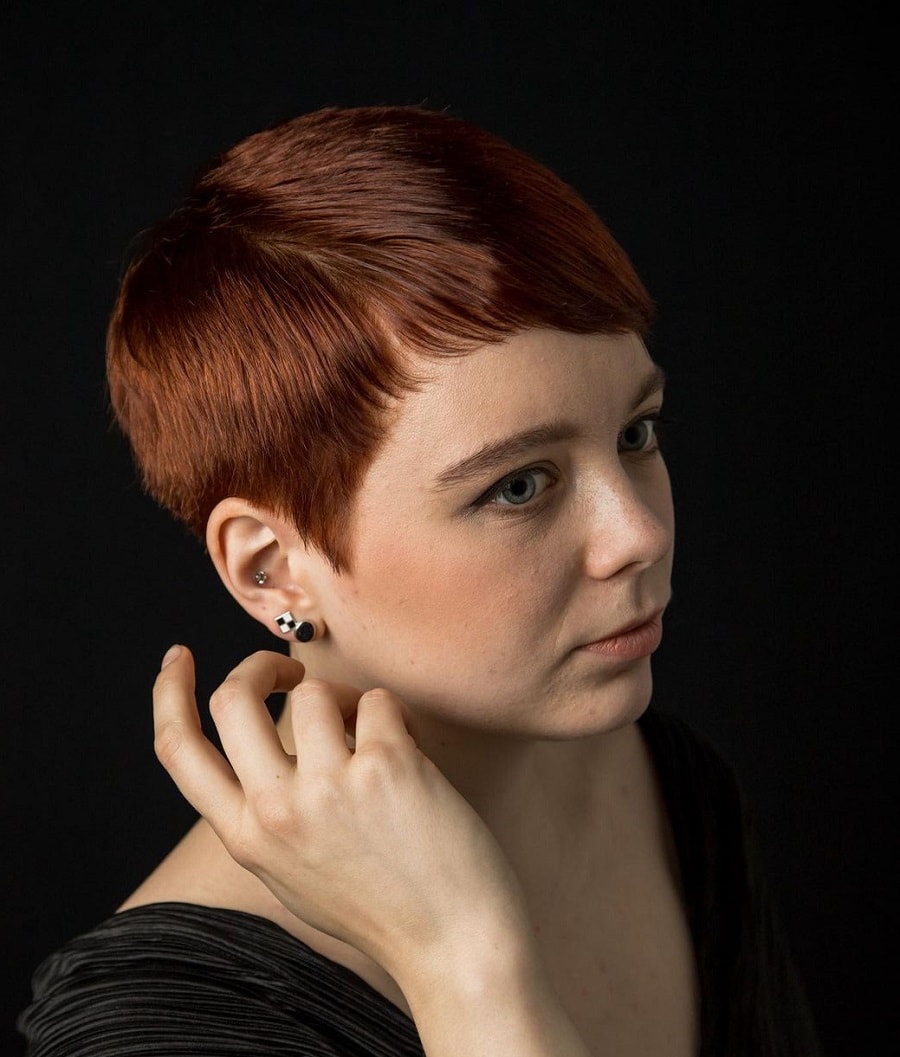 Warm Platinum Pixie With Side Fade
Layers are the best friend of a Pixie. The platinum hair on the top appears warmer owing to dark black roots. Make a clear side part and let the layers in your hairdo the rest of the job.
Next, style an undercut on both sides with components like a surgical mark to add more elements to your hairstyle. Messy and clean touches are brought together in this hairstyle.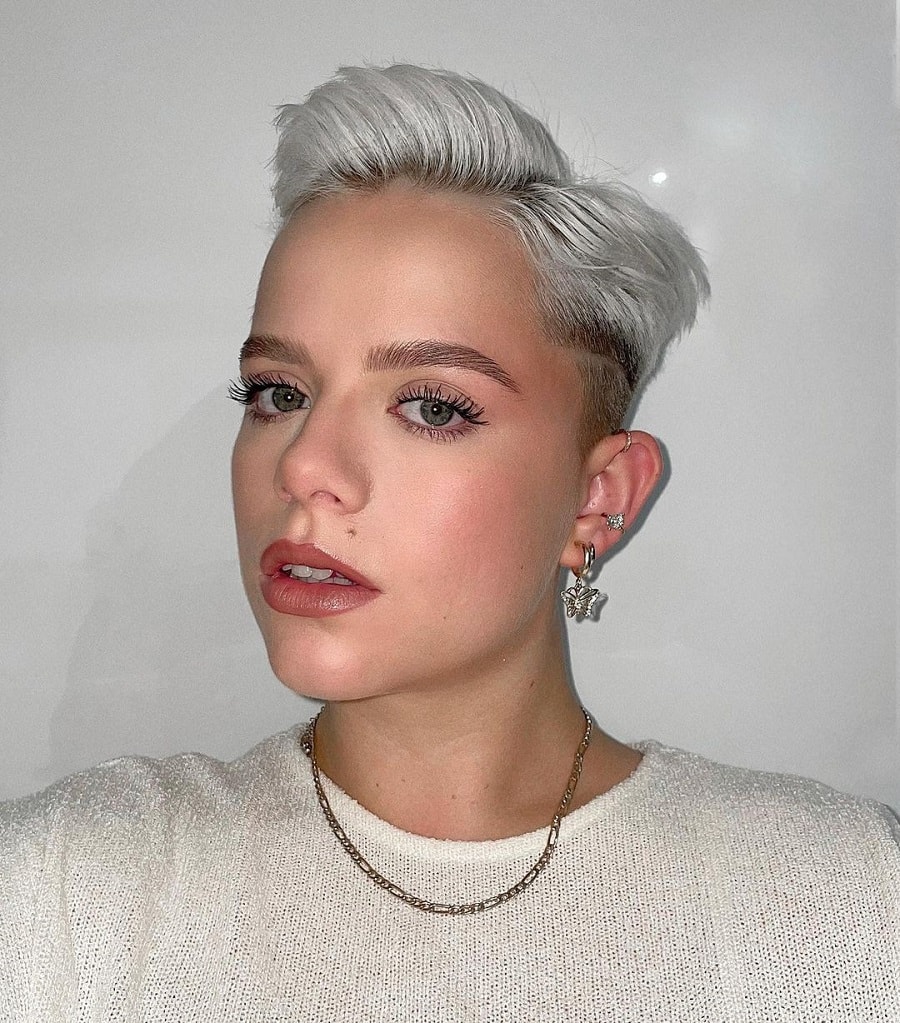 Graduated Pixie
A graduated Pixie can give you a versatile look even with short hair.
Pull the extra-long layers from the back of your crown and swoop them in front. You can use a hair styling mousse to direct your hair and create volume. A perfect hairstyle for casual events and everyday occasions.
Layers in only varying lengths add the hint of volume. You can also have textured the pixie bangs or leave them a bit longer and well as style them at any angle.