Everyone loves a pixie cut moment until it falls flat. So how do you shake that up? By getting one of these choppy pixie cuts, of course. That small amount of texture can take your look from "meh" to "mesmerizing" and it's not that hard to achieve.
These haircuts work well for women who don't have a lot of time or patience to spend styling their hair every day. The messy element ensures your hairdo doesn't look too plain, but your tresses still won't be long enough to cause you any fuss.
Best Choppy Pixie Cuts for Women
Shall we get started? Read on for a full list of all the best looks you could ever wish to wear!
Choppy Platinum Pixie
It can be hard to stand out with short hair, so you need to find a way to enhance your look and a choppy pixie cut is the best option.
Getting a bold platinum dye job will surely set you apart from the crowd. If you have dark eyebrows and eye makeup it's even better.
Soft Quiff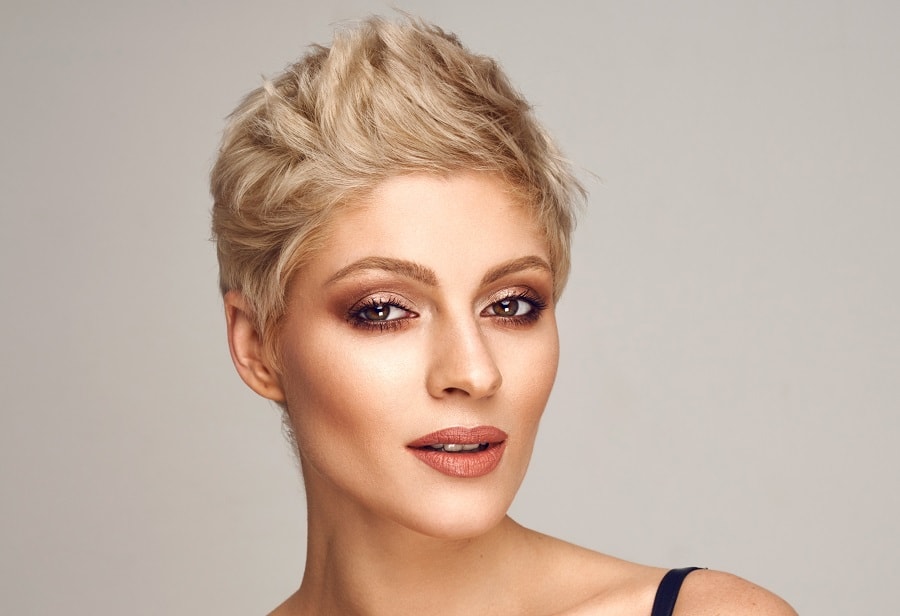 Show off all the texture in your cut by styling the front of it into a quiff that stands tall and gives you a look with a lot of volumes.
Brush the sides back and keep them minimal so everybody's focus will be on the top section of your hairdo.
Grey Waves
You can easily make a choppy pixie cut look better by wearing your hair wavy. Leave the front a little longer so it falls onto your forehead.
More mature ladies can embrace their natural grey, but dying your hair grey has become increasingly common over the last decade too.
Mohawk Pixie
Everybody knows what a mohawk is, but did you know you can also pair it with a pixie cut? Don't shave the sides of your head. Brush them back instead.
Take the hair on top and style it into spikes with a soft texture. The choppy ends will lend themselves well to forming the style.
Ruffled Back
Not all women want to show off a lot of texture at the front of their hair. In these instances, you can ruffle up the back into spikes instead.
Keep the front and sides quite short so you look completely normal from the front. People will be surprised when you turn around.
Ultra Messy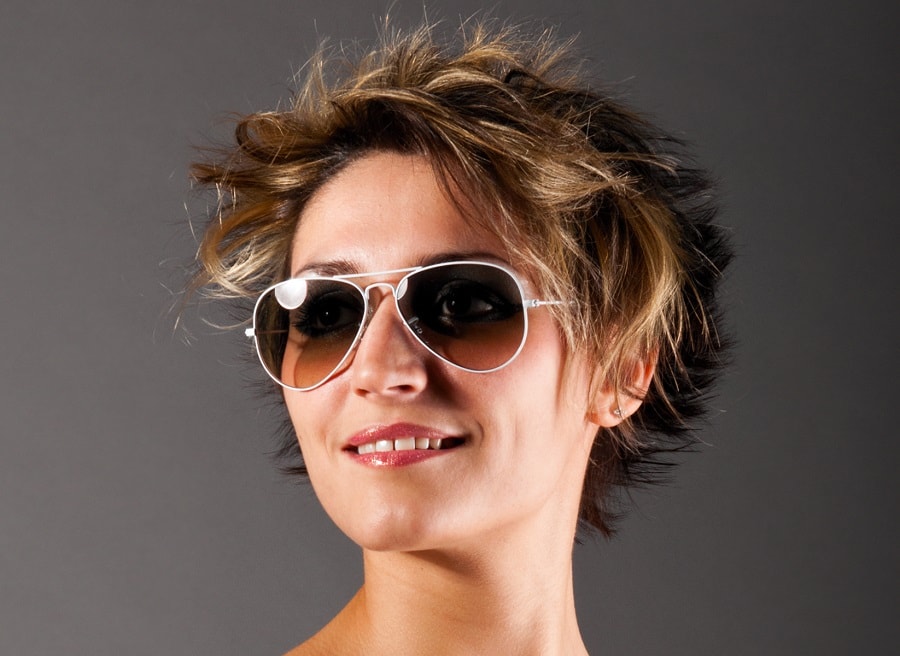 Many of these haircuts are a little messy. None are totally all over the place like this one! The locks are a little longer so it makes it easy to create a chaotic style.
Push the front over to one side and make sure there are some strands standing up. Totally ruffle up the back and top so all the hair fans out around the head.
Blonde Waves
Like we said earlier, waves always make choppy pixie cuts look their best. Side parting and push the long locks on top over to the opposite side of your head.
Don't do much styling on the sides. Focus on adding volume to the top instead. Get a few lighter blonde highlights if you really want to stand out.
Temple Fade
Fades are usually found in more masculine haircuts. However, many short choppy haircuts worn by black and mixed-race women are heavily inspired by black men's haircuts.
Dye your hair blonde, straighten it, and style it towards your forehead. Then get a high temple fade that peeks out above your ear.
Long Layers
As we said earlier, layers add a lot to longer looks. They create volume around the top of the head so your haircut looks shorter than it is.
Let your choppy pixie be loose and create a side parting so one side of your hairdo covers half your face. Natural blonde tones work best for this look.
Long and Red
Sometimes longer haircuts don't fully look like pixies. You can add some choppy layers to help define the style.
Let the front fall into your face but make sure there's a side parting. That way your hair won't fully obscure your forehead.
Fine Pixie Cut
It can be harder to make fine hair look good, especially when it's short. Making sure all the ends have a choppy texture will add the illusion of volume. Keep the back pretty neat so the style doesn't look too messy.
Mature Look
Choppy pixie cuts are surprisingly popular for women over 50. Many mature ladies opt for short hair so they don't have to spend a lot of time styling it.
The choppy texture makes it even easier to look good with minimal effort.
Orange and Messy
If you have natural ginger hair, then you should style it in a way that draws a lot of attention to you. You're very lucky to have this rare natural tone.
Keep your tresses short and give yourself a slight side parting. Mess up the top and brush the sides down towards your ears.
Flared Pixie
Looking for something a little unique? Flare out the sides and back of your haircut so that it fully fans out around your head. A really light blonde shade with dark eyebrows will help it stand out even more.
Blue Locks
Here's another choppy pixie cut for ladies who like looking unique. Blue is definitely a go-to color when you want to appear totally unnatural.
Let your natural color show on the sides and get a undercut which is unusual in feminine haircuts. Lightly spike up the hair near the crown of your head.
Feathered Red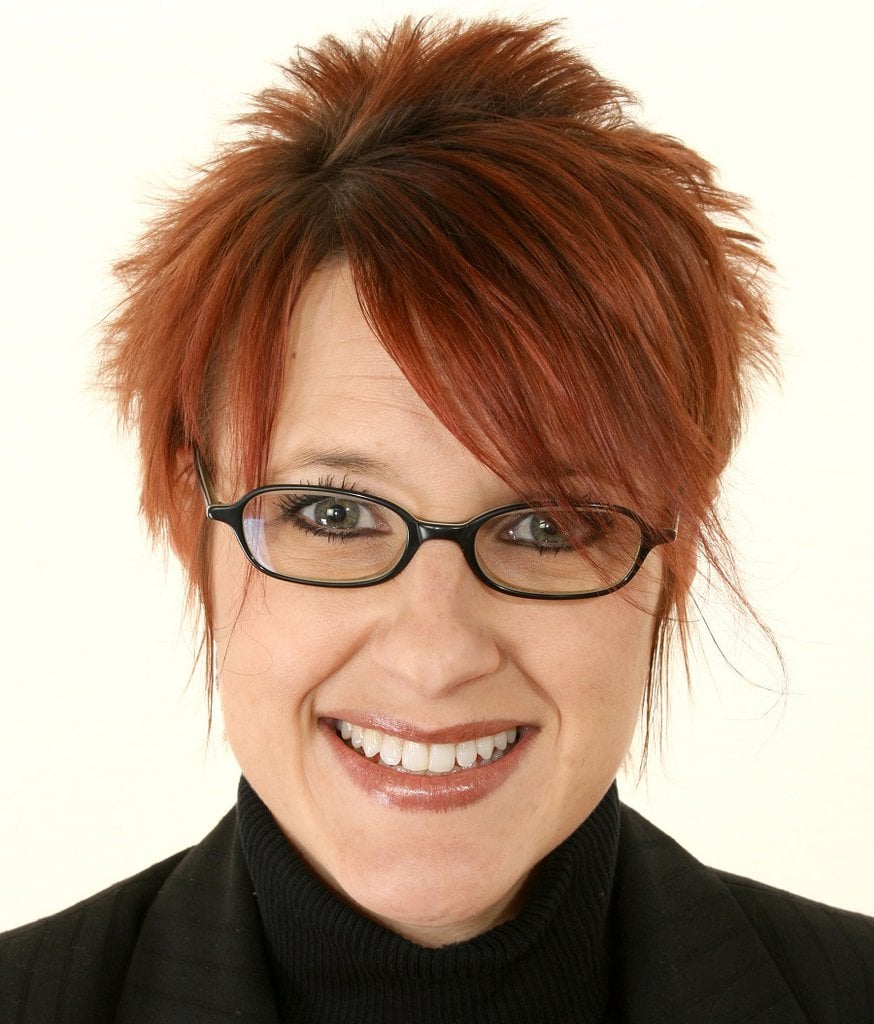 Muted red tones almost always suit more mature women and you can create lots of fun styles with it. Feather up the hair around the top and side of your head.
Create contrast by having straight side bangs on this pixie cut to cover one of your eyebrows.
Red and Blonde
Would you like a haircut with two different colors in it? Consider pairing red and blonde as one is bold but the other appears very natural. Then, mess up the top of your hair and style some over one eye.
Red Streak
Sometimes all you need to enhance a choppy pixie cut is a streak of red in the front. You can add some red undertones toward the back but keep them subtle.
Wear one side of your hair long so that it reaches your jawline and mess up the top for lots of volumes.
Swept Back
Women with thicker hair may opt to brush their tresses toward the back of their heads. It helps keep it under control.
The choppy texture of the top layers makes up for how short the lower layers are. The shorter layers help control the thick pixie.
Pink Pixie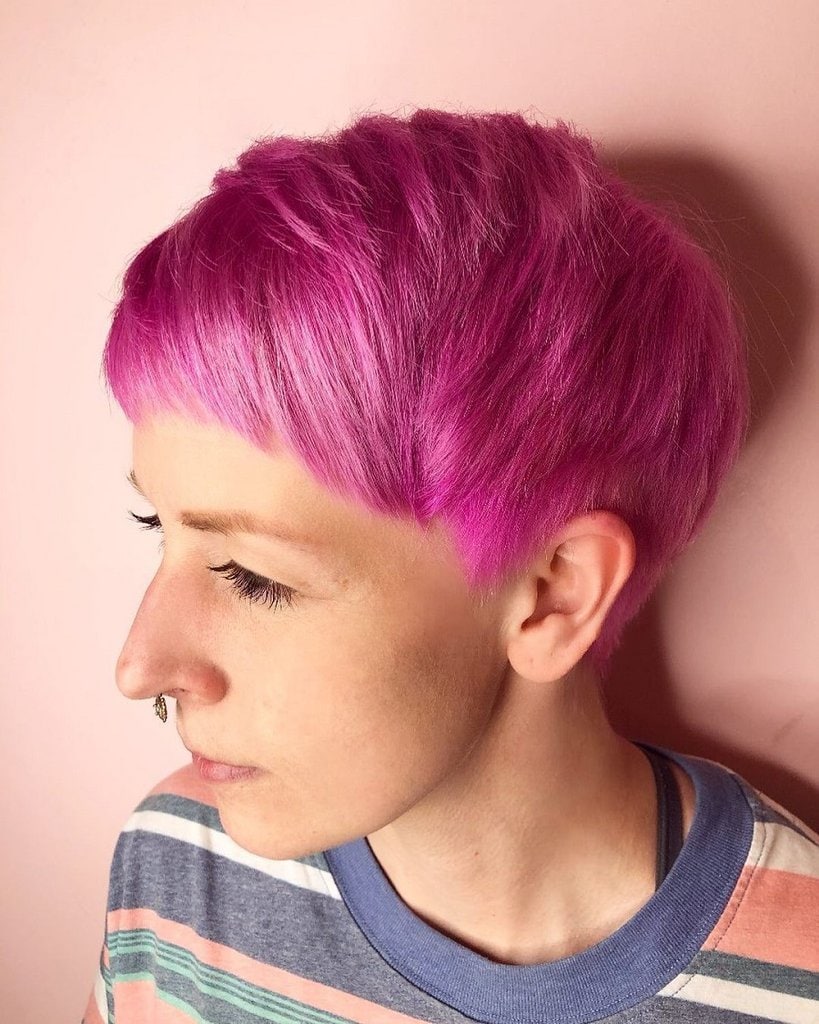 Finally, no list of pixies would be complete without a pink dye job. The color does most of the work to stand out. The choppy texture is mostly visible in the shorter layers so style your hair neatly.
Anybody interested in choppy pixie cuts will surely have found something they want to try out on this list. Blonde and unique colors are clearly popular when it comes to this haircut, but you can definitely find a few in darker tones too.
See which one of these matches your aesthetic before you dive in and change up your look!