A pixie cut is a short hair haircut for women. You will see this type on a fashionably gamine woman. This haircut and the girls who are tomboys at heart are just made for each other.
If you are looking for a way to change your look and want to shake things up a bit, you must consider going for a pixie cut. Especially, if you don't mind a crop, definitely go for a pixie haircut!
With a pixie cut, You may lose most of your locks, but what you gain are a simple wash-and-go and easy-to-maintain style. Along with this, the pixie cut will give you an added edge to your look and lots of compliments.
Other benefits that a pixie cut will provide you include less time and money on styling, it frames your face and helps pop your cheekbone and gives you the ability to experiment more with hair colors.
Modern and trendy Pixies are often paired with long side bangs or a shorter angled side fringe. They are being upgraded by adding choppy, spiky layers and undercuts.
You can also try to add new fashionable hair color to your pixie that you've never tried but have always wanted to.
Amazing Pixie Cut Styles
Check all these variants and other beautiful ideas of pixie cut we collected for you.
1. Platinum Blonde Pixie With Bangs
The finely chopped locks will look great on blondes especially light blonds like this one or natural color hair. This is because the light color brings out every razor-sharp cut of every strand.
This platinum or light version of blonde perfectly illustrates the point and also enriches it with the styling choice that is so daring like adding bangs to it.
It looks so effortlessly beautiful also because women choose to embrace their grey tresses and decide to go natural.
If this is what you want to do, this sassy, ash blonde pixie would be right to the point. The bangs make it more fashionable and appealing.
2. Side Chop Bowl-Pixie Cut
When you view images of a different pixie cut, you will realize that undercut pixies are absolutely the hottest options among not only pixie cuts but also among short women's haircuts.
A nape and sides undercut, or complete side fade cut, topped with choppy layers and side fringes, give you a cool badass look. If you are loving it, and think you can pull it, you should definitely try.
But there are fewer people who cant pull it. This bowl cut looks good on almost all face types and all texture hair.
The number of excuses, you will have not to try this, is very little to the reasons of why you should just go for this one.
3. Layered Pixie Bob
Another variation of a pixie cut is A long shaggy pixie cut. This is the perfect transition if you want to go short but will miss your long hair. This is also perfect if you do decide to start the process of growing your hair.
Having more long hair in front will give you a touch of long hair with short haircuts. Layered pixie cut also gives you more color options to play and experiment with. You can add layers to your cut.
When in doubt, combine the highlights and layers. It works best for short haircuts just as well as with longer ones.
Another benefit is that when you grow out of this pixie, its original asymmetrical cut will still remain interesting and edgy.
4. Curly Pixie Cut
The pixie cut is a perfect idea for all the curly girls out there. This short haircut works so well for curly hair. With a pixie cut, they become very easy to be maintained.
With shaved sides and a voluminous curly top at the top, the entire hairstyle looks so effortlessly gorgeous. With a pixie cut, you will be able to forget about the daily hustle of styling your curls every day.
Also, now say bye-bye to your straighteners. Because now you can get a haircut that will work with your natural hair texture. Your curls are now easy to maintain and style; also, it looks great.
5. Two-Tone Pixie Cut
This two-tone pixie, with different colors for the shaved part and different for a voluminous part, looks another level sassy of the pixie cut.
Normally, there is no such thing as any style being age-specific, but a disconnected haircut is considered too extreme for the working professional.
The blonde and brown combination suits the shaved pixie cut very well. You can go to other tones of colors also. This gives a different dimension to your pixie cut.
6. Feather Cut Disconnected Pixie
You can also go for A longer tapered pixie cut. This provides enough length to play with texture and color. We recommend a pixie with long disconnected layers, a soft nape line, and piece-y bangs.
This is the best version of the tapered pixie cut. It looks awesome in an easy tousled style, especially if you have fine yet dense straight hair.
You can style it with a dab of root-lifting product and a quick blowdry. Another great thing you can do is a V-cut nape.
This will add up to the edginess of your shaggy pixie. It also works as an unexpected detail drawing attention to your graceful neckline and shoulders.
7. The Pixie Wedge
To find an exact picture of the haircut you want, you kinda dig a lot. It can be difficult, but it can be the foundation for getting your vision across to a stylist.
To add volume to your pixie, you should keep the top and sides longer than a traditional pixie. This will also help you change the shape of the pixie accordingly.
It will form a wedge that looks surprisingly very gorgeous. These small changes make your pixie linger near the borderline, and it will turn into a Dorothy Hamill wedge. This will always be a classic pixie cut.
8. Tappered Pixie Cut
A simple and tapered pixie is a less extreme pixie version. compared to other versions that are bolder, disconnected, undercut pixie. Therefore, this is more classy also.
A taper adds a softer touch to your conventional shortcut. If you are still confused to figure out whether you want a softer style or a rough, edgier look.
Guess what, you can do both! An undercut is a current trend and it can help you do both. This will help you in bringing out your inner bad girl, while still maintaining the lady-like side of you.
9. Choppy Dark Brown Pixie
Pixie haircuts are simple but provide you a sharp look. The choppy cut is a short haircut that gives more attention to your face. Most of the girls who love to ride a bike or hiking can choose this short hairstyle so that they can wear helmets.
The stylist cut very small layers for edgy texture, which looks so natural on dark hairs. It is hip- hop style that reflects a badass personality. It takes a few minutes to style it properly.
Short hairs are low maintenance but do not goes with every dress. Sometimes if you want a bold look, style your short hairstyle with bold eye makeup.
10. Mussed Up Layered Pixie
Fine hairs are most common, but not everyone has the time, likes, and skills to maintain long hair. So cut your hairs into tapered and layers. It looks messy, elegant and practical hairstyle.
This modern hairstyle is suitable for young to old women. Your natural hair color and texture is a paramount ingredient to execute the end look properly. The lengths of hairs are about 2-3 inches long.
Front layers are longer to frame your face. It is comfortable for working women, professionals, teachers, etc. Pixie haircuts are complicated so always take the help of any professional.
11. Wavy Icy Blonde
Coloring your hair in icy blonde color is such a unique idea. It is a bright color that suits only on fair skin tone. Front and side bangs are outward, and the bottom is trimmed.
This creative boyish hairstyle is mostly for tried by girls. The natural wavy hair effect gives extra weightage to your hairstyle.
According to your personal preference, you can shove your hairstyle either left or center. Style your hair with dark eye makeup. This type of hairstyle is not recommended for businesswomen, professionals, etc.
12. Voluminous Pixie With Angled Sides
Thick hairs need a lot of care, conditioning, etc. This neat angled bob is a cool option for thick-haired girls. It is easy to maintain but looks so blunt and dazzling.
Side-swept bangs styled in a geometric shape will lift your face. You can have many options to style your pixie according to your desired choice.
Usually, women who are above their 30s will prefer this voluminous pixie. It looks classy if wear full sleeves dress. Because of the angled sides, you can easily flaunt your diamond jewelry.
13. Choppy Pixie With Undercut
Undercuts are now becoming popular. Usually, it is a different hairstyle, so not every girl has the guts to do it. Only the front and the top part is sharp and fun-loving.
Hairstyle represents your inner attitudes, personality, nature, etc. Choppy haircuts give you the confidence to stand out from the crowd. Your tattoos and piercings are properly visible under this crown haircut.
It is low maintenance and easy to style but not perfect for a wedding or traditional functions. Most of the female actors, pop singers are seen in a choppy undercut.
14. Long Tapered Side Fringe Pixie Cut
Buttery blonde hair is all well and good to carry a pixie cut, but the latest color trend involves a more ashy finish. If you want to give, your long choppy pixie cut a trendy edge with matte blonde hair color.
You can keep your roots dark and show a bit. You can do this by shaving sides, the roots will be visible and will be of a different color than other hair. This looks very stylish and trendy.
15. Choppy Side-Fringe Pixie
Another reason to be smitten about the pixie cut is its brilliance in versatility. You will be able to make more confident color choices. Knowing you can quickly grow out the color with shorter hair.
You can also possibly experiment with the symmetry of your cut. What makes this cute pixie stand out from the other types is its wispy layers and precise cuts, which are two contradictory things.
Blonde layers soften the straight-cut nape. The angled pieces in front of the ears create a sophisticated style in a short length that looks 100% feminine.
16. Side Parted Ear Tuck Pixie Bob Haircut
Modern-time pixie haircuts are mostly paired with long bangs on one side which gives you more space to style your hair in more prominent styles you want.
In this haircut, we are taking a look at a side-parted with long bangs which are quite normal, but the different part about this hairstyle is that the hairs are a little bit longer than a traditional pixie hair cut.
Through this extra length, the beautiful ladies in the picture provided above are able to design it by tucking the strands of hair behind the ear from one side.
Opposite to that, she has long bangs that are providing attention to her little pretty face. At the back of the head, she has gone for a traditional v-cut.
The whole hairdo is a kinda cute chic video to you. Go with bold eyes and it will add extra boldness and wildness vibe to your attire.
17. Side Swap Undercut Pixie Haircut
In the present era, there is day by day new upgrading in every style and especially in pixie haircuts as they are more popular and demanded haircuts throughout the world.
In modern times the traditional pixie haircuts are mixed and match with other methods of cutting such as short chopping, spiky crown hairstyles, adding layers and bangs, and also undercuts on temples or sides.
This hair cut which we are ready to look at is one of the mixes and match creations. Before moving further, I would suggest you look closely at the picture provided.
You can see the lady has adopted more of a bold feminine look by inhabiting the method of razor cutting or you can say undercutting of her from sides.
She has gone for a sharp, edgy vibe look by saving or undercutting her hair from all sides leaving longer hair strands at her crown area which are sleekly styled by side swapping.
This hairdo is perfect for the summer season approaching soon.
18. Soft Pixie Bob Cut for Fine Blond Hair
If you are not much of a bouncy jolly personality lady and want something to go with your fine straight, silky hair, then this hairstyle could be your next haircut.
This hairstyle does not involve much of your efforts in both that is no extra effort in achieving it and no extra effort for the maintenance of the hairstyle.
This sleekly soft look is perfect when you are a busy office-going lady and you have scheduled lots of formal meetings and events you have to attend then look no further this haircut is perfect.
The soft pixie cut will go more perfectly if you are a straight hair woman. The lade's hair is sleekly set in the shape of her head.
The maintenance of these kinds of styles is easy as you just have to wash your hair but some hair care product straighten them with the help of a comb and finalized with your setting spray and you are ready to go.
I must say the fine blond hair color is providing a golden hour glow to her haircut.
19. Funky Pixie Haircut with Layered and Long Bangs
Pixie hair cuts will allow you to happily and proudly embrace the sharp as well as strong features of your square, or you may know as diamonded face structure. You can now fade the attention on your broader part by just adopting a daring, bold, versatile short pixie cut.
If you are afraid that going with such a bold look will make you stand odd between your crowds, then let's give you a solution by looking at the provided image and see these short hair with cute long bangs is bold but not odd.
The young lady is giving a fiery vibe to us by just adopting a daring, bold, and versatile haircut. The pixie cut is usually just the change is that she has gone for layer long bangs.
With the right color choice for a little touch of its highlights are perfect enhancements to the hairstyle.
20. Side Shaved Pixie Haircut
Shaving and razor cutting of hair are very common among boys hairstyling, but as long as we can remember this styling method also becomes one of the most demanded and like hairstyling ways among tomboy girls.
Pixie cutting was one haircut for a bold famine look for ladies but moving further deep the ladies also started adding the pinch of shaving haircutting to bring out their daring personality. This pixie cut is all about the edgy shaved bold video to your personality.
The pixie cut is traditionally done by trimming the hair short and the famine side swap but for the boldness, the other side is saved with help of a razor and it is done neat and clean with some skin visible to you.
This haircut is perfect for a tomboy feminine look for you ladies. The ceramal blond hair color is perfect for bringing a more famine look, but if you are more into the daring personality, you can always go for bold dark single tone or two-tone hair coloring process.
21. Short Lavender Color Pixie Cut With Temple Undercut
Over the years, we have seen the bold and blonde colors are everyone's first choice whether you want a girly or bold look. These are the first ones that come to your mind.
But in today's modern days, we bring you a totally different and versatile hair color look for you guys. It's perfectly girly but with the pixie cut, it's bold and daring.
The very short pixie cut in the above image with the touch of undercutting at the very edge of the hairstyle is all the boldness and edgy look to your attire along with that the lavender color is all feminine and girly.
The whole look sums up to become a cute but tough look. It goes with both of your personalities the softness and toughness hidden within you.
22. Wet Styled Pixie Haircut
Most of the time, when we talk about pixie haircuts, the first picture comes to our mind of messy fluffy short cut hairs but there are other more sophisticated methods to style your pixie haircuts into more formal and mature looks.
Here is one of them. For long hair, we have seen the wet hairstyling but in this, we have brought the same for your short pixie cut hair. In this hairstyle woman's silky straight hairs are all styled up this wet hairstyling technique.
The hairstyle includes short strands that are given a wet look by hairsprays or you can also use water to bring that look.
The side swap is a feminine simile and the sleek touch brings out your boldness and formal along with mature vibe to your attire.
23. Short-length with Baby Bangs Pixie Haircut
Pixie haircuts are always referenced to short haircutting. Usually, three inches tall hairs are included in pixie cuts but recently more people are drawn towards the longer style of pixie haircuts that can be a mix of long-short like short hair with long bangs, etc.
But if you are really a short hair person and looking for a trendy sassy pixie short haircut, then this hairstyle may be liked by you. The hairstyle includes short trimming of hair all around.
The strands are unevenly cut meaning that the hair cutting is done n a layered method to give a fluffiness to your hair. The short layer cutting provides a perfect head shape. The baby or short bangs in front of the forehead is a trendy, sophisticated look.
This hairdo is perfect if you are a businesswoman or have tight schedule plans every day as they are less time-consuming for styling as well as their maintenance.
24. Stacked Bob-Pixie Haircut With Long Bangs And Temple Undercutting
There is a slight difference between a bob cut and a pixie cut. Bob cuts are usually referred to as slightly longer hair and pixie cut refers to shortcutting. Here in this hairstyle, we are combining three major and trendy hair cutting methods to gather.
The tree haircuts can clearly be identified by the picture provided above- the first is obviously our pixie cutting with a touch of bob cutting and the edginess to the hairstyle is provide by the shaving of the temple that is undercutting.
The stacked bob cut is mainly referred to as the side-parted long hair; they can also be included as long bobs and on the opposite side, the hairs are shaved slightly from temples.
All over the head, the hair is trimmed to its short length which is decided by you and they are referred to as pixie cutting. The light blonde hair color is the perfect way to show the jolliness of your nature through your hairstyle.
25. Platinum Blond Spike Mohawk Pixie Hairstyle
For die heart tomboy girls, this is the perfect hairstyle to bring out the naughty bold and wild side of you to the world now; this pixie cut is spiky and trendy.
The Mohawk touch into the hairstyle is the perfect way to bring your edgy style out through your hair styling.
The traditional v cut is involved in this hair cut but with a twist which we can clearly see from the above image provided. The hairs on both sides are neatly trimmed to a very short length.
This can also be done by a razor or shaved technique to have an undercutting but in this hairstyle, we were not going for perfect undercutting and skin revealing so this trimming is done by pair of scissors.
The crown has on hair that is styled in spikes with the help of hair gels.
If you are in search of a proper neat classic finish of your spikes just like in the picture, then you just need to use the gel product to silk the sides and the crown hairs to brush back in a downward motion.
The platinum blond hair color is defiantly providing an extra shine to the hairstyle.
26. Side Buzz Blonde
This short side buzz hairstyle is the epitome of all things edgy and sassy. The bleached blonde hair contrasts the dark edginess of the brown undercut on the side to result in the perfect pixie haircut for the summer.
Make sure to leave some length for the blonde side-parted hair to frame your face flatteringly.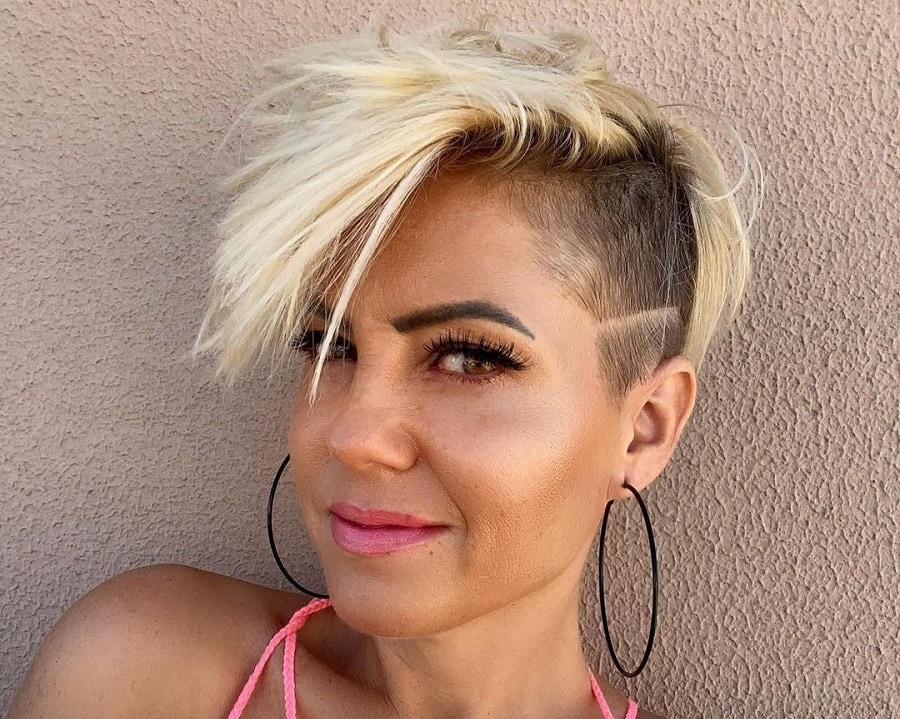 27. Lavender and Brown
The beautiful shades of lavender blended with the natural brown hair is an eye-catching and ethereal combination you must try out.
The delicate color gives your short hair a subtle look, while the contrasting brown shade enhances the light color even further.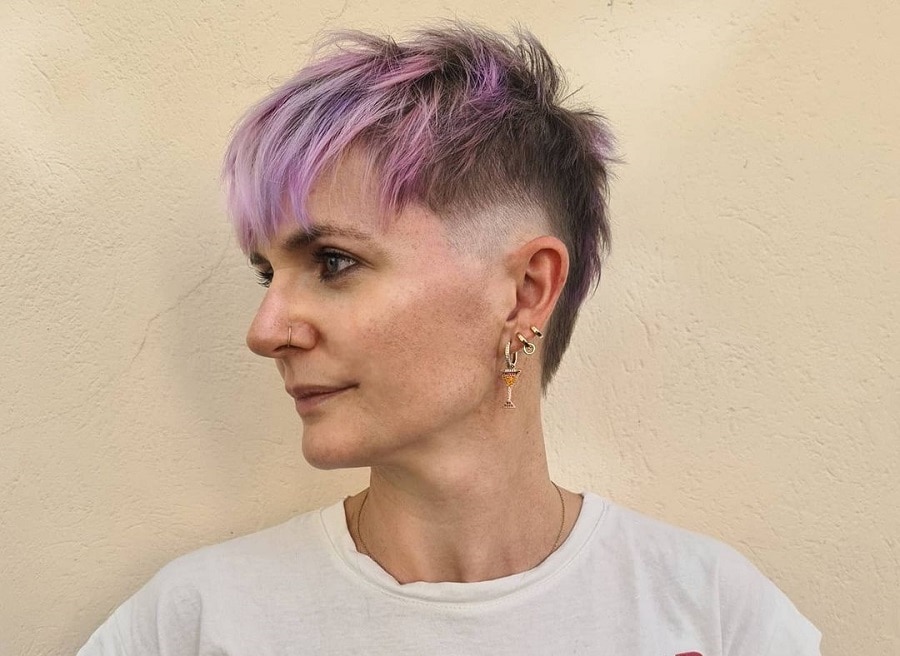 28. Red Hot Statement
With a short hairstyle such as this one, you can easily experiment with the beautiful colors of your choice.
The ravishing shade of red is the ideal way to transform your pixie into an eye-catching statement that turns heads everywhere you go.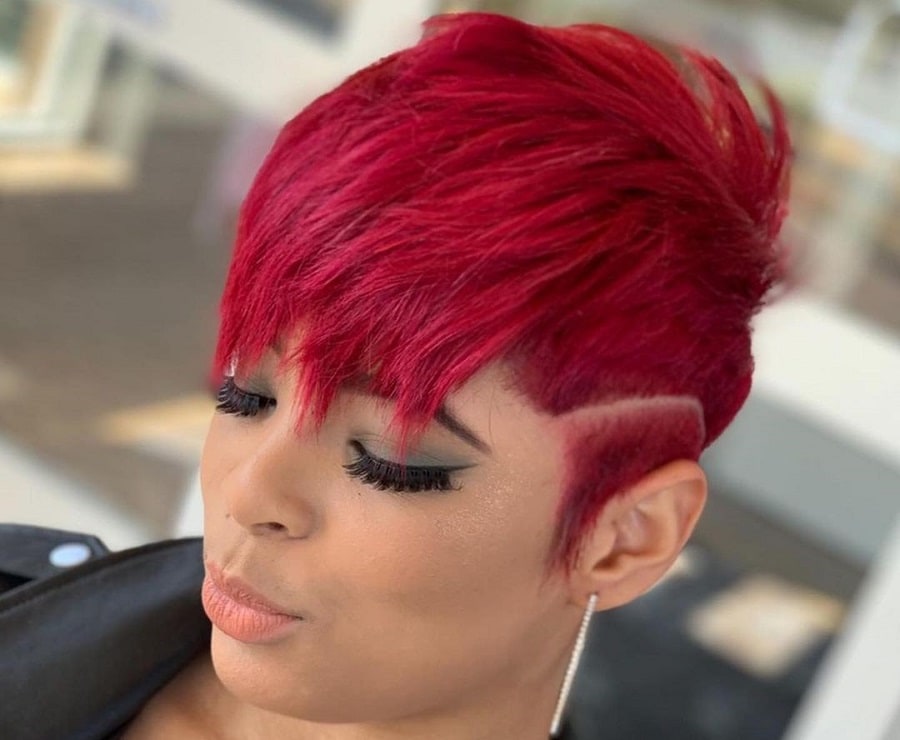 29. Silver With Purple Highlights
Who said silver hair is just for older women? A silver statement with lavender accents on the top is the perfect cool-toned upgrade to bring your hair game up a few notches. The cool tones of this short hairstyle is sure to give you a bossy and head-turning end result.
30. Messy Balayage
The best part about this next haircut is that it is easy to handle and comfortable, yet it gives you a look that is eye-catching and distinctive.
This messy hairdo takes no time to prep, so this hairstyle is perfect for lazy women that don't have much time to spend on their hair daily.
31. Natural Brown Fringes
This hairstyle is one of the most traditional edgy pixie cut hairstyles on the list. It is a classic variation of the pixie haircut with feathery bangs and fringes up front that turn your simple haircut into something bold and bossy in the simplest way.
32. Messy Brown Highlights
For those lucky women, blessed with thicker hair, that are looking for a short manageable haircut, we've got your back.
This is the type of haircut that is surely voluminous yet sassy and easy to manage. If you prefer more traditional and straightforward hairdos, this is the perfect pick for you.
33. Sleek Black Violet
This dreamy, dark shade of violet can easily elevate any hairstyle into something distinctive and delicate. The depth of the moody violet doesn't only flatter and enhance your facial features perfectly but is also ideal for those looking for autumn hairstyles.
34. Sharp Short Bangs
If you're the type of person that prefers to stand out in a crowd, this hairstyle is your ideal pick. This might not be everyone's cup of tea, but it is sure to attract every eye on the street.
These sleek and modern short bangs have to be one of the most unique edgy pixie cut hairstyles on our list.
35. Silver Statement
There's no better way to make a bold and jaw-dropping statement than with your hairstyle, and this silver-platinum hairdo is the perfect example.
The distinctively styled spikes will sharpen up your look and the cool-toned shade will enhance the shine even further.
FAQs
Does a Pixie Cut Make Us Look Younger?
Getting a short haircut removes damaged hair. A short pixie cut will make your hair look healthy, which helps us look younger overall.
Pixie cuts, especially ones with many angles, are considered a more youthful style. Even if you opt for a more conservative pixie cut for a mature look, the style highlights the curves of your face making you appear younger.
Can Women With Round Faces Wear a Pixie Cut?
Women with round faces can rock a pixie cut. The top-heavy style brings attention to the angles of the face, especially the cheekbones. A pixie-style cut helps to show off those angles, which can be harder to accomplish with a round face shape.
Should I Have a Pixie Cut With Thin Hair?
Pixie cuts make for an ideal hairstyle for thin hair. Since short hair is stronger than long hair, a pixie style protects your hair.
Adding layers to a pixie cut is a great way to coax volume out of thinning hair. Pixie cuts are also low maintenance, so it's a great style to achieve lots of volume without much effort.
If you choose a pixie cut, you are definitely a fashionable gamine adventures woman who according to us, is a bold, straightforward and daring woman who loves to be playful with her hairstyling.
These 35 hairstyles are perfect for ladies who are of tomboy personality at heart if you are looking for shaking up things and styles a little bit, then these should be your first choice.
You may lose locks and strands of your hair but on the other hand, you have a fantastic advantage that is a simple hair wash and you are on your go. There is no extra time involved in the styling and maintenance of these haircuts.
Pixie haircuts also add little edge boldness and wildness looks and compliment your way. So what are you waiting for choose your perfect pixie haircut and rush towards your barber for a fresh, trendy new look?