There is a vast variety of edgy haircuts that will make the wearer stand out in any crowd. This type of haircut can be easily identified by its bright color, messy styling, sharp lines, and more.
Some women may worn as everyday haircuts that look just a little more unique than average. Others are full-on punk rock looks that will have people staring at you wherever you go.
It takes a really confident person with a strong personality to wear the hairstyles you'll see below. Do you have what it takes to pull them off? Scroll down and find out.
Top Edgy Hairstyles for A Punk Look
Are you ready to dive in and have your mind blown by the variety of haircuts below? Let's help you find your perfect new look.
Blue Undercut
Blue is a very popular color that you'll see in edgy hairstyles. The undercut or shaved side is another element that pops up throughout the looks of this style.
This is a more low-maintenance look with two shades of blue in an ombre style. One side of the hair is shaved to reveal natural brown tresses.
Pink Mohawk
You'll also often see pink and blonde paired together in alternative styles. Here the particular shades are white blonde and very light pink as they stand out more.
The extremely short sides are blonde and they help make the fluffy pink mohawk stand out to the best of its ability.
Long Streaks
Would you like something a little more understated? Then simply adding streaks of bright colors to your natural locks will suffice. Pink and purple are some of the boldest you can choose.
Colorful Wavy Pixie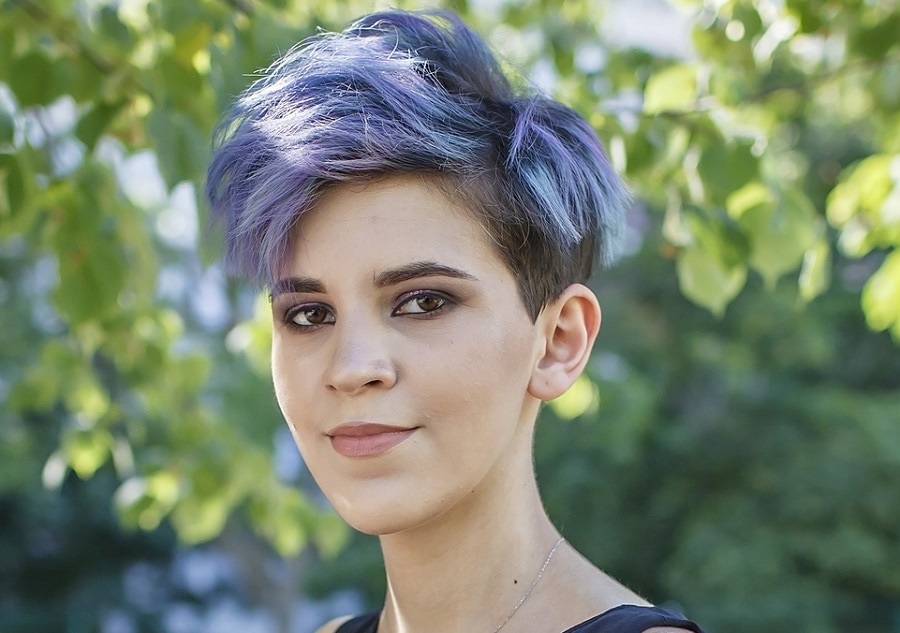 Women with naturally wavy hair can create an effortlessly messy texture. This creates a lot of volume and haircuts like the pixie.
There's a choppy layer cut into one side So you can see the natural hair colour underneath.
Jagged Cut with Bangs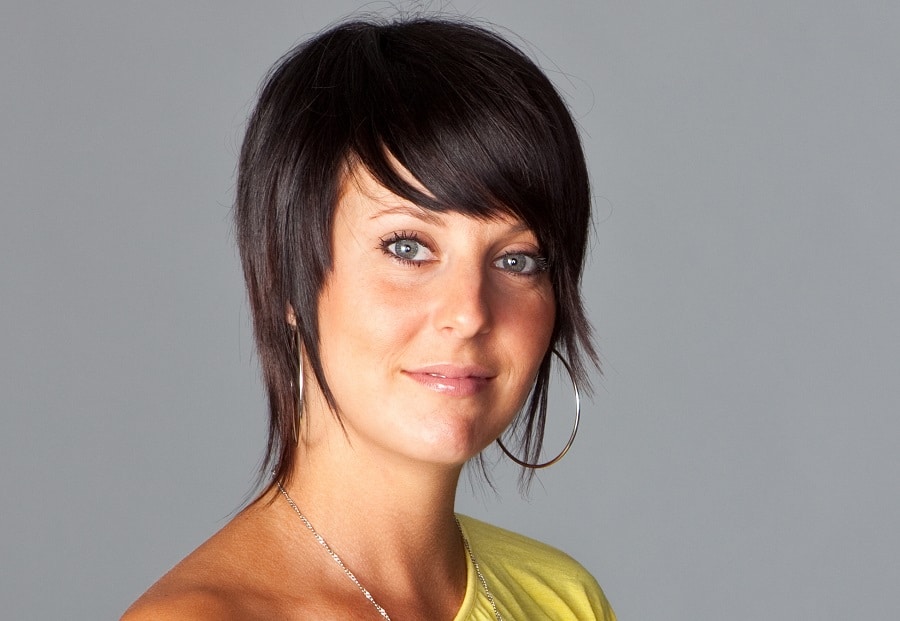 Here's an edgy style that you could easily wear to work without getting into trouble with your formal boss.
The edginess is achieved with the sharp angles of the cut as it frames the face. The natural dark brown hair color is worn.
Green Fuzz
Are you feeling bold? Then cut your hair barely longer than a buzz cut. Then, dye the fuzz left behind the bright green.
Shaved lines are another common theme in short edgy haircuts. Add a shaved line where a side parting would be.
Bold Shaved Side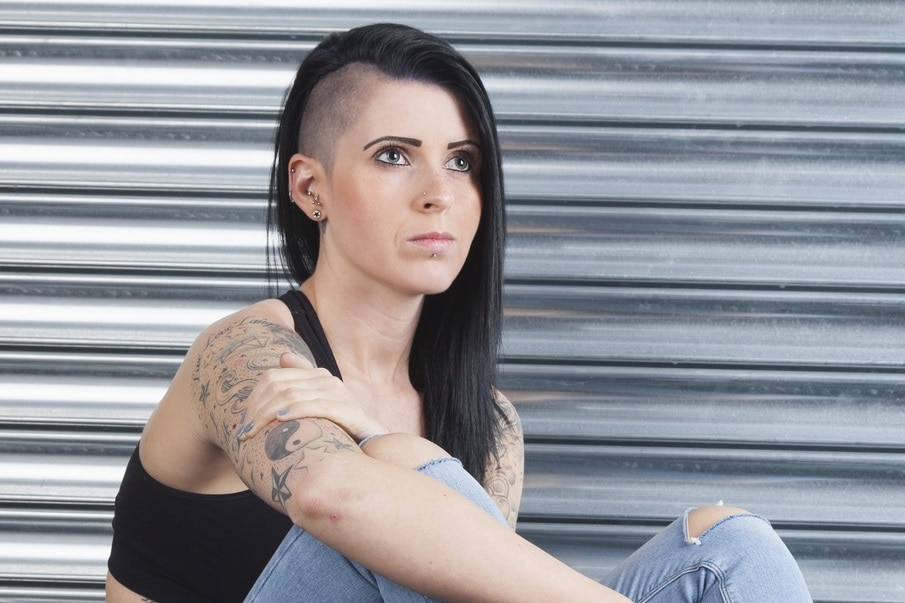 If you want to wear natural a color, then consider black. Jet black hair is rare so it always stands out a little more than very dark browns and similar shades.
Straight long hair with a shaved side is an easy and low-maintenance look that could fit your vibe.
Pastel Pink Waves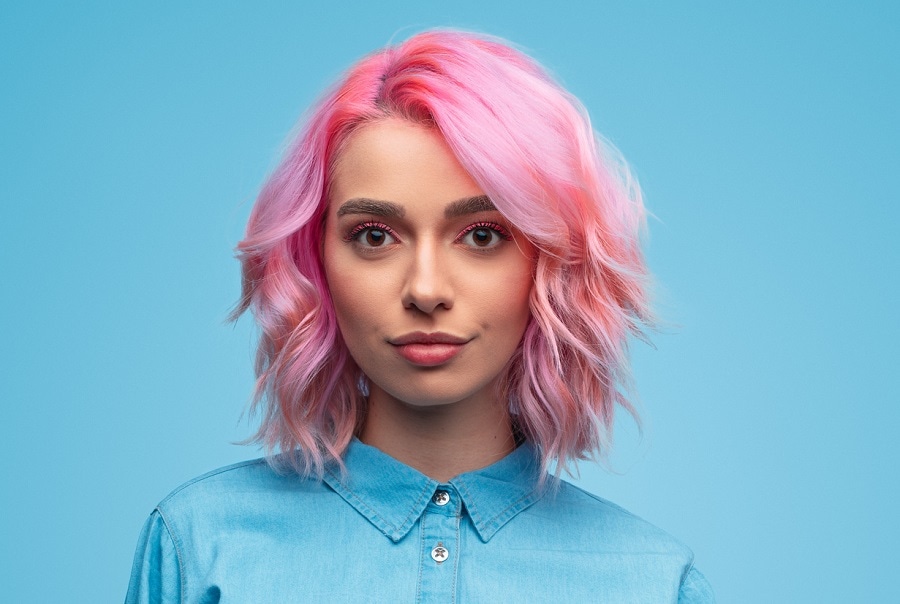 Do you like looks that are on the cuter side? Consider pastel pink. It's certainly bright enough to make you stand out, but it's also adorable.
The waves give the hair a lot of body and texture. It helps amplify the look of the choppy ends of the layers.
Shaggy Spikes
You can achieve a long edgy look by chopping lots of blunt layers into your locks. Make some of the layers are so short that they stand up.
Add some hair gel to ensure they stay in this raised position. You'll achieve a rockstar look inspired by the 80s.
Tamer Look with Bangs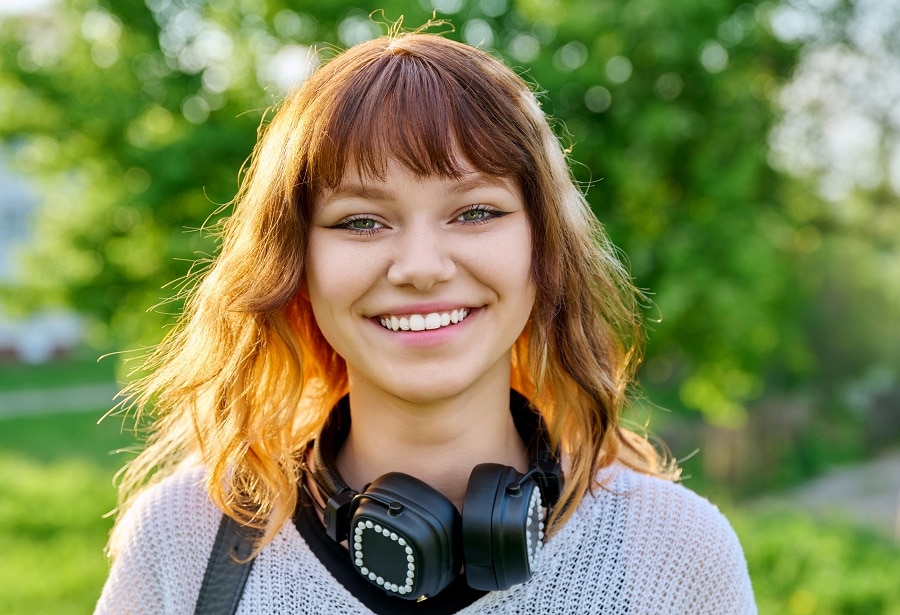 If you need a tamer look, then reddish tones mixed with your natural brown color work well. They look orange in bright lighting so you have a lot of vibrance in your style.
Lightly wavy layers paired with bangs will help you achieve a look that works for all occasions.
Blonde Quiff
Quiffs are most often seen on men but they're great for women too. Slick back the sides and tease up the top so it has a lot of volumes.
Ensure it falls over one side of your head so you can keep up with the latest edgy hair trends.
Split Pink and Yellow
Parting your hair down the middle is easy and it's currently on-trend. It also makes it simple to add split colors to your hair. Dye one side light pink on the other side yellow.
If you want to go for a really messy look then brush out natural waves to achieve a lot of frizz.
Purple Curls
Even older women can rock this style. Purple is flattering for all ages and it pairs well with natural grey. The grey is visible on the shaved sides but the purple curls on top stand out most.
Blue Ends
Women with thinner hair may want to stay away from more extreme styles. They can make your hair look to find. Instead, play with colors as you can see here.
Adding a unique tone to the ends of your locks will definitely differentiate you from the crowd.
Afro with Shaved Side
Black and mixed-race women can embrace their natural Afro-textured hair. This edgy haircut is very easy to get. Let it grow voluminous around your head and dye it a lighter color so it stands out.
Shave one side to ensure people know you're going for an punk look.
Ombre with Shaved Side
Black women can achieve natural volume easily using their regular hair texture. From there, chemically straighten part of your hair and then re-curl it with a curling iron.
Shave one side and dye your tresses light brown with a blonde ombre towards the end.
Deep Orange Locks
Deep orange or light red is always an eye-catching look. Pair the color with an alternative haircut. This one tucks in under the chin at the front.
It has very choppy ends. The back is longer and sits on the shoulders.
Mint Green Pixie
You don't often see mint green outside of edgy haircuts. The color lets you keep the overall style simpler.
Add layers to your thick hair and wear bangs that sweep sideways across the forehead. Get a short haircut that's gradually longer towards the back.
Multicolored Dreadlocks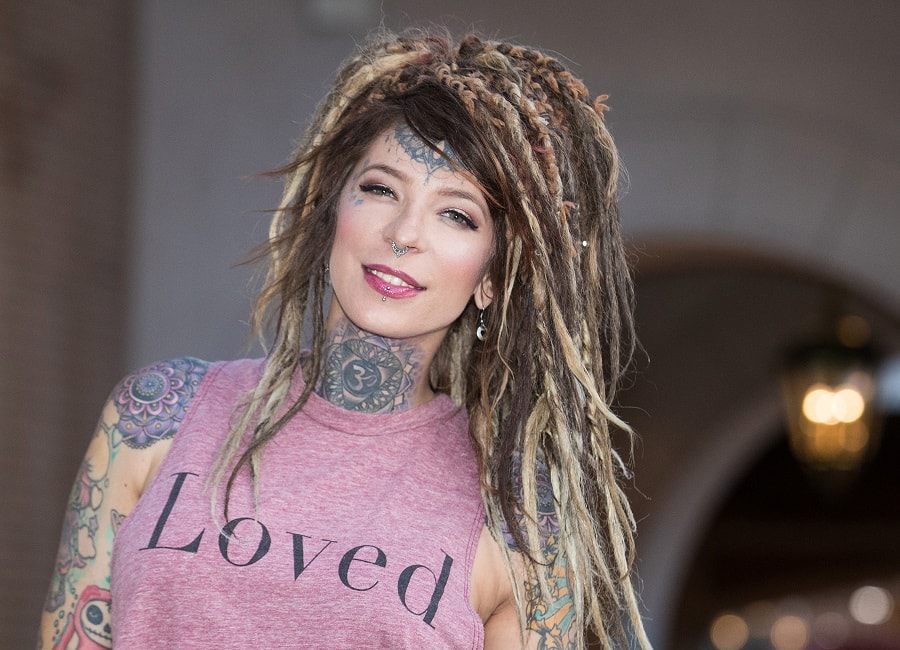 Dreadlocks are more commonly worn by black people. That's why they look so edgy when worn by white people.
Mix shades of brown and blonde throughout your locks. Create a side parting and leave some hair free and straight around your face.
Curls and Bangs
Shaving one side of your head is a big commitment. If you're not ready to do that, then pin all your hair to one side instead. Create a mixture of curls and waves so it's messy.
Thick bangs across your forehead will make an eye-catching statement.
Curly Undercut Pixie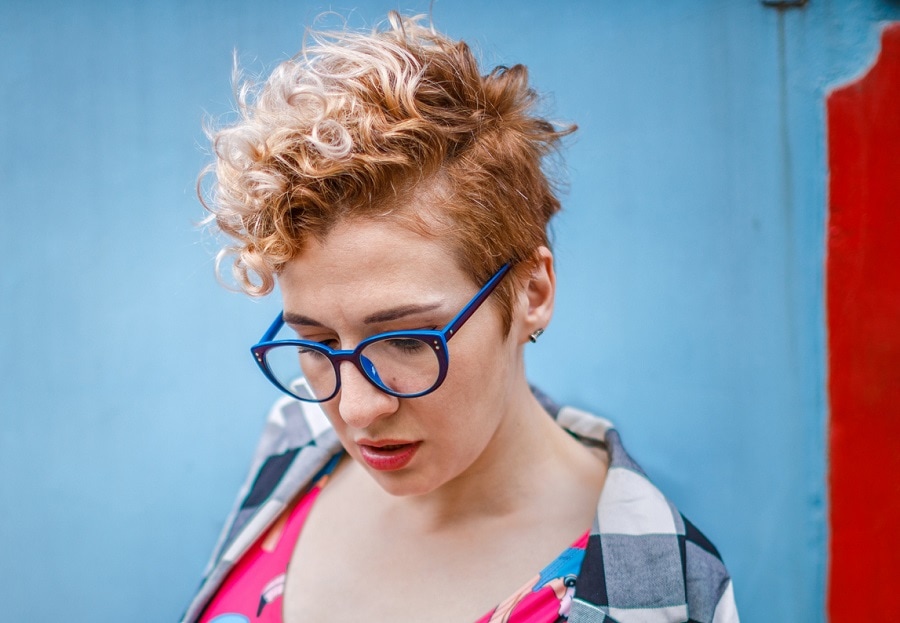 Pixie cuts when worn with undercuts automatically gain you more attention. If you have naturally curly hair, then this will benefit the look.
Combine a natural ginger tone with blonde highlights to enhance your appearance.
Pastel Purple Bob
Have you ever seen a purple haircut that didn't capture all of your attention? It's impossible to look away even though the style is only a bob.
This edgy hair is a little longer on one side with curls. The shorter side has blue ends.
Two Tone Undercut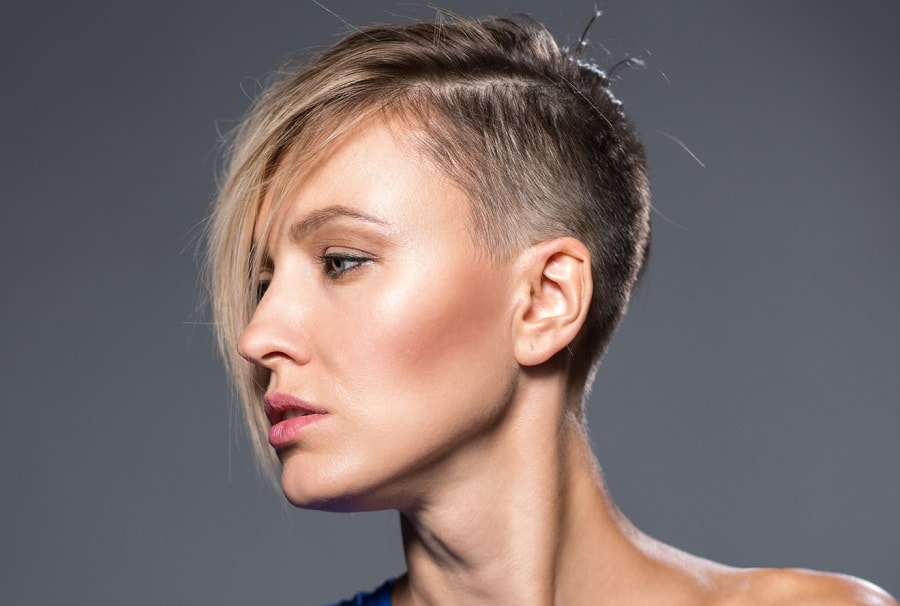 Energy haircuts don't have to have unnatural colors. Here brown and blonde work well together in a pixie cut.
The blonde section is very long and falls over the face. One side and some of the back are shaved. Women who need to have a somewhat natural appearance for work may favour a style like this.
Short Auburn Look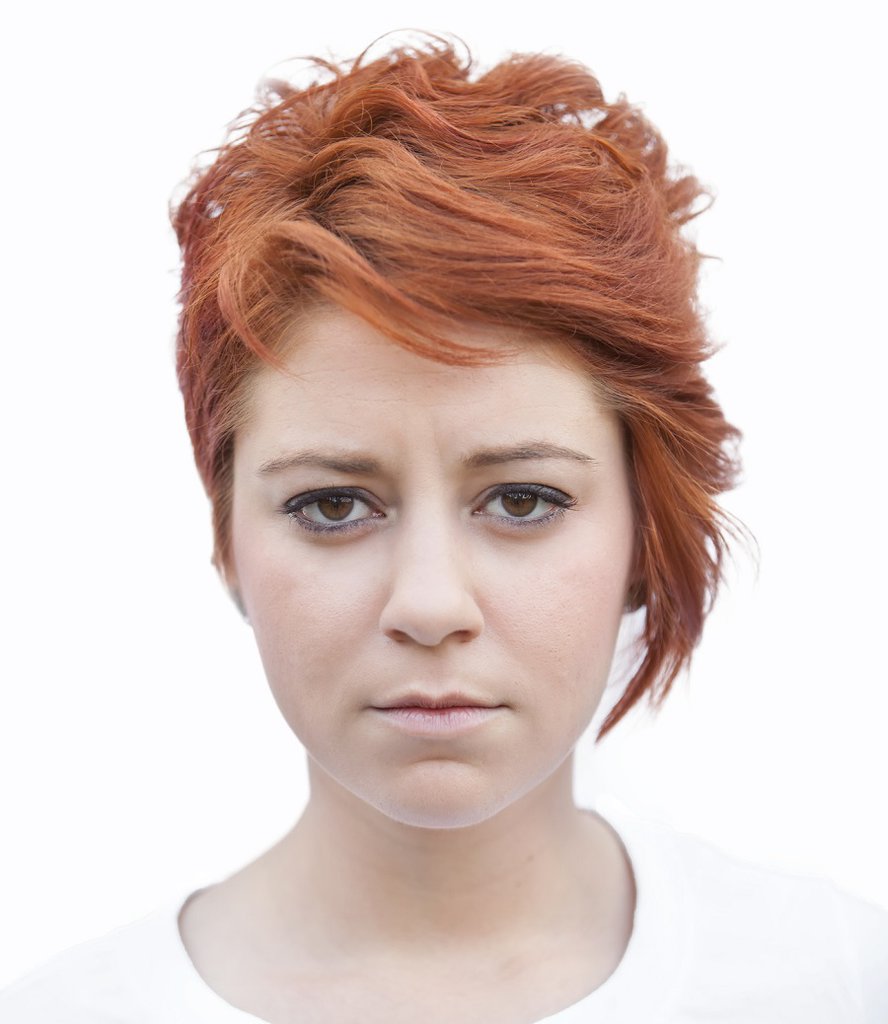 There's something about vivid auburn that looks both natural and unique. People will be looking to try and see your haircut better.
Keep your locks short than the other side. Brush the rest of your hair to the opposite side of your head and add a wavy texture. The longest section should reach your chin.
Emo Look
Straight hair with voluminous, thick side bangs was very popular in the 2000s. It's a classic emo edgy haircut. However, the hair is light brown with sections of chunky blonde highlights.
This differs from the usual black color of the emo haircut. The light shades in the style will help people see that you value more alternative fashion.
There's something just so fine about edgy haircuts! It's almost impossible to run out of different styles to try. Anybody who favors an alternative look will want to cycle through many of these haircuts throughout their lifetime.
If you didn't find your perfect new look here, then consider taking elements from the styles you like and combining them to make something new.
Hopefully, we helped you find the perfect new edgy look to bring you confidence and happiness.