Have you jumped into the man bun braids bandwagon yet? If not, then now's the perfect time to do so!
This is most especially true since a new twist is added to this cool messy hairstyle—braids! Brushing their hair and pulling all of it into a messy top bun is all the rage these days, and it's easy to understand why a lot of men favor this hairstyle.
After all, this hairstyle is probably the sexiest way to get men's long hair out of their face! And now, it's made even sexier – thanks to man bun braids!
Who Should Try The Man Bun Braid Hairstyle?
While this hairstyle looks like an effortlessly stylish hairstyle, there are certain requirements to pull of this look so not anyone can have a go at it. It's best for men who have the following:
Long hair
This one's pretty obvious, but how long should your hair be? The minimum requirement is around 3-4 inches for smaller braids and 5-8 inches for bigger braids.
Right face shape
Different types of man bun braids will favor different face shapes, so you need to consider the shape of your face when choosing your hairstyle.
If you only like to add one to two simple braids to your haircut, you don't have to worry about face shape. On the other hand, fully braided hairstyles would work best only on diamond, oblong, triangle, and square face shapes.
Right tools
To pull off this hairstyle, you would need a nice comb, hair bands, and hair oil.
Stylish Man Bun Braids to Choose From
Man Bun Braid Alert! Here are some of the sexiest styles that we've come across:
1. Braided Dreadlocks
Braided dreadlocks pulled into a man bun are not only sexy but also functional as well! This has become all the rage these days because it allows men to enjoy protective hairstyles that make them look stylish too!
2. Man Bun with Undercut
Do you want to enjoy a long hairstyle with shorter hair at the sides? We love how cool it looks too! The hairstyle brings the best of both worlds. It's like a hairstyle that shows a party at the top and business at the sides.
3. Box Braided Man Bun
If you're looking for a way to make the messy man bun look more polished, this fully braided hairstyle is the way to go. It's true that this is one of the hairstyles that take a while to create but it's worth it!
4. High Top Braids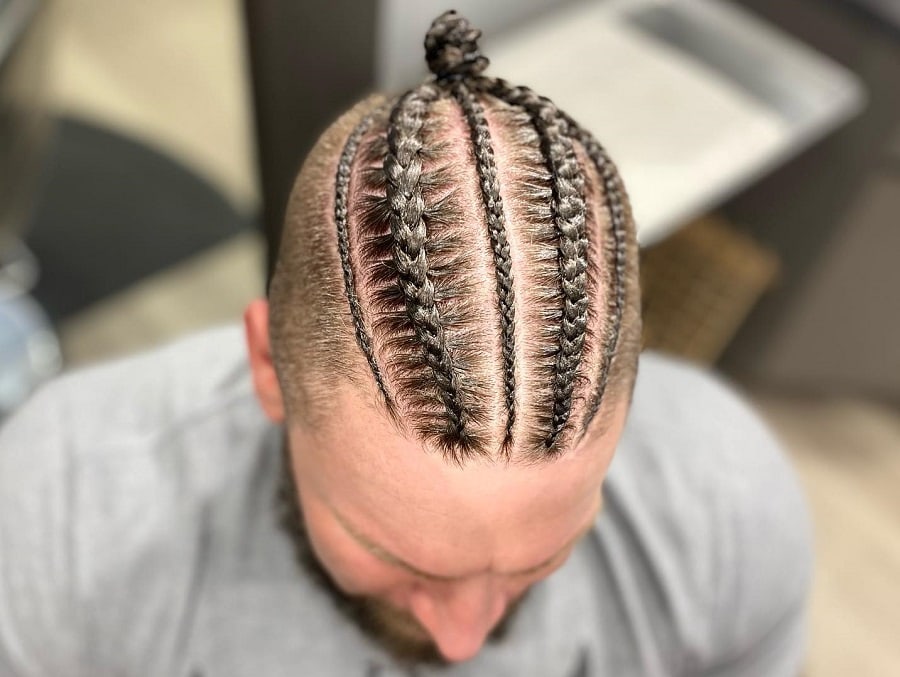 If you want to show off your cornrows, this bun is the way to go. Keeping the braids tight is the best way to showcase your cornrows. And if you wish to add depth and dimension to your look, go for a mix of small and big braids like this one.
5. Cornrow Design with Fade
Are you looking for a way not just to look stylish but show off your creativity as well? Then why not experiment with your cornrows? Let the ladies see your romantic side by creating a heart out of it!
6. Sleek Bun with Braided Bangs
This is most probably one of the mesmerizing artistic man bun braids that we've come across and we love it! The best part? It may seem so complex, but it's pretty easy to do. Just keep the braids tight and clean. Don't forget to braid your bangs too!
7. Quadruple Intertwined Braids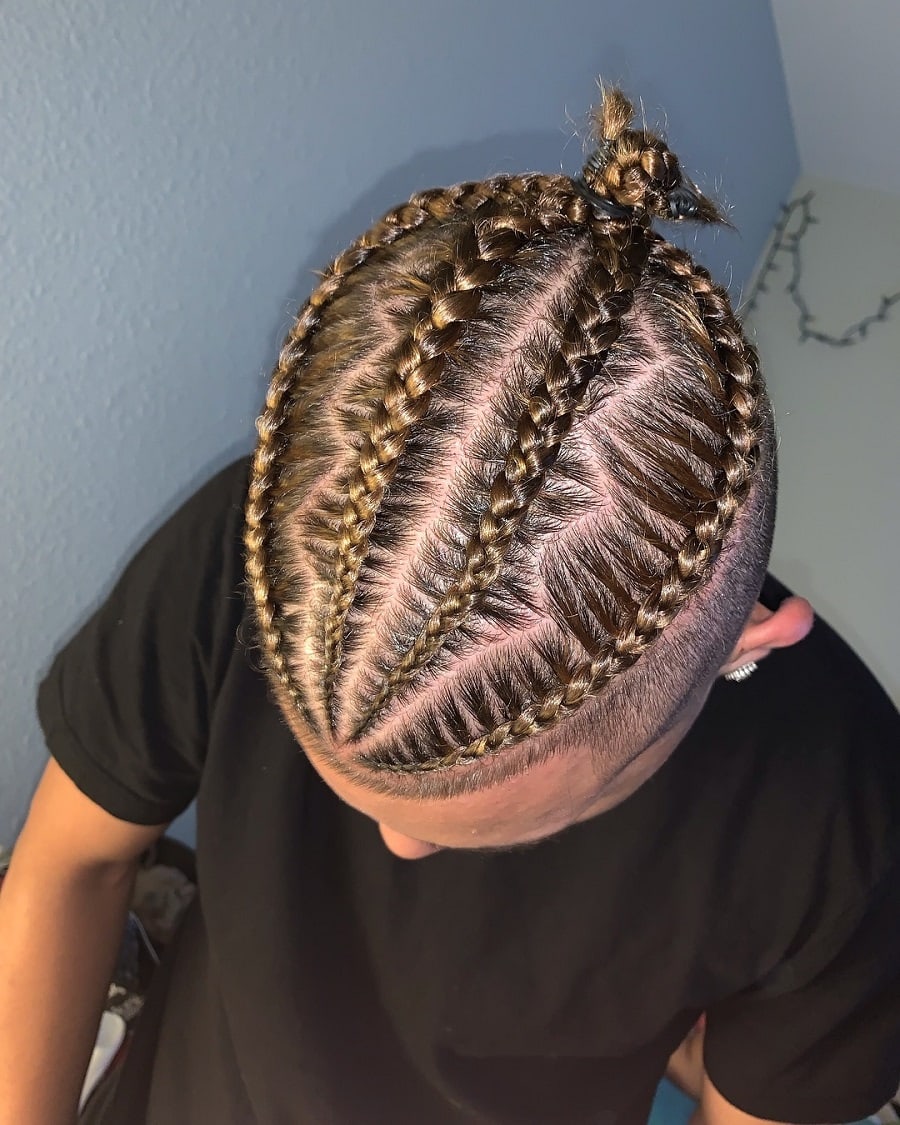 If you have an undercut and you want to showcase it in the most artistic way possible, create a crown of braid out of your long hair by braiding your hair into four parts and pulling all of the braided strands into one polished man bun.
8. Twin Braids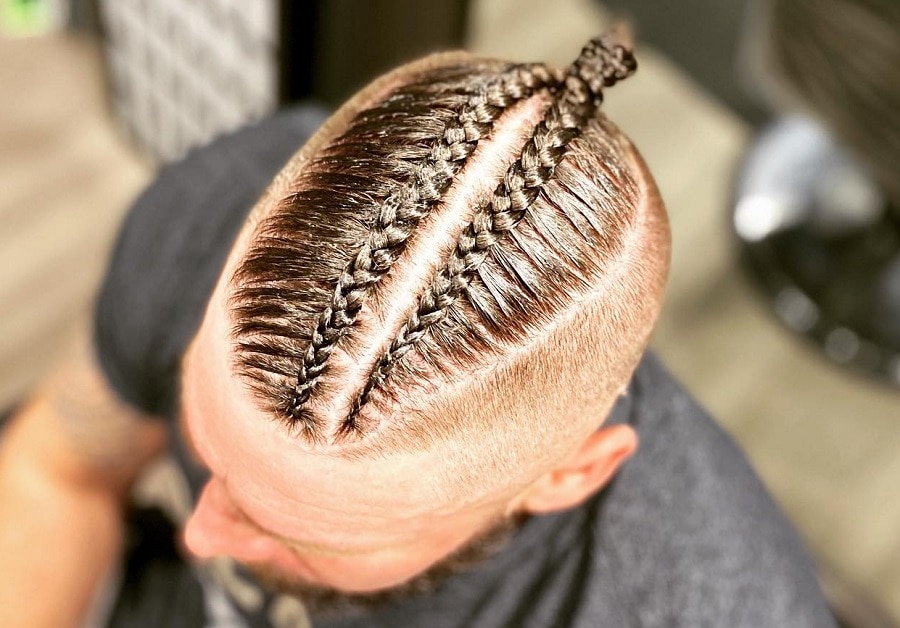 Here's another way to let people see your undercut and sport a braided man bun at the same time. We truly love how polished the entire look is. Plus, that middle-slanted part is really an eye-catcher.
9. Blonde Man Bun
To keep your look simple yet still cool and edgy, why not create a fully braided hairstyle like this one? And instead of braiding your hair up to the ends, leave it be so you can still achieve the classic top knot.
10. Cornrows with Wavy Design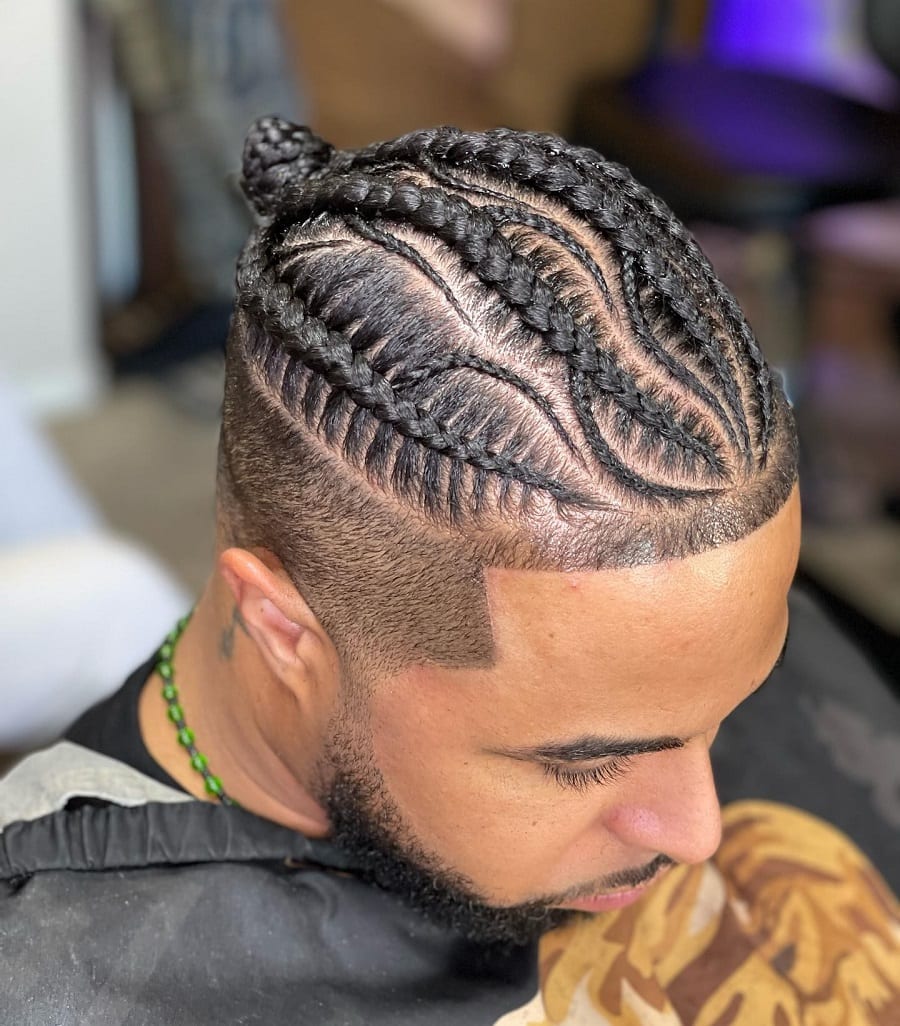 Is there a man bun braid that looks more enchanting than this one? We bet none! But of course, a braid as beautiful as this would require lots of work. After all, no pain, no gain!
You can do this by leaving a few thin strands unbraided and then braiding them separately afterward.
11. Thins Braids with Fade
For men with short faded hair, this is one of the looks that you can try. Since your hair is short, it's best that you create small braids like this one.
12. Braided Low Bun
Do you want to sport the beautiful cornrows wavy design but don't have time to do it? Well, here's our next best suggestion—the wavy braids! In this way, you can create a unique braided look without having to spend too much time on it.
13. Artistic Small Braids
For those with thin hair and small braids are the only thing you can create, don't get frustrated.
Even though you can only work with small braids, you can take this man bun hairstyle as your inspiration and unleash your creativity and play with your braids in any way you want.
14. Tight Cornrows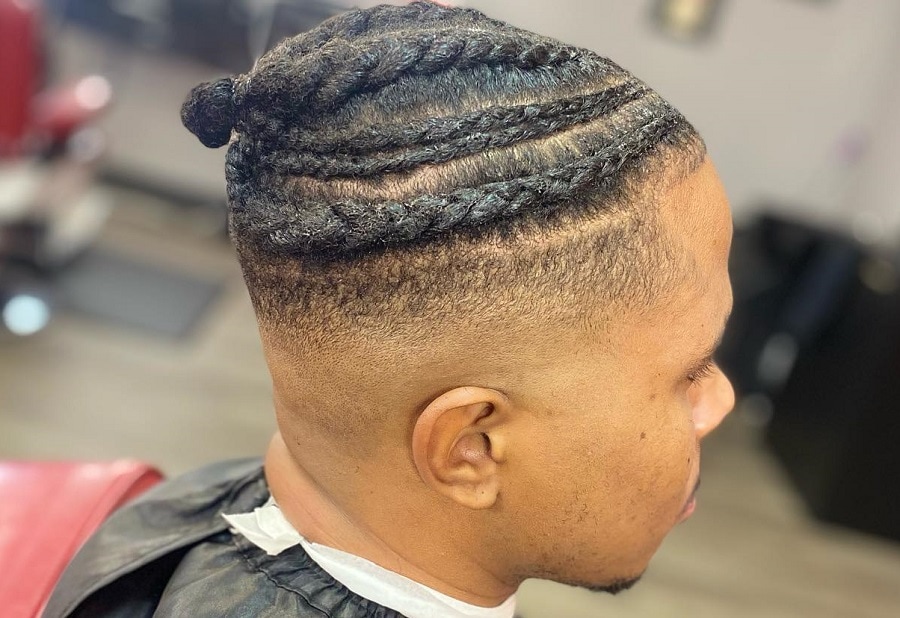 Yes, there are plenty of ways you can experiment with your cornrows. In fact, this option is probably one of the most intricate yet stunning bun with braids for men we've ever seen.
15. Center Top Knot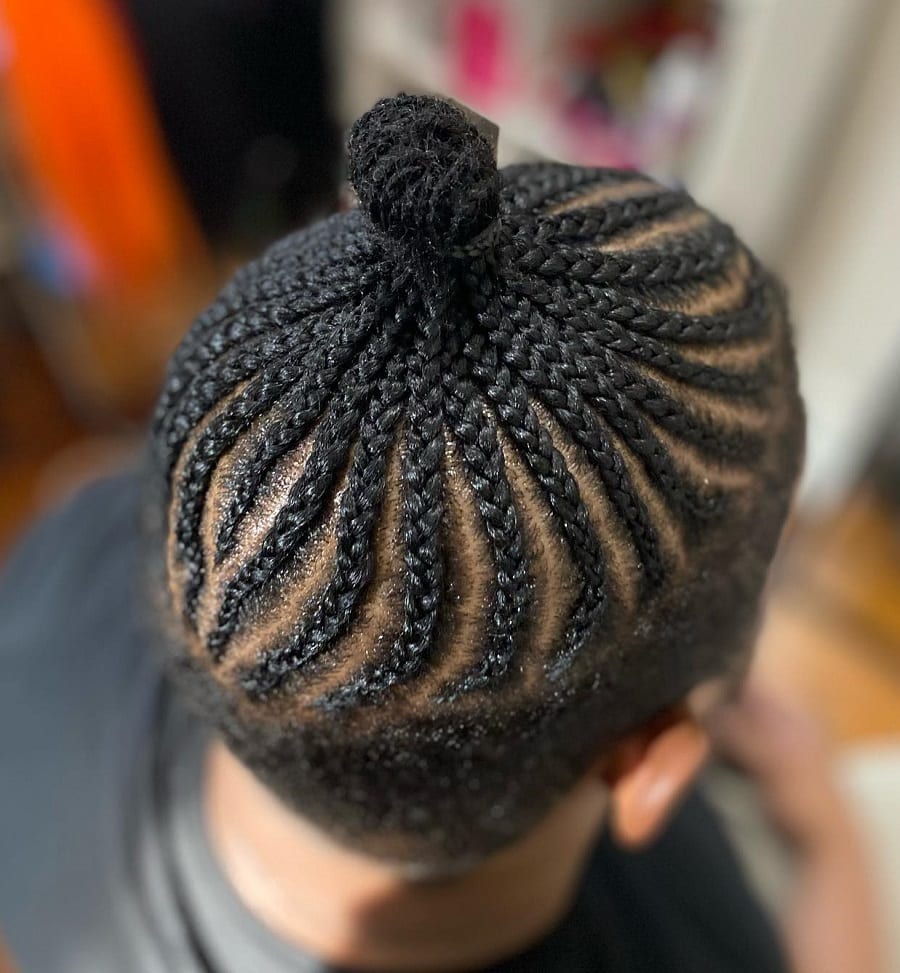 Now, this is literally what we call the top knot as the knot is really at the topmost portion of your head. The best way to do this is to braid all your hair and have all the ends meet at the top of your head to form the man bun of your dreams.
These days, clean cuts and short hair are out, long hair pulled into man bun braids is in! So if you want a low-maintenance hairstyle while still looking cool and stylish at the same time, sporting any of these hairstyles is the way to go!