It is common for women to color their locks in recent times, for the sake of fashion. But it was not so since the early days. Hair color was a perfect solution for those men and women who wanted to cover their grey hair.
Only black hair dye was available in the market. With time, people realized that hair color can also be used as a way to express their fashion sense and personality.
As the demand for more lock colors rose in the market, the artificial dye manufacturers started work on the creation of burgundy, red, light, and deep brown shades. But now, you can get also any color that you put your fingers on.
The latest fashion is to opt for blue and purple streaks. It is not for all, but women of all ages are free to try the look. You will need equally unique colored short hairstyles to match these tints.
Angled Balayage Bob
Women with straight locks do not find it difficult to pick a style that will complement their overall appearance. A simple hairstyle is not enough to complement the outfit or the personality.
Thus, to add an extra something, you can depend on the Angled Balayage Bob. It is a perfect hairdo for colored tresses, which frame the face and make it look slender. It is the best solution to hide chubby cheeks, without putting on too much makeup.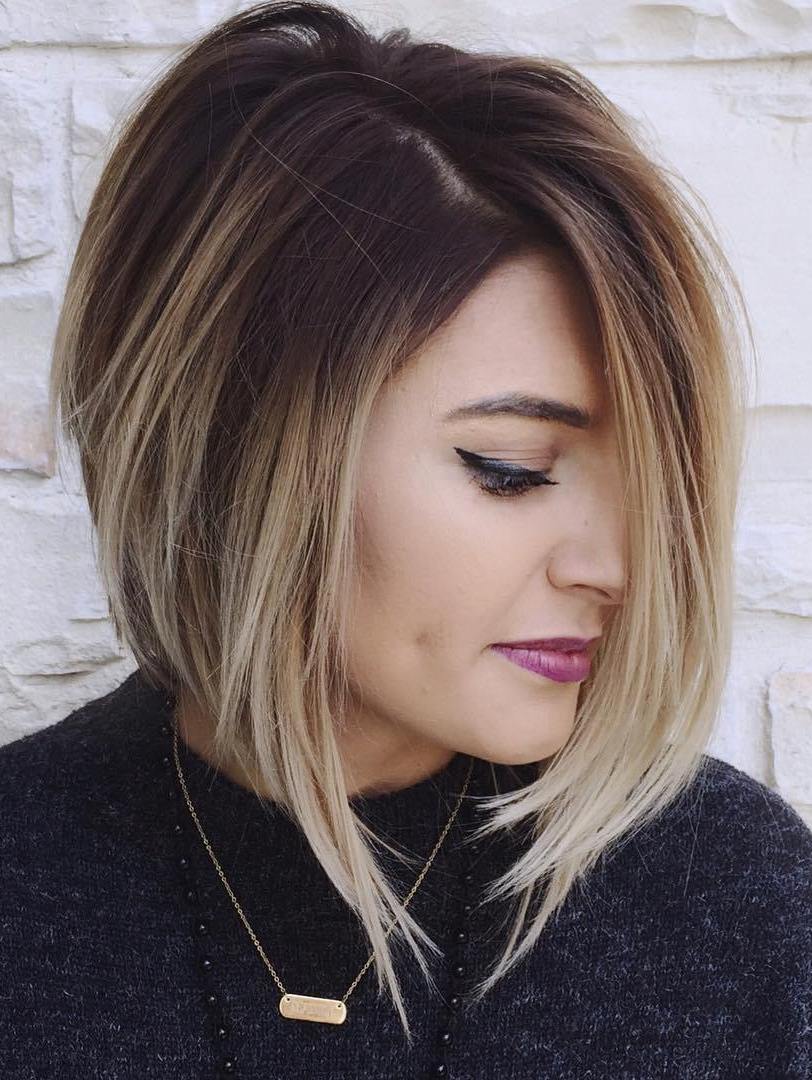 Blonde Pixie Short Hair
Another popular hairdo is the Blonde Pixie Short Hair, and it has been ruling the charts for many decades. Whether you have straight or wavy locks, a pixie is the best cut that will accentuate your oval or heart-shaped face.
If you want to add a spark to this style, then it is best to consider coloring your hair in yellowish blond tints. But make sure that the color suits your complexion.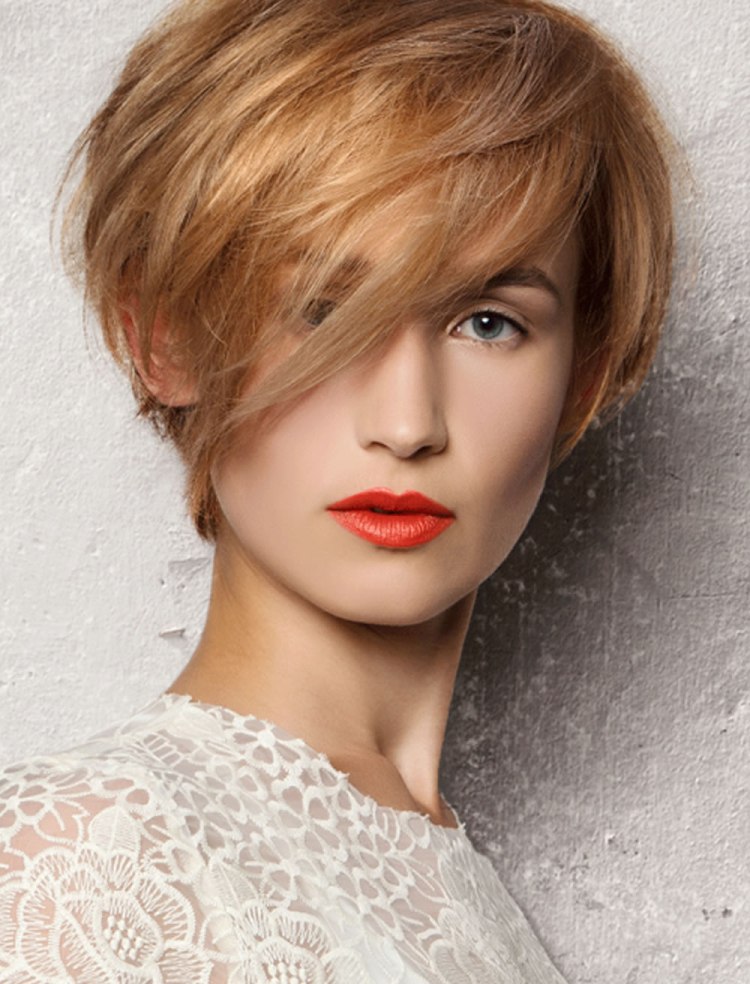 Bob Cut Ombre Hair
If there is one haircut that has won the hearts of all women, then it has to be the bob hairdo. There are several options available in the market. If you do have an idea about which look will suit your face best, then it is better to take the guidance of the experts.
In recent times, the craze for the Bob Cut Ombre Hair is high in the fashion industry. You will spot several models walking the ramps in this hairdo.
Bright Blue Ombre Hair
Women, who are not afraid of bright colors, will not hesitate to add some to their tresses as well. If you have an inclination towards the color blue, then the Bright Blue Ombre Hair will be an excellent choice. A perky hair tint like this requires an equally lively hairdo.
So, blue hair strands will give you a distinct place in the crowd. You can ask the hairstylist to color the entire strands blue or opt for a two-toned look, with half hair black or brown, and the rest dyed in blue.
Dark to Light Ombre Hair
If you are associated with a serious professional setting, then it is best not to pick a color that is too bright. For ladies who want to sport a subtle look, the Dark to Light Ombre Hairstyle will do the perfect job.
Apart from the soft colors, you will get a smart look that will take less time to maintain. A slight middle parting will allow the hair to fall on your forehead, thereby adding drama to the look.
Carmel Blonde Short Hairstyle
Another two-tone hairdo that has gained a lot of popularity in recent years is the Carmel Blonde Short Hairstyle. If you are not too confident about carrying bright colors, then these two tints will highlight your beauty perfectly. These two tones complement all skin tones equally.
Thus, if you love to keep medium-length hair, then this is the correct haircut that will complement your features. It is a smart hairdo that will look amazing with gowns, as well as pencil skirts and formal shirts.
Short Black Haircut with Blue Streak
A close look at the fashion world will suggest that women with black or deep brown hair prefer to team up with blue shades. Both deep and light shades of blue look good on all skin tones.
It is a popular hairstyle with younger women, but in case you are confident that you will be able to pull off the colors, then you can pot for the Short Black Hair cut with Blue Streak at any age. The funky look goes well with modern and unconventional clothes.
Layered Short Hairstyle with Purple Highlight
If you are attracted to shades of purple, then the Layered Short Hairstyle with Purple Highlight will suit your style perfectly. This hairdo also requires the candidate to have a certain spark in her character.
If you are conscious of what people will say about the hair highlights, then it is better not to opt for this style. Let your hair take the center stage, and keep the dress and accessories to a minimum.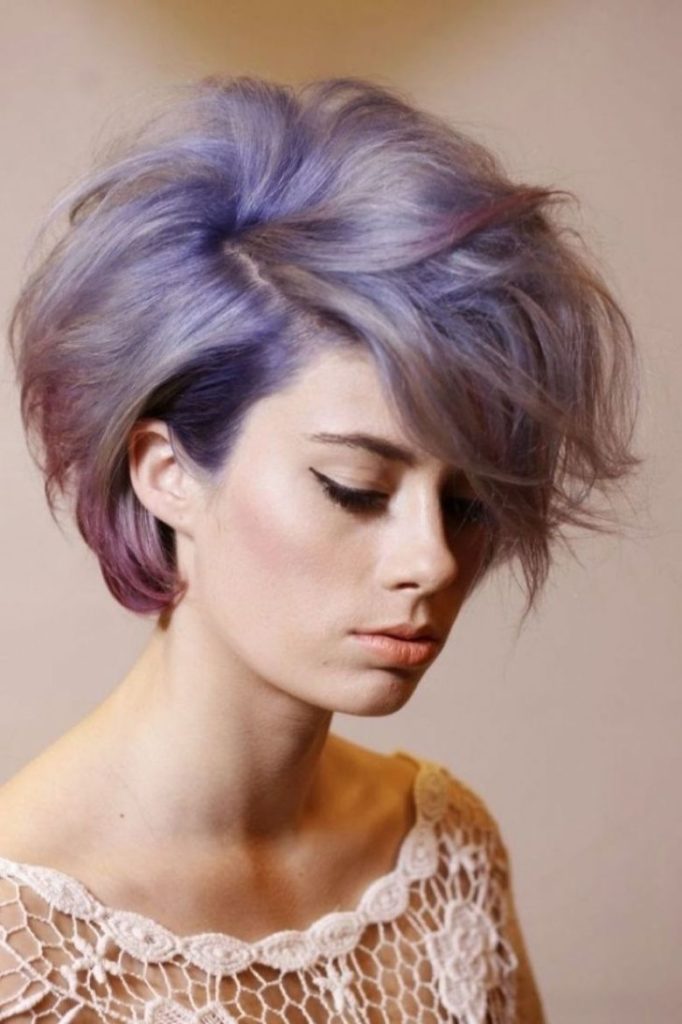 Side Swept Brunette Hairstyle
There is hardly any woman who has not tried the side-swept look in her entire life. As the side-swept hair bangs fall on the forehead, it will not only cover the wide brow but will also frame the top of your face.
The Side Swept Brunette Hairstyle will add to the grace of your face, and turn all heads in the room towards you. The color is safe and warm tones will accentuate the beauty of all skin tones.
Unique Short Hairstyle with Burgundy Color
If you follow fashion trends and magazines, then you will see that the latest color that has captured the attention of all dress, as well as hair designers, is none other than burgundy. The rich color suits people like lighter skin tones.
If you have an edgy personality, then the Unique Short Hairstyle with Burgundy Color will do justice to your entire look. Before you dye your hair in this tint, do patch tests to see whether the color will suit you or not.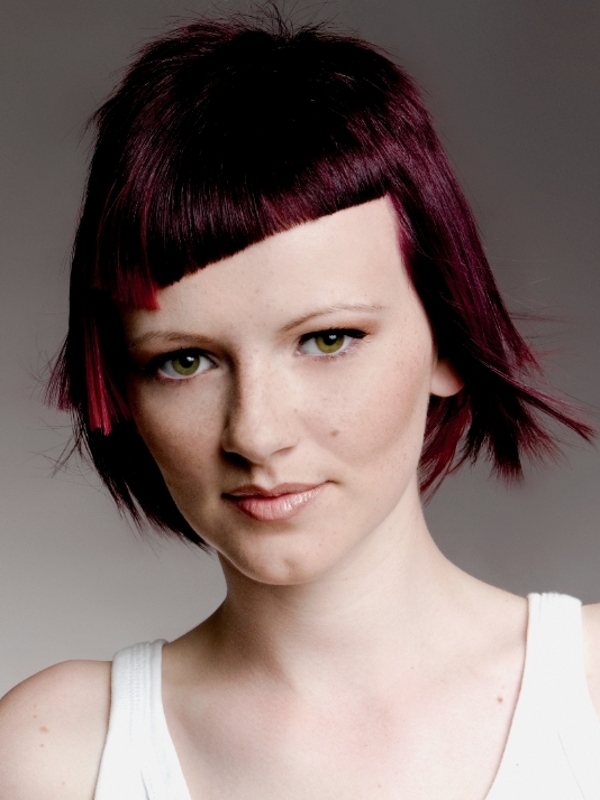 Center Part Short Ombre Hairstyle
Many experts say that the beauty of natural hair color suits better than any artificial dye. But if you want to hide grey locks, or attain a fashionable look, then you can opt for a hair color that suits your style and personality.
If there is one color that you can never go wrong with, then it has to be the Center Part Short Ombre Hairstyle. The center parting gives a clean look, and it will create two equal segments, which will frame the face equally from both sides.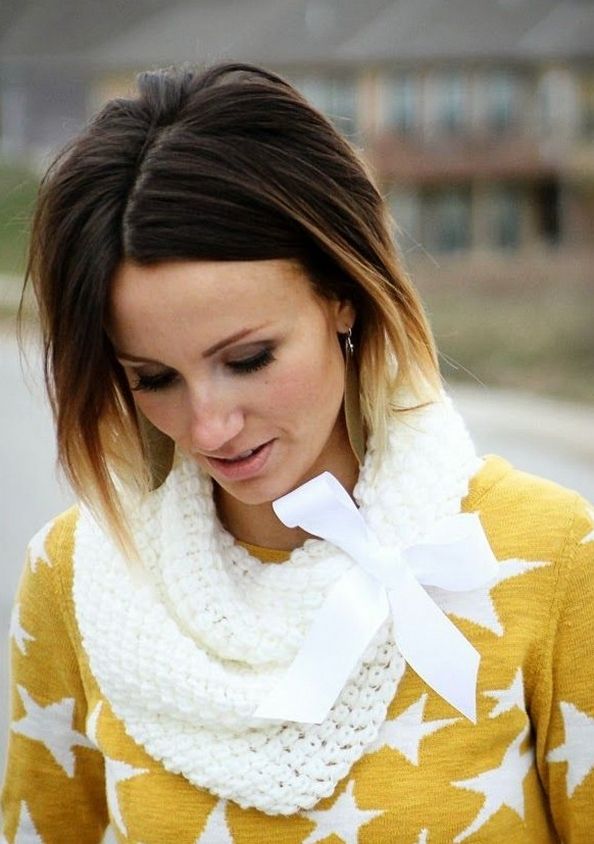 Casual Grey Pixie Cut
An unusual hair color that has become a huge hit is the grey dye. When most people think that grey hair is a sign of aging, it came as a huge shock when several fashion models were sporting the color proudly.
It creates a classic look and will look good on women of all skin tones. Make sure to use light makeup with the Casual Grey Pixie Cut to accentuate the entire look. The haircut is perfect for a spring wedding ceremony as well.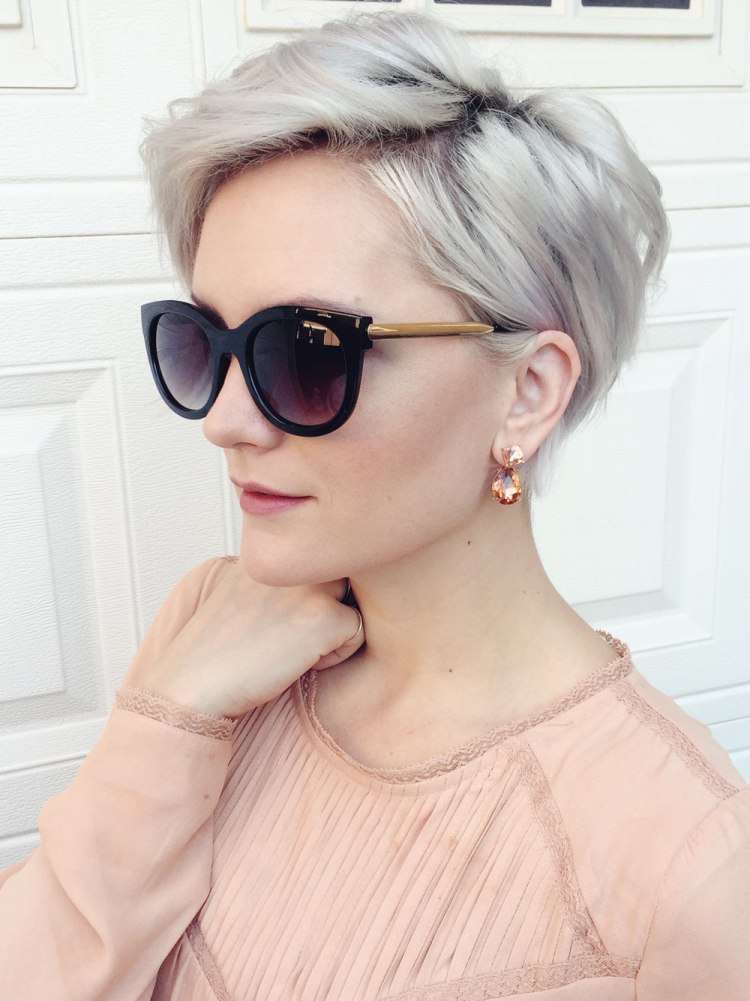 Pin Curls Blonde Hairstyle
Celebrities can pull off any look flawlessly. They have several stylists at their disposal, and they get the entire look planned by the experts. But normal women cannot afford such services, so they need to rely on something that is easy, and will offer the same rich looks.
But for special occasions, you can opt for extravagant hairstyles like the Pin Curls Blonde Hairstyle. As the hairdo is rather complex, you will require expert guidance to achieve the perfect look.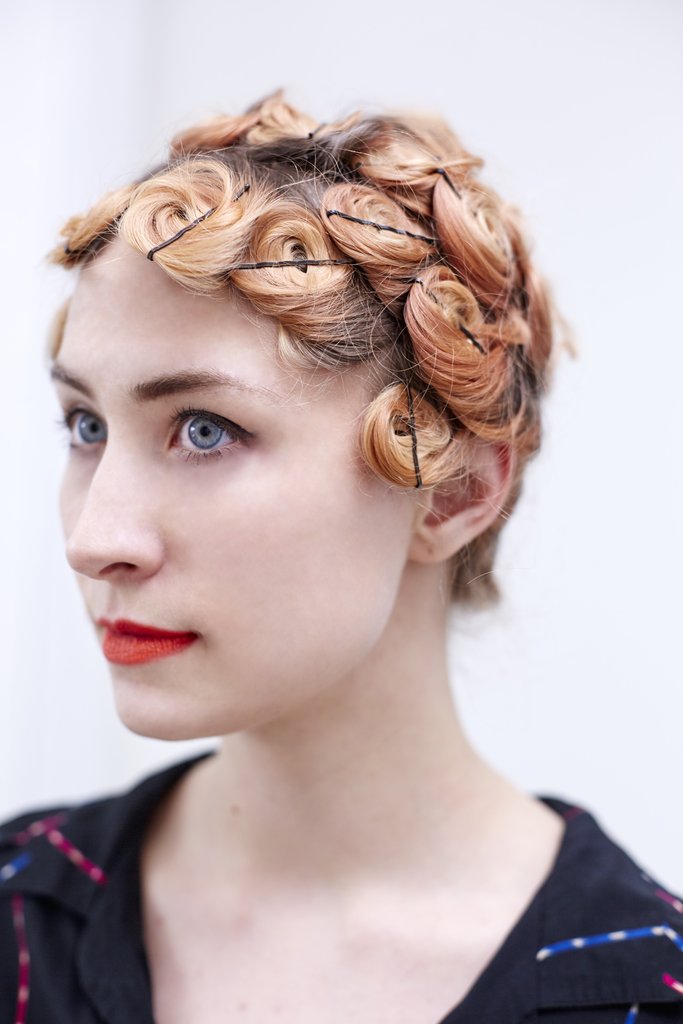 Light Brown Short Hairstyle
The Light Brown Short Hairstyle never goes out of fashion. It is often spotted on red carpet events. It was a popular look that actresses try in the movies. The main reason behind this is its simplicity.
The straight tresses fall on your face, on both sides, creating the drama that you desire. It highlights the facial features with ease.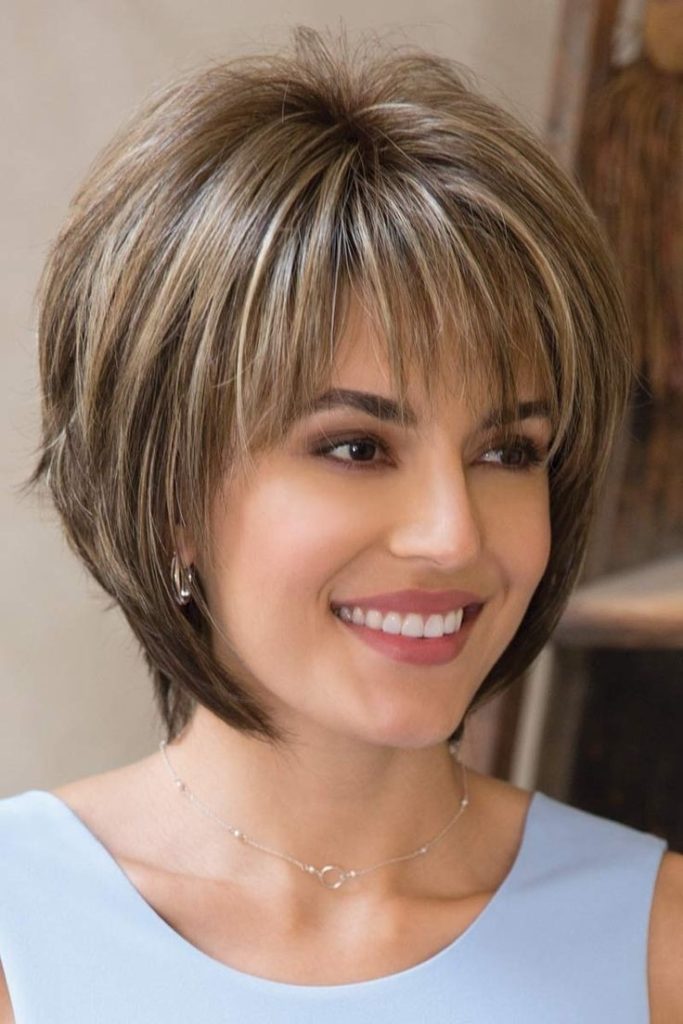 Blonde Bob Haircut with Bangs
The Blonde Bob Haircut with Bangs will suit the needs of those who do not want to look boring. It is perfect for women of all ages, especially those who are above 35 years.
If you have thin hair, then you can replace the thick bangs with fringes. The hairdo can be changed according to the needs of the women.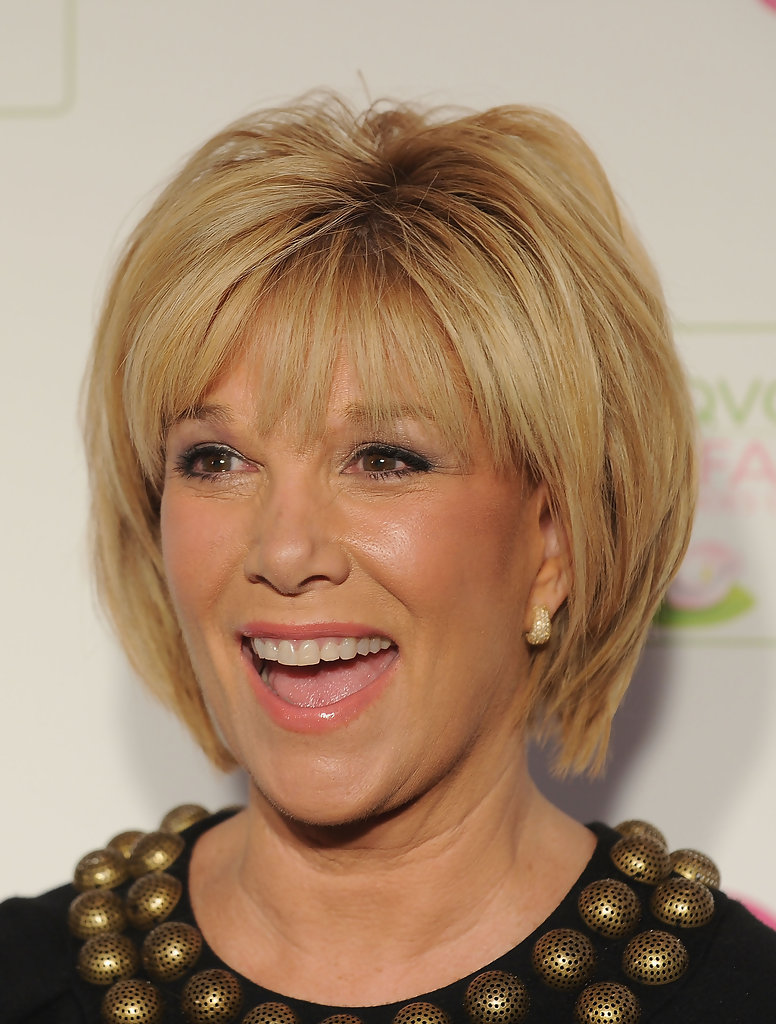 Platinum to Pink Ombre
If you're an older woman wanting to experiment with a more youthful and funkier hairstyle, this short ombre is the perfect style for you.
The combination of pink and platinum is classy while the feathery bangs up front maintain the freshness of your look.
Oceanic Turquoise Hues
The classic quiff hairstyle, dyed different shades of turquoise and sea green, results in one of the most head-turning hair statements of the season, resembling the gorgeous ocean. This delicate blend of colors adds texture, volume, and highlights to your short haircut.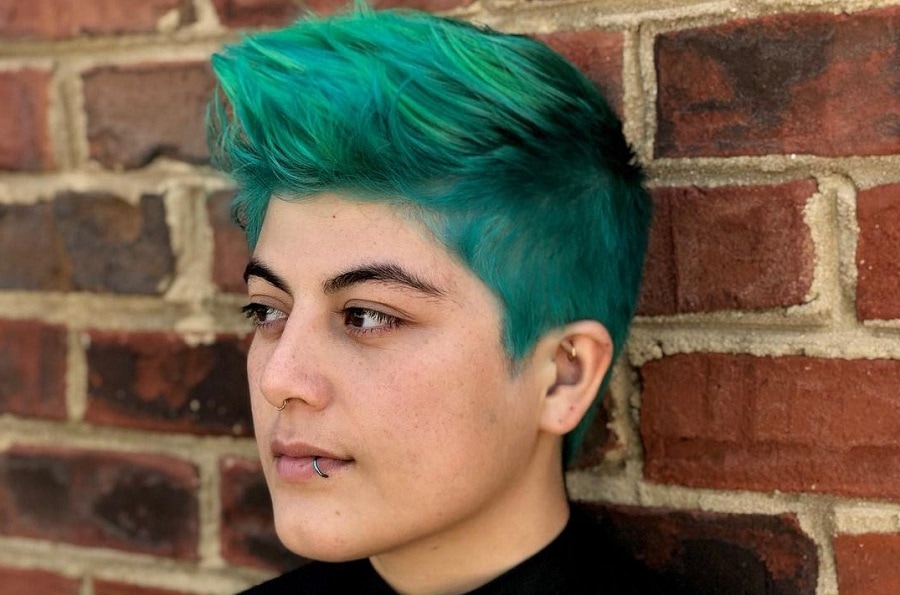 Caramel Brown Highlights
Your natural brown hair with caramel brown highlights can be one of the most alluring, colored short hairstyles of all.
For the type of woman that prefers something traditional yet eye-catching, this is the perfect look. Plus, it requires little to no styling every morning.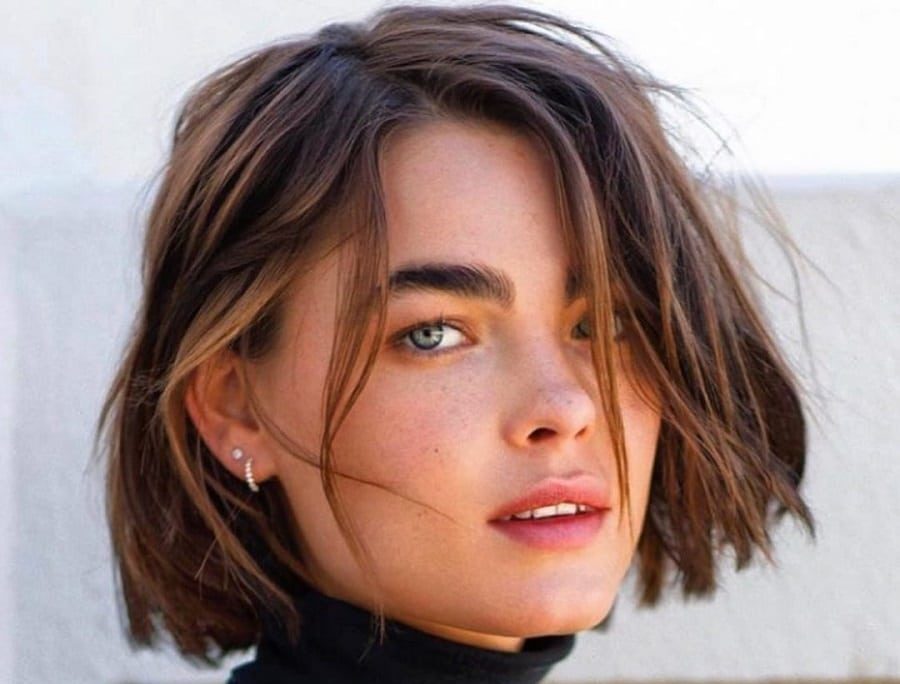 Cool Toned Pink
You can never go wrong with the combo of pink and brown. The short, curly bob with straight bangs in the front is the perfect combination of textures, hues, highlights, layers, and a pop of color.
The pink contouring of this flattering bob plays with the light and shadows, enhancing your face shape expertly.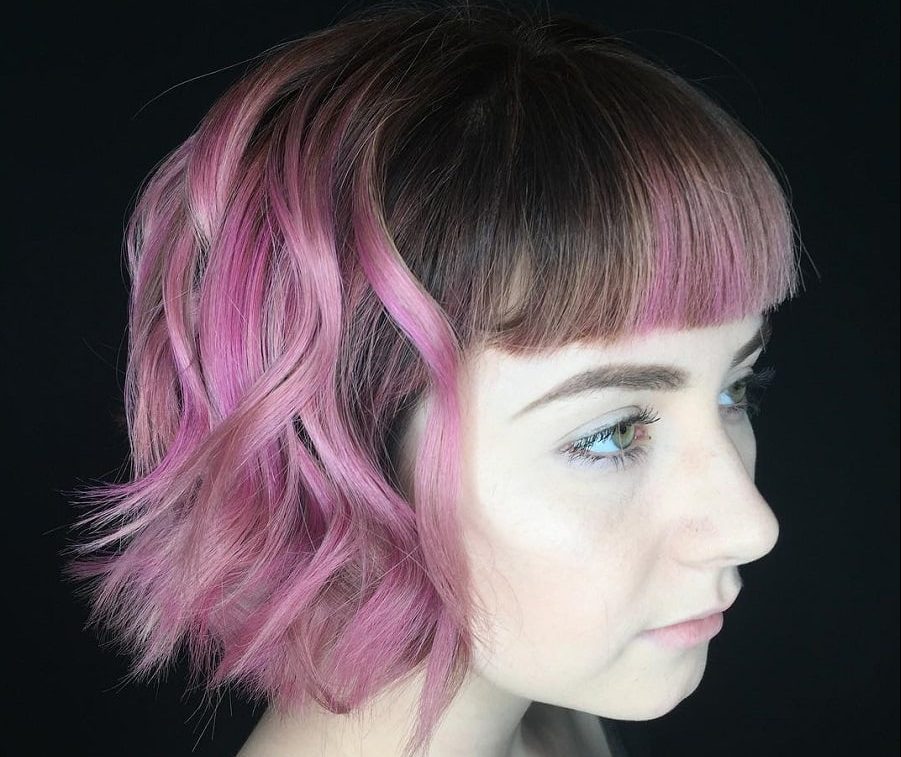 Pastel Sea Green
If you love to play with different pastel shades while still maintaining sophistication in your hair game, this hair color might be your favorite.
This short, messy pixie cut, dyed a dreamy shade of sea green, is surely one of the most awe-inspiring and feminine hair looks out there.
Blue with Black Roots
Dying your hair in a trendy shade of blue can be breathtaking but turning your roots black has the power to turn an ordinary look into an extraordinary one as it enhances any hair color alluringly.
Peachy Spikes
This short haircut is perfect for women who love gender neutral and youthful hairstyles; the peachy color with black roots will give your spikes a touch of rebellious charm. This is definitely one of the easiest to manage colored short hairstyles on the list.
Red Highlights On Brown
If you'd like to try something distinctive, then these red hues are ideal for you. This edgy hairstyle might not be everyone's cup of tea but it's sure to bring your hair game up a few touch with the perfect touch of youthful freshness.
Blonde With Brown Roots
One thing that never goes out of style is classic blonde hair. It is a versatile hair color that adds texture and dimension to your hair to make it appear more voluminous.
A short, blond haircut with front bangs and brown roots is the best option for women who prefer decent and traditional hairstyles.
Messy Highlighted Brunette
Messy brown hair might be the sexiest and alluring hairstyle of all time as it is the simplest way to style up your hair effortlessly and it doesn't depend upon the hair length. Whether your hair is long or short, you can simply rock his hairstyle without much hassle.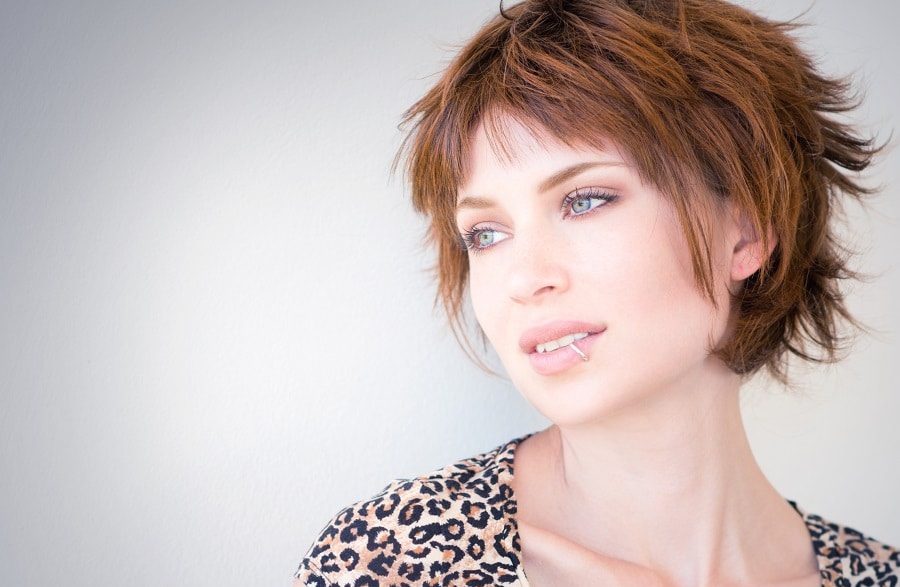 FAQs
Is it hard to dye short hair?
It is much easier to dye short hair than long hair. There is less to dye and work with, so you don't have to worry as much about highlights blending all the way down, and it can easily look very natural, depending on what look and color you choose.
Can I color very short hair?
You can color hair of any length. Very short hair may be the easiest to color since there is so little of it. Make sure you care for your scalp throughout the process since it may be very sensitive to the dyes, bleaches, and chemicals that you or your stylist have to use to get the desired color.
How long does it take to dye short hair?
Depending on various factors, it can take anywhere from two to eight hours. It will take much longer if you want to dye very dark hair to a very light color or get a vibrant color that is not natural. Also, consider the condition of your hair.
How long does dyed hair last?
Hair dye lasts around four to six weeks. However, you can prolong the life of your hair dye by using special shampoos and conditioners, avoiding washing and wetting it, and using heat styling sparingly.
With the assistance of the colored short hairstyles, you will be able to add a new spark to your character. The hair tints will not enhance your personality but will act as an accessory by itself.
Over-the-top hair color will give you an edge over the others in the room. You need not adorn your body will extra trinkets.
A perfect hairstyle, with matching hair color will not only light up your personality but will give your otherwise simple dress a new life. Thanks to the fashion industry, you can experiment with several hair colors, and sometimes, combine more than one dye to get a stark look.