You don't have to choose between short hair and looking girly! Whether you have a short buzz cut or a flowing bob cut, looking feminine with short hair might be easier than you think.
You can add a couple of hair clips, wear a fabulously cute headband, or get bold with brightly colored hair! The options are endless to be as feminine as you desire.
If you're wondering how to look feminine with short hair, you have landed on the right page. Here's everything you need to know.
Ways To Look Feminine With Short Hair
These upcoming tips are a surefire way to look feminine with short hair. You don't need to follow every step if you don't want to—just picking one or two should be enough to help feminize your look.
1. Choose a Feminine Short Haircut
If you want the convenience of short hair but yearn for something feminine, you have a lot of stunning styles to choose from.
One of the most popular girly short hairstyles is the pixie cut. There are several versions of this iconic hairstyle, such as layered and pompadour pixie cuts.
Other popular short hairstyles for women include:
Short afros
Mohawks
Undercuts
The best short haircut for you will depend on your unique style and hair type. Be sure to consider your options before heading to the hair salon.
2. Add Some Cute Earrings To Your Outfit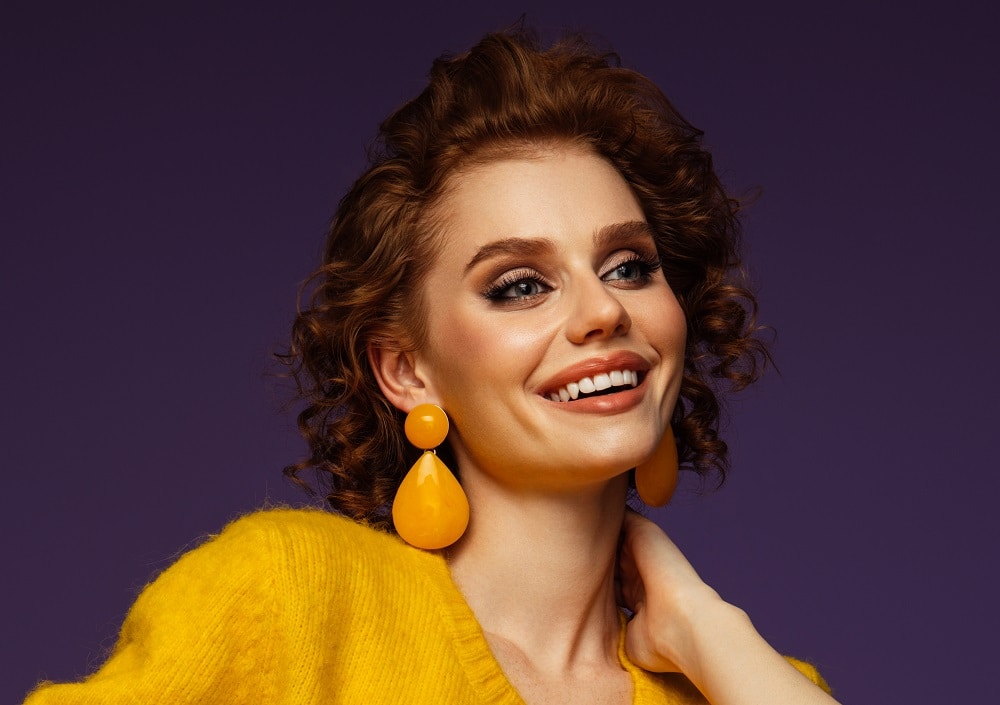 One benefit of having short hair is that you don't have to worry about your hair covering up your earrings. Make the most of this and enhance your feminine look by adding some beautiful accessories to your outfits!
Are you going for a modest look? A pair of cute yet small earrings can be a great choice. Heart-shaped gemstones and pearls in subtle, natural colors can work very well with more reserved feminine outfits.
Those going for a bolder, vibrant look may want to wear some dangly, colorful earrings. Hoop earrings can also be a fitting accessory for short hairstyles, especially buzz cuts.
And if you are going for a feminine punk look, piercings are your best friend. Gauges and stainless steel earrings are the way to go!
3. Style Your Hair With Clips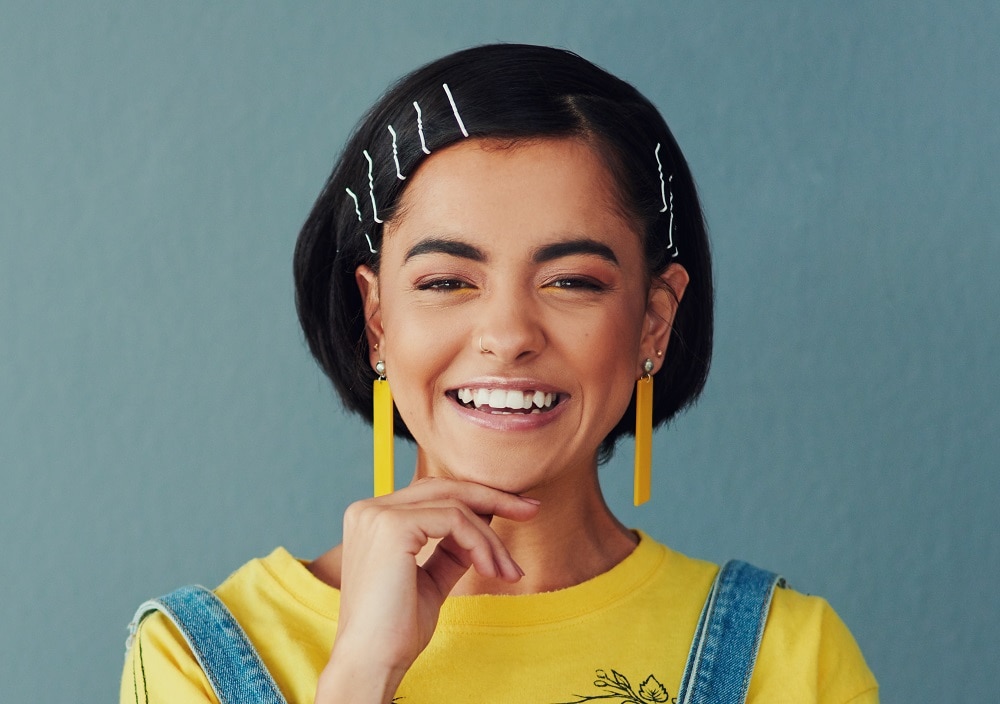 If your hair is long enough to hold them, adding some clips can make your short hairstyle look super feminine.
There are plenty of hair clips for all types of styles. Simple, solid-colored clips are some of the most common options if you want something subtle yet cute. Or if you prefer a style that's more eye-catching, you can use sparkly hair clips with gemstones and vibrant patterns.
4. Wear a Girly Headband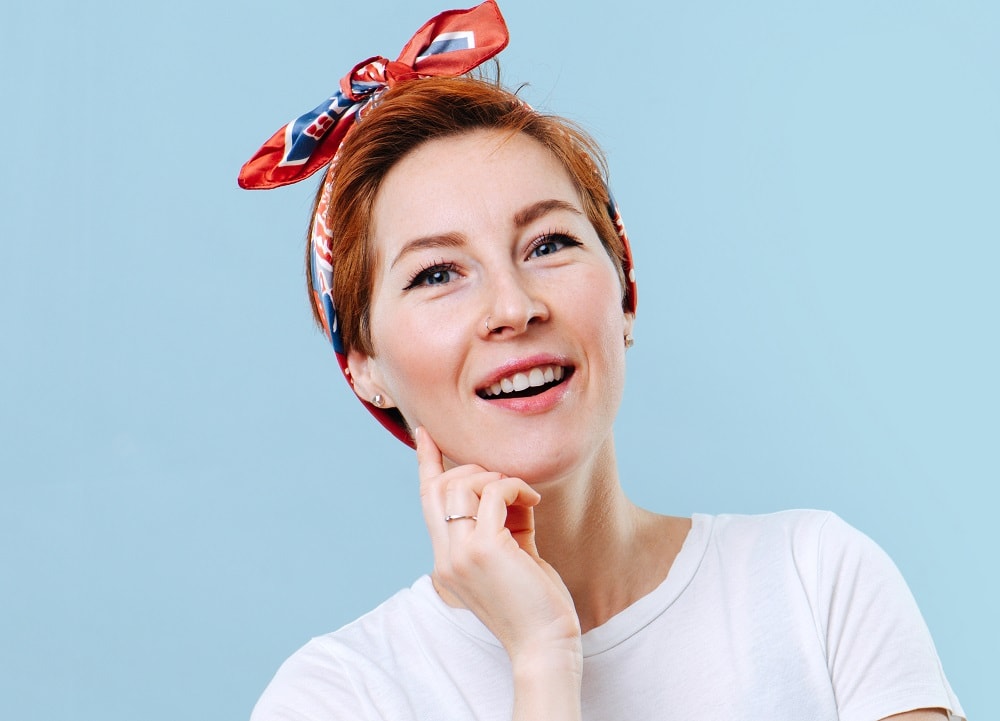 Headbands are another easy way to look feminine with short hair. They can be the perfect accessory if your hairstyle is too short to hold clips.
As with clips, headbands come in many styles. A silky headband with a bow on top is one of the most popular ways to make short hair look feminine and cute. You can also find headbands with detachable accessories such as feathers or flowers.
Or if you want just something simple, a solid-colored headband can effortlessly add a feminine touch to your style just as well.
5. Condition Your Hair Often
Even if your hair is short, you still need to condition it every now and then. When you regularly condition, you can help keep your hair healthy and shiny, which is the key to a feminine look.
So, how often do you need to condition short hair? It may vary depending on your hair type, but as a general rule of thumb, you should use conditioner every time you use shampoo.
The only exception is ultra-short hairstyles like buzz cuts—conditioning these styles is not necessary.
6. Try a New Hair Color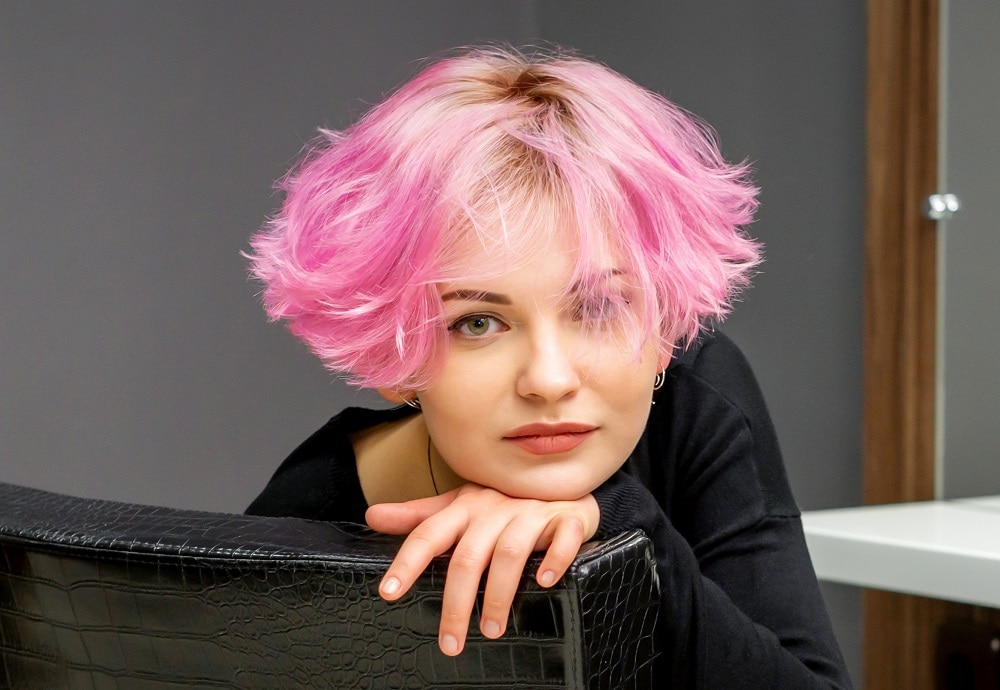 Another easy way to make short hair look feminine is to give it a new color.
Vibrant, cheerful colors are an effective way to add a feminine touch to your short hairstyle. Consider something like pink, blue and purple, or even a mixture of your favorite colors.
Alternatively, you can choose a more restrained color for your girly look. Strawberry blonde, platinum blonde, or any pastel color can work wonderfully with short hairstyles, for instance.
7. Get Creative With Makeup
Makeup is a guaranteed way to make you look more feminine, regardless of your hair length. Even a small touch of makeup can make a huge difference!
Try out different styles of eyeliner such as cat eyes or fishtail wings. A little bit of eyeshadow can go a long way, too.
Don't forget to add some lipstick for a splash of color! Or if you want to take a subtle and modest approach, some light-colored lip gloss is the way to go.
Overall, you really can't go wrong with makeup when you have short hair. Short hairstyles can work well with makeup because there's less attention on your hair and more on your face, so your creativity can be the center of attention.
8. Wear Some Feminine Necklaces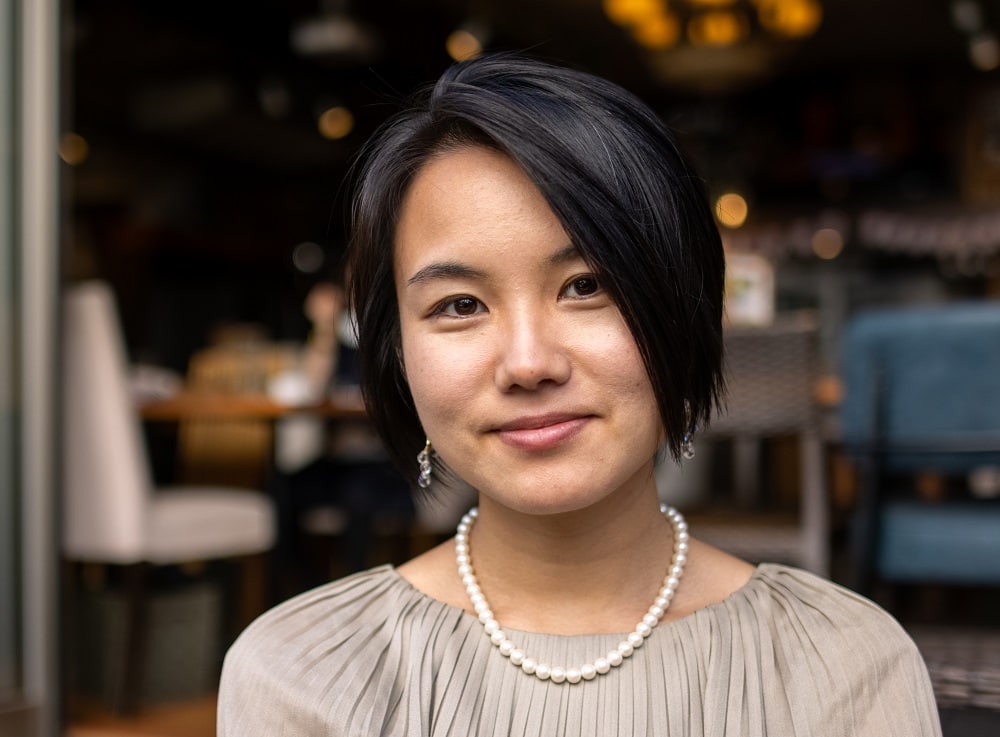 Like many other kinds of accessories, necklaces are a versatile way to enhance your feminine look, regardless of your hairstyle.
The best necklace for you may vary depending on your hairstyle. Old-fashioned jewelry looks perfect with bob cuts, for example. Consider wearing some short necklaces with small pendants. Pearl necklaces look beautiful with bob cuts as well!
For vibrant and youthful hairstyles like pixie cuts, a clunky necklace might be ideal. Handmade necklaces or necklaces with lots of charms are a couple of fun options to consider.
If you have an alternative haircut like a buzz cut or a mohawk, a choker necklace could make a great feminine accessory. Pink, red, or black chokers work well with this style!
9. Choose Open-Shoulder Tops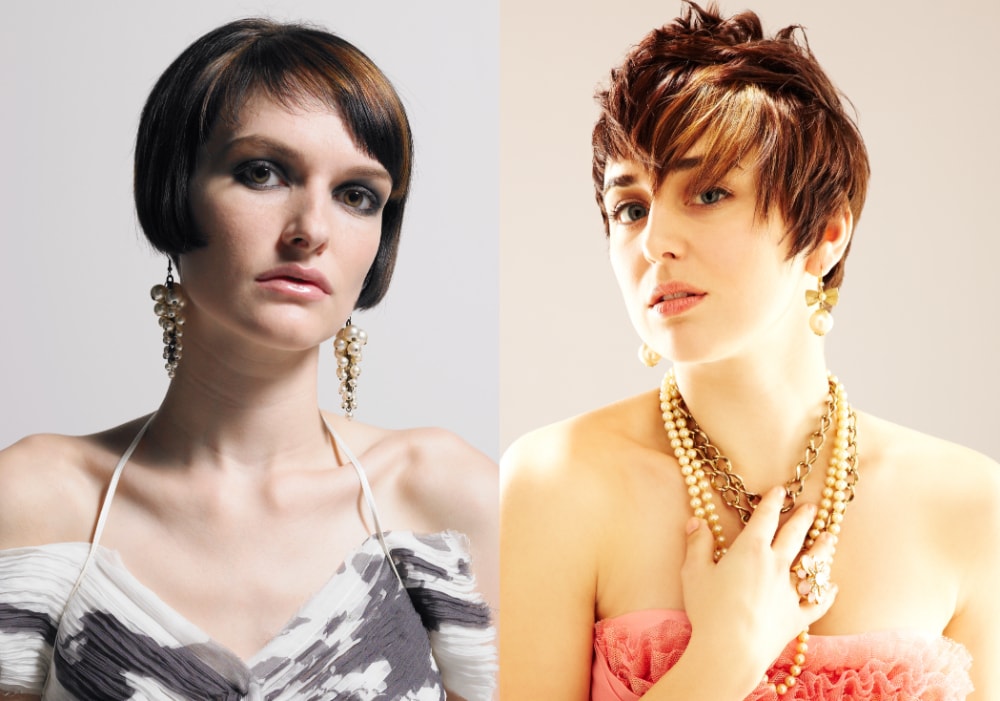 When you have short hair, wearing open-shoulder tops can deliver a stylish feminine look.
Spaghetti straps, scoop neck dresses, or even strapless tops are some of the best options when you have short hair.
When you pair these tops with a sparkly necklace and some colorful makeup, you'll end up with a feminine outfit that compliments your short hairstyle!
10. Wear Defined Collars
If the open-shoulder look isn't your thing, don't worry—defined collars can provide a feminine look, too!
Vintage dresses with collars are perfect for anyone who wants an understated yet girly look. Or if you want a more mature and professional look, you can style your outfit with a collared blouse.
Turtlenecks pair wonderfully with short hair, too. A pastel sweater with an edgy pixie cut, for instance, can make an adorably feminine combo.
11. Style Your Eyebrows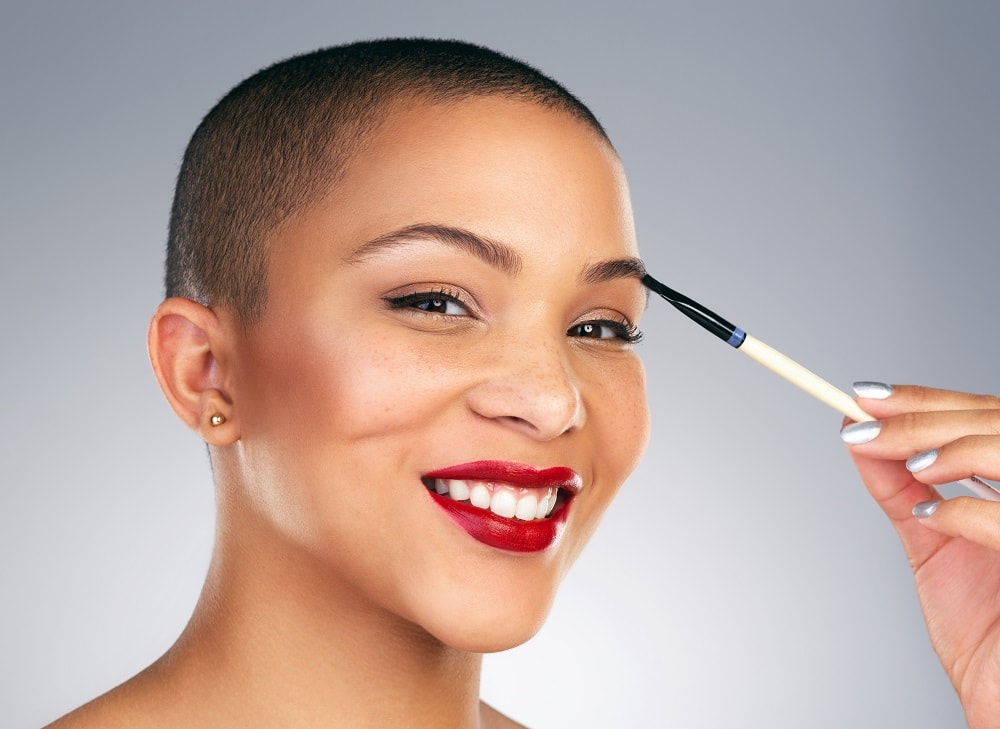 Our final tip for looking feminine with short hair is to get tweezers or visit the salon. Shaping up your eyebrows can make a significant difference for anyone who wants to look more feminine.
You don't need a specific kind of eyebrow look to look girly, either. Thin and light or thick and dark eyebrows will all look feminine. Neat, shapely eyebrows are the key to maintaining a feminine look.
Another helpful tip is to enhance your eyebrows with some eyebrow liner. Determine which color looks best on you and fill in your eyebrows for a look that'll go well with any short hairstyle!
So, Can You Look Feminine with Short Hair?
The answer is a straightforward yes! People with short hair can be just as feminine as those with long hair—and you'll know how with these 11 simple tips.
Caring for your hair is a positive first step, but you can get creative too by wearing specific clothing, using accessories, such as earrings, necklaces, clips, and headbands, or getting imaginative with your makeup!
So if you want the convenience of a short hairstyle but still want to look feminine, you can easily achieve the best of both worlds.