Are you looking for a youthful new look? Then you should definitely consider a platinum blonde hairstyle. These trendy cuts paired with this glorious shade will have you looking your best. It's a truly glamorous look that'll have heads turning!
Some of these are tinted more blonde. Others appear white or silver. All of them are completely divine and they go well with all skin tones. You really can't go wrong with this chic style.
Best Platinum Blonde Hair Color Ideas
Take a look below to find the hairstyle that looks best for your face shape and your preferences. There's so much choice below, so you'll definitely find what you're looking for.
Long Gentle Waves
Having a little texture in your hair makes it more exciting than a flat, straight look. However, this has a very natural wave to it. This makes it appear effortless. An all-over platinum blonde shade makes this hairstyle very simple.
Thick Messy Bob
Sometimes a very light hair color can make you look washed out. You can get around this by creating a messy bob full of waves.
There's a lot of volume on top. Some bangs cover half the face. It creates a very mysterious, chic, and effortlessly sexy look.
Ultralight Short Cut
Here's an example of one of the many super light platinum blonde hairstyles. The color is close to white and it looks great with very pale skin.
The nice, shortcut has the front pushed back. The sides are combed towards the nape of the neck.
Brown to Platinum Ombre
Your hair color doesn't have to be all over your head. Here the lighter shade pairs with brown to create a delightful blonde ombre look. The locks are beautiful and very straight and long period it's super trendy and chic.
Corkscrew Curls
Curls are so much fun. If you have naturally curly hair, then the style is easy. Cut some short little bangs.
Let the rest of your tresses fall in their natural corkscrew curl pattern. You can also achieve this look by getting a perm with this specific curl type.
Chic Boho Bun
Would you like a nice boho look? Pull your locks towards the back of your head. Then you can create a bun with multiple layers as pictured above.
Three thick twists wrap around the main section of the bun. The tresses are decorated with flowers and leaves. It's a stunning look to wear in spring.
Silvery Style with Middle Part
This platinum blonde hairstyle has a silvery sheen when viewed in the right lighting. It's parted in the middle and falls to just below the shoulders.
This creates a glamorous and chic style that's also very easy to achieve. If you're looking for an easy everyday hairstyle, then you should check this one out.
Buzzcut
A bright buzzcut is very trendy these days. You leave just enough hair on your head to create a fuzzy effect. It's very bold and will take someone with a lot of confidence to wear. It's really great if you like to show off your features.
Chic Ponytail
Ponytails are wonderful for people looking for a new everyday look. This one is right in the middle of the head at the back.
A lock of hair wraps around the ponytail to secure it in place. You can easily wear this every morning. It suits people with sweet and fun personalities.
Angled Bob
Angled bobs create such an edgy and eye-catching look. One side is longer than the other. This platinum blonde bob has heavy side bangs. The ends are a little choppy. It's a look reminiscent of the early 2000s.
Wavy Hairstyle for Long Locks
If your blonde locks are long, then adding a wavy texture to them can make them look fun and lively.
The sides are pulled back out of the face to show off your features. They're pinned towards the back of the head. The style is then blown out to make you look windswept.
Blunt Bob with Full Bangs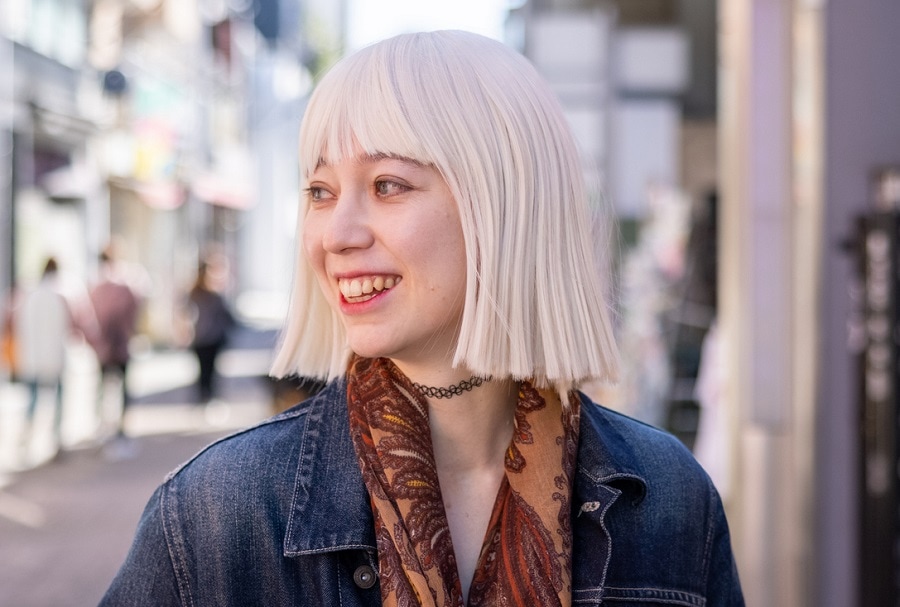 These days bobs with blunt ends are becoming more popular. The bants here contrast it, as the ends of the bangs aren't blunt. The hair color here is more on the white side of platinum blonde.
Beach Waves for Thick Hair
Thicker hair is sometimes difficult to style. Creating a wavy and deliberately messy beach wave look makes it look effortless and beautiful.
This is a darker tone, but there are still platinum areas highly visible in it. It just reaches the shoulders. This makes it a great mid-length cut.
Voluminous Crimped Hairstyle
Crimps can let you create a lot of volumes and a very retro style. This is a unique and slightly eerie look. The white tone of this platinum blonde hair color looks great with bold makeup looks. It also goes well with super pale skin.
Medium Bob with Choppy Ends
Do you want something a little more traditional? A mid-length blonde bob is perfect for you. It curls in towards the neck.
The ends of the locks are slightly choppy as they frame the face. It appears simple at first. However, it's a truly stylish hairdo you'll enjoy wearing!
Curls with Dark Roots
Dark roots add a lot of depth. Light shades such as platinum blonde look really need this depth sometimes. It looks wonderful with the curls that add a lot of texture and volume to this style.
Voluminous Waves for Older Women
You can have a lot of fun with your hairstyle by adding volume. It draws a lot of attention to you. Waves help you at this volume. Having thick hair also helps. Solid color all over the head looks super glamorous and understated.
Formal Updo
Here's a hairstyle that will work well for formal occasions like weddings. Side bangs are drawn towards the back of the head. The rest of the hair is pulled back too.
Create a low bun with three sections. Some looser strands are pulled over this bun to make it look more glamorous.
Pixie Cut with Long Bangs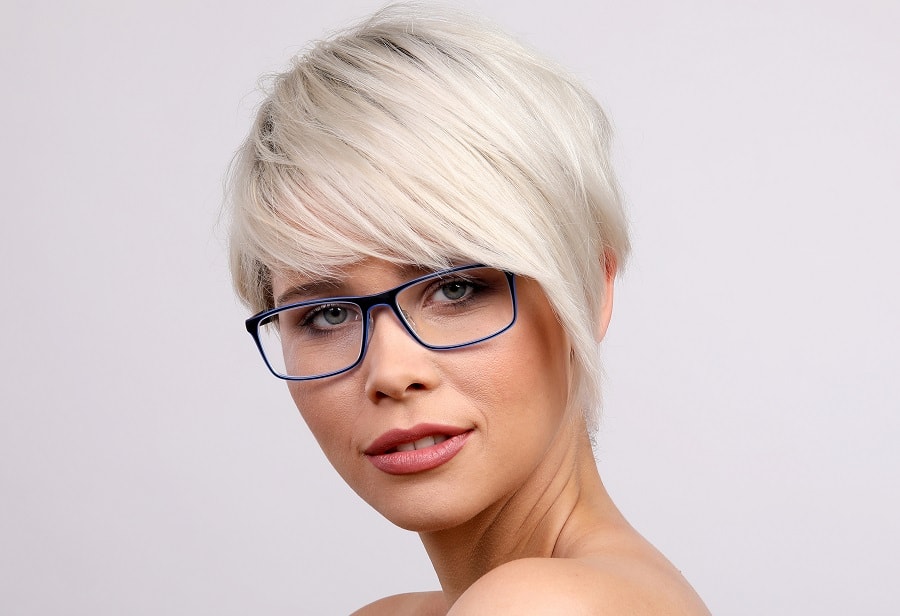 Some women prefer short hair like this. It makes it very easy to style and control. A pixie cut with long bangs is great if you want to hide a big forehead. It also works well for framing and highlighting the face.
Medium Curls with Full Bangs
Bangs always help round out a hairstyle. Here they fall to the eyebrows and look absolutely lovely. The rest of the tresses have nice loose waves that curl at the ends. It creates a very thick look even though the hair is quite fine.
Straight Hair with Highlights
Long hair with platinum blonde highlights is a great way to incorporate this light tone into your look.
The tone pairs well with a darker blonde. It makes this simple, straight, long look pop. There's such a nice depth with all these shades mixing together.
Wedding Updo with Twists
Some wedding hairstyles look absolutely regal. This is one of them. Sections of the tresses are pulled into twists. There's a bun low on the back of the head.
However, the side steals the show with the elegant pattern the tresses form. There are white flowers pushed into the locks. The flowers would go well with your wedding dress.
Asymmetrical Pixie Bob
Pixie bobs are a great halfway point between a bob and a pixie cut. It gives you a little length to play with. However, you don't have too many tresses to style.
One side of this is longer than the other. It sweeps across the forehead and cups the face. The other side is pulled towards the back of the head.
Box Braids
Black and mixed-race women wearing their box braids in this wonderful light platinum blonde shade. It will really help you stand out. There are lots of braids to create a very thick hairstyle.
It's a very elegant and classic protective hairstyle for black hair. The shade stands out so beautifully against dark skin tones like this. This is due to the incredible contrast.
Straight Balayage Hairstyle
Sometimes you really can't beat a simple hairstyle. It's easy to wear every day, and it requires very little maintenance or effort. This balayage hair falls to just below the shoulders. The ends are very blunt to create a chic appearance.
Updos make wonderful wedding hairstyles for platinum blonde hair. Other looks are perfect for everyday occasions. You can mix and match many of these to wear different styles on different days. It's such fun!
Using a purple lightening shampoo will help you keep your platinum locks looking their best for longer. From there, you can style your hair in all of these ways and look totally glamorous every day.