Summers can be complicated in terms of hairstyle. Women who have any hair length than short hair are always worried about the sweat caused by the heat. Step into this season with a buzz cut for girls. A fabulous hairstyle that'll help you to beat the heat this season.
Enjoy your moment of compliments when you try any of the below hairdos. Whether you like a minimalistic hairstyle or want to make a grand impression, we've got everything on the list for you. We have kept in mind the different and beautiful face shapes to make a list.
Get A Bold Look with These Buzz Cuts
Try something new like these buzz cuts this summer to get rid of the heat and sweat from long hair.
Pretty White Hair
Don't wait for your age to give you white hair when you can just get them by dying your hair. The hue looks very beautiful on fair-toned girls.
Girls who have small face shapes should give white hair a shot. It'll make them look like a fairy from a fairy tale.
Brownish Red Hair
Girls with dark skin complexions can pull off brownish red buzz cut beautifully. This fusion of colors compliments their skin tone very beautifully. You'll look so pretty in this hair color, especially if you have a chubby face. Your little curly hair will end up making your look perfect.
Go Purple
Do you like to be a little extravagant? Then try purple buzz cut. This color looks so bright and funky. It highlights your skin tone if it ranges from very fair to fair.
Put on some funky makeup to match your hair. You can even color your eyebrows purple for a unique look.
Natural And Sleek
As we said, we've got minimalistic hairstyling ideas too. Your natural hair color already suits your skin tone, so keeping it will make you look very subtle.
Girls with round faces should keep their hair straight for a simple look. It's a very cute hairstyle for college or school life.
Copper Red Short Pixie
Do you know what a color between subtle and extravagant is? It's copper-red. If you are one of those girls who swing between simple and extra, try copper-red buzz cut.
Spikes on hair will make you look so awesome and pretty. We recommend you style your hair this way for a party.
Rainbow Colored Hair
Why color your full hair when you can get a multicolored buzz cut? Choose any three bright colors and get them in layers on your hair. The formation should be from dark bright to less bright color. Keep your hair straight and in spikes for a funky look.
Peachy Pixie
We're sure that you haven't thought about coloring your hair peach even in your dreams. It's a very beautiful color that looks lovely on buzz cut for girls.
The side-swept straight hair will make you the center of attraction. College students should definitely get their hair in peach color.
Bold Black Look
If your skin tone lies anywhere between fair to brunette, get your short hair colored in black. It makes you look like a kid again. Also, it glows upon your face. Black is a very classy hair shade, so wear an outfit according to that.
Silver Blonde Hair
Silver Blonde color is kind of a nude shade that suits nude skin tones like brunettes. This shade is so lovely that we can't keep our eyes off it. Keep your under hair in a dark color to get a shadow effect for your hair. Models can try this look for their photoshoot.
Ceaser Cut with a Line on Side
As you can see, there is a curvy line above the ears but below the curly white hair. This line cut hair separates your hair texture if there are two.
It looks very bold and gives you a different look for sure. So give it a shot for your next formal meeting with the boss.
Sides Shaved with Razor Cut
Buzzcut for girls can mean you can get your hair shaved too. It's actually good for your hair to regrow and gain a fresh texture. Any woman can try this, whether working or staying at home. However, it's kind of a mature look so that students can avoid this hairstyle.
Multicolored Hair Patches
You must have heard about making designs by cutting or using hair appliances. But this time, use several colors to make a color design on your hair.
We liked the boxes and circles theme here. It looks unique and very extravagant. Only girls with long faces can pull this off.
Ocean Blue Hair
You know you have a bold choice when you decide to color your hair blue. It's a unique color but beautiful too. If you have a long and wide face, you can easily bring off blue hair. This shade will suit any skin tone.
Light Brown Fade
Not everyone likes brown, but it's a gorgeous color in reality. Also, light brown hair suits you when your hair is thick, as the light shade can easily show your scalp. As the hair shade is subtle, keep your makeup bright and bold to even the overall look.
Cheetah Patches
Just a little combination of black and brown color, you'll have cheetah patches on your hair. So we know that it's a very creative idea.
Your natural hair color should be very light in order to make the design look clear and beautiful. Even better, shave your hair, just leaving the spots where you have to make these patches.
Spiky Buzz Cut with Lines
Do you have thin hair but want to make it look voluminous? This buzz cut can eliminate this problem. Many girls can get their haircut very short, making the lack of volume invisible.
On the plus side, it will make you look very bold too. Whichever outfit you'll be wearing, your hairstyle will match it.
Blonde Highlights
Yes, highlights can be done on buzz cut for girls who want to try something unique. When your little hair is in blonde highlights, it'll look like sunshine falling on your hair.
Your hair should be black in the shade to match the blonde highlights. Square face-shaped girls will actually look very good in this hairstyle.
Dark Brown Hair with High Fade
Dark brown is also a very minimalistic color, but it can be converted into a bold look. Just keep your makeup very bright and sexy to get a bold look. Get all your hair on the front to cover some part of your forehead. Trust us; this is going to be a very beautiful hairdo.
Yellowish Golden Hair
Gold not only looks good as jewelry but on hair also. This color might not be for everyone, so try this if you're ready to take risks. Golden Hair will look very shiny so it can dull the tone of your skin. It's good, actually, if you have a very fair skin tone.
Sea Green with Faded Sides
This list of buzz cut for girls just keeps getting sexier. Just look at this sea green color; it's so amazing. Try this shade at your own risk because you will be surrounded by people complimenting you.
High Fade Pink Hair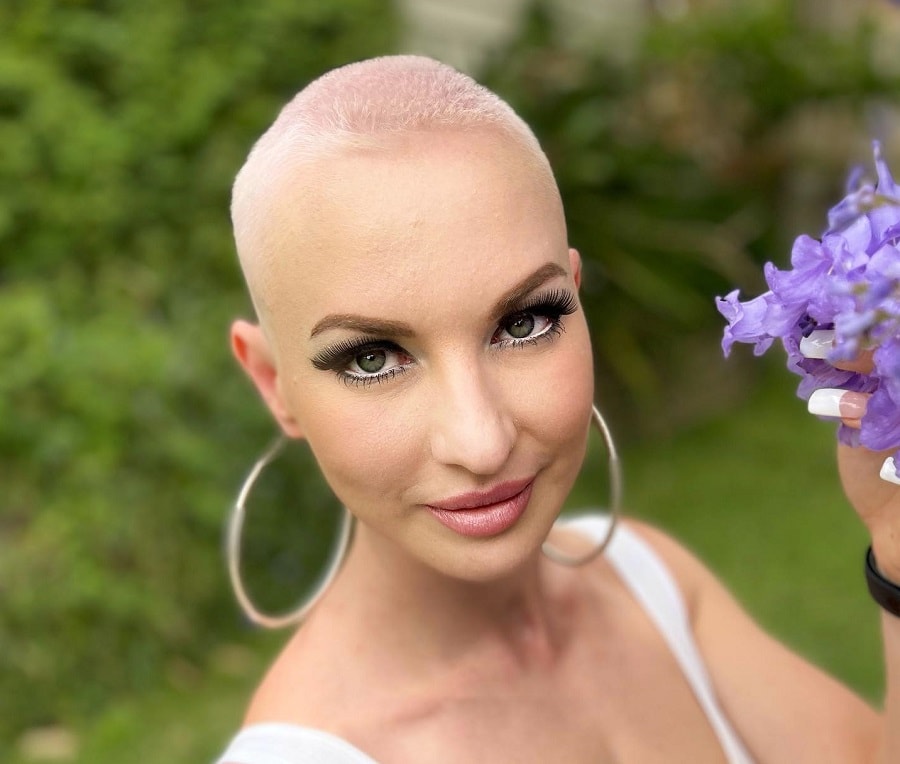 A high fade can actually look good on very short hair. Get a light shade for your hair if you want the high fade to be seen less. The baby pink color can work.
No need to worry about hairstyles for girls when our list of buzz cuts is in front of you. We hope that these exotic ideas will help you decide to get one of these. You'll look like no less than a celebrity, and everyone will take hairstyling tips from you.
Do you know what the best part is? These haircuts look beautiful in any season, including the hot ones. Go on and try them now.