A short balayage hairstyle can brighten up your whole look. The technique involves sweeping random sections of hair with a pop of color or a highlight shade. It's usually done on dark or blonde hair, and the brighter color gets denser as it moves down the locks.
However, short balayage hair can also be super fashionable, and it's a great way to spice up a pixie cut or other style that's not very long.
Eye Catching Short Balayage Hairstyles
Do you want your hair to capture everyone's attention? Let's check out a few styles to help you do that!
Colored Pixie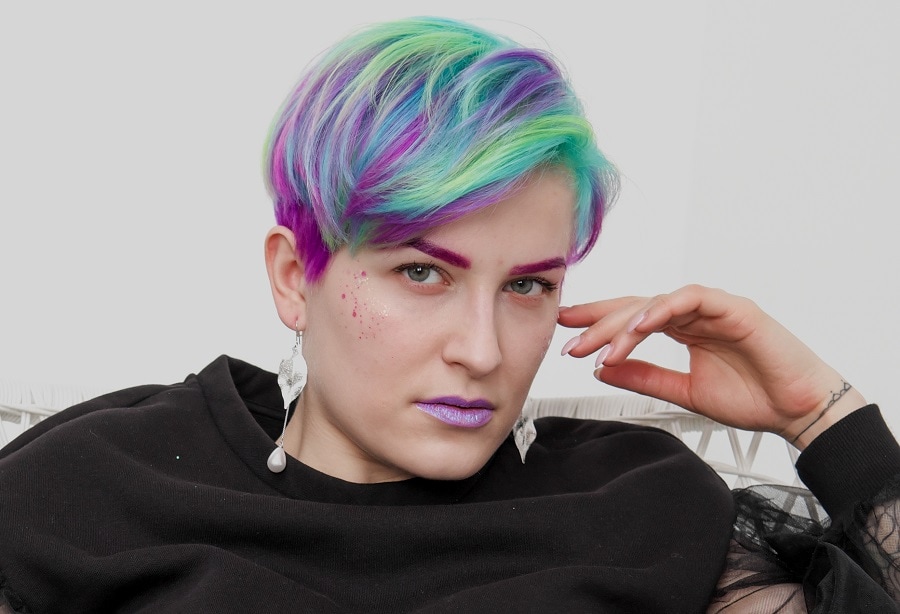 A colorful short balayage pixie is bound to captivate everyone who sees it. The haircut is a relatively simple layered pixie cut with a lot of thickness on top and some nice side bangs.
The base shade is purple, and there's a nice balance of light blue and mint green mixed into it to create a totally colorful look.
Choppy Blonde Pixie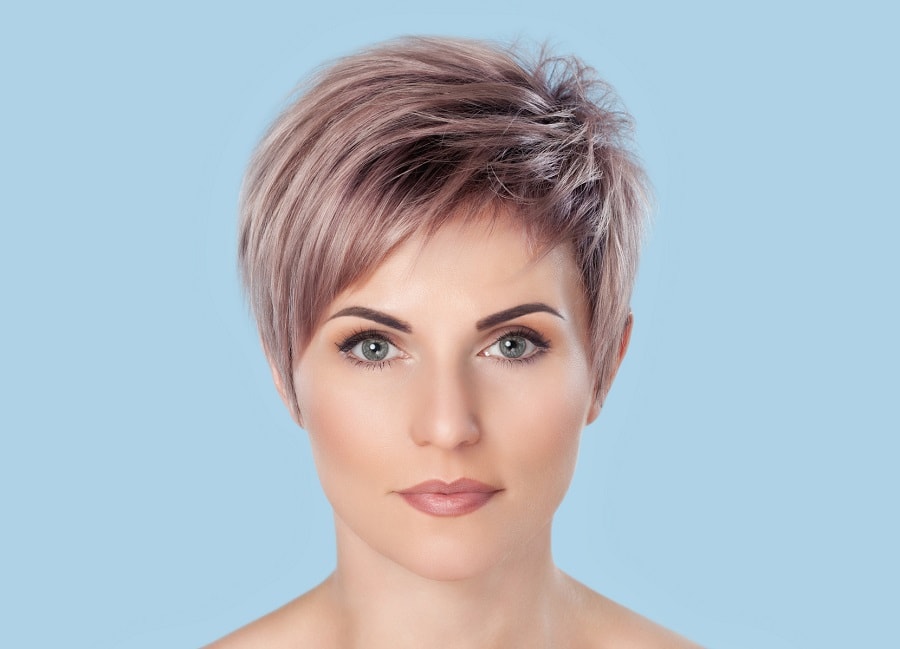 Choppy pixie cuts have a lot of texture, and that makes these styles look more fun and varied. The coloring here does the trick, too. It starts brown, but then blonde starts to creep up into it to create the desired look.
Brown and Gold Bob
Now we're getting a little longer and looking at a brunette balayage hairstyle. It has a side parting, and the locks are nice and wavy. The base shade is brunette, but there are golden-toned highlights woven throughout, painted on the surface of the hair.
Burgundy and Black Bob
Burgundy is such a delightfully vivid shade, and it's made even deeper by the stunning black that's in it, too.
The eye-catching shade is definitely the defining feature of this short balayage bob. Meanwhile, the overall look is a short and chic bob that doesn't quite reach the chin.
Choppy Blonde Hair with Side Bangs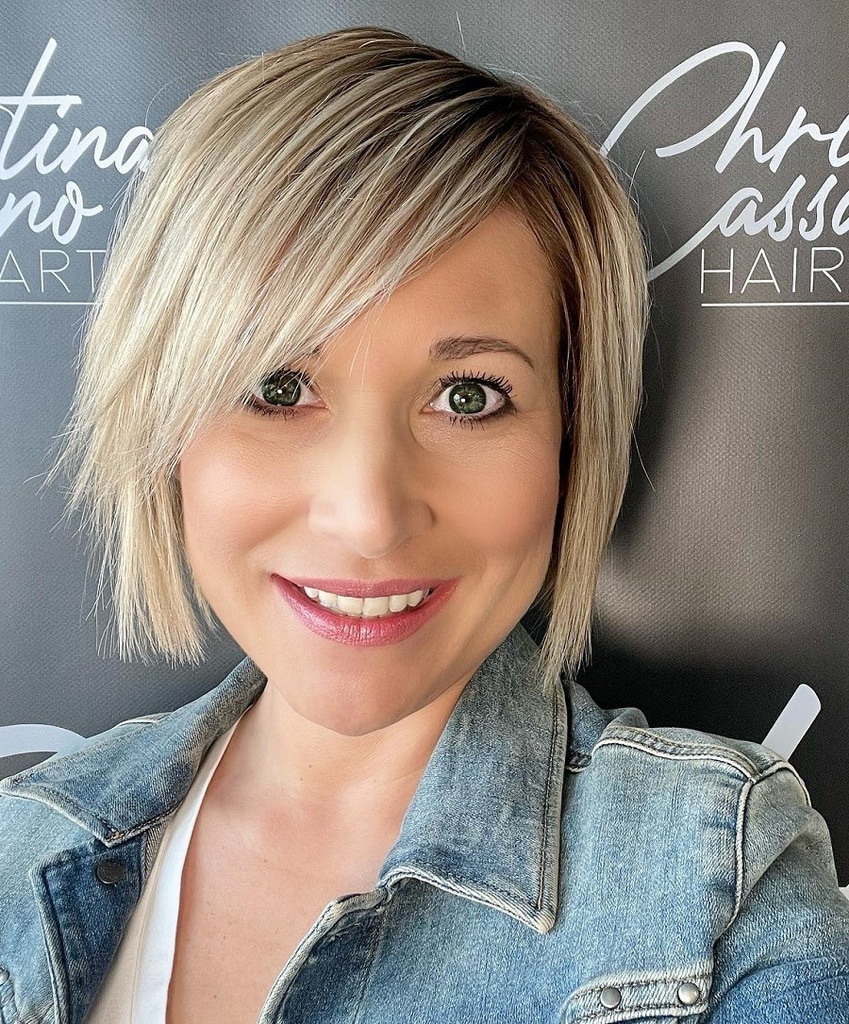 Dark brown and black roots add instant depth to this style, and the rest of it is a nice blonde tone that makes the whole face brighten up.
The locks fall to the chin and end quite stiffly with choppy ends. A big sweep of side bangs covers half the forehead.
Short Shag with Bangs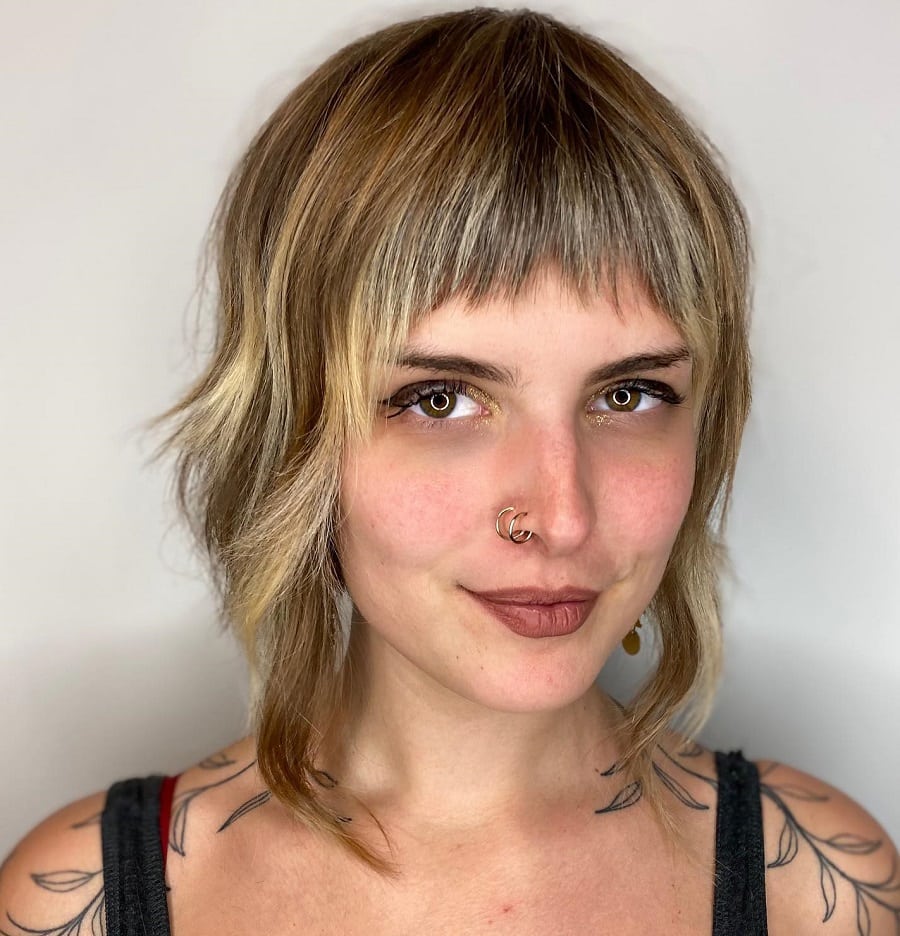 The shag look is very much in style right now, and a short shag with brown and blonde balayage highlights is so mesmerizing and beautiful to look at.
The hair is quite thin and minimalistic while still being stylish. Short, choppy bangs cover some of the forehead.
Wavy Platinum Blonde
The platinum blonde stands out a lot, but sometimes it needs an extra bit of depth to make it look its best. You can see that depth here with the darker roots. This short hair without bangs falls just past the chin. It's mostly wavy, but there's a curl right by the face, too.
Blue Undercut with Braid
The short balayage hair here is all blue, going from dark to light. The style has an undercut on the lower half of the head. Most of the locks fall to the back and the left in curls. The tresses on the right are braided and pulled back along the head.
Brown with Honey Tones
Brown can sometimes look a little plain, so here it's brightened up with nice honey tones painted through it. The thin hair falls down to just below chin-length and curls in towards the head and neck. Some bangs at the side are slightly shorter.
White Blonde and Pink
This short balayage hairdo is mostly a delightful white blonde shade that catches the light in all the best ways. The balayage shows up midway down, and it's most obvious at the ends of the short hair locks. The ends are bright pink, and the style is nice and wavy.
Ombre and Balayage
If you'd like a style that's a little unique, take a look at this. It's a short graduated bob with a black to blonde ombre in the ends, but there are also some pieces of hair, like the bangs, that are painted in a balayage style.
Caramel Blonde with Thick Waves
Mixing different blonde colors together adds such depth, and onlookers will find it difficult to tell why your style is so captivating. It's because there's a mix of caramel and brighter tones. There are also very thick waves that add a ton of texture here.
Brown Hair with Copper Highlights
Copper adds so much brightness to brown hair, and it looks very natural. The copper pieces are the most distinct in this short, layered cut, and there's a lot of it towards the front to capture all the attention.
Black and Pastel Purple Lob
You'll actually see there are three tones in this short balayage style. It starts black, transitions into a vivid pastel purple, and ends with a light pastel purple balayage shade.
This creates a very deep and interesting appearance that you won't be able to look away from.
Blonde Babylights with Waves
Babylights are very similar to a balayage, but babylights produce a brighter blonde tone. You can see both in this hair as there are multiple shades of blonde that work together well.
This works to make the hair look brighter and thicker. The waves also add thickness.
Pink Curls with Black Roots
Most of this is pink, and it's so eye-catching thanks to its thick and natural curly appearance. However, there's depth added by the dark roots.
This style has a side parting to create a lot of thickness on one side, and the curls follow a random pattern to make it look easy-going. There are also some layers that make the hair look thicker.
Brown and Rose Gold Vibe
Rose gold is truly one of the most mesmerizing colors you can have in your hair. It's so subtle that you barely notice the transition from brown to rose gold balayage shade. It's super shiny and the short balayage bob in a chic manner.
Purple and Orange Waves
In this one, we start with a purple base, and it goes very well with the orange that covers most of the strands. There are very nice waves and some curls at the sides which pull the tresses back from the face.
Natural Blonde Balayage Hair
If you're looking for something very natural, shades like this work very well. It appears so effortless. It starts dark and has blonde mixed into it, and it falls loosely around the face in waves.
It's a great look for showing off your unique side, and it'd also be wonderful to wear on Halloween.
Red Bob with Orange Tones
Most of this bob is a deep, very natural red. It's brightened up by the nice orange tones that highlight it towards the back and top. This creates depth that makes it look more stylish.
Asymmetrical Curly Haircut
There's so much to look at in this one. It's an asymmetrical short balayage hairstyle that's very long on one side, and there are layers in it, too. The curls have it harder to see the layers. Most of the hair is green, but there are some black strands in there, too.
There are short balayage hairstyles that will appeal to everyone, and it's obvious from the variety of styles offered above! You'll find things you'll adore if you love natural styles.
There are more unique ones that'll help show off your personality, too. You'll definitely find yourself very happy if you select one of these styles.