Would you love to make your natural hair pop a little more than usual? Highlights can help you achieve this, but you can do better than regular old highlights. Consider getting a brunette balayage to truly bring out the beautiful and natural tones in your locks.
There are lots of stunning brunette balayage hairstyles that'll turn heads whenever you walk by. You'll look even better than usual once you dive in and get one of these naturally glamorous styles for yourself.
Beautiful Brunette Balayage Hair Color
Check out the variety of styles below to generate some ideas for your new look. Your haircut makes all the difference with a balayage!
Caramel Brunette Bob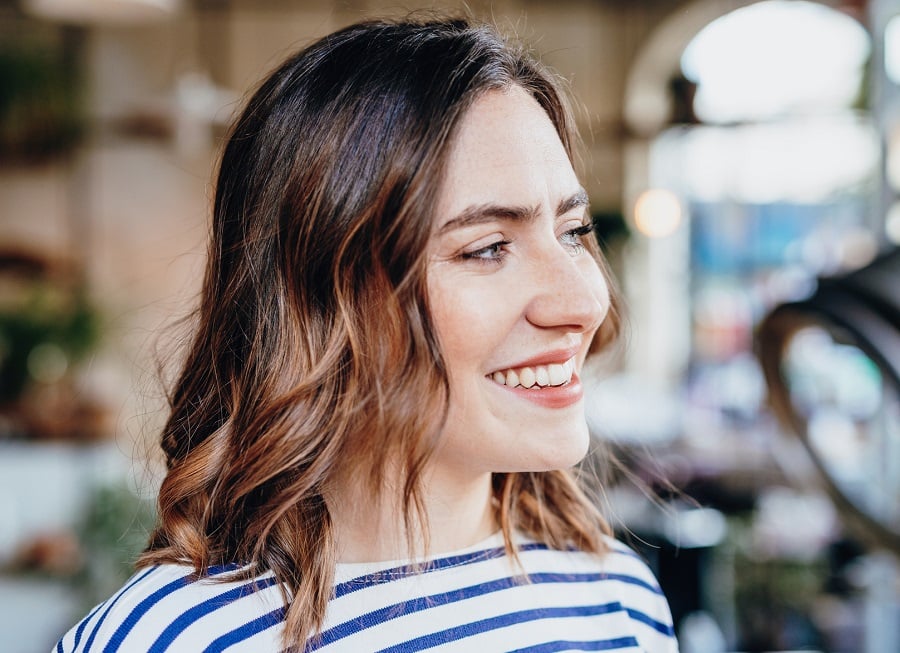 Bobs are chic, stylish, and simple. They're the perfect hairdo for a busy woman who still wants to look her best.
Adding little waves and a nice dark caramel balayage to your brunette bob will truly make it pop in all the best ways. The highlights are concentrated around the face and around the ends of your locks to create the most impact.
Long Wavy Locks
Longer hair can often look bland if it's all one color. Long brunette balayage hairstyles prevent this from happening by ensuring there are areas that catch the light all throughout your tresses.
The highlights are so subtle that they look almost natural.
Short Fluffy Locks
It's difficult to make super short hair stand out, but highlighting it helps a lot. Here there's a steady growth of natural brunette near the roots that gets lighter as the hair fans out.
The fluffy texture frames the top of the head as the tresses fan out around it.
Curly Ombre Ponytail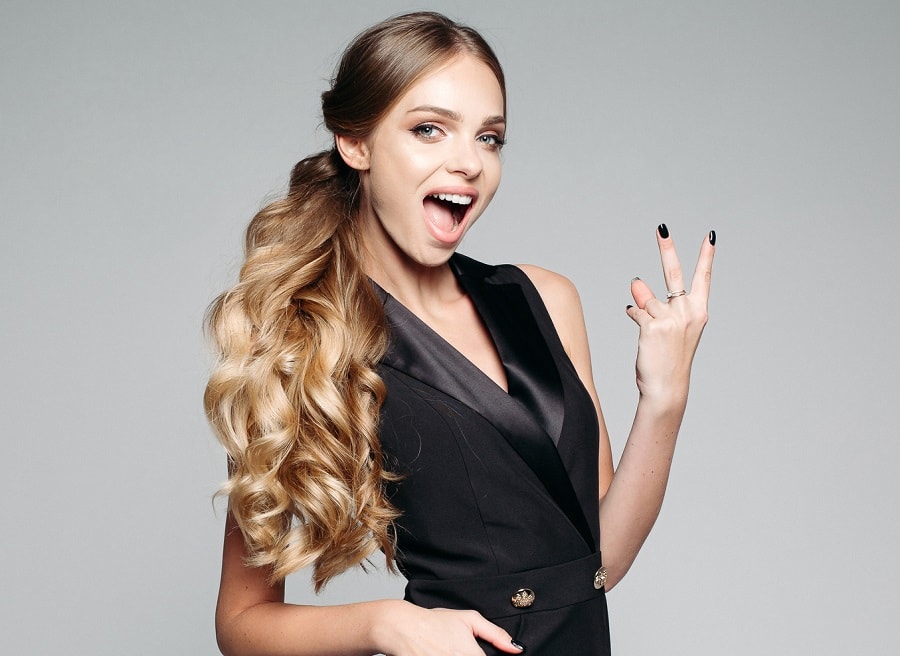 The ombre technique is another way to add a lot of extra color to your hair in the balayage style.
The lighter shade creeps in gradually until it eventually takes over your hair and looks seamless. Loose curls truly make it pop as you pull your tresses back into a low ponytail.
Glamorous Bronde Curls
Some colors fall so perfectly in between brown and blonde that they become bronde. It creates such a natural tone that looks wonderful with its darker roots and lighter tresses.
Large curls create a glamorous look as they fall effortlessly just past the shoulders.
Medium Hair with Side Bangs
Medium brunette hair with blonde balayage always works really well to frame your face. All the light colors are focused right around your jaw to bring your features forward.
Heavy side bangs with a mix of dark and light tones add depth and asymmetry to your style.
Long Dark Waves
Many of these hairstyles transform the hair into a color that's almost blonde. You can see something different in these long waves that cascade over one shoulder so beautifully.
The highlighting technique is very subtle to add just a bob of lighter brown.
Braided Bridal Updo
Brides always look stunning and elegant with braided hairdos. The light tones in this brunette balayage hair make it look every better.
The hair has been styled meticulously to ensure the braid contains most of the blonde as it blends into the complex updo on the nape of the neck.
Chunky Highlights
Most of these styles apply techniques to make the blend of colors look seamless. This one takes a different approach that's inspired by the 2000s when chunky highlights were popular.
The stripes of blonde in the brown look a little edgy in this naturally straight hair.
Bob with Pink Highlights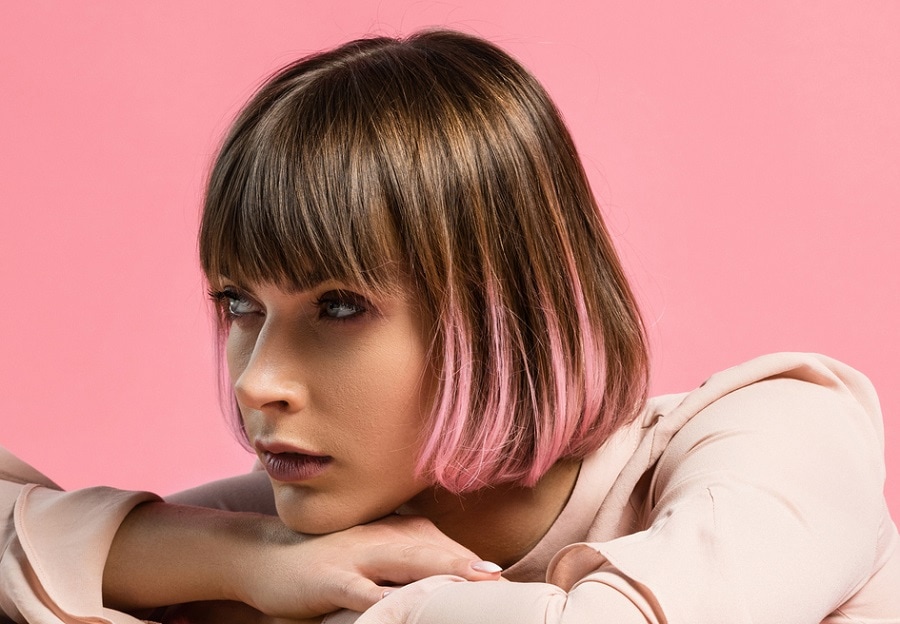 Would you like a pop of extra color in your bob with bangs? Pink stands out really well against brunette tresses. It creates a stark contrast against the darker tones which are blended together to create a look with lots of depth.
Long Hairstyle for Women over 40
A brunette balayage can create an illusion of thickness in thin hair as it layers lots of colors to create dimension.
These hairstyles are also good for this as lighter tones often make fine hair less prominent. The natural flow of these locks over one shoulder creates a carefree and appealing vibe.
Natural Curls with Dark Roots
Black women with tight, thick curls can really benefit from this highlighting technique to add some more depth to their stunning tresses.
The blonde against the brunette creates a lot of contrast that the dark roots make more prominent. It creates a really visually stunning look.
Elegant Updo
Some buns create such elegant updos that look great at formal events. The lighter section of hair stands out a lot as the hair is brought to the back of the head and twisted into a voluminous round shape.
Ashy Waves
Ashy tones create such a chic look when paired with super dark natural hair. You can see some of that natural darkness peeking out at the roots.
The wavy short brunette hair with balayage framing the face that helps emphasize the ashy tones in this stunning style.
Layered Curls
Adding layers to your look creates a dimension that helps emphasize your brunette balayage hair.
It also helps keep these sweet curls from getting too thick and difficult to control. Overall it's a nice everyday style that also works for parties.
Half Updo with Ribbon
Do you want a really nice and girly everyday style? Having long curls with a ribbon in them creates that amazingly.
Ash-blonde balayage goes well with curly brunette locks that have greyish undertones. You'll look incredibly sweet and stylish when you push these tresses back.
Lightly Wavy Ombre Cut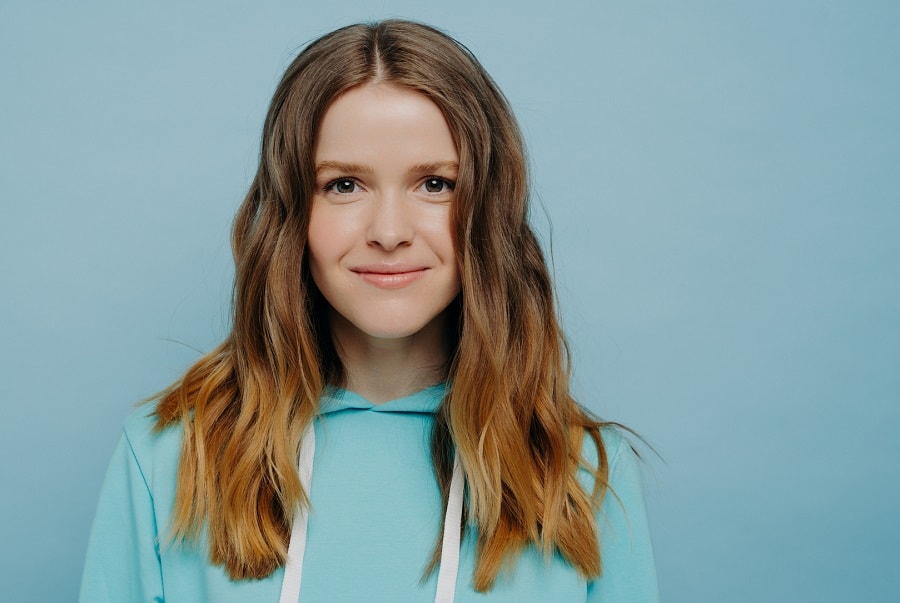 A subtle ombre always looks really natural. The nice mousy brunette balayage transforms into one with more of a golden sheen here.
The hairstyle has a center parting and a very loose wavy texture. The loose waves look incredibly natural to create an everyday, easy-going vibe.
Long Honey Brown Locks
Honey brown goes well with medium-toned brunette colors. The highlights here towards the top of the head are a little chunky to create the most impact possible. They blend in more towards the end of the hair.
The tresses cascade elegantly over one shoulder with a little waviness. It's a nice business-casual look with a touch of glamour.
Straight Light Blonde
Straight hair makes a highly understated everyday look appear super chic. The light blonde balayage mixed in with this brunette hair amplifies the effect.
This is a simple look that would suit someone who loves glamorous makeup and looking their best in everyday situations.
Shiny Glamorous Waves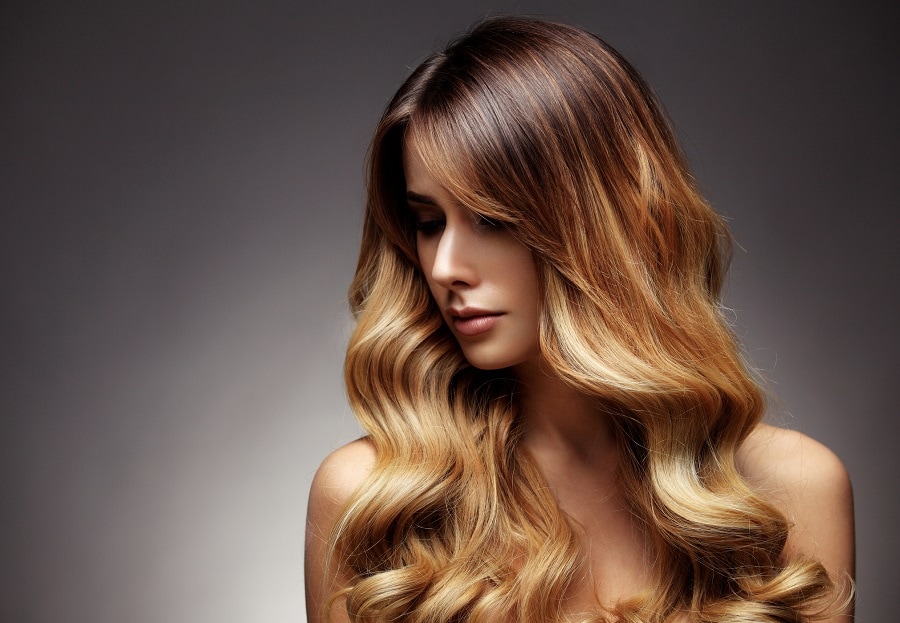 Large and perfectly formed waves like you see here are always really glamorous and look delightful at parties and semi-formal occasions.
The blonde shades that highlight them make them even look better. You can see multiple light tones here that make this balayage look really natural.
Long Wavy Fine Bob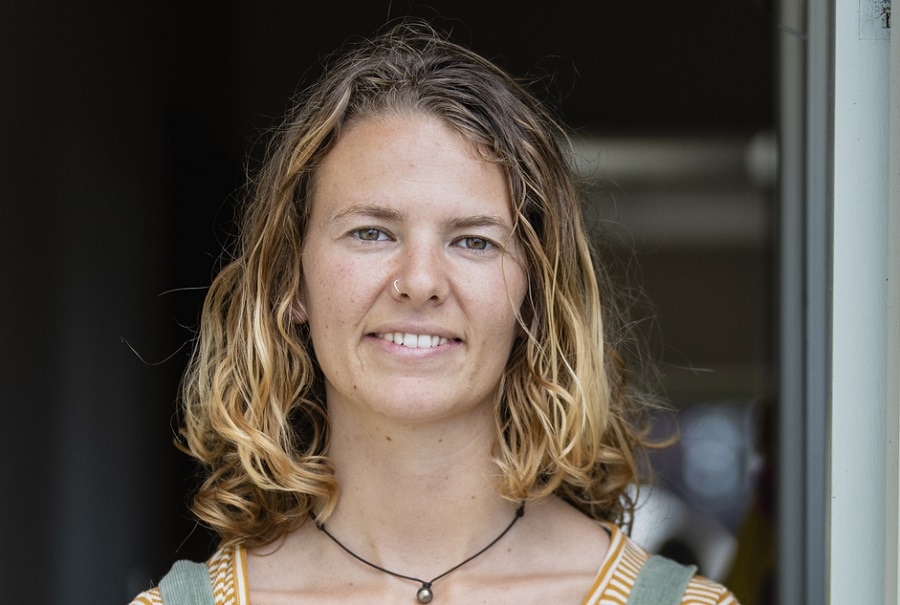 Brunette balayage highlights make it easier to create a voluminous effect in thinner tresses. They catch the light and naturally make the locks look more full of life.
Adding a messy wavy texture helps with this, too. It also ensures the style looks really casual and effortless so you can wear it every day with no issues.
Long Side Parted Caramel Curls
Caramel balayage is such a beautiful color that always goes well with dark tresses. It also looks good with some darker beige skin tones as you can see here.
The long curls that fall past the shoulders help highlight your whole face and neck area.
There are many ways you can style brunette balayage hairstyles to keep you looking your absolute best. The color of the highlight you choose can truly transform your entire look. If you pair this with a hairstyle that looks great on you it's even better.
There are so many ways to configure your chosen look. Curls help your color pop. Chunky highlights are great for being super eye-catching. Seamless blends of multiple colors look really natural. It's up to you to choose which you like most.