If you're among those who like cute, practical looks or prefer shorter lengths over high-maintenance locks, then you must go through this article. It will talk about different colored bob looks paired with beautiful hues.
Bob hairstyles with color are very classy and can give you a completely different look, depending upon your cut and way of styling.
From wavy, sleek, asymmetrical to shaggy cut, there's a huge diversity that you can choose from. By pairing a bob cut that frames your face with a classy shade that'll suit your skin tone, you're sure to have a flattering look.
List of Trendy Bob Hairstyles With Colors
Let's have a look at some of the colorful bobs to see which one of them might suit you.
1. Colored Stacked Bob
Go for this blunt egg bob only if you have the confidence to try a daring look. It will best suit fair skin tones and an oval-shaped face. This is high maintenance and time-consuming look that will surely make you stand out from the crowd.
2. Layered Bob With Pink Color
The layered pink-colored bob is ideal for all hair types and will frame your face by giving a voluminous look.
It will go well with heart, oval or round-shaped face, and medium to fair skin tones. You just need to blow dry the layers, and you are all set to achieve a daytime party look.
3. Green Colored Bob
If you're looking for a cool summer fresh look, then go ahead with these wavy green bob hair. It is ideal for medium to fair skin tones and can be worn when going on a trip. Pair with shades and hoops to accentuate the look. It is the best option to get a hot chic look.
4. Purple Bob for Thin Hair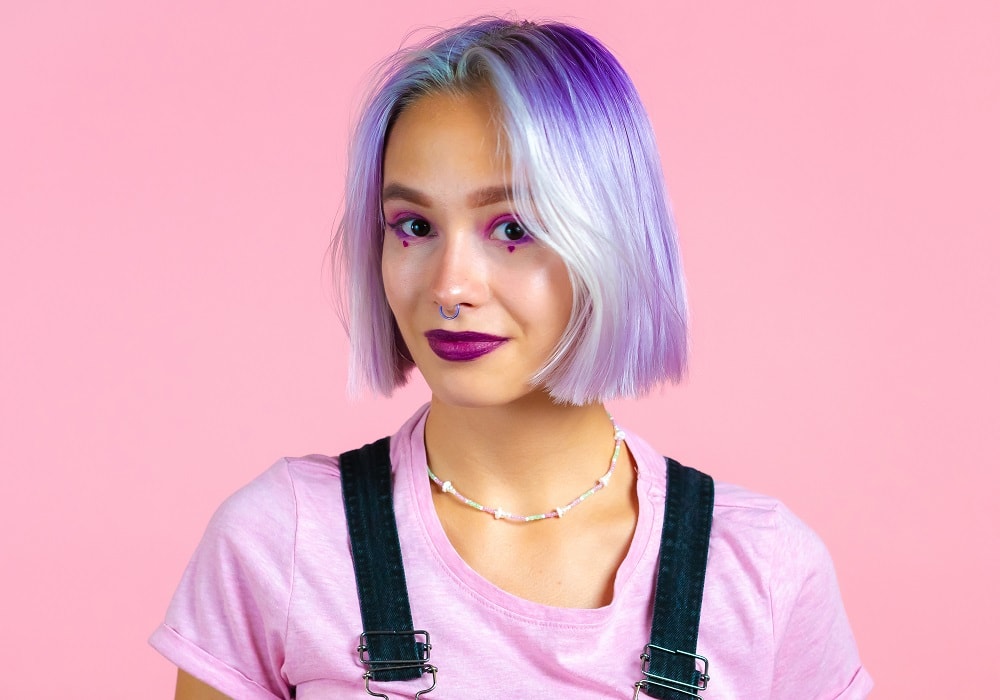 Don't know how to style your thin hair? Go ahead with this blunt bob. Purple hue with blunt bob is suitable for fair skin tone and oval-shaped face.
You can wear this colored bob look to a disco night or any other casual event. It looks amazing on women who prefer lighter ideas.
5. Rainbow Lob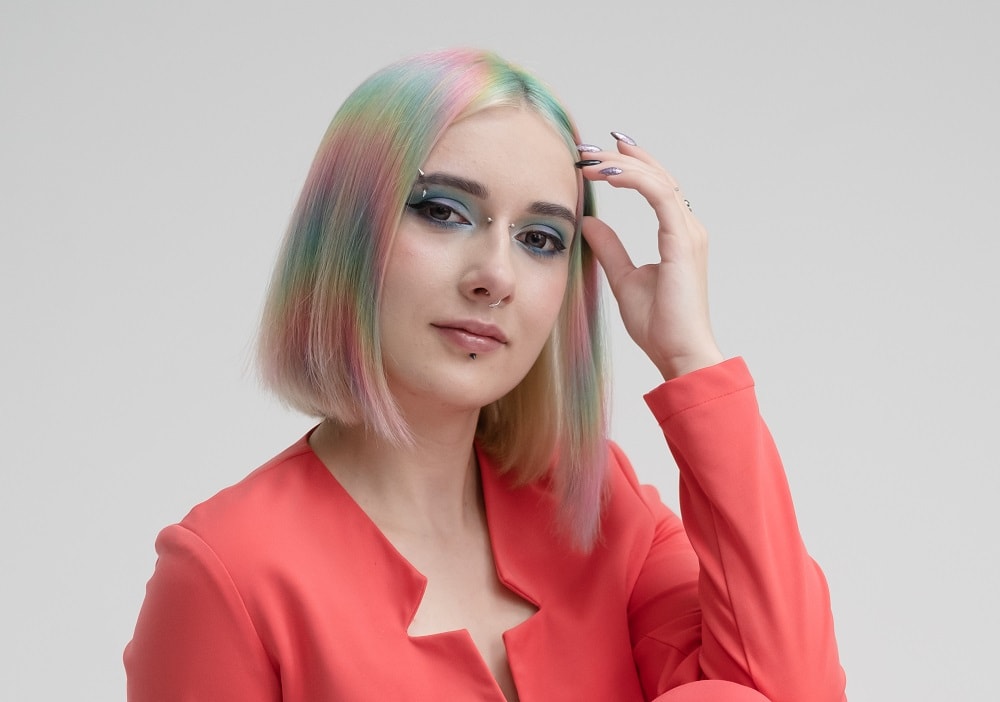 A rainbow-colored long bob is another high-maintenance style that will give you a sleek, bold look. Pairing it with some makeup and a formal outfit, you can get a perfect classy look. This will go well with a fair skin tone and heart or oval-shaped face.
6. Jet Black Bob Hair
Try this chopped black hairdo if you have naturally dark hair and want to show them off. You can nourish your locks with natural oils to give them a shiny, healthy look. This look will best suit younger teens and women in their twenties.
7. Golden Brown Bob for Women With Glasses
Women with spectacles having naturallybrown straight hair can go for this look. It is easy to maintain a bob hairstyle with color that can be worn by anyone who wants a short look. The bangs cover the forehead and make the look appear cool and ideal for a casual event.
8. Light Brown Back Curled Bob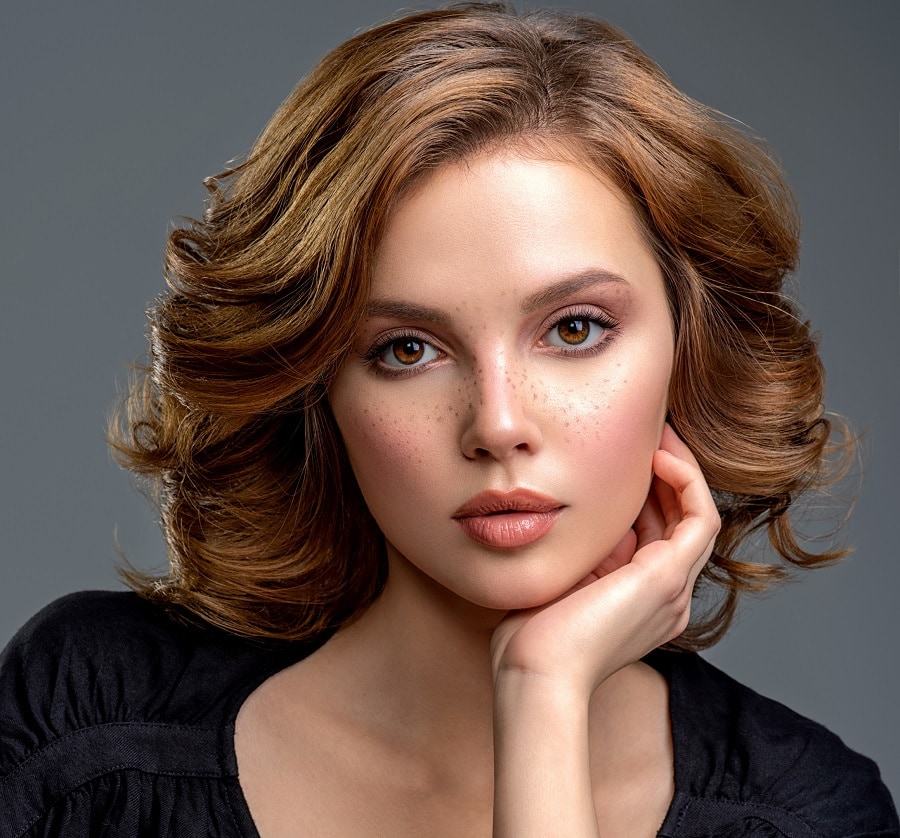 To get a fully dolled-up look, go for this hairdo. It is a Met Gala-type look that will fit any special occasion. The layers are curved backward, requiring a little more time to style. Pairing this hairdo with a black dress will give you the best night-out look.
9. Grey Bob for Women over 60
If you're over 60 but still want to go for a cool look, then go ahead with this curly grey bob. Make sure to book a stylist who can work well with curly hair, and you will definitely enjoy this different look if done right.
10. Multi-Colored Curly Bob
The last option has a colorful retro vibe that you'll love if you're a fan of the pink-purple shades. This is a bit complex hairdo that will take some time. The curls here highlight the different shades and give an amazing look.
When choosing a hair color for your bob cut, then choose the one that'll suit your cut. In addition to this, also make sure to pick the colored bob that complements your texture, skin tone, and looks. Either you can go for under-color or faded highlights that'll not be much vibrant and, at the same time, elevate your style.