Sometimes it can be difficult to find updos for short bobbed hair, as you don't have a lot of long hair to work with. But don't fret! There are plenty of styles to play with that will make you look dazzling for any event you need to attend.
In fact, in some cases, it's easier to style shorter hair. The less hair you have, the easier it is to keep it under control. This is exactly what you need when trying to make your hairdo look sleek and elegant.
Amazing Updos for Short Bobbed Hair
Let's browse a few styles to give you some inspiration for styling your hair. There are plenty to choose from below.
1. Elegant Loose Updo
Our first style on the list is perfect for a wedding or another formal event. The hair is drawn back with lots of loose strands falling by the nape of the neck.
The bands also have a loose section that falls by the face. It's decorated with a flower and feathers.
2. Retro Pin Up Curls
Retro updos for short bobbed hair always look fantastic. The hair is drawn up at the front into nice little curls that create a heart shape.
The back is sleek and pinned up nicely. Styling your hair like this helps you create a soft and old-fashioned vibe everyone will love.
3. Crown Braid Layered Look
Braids are great for making a hairstyle look more fun and complex than it is. Here we can see a crown braided updo decorating the front of the head and wrapping around.
The top of the blonde hair has some nice texture to it, keeping the look alive and vibrant.
4. Feathered Bangs
Bangs can do a lot for making your hair look fabulous. They're often the focal point of updos. Here the bangs are thick on the other side of the face. The rest of the hair is drawn up, and there's a braid on the top.
5. Casual Space Buns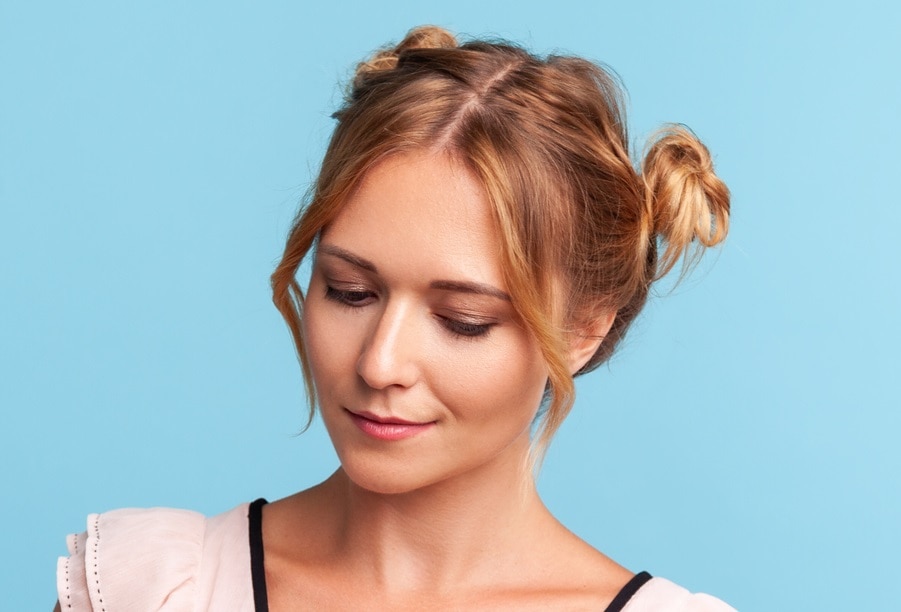 Everyday styles don't need to be complex. They can be fun like these space buns. The hair is nice and loose as it forms space buns on the side of the head with some curtain bangs that frame the face.
6. Simple Elegant Knot
A simple and elegant knot on the back of your head makes you look mature. This updo with short bobbed hair is very easy to do.
Most of the hair is brushed straight back from the hairline and secured in a bun. The bangs swoop in, curving slightly. This helps make the hair look casual.
7. Curly and Messy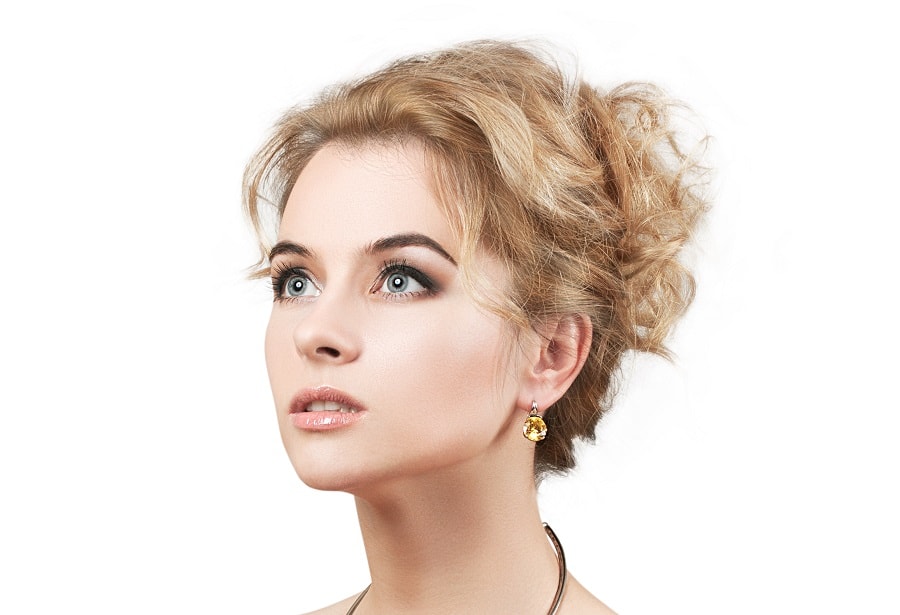 Curls make every hairstyle look vibrant and alive. These curls have been pulled back into a short ponytail.
The bangs are swept back towards the ponytail, but they're not pinned into place. The style is overall very loose and great for daily wear.
8. Top Bun and Low Bun
Unique updo hairstyles are great with short bobs. There's a low bun here that's very simple and typical, but that actually makes the hairstyle more interesting.
Some loose strands fall around the face, adding texture and a casual vibe.
9. Vintage Updo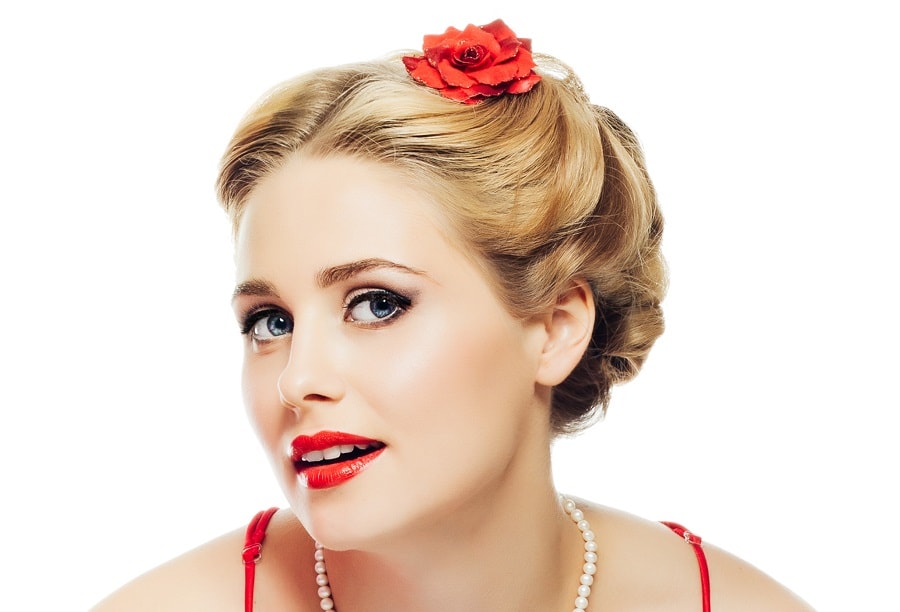 In this vintage updo hairstyle, golden blonde hair is pulled back and pinned at the crown of the head. Some nice curls sit above the nape of the neck. The hair is decorated with a flower which makes it more appealing,
10. Low Pinned Style
Updos for short bobbed hair like this are quite unique. The hair is all pulled back and pinned at the nape of the neck, but updo looks very loose and has no specific shape to it.
The bangs are the main thing to look at as they sweep across the face.
You can experiment with all of these updos for short bobbed looks to see which one suits you best. They're highly versatile, so anyone with a bob can achieve these looks.
Pretty soon you'll have a brand new go-to style that you'll wear flawlessly every day. Your friends will be in awe of your new and elegant appearance.