If you like ombre hair colors and haven't given it a try, then just give a shot to ombre bob hairstyles that look amazing. The shorter cropped cuts have occupied a leading position and are among the most stylish hairdos.
Ombre hair is ideal for most hair types and is the hottest pick of the year. It goes perfectly well with short hair and, in fact, makes it the easiest to maintain a hairdo.
From curly asymmetrical cuts to deep parts and waves, you have plenty of options to choose from. These can be paired with either subtle pastel hues or even dark vibrant colors.
Gorgeous Ombre Bob Hairstyles
Here, we've listed the most popular ombre bob hairstyles you must try this year. So choose your favorite one and give it a try!
1. Blonde Ombre Bob
If you have medium straight textured hair, go for little brown on the top and blonde on the rest of the hair.
This is an ideal length of a bob hairdo and goes well with a fair skin tone and oval or heart-shaped face. Pair it with a floral dress, and you're all set for a casual meet.
2. Brown Bob
For those unsure, whether ombre bob will suit you or not, then this is the perfect option to go for. Start from the bottom and see if it suits you. The brown ombre hair color is ideal for any skin tone and oval, round, or heart-shaped face.
3. Purple Bob
Spice up your simple bob with some nice purple shade for an extraordinary and cool look. Here, the roots are colored blue and gradually mixed with purple at the bottom, giving a great effect.
If you have medium or thick hair and a fair skin tone, this is the best option. This is an ideal look for a friend's night out party.
4. Ombre Bob for Black Women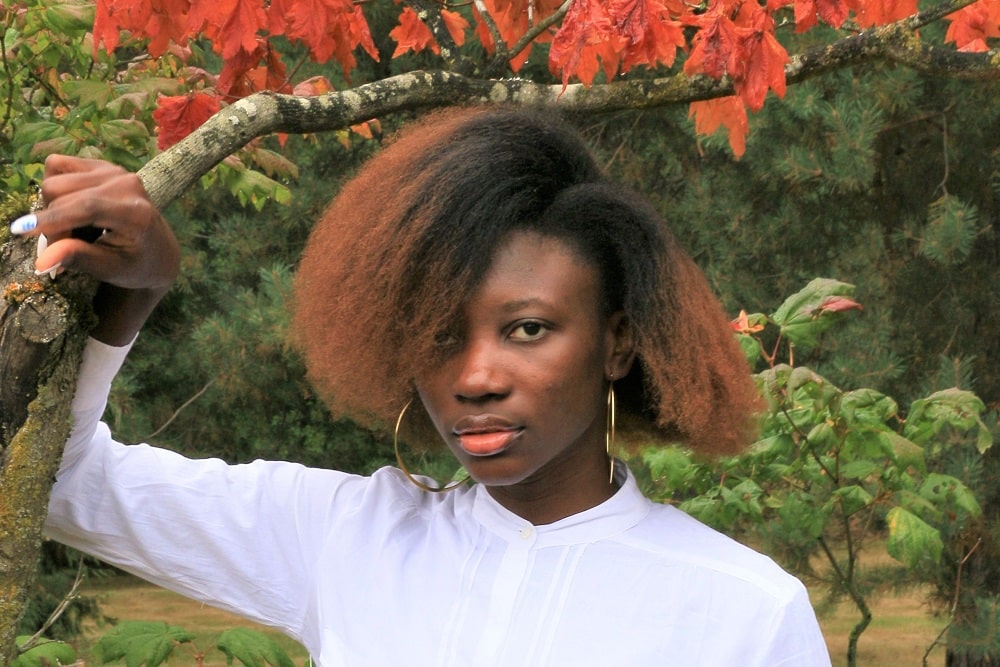 If you have a medium to dark complexion, then go for this hairstyle. This messy ombre bob looks fantastic and will suit any woman with a dark skin tone. This is a low-maintenance look and can be worn on any occasion.
5. Pastel Pink Lob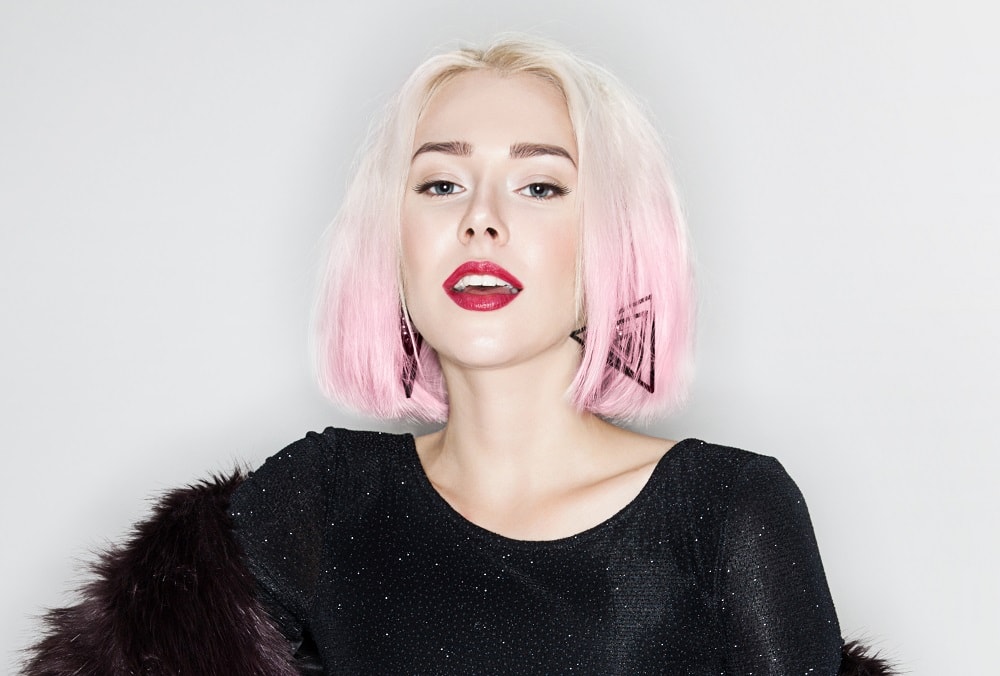 If you want to go for a sleek, unique look that'll make you stand out from the crowd, then try these inverted chin-length bob paired with a pink ombre shade.
This will best suit oval or heart-shaped faces and fair skin tone and can be worn to any occasion. You can simply style this look with straight middle-parted hair.
6. Red Bob for Bold Look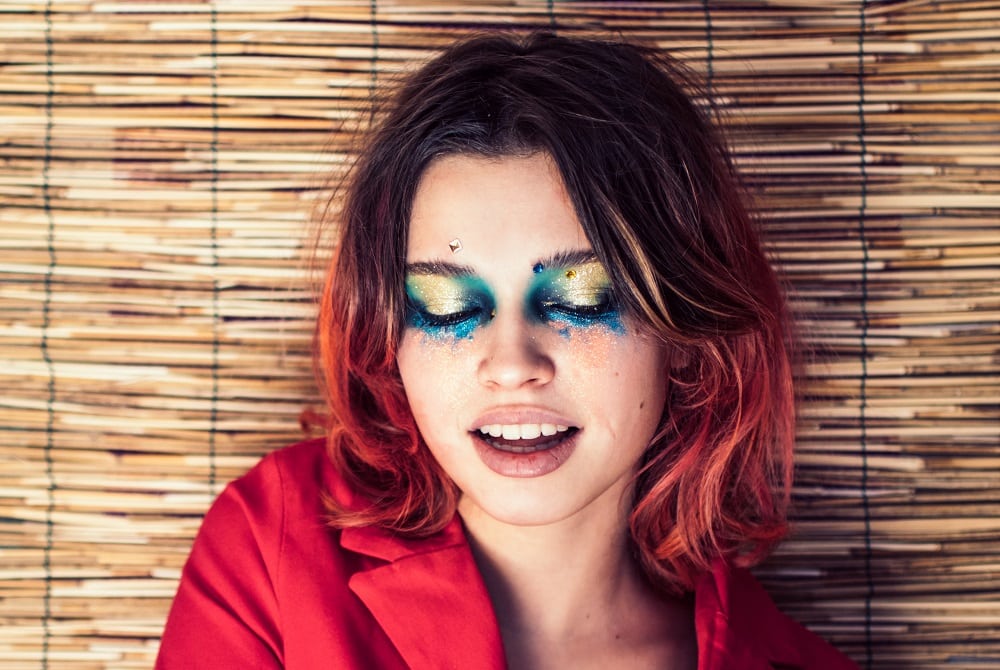 Go for this wavy red ombre bob if you're looking forward to a Halloween party. Just put on some witchy makeup and a cool outfit, and you're all set for the party. Moreover, with a subtle makeup look, you can also wear this hairstyle to a casual occasion.
7. Wavy Green Bob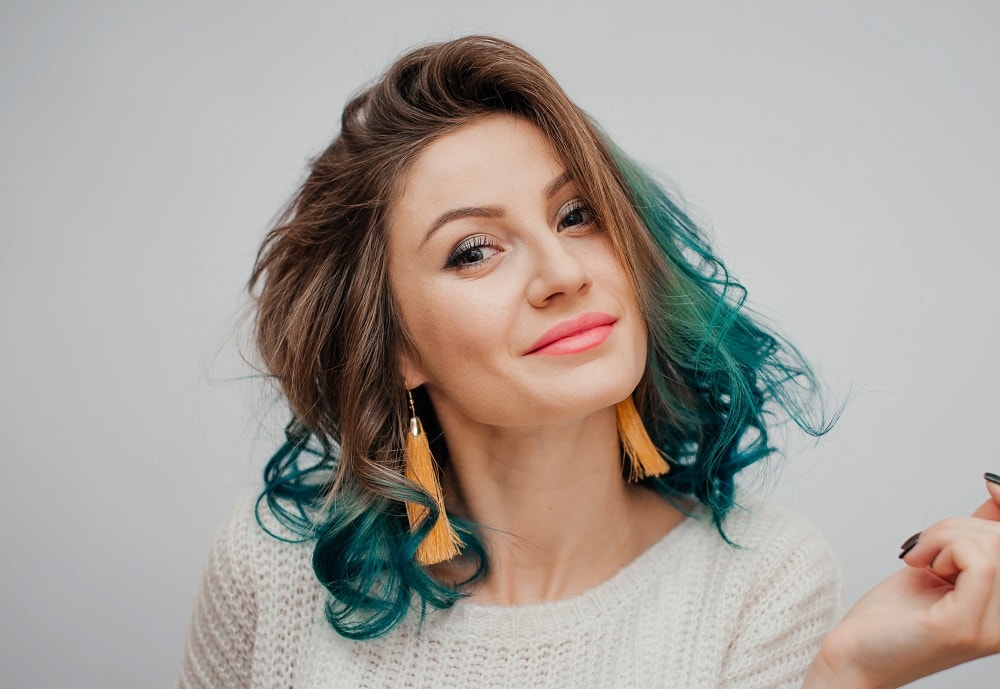 If you are looking for a lively look, then try a green shade at the bottom of your locks. It will look great on medium to fair skin tone and gives a gorgeous as well as a pretty look. Side part the hair and add little waves to elevate the look.
8. Mix Colored Short Bob
Want to get a tomboyish look? Try this mix-colored ombre bob hairstyle that is easy to style but requires a bit more maintenance.
As the hair is randomly shaded with any color, the mix and match require time and maintenance. Thus, if you want to go for a completely different look, then try this one.
9. Straight Orange Lob
If you have thin hair and want a simple yet vibrant look, go for this short-length orange ombre. It will best suit fair skin tone and round-shaped face and give you a sun-kissed look.
10. Permed Blonde Bob
Put on your shades and rock the show by getting a perm blonde bob look. This will suit any skin tone and round or oval-shaped face. It is the most ideal to have a cool yet voluminous look.
If you have thinning hair, then go for this look, as the highly defined curls create a voluminous effect.
11. Middle Parted Blue Bob
Get a clever look with this middle-parted purple, blue ombre shade. Pair it with an ear-length bob cut to get a complete tomboyish look.
You can wear this look casually on a daily basis. Just put on your jacket and sneakers to perfectly complement the look.
12. Pink Curly Bob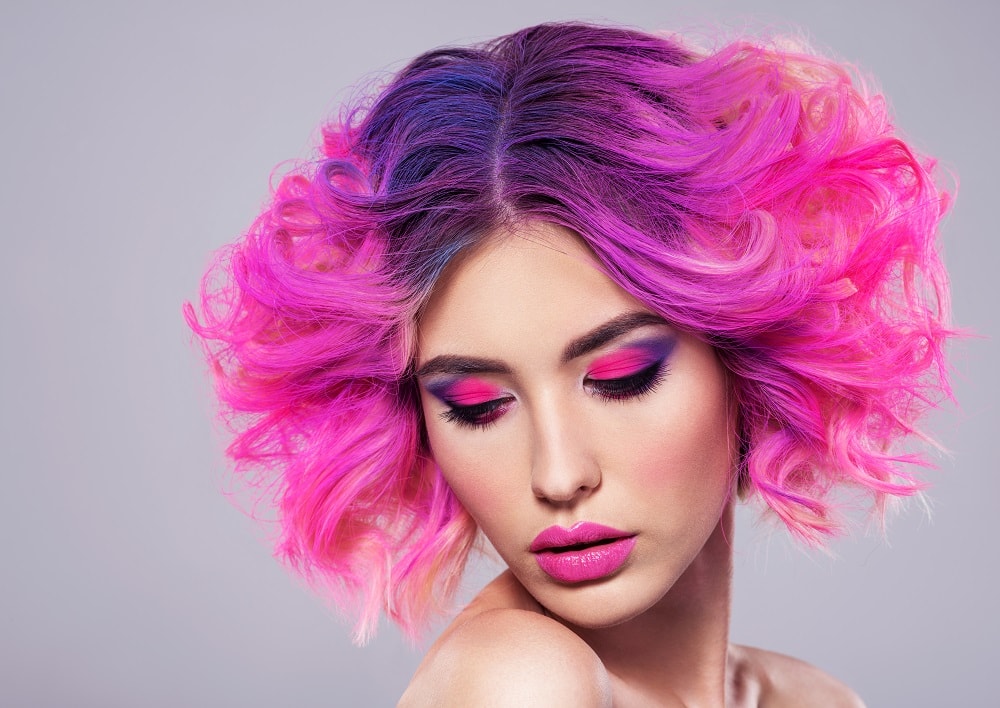 Get a bold model look with this pink ombre bob hairdo. It is a perfect look for a ramp model as the pink shade is dark and vibrant paired with bold makeup. With this, you can blow dry your hair upwards and backward to give it an elevated look.
13. White Blonde Lob With Bangs
To have a sun-kissed winter look, color your hair blonde and get a gorgeous style. Pair it with a shoulder-length bob and bangs to get the perfect look. This will be suitable for fair skin tone and oval-shaped face.
14. Barbie Pink Blue Bob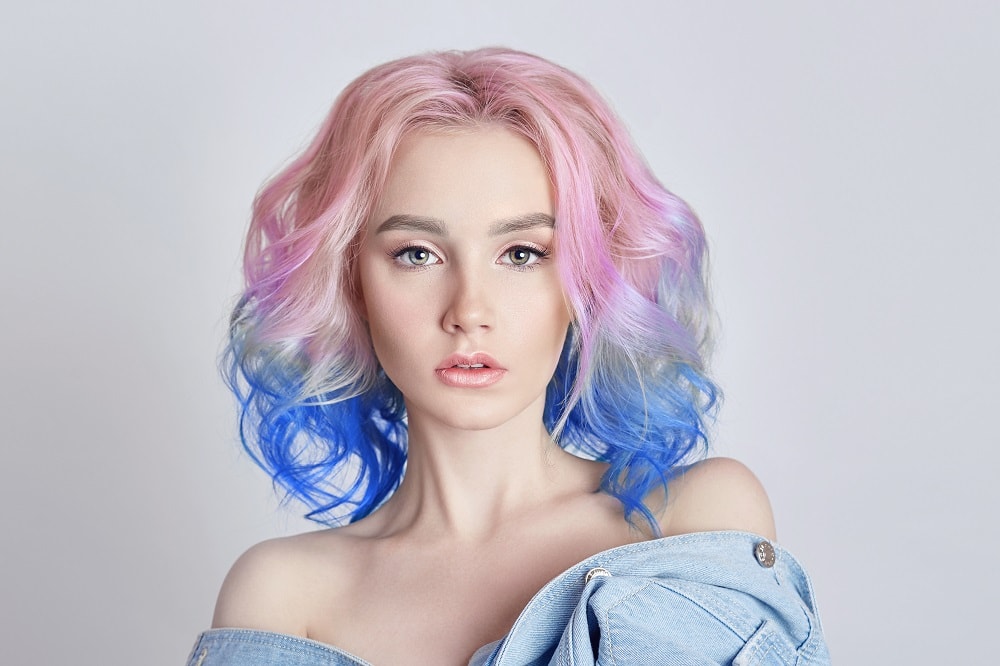 If you have a fair skin tone and blue or green eyes and want to get that Barbie looks, just go on with this reverse ombre bob cut.
The pink color at the top mixes well with blue at the bottom and looks great when paired with loose curls that create a fluffy, voluminous look.
15. Pink Ombre Bob With Undercut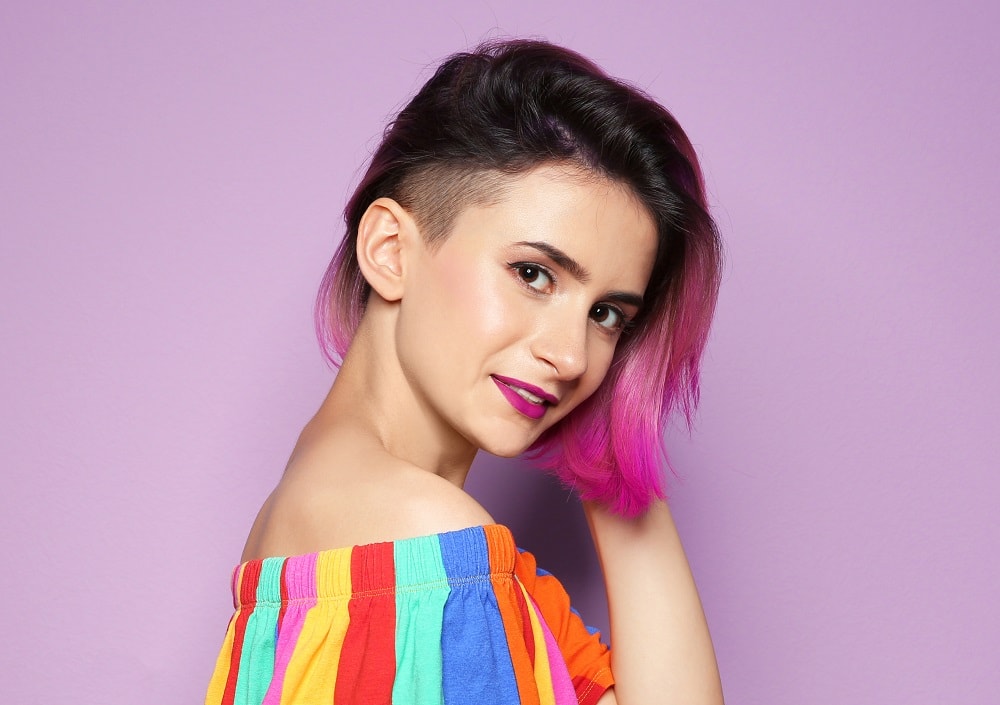 If you have straight, medium to thin hair and want to try a cool summer look, then this is the perfect option. The undercut goes well with a dark pink shade. It is the best option if you don't want to experiment with your black hair and just get a cool look.
16. Funky Lime Green Shade
The lime ombre is for those who want a royal, classic look. It is easy to style and has a low-maintenance look as you can part your hair towards one side and wear a cap that will save you from any styling on the crown area.
If you want to get a hair color but at the same time want it to be simple and not so fiery, then go for this look. It will go well with any hair type and skin tone. It is the hairdo that will suit casual as well as special occasions.
18. Messy Pink Curly Bob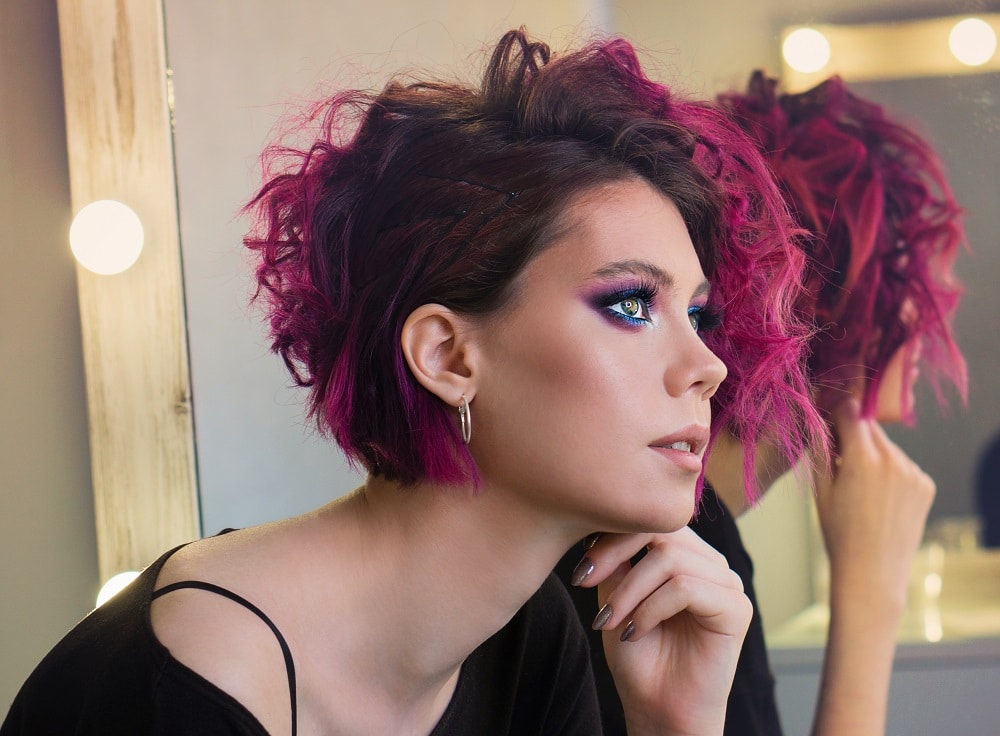 Another dazzling look best suits a model face is a messy pink hair. It will suit any skin tone and medium to thick hair. This style creates a striking and eye-catching look suitable for any special event.
So, just get ready to try one of these amazing hairstyles and wait for all the compliments to come your way. The best part of these hairstyles is that they are easy to style and can be worn anywhere.
Moreover, these ombre bob hairstyles offer you freedom in the choice of styling, i.e., you can either style them in flat, slightly tousled, or even voluminous curly hairdo.