Raise your hands if your favorite color is pink because we've got some pretty pink ombre hairstyles for you pretty ladies. Don't worry even if this isn't your first choice of color, we bet that you will definitely think about getting pink color on your hair after looking at our exclusive list.
No matter what your age is, you will think at least once about coloring your hair pink. These pink ombre hairstyles will enhance your beauty.
Beautiful Pink Ombre Hairstyles
Check out our exclusive list of 20 hairstyles just for you.
Asian Ombre
Finding hairstyles for thin hair can be tough because not every style can be made on them. So you need something that will make your thin hair look voluminous without any hair extensions. Wavy hair is the solution for you, and when you get pink ombre, you have got the jackpot.
Color Combo
Have you ever tried mixing pink hair color with blonde and purple? If not then this is us telling you to do it right now. Just color your roots blonde, middle part pastel pink, and ends in purple color. This whole style just looks so colorful. It's a great pick for a theme party.
Dark Pink Crimped Hair
Dark colors are quite underrated, but in reality, when combined with a contrasting shade it looks awesome on fair as well as dark complexions. Go for this ombre hairstyle and add some volume to your hair by perming them. The result will be magically beautiful.
Lavender Bob
Lavender is such a magical color; when you look at it, you just can't take your eyes off it. If you want to look unique, we advise you to get lavender color on your straight ombre bob. Lavender is a color liked by all regardless of gender.
Faded Pink
Have you ever heard about the faded pink color? Oh, girl, it's so gorgeous that you will fall in love with it the moment you see it. It's a color that will suit brown hair, yes, brown! You'll be surprised to see how beautiful you look in this style.
Long Ombre Bob
The faded pink ombre hairstyle is quite an interesting one that goes well with all skin tones. A neck-length bob goes well with any attire and can be worn to the office, casual outings, etc.
Magenta Bouncy Curls
Have you ever thought of mixing magenta pink with brown hair? It's a magical combination, trust us. Keep the texture of your hair natural; no need to change it. Keep the roots of your in brown, and then when the middle portion of your hair comes, color it in magenta.
Pastel Pink Long Hair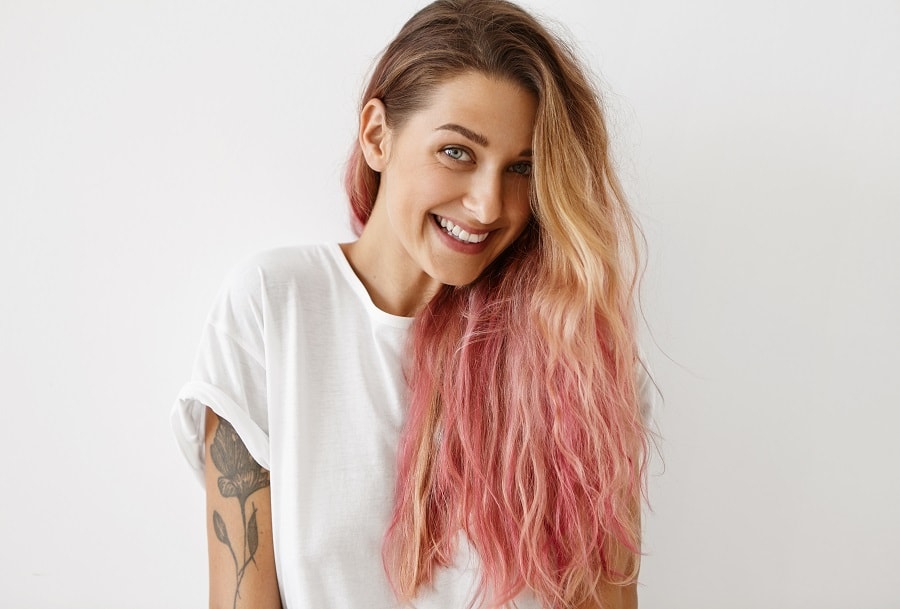 There are so many shades of pink that even we can't cover it in one go. Pastel pink is not a commonly known color, but it looks so beautiful on long hair. A mix of blonde color and keeping the roots of your hair in natural color would be your complete look.
Candy Pop Straight Hair
Remember the time when we all used to be crazy about cotton candy? Well, why not add the same pastel pink color to your hair for a different look this time? It blends perfectly with naturally dark hair especially black. Simply straighten your hair for the final look and you are ready to go.
Long Hair With Fringes
A pink ombre will look awesome on long hair as it perfectly shows the melting of colors. A combination of dark and light pink will give you a doll-like look. Add colored wispy bangs to it and its done.
Bubblegum Pink
Bubblegum is very delicious, but have you ever noticed the shade it has? It's so beautiful that you should get bubblegum pink hair color this time.
Keep the roots of your hair in brown color. Middle-length wavy hair will suit well here as you don't want all of your hair pink and just a little in brown.
Vibrant Fuchsia Pink Shade
We bet that you haven't heard about the fuchsia color shade before. You haven't, right? Well, you can say that when you combine pink and purple colors, you get this magical color. It's a pleasure to look at this color on long straight ombre hair.
Grunge Hairstyle with Bangs
Another one of the pink ombre hairstyles, we bet you haven't heard about either. Just have a look at the above picture, and you'll know what we're talking about.
We have seen this hairstyle in a lot of TV shows but didn't know what's it called. It goes by the name of Grunge.
Wild Berry Colored Curls
As we told you earlier, we've got a style for women of every age so here we are. This one's particularly for women over the age of 30 because it suits their mature face. As the name sounds, it's a bold look, so try it if you want something bold.
Dark Brown to Pink
For fair skin tones, a combination of dark brown to light pink ombre hair is a perfect choice. Then, add some waves to your hair, let them fall freely and enjoy the overall look.
Faded Pink With Blonde
Well, it's no more difficult to style your blonde hair. We've got another style for older women; thank us later. Keep your silver blonde hair in a very light shade of pink to blend perfectly. Middle-length wavy hair would give you a chic look.
Hot Pink at Ends
The pink color can be bold when you choose the right color shade. We're talking about the hot pink color here. You can try it in contrast with dark brown hair color. Try this style on long hair only as you need to show both the colors equally and clearly.
Violet-Pink Waves
Old ladies who like to flaunt their ash blonde hair by keeping them long and wavy, you should try getting the middle and ends of your hair colored in a light pink shade. If you have thin hair, it will give the impression of voluminous hair, so it's a win-win situation.
Blonde hair is a trendy style, but it's fun to combine different styles. For example, combining pink ombre hairstyles with blonde hair is what you need for a lunch date with your best friend. This style will also suit a club party with friends as it looks wild.
Sure brown hair looks classy, but sometimes you need to look funky too. We know that you have a wild side hidden inside you; it just needs to be revealed. So get funky pink color on your brown hair and show your friends that you can be a party animal too.
We are sure that you must have thought about what hairstyle you're going to get after looking at our list of pink ombre hairstyles. Tell your hairdresser what you want or, much simpler, show them exactly what you want. Even your hairdresser will be amazed by your amazing style choice for your hair.