All the celebs have been rocking pastel hair of late and it's encouraged many of people to give the try a shot for people. If you have been thinking of trying out these new and unique pastel hair color ideas for yourself but aren't sure where to start, how to go about it, and what colors to even pick in the first place, you have got all the info you need to know. The Pastel Hair Color would be one of the excellent and striking shades, which would give add extra glam to your personality.
While some sources say that this look used to only be relevant to the younger age groups, the trend is now actually being offered to a larger market and is being introduced in most salons. So, whether this is a bright pink hair day or a subtle hint of blue or lavender, pastels are just one way that consumers are making a personal statement.
Peek A Boo
Straight and wavy hair is absolutely perfect for showing off that perfect array of pastel pretties. So, grab your curling tongs and get whirling! The beautiful yellowish strands in this look helps to reflect the light on those beautiful silvery, blue and vibrant tones. It's a breathtaking look and one that we're all coveting. You can carry this style at any party or event, if it is any formal or informal event too. You can easily create so many cools from something designed to straighten!
Rainbow
There are three things that you must definitely do before you try and opt for a colorful blend such as this one. First of all, get a good cut and work out the right style (taking into consideration the color design you want) with your hairstylist. Secondly, work out what shades will work better on your skin tone and thirdly, condition as much as you can. This Rainbow color hair won't be colorful for long if you don't take care of it. Creating some strands in this rainbow shade will look best and funky on you.
Pastel Pink
The good thing about the Pastel Pink is that you can really experiment along with the tones and hues of the color. Using the softer pink blended with blonde white creates this beautiful tone that gives your hair a glossy look. Add some soft curls to the Long-Layered pink color and your hair will look absolutely voluminous, shiny and all around beautiful. One of the interesting facts about the shiny, glossy and soft pink hair color is that you can sport the look at anywhere you want.
Mermaid
Now dazzle up your look along with this extraordinary hair color. If you have medium blonde hair, then applying this soft pink and grey Mermaid color would be absolutely perfect for you. The hair color is suitable for both darker and fairer skin if you can carry it off well. The combination of pink and light honey shade will ramp up your entire look. The above portion of your hair is pink and the bottom strand is grey as well. You can sport the look at any party or event.
Lavender
If you really don't know what color to go for, this holographic looking design isn't a bad shout. It's all different shades of pastel pops such as lilacs with blues, silvers and pinks. For springtime hair, you seriously cannot beat the Lavender color in your hair, and along with hair this good, everyone will be looking for all the right reasons. The amalgamation of light blue and white blonde is one of the excellent colors that you can wear at any formal event or party too.
Pink and Purple
If you are talking about pink, you are not only talking candy floss pink recently rocked. Although who could forget that stunning powdery shade with that pretty pink lipstick? So, if you want to rock pink yourself, you'll be surely happy to know that these lighter, pastel shades pink and Purple are easily achieved and there are plenty of brands out there offering these colorful delights. This is one of the amazing and brightest colors that give you a funky look. It adds some extra charm to your personality.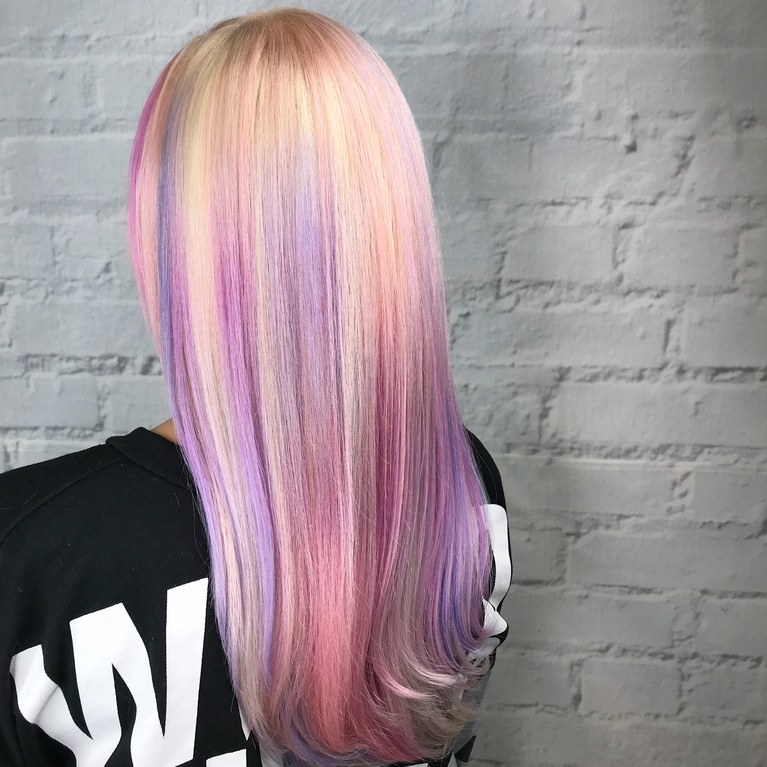 Light Purple
As the name suggests Light Purple, it is one of the stunning colors to apply on your hair. The soft, smooth and polished color gives you a charming and extraordinary look as well. The Light Purple is absolutely suitable for fairer skin but the ladies with darker skin can also choose the beautiful color as well. It gives you a polished look. When you talk about the amazing hair color to look bold and beautiful, this is one of the excellent colors to wear. You can sport the look at any party.
Opal Pastel
Who said you cannot mix some vivid hair colors with pastel beauties? You will surely love this look, one that definitely combines the two but in such a way that it looks awesome and not too much. The Opal Pastel is very much on trend right now and with so many different colors to play with, why not just a few of them at once? The combination of pastel shaded blue, pink and green will make you look stunning too.
Pastel with Waterfall Braid
Think of pastel hair as the step up from strawberry. If you're not afraid of smart and bold pop of color, this Pastel with Waterfall Braid is sure to turn heads. Ask your colorist for the rose gold ombre, which is darker at the roots and gradually, fades into pigmented pops of red rose gold color on the bottom. You can sport the look anytime. Amongst other pastel shades, this is one of the amazing and striking looks as well. You can sport the look at any party, event and ceremony too.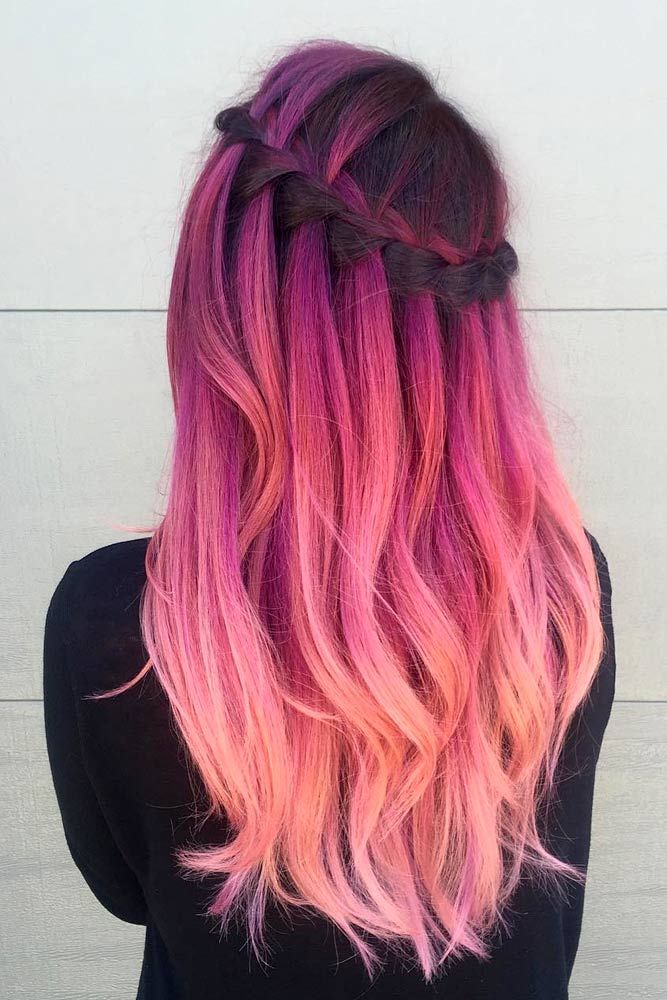 Lavender Lilac
Pick up the lavender and blonde pastel shade if you want to go slow on the bandwagon for this trend. The hairstyle here has embraced another very well-liked trend in hair coloring techniques known as the ombre style. This attractive hair color has shown a gradient sort of effect. The color is darker on the top, and it gradually blends into pink shade right at the ends of the hair. If you want to look stunning and beautiful, you can easily choose this one for sure.
Metallic Pastel
When it comes to choose the eye-catching and extraordinary look, you can easily go with this look. The straight hair with bangs is the perfect hairstyle to choose the Metallic Pastel Hair Color. The light purple shade makes your look absolutely exceptional and amazing as well. You can choose the look whenever you are going to any party or event. A huge number of people are there want to opt for the extraordinary look and that is why sporting this look would be one of the greatest looks for sure as well.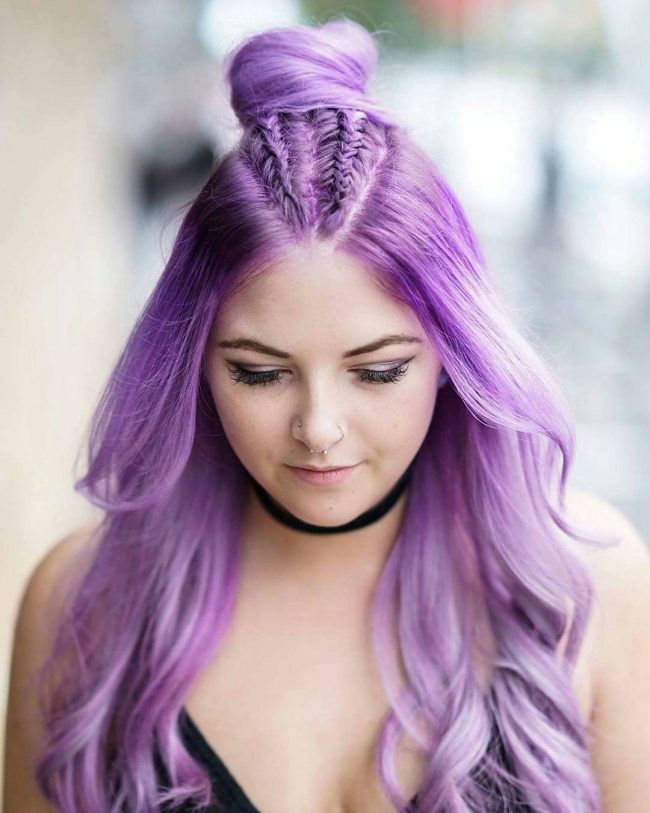 Pastel with Ponytail
When you want to look absolutely perfect and eye-catching, you can easily choose this one. You are going to want to avoid washing your hair as much as you normally would as this will cause the color to fade quicker. Make a ponytail on your ombre hair and it will give you a stylish look as well. You can sport the look at any party, event as well as marriage ceremony too. The amalgamation of purple, pink and brown shade would look absolutely stunning on you.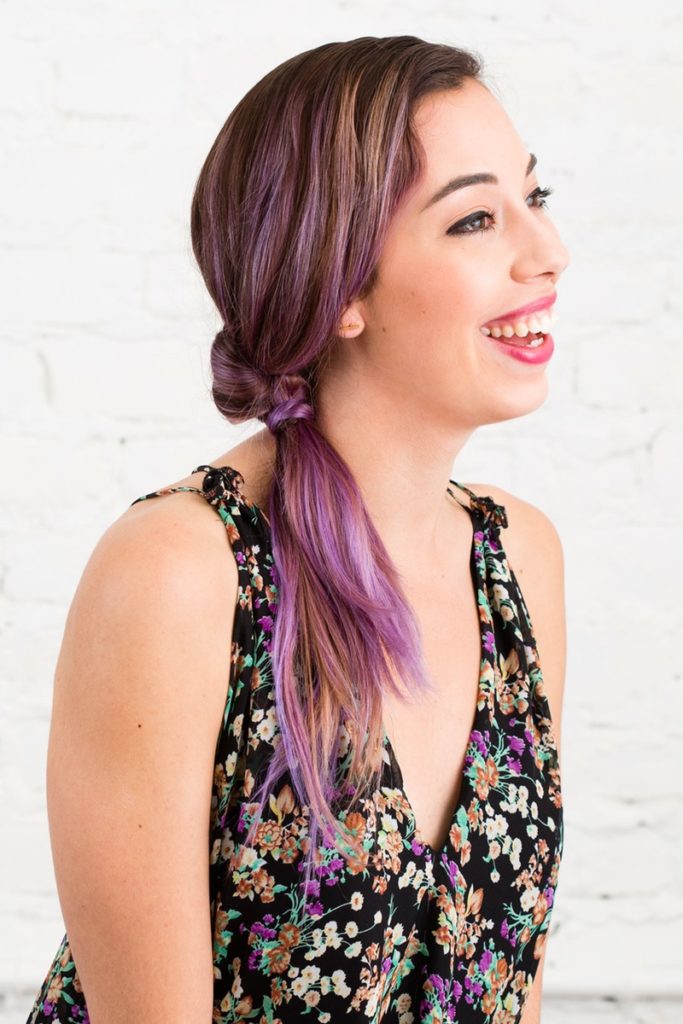 Pastel Rainbow
Sweet as sugar, this beautiful Pastel Rainbow pop of fairy dust hair is absolutely amazing for anyone wanting to make a real statement. If you have actually got long, glossy locks and want to show them off, this is most definitely the way to do it. You have more length to play around with so why wouldn't you play around with it? Work different blends and shades like blonde white, pink, purple and orange as well as together for a look that is completely different to anyone else's.
Pink and Green
Once reserved for punks and rockers, brightly colored hair has never been so in fashion so think of the craziest color combo you can and then add a few more shades just to be sure. Well, Pink and Green is one of the exciting colors that can help you to look bold and beautiful. If you are going to look absolutely fantastic, you can easily choose this one. The color is quite soft and smooth and gives you a funky look as well. You can wear it anywhere you want.
Mermaid Blur
The beautiful and striking brighter blues appears like rocking a really rich, dark and bright blue pop. This Mermaid Blur is one of the amazing colors, which looks absolutely stunning too. Blue is one of the gorgeous colors, which look bold on you as well. If you want to look absolutely funky and gorgeous, you can easily go for this color. It adds some extra charm to your personality too. You can sport the look at any party, event and any marriage function to stand out amongst others.
Pink Cloud Pastel
If you are opting for the amazing and absolutely ravishing hair color to look bold and beautiful, you cannot miss this Pink Cloud Pastel. The entire hair is pink in color and the strand has been cut with straight bangs as well. The root ends are little messy, which gives ravishing look. It is one of the bold and beautiful shades that suit almost every skin tone. You can sport the look at marriage function, festival and other corporate party too.
Pink and Yellow
The Long Hairstyle with Pink and Yellow is all about keeping the natural dark shade of hair intact near the roots while dyeing the rest of the hair in some other color. This hairstyle that you see here combines the exposed roots methods with rose gold hair color. The color is suitable for both darker and fair skin. The amalgamation of dark pink and bright yellow gives you a funky and bright look, which is amazing for your personality. The color is great for the fairer skin too.
Pink and Purple Ombre
Who does not want to look stylish and bold? Well, everyone. So, if you have wavy and medium length hair, you can try this hair color. The amalgamation of light and dark shade pink and purple color will enhance your look. The Pink and Purple Ombre is suitable for both darker and fairer skin and you can sport the look at any event or party. Doing a top knot in your beautiful pink shade hair would look charming on you.
Blush Blonde
The Blush Blonde has been highlighted in the hair. The medium length hair has been cut in layers. The hair, especially towards the ends, has been made wavy. The hair is highlighted dark at the roots and lighter towards the ends. The cut layers of the hair are made prominent by making them wavy. This hairstyle is very much suited for a formal look. It is one of the excellent hair colors, which gives you a stunning look to you.
Grey Toned Pastel Hair
The length of the hair is medium short in length. The Grey Toned Pastel Hair with loose curls is one different hairstyle which will suit women who love to carry their hair short. The shoulder-length hair is merely wavy towards the ends. The wavy look is made in the hair ends to bring more volume to the hair. Rest of the hair at the top is kept straight and simple. You can sport the look at any formal party or marriage functions too.
When you want to add some extra charm to your personality and stand out amongst others in the party or gatherings, then Pastel Hair Color would be the great color for your hair.