Lavender hair has become one of the top-ranking hairstyles and is the ticket to your real fashionable fairytale. It is a color that will remind you of the early spring and will surely make you stand out from the crowd.
This hair color comes in multiple shades, ideal for women with any taste. Those with pinkish skin undertones must go for deep hues, while those with medium complexions can go for any lavender hair tone.
Mind-Blowing Lavender Hair Color Ideas
Here, we bring some popular lavender hair ideas you must check before your next hair appointment.
1. Bright and Shiny
You can experiment with lavender shades differently and try this warmer hue suitable for women with medium to fair complexions. Dye some of the strands with a lighter or pastel shade to make your color balanced. This will give you a smooth, shiny appearance.
2. Short Pixie With Undercut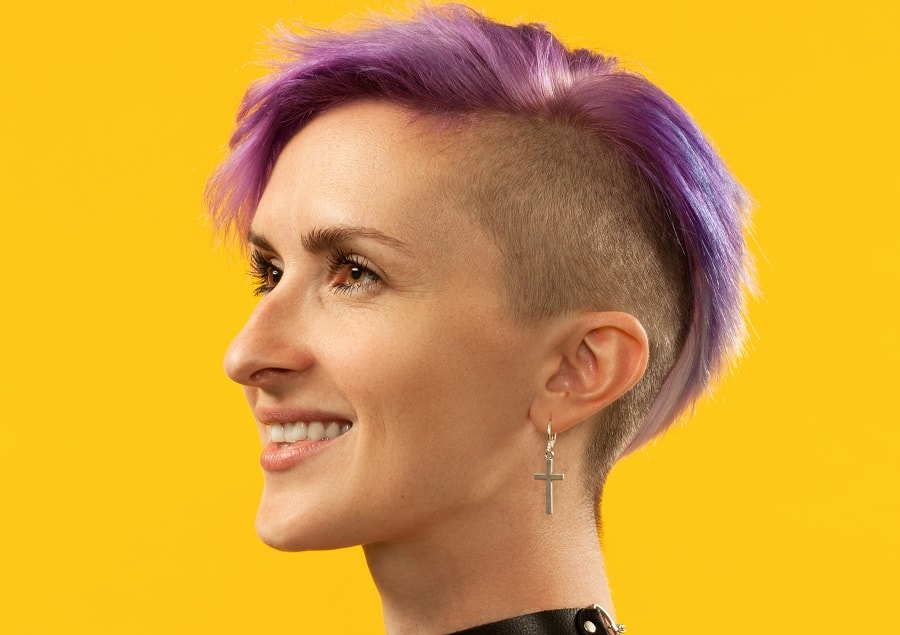 Try this mix of shades paired with a side shaved cut to get a distinctive look. It is one of the great ways to get contrastive colors. This style will give you a classy, rocking look that is most likely to make you appear younger.
3. High Ponytail
One of the ideal hairdos for black women is faded lavender hair with black roots. In this style, the fade shade pops up in a curly updo and accentuates the facial features while keeping the sides shaved. This hairstyle is likely to give you a bold, out-of-the-crowd look.
4. Pinkish Purple Messy Bob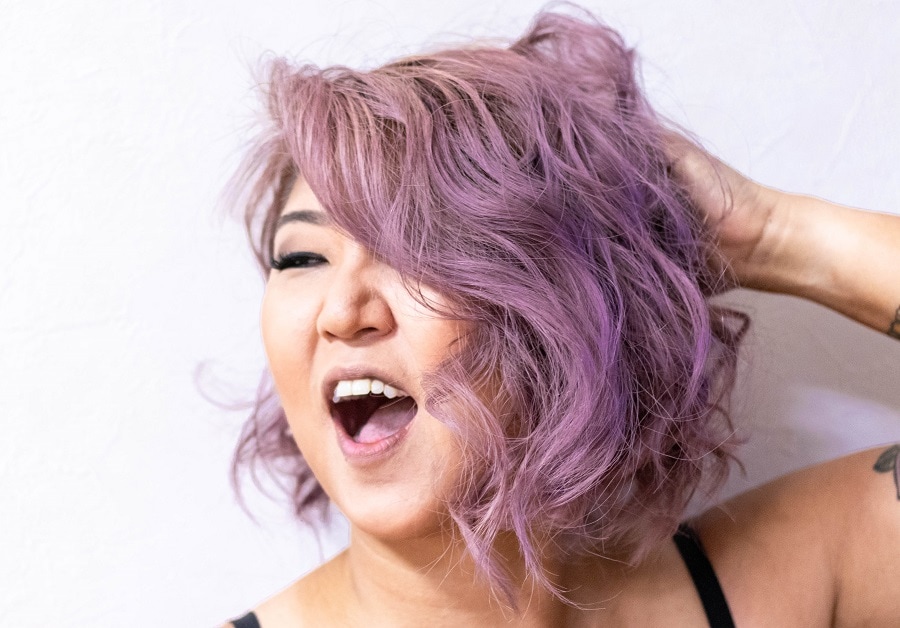 For all the Asian women out there, this is the perfect option to go for. The pinkish-purple shade gives a warm, cute look balanced perfectly by the messy bob, which gives a cool look and is easy to style. You can wear this to any casual occasion.
5. Short Pixie Cut
The super-short hairstyle-like pixie cut, paired with a lavender hue, is ideal for those who are tomboyish at heart.
It is suitable for those who look forward to trying something unique and do not mind getting a crop or a different shade. This look will go well with women having long, oval faces.
6. Lavender Ombre Hairdo
In order to get some retro looks, paired with a bow accessory on the top, go for this curly updo. It is an easy-to-style look that can be worn on any occasion. The curly hair highlights with the lavender shade at the ends and is likely to look ravishing on any girl.
7. Long Ombre Hair
This is the most easily done and maintained look. If you don't want to go all bright and vibrant with a completely different shade, this is the most appropriate look. The brownish roots and warm lavender tone will give you a natural and beautiful look.
8. Straight Bob With Blunt Bangs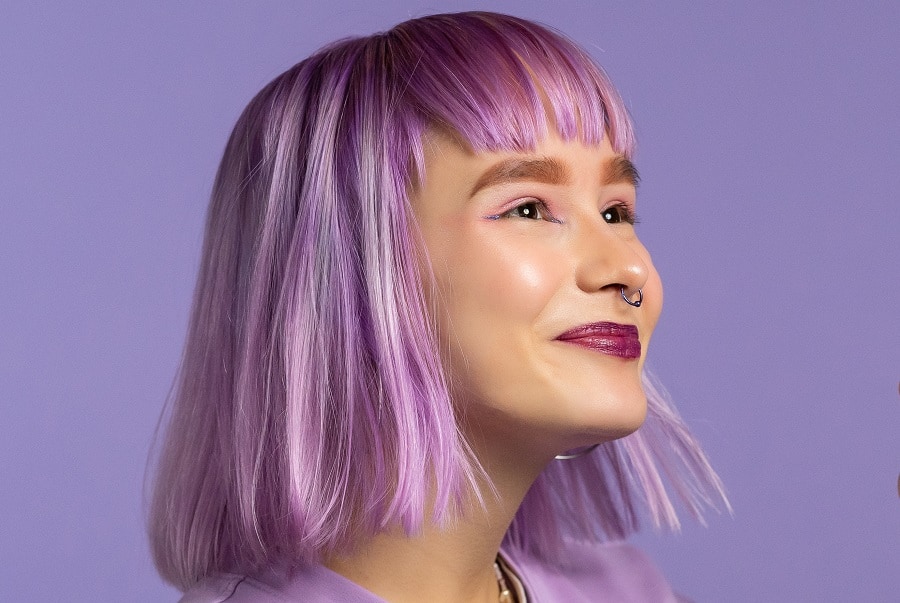 If you want to rock a cute, light combo, then go for this bob with bangs hairstyle. There will be nothing more refreshing than this look.
Try this look with straight hair if you are looking forward to attending a special event, and beachy waves look to get a daytime beachy look.
9. Barbie Blue to Lavender Hair
When it comes to coloring your hair in an unusual shade, the best thing is that you have a variety of shades that can be mixed with different colors. This is exactly what is done here.
Here, the roots are colored blue and gradually mix into a purple hue, resembling a Barbie look. This is the ideal hairdo for getting a fantasy island look.
10. Blunt Bob With Dark Roots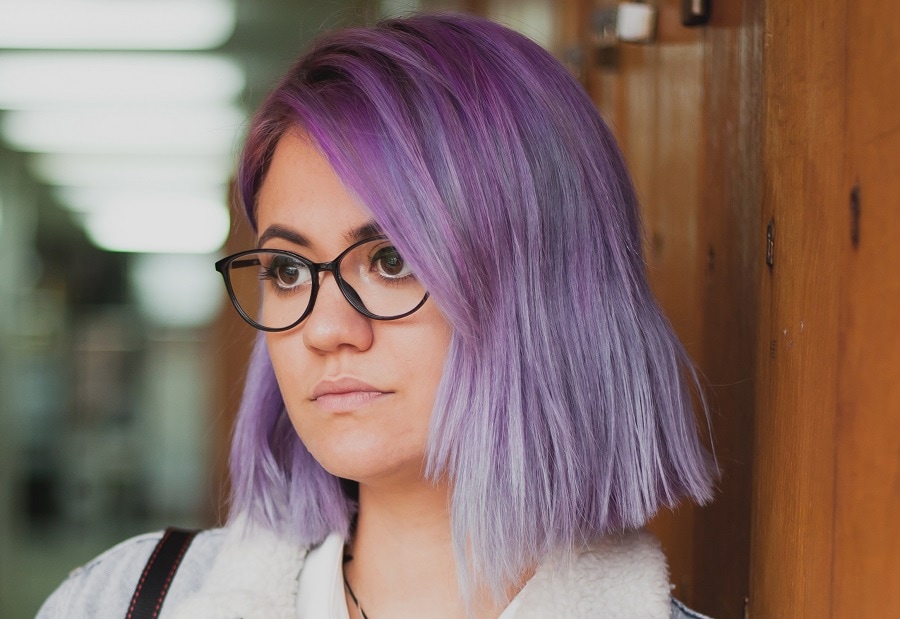 Lavender hair color that gradually fades at the ends is ideal for a casual high school or professional look. This is a perfect length to get a bob cut and is easy to style. You just need to side part your hair and apply a serum to get this look.
11. Baby Pink and Purple Highlights
Another hairdo to get princess kind of vibes is the purple and pink ombre highlights. The blonde roots match lavender ends and provide a great combo that fits women with fair complexions.
12. Messy Inverted Bob
For those who want to show up every hue of their hair, lavender is the perfect option. If you're looking for a fresh summer or spring look that will bring out a cute self, then go for this style. It is likely to go well with a fair skin tone and a round-shaped face.
13. Noble Light Bob With Short Bangs
In order to get a bold, witchy look, go for this short lavender hair look with super short fringes. Whiter on the crown and deeper on the ends, this color looks more ravishing on wavy hair.
Since most women go from dark to light, with this light from dark transition, you can get a different look.
14. Frosted Highlights
If you want to try a color accentuating your base, then highlights will serve the purpose. The best thing is, that there's no end to the ways of highlighting this shade. Moreover, it goes perfectly well with dark brown hair and looks classic.
15. Front Streaked Hair
If you think whether lavender hair color will go well with your natural hair or not, then don't hesitate as it is a color that matches well with almost all the shades.
Moreover, dyeing your hair is not the only correct option available today, and you can now start by just highlighting the front streaks.
16. Smoky Wavy Bob
Thes smoky lavender hair color is the one that is neither too bright nor too light, thus serving the perfect balanced shade. You can go for this shade with medium-length hair with a bit of wave. This will best suit a round-shaped face and a fair skin tone.
17. Half Braided Pony
If you don't want to change your look completely, especially from the front, the half parted color is the best option.
Here, the upper half, which is shaded brown, can be tied either in a braid or bun or even a ponytail. This will allow your lower lavender shade to pop up more brightly.
18. Bob With Curved Ends
Short-length hair is the best for getting a global shade, and this shade will turn out to be so amazing that you would want it forever. Therefore, in order to make it stay longer, take proper care of it by deep conditioning and other hair care products.
19. Twisted Pony with Highlights
This hair highlights are a great idea to combine different matching shades, where one is a bit lighter than the other. Moreover, it is quite pleasing how gorgeous the braids look.
This is an ideal color for trying different twisted hairstyles and is suitable for any special event. Moreover, every color is clearly visible in this hairdo, showing your creativity at best.
20. Yellow to Lavender Ombre
The double shade is a great way to get a unique, chic look. With lavender on the crown and a deep yellow at the ends, you can get a fabulous look. Therefore, those looking for a sporting dark shade must go for this look.
Since you've got all the information regarding different lavender hair colors, why not make this shade a part of your hair experiment. It is a play of lights and shades and is a unique color.
You deserve to stand out from the crowd by trying any of the above looks, depending upon your face and hair type.