Messy bob hairstyles are a wonderful way to make the classic bob look more interesting. They add an edgy, playful, or fun touch to your hair without you having to have too much length or any crazy colors.
Yet you always have the option to wear your bob a little longer or play with fun, bright colors like blue and purple, too! There are no limits to what you can do.
Messy Bob Hairstyles For Natural Stylish Look
The bob hairstyles below are highly varied, so there's something everyone can enjoy in them. Pick your favorite and grow your confidence by making it your own.
1. Asymmetrical Blonde Bob
An asymmetrical blonde messy bob hairstyle is always incredibly chic, but it's also very fun. The hair is combed over to one side and is longer than the chin, and the other side is cut very short, like a pixie cut.
The hair has a lot of volume thanks to the waviness.
2. Light Golden Short Bob
Here's a bob with a unique, light golden color that's vivid enough to instantly draw the eye.
The bob itself is very short and barely longer than ear-length, but the hair remains thick and tousled with the volume on top. It creates a very messy and interesting look that's also fun and freeing.
3. Side Parted Curly Hair
This bob has a slightly 1920s feel to it as it's heavily side-parted and barely long enough to go down to the bottoms of the ears.
The curls and flyaway hairs add messiness to it that a straight bob just wouldn't have, and the thick growth of dark roots before the blonde curls makes it look rich.
4. Gentle Ombre Thick Bob Look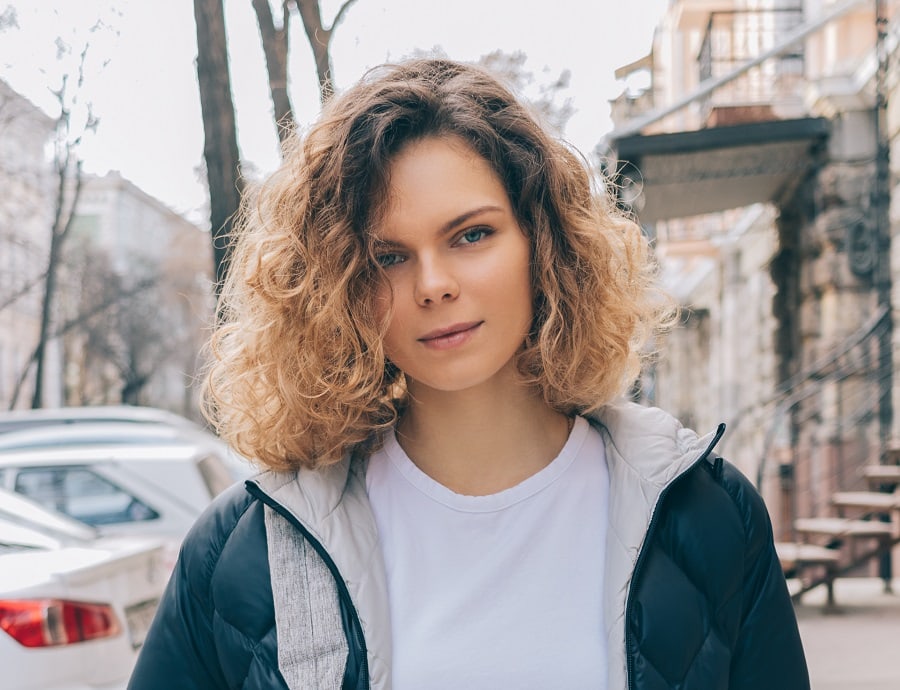 Do you have thick hair? Here's a messy bob hairstyle is very thick, and the curls aren't very controlled. That's what gives it a messy look that adds a ton of liveliness to the look.
It's great for everyday and casual wear for someone with a fun personality. There's a gentle ombre that goes from dark brown to dark blonde, making it look more varied.
5. Side Parted Choppy Blue Bob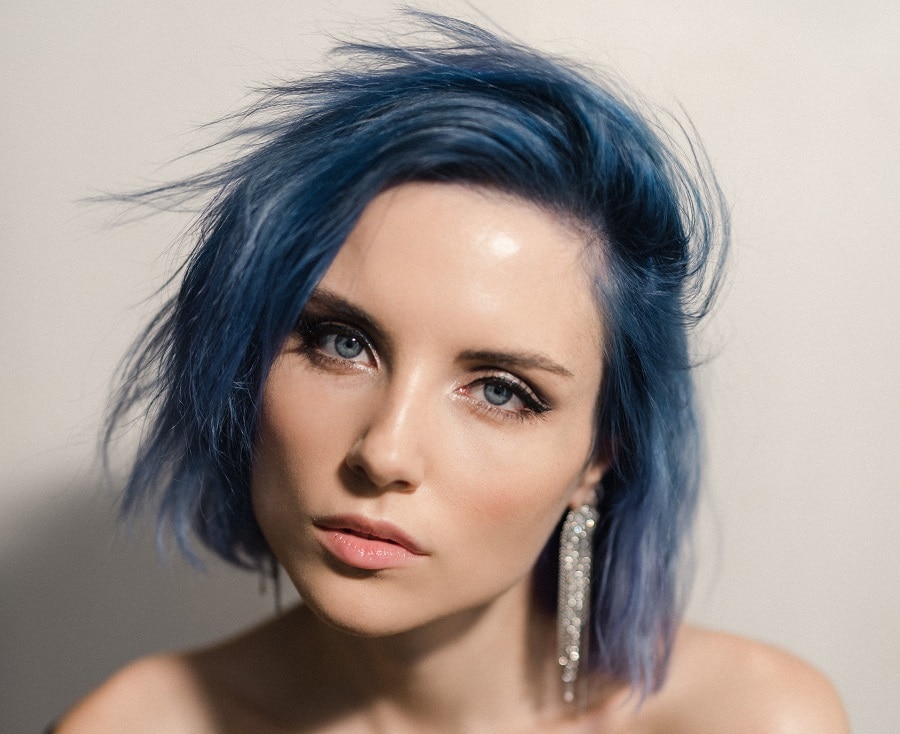 A blue messy bob hairstyle is perfect for someone with a unique personality that they want to show off.
The bob itself looks messy due to the volume on top where the hair is pushed over to one side. It's a slightly choppy look that's very interesting, freeing and punk rock.
6. Neat Flicked Loose Wavy Bob
Natural styles in an all over dark brown hair color are beautiful and look very neat.
However, this has that messy bob hairstyle vibe thanks to the flicked and curled ends that have a life of their own. It's quite a pixie-esque look that's full of personality.
7. Hugely Volumized Choppy Bob
Would you like a messy bob hairstyle with a ton of fun squeezed into it? There's a lot of volume on top, and it's wavy, each wave being large and distinctly shaped.
The ends and overall shape of it are very choppy, and it wouldn't look out of place in the 1980s.
8. Gently Messy Bob Look
The messiness of this bob is slightly gentler than many of the blocks above. It's a look you can achieve by wetting your hair and letting it dry slightly curly, or it can be achieved with mousse.
The hair is parted in the middle and falls to just below the chin in gentle waves.
9. Long Purple Messy Bob
Purple is always such a fun color to wear. This messy bob hairstyle is longer than most, and it's messy because it has lots of loose curls and some flyaway hairs on top.
The hair is a soft purple that's great for showing off your personality, and there are nice bangs adding shape to the look.
10. Super Short
More unique bobs are sometimes best. This bob is so short and freestyle that it's somewhere between a bob and a pixie cut, but it's too long to be a pixie.
There's a lot of hair crossing over on the top of the head, and the hair in the front has a lot of texture to it that's very interesting.
11. Choppy Bob
If you like retro, you'll like this very early 2000s look. The bob is very choppy and layered, and each layer is distinct.
There's some volume on top and in the bangs that brush across the forehead, angled to the right. It's highly youthful and great fun.
12. Longer Bob Wet Look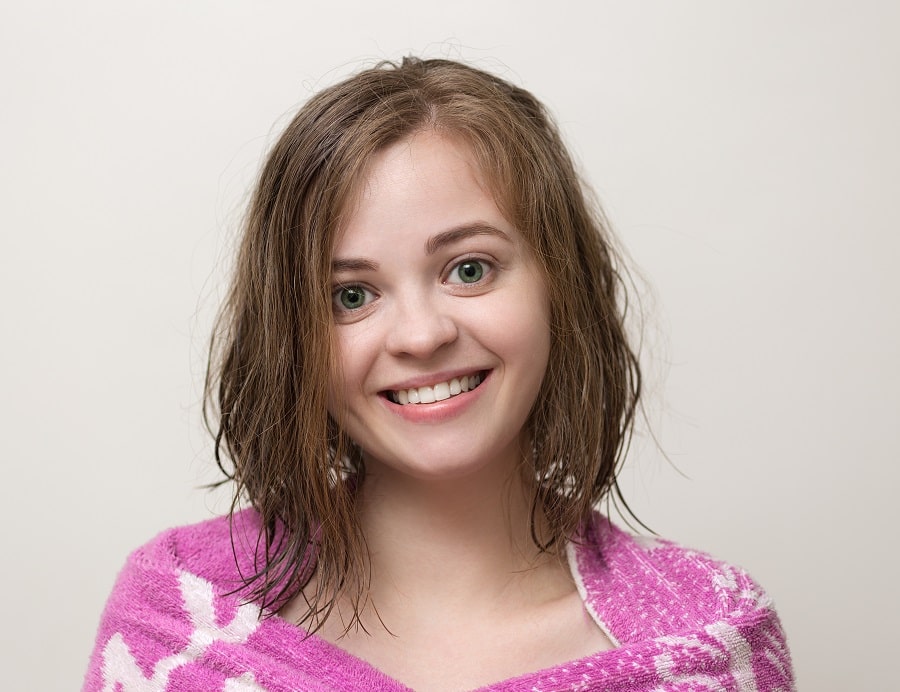 Wet looks are very in right now. This bob is longer than average, and it has a slightly wet look towards the ends.
The hair hangs in strands by the face and each strand is very distinct. There are some flyaway hairs towards the front of the side parting, and it's an overall tousled look.
13. Extremely Volumized Curly Bob
Volume and curls create looks that are both neat and messy. The curls are very distinct, but they don't all follow one pattern, so that makes it look messy.
However, the curls also contribute to its asymmetrical shape, which appears neat.
14. Very Short Side Swept Bob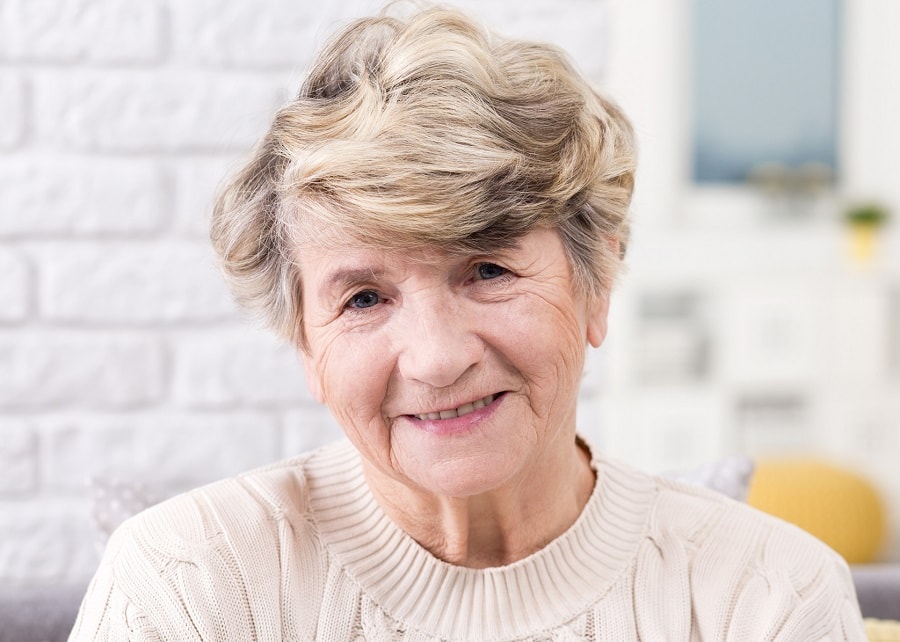 Older women will like this very short bob. It's kept mostly out of the face and it's styled with such a heavy side parting that it doesn't hang by the face at all.
It's very wavy to add a dynamic look, and it's a mixture of blonde and brown to add interest.
15. Vibrant Pink Asymmetrical Look
This bob is a vibrant dark pink, and it's very short on one side but almost reaches the shoulder on the other. A lot of the hair is pushed over to one side in a center parting, and the curls are wild and free.
16. Thick Messy Blonde Bob
There's no special shape or styling to this blonde bob, but the thick hair is ruffled in a way that adds a dynamic and messy look.
The hair has layers to it that emphasize the thickness and messiness of the style.
17. Curly Princess Bob Look
Do you want a look inspired by Snow White? The princess aspect of it is emphasized with the little tiara used to accessorize.
The hair is very dark and the curls at the end are very messy as they have no exact structure.
18. Floral Asymmetrical Bob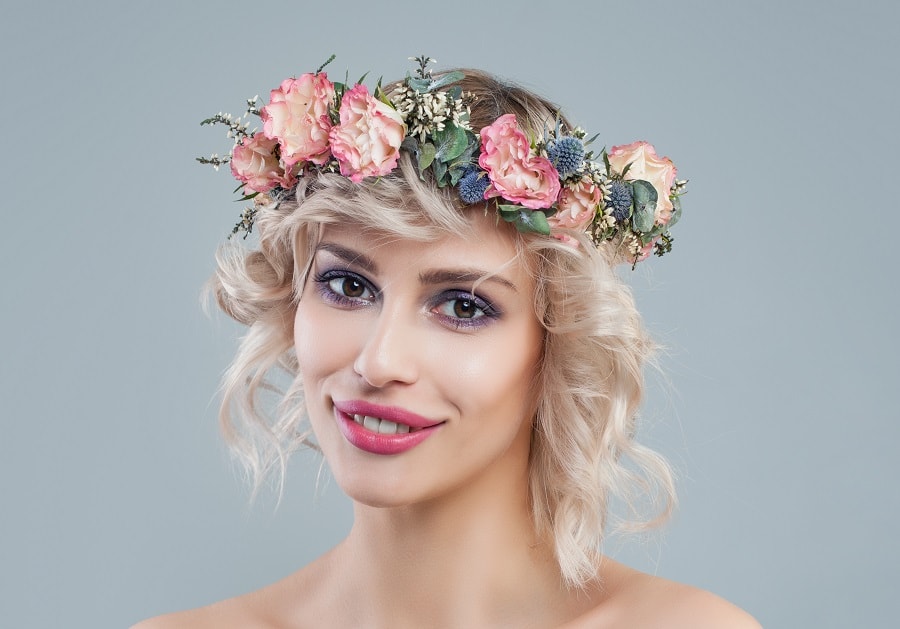 Curly bangs obscured by a flower crown are the focal point of this look.
This bob is asymmetrical as it's shorter on one side than the other, and there are lots of loose curls that aren't styled in a particular format, making it messy looking and very chic.
19. Thick Loose Curls Messy Bob
Want a messy look? This bob is made of thick, loose curls that are somewhat all over the place, so it looks messy.
There's a side parting so lots of hair fall over the face as extra-long, thick bangs. One side is slightly longer than the other, too, adding asymmetry.
20. Choppy Short Bob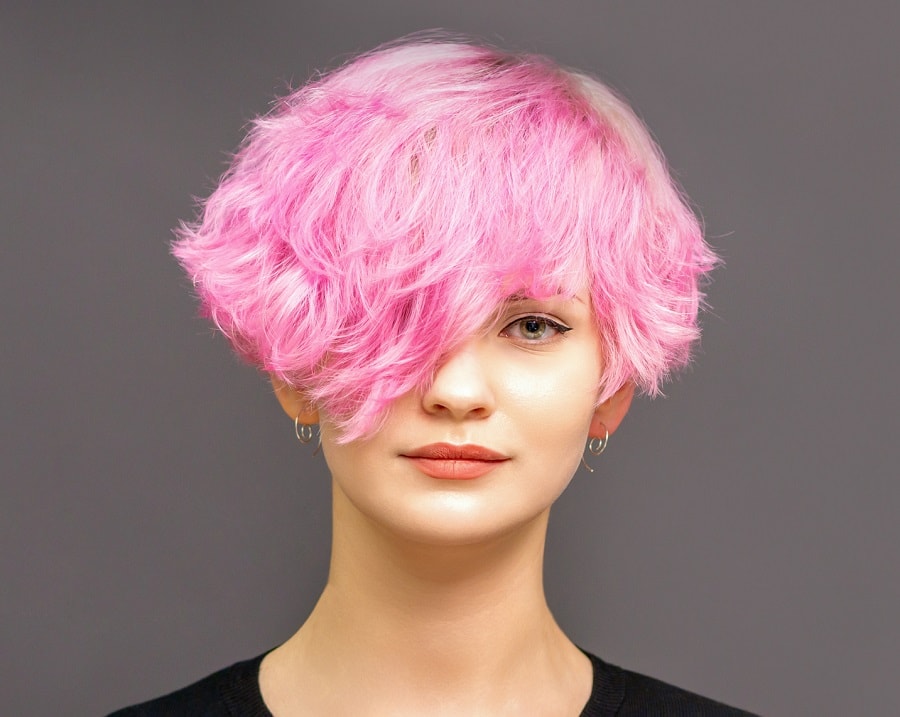 Sometimes short looks are best. This cut doesn't even reach the bottoms of the ears.
One side of the look is very squared off, so it has a neat overall shape, but the layers and texture within the bright pink look add the messy look that's wonderful.
21. Choppy Cropped Bob Style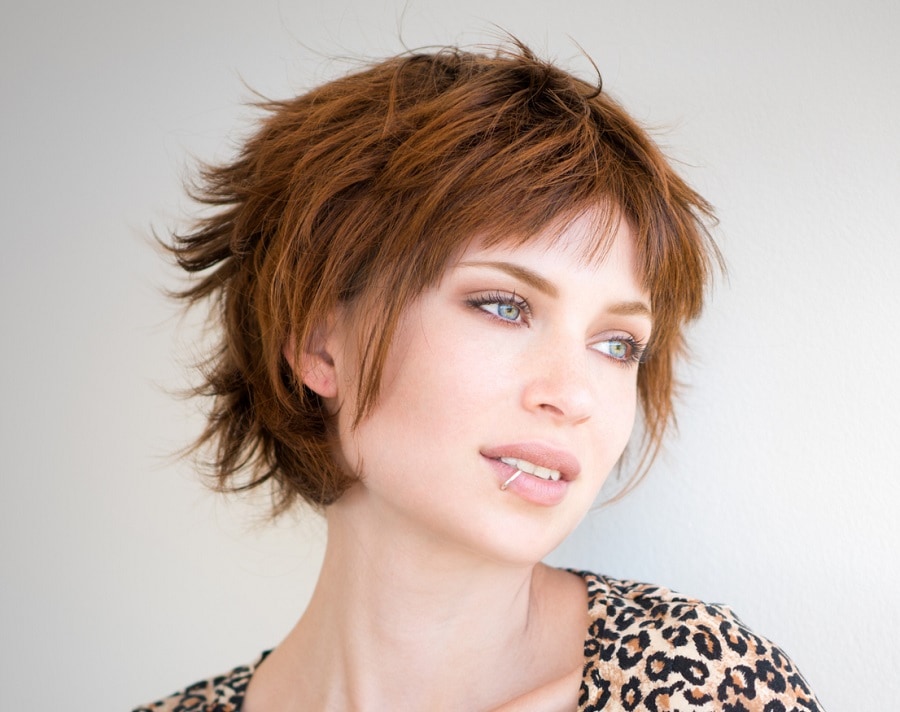 Check out this very short style. The hair is in lots of layers that are choppy and roughly cut to create a textured and messy look that's longer in the back and shorter at the sides.
The front is slightly longer again near the cheekbones, and the bangs are rough again.
22. Long Thick Curly Bob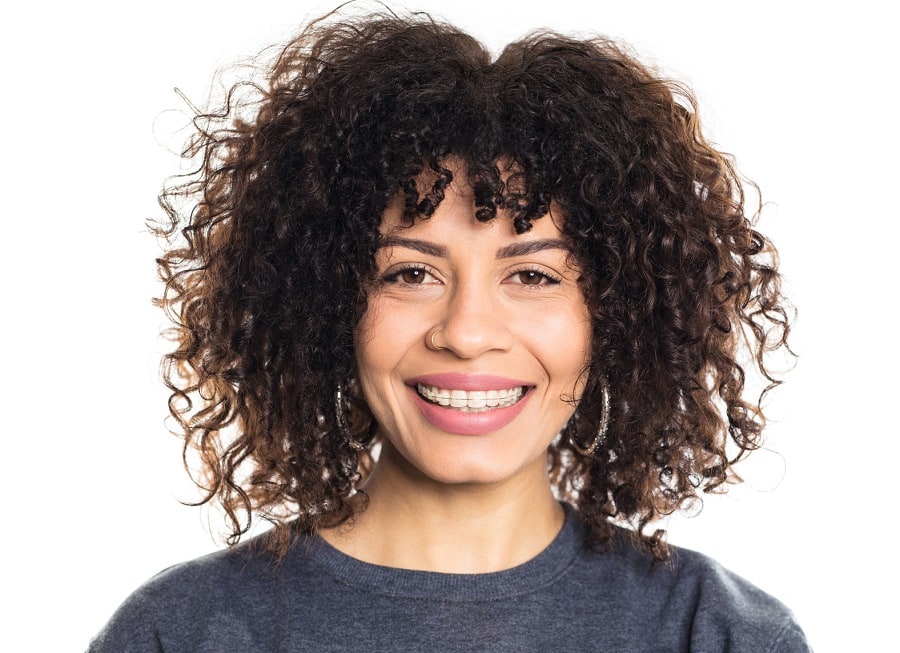 Do you have coily curls? Here's a wonderful look for you. The hair is layered, so it's only long towards the very inside layer where it brushes the shoulders.
The outer part of the hair adds volume and messiness, and there are some strands of curls that form bangs.
23. Thin Feathery Bob
If you're looking for a style for fine hair, check this out. It's styled in a way that makes it look very feathery, and that's what creates the messy aspect of this bob. There are long bangs that cover parts of the eyes.
24. Asymmetrical Platinum Bob
This platinum blonde look is very chic and attention-grabbing, and it's slightly longer and more free on one side. The other side is shorter and curls gently under the chin in a classic bob style that the other side lacks.
25. Top Volume Loosely Hanging Bob
Volume on top is always a good thing, as you can see here. The thin sides hang loosely by the face in a very pleasant fashion. The bangs are asymmetrical and have a lot of volume in them.
Having long hair isn't for everyone, but there's still a lot of fun that can be had with a short look. Bobs are perfect for that. There's enough length to craft some truly interesting styles, but it's not long enough to have hours of tangles to deal with after an adventure.
Your dream haircut may be one of the bobs above, so you just have to find it, wear it, and go out with confidence with it. Have fun with it, and see what you can do with your look. Messy bob hairstyles suit everyone, including you.