Hairstyling becomes difficult, especially with colored hair. For example, chestnut brown hair color is a stunning shade chosen by many girls.
Though the color is beautiful, it sometimes becomes difficult to choose the perfect hairstyle with it. But, worry not; we have listed some of your most interesting style ideas.
Super Cool Chestnut Brown Hair Color Ideas
Let's not make you wait any further and take you to the amazing list of the year!
Center Parted Long Hair
When you like chestnut brown hair color, why not show it more? We mean that your long hair will let you show off more of this beautiful shade without overdoing the look.
Make a center-partition on your hair when you're going to college or for anything casual.
Curly Bouncy Neck Length Hair
What's better than showing off the new shade for your hair than styling it in a new way? If you have any type of hair other than curly, it's a hint for you to curl it.
Surprise your partner with your new hairstyle. Curl your hair more if you already have curly hair.
Beach Waves
It's a cool breezy day outside, and you want to make the best of this day. Well, get beach waves on your hair, and your day will just get better.
Those beautiful beach waves will flow gorgeously while showing your hair shade when the breezes pass through your hair.
Classy Highlights
Instead of getting brown hair color, you can get chestnut brown highlights too. This beautiful shade goes with any natural hair shade, especially the dark ones.
Get streak highlights if you want to keep the look low-key. Highlighted hair brings a different glow to your face, which you'll realize only after getting them.
Crazy Afro Hair
We just love afro hair; the texture, the volume, everything about it makes us go crazy. You should go crazy too by getting this amazing hair shade for your afro hair. This shade will help you define your curls more clearly while keeping them stylish.
Sleeky Blonde Chestnut Balayage
Not every girl prefers keeping their hair in one shade; only that's where a balayage can help. So get a chestnut brown balayage for your long hair this year.
Trust us; this balayage will look even more beautiful if you keep your hair slightly wavy. Center-partition will keep the waves even.
Side Parted Hair
When you age, your face becomes mature, and you need to make hairstyles that look mature too. A light chestnut brown hair color will suit your face if you are above 30.
Let your hair be center-parted to bring some style to the hairdo. Spectacles will look beautiful with loose hair.
Long Bob
Some girls think there is a limited number of formal hairstyles, but that's not true. A long bob haircut is considered to be very formal and decent.
Plus, the straight hair texture will make you look completely professional and stylish. Long bob will help make a good impression if you interview or meet a client.
Dark to Light Ombre
Well, balayage is not the only option to get away from the single hair shade choice. For example, you can get dark to light ombre if you have middle-length thin hair.
It would be better if you have voluminous hair as it helps to show off the styling method used better.
Ear Length Bob
Dark chestnut brown hair color is the best choice to bring the youth factor to your look. Get a short bob cut to look young. Keep your hair simple, like a side partition will look good on your long face.
Lustrous Wavy Hair
Parties keep coming if you are a working woman, and you need to present yourself gracefully at these parties.
A center-partition with tight hair waves will be the perfect look for such events or parties. Even you'll be impressed with how you look in this hairdo.
Long Ponytail
Special occasions are not daily, so why make troublesome hairstyles daily. Sometimes you need to go simple and still look beautiful.
A simple high ponytail with straight tendrils will make you look so gorgeous. It doesn't matter your age; this hairstyle suits every age group.
Edgy Bob with Fringes
Asians mostly have small eyes, making their forehead appear big, especially when they keep their backs. To solve this, get fringes to cover your eyebrows.
Any type of fringes will work and suit your beautiful hair shade. Fringes will look very cute on you regardless of your age.
Messy Hair
You don't have to be stylish on all days; some days, you can go just messy. With messy, we mean your hairstyle, not your outfit. Messy hair gives the impression that you are a carefree woman. The chestnut brown hair color will be shown beautifully with messy hair.
Wavy Voluminous Bob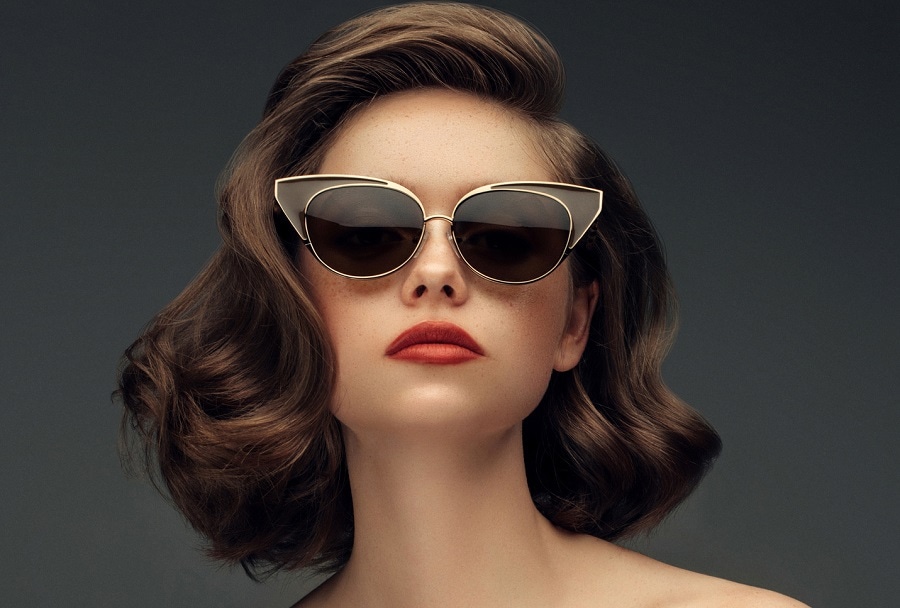 Some girls are high-maintenance, while some keep their look simple; both look beautiful. If you are the former, a wavy bob hairdo is perfect for you.
It makes you look neat, classy, and stylish. Side part your hair and wear shades to match your hairstyle.
Wedding Hairdo
So you got chestnut brown hair color for your wedding but didn't select which hairstyle to make.
Chill, that's why we included a wedding hairdo in our list. Curling your hair and making a high bun will look beautiful on you. Let curly tendrils flow on both sides.
Crimped Hair with Half Bun
Crimped hair is a unique hairstyle that doesn't suit every occasion. Get your hair crimped if you're attending a concert, performing one, or going for a theme party.
Make a puff with your crimped hair and let the rest flow. Again, long hair is the best hair length for this type of hairstyle.
Half-updo with Blunt Bangs
This is a kind of peculiar hairstyle that's perfect for unique occasions only. If you are a model or attend such parties, it's a great look. Wear a unique dress too to fit the uniqueness of the hairdo.
Curly Hair Bun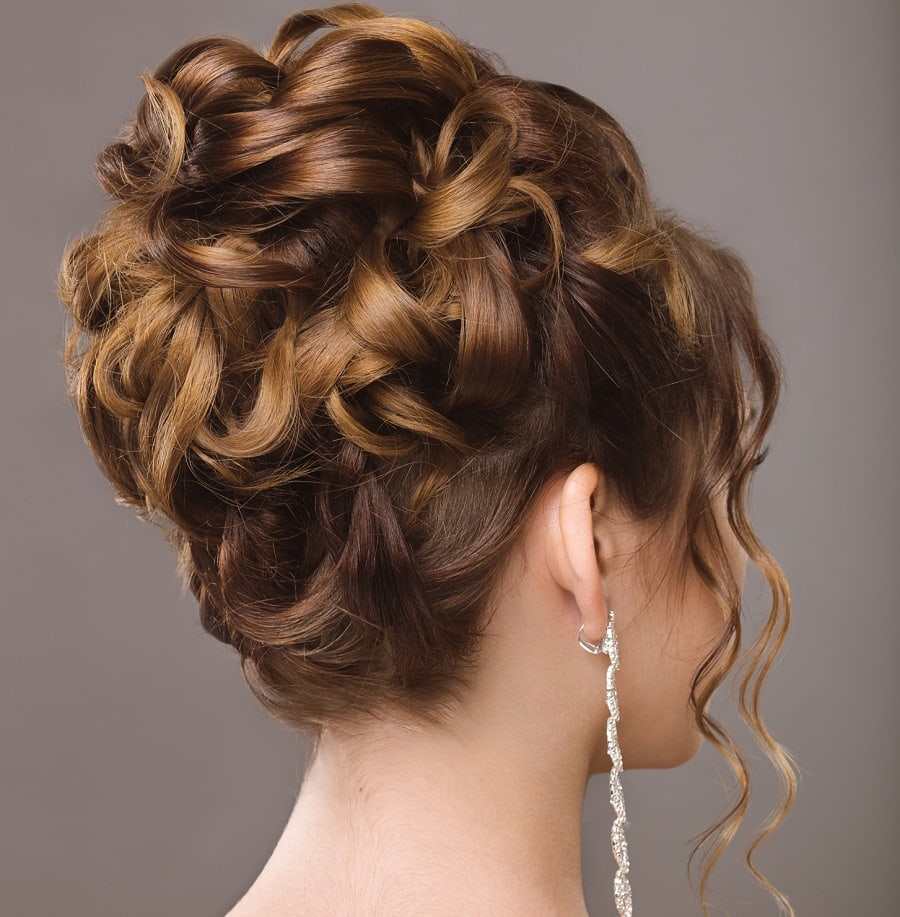 Save this elegant curly bun updo for special occasions only like your reception or anniversary.
You'll look gorgeous in a curly bun with chestnut brown hair color. Don't forget to leave curly tendrils to maintain the elegance factor.
Pixie Bob for Thin Hair
This list is for women of every age; that's why we've got a beautiful hairstyling idea for older women.
Ladies, cut your hair very short as long hair clearly shows the falling hair and lack of volume. Plus, the colored hair will make everything better for you.
We know that you fell in love with these chestnut brown hair color styling ideas the moment you saw them. Hairstyling your colored hair is no more a tough job for you when we're here to help you out.
Bring the hairstylist inside you out and become your own model. These cute and super fun ideas will also give you many good photos to post on your social media platforms. Flaunt your hair in these styles. Share these ideas with your friends or partner, and they'll love these hairdos.