Age is just a number and rightfully so. So when it comes to styling and fashion, no matter how old a woman is, she is always concerned with looking presentable a beautiful.
However, as a woman ages, the option for styling gradually starts to lessen, and they find themselves served with almost very few choices. Be it dresses or hairstyles, they are always looking for the one that makes them look best.
Also, it is a fact that women always are so particular about their hairstyles. Hair serves as the most important element in one's look, and so does styling it. Women, in the period they grow older and age – they crave to look beautiful as everything requires special attention.
There are varieties of hairstyles for women of any age. There arise several hair-related problems as a woman ages. Always select the hairdos which will suit your face shape and hair type, which is the best idea.
When a woman reaches the age of 60, a lot should be kept in mind. The most important factor is that you must follow an extremely balanced and proper diet, which helps your hair. Make sure you eat a proper diet of fresh vegetables, fresh fruits, and whole grains.
Being over 60 gives you the freedom to experiment, so don't be afraid to try something new. As women grow up, the secretion of oils decreases, leading to dry, thinning hair. So it is best to keep the short hairstyle for thin hair like Bob cuts, short shags, and chunky layered crop cuts.
Hair Styling Tips for Women Above 60:
It is best to dye hair regularly for greying hair. As hair color evolves, emphasis is the best way to balance greying hair.
One simple way to experiment with different hair colors is to visit a wig store. Go ahead and try on some different styles and colors to see what looks good on you.
For women over 60, as the hair quality becomes a little rough at times, it is advisable not to use any hair spray or gel and mousse since it makes the hair coarser.
The best haircut for women over 60 is to keep the hair short as the short hairstyle is always manageable and easy on the maintenance part as well.
1. Curled Bob
Aging is always hard for many people in terms of confidence, hair, and body. Your hair changes in color, textures, and thinning.
You can come across a lot of treatments and care systems to keep up with these changes, but sometimes these things just get too much. And all you need is a fresh cut to cope up with these changes.
Choosing a perfect hairstyle for you will help you complete your look and deal with all the problems. Bob hairstyle is one of the best hairstyles of all time. Curling your hair with a barreled wand will give you voluminous hair and bring refined texture.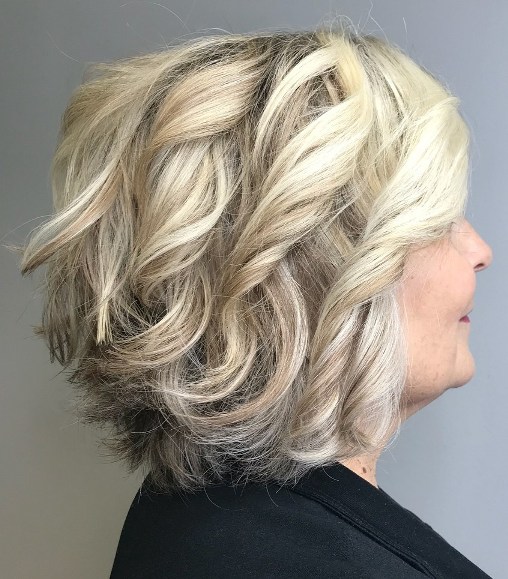 2. Pixie Bob With Side Bangs
As you grow and age, your beauty routine grows and changes with you. Over the years of your life, you have done so many experiments with your hair. Be it hair cuts, color, products, etc. so now you exactly know what goes with you and what doesn't.
So choosing accordingly and combining this with the latest trends, you can easily come up with a hairstyle that will be perfect for you even in your 60s. All you need is a fresh haircut that is gorgeous and age-appropriate to shed off some years from your face.
This pixie and bob combined are a perfect idea for busy ladies and do take a lot of years off your face. Add side bangs to this to frame your face.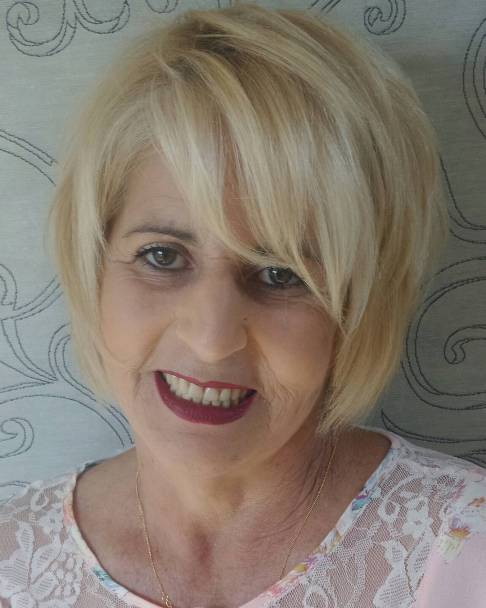 3. Shoulder Length Blonde Bob
As you get older, your hair naturally starts to get thinner, and thus choosing a hairstyle for women above 60 years gets a tough job. But getting an appropriate fresh cut will help you look healthy and fuller again.
The best hairstyle to give volume to your hair is a shoulder-length bob with just 2 different levels of layers. This will help in maintaining the thickness and movement of your locks. You can keep this hairstyle with the natural color of your hair or even go more blonde.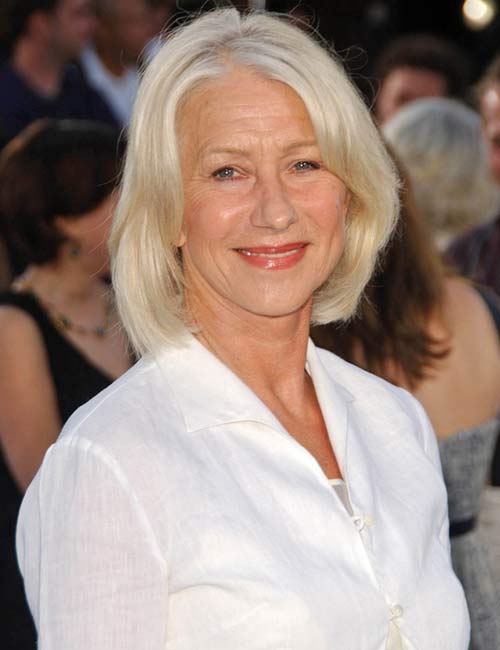 4. White Bob With Bangs
Sometimes you need to stop and start appreciating the changes. Enhance your grey hair with the gorgeous hair cuts that compliment them. The best hairstyle for women above 60 years is one that focuses on showing off your beautiful face.
The main motive is to enhance what you have rather than changing it. This hairstyle is perfect because it fulfills all these norms. The side partition and bangs draw attention to your beautiful eyes, and sleek hair keeps the look clean and sophisticated.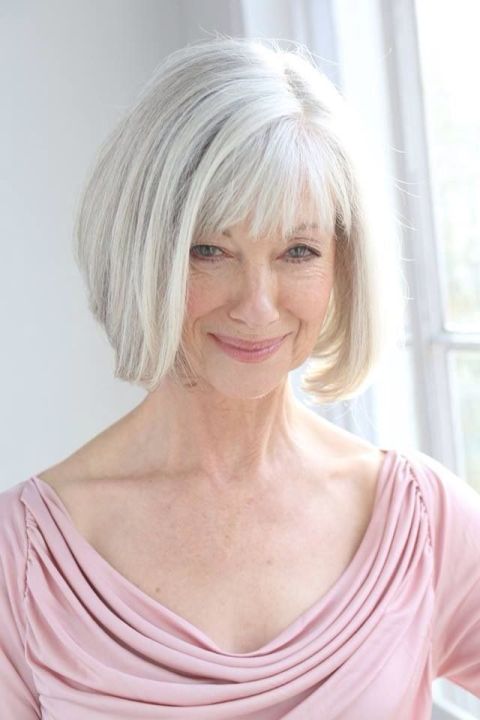 5. Classic Ear-Length Bob
As you age, it gets tough to choose a perfect hairstyle. You need a hairstyle that is classy yet trendy. But also which will provide additional benefits like comfort, easy to do and maintain, makes your hair look healthy and gives nice texture and fullness to your hair.
A bob cut is an all-time perfect hairstyle that will provide you with all of this. This is suitable for all ages. A bob cut makes your hair look classy and vibrant. If you want thicker hair, opt for layers that will round off at the ends. '
To make your hair look more smooth and polished, try to give your haircut a wedge shape. You can add bangs to this, to frame up your face.
6. Glamorous Honey Blonde Bob
Aging doesn't mean boring. Women above 60 years have spent all these years of their life experimenting, and now they have found their style and what will look best on them. So you are free to follow all the trends and flatter them all.
The highlighted blonde layered bob is one of the best hairstyles, which will help you look sophisticated and youthful. This hairstyle is so glamorous and makes you look so gorgeous. The layered bangs provide a messy and sophisticated frame to your face.
7. Blonde Layered Bob
Bob hairstyle is always in trend. Blonde Layered Bob is for short hair. This hairstyle provides volume to thin hair. In this hairstyle, all hair is cut into Bob's style, and then short layers are done.
This bob hairstyle is easy to maintain. Bob layered hairstyle styled in many ways according to your choice. Professionals do this hairstyle. With any casual look, this hairstyle looks very well.
Layered Bob hairstyle is low maintenance, so women over age 60 obtain this hairstyle.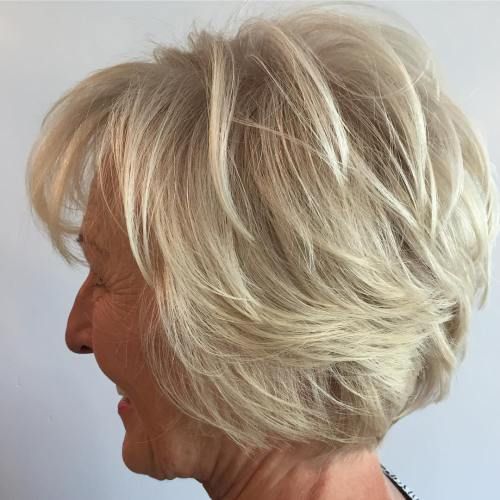 8. Simple Blonde Cut
The simple blonde cut is for short hair. In this hairstyle, all cut equally above the shoulder length. This hairstyle is best for women who have very thin hair. This hairstyle looks very simple and low maintenance.
You can be styled in many ways. If you have blonde hair, then this hairstyle is best for you. For a unique look, you can add some color to your hair. Women who have very thin hair can go with this hairstyle.
9. One-Sided Bob
One-sided Bob hairstyle is for very short hair. In this Bob style, one-sided hair is cut long according to your face. All hair is shorter, but the front side is cut slightly longer than then the other hair.
This hairstyle looks very stylish and unique. This hairstyle requires some styling products, so this hairstyle requires little maintenance.
One-sided Bob is not for wavy or curly hair. With long earrings and stylish dress, this hairstyle looks so amazing. This hairstyle is also styled according to your choice or occasion.
10. Pixie Short Cut
This short pixie cut is for very short hair. This hairstyle is for men and women. In this hairstyle front, the part is short, and the side and back hair are very short. This hairstyle is for those who have a broader forehead.
This hairstyle is unique but simple. Short pixie is easy to maintain. Within bold eye makeup and the formal suit looks very well with this style. This style is funky, as well as classy.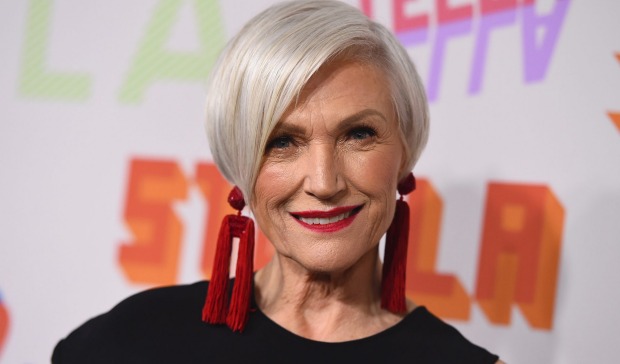 11. Pixie Cut With Bangs
Pixie cut with bangs looks very beautiful on short hair. This hairstyle comes with the pixie cut with bangs all over the head. The front hair is shorter, but back hair is longer. This is styled by a professionalist.
Bangs look more fantastic on every face cut. With bold eye makeup and perfectly coordinated outfit, it looks more trendy. Pixie cut provides volume to your hair. This hairstyle doesn't require any maintenance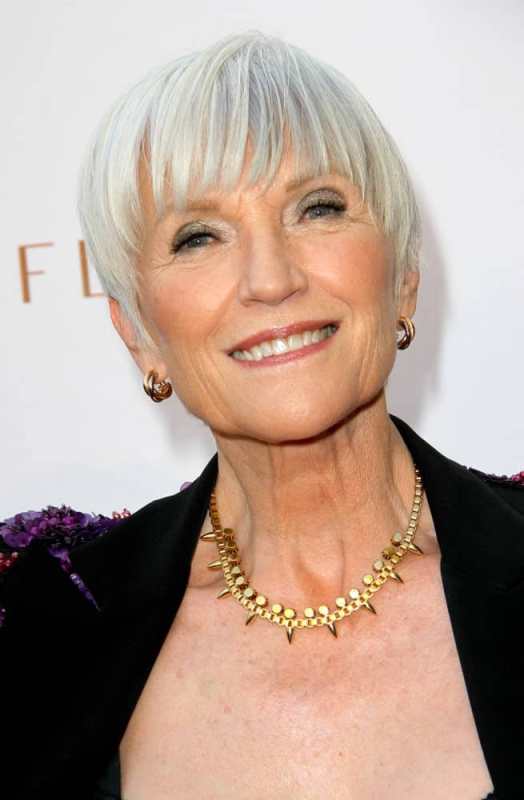 12. Shiny Long Layered Cut
Layers are always in style. Long and short layers are always in trend. In this hairstyle, long layers are cut all over the head. This layered cut looks so good if you have fine hair. This hairstyle is for every age women's.
This hairstyle requires some maintenance. You can wear any dress to look more elegant. This hairstyle is best for offices, colleges, etc. You can add some colors if you want. This hairstyle doesn't need a proper professionalist.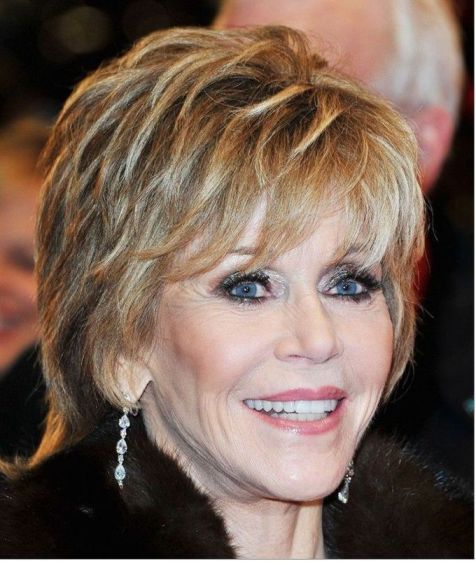 13. Blunt Bob Cut
Chopping your hair into a blunt bob cut gives the fine hair some definition and sharpness. The hairdo in the above picture is perfect when you are looking for a fashionable, as well as a sophisticated hairdo.
The hairdo is simple and very easy to achieve. The side swap of hair is just adding the right amount of style to your face and personality. This hairdo also emphasizes on the cheekbones as well as your sharp jawline.
For adding some shine to the hair, try using some serum on the middle and ends of the bob.
14. Bob Cut With Length Till Ears
This length bob cutting is also known as French bob as it just stops right next to your ears. This hair cutting is perfect when you are looking for a chic, as well as a classy look.
The length of the volume and texture of your hair complement your personality as well as you overall. The picture above shows how little aide swap enhances the entire hairdo.
15. Layered Jaw-Length Bob Cut
This season the cutting of hair is going shorter and shorter. Most o the ladies prefer short hair to go along with their full of hustle and busy life. But they don't know the fact about how to style them in an early simple way.
If you are looking for it, then your search is over by this haircut; we bring you straight from the Hollywood fashion industry. The hair cut is short till your jawline, but the stylish part is that the bob cutting is done in layers.
In the picture above, you can see the over layers in the cut, which is making the whole hairstyle more unique and fashionable. This is simple and sophisticated for your daily workload.
16. Concave Bob Cut
After listening to bob cut the only thing which came to our mind first is a simple cutting of hair till the jawline or the neck but bob cutting includes various variations came to living in these past fashion years.
Bob cutting can be done in various ways. Many variations such as jawline cutting, v cutting, erases cutting, and concave cutting have come into existent and soon were lots of demand. This haircut is one of them.
The hair cut involves concave cutting, which is designed in a way to have long hair in the front and shorter at the unique back and straight from the Hollywood hairstyles. Some of the layer cutting is also involved in achieving outrageous results.
17. Layer Cutting For The Crown
The jaw-length bob cutting is the most preferred and demand cutting of all time as the jaw length cutting gives you a perfect amount of space from the hair to make it hustle-free, and the hair is not too small to form a good hairstyle and go with every style.
But going over the same cutting again and again for every season is boring and dull. Here we bring you some mixing of layer and bob to make your hair more lively and stylish. In the picture above, the hair is cut simply till her jawline.
The hair is straightened according to the face shape, which is giving a sleek look to the women. The twisted part is the layers are not added all over, but the crown hair is cut shorter to add fluffiness. Some are hanged in front of the forehead too.
18. Concave A-Line Cutting
Concave and A-line cutting is two different types of cutting, but in this hairstyle, we have combined both the cutting to form this cute and simple hairstyle only for you.
These concave cuttings are those which involve longer hair at the front and shorter hair at the back of your head. In the picture, we can see how the hair length is going from long to short at the back, but they are not a proper concave; it's just a touch the whole hairdo is considered as around cutting. There is A-line at the end, so it is also known as A-line bob.
19. Blonde Bob
Bob is too much in style and is going around commonly. This bob is considered as round as the hair goes down according to the face structure, as we see in the above images.
It's perfectly rounded bob cutting, which frames elongated facial structure and, moreover, softens your sharp angles. The hair cutter gives it a very chic and chubby look to the face.
The hair from the center part of the head is straightened out till the jawline, which gives a definite look to the cut as well as your personality. For more attention, you can always go for highlighting your hair.
20. Jaw-Length Bob Cut For Short Hair
Chopping your hair is risky, but choosing a perfect length will always make this diseasing easy. the length, which is very trendy these days, is the jaw length.
This hairstyle includes chopping your hair until the jawline of the face. The tousled bob for lightweight hair and also having all the advantages at the good texture.
In this hairstyle, there are layers a-line as well as some chopping is also done with the front hair to give it a more cute and lovely look. This hairstyle is perfect for everyday casual and business events.
21. Simple Graduated Bob
The above the neck hair length makes this hairstyle easy to maintain. Anyone with a busy schedule will have an easy time with this hairstyle.
The blonde color allows you to wear any colored outfit. Additionally, this hairstyle can be incorporated on any type of hair. Spice up this hairstyle with a layered look.
22. Classical Side Swept Bangs Hairstyle
This is one of the numerous bob hairstyles for women over 60 that favor hair type. The layered look makes this hairstyle easily noticeable from a distance.
Your bangs can either be swept towards the right or the left. Trim the hair edges for an uniform and neat look.
23. Part Pixie Part Bob Hairstyle
Any dull colored hair color looks good on this hairstyle. A layered and curly look should be attained throughout the head. This bob hairstyle offers different styling options.
The length of this hairstyle makes it easy to maintain. Any event perfectly blends with this hairstyle. Also, this hairstyle never gets outdated.
24. A Smooth Bob Hairstyle
Gray and black colors perfectly match with different outfits. Side sweeping on both sides makes this hairstyle perfectly blend with any face.
You are free to choose the length of your hair, but it should be above the neck region. You also don't require regular maintenance with this hairstyle.
25. Mid Part Bob Hairstyle
This hairstyle tops bob hairstyles for women over 60 that bring out your natural beauty. Dye your entire hair blonde before setting the mid part look.
Trim the hair edges on sides and at the back for that blunt and marvelous look. Anyone who goes for this hairstyle will find it comfortable on the head.
26. Feathered Ends
The curly look towards the hair edges throughout the head ensures your get noticed. You have a choice of slicking your bangs towards the right or left.
The blonde color brings out a spectacular look whether you wear officials or casual clothes. You are free to choose the curl size to form throughout the head.
27. Natural Curly Bob Hairstyle
Anyone can easily throughout this hairstyle, provided your hair attains the required length. Form curls throughout the head up to hair edges.
The size of this hair favors ladies who can't regularly maintain their hairstyle. This bob hairstyle can be used on any event, be it casual or official.
28. Bob With Middle Part and Curls
The curly look and the middle part characterize this marvelous hairstyle. Hair edges should be trimmed to the desired length before forming curls.
Go for this hairstyle if you want something temporary. You are free to choose any dull color for this hairstyle. It can be black, brown or blonde.
29. Blunt Edges Bob Hairstyle
As the name suggests, this beautiful hairstyle is characterized by blunt edges. This brings about a neat look that makes the hairstyle get noticed. Any type of hair can comfortably incorporate this hairstyle.
You are also not limited on the different directions you can sleek your hair. Feel free to use hair products to spice up your looks.
30. White Short Bob Hairstyle
Choose this hairstyle if you desire a natural look. Most women over 60 find this hairstyle both comfortable and easy to maintain.
The gray color is presentable, whereas the curly look at the hair edges spice up the look. Also, you will have an easy time maintaining this hairstyle.
FAQs
Which bob haircut look good on women over 60?
A slightly angled bob with clean lines offers you an elegant, timeless look if you have thicker hair. If your hair is curly, it will require more intensive styling.
If your hair is curly or thin, a layered bob is better. It gives a youthful look while enhancing the natural texture of your hair.
Is bob hair easy to maintain for older women?
Yes and no. Not all bobs are the same, and not all hair is the same. Sleek bobs will need to be brushed daily and may need hair spray to look neat. You'll need to straighten your hair regularly to maintain a sleek, straight bob if you have curly hair.
The right bob will be easy to maintain because it will account for your hair's styling needs.
Are bob haircuts suitable for over 60 women with fine hair?
Yes, there are bob haircuts that are perfect if you're older and have fine hair. You'll want to look for bob styles that are short and layered, like pixie bobs, to provide volume.
With the above-mentioned hairstyles, especially the variety of bob haircuts, women can now enjoy a smart hairstyle. The bob hairstyle is one of the safest bids for older women and imparts a sophisticated and chic look.
So what is the wait all about? Just embrace the age gracefully and style in the variety of Bob hairstyle and remember being beautiful is not just age and number but marinating yourself as presentable, and at the end of it all, a happy face suits the hairstyle best.