Short hairstyles for women over 60 don't have to be boring or conservative. As you age, you often find yourself with thinner and less lustrous hair.
For some women, this means that they need to cut their hair shorter. It can help to frame the face and emphasize the features.
Also, keeping your hair short makes it easier to manage as they are less likely to get tangled and matted.
Most importantly, they can help to disguise the appearance of wrinkles and age spots. From sleek bobs to playful pixies, there is a style to suit everyone's needs.
Classy Short Hairstyles for Women over 60
If you are over 60 years old, finding a style that fits your face and body shape is not always easy. Hence, we will discuss some of the many hairstyles you can try to match your body shape.
Crop Short Gray Hair
In the past, women over 60 were considered too old for crop short haircuts. But now, we are seeing a growing number of them sporting this style. If you have gray hair, this hairstyle will certainly help you to look younger. You can check more styles at hairstylecamp.
Brunette Messy Bob
Getting a short brunette is one of the most versatile hairstyles and can be worn in different ways. Whether you wear glasses or not, this messy style will be perfect for any one and suitable for casual occasions.
Wavy Bob for Asian Women
Gray hair is often associated with aging, which is why it can be embarrassing for some people. However, some Asian women choose to color their hair to cover up the gray, while others embrace it.
Asian older women find this ear-length haircut easily manageable and don't have to worry about styling it every day.
Blonde Pixie with Dark Roots
If you're over 60 and looking for a short hairstyle that will make you look younger, consider going with a blonde hairstyle that has dark roots. This look is both modern and classic, and it can be adapted to suit any face shape.
Moreover, this look is both stylish and flattering, and it can be easily customized to suit your individual preferences.
Thick Brunette Bob Cut with Bangs
Many older women choose to wear their hair in a short brunette bob with bangs. This style is youthful and gratifying and can be enhanced with additional glasses.
Whether you are looking for a style that is easy to maintain or one that will make you look younger, a bob with bangs is a great option.
Brown Brushed Back Hair
There is something about having short brown hair that is just so natural. It is a color that can complement any skin tone and can be styled in many different ways. You can try a slight side brushed look. It is simple to do, but it can make a big impact.
Curly White Blonde Hair
Women over 60 who got short, curly blonde hair are very lucky. Curly hair is naturally youthful and carefree, and it goes great with blonde hair. You can wear it styled naturally or use a hair spray to give it a bit of hold.
Feathered Style for Grayish Hair
Feathering your hair at any age is a great way to add texture and body, but it's especially flattering for women over 60. This style is easy to manage and looks great whether you wear it curly or straight. Blow-dry your hair using a round brush and achieve a youthful appearance.
Straight Gray Bob
Many older women choose to wear a well-cut short grey bob as this can be a very flattering style for women of this age group. The key to choosing the right bob for a woman over sixty is to make sure that it is not too youthful or trendy.
A soft bob that falls just around the neck and chin is a good choice for women who want to look stylish and modern while still appearing age-appropriate.
Stylish Bun
There is no need to go completely short with your hair. A simple hairstyle with a bun will keep you looking young and stylish. Also, this type of hairstyle is very easy to care for.
Curly Gray Hair
This hairstyle is both youthful and stylish and perfect for square-faced old ladies. Keeping your hair well-conditioned and stylish is the key to pulling off this look. In addition to that, you may also want to try a texturizing product to add volume and body.
Close Cropped Elegant Cut
A close-cropped cut is low-maintenance and easy to style, and it can help you look younger and more polished. Moreover, you don't need to spend even a minute styling your hair.
Short Grey Pixie
A short pixie hairstyle for women over 60 is a great way to show that you are confident and comfortable in your skin. It looks great with some ornaments on your ear or neck.
Messy Voluminous Side
A messy pixie cut is a great option for older women who want to keep their hair short. This style is easy to maintain and can be styled in a variety of ways. A voluminous side hairstyle is also a great option to texture thick hair.
Casual Updo for Older Women
Updos can be elegant and sophisticated or fun and playful, depending on your personality and what you are going for. If you can't make a bun, you can easily updo it using a rubber band or nice hair bands.
Thick Curly Bob
White hair should not be boring if you are over 60. You can easily style it curly while also taking a bob cut. This style is simple to maintain and can be styled in a variety of ways to suit your taste.
Short Layered Gray Hair
With layers, you can keep your gray hair looking full and avoid the dreaded 'ball on the top of your head. In addition, layers add movement and texture to thin or fine hair.
Feathered Pixie Cut
This style is perfect for women who want a low-maintenance hairstyle that still looks stylish and feminine. Feathered pixie can be styled with a little bit of product to give it some texture and hold, or it can be left natural for a more carefree look.
Side Swept Bangs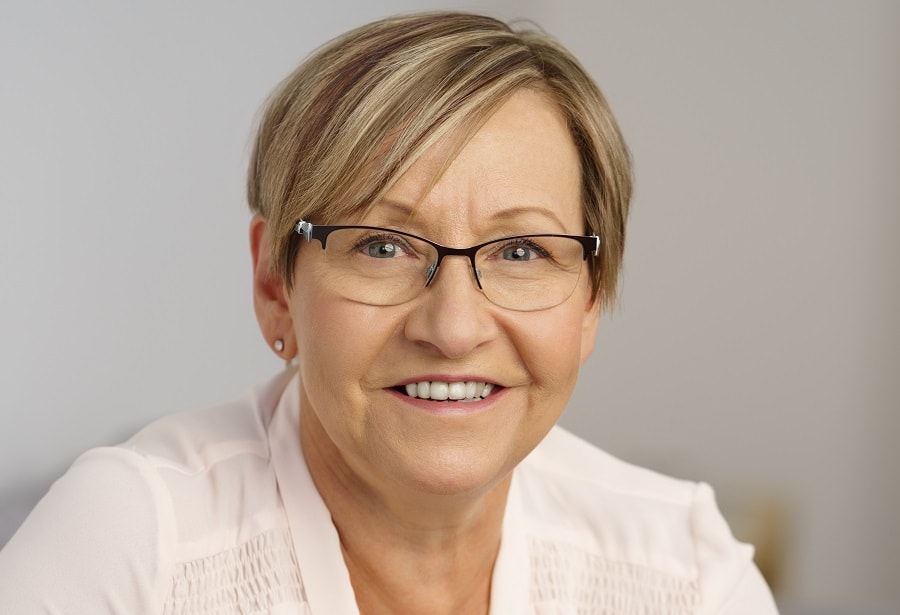 This pixie style is short and sweet, with bangs that are swept to one side to frame your face. Further, it is perfect for women over 60 who want a stylish and practical hairstyle that is easy to manage.
Choppy Red Pixie
A choppy pixie hairstyle is perfect for older women who want to keep it short. It has less volume on the side, which is great for drawing attention to your fiery red locks. Moreover, this style is easy to maintain and can be styled with a little bit of mousse or gel.
Edgy Short Spikes
An edgy pixie with a spiky hairstyle is a great look for a confident woman who wants to express her personality. In addition to that, the style is versatile and can be tailored to fit any woman's face shape and personality. The spiky hairstyle is perfect for older women who want a stylish and edgy look.
Bangs for Thin Hair
The wavy bob is stylish and easy to manage and can help disguise any wrinkles or lines appearing on your forehead. Also, the style is youthful and modern and can be adjusted to fit any face shape.
Thick Puffy Blonde Bob
When it comes to finding a flattering and age-appropriate hairstyle on thick hair, the options can be a little limited. But a bob hairstyle can still work well for you. You can also add in some layers to help create more volume.
Salt and Paper Hair
Swept-back hairstyles for short salt and paper hair are perfect for women over 60 on formal occasions. They are sleek, elegant, and look great with any outfit. Spraying it with a light hold hairspray will keep it under control.
Messy Slicked Back Look
If you have ear-length golden bronze hair, you can try the slick back style, which will also look slightly puffy. It is a versatile style worn casually or dressed for a more formal look.
Many flattering short hairstyles for women over 60 will help them look younger. Choosing the right style makes it possible to camouflage any areas of the face that may show signs of aging. With a little experimentation, every woman can find a style that makes her look and feel beautiful.