Styling your hair when you have spectacles is often difficult, as you need to make sure the shape of your hairstyle suits the shape of your glasses. Short hairstyles with glasses for women over 50 are common because of this. It's much easier to style short hair, and almost every shorter style suits various face shapes and types of spectacles.
You can still have a lot of fun even if you don't have long hair, though. Playing with color and shape is common. Pairing the right haircut with the right frames will give you a signature look.
Cool Short Hairstyles for Over 50 with Glasses
There are plenty of looks below that would be perfect for any older lady looking to style her frames. Let's dive in.
1. Natural Fluffy Grey
Minimalism is often all you need while styling your hair. A nice short crop with some fluffy hair left for styling is the perfect way to have a classy look for over 50 women that takes minimal effort to style each day.
Silver-grey hairstyles go well with nice, chic, silver frames. The fluffy style on top also helps add some texture and thickness to thin hair.
2. Textured Long Pixie Cut
Adding some texture that pairs with fun colorful spectacles is an excellent way to keep you looking fresh.
This is a grown-out pixie cut that reaches the nape of the neck, and there are layers on top to keep a fluffy and textured appearance where it matters most.
3. Dark Curly Bob
Dark short curls with glasses for over 50 always add an elegant vibe to your look. These dark curls suit the accessory well, and it's also easy to style.
The hair is in a simple bob that falls to the chin, and these natural curls make it look fun.
4. Short Orange Spikes
Show off your personality with some fun orange spikes. The hair is choppy, and it's styled by pulling a lot of the hair on top upwards.
The hair color and shade of the eyewear match, so you'll be very coordinated with a look like this.
5. Dark Fluffy Grey
Darker grey shades pair well with frameless specs. There's an elegance to both of them, as you can see here.
The hair is fluffed up on one side and kept short on the other. It's a great look for thick hair, as even the short side looks very full. It makes you look elegant and mature.
6. Rich Brown Layered Look
Layers add a youthfulness to the hair, and they make it look fuller and thicker as you can see here. There's enough hair to style, but it's still not too long.
The brown of the hair pairs with the brown of the eyewear, too, looking very put-together.
7. Foreward-Brushed Textured Blonde
Sandy blonde goes well in a mature look, and it looks fantastic with understated frames.
Ruffle and arrange your hair towards your forehead so it goes down to your eyebrows, and some layers add volume. The hair is short and tight around the sides, and that creates a very interesting look.
8. Steely Grey Bob
Bobs are fantastic short hairstyles for women over 50 with glasses. They're subtle and chic, especially if they have a side parting as seen here.
Letting them grow in natural and grey gives you a mature and well-informed look. There are also some feathered bangs in this look.
9. Tight White Curls
Tight curls almost flat to the head are one of the simplest styles you can have and maintain.
The stark white hair pairs well with dark and light eyewear, and it's also great with patterns. The hair is short enough to resemble a buzz cut, but the curls add life to it.
10. Reddish Brown Bob
Adding reddish tones into a brown bob gives it a lot of vibrance. Choppy ends and choppy bangs also make it look lively and youthful. This style is great for thinner hair, and large eyewear can add a lot of glam to the look.
11. Fluffy Brown Style
Hairstyles like this always look so soft and nice, and it can be achieved by blow-drying your hair until it stands tall and fluffy.
Brushing out curls also lets you achieve this unique look. A fluffy look and round frames go well together as they're both very fun.
12. Sharp Blonde Bob
A blonde bob commands attention, and looks like these are the perfect short hairstyles for women over 50 with glasses. It's nicely parted in the middle and falls with lots of volume to the chin, perfectly drawing attention to your face.
13. Curly Free Hair
Letting your curls run wild and free always gives you such a natural and approachable vibe.
However, the hair at the sides is nice and short so your specs don't get tangled in it. All the wild curls are small and focused on the top here.
14. Sleek Black Bob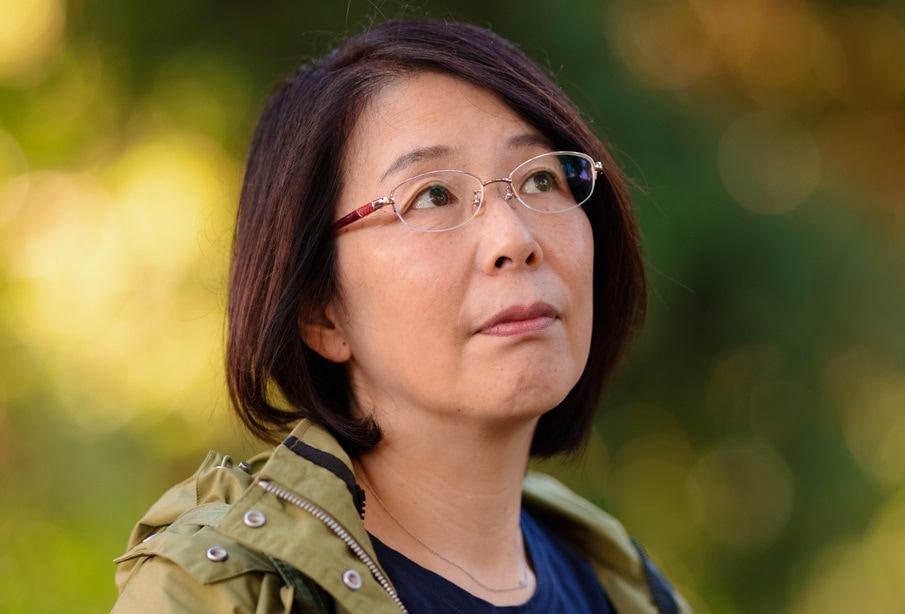 Short sleek looks like this bob are great for women over 50 with glasses. The hair is parted off to one side, but the bangs are blended in with the rest of the hair.
It forms a very defined and elegant shape that's great for thin faces and thin-framed specs.
15. Long Choppy Grey Look
A mixture of fluffy and choppy look together creates a unique look that works wonderfully on mature women.
It helps draw attention to the top of the head and the forehead, and it's nice and controlled on the sides. It's easy to brush through and style.
16. Long Thick Pixie Look
This look is a delightful grown-out pixie look, and it's streaked with grey underneath. Some bangs brush one side of the forehead, and lots of thick hair covers the ears and curls in towards the jawline.
17. Choppy Side Swept Silver
Silver short hairstyles for over 50s with glasses pair with dark eyewear beautifully. Large facial accessories also go well with side-swept hair as it creates an interesting contrast.
The fluffiness of the choppy hair adds to that contrasting look. The hair is sharp, but the glasses are very chic.
18. Forehead Brushing Blonde Look
Blonde is a nice color for older ladies. It creates a more youthful look. Here some of that hair brushes the forehead on one side, and on the other side, the hair goes down to the top of the ear. The hair is also very thick.
19. Feathery Grey Bob
Feathery hair is always so beautiful, and here the hair feathers out around the head and on top. It adds volume to the look while the longer parts of the hair go down to the bottoms of the ears. It's overall a textured and eye-catching look.
20. Thick Volumized Curly Hair
Curls make everything more fun. This thick, curly look is forward-focused, but there's still a lot of volume around the back.
This is a unique short hairstyle for women over 50 with glasses. Here the sides are understated so the spectacles can slide past the ears easily without being tangled. A nice mixture of browns creates a look that's highly interesting to look at.
The many styles above are sure to help you find your perfect look. These fashionable over 50 short hairstyles for women with glasses will definitely help you spruce up your appearance.
Which style was your favorite? Take your hairstylist a picture of your desired look, and they'll be able to get your hair looking the way you want it.