Are you over 70, wearing glasses, and thinking that there's no short hairstyle that would suit you? Well, think again! While it's true that finding the right hairstyle when you're wearing glasses can become quite daunting.
The good news is there are plenty of short hairstyles for over 70 with glasses that you can choose from. If you wish to know which hairstyle to go for, keep reading!
Which Hairstyle Would Work Well with Your Glasses?
One of the biggest considerations you should keep in mind is the type of glass frames you have. Here are some of our hairstyle recommendations for various kinds of glass frames that you can choose from:
Thick Frames
If your glasses have thick frames, go for a haircut with lots of volume and plenty of movement (hello curls!), and avoid flat and straight hairstyles as much as possible.
But if you're looking for a clean look, pulling your hair into a bun is the way to go.
Classic Frames
Same with thick frames, curly hairstyles, and messy and undone look goes well with this kind of frame.
Butterfly Frames
Keep up the glamorous and stylish look by pairing it with loose, textured hair. You can go for layered short hairstyles if you have these eyeglasses.
Pro Tip: Avoid straight and blunt bangs when wearing glasses because they can cover up half of your face.
Flawless Short Hairstyles for Over 70 with Glasses
Below are some of the best short hairstyles that you can choose from:
1. Gray Pixie Cut
Short hairstyles are the way to go if you don't like your hair getting in the way of your glasses. What can be more stylish than the pixie cut?
This short hairstyle is perfect for showing off your edgy and stylish side to all ages. Plus, it's one look that will never go out of style.
2. Slicked-Back Hairstyle
Among all the short hairstyles for women over 70 with glasses, the slicked-back cut might be at the bottom of your list because it seems a bit intimidating.
However, we highly suggest going for this look if you have a fantastic face shape, as it can undoubtedly highlight your fabulous bone structure. Plus, it works well on all glass frames.
3. Curly Bob
Do your glasses have thick frames? If so, then go for a volumized hairstyle like this curly lob. Going for this look at the age of 70 is a bold move. But if you're willing to take the risk, you might as well pair it with a unique glass frame for best results.
4. Long Wavy Pixie Cut
If you think you can't pull off a short pixie cut, you can always go for a longer version like this one. Same with the short pixie, it removes hair off your face and glasses, but at the same time, it's still long enough to frame your face beautifully.
5. Curly Layered Hairstyle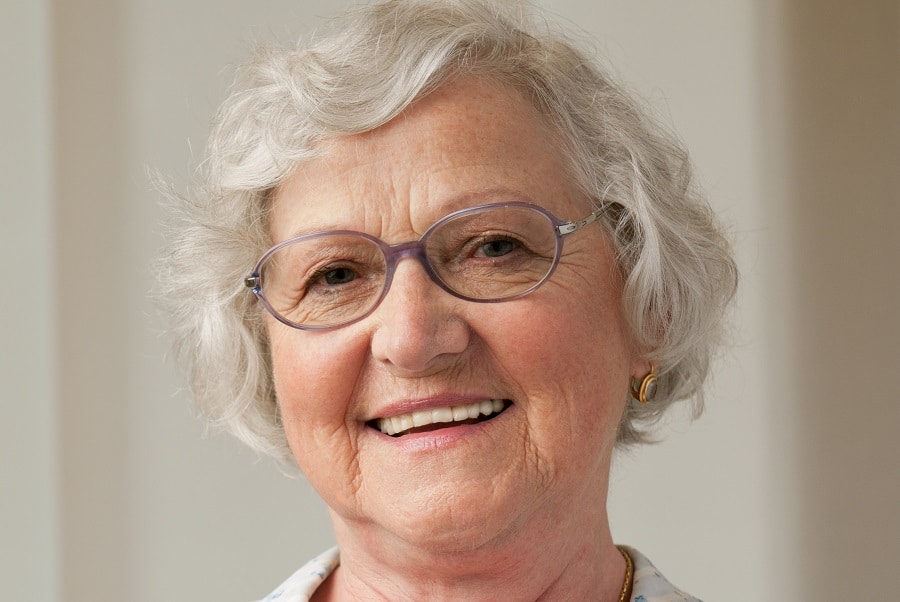 This is probably one of the most popular short hairstyles for over 70 with glasses and lots of good reasons! For one, it's so easy to maintain. Plus, it works well with a thin or thick eyeglass frame.
6. Curly Pixie Cut
Do you want to show off your feminine side and look edgy and stylish at the same time? Then, this curly pixie is the way to go! It eliminates hair from your face but still leaves some face-framing strands behind.
7. Soft Pixie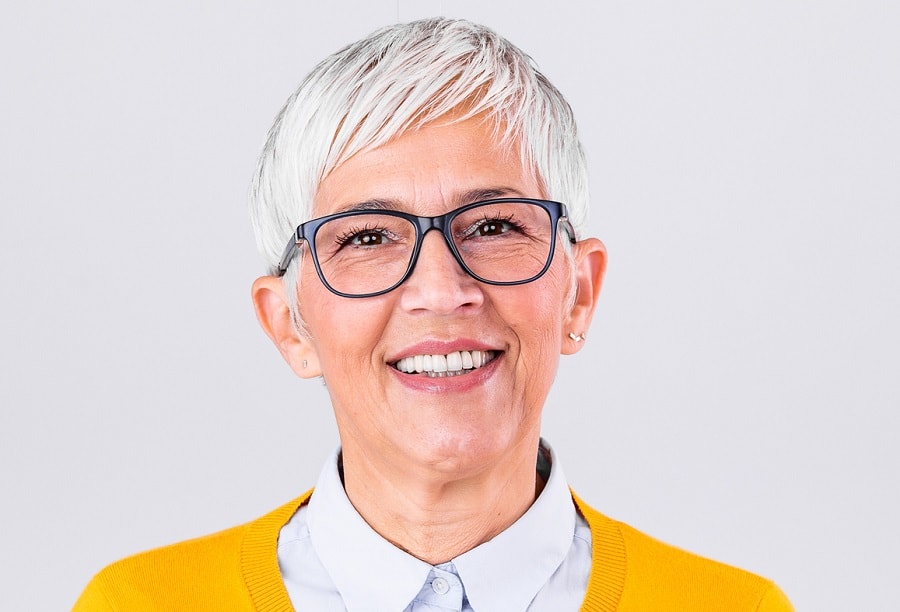 Do you have a round face and are over 70, so you're thinking twice about trying out short hairstyles with glasses? Then, we've got the perfect solution for you—this soft pixie cut! The haircut has soft and wispy strands that work well with a round face and makes you look chicer and younger.
8. Spiky Short Hairstyle
Sometimes, keeping your hairstyle as simple as possible is the best way to wear short hair. However, if you don't have enough time to maintain your hair, we recommend this ultra-short pixie cut which doesn't require too much styling. Plus, it will let your glass frames take center stage.
9. Wavy Pixie Cut
If tight curls are not your thing, but you wish to add dimension and texture to your hair, try going for waves instead. It's fun, stylish, and feminine, but most of all—it doesn't get in the way of your eyeglasses.
10. Angled Bob
Yes, simplicity is beauty, and that's why we're going crazy with this neat and stylish look. Although it's one of the short hairstyles for over 70 with glasses that are a bit on the longer side, its simplicity will allow your face and sunglasses to be the center of attention.
11. Feathered Pixie Cut
The feathered cut is a classic short hairstyle for women over 70, and we adore it! This hairstyle gives your thin hair a youthful vibe because of its movement and bounce. Plus, its length sits atop your forehead, so it won't overpower your glasses.
12. Straight Lob with Wispy Bangs
You're never too old for bangs, and this look proves it! The best thing about this look is that it comes with wispy bangs and not blunt bangs, so it also softens your entire look.
13. Layered Bob
Another type of bangs that go well with short hairstyles for over 70 is the side-swept bangs. Wearing these bangs is the most stylish way to get the hair off your face.
14. Curly Shoulder- Length Lob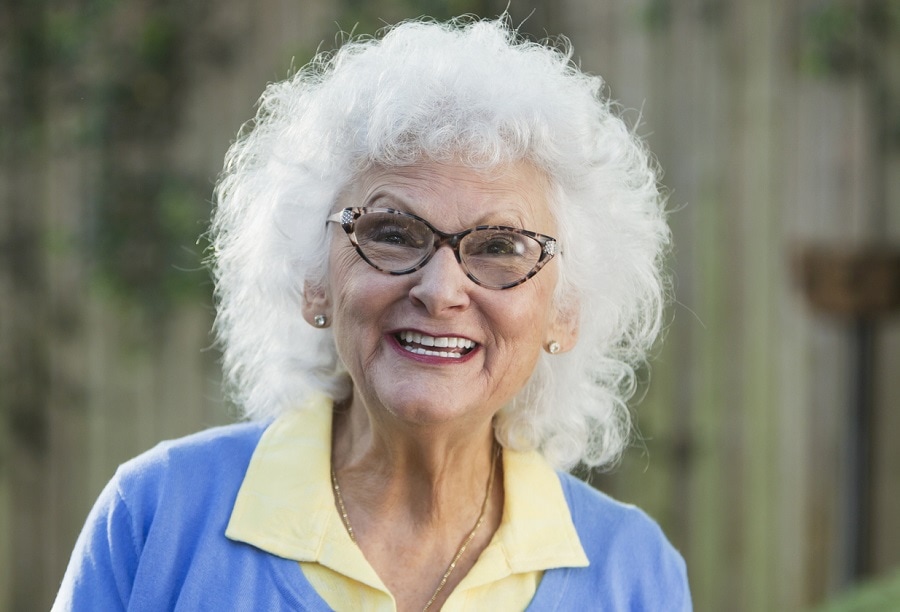 Too scared to go for too short hairstyles? You can always try a medium-length bob like this one. Thanks to the curls, the hair doesn't get in your eyeglasses, even if the haircut is a bit long.
15. Wispy Short Hair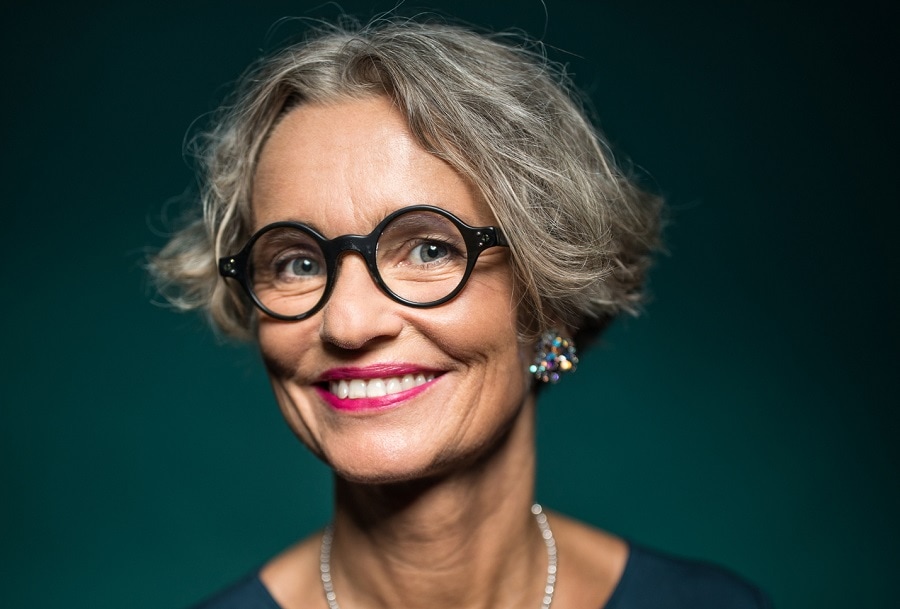 What's not to love with wispy short hairstyles? They're stylish and whimsical, but above all, they are so easy to maintain! The best thing about wispy hairstyles is that they add a touch of softness to your look and are versatile enough to match different eyeglass frames.
16. Straight Layered Pixie
At times, going for a straight hairstyle is the best thing you can do. Just make sure that it's layered so your hair won't look too dull or flat. We also love the side bangs in this hairstyle as it makes the entire hairstyle look more natural.
17. Curly Chin-Length Layered Hairstyle
Can't decide whether to go for a bob or pixie cut? Then why not go halfway and go for a chin-length haircut like this! It may look a bit messy, but the most important thing is there's no hair on your glasses!
18. Wavy Medium-length Hairstyle
If you want a medium-length hairstyle, opt for a shoulder-length bob like this one. When you go for a wavy hairstyle, make sure that the waves are shying away from your face so it wouldn't crowd your eyeglasses.
19. Purple Straight Lob
Only stick to straight hairstyles if you don't have fine hair. This straight hairstyle works because of the volume, texture, and natural body of her hair type. The purple hair color is also a big plus as it will take years off your entire look.
20. Beach Waves on Lob
Who says you can't rock beachy waves when you're 70? If you have lots of time to maintain your hair, go for it! But to be on the safe side, always tuck your waves behind your ear so it won't interfere with your glasses.
21. Straight Layered Bob with Side Bangs
Keeping it short and simple is truly the way to go. What caught our attention in this hairstyle is the side-swept bangs which inject a youthful vibe to the overall look.
22. Naturally Textured Bob
If you have naturally curly and thick hair, the best you can do is stick to shorter hairdos like this one. In this way, you don't have to worry about trying to tame your beautiful naturally textured hair.
23. Curly Medium-Length Bob
Do you want to bring back your young and carefree days? This is one of the best short hairstyles for over 70 with glasses to try. It doesn't get in your face, even if it looks messy, because the curls are styled outwards.
When it comes to rocking a short hairstyle, don't let your glasses get in your way! When in doubt, just go for any of these short hairstyles for over 70 with glasses, and you're good to go.