As women age, they often face changes in their appearance, and hair is no different. Some women find their hair becomes thinner, drier, or more brittle as they get older, especially if they cross 70.
This can make it difficult to find a hairstyle for women over 70 that looks good and is also easy to manage. Eventually, you will need to find a style that can help to camouflage thinning hair or conceal bald patches. No matter what style a woman chooses, it is important to find a style that makes her feel confident and comfortable.
Lovely Hairstyles Women Over 70
The key to hairstyles for aged women is keeping them simple. You want to avoid anything too fussy or time-consuming. Here are 25 best hairstyles for 70+ women.
Braided Updo
As women age, they often seek ways to look younger. One way to achieve this is by styling their hair in a way that is youthful and modern.
A braided updo hairstyle is a great option for black women over 70 who want to look stylish and current. It is very versatile, meaning it can be dressed up or down to suit the occasion.
Blonde Updo
If you have blonde hair, updos are perfect for special occasions, such as weddings, christenings, and formal dinners. They can also be worn for everyday errands. No matter what the occasion, an updo will always make a woman look elegant and sophisticated at the age of 70.
Short Cropped Pixie
Pixie cuts are a popular choice for older women, as they are easy to manage and keep looking neat and tidy.
If you have an oval to a round face, the short crop will surely suit your taste. In addition to that, short cropper hair tapered around the ears, which will make you look younger.
Curly Bob
A curly bob can be styled into tight ringlets or soft waves. Nevertheless, it is a great style for older black women because it is easy to maintain and looks great on all face shapes.
And if you put a band over your head, you don't require much maintenance, and it looks great with any outfit.
White Bob Cut
It is a short, straight style that is easy to manage and requires little styling time. The bob style for white hair is also great for women over 70 who wear glasses, as it will help to frame the face and draw attention to the eyes.
Elegant Korean Bob
This short hairstyle for older women looks elegant and stylish. The ear-length hair can be worn with many different outfits. You can part the hair in the middle and then brush it back to style. Additionally, you can use hair spray to keep the hair in place.
Straight Long Brown Hair
If you have long brown hair, you can give a versatile look that can be styled with a side part pulled back away from the face.
It is a kind of long bob style that is cut just below the chin and it is flattering for women with oval or diamond-shaped faces. Further, it is easy to maintain and can be worn both professionally and casually.
Layered Cut with Bangs
If you are looking for something adventurous and vibrant, a layered cut on your brown hair can be a great choice.
Additionally, the bangs are perfect for those who want to look stylish but don't want to spend too much time on their hair. The layers add movement and texture to the hair, while the bangs help to frame the face.
White Lob Style
White hair is the most common type of hair color in the world, and most of the people with this type of hair are older.
So, older people such as women over 70 want something easy to manage hairstyle. The lob cut is something you may try as you can wear your hair straight, curly, or wavy and opt for a messy or polished look.
Medium Red Bob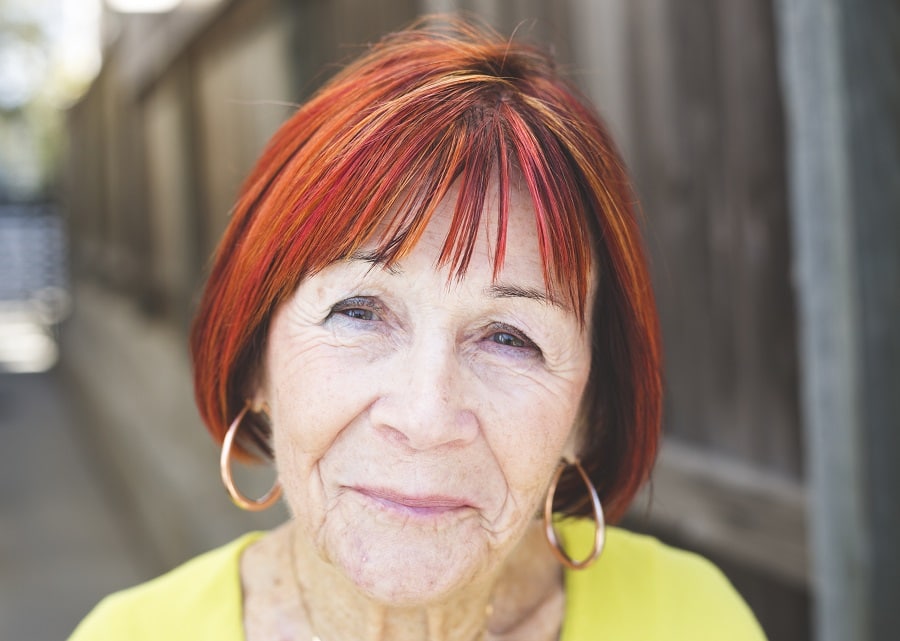 Many women over 70 choose to wear their hair in a medium red bob with bangs hairstyle. The bob is short enough that it is easy to style, and the bangs can be styled in numerous ways to suit the individual's face shape and personality.
Long Wavy Blonde Hair
The wavy style of long blonde hair can make you confident and beautiful, even after all these years.
It is sophisticated and stylish yet still youthful and chic. The waves in the hair add a feminine touch to the style, which is perfect for any occasion, whether you need something low-key or fancy.
Messy Baby Bangs
The hair is cut to just below the ears and then styled into natural-looking waves. In addition to that, baby bangs are a great way to cover up wrinkles on your forehead and can be adapted to any face shape. The key to this style is keeping the hair messy and with slight volume.
Thick Brushed Back
The brushed back style is often associated with youth, but it can also be beautiful for older women. To create a brushed back hairstyle, start by blow-drying your hair straight. Use a comb to smooth it back away from your face, and then use a hairspray to hold it in place.
Sleek High Bun
There's no need to let your hair go gray and limp as you age. You can keep it looking young and sleek with this high bun hairstyle.
The style is simple to create; all you need is a hairband. First, gather your hair into a high ponytail and secure it with a hairband. Next, twist the ponytail around the hairband until it forms a bun.
Short Brunette Hair
A short brunette bob hairstyle can be a great way to update your look and stay stylish and age-appropriate. You may sweep your bangs on the side and put some hair spray to keep them in place. A short brunette bob is a cheering look for women with olive to brown skin tones.
Thick Medium Bob
Thick medium bob with bangs suits women over 70 who want a stylish and youthful look. The bangs can be styled straight across, swept to the side, or curled inward. The bob can be worn straight or wavy, and the length can be customized to suit each woman's individual preferences.
Vintage Bob
The vintage curly bob hair is a classic look that never goes out of style. The key to this style is to keep your hair short and to use a good-quality styling product that will help keep your curls in place.
You can curl the hair with a curling iron. It's best to use a large barrel size on the iron so that you can get some nice waves in the hair.
White Blonde Bob
This haircut is a great option because it looks natural, but it can also be styled in a more dramatic way. The bob with side-swept bangs is also a great way to hide a high forehead or to cover up any imperfections in your hairline.
Short Blonde Curls
Short blonde curls provide a youthful appearance for a woman over 70. This style is perfect for women with short, curly hair because it enhances the natural curl of the hair. But, if you don't have curly hair, you can use a curling iron to create loose curls.
Curly White Blonde Bob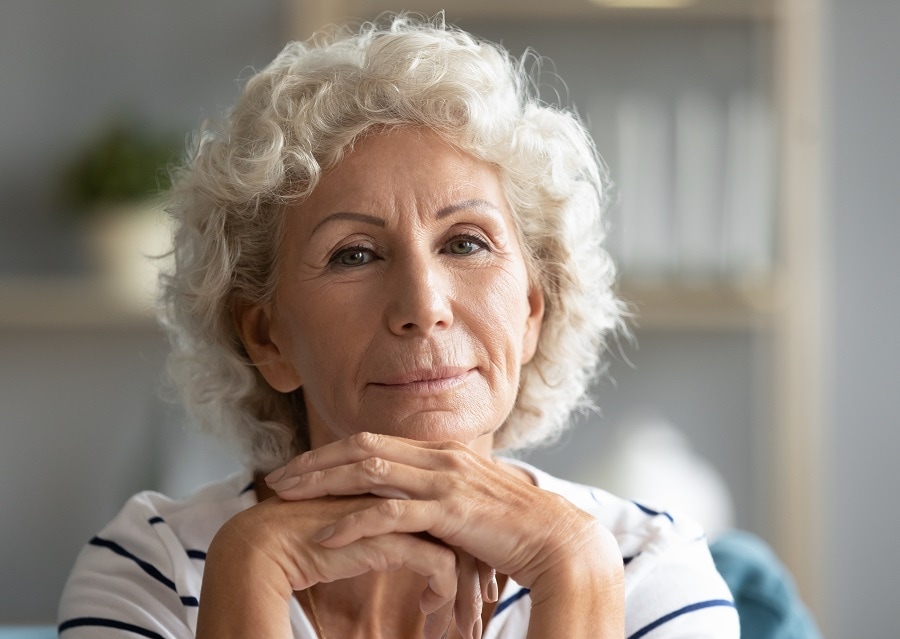 To create this look, you will need to start by shampooing and conditioning your hair. Next, use a curling iron to curl your hair in small sections. Once your hair is curled, use a brush to tease it at the roots.
Wind Swept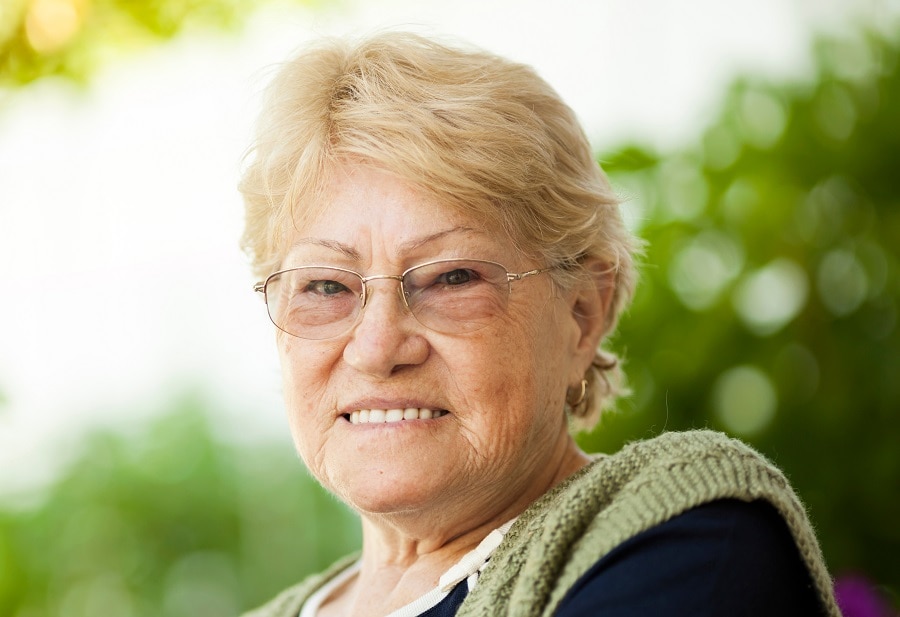 This style is perfect for women who have short hair or medium-length hair. The wind-swept style is created by tousling your hair and then using hairspray to hold the style in place. Further, you can wear your hair up or down with this style, and it is perfect for any occasion.
Short Burgundy Hair
Burgundy red is a popular hair color for women as it can be flattering on many skin tones. The burgundy color on short hair is bold, and aged women look beautiful on it. You can just brush back to keep the hair out of your forehead.
Thick Curly Blonde Hair
A medium textured, thick curly blonde hairstyle for women over 70 is a style that is versatile, easy to manage, and perfect for any occasion. This style features bouncy curls that add body and volume to the hair.
Messy Blonde Braid
Blonde hair is often seen as the essence of beauty. If you have long blonde hair, a braid can add a touch of glamour to any outfit, and it is perfect for special occasions or everyday wear. You can style it by casually flowing down in the front, and the style will always make a statement.
Long Thin Gray Hairstyle
If your hair is turning gray and you have long, thin hair, there are a few style options that will work best for you. But we would recommend you to keep it natural. This style is gratifying for all women over 70 and can be worn sleek and straight or styled into waves or curls.
Many aged women might choose to go with a more natural look, while others might choose to style a bit and add some color or highlights. you're over 70, there's no need to retire your style.
But you definitely want to avoid anything that is too fussy or time-consuming. The quick styles we have discussed in this article will help you to look young and fabulous for years to come.