Seeing your daughter marry the love of her life is as special as the day can get. And within all these teary eyes and unsaid words, as the mother of the bride, you'll have to look your best – we can't have the bride worried, right?
Being the mother to a gorgeous bride, you'll have to put your best foot forward – that means picking out the best hairstyle! But of course, it's your daughter's day, so you need to pick out something graceful without being too OTT.
If you're stuck between choices, then let us guide you through. Beautiful, alluring, delicate, sophisticated – we've every hairstyle to accentuate your preferences!
Popular Hairstyles for Mother of The Brides
Rushing to get ready? Check out our bride's mother hairstyle collection and fit right in with your daughter!
1. Bangs With Bouffant
If you've lost through the ages, then this hairstyle is perfect for you – it's simple yet voluminous!
The bangs will add a touch of freedom to a more restricted and collected back look. Bouffant at the back will ensure that your wispy hair looks more vibrant and flowy!
2. High Curled Updo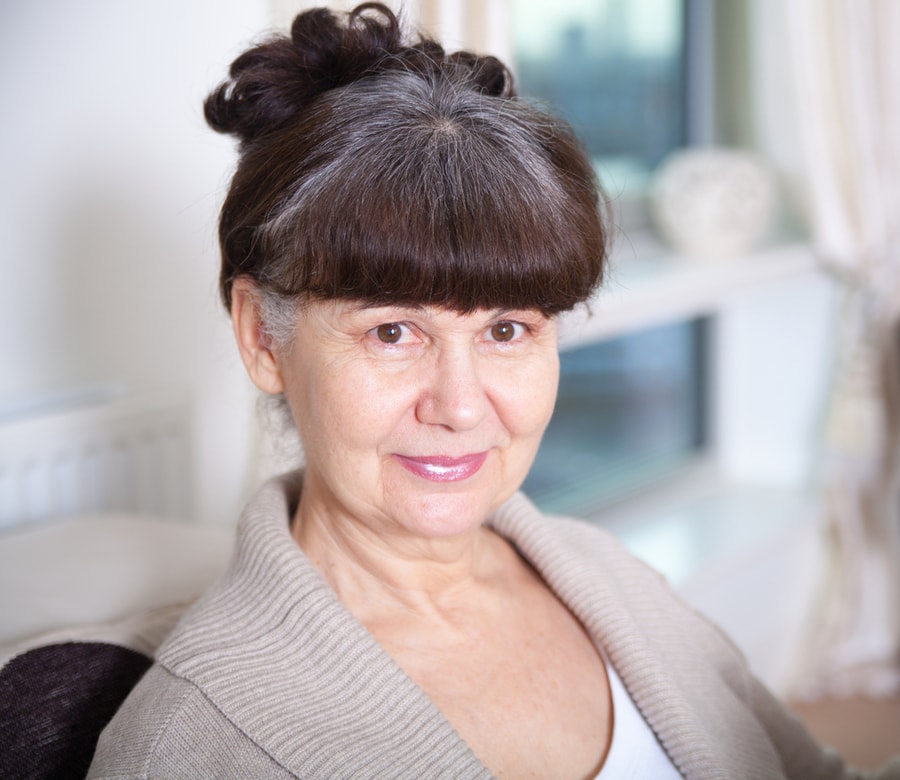 There's no way one can go wrong with a curled updo – it's sultry, hot, and best hairstyle for mother of the bride with long hair.
Just gather your hair at the top and make the updo. Tuft some hair out to give it a more boisterous angle. If it suits your face, either flick some hair out in the front or fashion some bangs.
3. Peppered Halo
Instead of coloring your entire hair for the wedding, leave some natural shades peeking out from the top.
Some highlights of black in between will shine out a sophisticated yet no-effort look. Couple it up with some pearls and stone earrings and you're set!
4. Winding Ponytail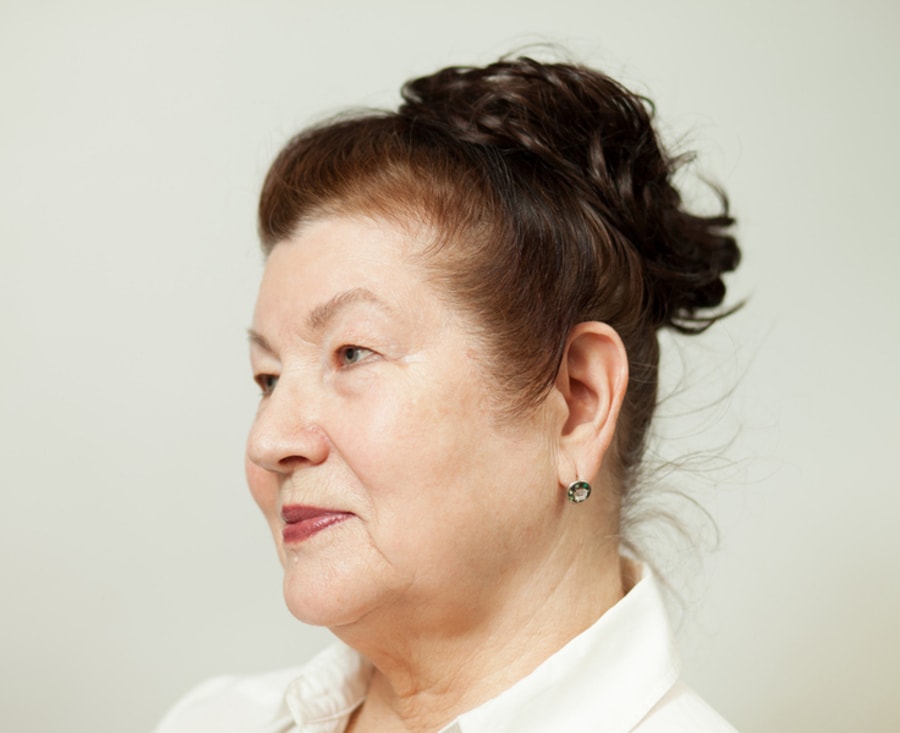 Want a regal hairstyle with short hair? Do not have enough hair to make an elaborate bun? Then try out this updo which is also perfect for the bride's mother!
Make a high ponytail and twist one round around the tie. Secure with clips or bobby pins!
5. Short Side Sweep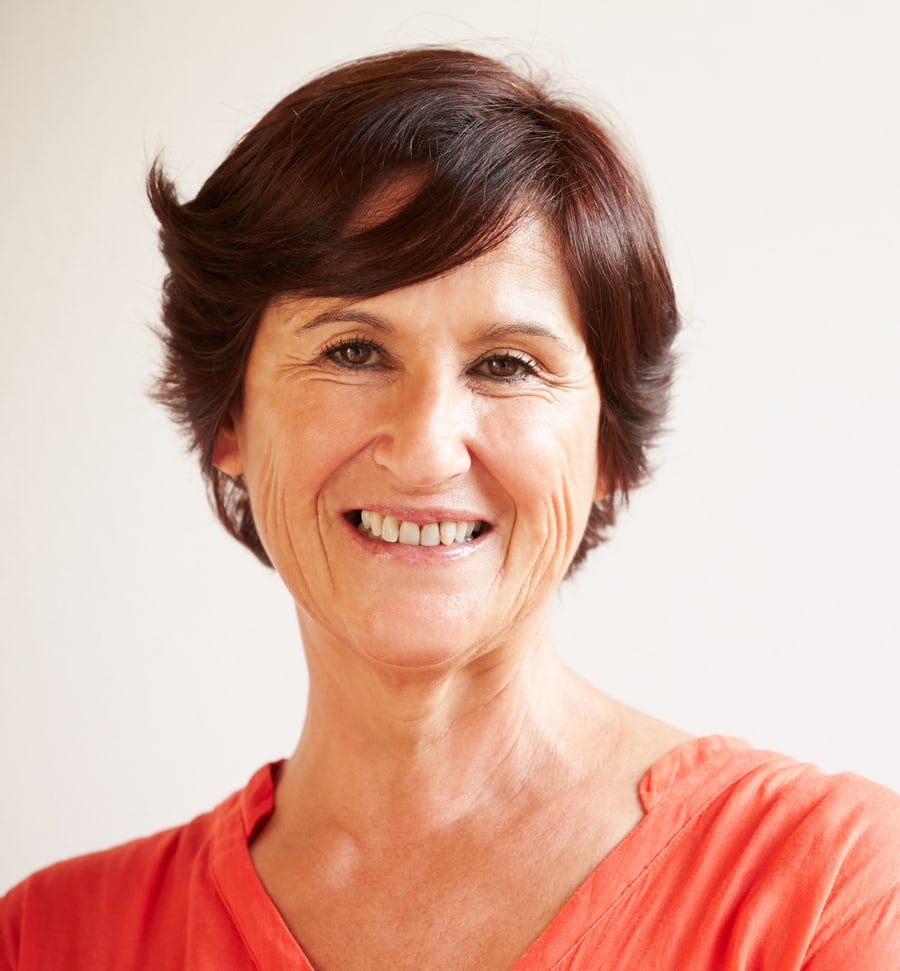 There's so much you can do with short hair, but a simple side sweep is always a winner. Just side part your hair and leave a part to go over your forehead. For an added extravaganza, curl the shorter hairs on the sides.
6. Classic Platinum Middle Part
Let the beauty of shiny, platinum hair steal the show on its own! Just middle part the hair and curl it slightly at the bottom, to give a natural vibe. You can pair it up with a more extravagant dress to draw more attention to it!
7. Frame and Curls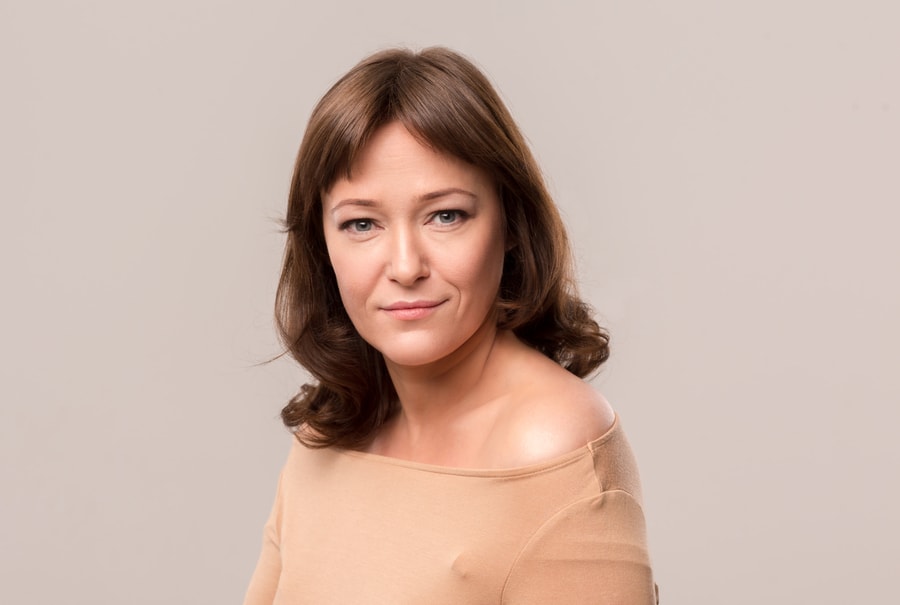 There's something quite mature and magical about pulling off minimalistic hairstyles with grace.
Simply fluff your hair up, part it from the middle and curl them on the ends. That's where the magic with this mother of the bride hairstyle happens.
8. Blonde Bob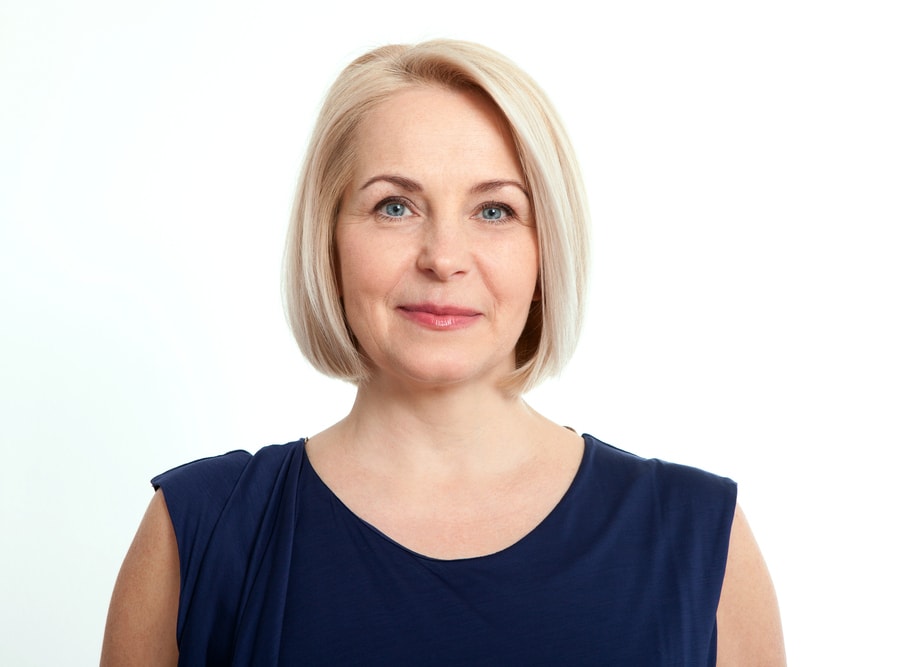 If you want a no-hassle hairstyle for the wedding, then go for a regular blonde bob cut. It is the perfect put-together look for a summer wedding – sweat and frizzy locks will stay far away!
9. White Blonde Bouffant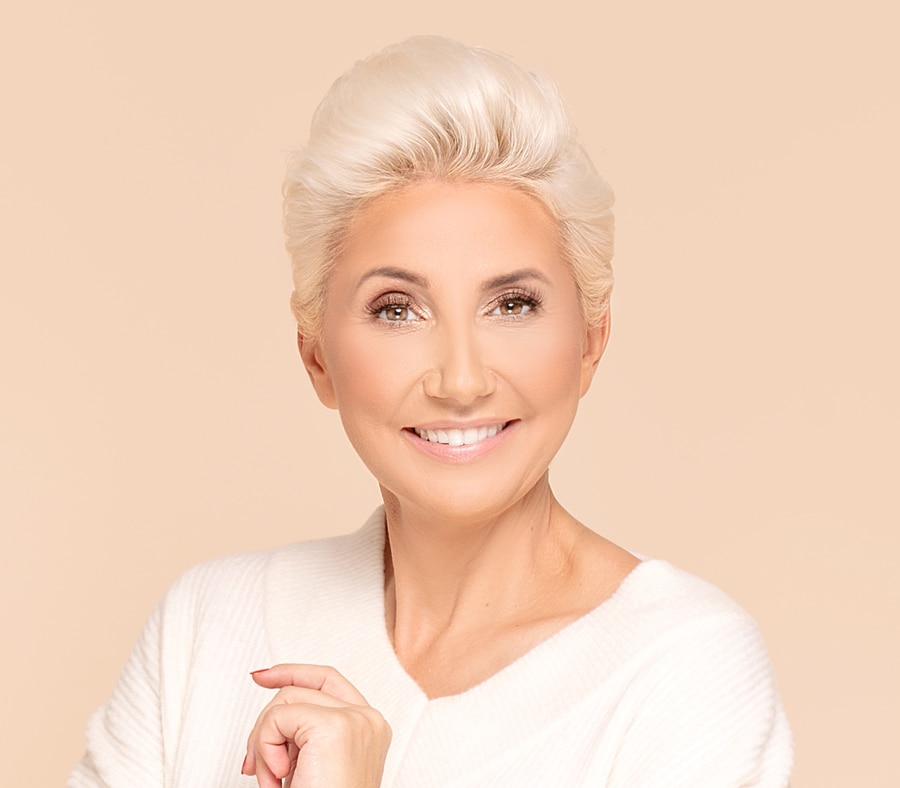 Who says high bouffants are not suitable for weddings? Just, shut them up with this hairdo! The sleek quiff is the fashion statement of today's trend and will make you stand apart from the typical 'wedding hairstyles.'
10. Blunt and Sharp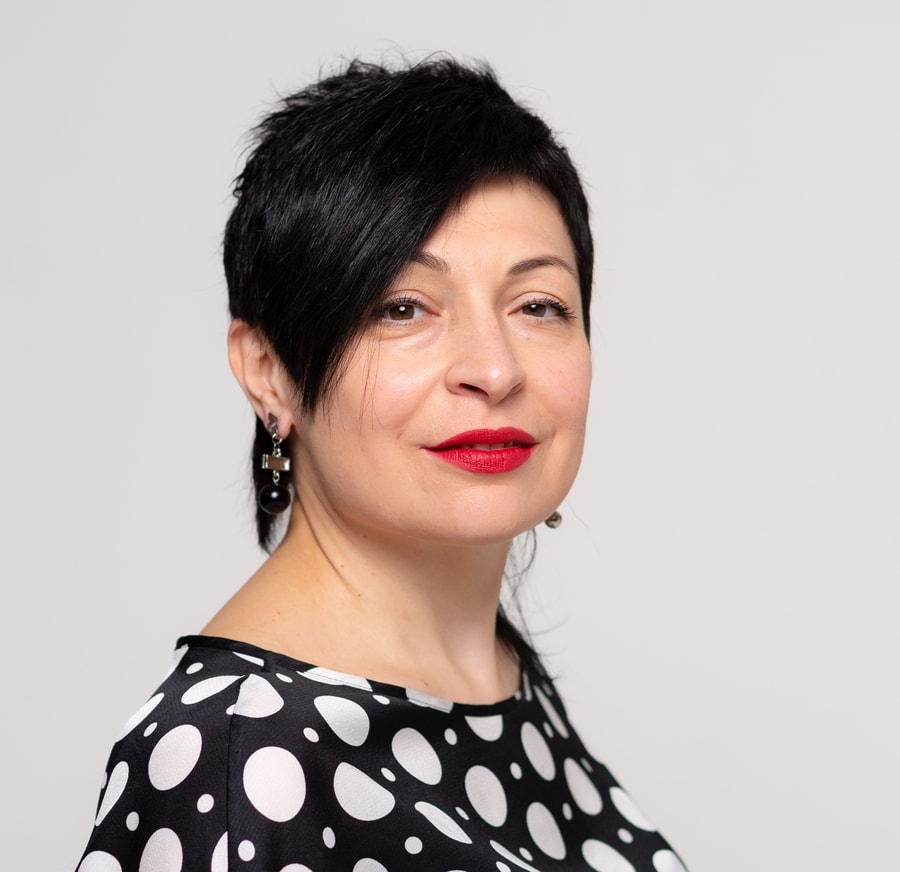 Ever heard blunt and sharp go together? Well, now you have! For this hairstyle, you can blunt swipe some bangs on the front and go for a more sharp ponytail or elaborate bun for the back.
11. Thick Curls
Mother of the black brides love being involved in their daughter's wedding – can they get cuter than that?
But that of course means less time to spend on hair. When in haste, just go natural. Let the thick curls frame around your face in a messy updo that will perfectly complement the dress of your choice.
12. Fluffed Up Endings
This hairstyle is a go-to updo for every mom with medium hair – let's just unanimously agree on that! So, for one more time at your daughter's wedding, you can carry this style with suitable accessories to go with your dress.
13. French Roll with Bulky Bun
There is another stunning hairdo for mother of the bride. It is a soft and romantic style with the tresses forming a rope-like look.
Stretch the hair loose from the bun to achieve this look and sweep some fringes from the sides.
14. Bas de nuque Chignon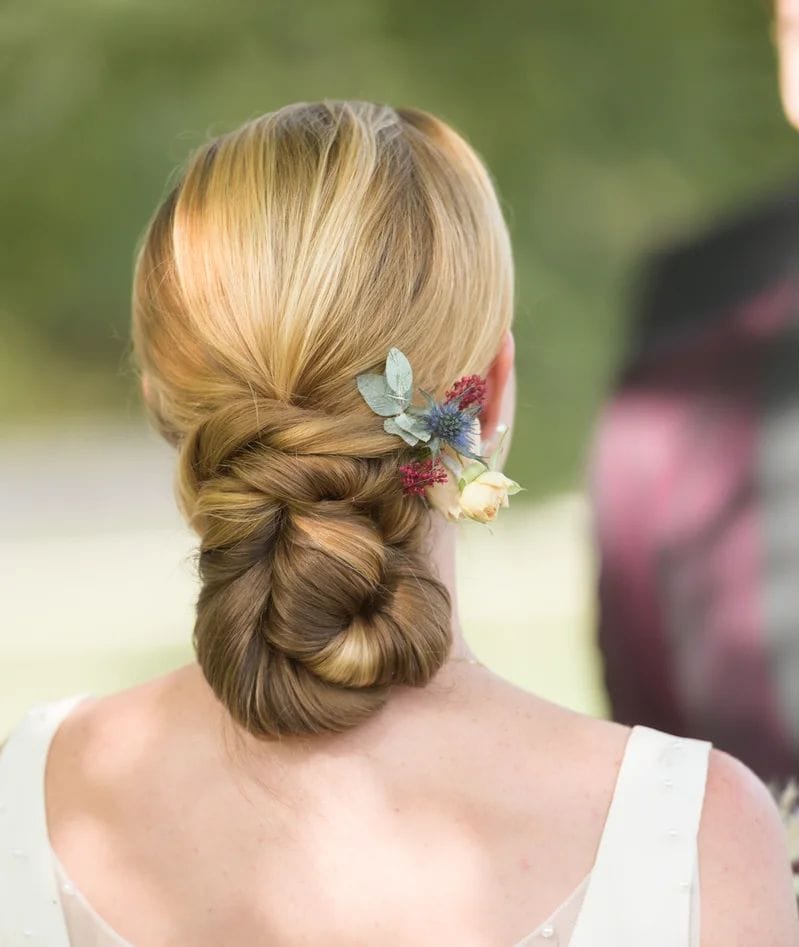 All the mothers who have ever attended their daughter's marriage ceremony can vouch and say – chignon is the staple of any wedding.
Sleek back from the front with an overlapping bun on the nape is the way to go if you wish to brandish a sophisticated style.
15. Queen Twists and Bangs
It is your daughter's special day but you need to take some credit for all the work right? And that definitely means looking like the queen you are!
Curl some tresses on the edges and leave some bangs sweeping your forehead. Strike a posh, royal look by adorning an ascot hat.
16. Curled Shenanigans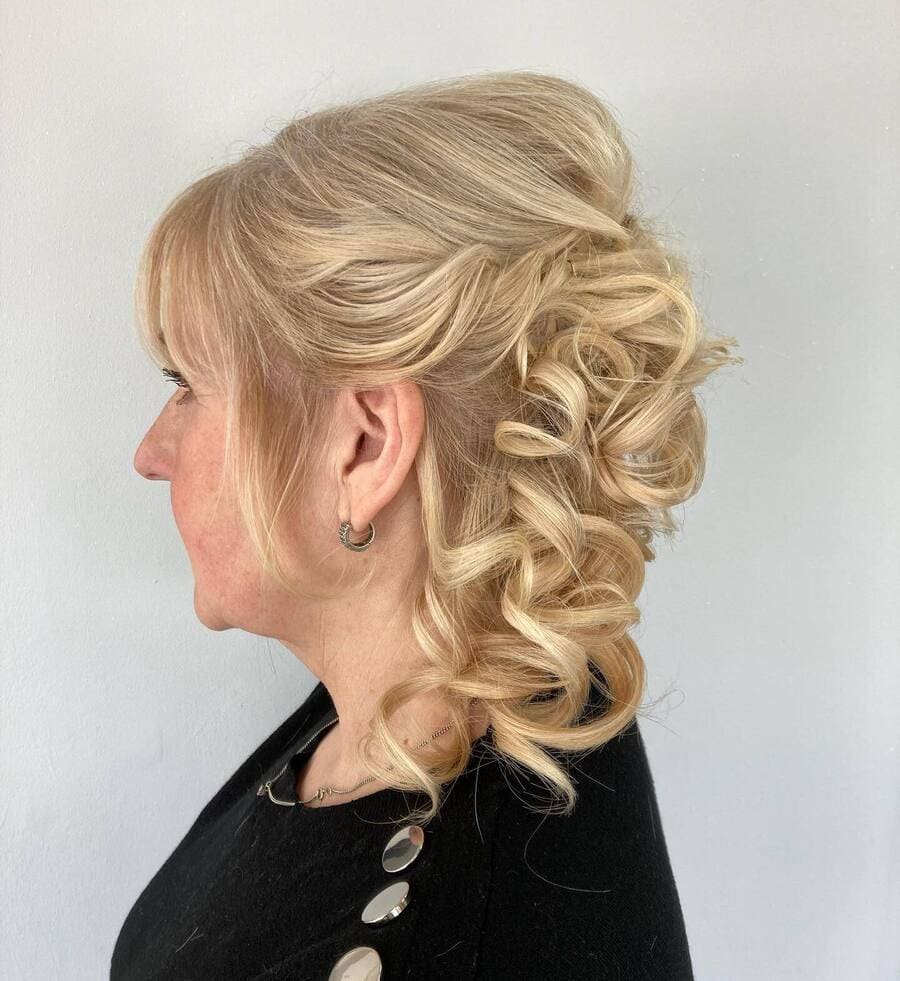 Bored with the straights? Fancy yourself some curls now! Twist some hairs on the top and leave the rest on the bottom. Now you can curl the remaining part thoroughly so that they look voluminous.
17. Messy Bun with Braid
To style, this gorgeous mother of the bride hairstyle, start by curling all your hair. Now make a braid on the side and push all your curls back.
Twist all the curls to form a halo and with the ends make a bun. You're done!
18. No Nonsense Chignon Bun
If you attribute yourself to a no-nonsense and perfectionist mother, then this is the hairstyle for you.
Just make a sleek chignon bun at the bottom and wrap its ends around in a classic fashion. You can style it up with two twists on the sides.
19. French Twist
Want to keep your hair together but do not want to carry the regular bun style? Then try a french twist!
All you have to do is make a flat ponytail, pull it up, and twist it within itself. Make it more wedding-worthy by clipping on a fancy barrette.
20. Twist that Bun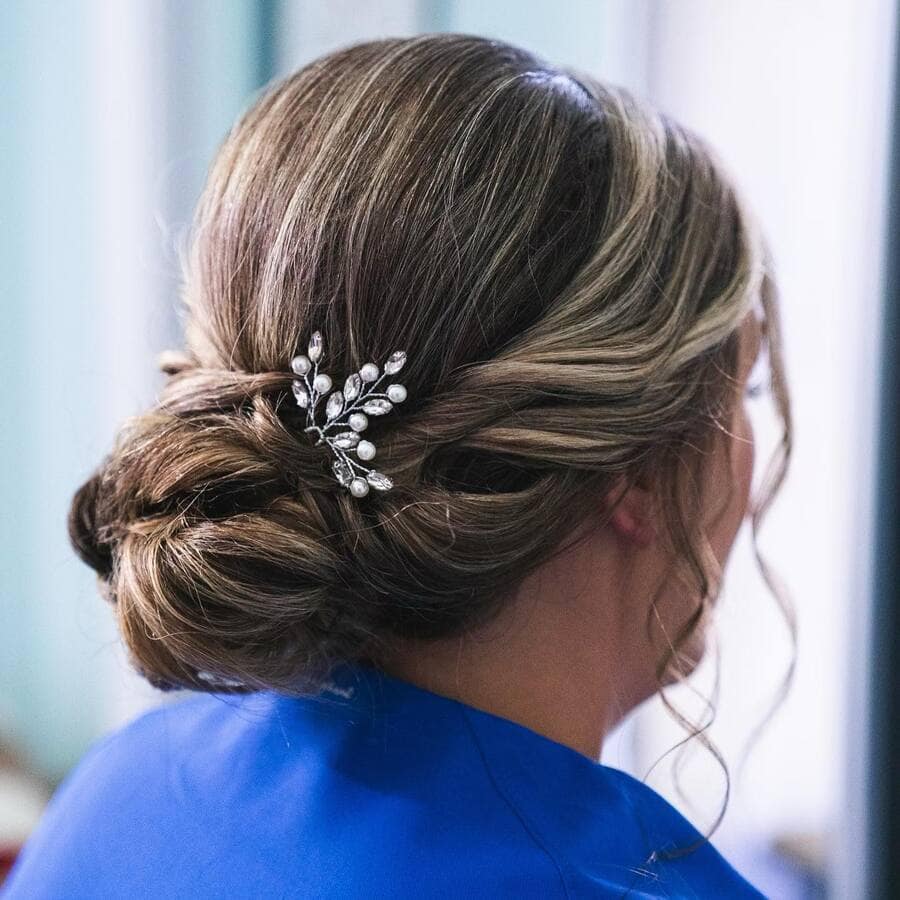 When you're already beautiful, you need not put too much effort into your hair. This simple hairstyle is perfect for mother of the bride.
Just make a twist on the front, leave some flicks, and make a bun at the end. To get a fuller look, you can make a bouffant.
21. Mini Bun with Open Hair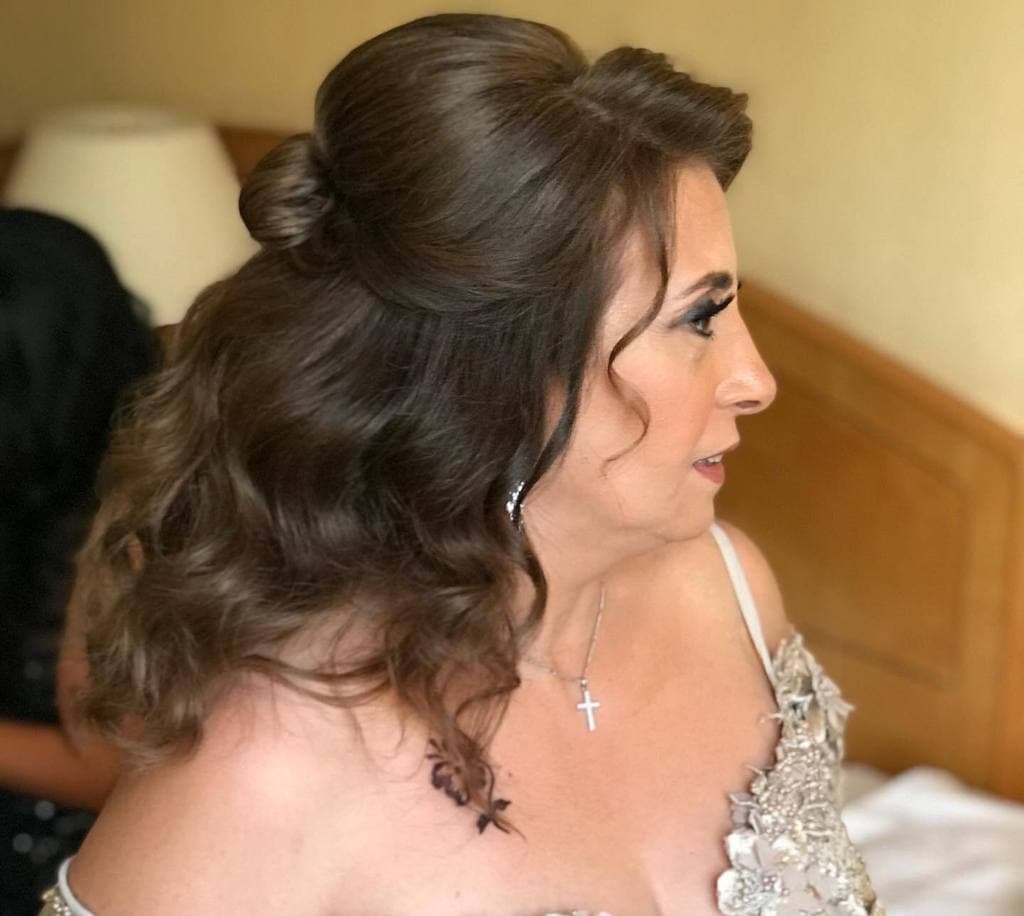 There's so much you can do with shoulder-length hair, and a mini bun definitely tops that list. Take some hair from the front and make a mini bun at the back. Leave the rest of the hair untouched at the bottom – natural is sexy!
22. Cute Band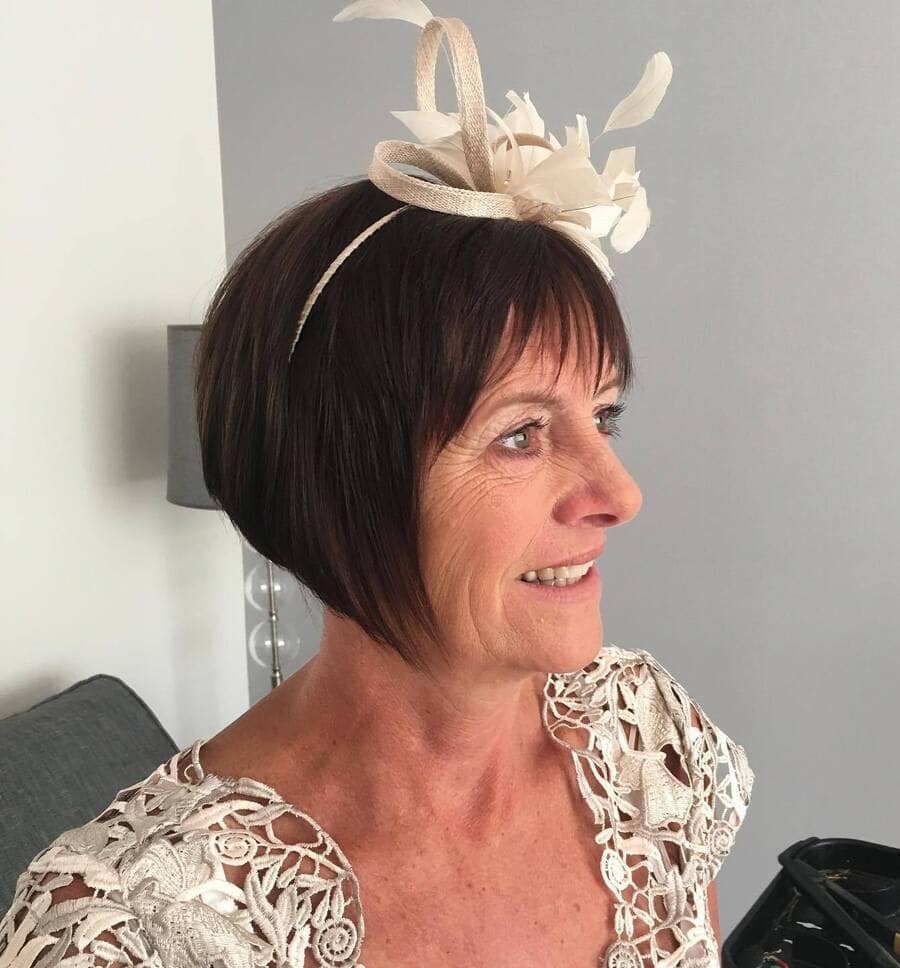 Make a low-effort statement with this updo. Let the choppy alike hair fall around the sides and simply finish it with a hairband.
You might want to search for a perfect piece that will enhance your dress' beauty and make you look like an enchantress.
23. Royal High Bun
Of course, we won't be doing justice to a mother of the bride hairstyle list, if we miss out on high buns.
This perfect updo hairstyle for moms will help you channel your inner royal feeling and make you look like an absolute princess. To give a perfect ending, add a white barrett or stone clip.
It might be your daughter's day but you also need to look perfect – the world needs to see that it was a beauty that raised another beautiful daughter. You can always tone down your look to let the bride have her moment but that doesn't mean that you need to compromise.
Pick a look out of these mother of the bride hairstyles and be the fashion diva that you are!