Braids are an everlasting style and the oldest one. It can never go out of fashion and goes well with almost all types of hair texture, hair lengths, and hair colors. A side braid is the category of braided hairstyle that is so much in trend these days with different variations and styles.
For a different hair length, you can have a different look. Braids give you a most simple and uncomplicated look with a brilliant style statement. Just for you gorgeous girls out there.
We have sorted out some of the exclusive side braid hairstyles for you that can embellish your personality and overall appearance. Have a look at some of the side braids hairstyles mentioned beneath.
1. Blonde Loose Side Braids
If you want to look like a soft and delicate princess, you must try out this marvelous hairstyle. The super-soft shade of golden blonde with that feathery texture and bright radiance gives the hairstyle more purity and exactness. However, to achieve the same look, reasonably longer hair is required.
In this hairstyle, the hair is parted from the side, and a loose wide braid is made at one of the sides and secured with bobby pins. The ends of the hair length are curled and twirled to compliment the overall look and add softness to it. This look is apt for young girls and goes well with bright and traditional outfits.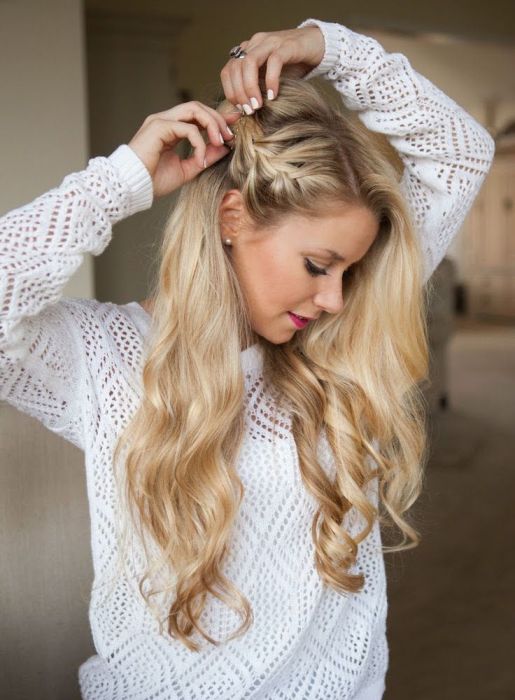 2. French Side Braid with Entire Hair
When you want to try out something different and unique with maintaining your simplicity and soberness, you easily manage to attract everyone's attention and stand out in the crowd. Just like in this hair, a gorgeous side braid is made with all the hair tied together.
Side braid changes your look and style completely and gives you a different look. The blend of blonde and dark brown hair is also beautifully placed to enhance the beauty of this hairstyle. This is a comfortable style to carry off and a very easy one to make.
3. Front Diagonal Braid with Multihued Curly Hair
In this charming and astonishing look, the role of splendid shades of brown and blonde hair color is definitely vital. You can see the adjustment of golden blonde shade with that of dark brown is looking so apt with the front braid going diagonally to one of the sides till the end of the lengths and secured with a rubber band.
The rest of the hair is left open with a wide wavy touch. The golden braid keeps the front hair manageable and giving the overall personality a trendy look. This is a perfect party look and looks absolutely great with casual outfits.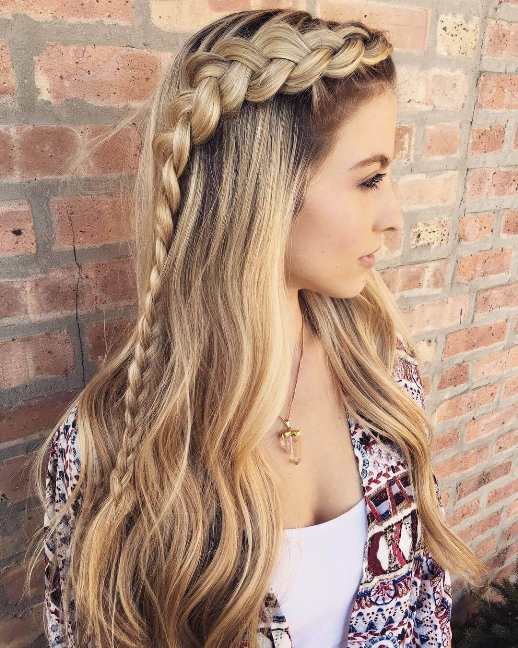 4. Triplet of Tiara like Thin Side Braids
The group of three thin French braids knitted at one of the sides brings great texture and looks utterly attractive. The gorgeous snow-white hair with smooth texture combined with dark grey roots of the hair makes the French braids look even more stylish and defining.
The triple French braids are knitted with thin hair strands from the middle of the front till the ear and then tied together at the back, just like a side tiara and secured with bobby pins. The rest of the hair is left open to compliment the overall look. This is a girly style that can look great with formal wear also.
5. Auburn Loose Low Side Braid
Get a perfect winter look with this cute loose low side braid that you can adorn with your stylish winter cap or hat. Color your hair with this charming shade auburn and style it with loose side braid that looks effortlessly sexy and feminine.
To make this hairstyle, all you have to do is comb your hair and hold them loosely. Start knitting a loose braid from a little lower and tied it with a rubber band. When you knit the braid from low, the upper hair appears to be loose and fluffy and becomes apt to get accessorized with caps.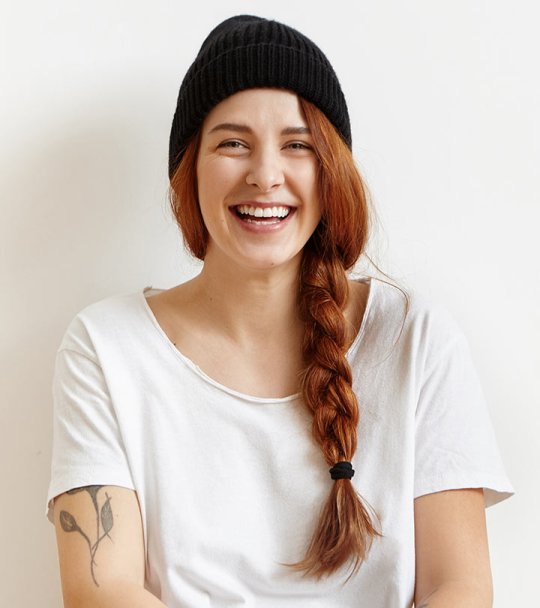 6. Side Braid with Rolled and Puffed Hair
A very girly look that can make the guys go mad and crazy at just one glance. The combination of blonde and brown hair color with glossy texture is the evergreen duo that can enhance any kind of hairstyle.
In this hairstyle, you can see a rolled and puffed front hair strand going backward from the front and tied at the side to form a loose side braid. The loose and fluffy look is making the side braid look even sexier. The open short fringes near the ear are complimenting the overall look. It goes perfectly with traditional wear.
7. Side Braid with Unevenly Cut Hair
When you have hair that is not in shape, or you have cut them off with an asymmetric style, try out this side braid hairdo. This one is a super cool and effortless look that can give you both a funky and elegant look.
Part your hair from the sides and leave the short hair as it is. Hold the longer hair altogether and start knitting a very loose braid leaving the uneven hair willingly out of the braid. This braided style with a lot of uneven hair gives you a classy and stylish look that you can wear with both party wear outfits as well as casual clothes.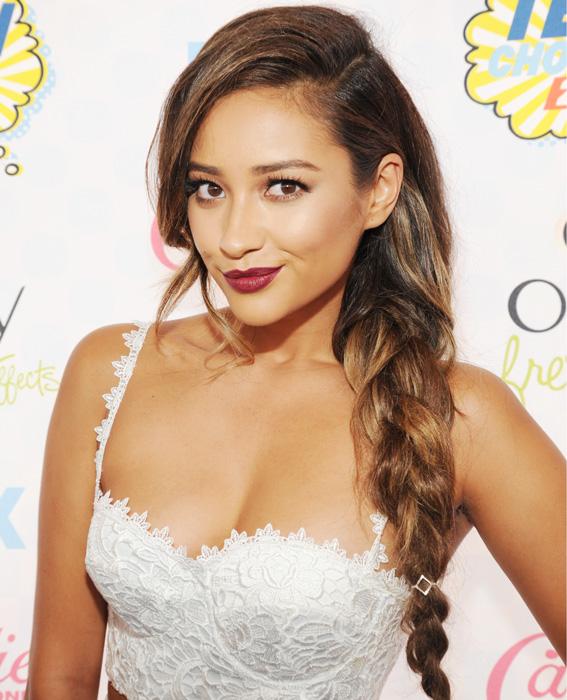 8. Two Rows of Side Braids
Pencil grey shade with platinum white soft hair color goes really well. The hairdo with fairly long hair requires a side partition with keeps the hair open at one of the sides and makes two rows of side braids on the other side.
Knit French braids over both the thick hair rows till the head and leave them open at the lengths to get mixed with the rest of the open hair. Big swirls and twirls in the leftover open hair are bringing a great effect to the entire look and make it perfect for young girls.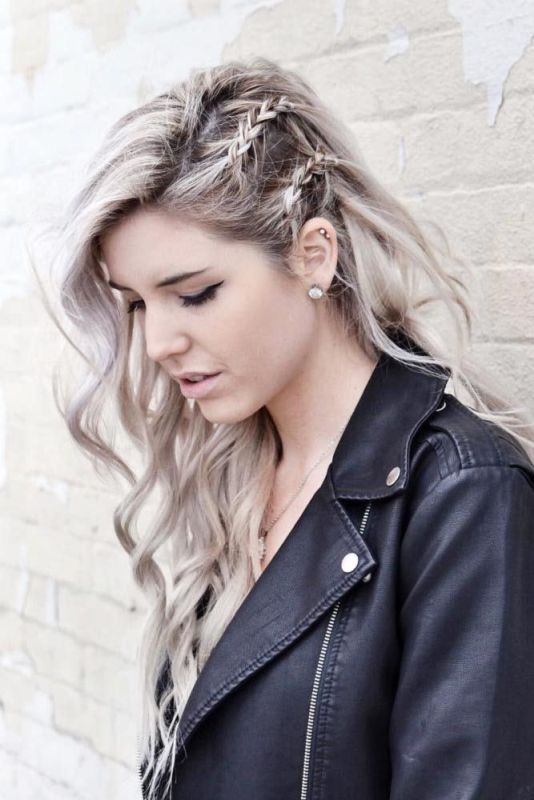 9. Thin Side Braids with Middle Thick Braid
To attain the same look, you must have those silky, smooth, and absolutely straightened hair. For a brilliant texture, the hair is permed and colored in two shades with a matt finish. The hair is partitioned in five sections from the front keeping the middle partition wider and the side partition thinner.
French braids are knitted in all the sections according to their respective sizes and secured with pins at the back. However, it is up to your choice; you can leave the back hair open or can make a pony or braid. This is a perfect party look that can make you look very trendy and stylish.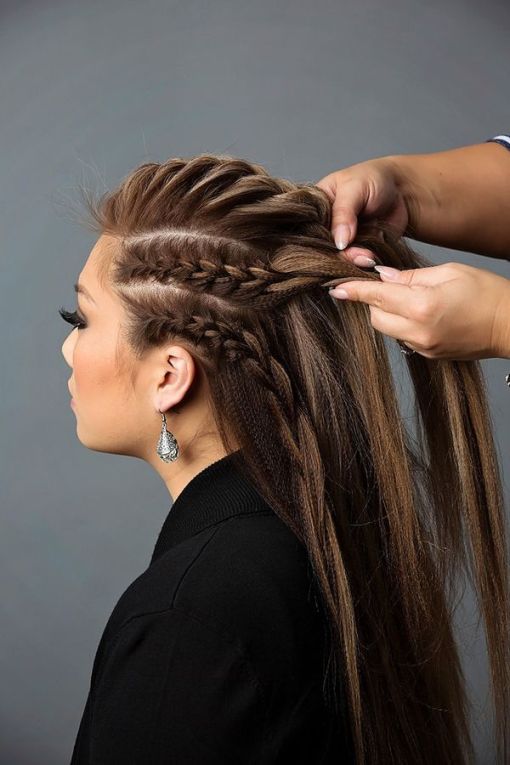 10. Side Braid till the Back
Style and get ready to party with a sophisticated and very feminine look with this brilliant hairdo comprising golden radiant hair with waves and a side braid. The hair is parted into two sections, and a braid is knitted from one of the sides till the back near to the other side.
The hairstyle is all about keeping your hair on one side, leaving one of your shoulders free of hair. Hence, this style is actually meant for off-shoulder dresses and can make you look gorgeous and heartthrob.
11. Burgundy Loose Braid Followed By French Braid
This is a very unique style that adds an unconventional texture to your upper hair and frames your face with so much art and creativity. The alluring red burgundy hair color with a glossy finish makes the entire appearance look very soft and delicate.
The loosely done side braid knitted with all the hair followed by fairly tight French braid at the ends brings a sense of sensitivity, softness, and feminism to the personality and looks very apt with bridal outfits or any other traditional or party dresses.
12. Side Braid with Curled Bob Fringes
If you want to grace any event with a sophisticated and elegant look keeping your hairstyle very simple, sober, easy to manage, and yet very stylish, then this is the look for you. Wear this trendy style with sexy off-shoulder dresses and pair it with defined make-up.
The golden caramel hair with radiant texture is also adding brilliance to the hairdo. The hairstyle requires bob cut with front long fringes where a side braid is created, keeping the long fringes open with curly ends. These open fringes are actually complimenting the side braid with their effortless presence.
13. Stylish Thin Side Braid on Short Hair
Matt finish ashy blonde hair color is an attention stealer for sure. This beautiful color is so gracefully placed with that of dark chocolate hair color. The hair is cut very short till the ear length with fine amount of waves added to it.
One out of two partitions is adorned with a very thin side braid combined with both the colors ash blonde as well as chocolate brown. Very front hair near the side braid is cut really short to let the braid look prominent and defined. This is a perfect party look to grace big events and occasions.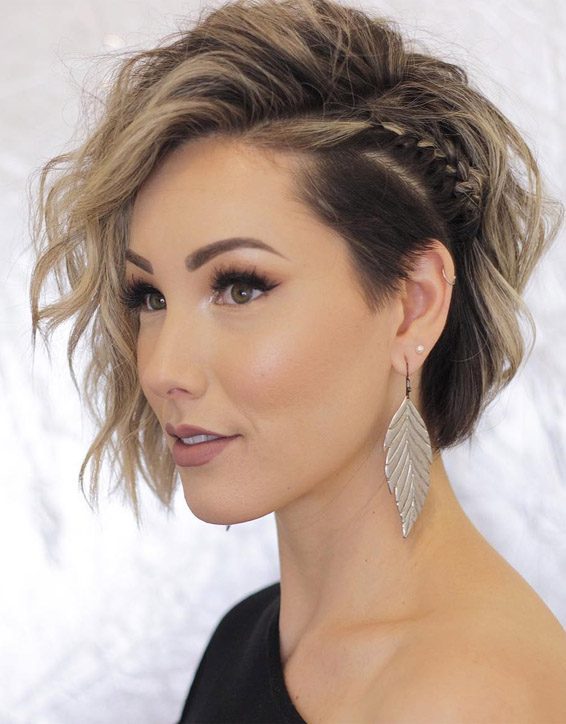 14. Tiara Style Side Braid with Side Braid
A fairy look for all the girls who really wish to look like a princess or fairy on her special day. For this kind of look, you need quite denser hair with a good length.
Also, the hair color, texture, softness, and straightness are too significant to help the hair professional achieve the same look. In this style, a thick side braid is knitted from one side and rounded with the head like a tiara as secured with bobby pins.
Similarly, another side thick and loose French side braid is knitted till the length and left free to flow on the shoulder.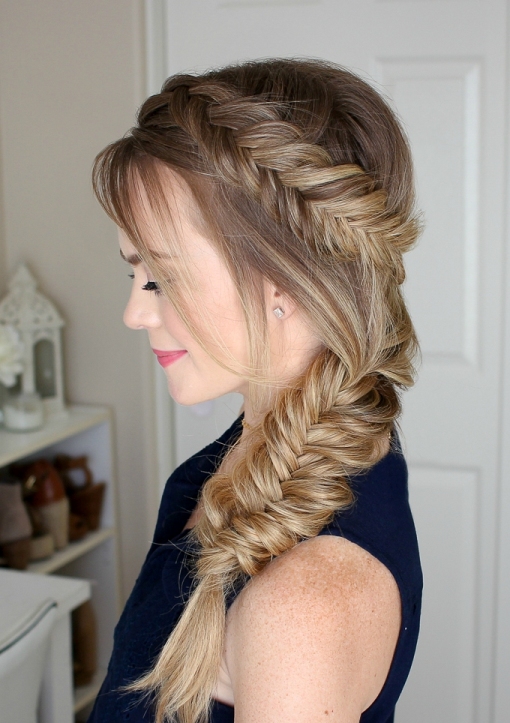 15. Side French Braid with Long Fringes on Both Sides
Blend of multi-tone shades with a radiant finish makes the hair look even richer, healthier, and brighter than actually plays a vital role in enhancing the overall look of any hairdo. Here in this style, the hair is kept longer at the back, whereas kept shorter at the front with fringes.
The entire hair is parted with side leaving the front fringes open falling over the cheeks. The hair at the back is taken to one side and knitted to form a beautiful French braid till the end of the length and secured tightly with the hair strand itself.
16. A Knotted Side Braid
If you are looking for an extra-ordinary and exclusive look yet the simplest one to follow, then this is the ultimate style for you. It is simply effortless and unique with a blend of sophistication and funkiness.
All the hair is to be brought to one side, and a thick zig-zag braid is created to bring that kind of texture shown in the picture and then tied neatly with a rubber band, leaving ample hair open at length. This super cool look is befitting for college girls and office goers both to flaunt their unforced styling.
17. Frozen Side Braids with Thick Texture
A nice hair texture and hair color is the prerequisite to achieving this brilliant hairstyle exactly. Also, you cannot go for this hairstyle without long hair. Get your hair colored with these wonderful and playful shades of blonde and then gear up to have this charming hairdo.
The style is done with a thick and extremely loose side French braid to create a flattened effect of the entire braid till the end. This is a suitable hairdo for the bride to be and also for the bridesmaid. You can carry it off on other big functions too.
18. A Designer Frame like Side Braid
Isn't it wonderful, when you don't require any other hair accessory to deck up your hairstyle but do it with your hair itself? It looks so natural and so graceful. The brunette hair with a blend of hazelnut shade looks brilliant with this type of side braid.
The hair is styled with multiple vertical waves to the entire hair, and a beautiful side braid from the front of one side is knitted till the end of another side that eventually got mixed up with the rest of the hair. You can carry this easy to worn and trendy style to anyplace anytime.
19. Slate Brown Side Braid with Side Puff
The gorgeous loose side puff is covering the forehead with one of the eyes diagonally looks absolutely appealing and attractive. To get this same look, you need straight and smooth hair with a symmetrical haircut.
With the side partition, ample of hair is taken to create this loose puff kind of look and then held in the bunch of rest of the hair to create a beautiful side. This look goes really well with conspicuous one-piece and girly dresses. You can also pair this style with formal dresses.
20. Messy Long Fringes with Side Braids
This hairstyle will give you a bit of a funky and carefree look and will highlight your natural beauty and personality. The curly wavy hair with a matt finish can bring the messy look more appropriately. The style requires long hair with long front fringes adorned with curly waves.
The front fringes are kept open with a messed-up look, and the back hair is kept on one of the sides to create a beautiful braid. In the end, the length is secure with a black rubber band. Pair this gorgeous hairdo with dark-colored outfits as the light caramel shade goes really well with dark shades.
21. A Loose Hat like A Puff with Side Braid
The shade of brunette is evergreen and ever trendier that can enhance not only your personality but also different types of hairstyles. The style brings a casual vibe and can be carried to any place with utmost grace.
In this style, the hair is combed loosely to create a puffy hat-like structure, and a messy side braid is knitted till the end of the length and secured with a rubber band. This funky look is apt for the younger generations and goes really well with formal as well as casual clothing.
22. Snowy White Side Braid at the Top
Who says that you cannot go for a braided hairstyle with short hair? The gorgeous white hair with deep colored roots looks absolutely amazing with this outstanding side braided hairdo.
The length of the hair is waved and curled inversely, and the top of the hair is knitted with a thick and loose side braid which is secured with a bobby pin after being knitted to the ear length. This charming hairdo goes really well for parties and hanging out. You can also wear this style with your office wears.
23. Side Braid at One Side of Middle Partition
The middle-length hair with two-tone hair color darker at the roots and lighter at the lengths deserves a great styling to get adorned splendidly. The length of the hair is curled with vertical waves to add volume and texture to the overall look.
One of the sides of the middle partition is styled with a stunning loose and thick side braid. This is a girly look that goes really well with denim and casual tops and also with floral printed beautiful one-pieces and frocks to add freshness to the look.
24. Side Braids with Multi Layers
It is a bit of a complicated style that you cannot do yourself but require professional help to go for. This style is complicated but at the same time, looks cool and classy too. If you are styled with this trendy style, then you are surely getting a lot of attention and praise from the onlookers.
To attain the style with the same perfection, you must have long hair colored amazingly with these types of matt finish hues. This is a multi-layered style where the side braid is starting up from the other side and coming diagonally to the other side and knit till the end of the lengths.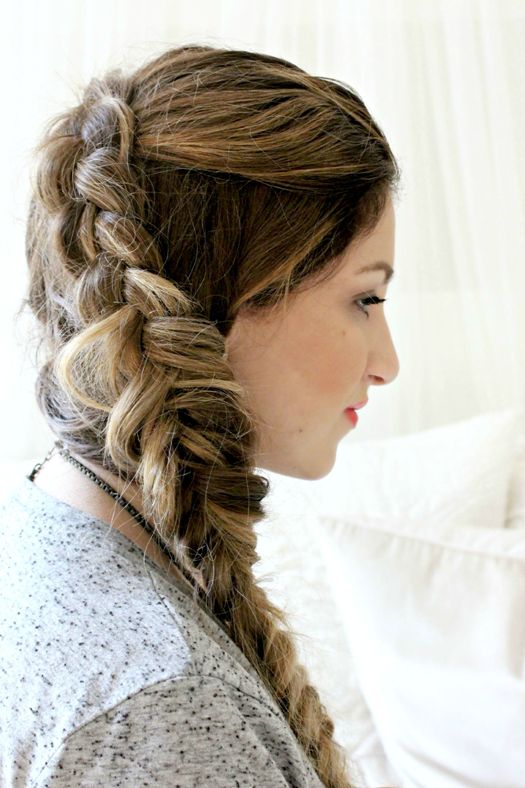 25. Feather Soft Inversely Done Side Braid
The soft shade of hair color is definitely a vital ingredient to style this charming and alluring style. The hair length is fairly long, and the hair texture is very smooth and absolutely straight with softness. The hair is parted into two with a side partition.
You can see the hair color is intentionally placed to create an artistic look. The front long and sharp fringes are left open with a stylish curl on both sides. The rest of the hair at the back is held together and tied with the hair strand itself. After being tied like a pony, a creative braid is knitted with a fluffy look.
26. A Funky and Messy Side Braid
This hairstyle gives you a usual appearance and a carefree look. This kind of hairdo stays in fashion forever and is everlasting. Also, it goes with all types of dresses and all types of occasions.
The hair is middle partitioned and combed to the back with a messy look leaving the side hair left open. A gorgeous side braid is created until the entire length and secured with a black rubber band. Here, in this style also, you can see the magic of combining two playful colors.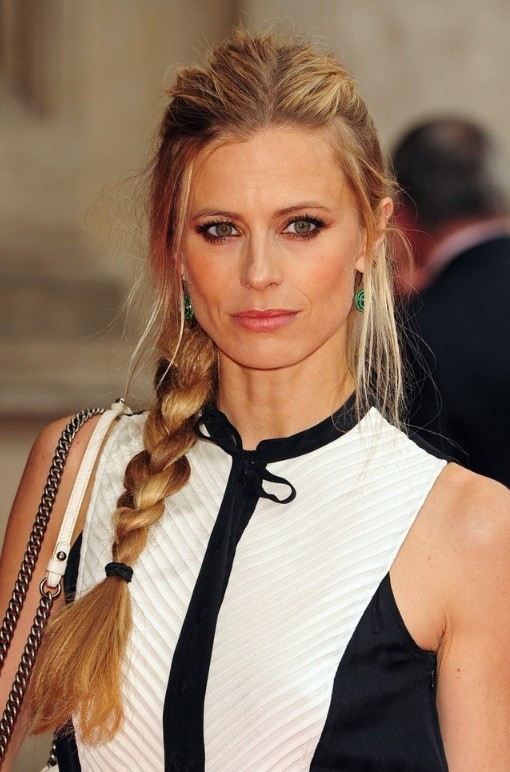 27. Double Strand Puff with Side Braid
To give a puff-like styling at the front, you must try out this fantastic hairstyle that not only adorns your face but also frames it beautifully to highlight your charming facial expressions and enhance the overall hairstyle texture.
From one of the sides, two of the hair strands are taken together and rounded up to give a fluffy look and then combined with some more hair to make a side braid going down till the end of the length of the hair. This style is also very girly, but it can be carried off well by older women as well.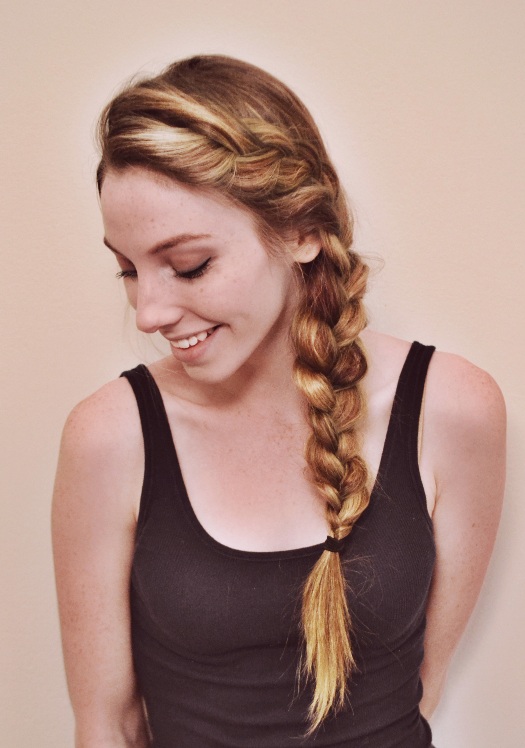 28. Giant Side Braid with Multi Hues
A fantastic blend of different shades of blonde and brown really helps in creating a brilliant texture and artistic style. If you have dense and voluminous hair, then you can surely achieve the same look with perfection.
All the hair is taken together to knit a huge and thick giant-like braid at one of the sides of the head vertically. Some of the hair is kept short and left open to add cuteness to the look. This is surely a party look and also a great look to charm the Christmas festival in the upcoming winters.
29. Side Braid with Long Hair
The hair should be very long to achieve the style with perfection. The most important part of this style is the great hair color with an eye-catchy and eye-soothing appearance along with healthy and smooth hair texture.
The hairstyle is created with a layer side braid in which different sections of hair strands are taken to form a thick side braid all over at one of the sides of the head and knitted till the length with a French braid style. Wear this classy and elegant look to grace your important events and walk like a diva.
30. Loose Bun Followed By Side Braid
The style gives a funky and sassy look where the front fringes are kept short and rolled with a sharp cut at the ends, whereas the hair at the back is tied in a loose bun followed by a side braid. This cool look is absolutely great for normal outings and college looks.
The length of the hair can vary from middle length to long length of the hair. The overall look is messy and gives you a bold and stylish fashion statement. It goes well with funky and casual clothes.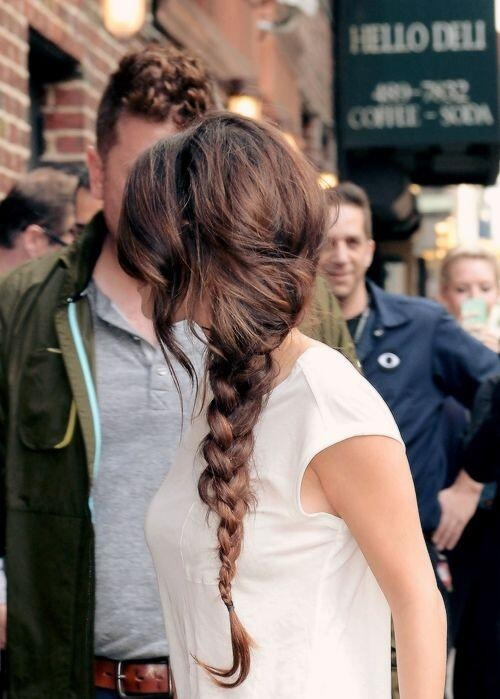 These are the 30 most stunning hairstyles with side braids that you can wear to look different every day. If you love styling your hair, then these are the great options to follow. Festival season is coming girls, what are you waiting for? Go and get a make-over now.