Criss cross knotless braids might pop out into your eyes for their fascinating appearance.
These criss cross braids are a great way to simplify the braiding process, cut the costs, and make your hairstyle stand out.
So, before getting straight to your hairstylist to get this dope hairdo, take a look at these seven wonders of the world of hair, this time consisting of the best criss cross knotless braids tips, from my experience as a braider, wearer of braids, and hair lover.
Best Criss Cross Knotless Braids Tips from Hair Expert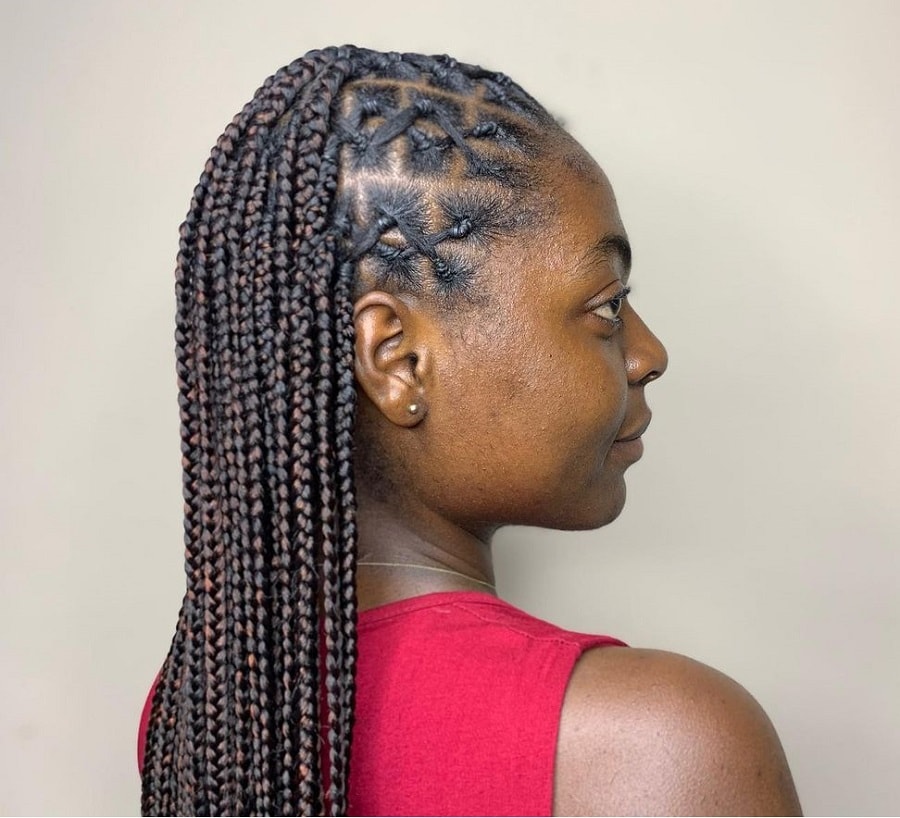 1. Use Products That Don't Leave Build-Ups
If you want your hair to be clean and neat the next day, wash your hair the night before styling it, and use products that don't leave build-ups.
Generally, no matter what type of hair you have, you need to use at least one product in order to get the best criss cross knotless braids.
That's completely ok, but try and avoid water-resistant products that leave build-ups when installing and doing the maintenance (using edge controls, gels, and so on).
You'd need to hydrate and wash your hair, but just prevent making yourself clean the unnecessary.
2. Get A Perfect Geometry of Sections
The aspect of criss cross knotless braids is very much determined by the paths made on your scalp and how your hair is divided.
Make sure that the sections are well drawn, and the braids fall in the best place at the point where the crossover ones meet the knotless braids, so that there will be no empty spaces.
3. They Should Not Hurt
If you opt for a knotless style, you probably want your braids to be pain-free and harmless.
But these braids are mixed with cornrows, or rubber band "braids", which can be over-tensed. Make sure they aren't so, if you care about your hair and scalp.
Of course, you can also choose them because of their stylish design and flat look, but being extremely tense doesn't help, and they would only damage and make you have a hard time wearing them instead of enjoying them.
4. Properly Use The Rubber Bands
Using rubber bands for the criss-cross part is something common these days but at the same time really special, while also being at hand for someone who has no braiding skills.
Plus, it is a versatile option, as you can use any color for rubber bands. Yes, they are very cool.
The thing is, there are some downs here as well, so be careful. Try to find some good quality rubber bands.
And for the sake of your hair, soak them in olive or baby oil for several minutes before using them.
Take extra care while washing your hair, you can loosen or wiggle them down and then replace them or even completely take them off and redo the criss-crossed part after.
Furthermore, consider that if you keep them on for too long, they can bind to your hair and make it very difficult to remove without breaking your hair.
You can use lemongrass essential oil (or another citrus essential oil) to break your rubber bands when you need to remove them.
You'll only need a few drops to break one rubber band. You can use a Q-tip soaked in oil too.
5. Consider Rebraiding The Criss Cross Part
Cut your expectations down about how much you want your criss-cross knotless braids to last if they're longer than 2-3 weeks. Moreover, if you use rubber bands instead of crossover cornrows, they'll last even less.
However, you can rebraid only the criss cross part every two weeks, or as often as needed, so you can keep them for more (up to 6 weeks).
6. Protect Them from Friction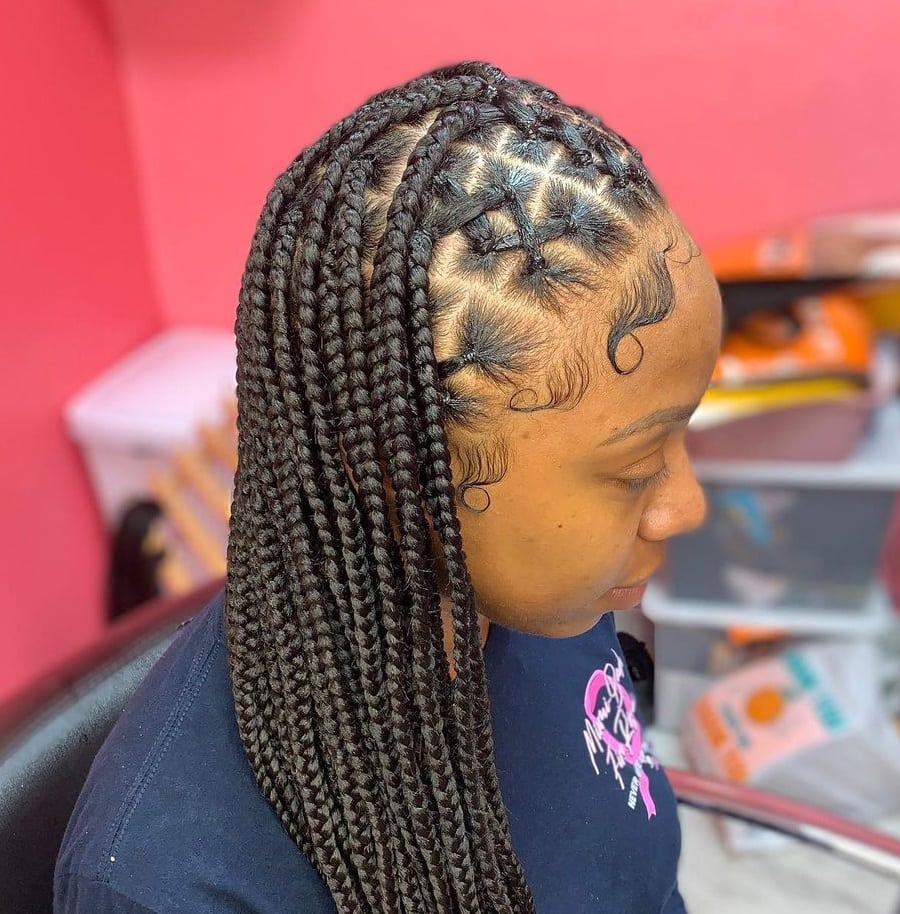 If you want your hairstyle to last longer and look neat, try to protect them while sleeping, using silky sheets or a satin bonnet.
It is very easy and affordable to get a satin bonnet, and you can wear it when getting dressed as well.
Buying silky bedding or pillowcase is also a great investment, as it is good for preventing wrinkles as well, and protecting your hair from breakage. Don't wear rough textures on your head during your hairstyle journey.
7. Play with Styling and Decorating them
Criss cross knotless braids are very easy to style. It's certain that you won't get bored of them very easily, as you can tie them up in a ponytail or bun, in two tails, or double buns, you can curl the ends (using warm water if they're made together with synthetic hair as usual), decorate with different accessories (beads, cuffs, rings, decorative rubber bands, and any other jewels, just be creative), and many more.
In conclusion, criss cross knotless braids are a beautiful and stylish way to wear your hair and miss out on the bore​. By following these tips, you can achieve the best possible results and enjoy your braids for longer than ordinarily.
FAQs
How long do Criss Cross knotless braids last?
They'll last up to 3 weeks if mixed with cornrows and not rubber band braids, and up to 10 days if made with rubber band braids. However, if you rebraid the criss cross part, you can keep them for up to 6 weeks.
Are criss cross knotless braids suitable for all hair types?
Yes, criss cross knotless braids work for all hair types, if the hair is long enough to be braided. They would only need different products for creating and maintaining them properly.
How to maintain criss-cross knotless braids?
To take care of your criss-cross knotless braids, it is important to keep them clean and hydrated and avoid using any products that may cause an accumulation of build-ups.
Carefully wash them using products suitable for your hair type, and if done with rubber bands, consider taking them off and remaking the criss-crossed sector after washing your hair. You should also avoid friction, so you can wear a satin bonnet while sleeping and getting dressed.
Don't forget to have a lot of fun and pictures while wearing these beautiful braids. Keep loving your hair!