Women are judged by the hairstyle they choose for their heads. This is why they should choose a marvelous hairstyle that will display their beauty. While still choosing an excellent hairstyle, it is important to protect your hair from damage.
Knotless braids style is becoming famous each day. It is fashionable and can be personalized to bring out a unique look.
A large percentage of women find it easy to style on their own or by their stylist. Knotless braids can easily be converted into either a casual or official look. It is the main reason it should be your top choice when looking for a cool braid for your head.
What Are Knotless Braids?
Knotless braids can be defined as three-strand braids that have a twist. Your hair should be long enough to hold braid without hurting your scalp. Hair should also be divided into either triangle or square parts. This is what makes it easy to plait these braids because you will be handling one section of the head at a time.
The feed-in braid method is used to form knotless braids. This hairstyle is also described by using a few braiding hair during plaiting. That is the main reason it is considered light on the scalp. This automatically reduces hair breakage. In fact, you should choose this hairstyle if you want to easily grow your hair while maintaining a fashionable look.
Why Should You Choose Knotless Braids?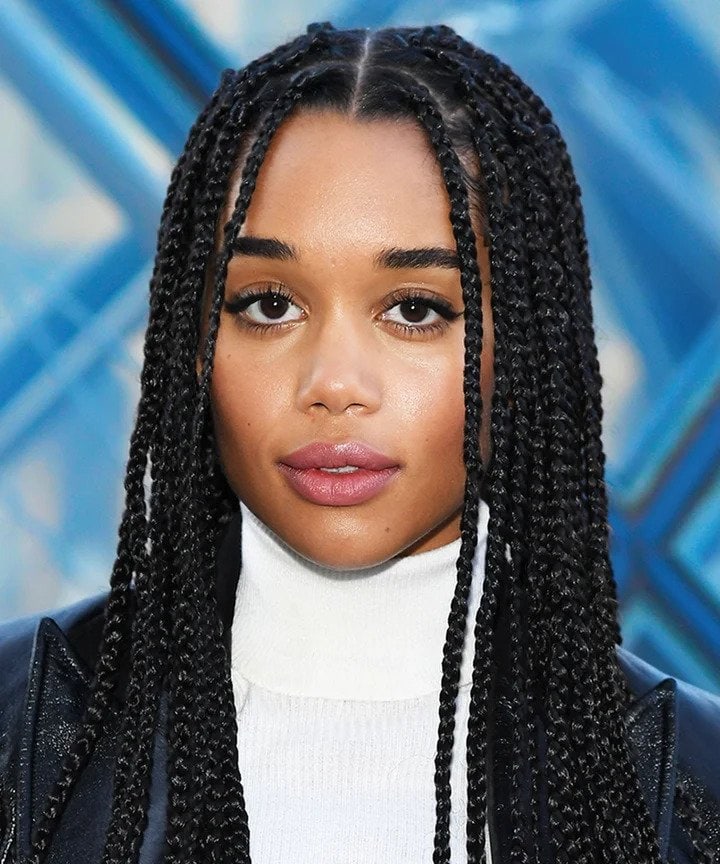 You may be contemplating on why you should choose Knotless braids over other braided hairstyles. There are multiple reasons why this hairstyle should be your number one choice.
Durability– Knotless braids can stay in good shape between four to eight weeks, depending on how you maintain it. This can be beneficial for women with busy schedules to the point they can visit a salon. Therefore, you should learn how to maintain knotless braids to stay with them for weeks.
Any event– This braid can be used for both official and casual functions. Simply style the braids to match the event you are attending within minutes.
No breakage– Choose Knotless braids if you want a hairstyle that will help preserve your current hair length. Multiple ladies choose this hairstyle because it doesn't break your hair. The secret behind this is that the braids begin from your natural hair. As a result, there will be no friction between your hair and scalp.
Any hair type– This is one of the hairstyles that easily blends with any hair type. Therefore, be assured you can attain this hairstyle anytime provided your hair is long enough.
Painless– Normal braids may bring discomfort when sleeping before you get used to them. It is very different from knotless braids. You can comfortably sleep without experiencing pain because of how they are fixed on your head.
Light– Choose Knotless braids hairstyle because it is light on the head. Braids are normally attached to your natural hair instead of the scalp.
The Process of Forming Knotless Braids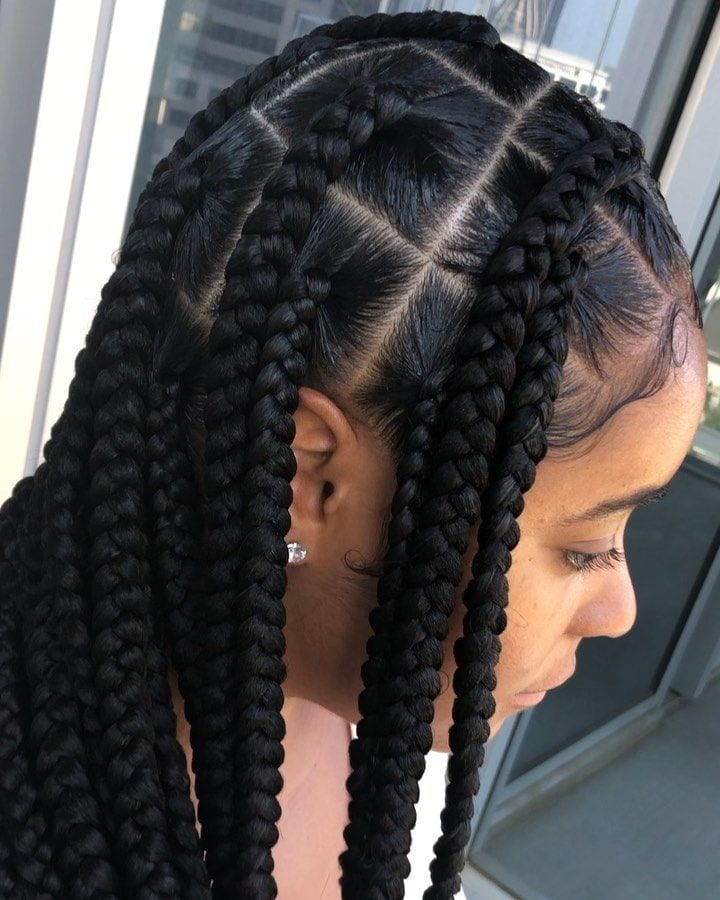 Knotless braids are easy to form to the point you can do it on your own. You can familiarize yourself with the below step-by-step process and eventually try this magnificent hairstyle on your head. Refer to the below steps.
Wash your hair– Use a moisture conditioner and a shampoo to wash your hair. This leaves your hair moisturized and in perfect condition for a long time. The state of your hair influences the overall look of this hairstyle when done. It is advisable to wash your hair a few hours before plaiting. It gives your hair ample time to dry.
The detangling process– This process aims at removing tangles and knots on your hair. You should use the right comb to avoid hair breakage. Comb with wide teeth is encouraged for the detangling process. You can also use lotion to make your hair slippery. Start detangling tangles or knots from the ends.
Blow-dry– Have a blow-dry in standby because you will use it immediately after removing tangles and knots on your hair. Consider using a heat protectant product to avoid damaging your hair from heat during blow-dry. You should also avoid blow-drying your hair for too long.
Parting process– Use a comb to part your hair into four equal sections. Have lobster clips to hold each section intact. Parting your hair gives you an easy time plaiting one side of the head at a time.
Hair cream appliance– Attaining knotless braids may take time. Therefore, apply hair cream on your strands to make them moisturized for the entire plaiting duration. It is one way of protecting your hair.
Plaiting knotless braids– Create roughly an inch hairpiece on either a triangle or box shape. Afterward, use a braid to come up with a knotless braid, characterized by three strands. Repeat this step on your entire head hair.
Use holding spray– Once done plaiting your entire head, use holding spray to prevent unraveling.
How to Maintain Knotless Braids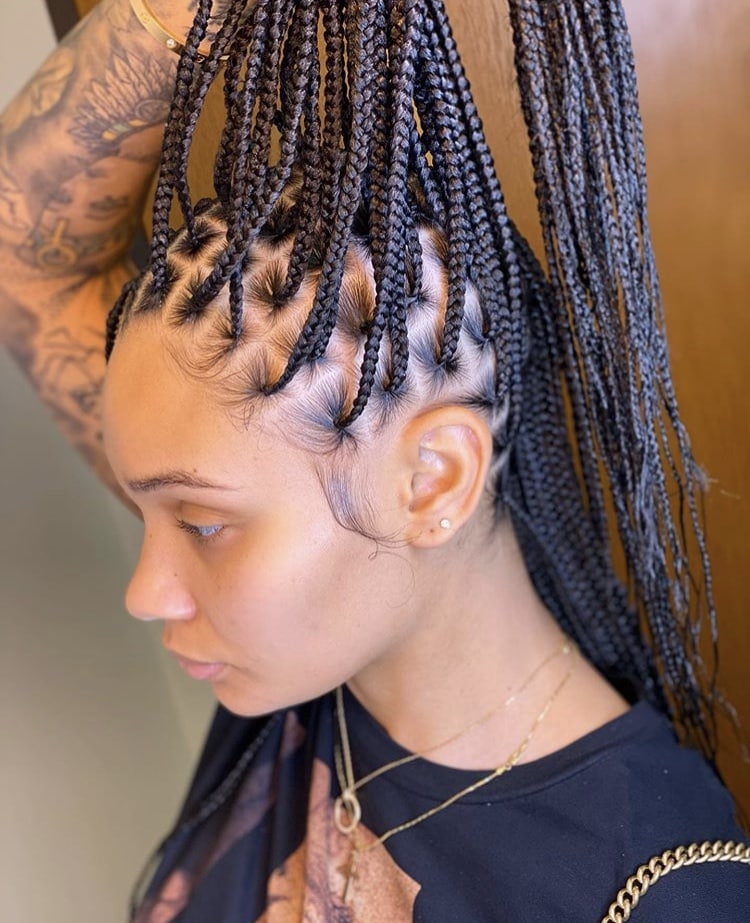 Maintenance is the secret for your knotless braid hairstyle too good for up to eight weeks. This is why you should know how to maintain your braids when you acquire a knotless braids hairstyle. Here are some ways of maintaining this marvelous hairstyle.
Applying oil on the scalp– Your hair needs enough moisture to remain in good shape. That is why you should apply oil to your scalp at least once every week. This keeps both your hair and scalp in moisturized. This method can keep your hairstyle in good condition for weeks.
Cover your hair when sleeping– Many ladies don't know braids mostly spoil at night when sleeping. Therefore, use a bonnet or scarf when sleeping at night. This ensures your braids don't frizz and slowly come off.
Redo the edges– Knotless braids hairstyle gives you the freedom of styling your hair in various styles. This can make some hair edges loOse. Watch out for the loOse edges and redo them if you think they are worn out.
Avoid delicate styles– This hairstyle gives you the freedom of choosing various styles. Avoid delicate styles because they make braids loose. You also risk your natural hair breaking.
Conclusion
Knotless braids hairstyle is one of the hairstyles you can't dismiss. It can be styled into various styles and is easy to set up. You will also have an easy time maintaining it once plaited on your head.