There are plenty of hairstyles in the world of fashion, and no one style has the same look. However, Knotless Box Braids have become a great substitute hairstyle.
Knotless Box Braids are quite well-known African American styling choices that are known as protective styles.
Knotless Box braid has a very creative look and it last longer than some other braids.
If you do not have time to deal with your natural hair and the daily time invested in tying up and untying bothers you then this style is something that will definitely be your savior.
You can take some tie out and tie the hair, and with a bit of maintenance, this hairstyle can go on for weeks without the least change or being messed up. This braiding option is a wonderful solution.
This type of hairstyle consists of square-shaped hair divisions. Mostly they are made using synthetic hair to add both length and thickness.
Since they are not attached to the scalp like other similar styles such as cornrows, box braids can be styled in several different ways.
Its making process might take some extra time as compared to other styles, but once installed, they can last for months. Box braids can take hours to style. They are easy-to-maintain styles.
Being a time-consuming style it might have an intimidating aura but once done, it is the most relaxing style ever and also saves daily styling requirements. It is suggested to take the help of a professional stylist.
If proper care is taken for these types of hairstyles, once completed, these braids can last for 2-3 weeks before they finally need work. Knotless braid too has innate styles, and this one is about knotless box braids hairstyle. With proper maintenance, even the knotless braids can last you for a fortnight or so.
Knotless Box Braid Hairstyles
Here are some knotless box braid styles you can try.
1. Side Swept Knotless Box Braids
The knotless side-swept braid as the name suggests has a side partition, and the braids fall on one side caressing the face.
The style takes more time as compared to other box braid styles because you are consistently stopping to add extra hair as you braid.
The scalp has a tiny area of partition that is criss-cross on the top and makes for a cute distinction to the otherwise classy and elegant box braid.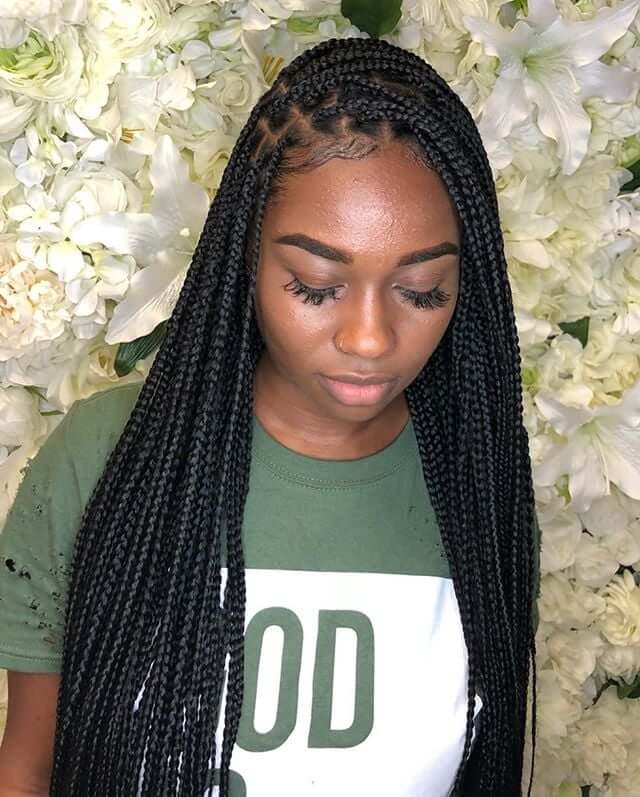 2. Square Knotless Box Braids
With hairstyle, one has the potential to explore the unique. With hairstyles like this what you style is not only just a hairstyle but weave a pattern of your choice that exuberates your finesse and taste.
This particular trend is indeed great. The pattern looks intimidating but once done the outcome is just breathtaking.
With this hairstyle, you can be confident to rock the world with grace and beauty. This kind of braids is great for assimilating colorful beads as well to make this hairstyle more colorful.
3. Protective Knotless Box Braids
In this hairstyle as the name suggests the hairstyle is protective as they a micro braided along each section of strands that are taken and when the braids are done a middle partition is made.
The middle partition makes for a hairstyle that defines the face, and because of the hair caressing the sides that is the cheek area, it cuts off the chubbiness of the cheek if any and makes for a great sleek style.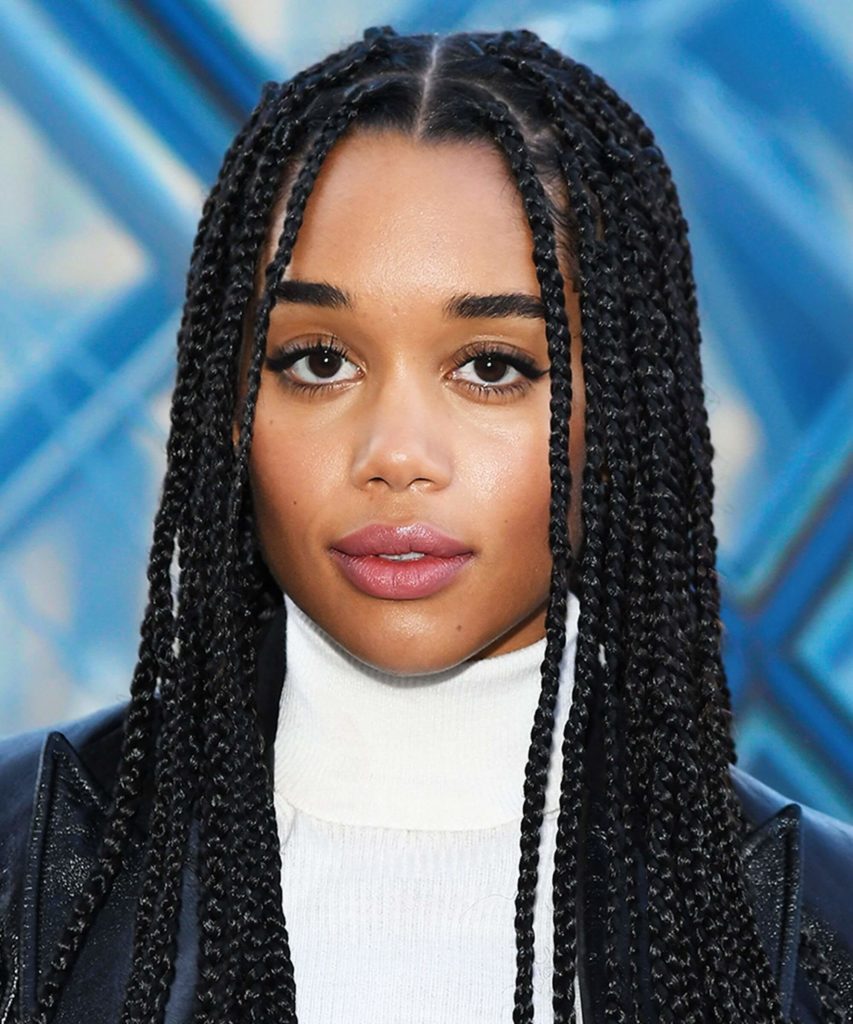 4. Medium Knotless Box Braids
The hairstyle is done on hair that is neither long nor short. The medium length is ideal for this kind of hairstyle. The scalp area encompasses the structure hairstyle. T
he style starts from the hairline with provisioned ridge moving along the path of the braids as every alternate line draws a right-angled indentation. Also, this hairstyle has a very bold and pretty look.
5. Side Part Bang Knotless Box Braids
In the recent fashion world styling with hair is teamed up with a variety of styles as a new element like cuts and colors. The bangs are the comeback edition that adds a classy edge to the entire look.
When bangs and box braids are fused to make for a great hairstyle, then this one will be your ideal choice. Also, the hairstyle has a side partition and the bangs form as the front layers.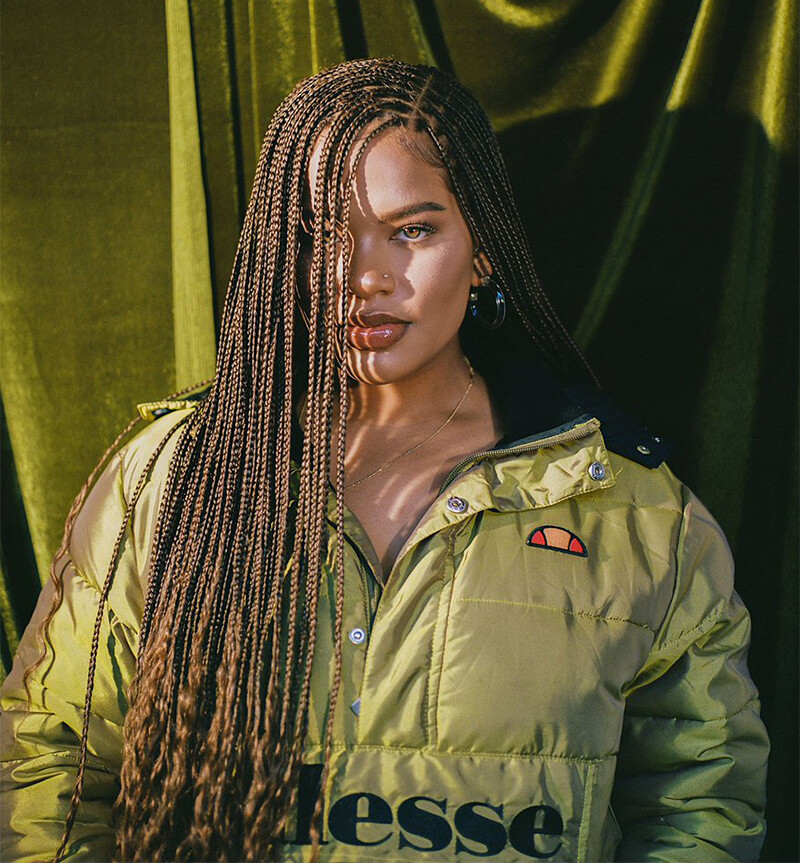 6. Ponytail Knotless Box Braids
When you tie your hair in a pony, the look itself becomes very cute and attractive. Can you imagine the outcome when you get a pony with box braids? It is not at all a difficult style.
More than being a protective style, it is a style that gives a very free and carefree vibe. Doing this hairstyle is easy. Braid the hair taking individual sections tightly and repeat throughout the hair.
Post completion takes all the braids and treating them like hair strands, and tying them in a ponytail.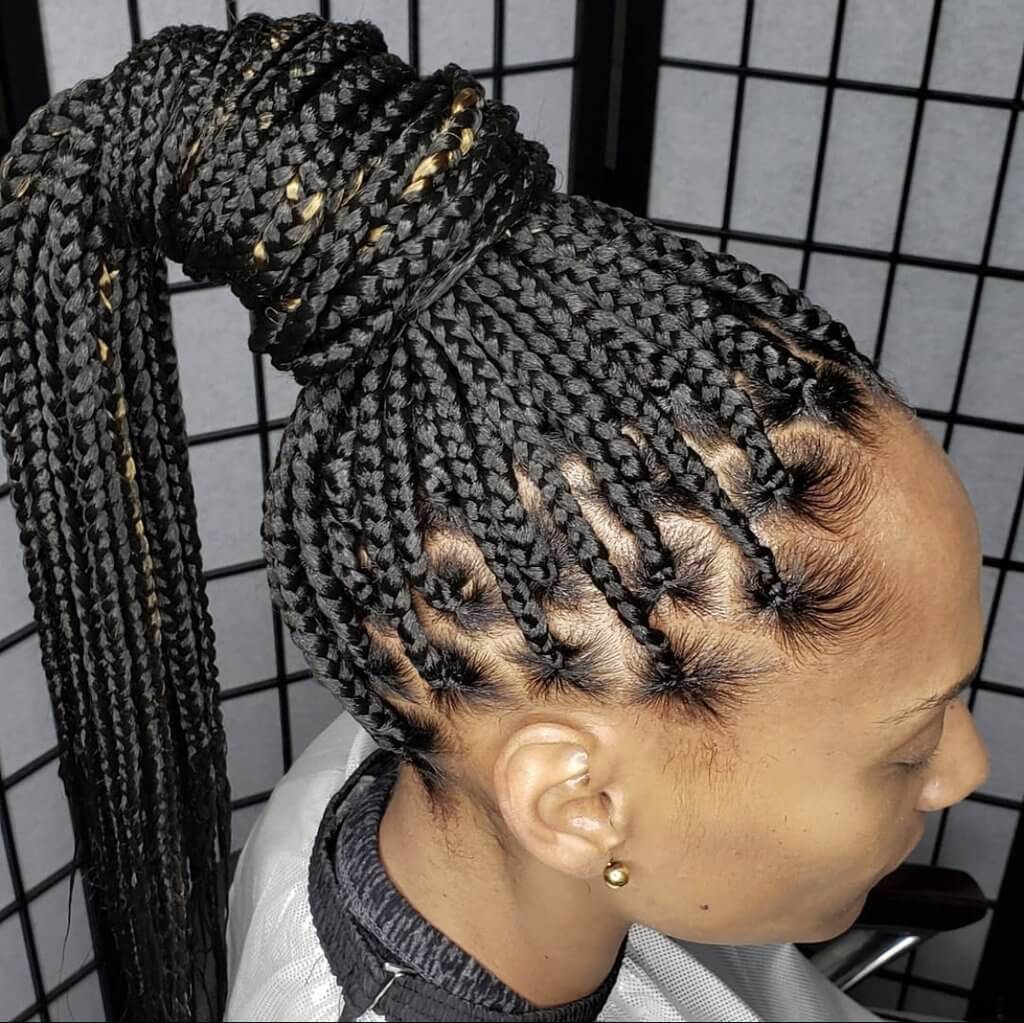 7. Green Knotless Box Braids
Box braids are a great American African hairstyle that makes them look instantly very intense. However, with the addition of some color box braids go from intense to playfully attractive.
Green is such a vibrant and attractive slushy color. This Green Knotless Box Braids can bring out that charm and sense of experimentation from your persona.
8. Long Knotless Box Braids
Fairy tales and happy endings always had one imagination in common, and that is a beautiful maiden. Long hair is always a pretty affair, and so are braids. This style is the prettiest on the list.
Long Knotless Box Braids will marvelously compliment a flaunting gown of pastel shades on sublimating the intensity of the hairstyle with light hues.
You can accessorize the hair with real flowers for some natural effect on the style.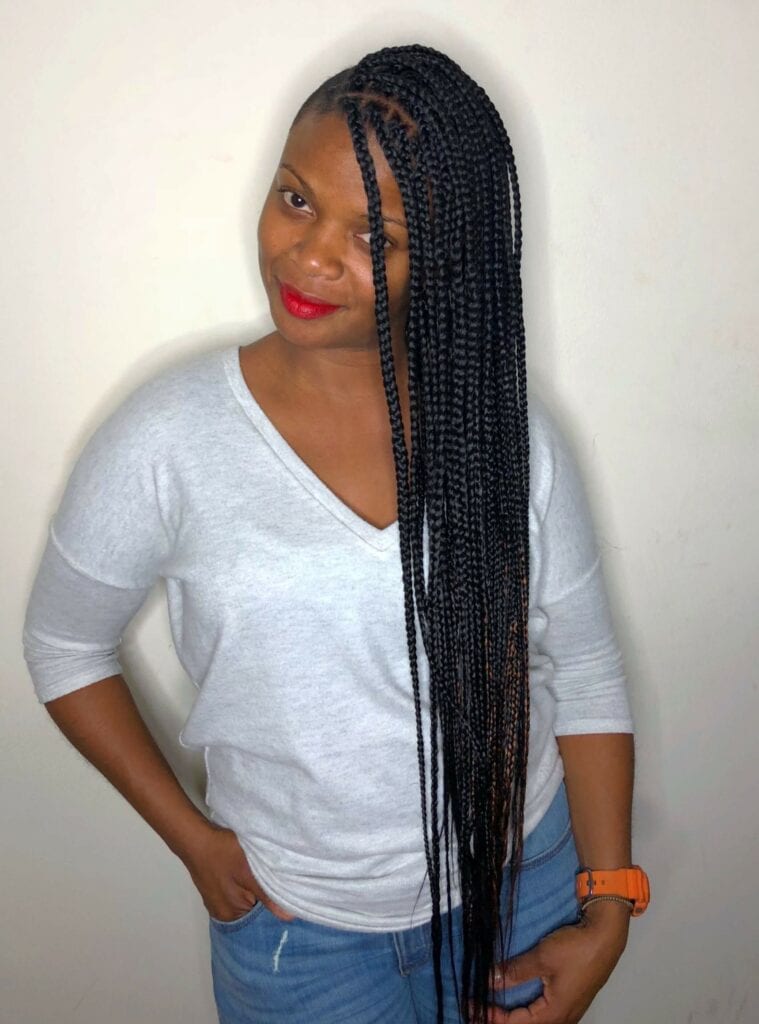 9. Knotless Box Braids with Bandana
Are you someone whose cool quotient is pretty much empowering? Your style pick from this box braid series is here. End your quest and rely on this particular style. B
andana reminds us of the bygone cool era, bike ride, a persona that is up for impromptu vacations. So make it a point to try out if you like this and it goes with your personality and choice.
Also, the hairstyle won't be a mess due to the covering on the head. The hairstyle also has a very bohemian approach to the style.
10. Knotless Box Braids with Star Design
Are you someone whose cool quotient is pretty much empowering? Your style pick from this box braid series is here. End your quest and rely on this particular style.
Bandana reminds us of the bygone cool era, bike ride, a persona that is up for impromptu vacations. So make it a point to try out if you like this and it goes with your personality and choice.
Also, the hairstyle won't be a mess due to the covering on the head. The hairstyle also has a very bohemian approach to the style.
11. Brown Knotless Box Braids
Brown is one very safe color. Such color is for people who want it to be lustrous and mildly experimental. This hairstyle has a very gracious color.
The color is quite versatile and it goes with any colored attire and also because brown is a great shade; it makes for a choice that hardly poses a chance to go wrong.
The best part about the hairstyle is it accentuates styles of various kinds. The Brown Knotless Box Braids are something to really try when coloring and braiding is both your forte.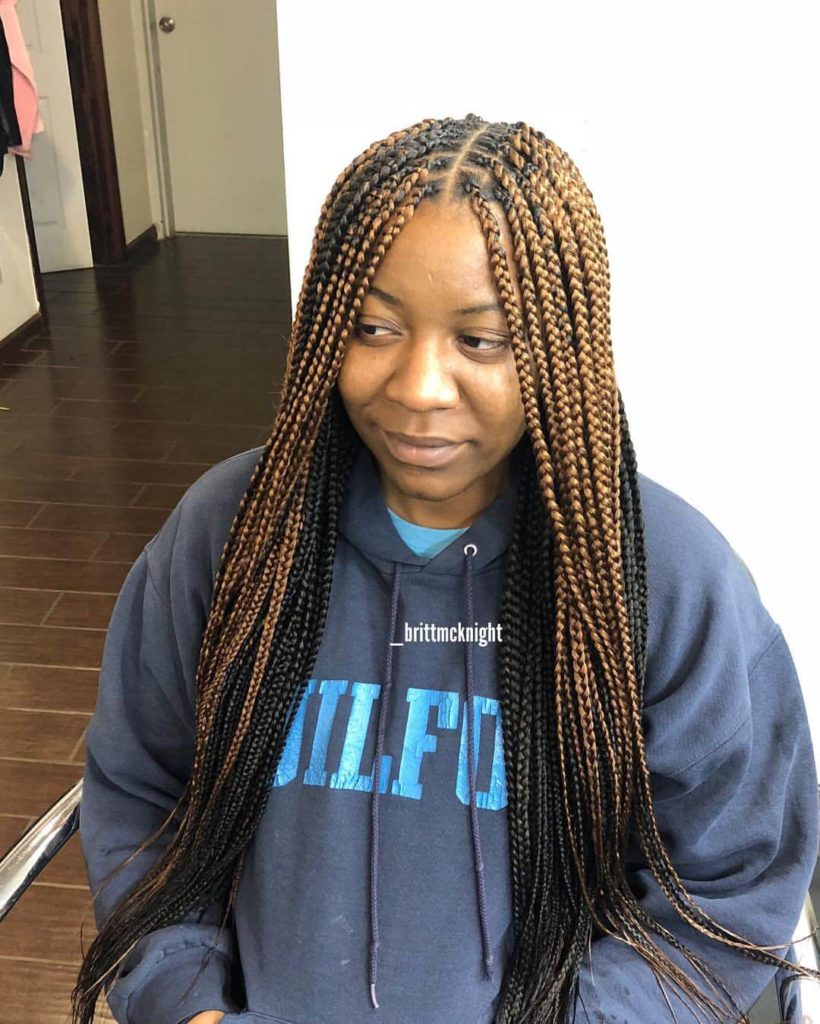 12. Reddish Knotless Box Braids
The colored hair adds a lot of pop style to the look. The hairstyle is really cool. When you go for a colored hairstyle, then what is certain is your style factor which goes one step higher.
This hairstyle with the reddish hue is a serious and dramatic color that adds not only elegance but also boldness to the look.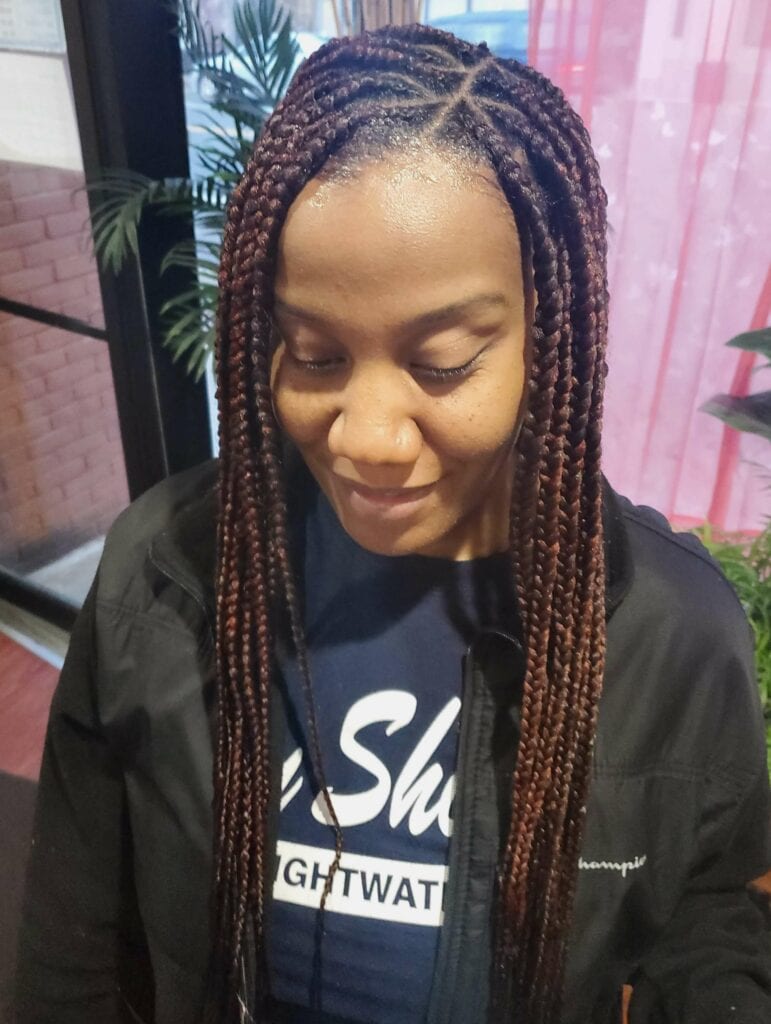 13. Knotless Box Braids with Beads
Tying hair can be fascinating. There are several ways to tie a hair that not one style replicates the other. Box braiding is one such style that makes for a great style.
The braids are in this style paired up with some hair accessories. Because of the sleek braids, the beads make them look way too pretty and add that edge to the look.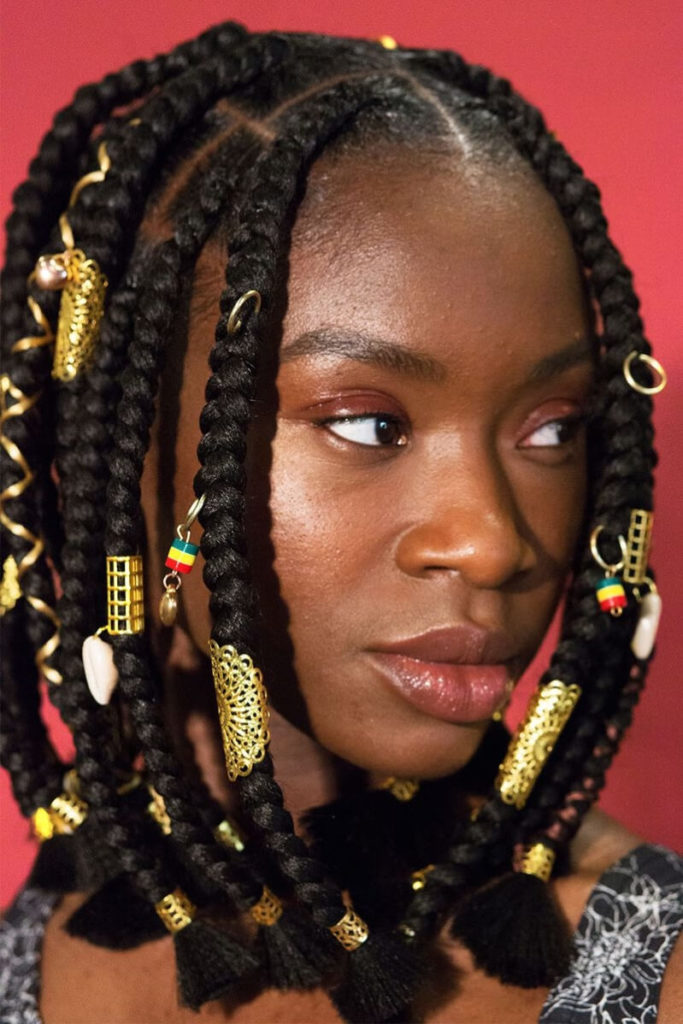 14. Mix Color Knotless Box Braids
The mix color Knotless Box Braid hairstyle is one such that is completely out of the box. The color palate is charming with pink and blue pastel shades.
This color shade not only gives an adorable outcome but also it gives a great look. Such unique hairstyles are simple yet are pretty impactful.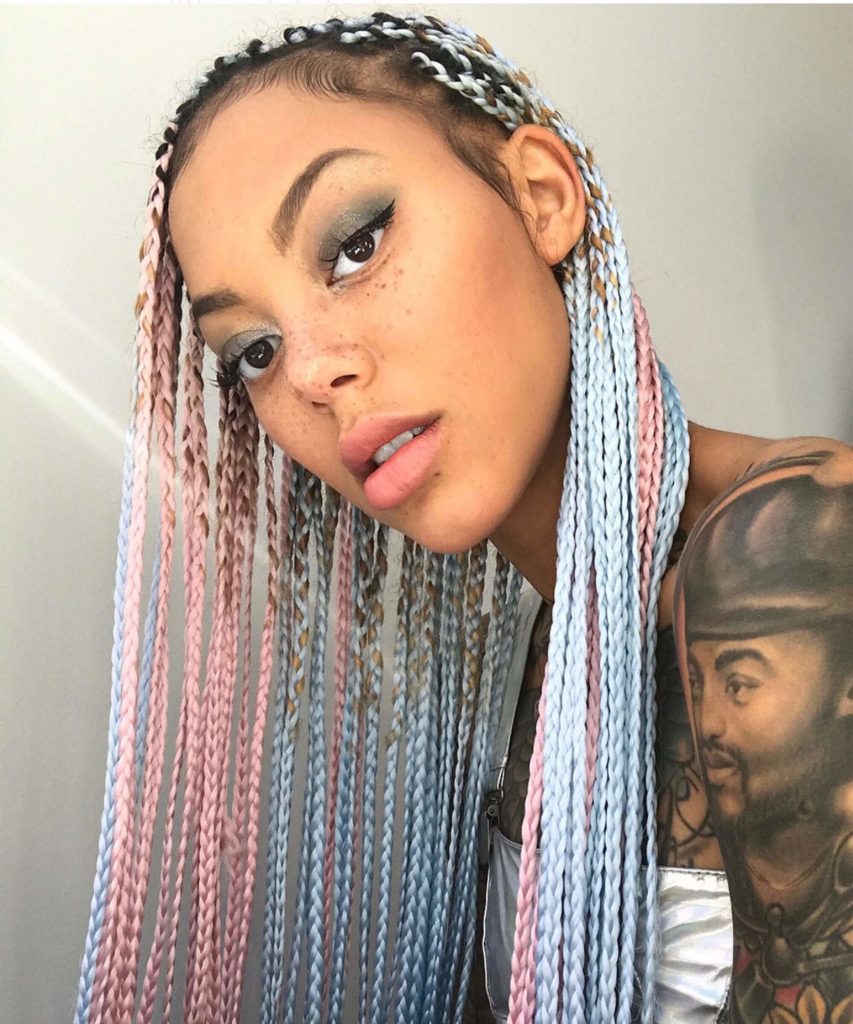 15. Jumbo Knotless Box Braids
This braid has a very wide braid starting from the hairline, and the braids are made taking a bigger section of hair strands. Also, this hairstyle looks kind of voluminous.
The jumbo look Knotless Box Braids make for a style statement that is chic and elegant. Style the hairstyle with an off-shoulder top and flaunt your curves.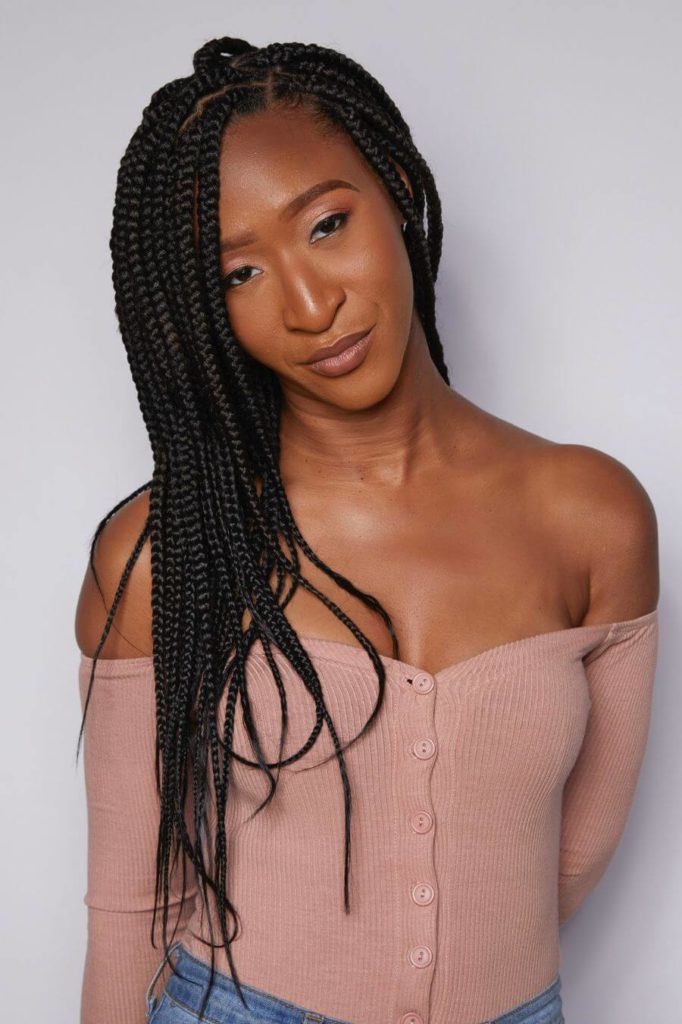 16. Knotless Braided Mohawk Bun
A style that might startle you on the go but the thrill of exploring something massive is always fun and exciting. This hairstyle is quite an enigmatic style.
The hair is the first box braided and after that gathered in a twisted form on the top of the hair and tied in a heightened Mohawk large bun.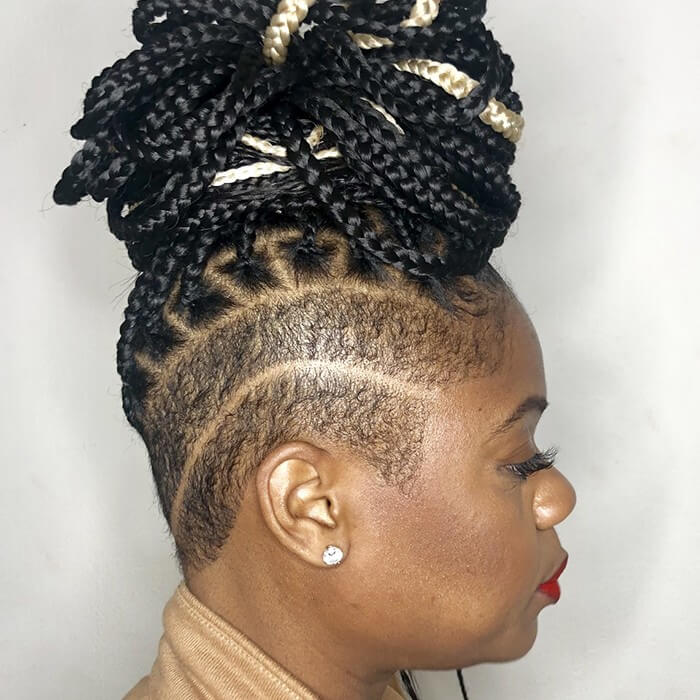 17. Medium Size Knotless Box Braids
This braiding style is very petite having a small section of square areas from where the braids start. The rear area has exposures of the scalp skin, and thus the hairstyle looks so beautiful.
Box braids like this can be lovely and play for a style that can turn the heat on. Doing something different with your hair is always exciting, and with this particular style, you will be actually thrilled to see the outcome.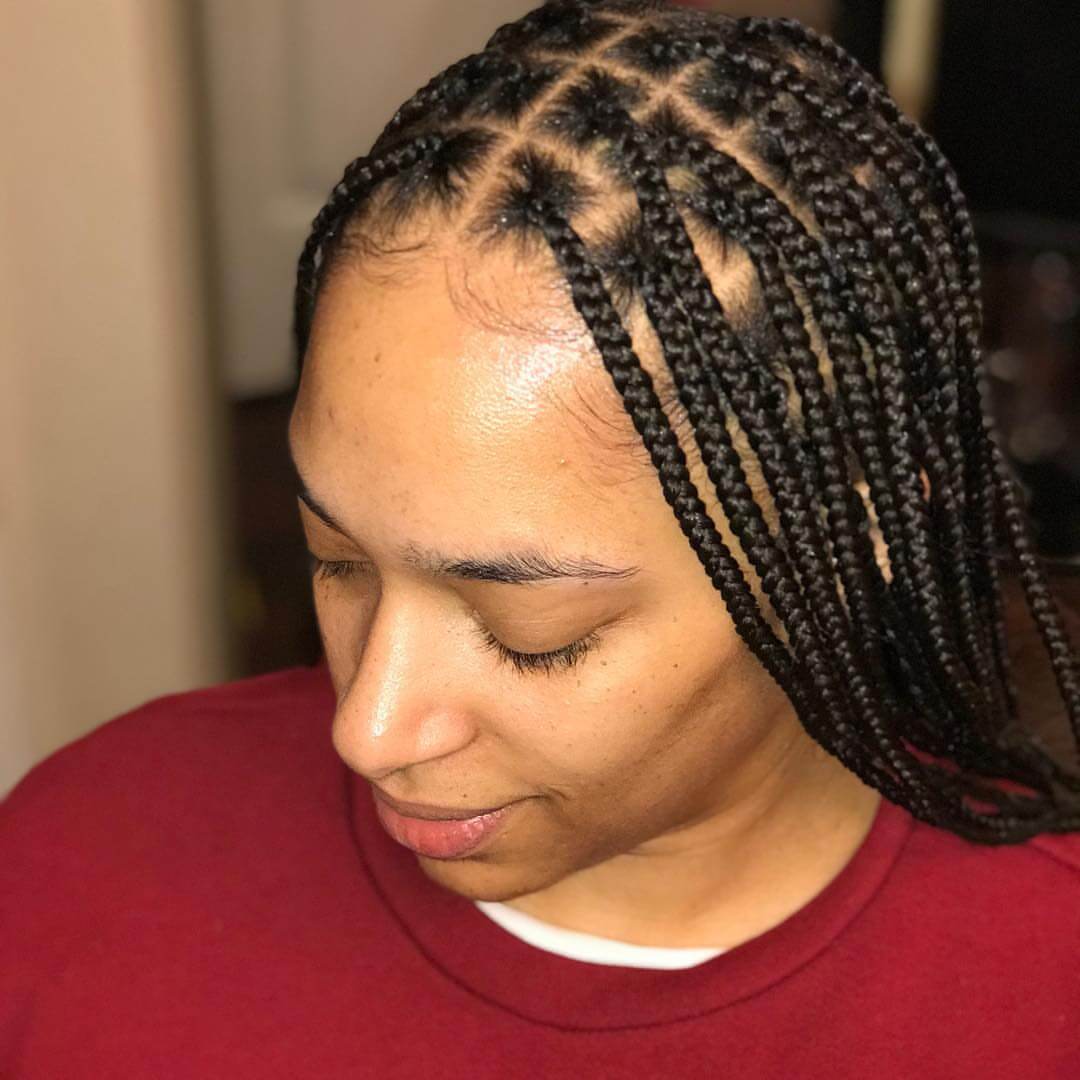 18. Side Swept Knotless Box Braids
The Side Swept Knotless Box Braids have great versatility because it suits almost all face types, and also you can style them up with different hair accessories and various types of dresses.
Few box braids are simple and elegant, and this one is of that kind. The hairstyle has a very refreshing vibe to the entire look.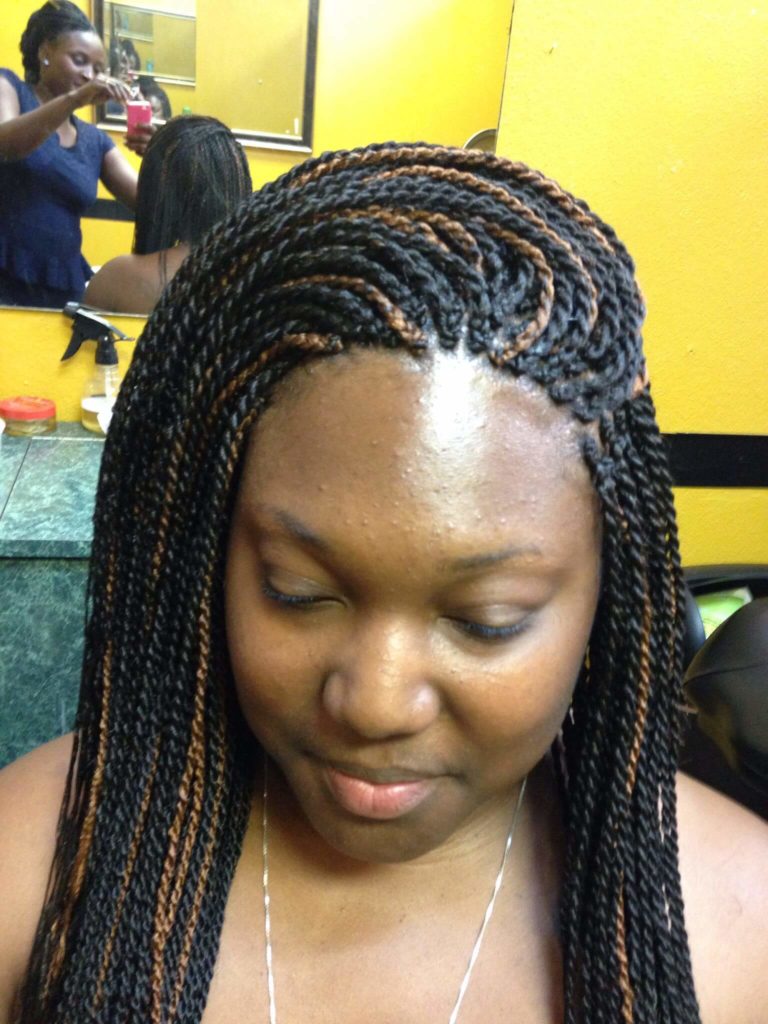 19. Swept Back Knotless Box Braids️
This Knotless Box Braid has a backswept style that highlights the facial shape and makes it look broader and brighter. Also gives you the scope to use makeup and highlighters.
With makeup, you can go overboard in this kind of hairstyle. Also, women with oval faces will really suit this style. This style is also a perfect pick for women who are a little aged.
20. Jumbo Brown Knotless Box Braids
With a very robust appeal, this hairstyle stands out. The braids are pretty wide, and that adds to the enormity of the look. With this hairstyle, you are sure to attract the crowd.
Also, the color brown adds an extra shine as the color itself is a lustrous shade. This hairstyle is one such style that requires a bit of volume in the hair.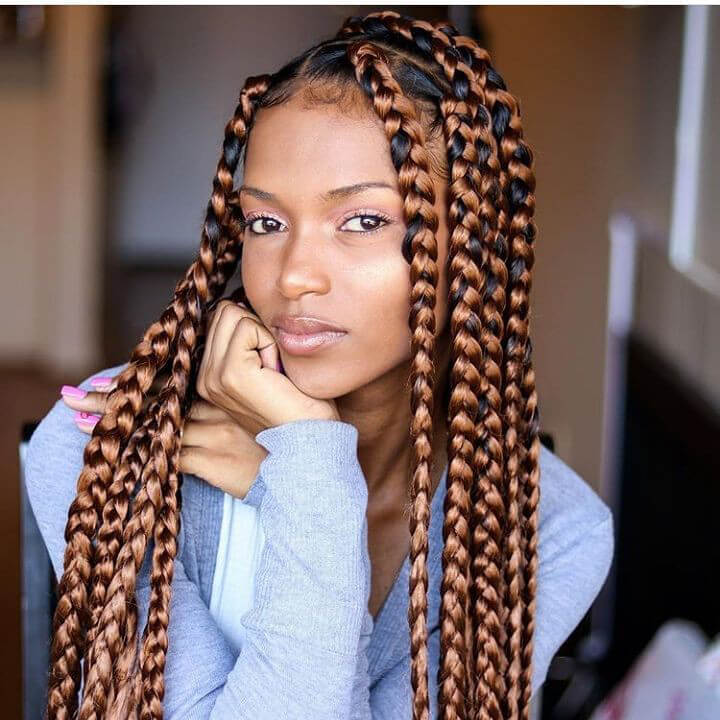 21. Finger Comb Side-Swept Braids
This side-swept braid appears as if all the hair has been brushed to one side using one's fingers. The thin and tightly knotted hair on the side gives the impression. The single purple-hued braid acts as an accessory adding a charm to the overall look.
22. Sequenced Knotless Box Braid
The box patterns on the scalp are in a perfect sequence, slightly bent, giving a spiral effect. The braids are falling in their natural directions, giving a neat appearance. This is the most simple and hassle-free of all knotless box braids.
23. Neat Braids with Loose Tresses
The braids are neatly tied on the top, but a few strands are let loose while going down. This gives a messy, wild look to the hairstyle. The loose baby hair and looks, along with black and blonde contrast, give a feeling of everlasting youth.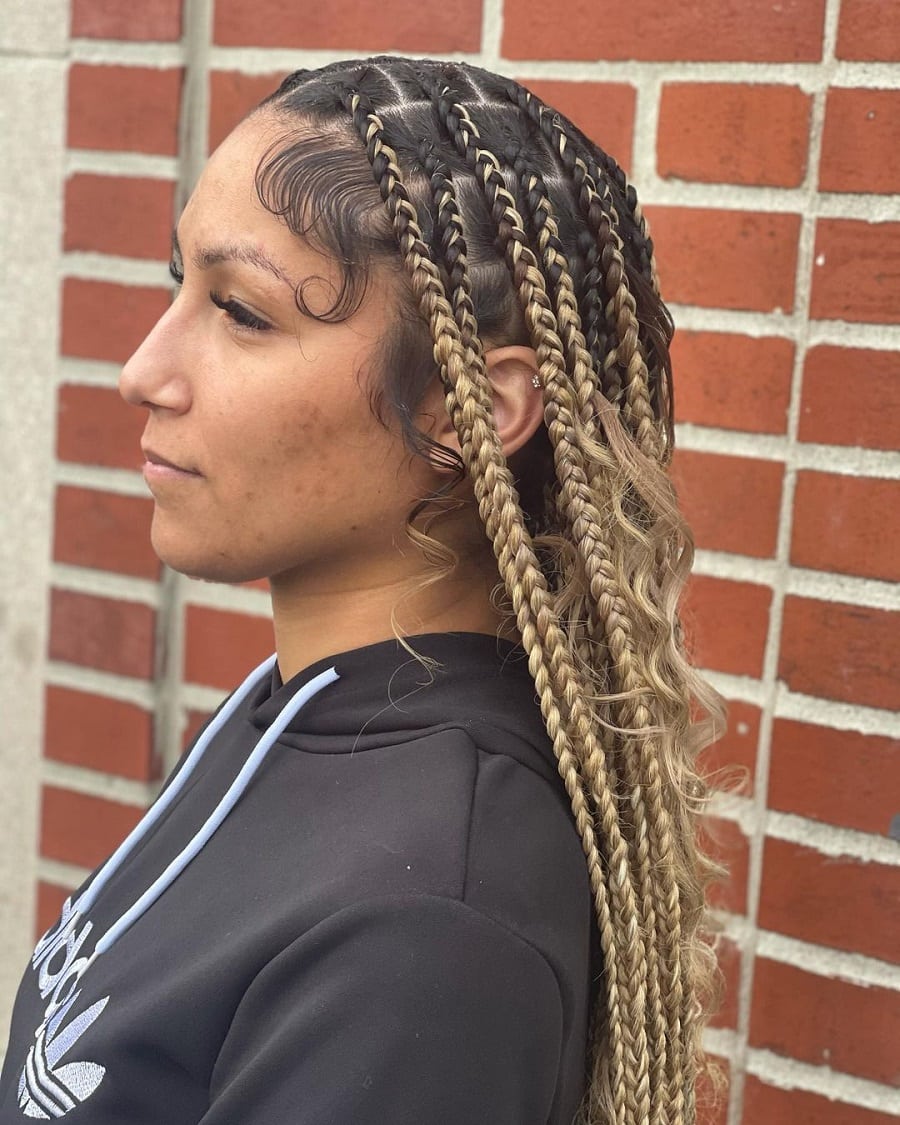 24. Startling Half Updo
If you don't want your braids falling on your back anymore but don't want to tie them in an updo, this is the style for you.
Just make a bun out of your braids and drop the ends over your shoulders. Let the braids in front of your hair frame your face adding a tint of cuteness to the confident look.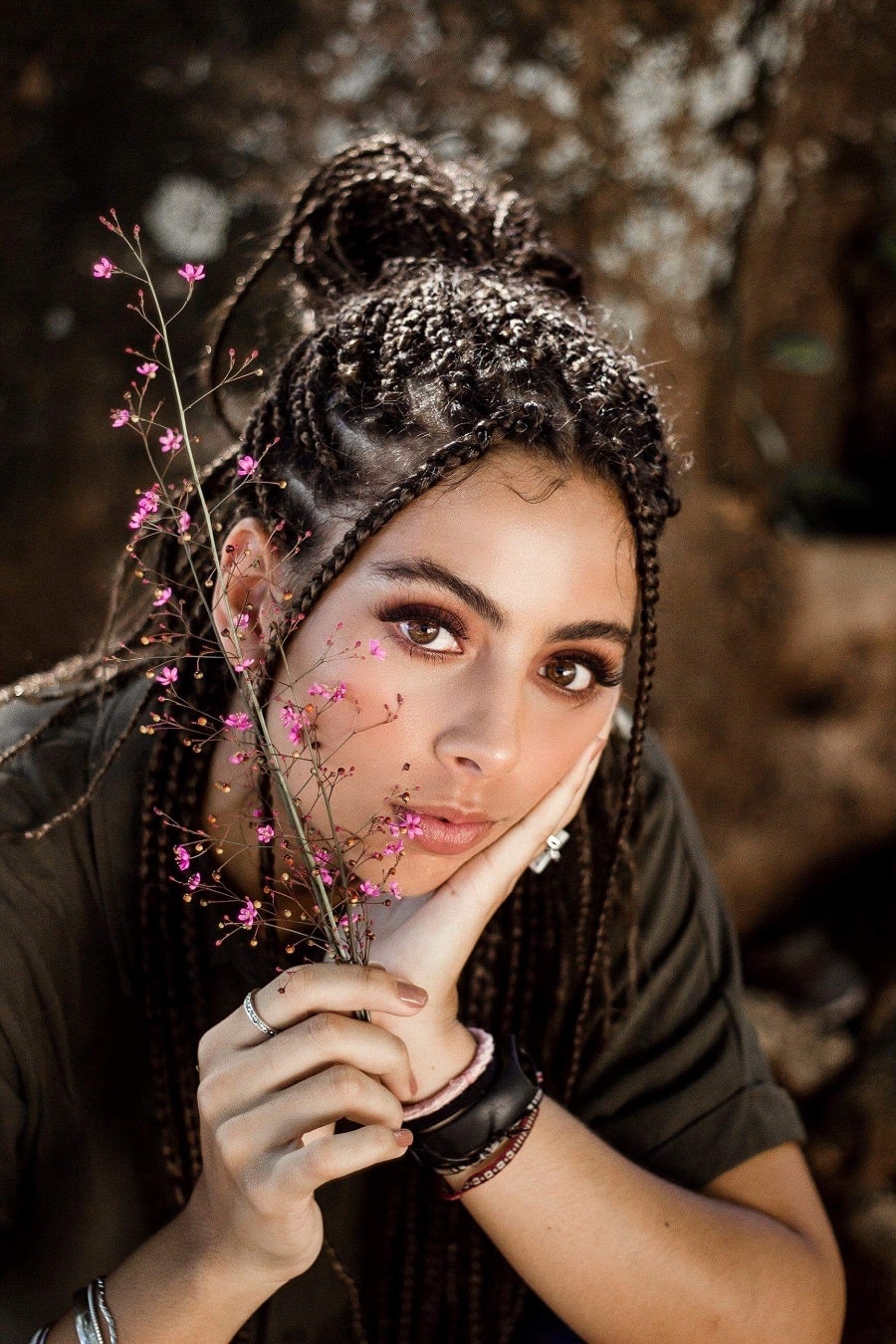 25. Skewbald Shades
The contrasting shades of brown and auburn look like the style is coming out of a fairy tale. The uneven braids falling over the shoulders remind you of the beautiful autumn.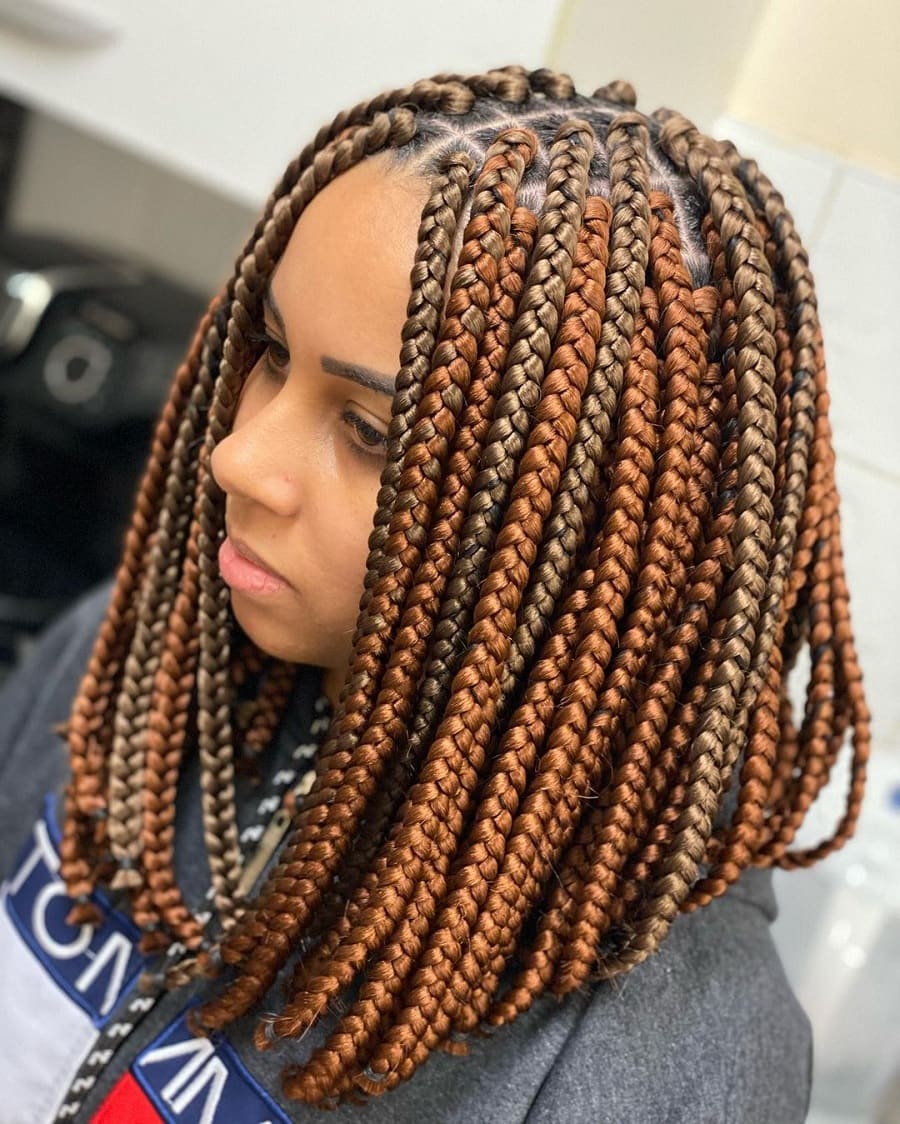 26. Swirled High Bun
The long braids are swirled and tied into a coiled bun creating a spirited visual show of twists and curls. With the color neon dripping from the bun, this look is on fire. Amongst all the knotless box braid looks, this one is the boldest.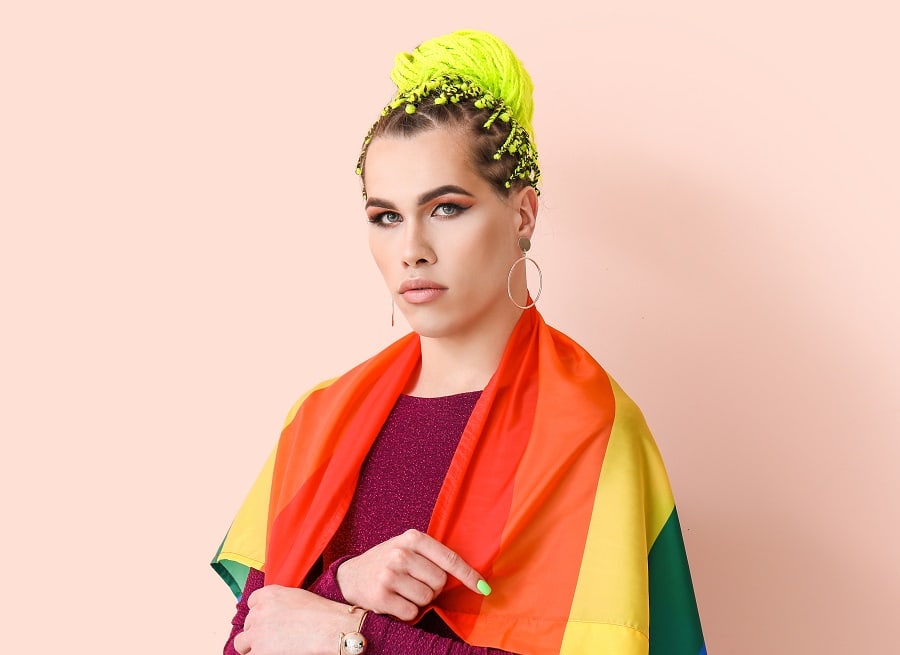 27. Checkmate Design
This check style is never out of fashion. This style will catch many eyes. This scalp pattern covers the complete scalp reducing the number of braids to be pleated, thus making it convenient as well.
28. Half Up Half Down Style
This hairstyle is like ice cream with a hot brownie. You can still flaunt your long braids while adding the elegance of an updo. This hairstyle is universally adaptable. It also gives an option to play with colors.
29. Charming Long Braids
Thin and compact braids add volume and bulk, which is at times is lost while braiding. The top sections are further braided to highlight the brown color giving a sharp, elegant look perfect for a bride too.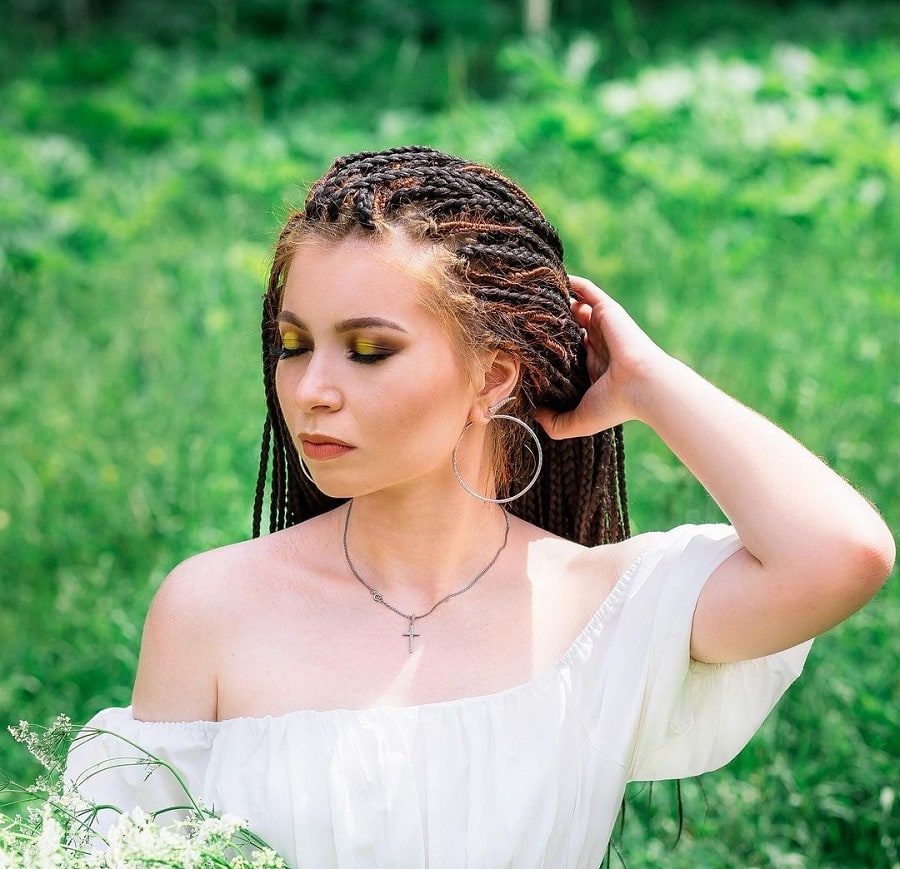 30. Fresh Blossom Look
The triangle pattern on the scalp is made to look like flower petals, with the flowing braid giving the impression of fresh bloom. The blonde shade adds softness and charm to this style.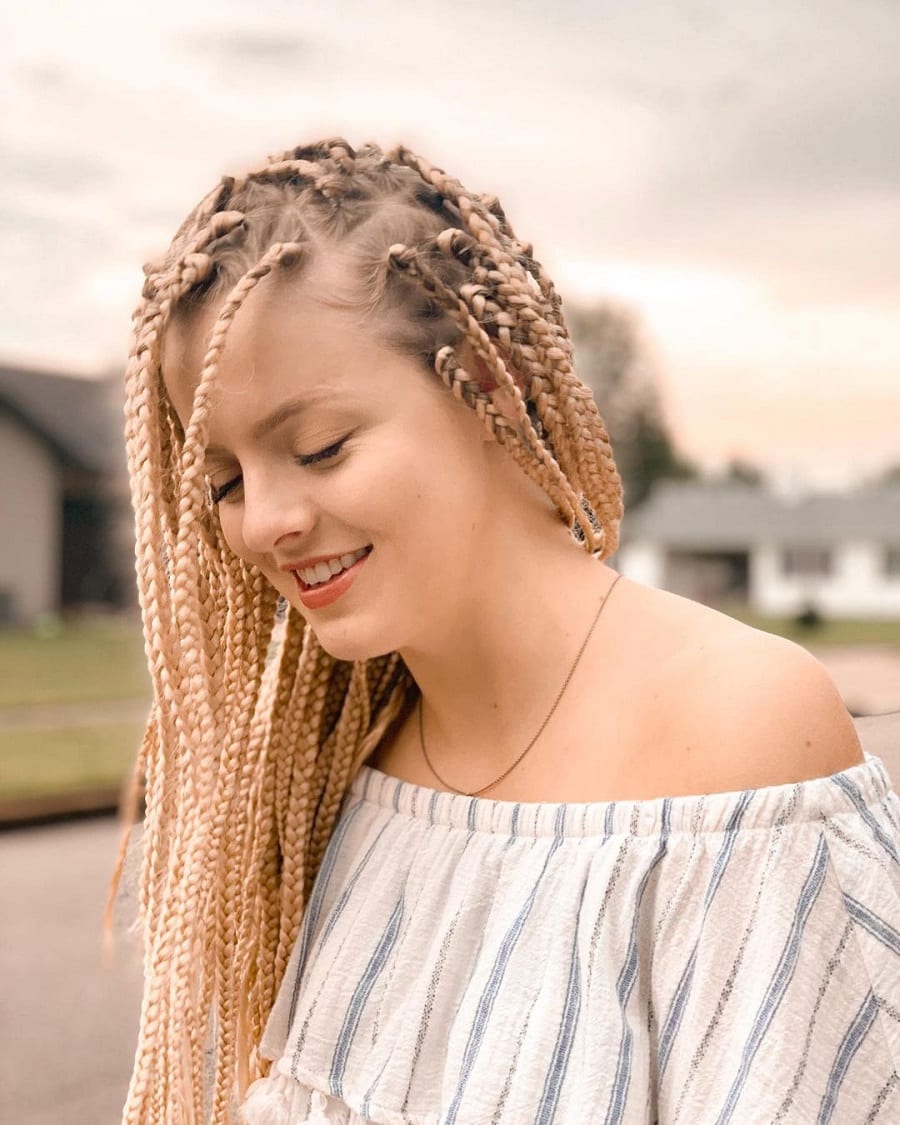 FAQs
Are knotless box braids bad for hair?
If the braid is not properly installed and cared for, then you may run the risk of damaging your hair. However, with knotless braids, the risk of damage is far less than in other potentially damaging styles. That is because of the preparation of the braid, which begins with your hair and not new, added hair.
Unlike a standard box braid that puts extra tension on your natural hair, a knotless box braid gives you the popular style without the stress of damaging your hair.
How long do knotless box braids take?
It can take anywhere between five to nine hours to do knotless box braids. It all depends on the size, length, and thickness of the hair. Once the braids are finished, they can last anywhere from four to six weeks.
Are knotless box braids easier to do?
If you are a talented individual who can easily braid your hair, the knotless braids will not be hard to do. However, if you aren't great with braids, seek help from a professional.
Do knotless box braids grow hair?
Knotless box braids do not help make your hair grow, but they do help with length retention and aren't as tight as other braids. This allows for the hair to grow better than it would in other protective hairstyles. Anytime you detangle, manipulate or style your hair, there is a risk of breakage. Knotless box braids are just less risky.
Are knotless box braids heavy?
Knotless box braids aren't heavy at all! As you style your hair and feed it into the braid as you go down, it won't become thick or heavy on the head. It flows like real hair and isn't painful to your scalp. The braids will be flat and stylish, without big changes or inconveniences.
Do knotless box braids last longer?
Knotless braids have the potential to last longer than other braids because they have a rougher texture with tighter curls. They have the potential to last anywhere between two to three months. If you want a braid with a silkier texture, it will not last long. Looser curl patterns will not last as long as tighter curls, such as a knotless braid.
Seeking the assistance of a professional hairstylist can be helpful. A professional hairstylist can give you an insight into what products are best suited for your hair post the styling or before the styling.
As experience matters in the field, the stylist might also suggest the proper way. With every new season, a new hairstyle crops up. So whatever the fashion trends may be, box braid is one such hairstyle for women that will never be out of craze as every day a new hairstyle for women as well as men is there in the market.
Box braids will forever do their charm and look exquisite; a look is so intricate that no other hairstyle will ever have the effect that this hairstyle can give. So what is the wait all about? Travel through the styles and pick your favorite one and style accordingly.