It's such fun to be fashionable! Long box braids happen to be a highly fashionable and popular hairstyle for black women, and many white women rock them, too. They can be super elegant or very chic, and they can even be sporty! It all depends on how you style them.
You can wear them thick or thin, and you can truly experiment with your look when you're wearing this protective style. Long box braids are the most fun to play with.
Beautiful Long Box Braids Hairstyles
Let's take a look at some of the prettiest and most popular hairstyles you can create. You're sure to find something you'll love to wear!
Big Braided Bun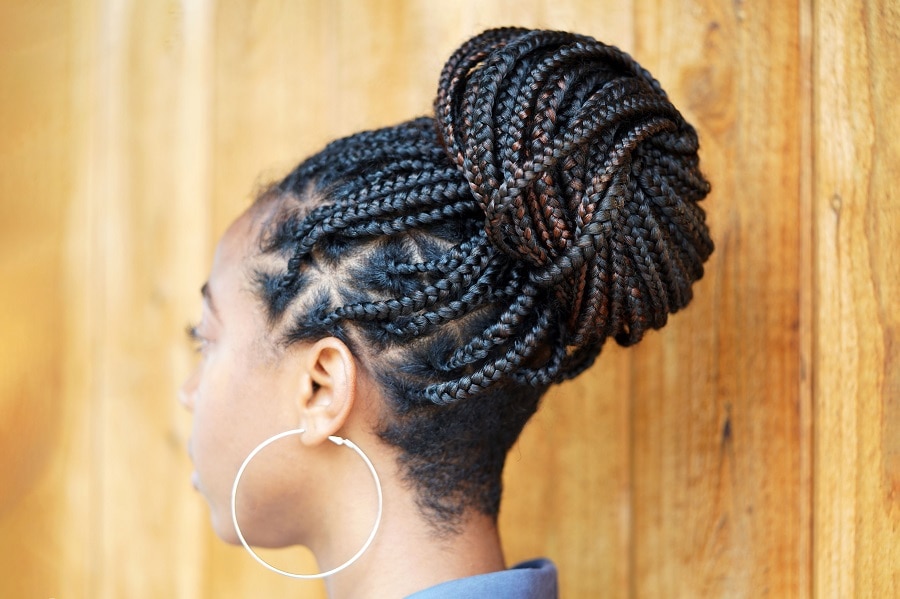 These long box braids form an elegant look that can also be modern and stylish. They're pulled back loosely into a large, round bun that forms a very neatly wrapped shape on the crown of the head. There are some hints of brown in there, too.
However, this jumbo long braid style needs proper care else it won't last long.
Partially Up Partially Down
Styles like this are often used to create hairdos that can't be achieved with curly hair, which black and mixed girls have naturally.
You can see this aims to recreate the classic half up and half down style where the sides are pulled back and secured. The back sections then fall freely.
Black and Blue Alternative Style
White women can totally rock long box braids too! They're looser toward the roots, but the rest of the style is the same. Here these long sections start black and transition into two shades of blue, creating a super edgy look.
Light brown looks wonderful with skin tones that are similar, and high buns help draw the hair back and brighten up the face. The ends of these box braids are very thin, and the thinner parts wrap around the base of the bun to create a varied style.
Reddish Brown Curly Ends
Curly ends make this style look more unique than some of the ones above. There are also yellow bands in one of the strands that make it more decorative. The hair is pulled over one shoulder, and the ends are dyed a nice reddish-brown tone.
Blonde Braids
Blonde and black look beautiful together, as you can see in this look. The long, thin, blonde strands of hair capture your attention, and the roots remain dark and natural. The sides are pulled back , but some hair still hangs by the face to frame it.
Jumbo Box Braids
If you like your hairstyle a little thicker, then this one will look wonderful. There are fewer braided pieces of hair, but the thickness makes up for it.
The jumbo braids hairstyle overall is very simple and the hair falls straight down. Some tiny strands of brown are woven into some sections, adding some depth.
Thick Brown Strands with Blonde
These aren't quite jumbo in size, but they're thicker than you'll see in some styles. The hair is brown with a nice red undertone, and some golden blonde pieces of hair are woven in, too. It's a very nice look if you want something vibrant.
Blue Ombre Thin Style
We saw a variation of this earlier, but this is more classic long box braids look. They start tight at the roots of the hair, as this is appropriate for the hairstyle. They start black and transition to dark blue then icy blue in an ombre fashion.
Knotless Light Brown Strands
Many braided hairstyles for black women like this start with knots at the roots, but as you can see here there are none. This creates a sleeker and more mature look. The brown hair is very light and has some blonde highlights in it, creating a very varied style.
Loose Blonde Ends
Here's a style that's a little looser on the scalp. Tufts of dark, natural hair cover the head, and the plaits attach to it. The styled pieces of hair are blonde and very thin, and the ends are left looser than the rest of the style.
Beaded Long Brown Braids
You can decorate your hair with beads to create a more unique style that shows off your personality and tastes. These beads are gold and have a nice design in them, and the strands are also decorated with little sections of blonde locks to add further variety.
Red and Yellow Combo
If you want to mix up your look, then red and yellow long box braids are a great way to do so. These strands are pretty thick, and many are decorated with light-colored bands.
It's a simple look with a center parting and straight styling. The color and bands are what make this truly stand out from the crowd.
White Braids with Side Part
Side partings are so pretty and draw attention to one side of the hair. White also helps mesmerize onlookers. You'll look very bright and happy with these delightful tresses that fall halfway down your back and dazzle everyone who walks by.
Beaded Red Ponytail
You can show off your style with both the red color and beads in this hairdo. The box braids are all pulled back so they stay out of your face, making the hair easy to control.
The red gives you a vibrant look and the beads are very elegant and fun to spice up your style.
Red and Yellow with Bandana
Two-tone hairstyles look great with long box braids. One side here is red, and the other is a nice golden shade. A bandana sits on top of the hair in a vibrant red shade, and it compliments the two tones in the long sections very well.
Brown and Blonde Alternating Look
These thick pieces of hair alternate colors between light brown and ashy blonde. The blonde is so light that it's almost platinum. It creates a very eye-catching look. It's a fun way to show off your personality and create a dynamic and varying hairstyle with long box braids.
Rusty Red Box Braids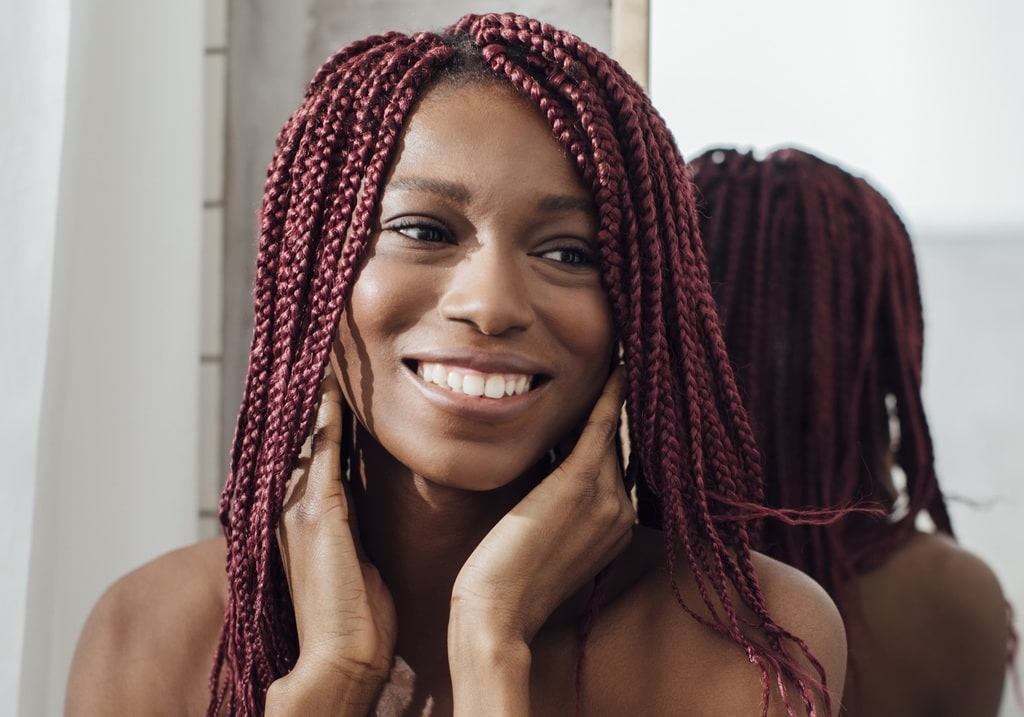 Rusty red tones look more natural than vibrant ones, so you'll have a nice, muted look while still having a unique shade in your hair.
A side parting with a very thin split on top makes each side look very volumized, as you can see here. Each strand ends thin, but the start is very thick.
Ash Ombre
Many looks like this have super tight and sleek pieces of hair, but here's something a little looser and more natural. There are nice flyaway hairs that form curls on top of the head. The knotless braids style goes from black to an ashy grey color that in some light looks almost blue.
Yellow Ombre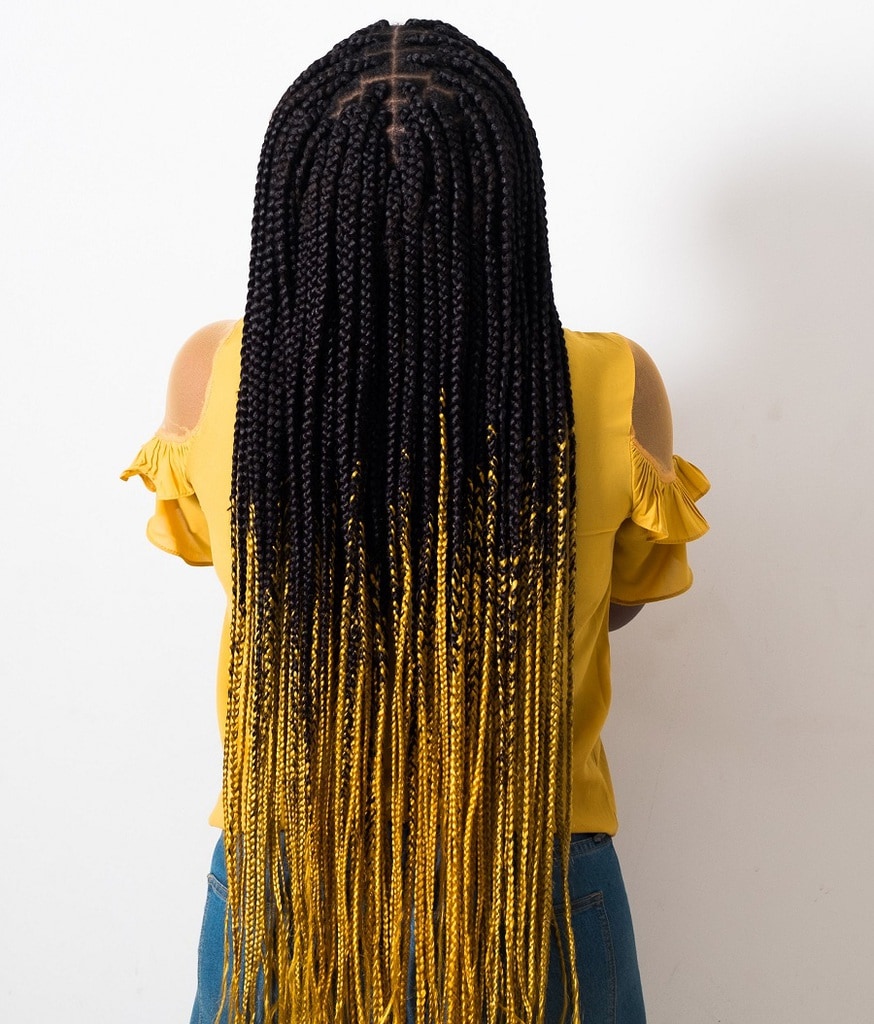 Lots of thin braids make this hairstyle look wonderful. It gives the impression of very thick hair, and the locks are nice and long. It's a very classic ombre style and looks lovely matched with bright clothes.
Half Up Purple and Brown
Long box braids are pulled back to create a half-up style with these black, purple, and very light brown pieces of hair. This creates a very pretty and simple look that keeps some of your hair pulled back and out of your face.
The pieces get thinner as they go toward the lower back, creating a nice tapered effect.
There are lots of benefits to having this long box braided hairstyle, and you'll certainly enjoy finding new ones to show it off. Make sure to care for it well, and maintain your chosen color and style whenever you need to.
You'll certainly enjoy finding new ways to show off your chosen look to all of your friends, family, and admirers.
Recommended Topics