Are you a big fan of small box braids but don't know how to style them in more than one way?
Well, we bring you some cool and fun ways to style them anytime you want to experiment to get a new look. Small box braids can last for about 6 to 8 weeks.
The braids are small and intricate, so they tend to stay neat for a longer period. However, due to their small size, they may also take more time and effort to install and remove.
Relax, and be ready to get amazed when you see how to make these small braid hairstyles easy. It doesn't matter whether you have long or short hair; we have picked small box braids styles for each one of you.
L
ist of Creative Small Box Braids
 Each style has its own unique look and way of making. Stay till the end so that you don't miss anything.
White Braids
You don't need to color your hair white for this. Just get some white hair extensions or threads or ribbons, whichever is easily accessible. Just make sure they're thin.
Then, start making small box braids. In the end, you can also make a little bun on each side.
Blue-Black Double Buns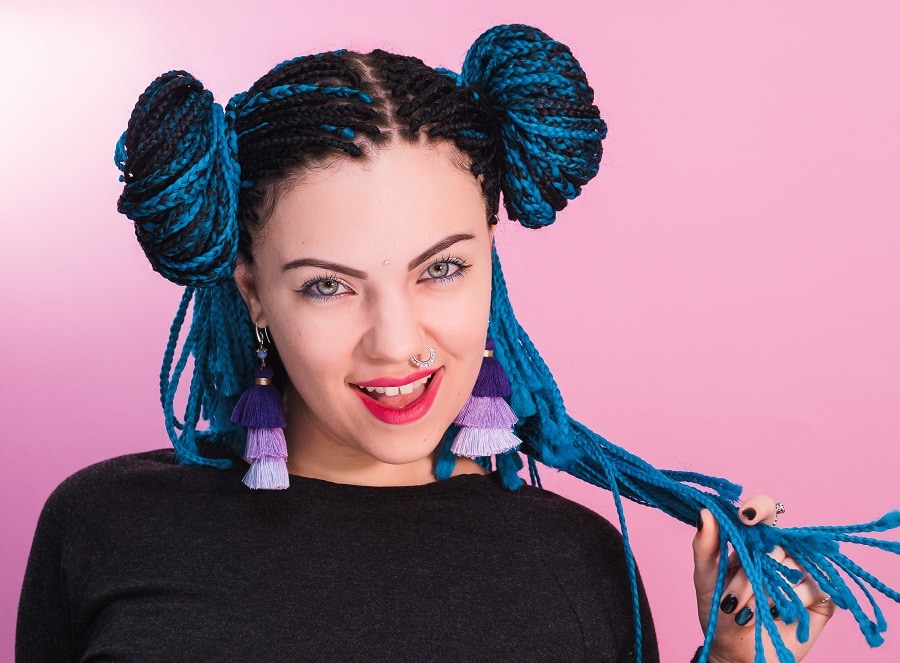 Either color your hair or use blue-colored hair extensions, thread, or ribbon. Now, there's no need to cover all of your hair in blue just like the previous style, just use the blue ribbon in between randomly.
Center part the hair before making the braids and then make two half buns on the sides, keeping the rest of the braids open.
Half Updo
This style is particularly suitable for those with afro or curly hair. First of all, tie your hair in a tight ponytail. Then convert your ponytail into small box braids.
If you don't have long hair, you can use brown colored ribbon or threads or hair extensions to match your black hair.
Pink Ombre
You can create the impression of an ombre without actually coloring your hair. Just grab some pink threads, and that's it.
Then, starting from the roots, tie your natural hair in braids and when you come to the middle portion, start adding pink threads in your braids. Your pink ombre impression is ready.
Bob Braids with Curls at End
We bet you haven't thought about converting your bob into braids until you saw this. You don't even need anything extra for this, just your natural hair.
So start making braids but make sure you're leaving the curly ends open. You can also add colorful beads to add a colorful touch.
Cornrows with Thin braids
Another hairstyle for girls who have afro hair is long box braids. You can take light brown or golden hair extensions and start making braids towards the back of your hair.
It should look like a wet hair look. If you don't know how to keep your hair backward, take the help of a hair spray.
Ponytail Look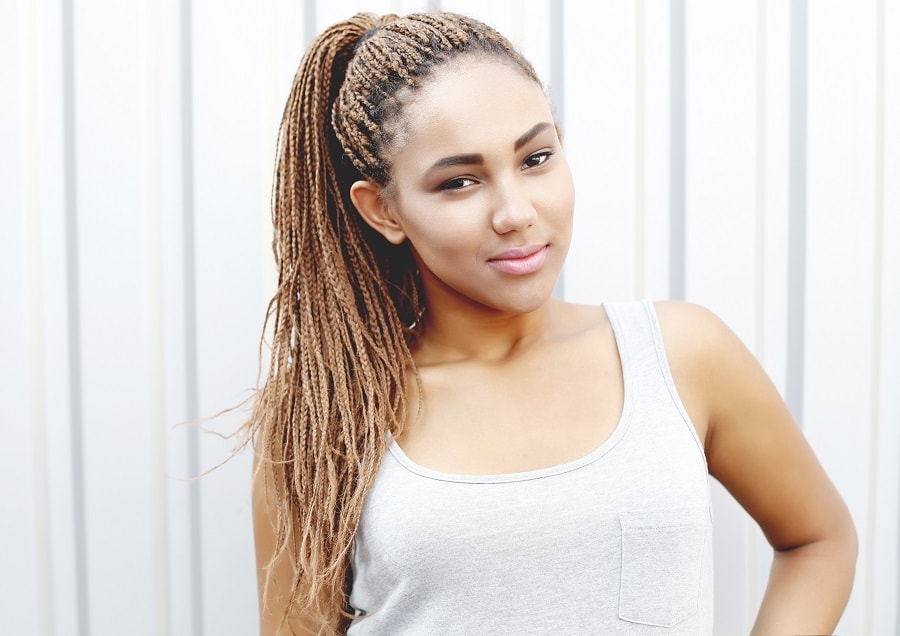 It is not necessary to keep your small box braids in an open hairstyle. You can also tie them in a high ponytail to create a completely unique style.
This hairstyle is suitable for your school or college environment. However, you'll need a big rubber band to tie your hair.
Shiny Brown Braids
When you have naturally thick brown hair, you have many options to style them. This time tie them in box braids from roots to ends. 
Keep your hair center-parted for a neat look. Such hairstyles take a lot of time to make, but they are worth the end result.
Multicolor Braids in a Pony
Color your hair without actually coloring it. How? Just get some different color hair extensions or threads and tie them along with your braids.
A combination of light pink and light blue colors would look cheerful. This way, you'll know which colors suit your hair.
Grey Ombre Half Tied Hairstyle
Create the impression of a grey ombre on your naturally black hair. All you need is some white-colored hair extensions. 
When you combine your black hair with these white extensions, it looks like you got a grey ombre. You can also pull your hair backward with a hair clip.
Knotless Braids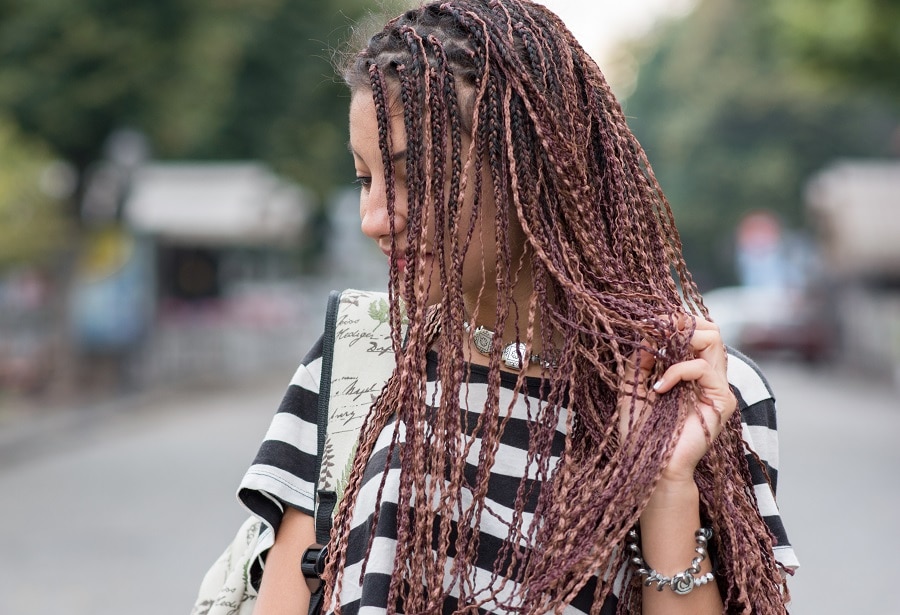 We present the pain-free braids to you. Knotless braids hurt less on your scalp, and your head will feel light.
Simply tie your hair sections in thin braids and attach the braided ribbon or hair extension to the side of your braid.  This will make your hair look thick.
Go Lavender
Tie your hair in small box braids using lavender-colored hair extensions or threads. Even if you have short hair, you can create the impression of long hair using hair extensions.
Divide your hair into random sections and start making braids till the ends.
Rainbow Braids
Like a rainbow looks so beautiful after rain, it will look beautiful on your hair. Grab all the rainbow colors on your hair by using different colored hair extensions.
The colors included should be VIBGYOR. Keep the braids very thin as all the colors should be seen clearly.
White & Purple Weaves
The majority of your braids will be in white color, but the addition of purple in between will look so beautiful.
As usual, get white and purple colored hair extensions, and start braiding them with your natural hair. Create any length of micro weaves you want.
Golden Brown Weaves
If you have naturally brown hair, golden brown hair extensions will blend naturally with your hair color. However, it will look like you made all these braids using your natural hair only.
Make braids of medium thickness. You can also wear a bandana or headscarf too.
Blonde Ombre
Have you ever thought about coloring your hair blonde but weren't sure how it would look on your black hair?
The solution is simple, get blonde hair extensions. This way, you can create the impression of a blonde ombre by making small box braids.
Burgundy Black Twists
This hairstyle is only possible when you have long hair. Make several long, thick braids from roots to ends, then grab a big elastic rubber band.
Take hair from your crown area and pull them backward. Tie it in a loose ponytail and leave the rest of the braids as they are.
Braids with Beads
Beads are added to braids to create beautiful looks. This time add them to your thin box braids. Keep the number of beads limited as the show stopper here is your braids, not the beads.
If possible, use a designer or big beads instead of small and colorful ones.
Half Updo with Colorful Braids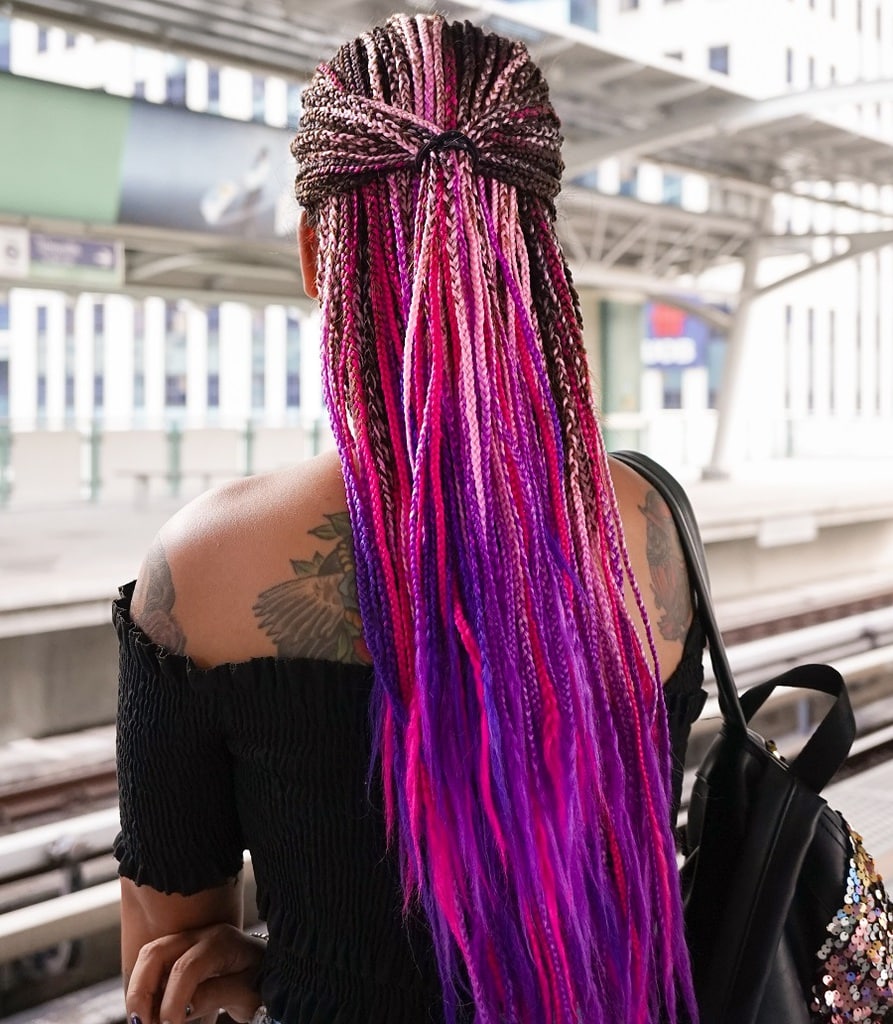 It's time to choose your favorite colors and put them all together on your hair. Just grab all the color hair extensions you want, add them to your hair and make a half updo with box braids.
You can leave the ends of your braids open. Then, tie half of your hair using a rubber band.
Pastel Pink Barbie Look
Pastel pink color matches with naturally black hair. The best part is that you can get long hair extensions for your short hair, and when you make small box braids, they blend with your hair.
This time create a side-parted look so that it looks like the braids are flowing to the sides.
Gather all your hair accessories in one place because you don't want to get up in the middle of making these gorgeous small box braids styles. Also, don't forget to click loads of pictures because these styles are worth posting.
Show your friends that you have got some fashion statements to make. It's your time to rock, so go get it, girl.