Confused about how to style your long locks or the box braids rather than just making a bun or pony? Well, worry not, we have listed some of the best and must-try box braids updo hairstyles for you. These hairstyles will not only make you look stylish but will also give you the comfort and ease of managing your hair.
Black women tend to love trying different unique hairstyles and box braids in an updo is something that'll instantly set you apart.
Stylish yet Sophisticated Box Braids Updo Hairstyles
Now forget frowning over how to style your hair and choose anyone from the below list. We are sure you'll be delighted to try one out.
Loose Low Buns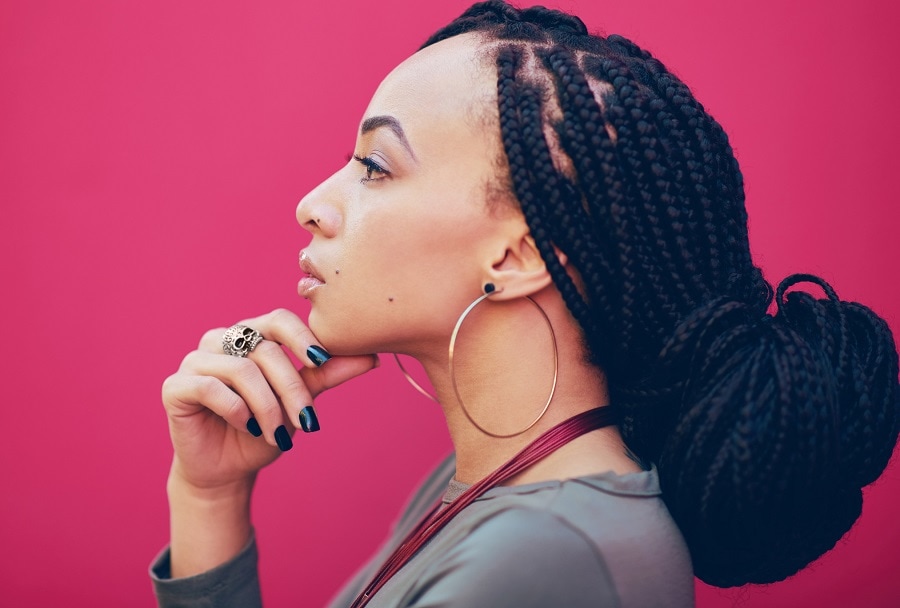 Are the braids getting too hard to manage? Then, just tie your braids into a loose low bun and relax.
You do not even have to visit a salon or spend more money to get it done. Instead, you can just twist your braids into a simpler bun just at the nape.
Fuchsia High Bun
Nothing looks more magical than fuchsia micro braids when done on black hair. Flaunt the ravishing hue with a simple high bun and let the color make a statement itself.
Half High Black Updo
The name speaks for itself and the style. But what it does not say is how gorgeous this style can make you look.
Forget your worries about managing the locks; simply collect the ones in the crown area and tie top-knot with them. Then, let the rest of the braids fall freely on your one shoulder. This is one of the coolest braided updo hairstyles.
Lovely White Braid Top Knot
Gone are the days when you dyed your hair to hide the whites; now is the time to go white. It looks spectacular and as soft and as mesmerizing as snow.
Then, just tie up your braids into a neat high bun and you're good to go!
Magnificent Maroon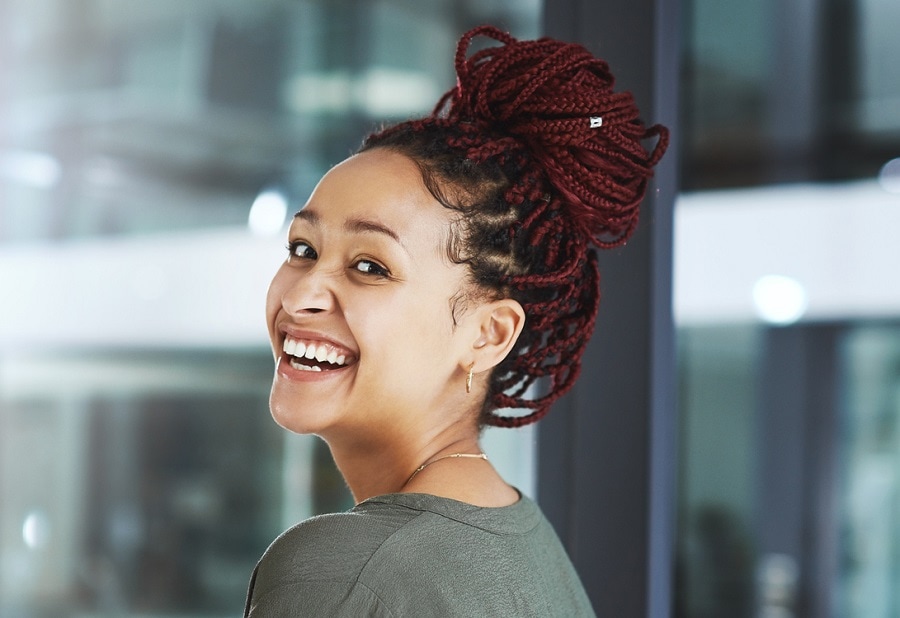 Shades of red are always the best way to go when in doubt about which color to choose to be uniquely gorgeous.
On the other hand, if you want to be a risk-taker but a subtle one, then maroon is the ideal choice for you. Bid adieu to boring hair with this color.
Let One Loose!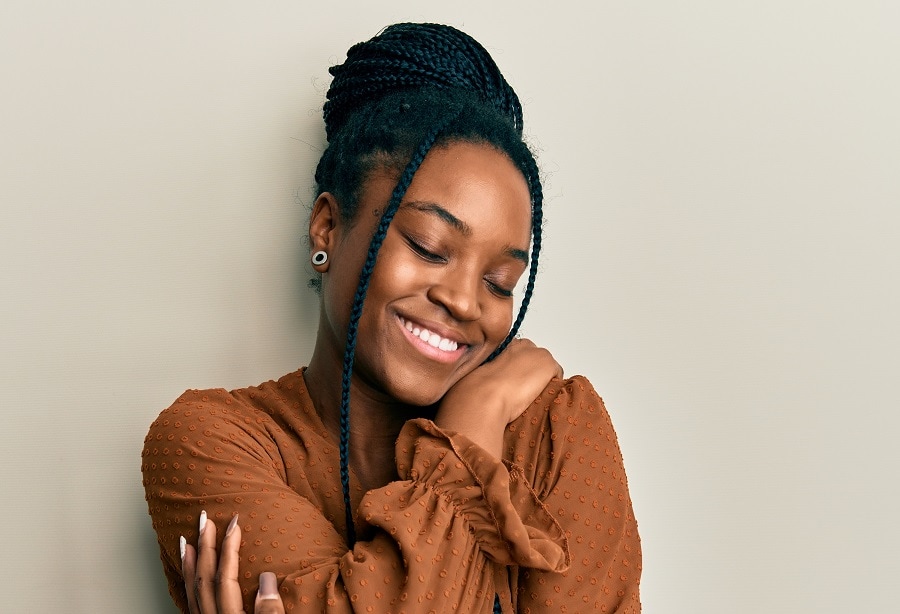 This box braids updo hairstyle is regular but with a tiny twist. All you have to do is, tie your hair into a clean high bun.
Just let one braid from each side loose, falling on the front of your face. Embrace the organized yet fun side of yours with this hairstyle.
Go Blonde
Blondes do have more fun, and nothing proves it more than this fun hairstyle. So if you want to enjoy a day under the sun or a night filled with music and dance, this is the choice.
The blonde color adds all the fun to this basic half bun, half loose hairstyle.
A Crown of Braids
Regardless of your hair color or face shape, you can ace your look with these beautiful box braids updo hairstyles.
All you have to do is make your box braids into one single braid and wrap it ear-to-ear, making a crown on the front of your head. Then, tie the back hair into a bun, and be ready in just a few minutes.
Brown-Blonde Bun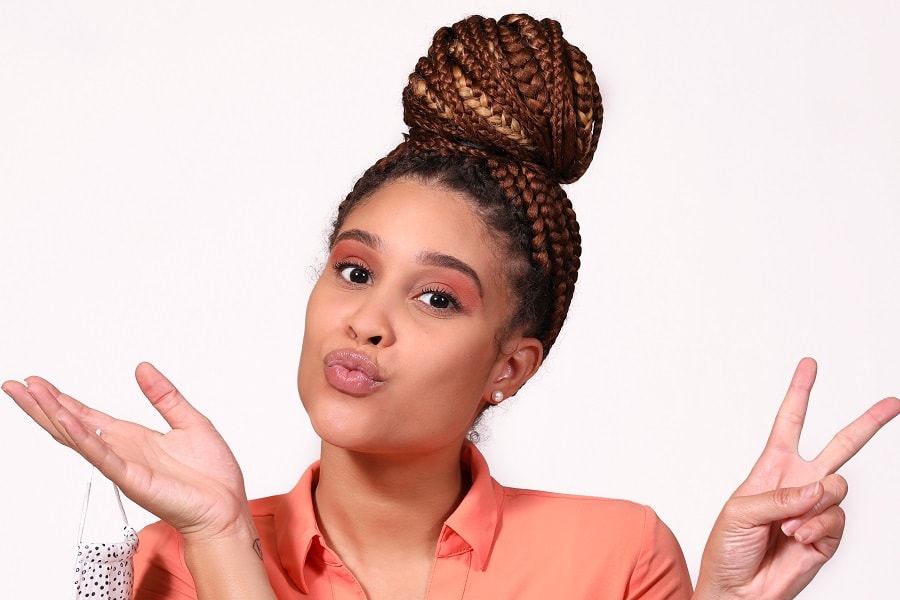 Love coloring your hair? Then go for this one, wherein you will have blonde highlights with your natural brown hair. Make several macro braids.
Then, just tie all your braids into a ball-shaped bun right on the top of your head to get this look perfectly. Shades of brown can take this look from basic to brilliant in just a few minutes.
Twisted Knot
Black is the gorgeous hair color out there, and it looks even more spectacular when tied into a clean bun.
Just tie the braids into a top knot just where you tie your high ponytail and let the world be in awe of your look and style. Make it looks more professional with a pair of glasses
Two-Toned Front Bun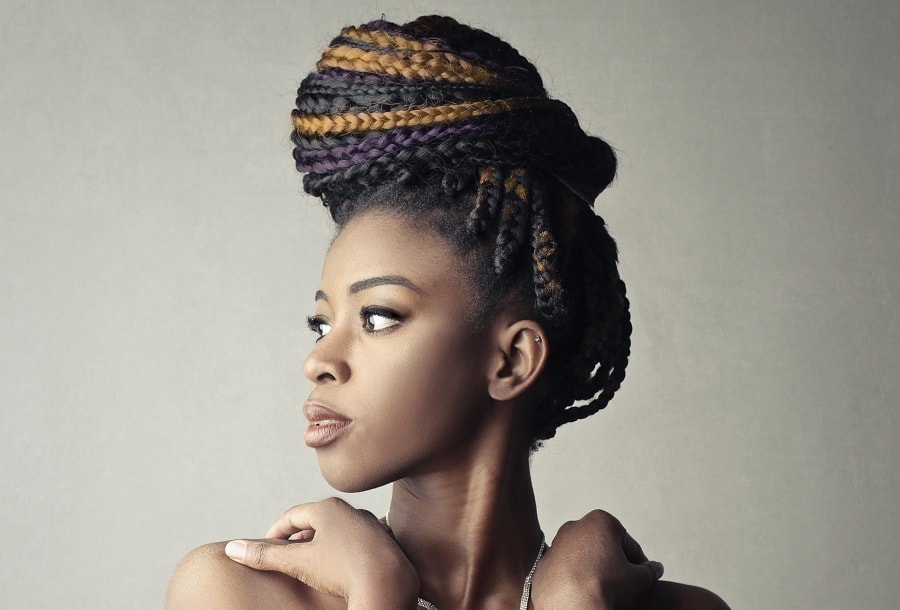 Aren't you all tired of getting just single-colored hair? We are sure you are. Just try out this funky mix of purple and golden hues that can add more uniqueness to your style.
To make it even funkier, tie all your braids into a bun at the front of your head and let the world see the fun side.
Gorgeous Grey And Alluring White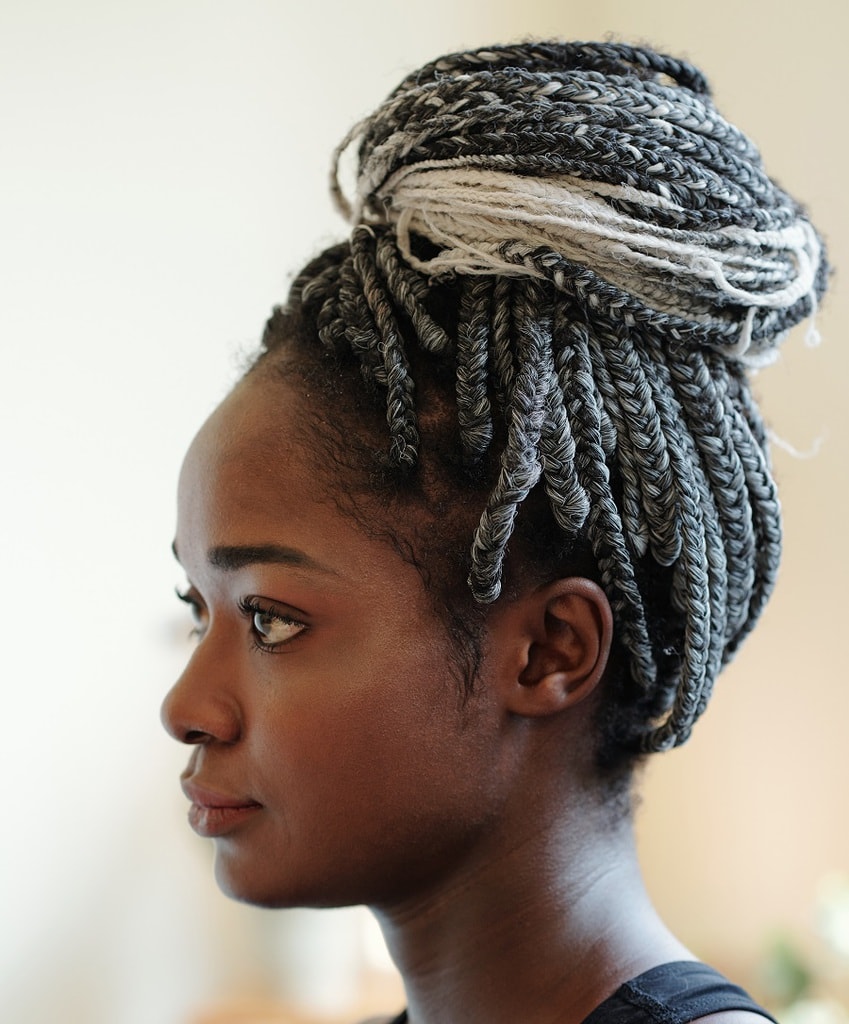 Talking of two-toned hair, we just cannot ignore this fantastic mix of colors and the mesmerizing look it gives.
Just dye your hair with shades of grey and white and elevate your style game to a whole new level. You can even use hair extensions if you don't want to color your hair. These colors can make a simple high bun look magnificent.
Stunning Bridal Look
If you think the box braids hairstyle is not for your most special day, then this hairstyle can prove you all wrong.
The half bun and half front braid wrapped around the head, framing the face and accessories, can make you look heavenly on your wedding day. You can be a sight to behold and remember for years.
Metallic Bun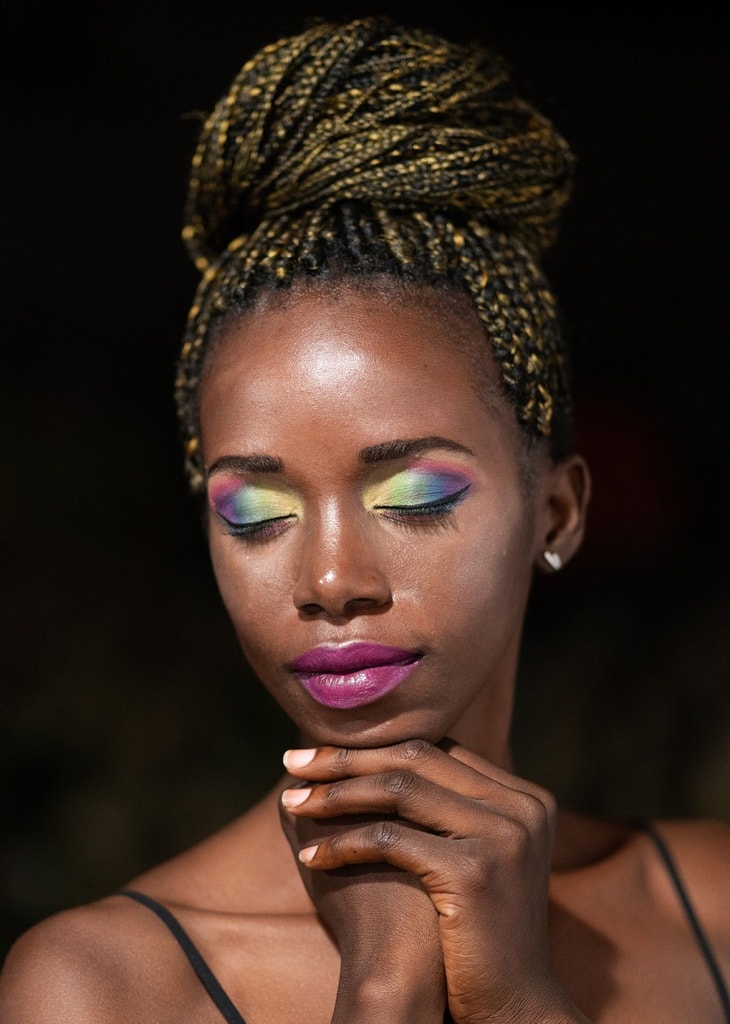 Golden hue looks amazing on any hair color but becomes more extravagant if done on black hair. In addition, it suits all face types and skin tones, giving you a more diva-like look.
Simply make box braids, then tie them into a gorgeous updo to get a majestic look. It's surely a party look which will bring a lot of compliments.
Loose Front Braids in a Top Bun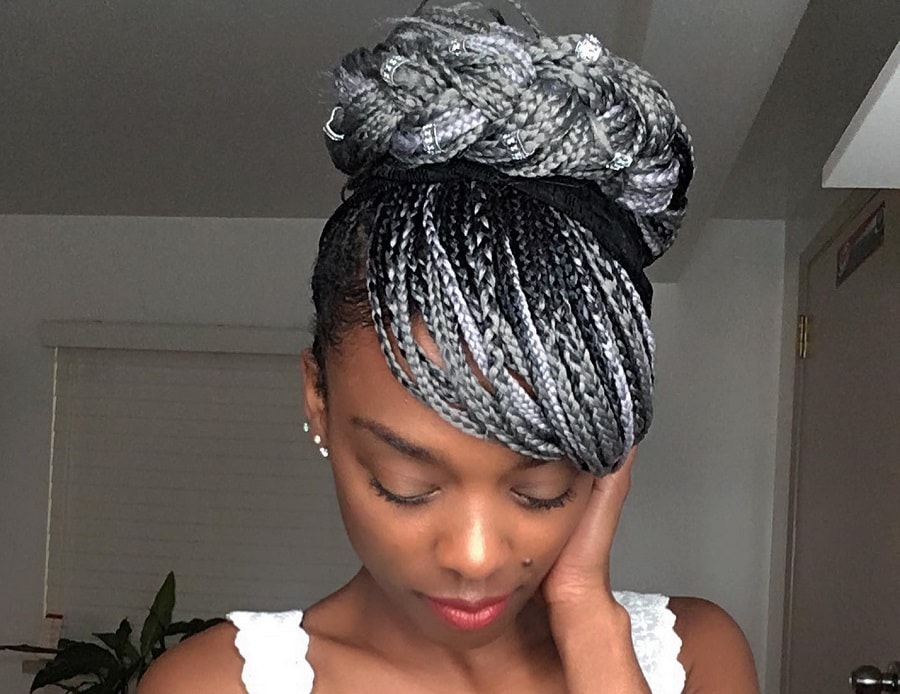 Do you know what would be fun and exciting? A mix of different hairstyles. If you think so too, then we suggest you this hairstyle.
Just make a braid of your box braids and tie them into a high bun keeping a few loose braids in the front. Then sweep them to one side, covering your forehead, and tuck them behind your ears. Adding white and grey hair color will make it even more exotic.
The various options for box braids updo hairstyles given here can be your savior for all occasions or your everyday styles. It can help you make quicker decisions as you won't have to ponder over them anymore.
Taking risks and desiring to be unique is what today's women are all about, and we are here to help you achieve it easily. Trust us and our suggestions, and we can assure you that you will turn heads and leave everyone in awe of your style and looks.