Updo wedding hairstyles are very much in trend these days. And the reason for that is they look exquisite and graceful; just what is needed for a wedding hairstyle. Apart from being a very practical hairstyle, they can be easily done too. This makes it a favorite among the brides. And along with a beautiful wedding gown, they'll just look amazing. So go through this list of 25 updo wedding styles that we have specially curated for all the beautiful brides-to-be.
1. Twirled Bun Style
It is a classic look for weddings; this is absolutely gorgeous. The hair is pulled out from many sides to create multiple layered buns and it has also been tied up as a loose but high chignon. This style looks especially good since the hair is highlighted in a lovely golden colour. A cute hairpin is also tucked on the sides of the bun and since it matches the hair colour, it really goes well with the overall look. While it may seem a little complicated, this is actually a very easy bun updo that you can do in no time.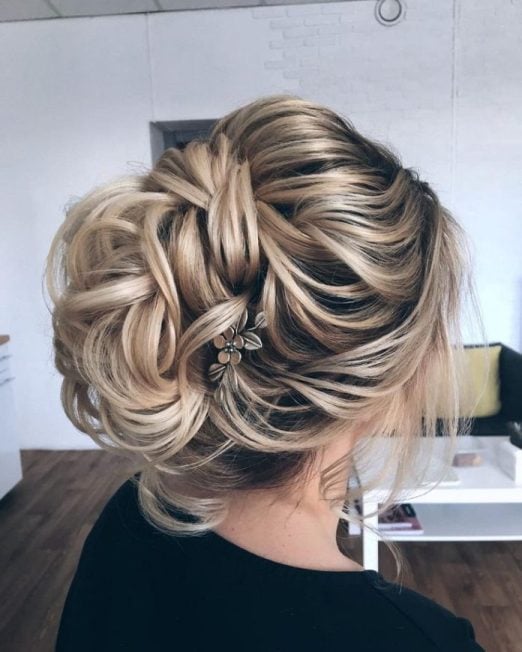 2. Lovely Twisted Updo Style
What a beautiful combination of gorgeous messy layers accessorized with adorable flowers. Just the look that will make you look absolutely charming on your wedding day. This style is best suited for the ones who have medium or long hair since multiple strands are twirled and twisted here to make it into a gorgeous bun updo. So it might not work well if you have really short hair. This is a very polished and classy look and the way the hair has been done in a loose tendrils style only adds a soft glow and beauty to the style.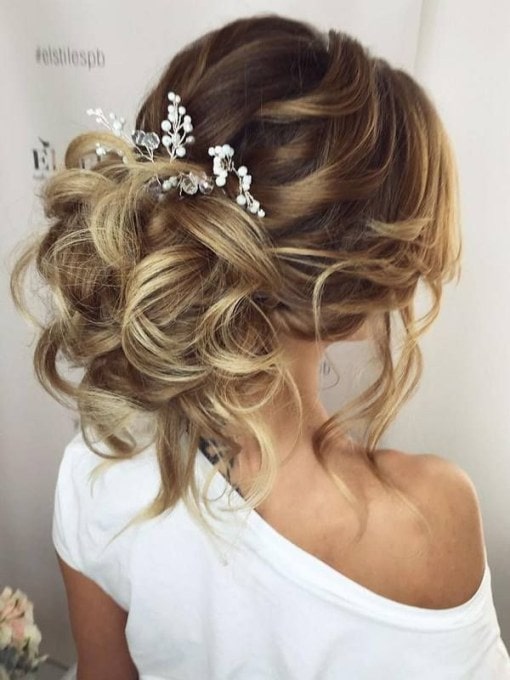 3. Simple High Bun Updo
Want to keep it low key and classy? Well, check out this big and high simple bun style. As you can see, it's quite a basic hairstyle. All that has been done is simply pulling back the hair and then tying it up into a huge bun. A few layers on the front are also pulled out to make a face look much sharper and defined. But even though it may seem simple, it is sure to look gorgeous with your wedding dress or gown.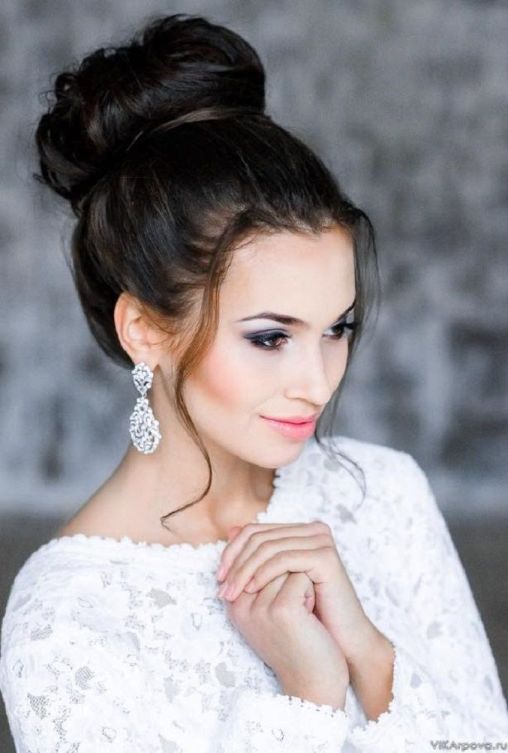 4. Buns And Braids Style
It is an evergreen combination of buns and braids. It still is one of the most trending updo styles these days and why not try it out? And even if you have short hair, don't worry about it since braid extensions are easily available and are actually a lifesaver product. After you have tucked in your extensions properly, just make sure to tie it up into a neat bun and there you go, a sweet and lovely look. The bun being tied quite firmly without any loose ends, it accentuates not just the face so you can also flaunt your shoulders in style.
5. Voluminous and Sleek Bun Style
Why look further to accessorize your hair when you've already got a huge bun that is so sheerly projecting a huge amount of volume? Seriously, this look can't get any better. The bun is also tied in a very sleek manner, and in just a few minutes, a ravishing look for the bride is ready. To add a little glam, pull out a few layers on the front and hang them loosely on the face. Tousle up the hair on the upper front part to create a slightly messy but elegant look.
6. Redhead Bun Style
Twists and twirls made into a lovely bun. And a tiara on the top to make you look like an actual queen. This is definitely one of the best hairstyles that you can try out. Everything about this style is just plain gorgeous, from the colour of the hair to the neat bun updo to the beautifully tucked in tresses. It's perfect. The hair is coloured in gorgeous dark red shades adds an unmatchable beauty and grace to this style. It's a very low maintenance look too, since you don't need to worry about your hair going all about. With a firm bun updo like this one, your hair is sure to stay in place for a long time.
7. Side Wedding Updo Accessorized With Flowers
Who doesn't love to add a little vintage charm and elegance to their look! Well, it couldn't all get any better than decorating your hair with beautiful flowers. The hair here is loosely pulled back to create an asymmetrical and loose side updo. It gives a carefree and breezy look without being too informal or messy. A perfect look if you plan on having a summer wedding or an outdoor wedding. The hair lying in those loose tendrils is just as gorgeous as the entire hairstyle. So go ahead and give it a try, you will love it for sure.
8. Silver Tiara Updo
Tiaras take your whole look to a completely new level. It's quite evident here in this hairstyle itself. Otherwise, the hair is simply tied up as a plain and simple bun updo. But with the addition of this beautiful silver tiara that is studded with sparkling stones, the whole look just gets much better and wedding like. And the tiara also complements the earring and the wedding gown so beautifully.
9. Loose And Low Bun With Floral Accessories
Flowers, Flowers & Flowers, everywhere! It may seem like every wedding style that you stumble upon has one or the other thing to do with flowers. But they are just so romantic and create a beautiful look when you place them on your hair. And for that matter, any flowers are fine. It's not required that you need to have fresh flowers itself. Just tie your hair into a loose bun with a low lying chignon and place your flowers in between or in any way you'd please.
10. Braided Style With A Chained Headband
You'll definitely find yourself looking at this gorgeous hairstyle again and again since just a simple glance isn't enough. This hairstyle is just so beautiful and would look perfect with your wedding gown. On the front, the hair is cropped short and maintained as short side-swept bangs. The rest of the hair is pulled back and done in a side braided updo. And now between the bangs and the braids, on the upper front portion, a beautiful sparkling chained headband is added in. Totally loving this look.
11. Twirled Bun Style
With a lovely bun updo like this one, you don't need to go for extra hair clips, hair accessories, or anything of that sort. The hairstyle is just the main feature, and it looks stunning too. This seems like an elegant and intricate hairstyle, but it's not so complicated as it looks and can be easily achieved by just twirling your hair from all over the sides and then tucking them inside to create a bun updo. Or you can also try out this style by deconstructing a braid and then tucking the ends in .
12. Messy Bun Style
A shaggy bun for those who don't want to keep it extremely neat and tidy. You know, those people who have a fun and wild vibe about them don't always like to keep it perfectly. They like messy and favorite so it can be seen in their hairstyles also. And by messy we don't mean extremely messy. Just the kind of messy that goes with women's hairstyles. Just pull all your hair and tie it up into a high bun. The ends of the hair which are highlighted in a chocolate brown shade is quite visible on top of the bun here.
13. Bun And Tiara Style
A beautiful tiara has been placed in the center itself, and this makes the hairstyle look times attractive. The hair is pulled back loosely but firmly and tied into a messy bun style. The ends of the hair are coloured in a honey brown shade and it becomes very beautifully visible when all of the hair is tied up into a bun. You can also notice how few layers of hair on the front are also pulled out, just in front of the tiara. The style is best suited for those who have really thick and textured hair and are looking for a good and neat wedding updo style.
14. Simple Bangs Style
Golden, blonde, classic! This hairstyle is all types of perfection. It is quite a simple updo that you can create and not just as a wedding look, but even for all the parties and events and everything that comes right after a wedding. Seriously, a classy outfit combined with this killer of a hairstyle will make you look like a fashion queen for sure. At front, the hair has been styled in layered and wispy bangs that have been casually brushed aka swept over towards one side. On the back, the tendrils are loosely pulled together to tie up into a nice little chignon.
15. Voluminous Bun Style
If you have really long or thick hair, then give this one a try. It's a gorgeous braid updo style and will make you look as lovely as you want to be. The hair is first pulled back together and tightened and secured at the back. This can be done by tying your hair with a rubber band also. But simply tying the hair without any rubber bands will definitely help to give a much more natural look. After this, just bring all your tendrils together, twist or twirl then in whatever style you may please and just tie it up into a high bun on the top. And it's ready.
16. Braided Bun Style With Floral Accessories
Like we said before, floral accessories add a whole new vibe to your look. It will still look low key and not too flashy if you choose the right kind of flowers. The hair here is firmly pulled back and tied in a braids style before tied it up into a bun. And then it is adorned with beautiful flowers along the sides. This style looks best with highlighted hair since they'll be beautifully visible when the hair is tied into a huge bun on the top—no better way to flaunt them with such style and grace.
17. Curly Afro Hair With Flowers
Well, this hairstyle also includes a wedding updo for people who have really curly Afro hair. It's a simple one. Just make sure that you have cut your hair in a layered style if you want to really rock this look. So, after the layering, which is very beautifully shown here, the afro curls are just let freely as it is. No need of securing them by tying it into a bun or anything. This hair also looks good thanks to the subtle mahogany highlights that have been colored randomly across the hair. Add in some matching flowers and you're good to go.
18. Classy Chignon Style
Just take a look at those flowing twirls, and we're sure you're probably drooling at this lovely hairstyle. Don't worry if your hair is too thick or too thin. This style goes well with all types of hair, and there's no better news than that right? And the color of your hair also doesn't really matter here since the chignon and the way it's so smoothly styled is the main focus here, not the lovely blonde shade. Make sure you do this low lying chignon loosely to create that swirling or flowing effect.
19. Voluminous Layered Updo With Pearls
Oh, would you take a look at all that volume that is being projected from this stunning hairstyle? It just looks amazing. To get this hairstyle exactly as it is shown here, it is required that you have really long hair if not thick hair. Start by pulling back your hair strands as sections, and make sure you don't make it too tight. They need to look soft and loose. Do this with each section till you finally create a layered updo on the back. Don't make the updo too low either. Once you're done with that, add those beautiful pearls and the style is done. Pull out some layers on the front for an added dimension.
20. Messy Braided Updo
That messy look with braids just looks gorgeous in here. The front section of the hair is loosely twisted along the sides and brought to the back. Behind that, a more thicker section of hair is braided as large braids and again brought to the back along the sides. Then both these sections are combined with the rest of the hair to create a loose and kinda messy updo.
21. Layered Chignon Style
This is a great style that you can try out on long or medium length hair and one of the many examples of how you can do a chignon style in versatile ways. It's a simple look for that fact but yet has a glowing and magical beauty about it. The hair is loosely pulled to the back in multiple layers and then tied up again as a loose chignon updo. A simple hair accessory placed in the middle also goes a long way.
22. Messy Bun Style
Messy, sassy, and classy. This hairstyle is just pure perfection. And by that we mean, it's just perfectly imperfect. The loosely flowing blonde strands and locks of hair are surely a visual treat to the eye. The hair is pulled back and tied up in neat and loose layers which are further made into a round and cute bun.
23. Sweet And Gorgeous Curls Style
Trust us when we say that you can create a gorgeous hairstyle with your hair even if it's the most basic and simple hair without any coloring or highlights or anything of that sort. Wanna know how? Just start curling your hair into smooth and lovely curls and create them into a cute and lovely bun like an updo. You'll be amazed at the wonderful hairstyle you have just created and that too without even having to put in much effort. So go ahead and try this style, it will definitely be worth it.
24. Big Bun And Headband Style
A sparkling stone studded headband that simply makes you look like a queen. It's just gorgeous and being paired with this simple and neat bun style; it suits the wedding outfit really well. The bun has been tightly tied up so that loose ends don't come out and this just shows that if you do it the right way, even a simple style like the one shown here can look just as gorgeous. And thanks to that beautiful headband, the overall style just looks very romantic too.
25. Loose Curls Style
And finally, the last look of updo hairstyle here is a beautiful and soft chignon style. The hair is maintained as wavy curls and few loose tendrils have been let out on the front to frame the face neatly. Other than that, the style also helps to bring out the color variations on the hair that have arisen due to the colored highlights. It just looks beautiful. And finally paired with a lovely pink flower hairpiece, you just gotta love this look.
And that's the end of the updo wedding hairstyle. Hoping you all loved it. We can't wait to see you try these hairstyles and look amazing.