During the chaos, while choosing the best look for yourself, there is always a choice that can lead you to get a perfect diva you always long for. The opportunity starts with choosing the best hairstyle. A great hairstyle not only gives you an applauding and favorable look, but it also helps you to stand out of the crowd with amazing confidence. Having medium length hair is a perfect option as you can choose a wide range of hairstyles with a lot of fun and flattering appeal.
Girls with medium length hairstyles have a charming spark and a beautiful personality when they style hair with some alluring and delightful hairstyles. But the tough task is to select the best hairstyle. As there are a lot of confusing options when you look out for a medium length hairstyle. So, to give you a gorgeous and pleasing appeal, we have selected some of the best medium length hairstyles that you must try.
1. Feathery Layered Hairstyle
A perfect hairstyle for girls with thin and fine hair with medium length. The highlighted blonde color adds more glamour to the overall look. The beautiful layered and feathered cut opted on medium length hair looks very charming. A magical touch appears when the slightly flipped ends of the angled feathery layers are styled on the side. You can carry the feathery layered hairstyle with any of the trendy highlights for a cool and pretty look. Layered hairstyle is very easy to carry for a long day and it suits even girls having thin hair.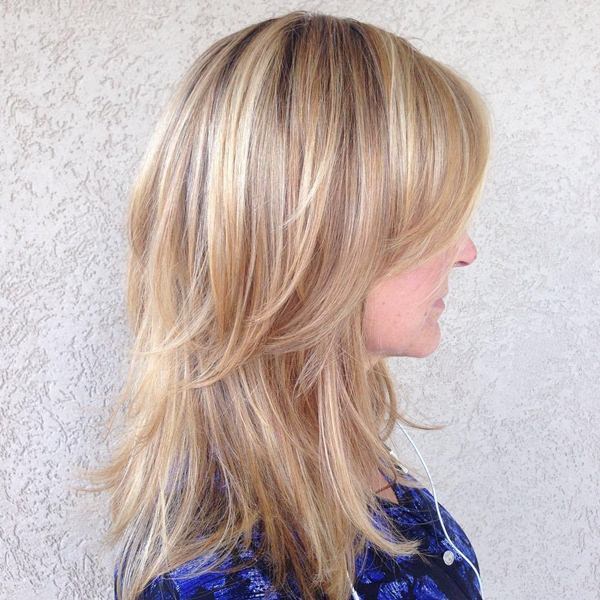 2. Side Parted Flipped Waves
Flipped waves are an easy option to style your medium length hair for a weekend party or an appearance in the event. Side parted flipped waves are an elegant and cute hairstyle with a pinch of bold and hot look. So, it suits girls with both a silent and confident personality. To get the particular look, style your layered cut wavy hair by doing a side parting. And, after you give the parting, just flip the waves by taking a few strands from both sides. It adds a natural texture and give you a pleasing look.
3. Shoulder Length Shaggy Hairstyle
If you are looking for some smart and cute look for your college or high school, the shoulder-length shaggy hairstyle is a great choice to opt for. Shaggy hairstyle is a very cute and nice hairstyle and is popular among teenagers. Adding a trendy highlight color for your hair like light golden or blonde enhances the look of your haircut. Getting a shoulder-length haircut for your wavy hair and styling them in a little messy way with the help of fingers gives an adorable look to the casual shaggy hair.
4. Crimpy Flipped Hairstyle
Medium length or long hair when crimped using a flat iron and without a crimper gives the amazing curly hair texture. Crimpy Flipped hairstyle is a great option for any outing such as a date or a weekend party. It gives a very chill look with a chic hairstyle. After you give crimpy look to your hair just take front strands from the left side, flip them and style towards the right side for a stylish and glamorous look.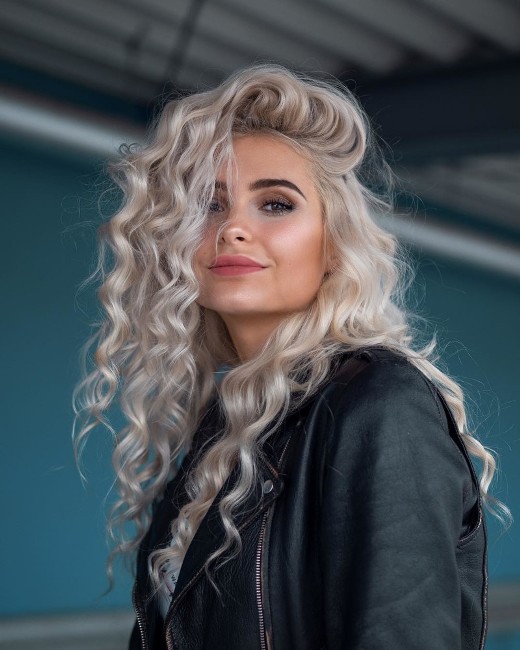 5. Messy Waves with Middle Parting
The idea of a messy hairstyle for your medium length hair is to give you a carefree long day look and adding a glamorous style meanwhile. If you have never tried a messy hairstyle with your blonde waves, then this is the time for a new look. You need to style your hair by doing a middle parting to achieve a particular look. After middle parting avoids the use of any comb especially for the back hair. Pull your front hair towards the side from both sides to add volumes to the waves.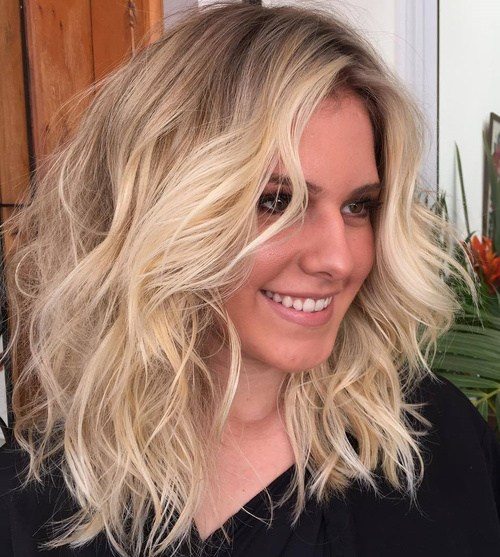 6. Blonde Straight layered Hairstyle
Straight hair are always mesmerizing and when a classy hairstyle is added to the medium straight hair, it ends up giving an elegant and smart look. The Blonde straight hairstyle is achieved by getting a trendy highlight on your sleek and smooth hair. After the color, get a shoulder-length layered haircut. Style your straight layered hair with a side parting. Flip the front fringe of the longer side to give a little twist and a brighter look to the overall personality.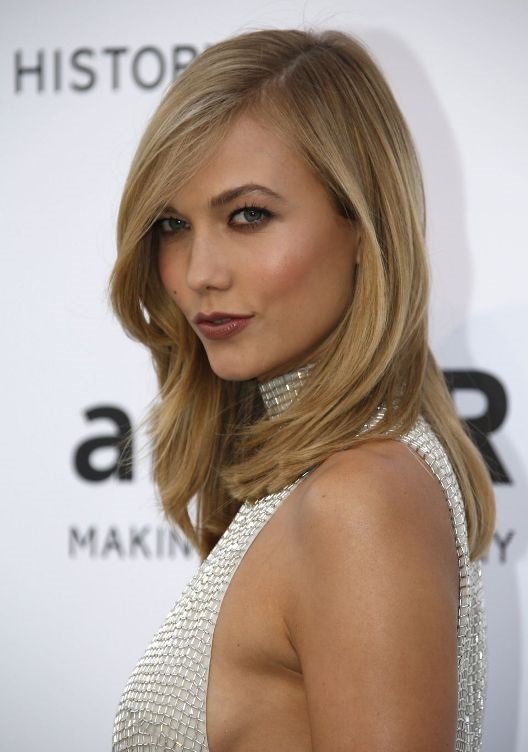 7. Grey Highlights with Swoopy Ends
Silky and smooth medium length hairstyle with trendy grey highlights and curled ends is a perfect option for young girls and women to get a cheerful look. The straight hair when given a grey touch adds glamor to your personality as it is a very trendy option to try. You can style your sharp cut ends with a curler by giving them a swoopy look. Swoopy ends medium hairstyle is an adorable and cute option for a daily college or office look.
8. Textured Hairstyle with Sharp Bangs
Looking for a trendy and classy option for a special event? Textured hairstyle with sharp bangs is the right choice for you. The glamorous look achieved by the sharp bangs and textured medium length hair cannot be compared with any other look. It best suits the girls having an oval or square face and straight and sleek medium length hair. Style your hair with a middle parting by keeping the sharp bangs over the straight hair on both sides. Divide your fringe at the front also in two parts and style in over your forehead.
9. Angled Fringe Hairstyle
A very cute and adorable look with a lot of charm on your face beautifying your facial features is achieved with the angled fringe hairstyle. The straight hair with a golden highlight styled with a side parting keeping the fringe strands over the side is a perfect option for a unique and classy hairstyle. It suits girls having a round face and thin medium length hair. The angled fringe on the front covers most of the forehead adding a ravishing glamor to the overall personality.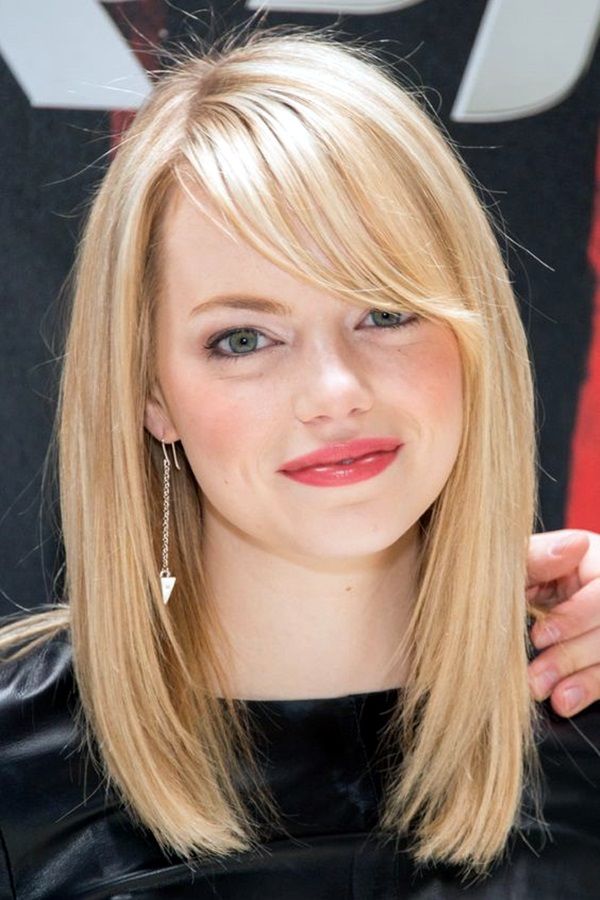 10. Tousled Curls with Blonde Highlights
Searching for a classy and glorifying look for your medium length hairstyle? Tousled curls with blonde highlights is a perfect choice for you. It suits girls having thin textured hair. Get a long layered cut for your hair with a short side fringe. Style your hair with side parting adding a twist to the side fringe. The neat and smooth hairstyle with the tousled curls on the ends gives you an adorable and attractive look. It enhances the beauty of your facial features and is very easy to maintain.
11. Sloppy Cottier Layers
Girls with medium length hair can rush your way towards the salons and get this hairdo done just in a single seating. Sloppy cottier hairstyle is just as similar as what a girl with medium hair length wants in her daily lifestyle. Easy to carry in any of the not wanted situations and gets ready in lesser than a minute. The side flips in the layered hair gives it a flurry and a happy-go-lucky look on any girl's face giving it more enthusiastic gesture completed in little span of time.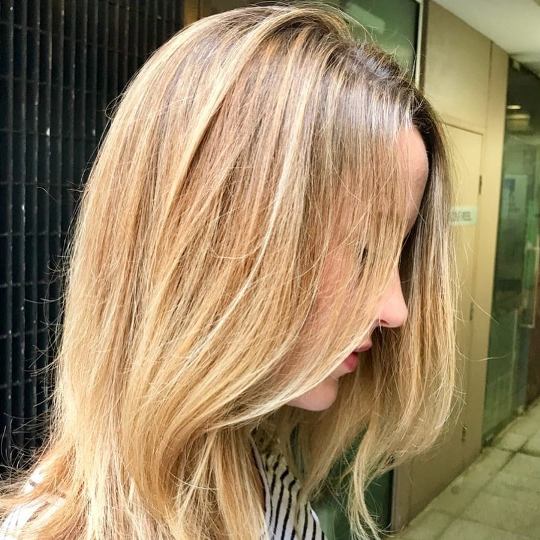 12. Shepherdess Sharp Edges
A purely layered sharply edged hairstyle which is the reason behind enhancing the beauty of this hairdo. Those sleekly sharp textures give it generous and fascinating gaze. The side up waves in flips bring it up the enhancing stare on every charming face. The easiest way to get it done is to get the haircut completed from salon and can be maintained for longer time variation. The straight sharp-edged hair with blackish grey highlights and the side flips can give it a unique gaze.
13. Wafer-Thin Unlatched
Unlatched hairstyle is going to result the sassiest on among all for the girls having thin volume hair and are totally stressed out with how to slay the proper diva look. Now having thin volume hair is no more the topic of worry because from wafer-thin hairstyle any one can have a glamorous gaze on her face. It is best suitable for short thin neck length hair, only a slight side parting is done for completing the whole hairdo. The Golden shade of hair coloring enhances its beauty by adding a refreshing look on wafer-thin unlatched hairstyle.
14. Linear Sturdy
The very straight and sleekly appear for the hair gives very sweet gesture on the face. The middle parting is done making it usual covering area of the side chicks. The unlatched hair and the smoothing straight motion falling making it look more real and natural. This hairstyle is very suitable for those having not so much time to spend with the ongoing, Simple straitening enhances the entire gaze of the girl's face. Moreover, it's good to choose when you are failing out with time and want to hustle up the diva look.
15. Unflattered Arced Albino
Unflattered albino hairstyle comes with an arc surface falling forward giving it straight bending indication of the hair. Girls with short and tiny faces can surely pick it for changing the attire of their face just by having a simple on-going hairdo. Albino hairstyle can be carried in any side partitioning both middle and side parting will go with this, but that falling feature can be experienced more likely in the middle parting. The whitish color of the hair goes good with the hairstyle and can be easily handled by anyone.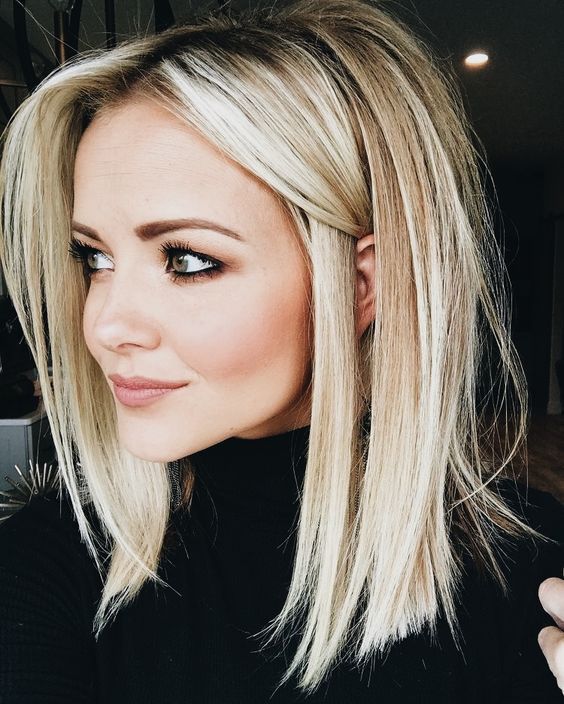 16. Ringleted Streak
Even if you are bored with your daily short hair look and have no other time for going to a hairstylist than ringleted streak hairstyle can bring up a slight change with its kinky and sleek appearance. Only you need a curler to twist the soft ends, taking thick hair stripes and giving it a twisted look at the ends. Hair, when curled, gives the amazing curly hair texture without giving much stress on the curling part. Making it middle parting and letting hair to sleep down the chicks with curly wavy twist makes it look brighter.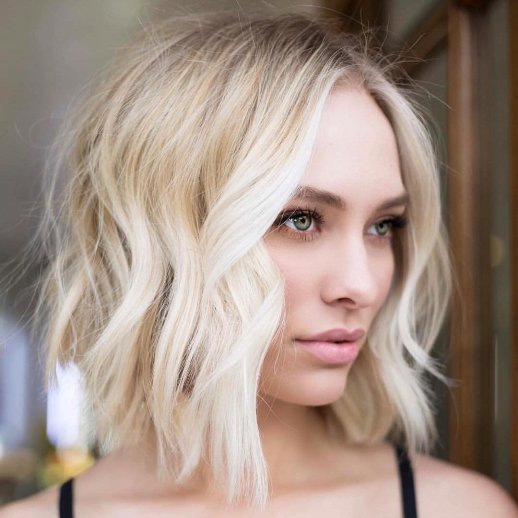 17. Whorled Innermost
Who does not want to get a hothead look and rule the pure diva charm. Whorled hairstyle is the one with which you can always get a pretty blonde gaze on your face. The slightly curled hairs bending inside giving a chubby hairy look brings volume to the hair. A small bunch of hair strips put back beneath the ear and coming to the rest of the hair unlatched upon the underneath ear part. The slightly golden highlights all over the hair strips make it look more enhancing and pretty.
18. Tremble Waves
A shaky wavy hairdo simple to acquire and maintain for a longer period. The thick wavy cut at the forehead bending side ward makes it look wavier and fluffy look. Getting Blunt is kind of everyone's look but getting a wavy blunt sound something more interesting to carry over all along. The side parting will cheer up the look rather than trying middle parting for tremble waves hairstyle. The side forehead strip flips cover a slight side part of the chick and gives it a wavy free look and if you are a curler girl slight ends can be curled just for a glance and get more pleasing appeal.
19. Unswerving Shell
A very simple and appearing gaze can be experienced with unswerving shell hairstyle. It is very easy to handle and manage the hairstyle all day long. A very smooth and shine texture comes up this carrying it with middle parting allowing the hairs to fall freely from both sides making it look more natural and real to acquire. The blackish golden hair color looks good with straight shell hairstyle on any girl wearing it black outfits. The hairstyle gives an amazing and graceful look with the sleek hair.
20. Unbolt Whitecap
Great choice for the girls going out for a casual meetup with friends or relatives and having really a lazy day. Though she can choose it for her casual jean look because not only it is easy to handle the entire day but very good to come up with your look. Those wavy hair gestures and slightly curved part on the top give it a cool kind off. Unbolt hairstyle is good with any type of medium hair, but it will give look more fascinating look with the lightest white color. It can be done within a minute just by rubbing the comb towards the hairdo.
21. Forehead Bridge
It comes under one of the cutest hairstyles for any of the girls. Mostly teenage girls prefer opting forehead Bridge hairstyle for their lifestyle because it gives a very cute appearance on anyone's face. The untangled and unlatched hair falling both the side connected with a hair bridge at the forehead brings the uniqueness in forehead bride hairstyle and out of all the hair color texture gives more life to the hairstyle because brownish black is always the glorious one among all the shades of hair color giving an adorable appeal.
22. Winkey Extravagance Sides
One of the very comfortable and easy to handle hairdo in anyone's daily life because who does not want to have a carefree look on their tiring day. Winkey hairstyle is one of the made in minutes hairstyle because you don't need to give a lot of your extra time and attention on it and all you need is just a hot iron to roll the stripe end up and make it look more real. Doing side parting allowing one shade covering the eye part including the chicks and taking small thick part to wiped out behind the ears leaving small strands of hair in the front.
23. Rugged Disband
There are many girls around for whom it doesn't really matter to get their look up all the time but still enjoys their appearance in any of the outfit. Rugged disband is the best suitable hairstyle for those having least interest to make their lookout. It is middle portioned scattered crimp strips of hairs around the neck surface with some thin strips of flicks getting over the forehead. Rugged disband is even suitable for hair with less volume and the hairdo will give another level of strength and shine to the hair.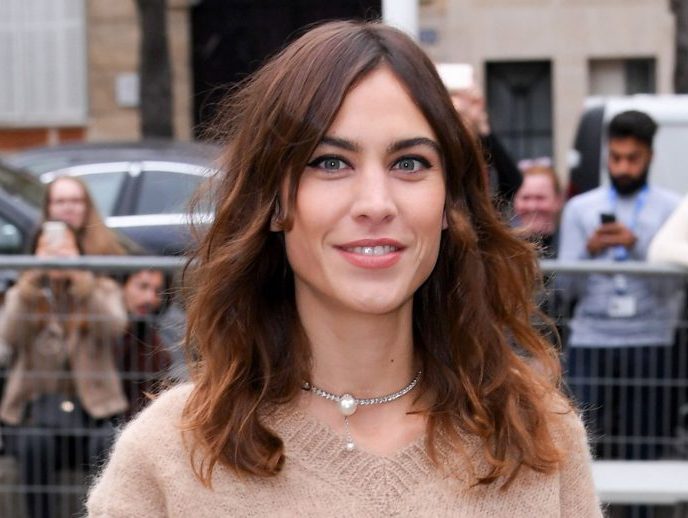 24. Shadowy Forehead
A very sophisticated look can be observed on girls with shadowy forehead hairstyle as it not only suitable for any party looks but also gives an elegant office going look. The hair is little tangled in themselves and very confined and stiffed at their area making a shadowy bridge gesture at the forehead with short hair strips above the eyes area connected with both the side hair settled very carefully around the back-head part lying behind the ears part in a stubborn position. Shadowy forehead hairstyle is good for girls having short to medium length hair and want to have an enlightened look.
25. Assorted Crimps
Assorted crimps is one of the new trending hairstyles loosely handled all over till the shoulder length showing some of the uniqueness in its texture and appearance. Adding a trendy highlight color for your hair like cementing white gives more elegance to your haircut. It can be done by crimping mid-parts of the hair all around and make it look partly straight and partly crimped ending up with the sharp edges and these sharp ends give a trendy look to the assorted crimps hairdo.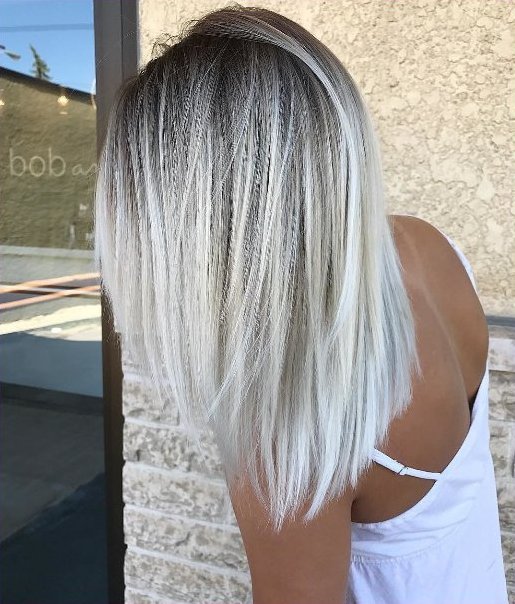 26. Scruffy Corsage
A healthier and heavier bunch of hair clubbed round the neck portion with glimpses of twirl and curls with the block ends. Layered and twisted hair bring up the flicks covering the eyes and having the sense of touching the chicks and falling with the wavy gesture in it. Scruffy corsage hairstyle looks better with thick volume medium length hair and a color combo of darkish brown enhances the overall look making it look pleasurable. The hairdo can be carried with any of the trendy highlights for a cool and pretty look.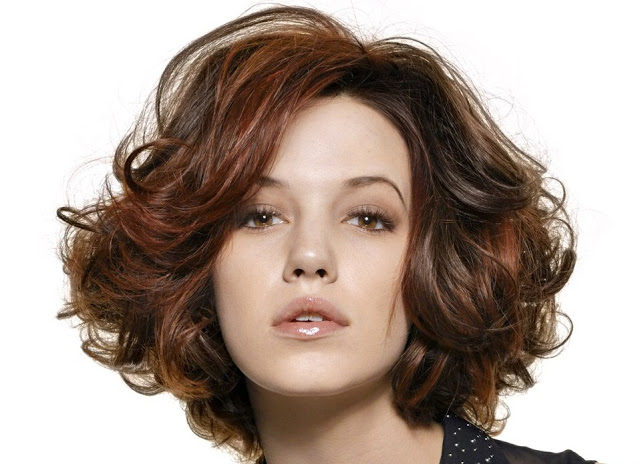 27. Patchy Fleece
As simple as the name defines this patchy look that delivers a furry scattered look on the hair when observed from the back portion of the head. It is carried loosely and untangle just slight waves in the hair strips complete the entire look of patchy fleece hairstyle. As easy to maintain as it looks because the more the hair are in your control the more the day goes off your way. The Goldish brown mixture of the look highlights the charm of the haircut and can slay in any way liked out.
28. Burst Layers
Burst layers are the open shattered layered hair handled loosely all over the neck covering the entire back head area. The burst layers haircut glimpses the layered part of the hair each and every strip evolving as a different part of the layer and comes with a wavy gesture look. It suits best with shoulder-length hair and are easy to handle as a daily carried work. The haircut will amplify any girl's gaze with its layered and wavy appeal. Burst layers hairstyle is best for any party look. It will give a glorious appeal at any of the women's face.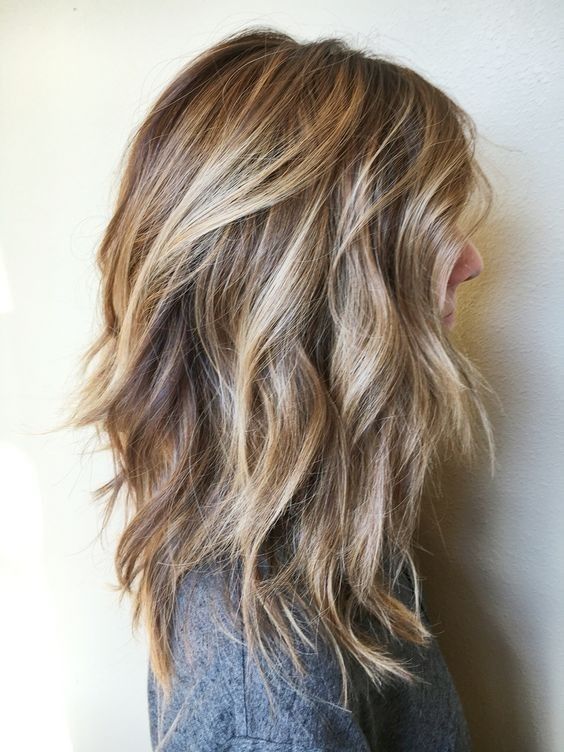 29. Sizzling Straight-ups
It is as straight as the name defines the slight sizzler look in the mid strips of the hair and the edged ends give it a unique and a different trendy look. Straight ups hairstyle will suit for a girl with any hair volume but goes well with hair till neck length. It can be carried openly and freely as it do not require much maintenance to carry and can be handled simply by using the sizzling hot iron chip to give it a mid-sizzler look. It is easy to carry, and it will give a generic gesture after the haircut.
30. Sharp Edged Hairstyle
Sharp edged hairstyle has straight sharp-edged hair coming as a single shaped cut into such a texture there it will never trouble your entire day. It is so easy to carry out and manage just in few spans of seconds. The milky highlights grace will look better with its uniquely defined shades. Sharp edged hairstyle will look good both with a middle portioned or will look good with the right or left side portioned. it is always great to have medium hair to get a complimentary look with it and make your day do good with just no hard work and without any struggle styling your hair.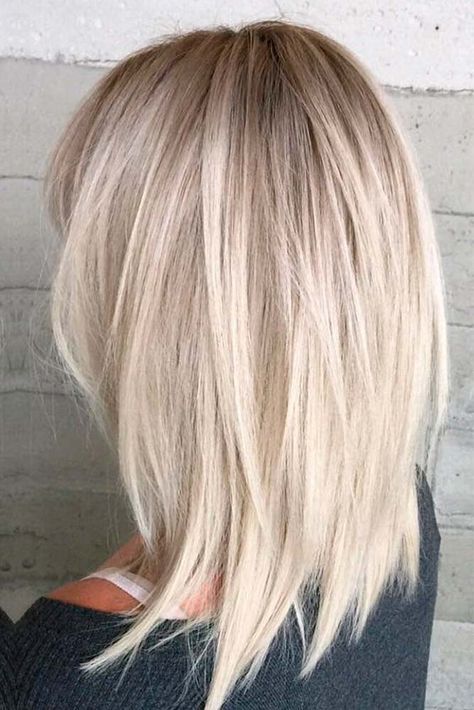 Medium length hairstyles give you the freedom to style your hair in any of the way you want like a bun, free fall, braids or a ponytail. You can choose attractive options for the party and can add your beautiful accessories to the amazing hairstyles for a unique and different look. Medium length hairstyles are also very easy to maintain and care than long hair and also have more styling options than short hair. So, it is always great to have medium hair to get an engaging and complimentary look. Medium length hairstyles offer an attractive casual hairstyle as well as elegant party hairstyle options for a stunning and ravishing appeal.
30 Medium Length Hairstyles for an Admiring Appeal
was last modified:
October 17th, 2019
by