In today's fashionable era, it is a huge hassle to keep yourself on the fashion point with stylish hairdos, which are not only easy and not much time-consuming hairstyle but also easy to carry all around the day. Going through all the fancy hairstyles on the internet, you end up doing the same as before as the hairstyle is too fancy or just not right for what you are looking for. But now your ait and search are over as we bring you 30 versatile, unique, as well as most trending hairstyles, which is perfect when you are too lazy to be stylish, but at the same time, you are passionate about it.
1. Golden Highlights
Adding highlights to the normal texture of the hair is one of the most trending styles to lift up grace. The addition of some non-natural color like pink blue is also going in the air, but this particular hairstyle focuses on the golden or blonde color highlights to the darker tone of the hair. In the picture, you can see how the hair is in the medium length, and the blond highlights are artificially added to her hair, which is giving it a bright look overall. Or more hype the girl as swapped some of the hair sidewise.
2. Inverted Bob
Bobcuts were in style as long as we have known them. They are at the peak of hairstyle as they provide a minimum amount of hair to able to do any hairstyle but also removes the weight of the hair. In this hairstyle, the young girl as cutting her hair in an inverted bob that is the longer strands of hair are at the front and the shorter at the end as it is clearly visible in the above-given picture. To make your styling of hair more visible, you should always try the trick of changing the part of the hair as in this hairdo; the girl has done sidewise part of her hair.
3. Blonde With The Curls
This is the simplest hairstyle of all, as the only eye-catching part of the hairdo is the white bond color, which is added to the natural color of the hair. The hairdo is simple yet elegant and at the same time, provides a graceful look. The hairstyle is easy to achieve as the hair is cut into a medium length and the white-blond color hairstyles at the ends. To add more style, the lady has added some soft curls to the hair, which are also providing some volume to the hair.
4. Soft Browns With Soft Curls
This is the most uncomplicated hairstyle of all time, as you can witness from the above-given picture. This hairdo involves basic three too hour steppes to achieve first would be cutting your hair into medium length if you have a short length that not a problem as it can work its magic on both short and long. Add some soft curls to the Brown hair; adding curls will give the perfect amount of style and volume to your hair. To add some fluffiness use the backcombing technique which will add perfect amount of messiness to the hairdo
5. Center-Parition And Curls
Centre parting of the hair was first showcased by the Bollywood industries where the actress looks stunning with center partition and high buns, but soon those days were gone, but with the changing era, the retro time is once again living its life. Centre partition can be mixed with various hairdos such as ponytails, buns, braids, etc but we have brought you some different and trendy style to do with your gorgeous long hair. The hairstyle surely includes center partition leaving the hair to bounce around. Soft curls are again added as they give an appropriate amount of volume and style to the hair.
6. Bangs With Curls
Bangs are the best thing to introduce to hide those broad foreheads and throw some light on your other facial structure. If you are a great fan of the bangs and looking for something new to try here, we are with your next hairdo to be. The hairstyle shown in the above image is all about the bangs having long short medium, whatever the length it will go perfectly with it. You just need messy hair and messy bangs. You can add messiness in the hair by adding soft curls, which will also provide some volume to the hair.
7. One With Lots Of Braids
As most of us know, braids are the traditional hairstyle, and it is the only hairdo that can easily be mixed and match with any other hairstyle to create brand new hairdos. Here is one of them. This hairstyle is also mixed and match creation by mixing braids and non-rubber band ponytail. First you start with braiding lots of hair of the front part as shown in the above image then just take whole of the hair and secure them at the end in ponytail by a elastic and at the end just wrap some hair locks around the elastic in order to hide it to give more height to the pony.
8. Brown With Side Swaps
The most effortless and easy hairdo of all time is just to add some new color highlights to your original hair as well as change the way the partition you do. This hairstyle is similar to the things I am talking about. The woman in the picture has added some light golden brown highlights to her hair, and to add volume, she has curled them but not proper curls. She has also side swap her hair to add dimension to her personality.
9. Short Hair With Less Care
This one is for my short hair friends as you can have a proper idea from the picture given above. The short hair is volume by adding some rode curls, which are very visible and proper. To add the dimension, her hair at the front is parted sideways, which is throwing an adequate light to her perfect facial structure.
10. Bun With Center-Partition
As we have learned before that centre partition can be done along with various others hairstyle; here is one more example to show you how. In this hairstyle, you have to start with center- partitioning of hair and loosely tie your hair in the bun. We cannot see the bun in the above-mentioned picture, but we defiantly can conclude that the bun is simple, but you are always free to choose the styling of your hair. Too add more focus on the facial structure the front strands which are following out as it is a lose tie are curled to add style to the whole hairdo.
11. Mizzchoi Cut/Style
Mizzchoi cut is for short hair. This cut is very popular nowadays because it provides a messy look to your hair. If you have a good jawline then mizzchoi cuts are the best option for you. For a more appealing effect, you can color your hair in different colors. This style is very low maintaining and doesn't require any hair appliances. With bold eye makeup and proper suits or dresses, this cut is going so well. This cut is for those who have frizzy and thin hair. This cut gives a little volume to your hair and looks very modern.
12. Cornrows
Cornrows are afro American hairstyles. Cornrow looks unique and beautiful. Cornrows mean braids. This hairstyle is for equal medium and long hair length. Cornrows are styled in many ways, like with colorful beads, rubber bands, etc. Cornrows are a time-consuming hairstyle. It requires a professional or experienced person for a perfect look. Cornrow always looks best on black hair. With light makeup and bold dress, it looks great.
13. Long Hair With Baby Bangs
Bangs are always in style. This hairstyle is for long hair but with bangs. In this haircut, the bangs are on the forehead, and the rest is according to your hair length. This hairstyle is for straight hairs because bangs are not for wavy hair. This hairstyle doesn't require any maintenance. Bangs are always done by a professional hairstylist. With light eye makeup and bold lip color, this haircut looks very pretty.
14. Short Bob With Bangs
This hairstyle is for very short hair. This hairstyle looks very cute on little girls. In this haircut, all hair is cut into a bob with front bangs. This hairstyle is for fine and soft hair. Bob haircut is easy to maintain. This haircut is styled in many ways, like with hair bands or pins, etc. By using a curler, you can get a wavy style. You can add highlights for an elegant look. If you have a chubby and cute face, then bobby cut is the best option for you to highlight your personality.
15. Long Layered Haircut
Like its name, this hairstyle is for long hair. In this hairstyle different section of hair cut into layers which looks very beautiful. This hairstyle looks very classy, even in a ponytail. You can add ombre or balayage techniques to look more beautiful. A layered hairstyle can be styled into many ways like braids, buns, ponytails, waterfalls, etc. Layered hairstyle is easy to maintain and best for office going girls. You can wear any dress with this hairstyle.
16. Low Ponytail
A low ponytail is always in trend. According to your hair length, you can adjust your ponytail. A ponytail is also styled in many ways. Girls who don't like open hair can prefer ponytail. Hair is easily maintained in a ponytail. A ponytail is a must for a formal look. In summers you can go with a ponytail trend.
17. Mid-Length Bob With Curled Ends
This hairstyle looks very fashionable. In this hairstyle, all hair cut in medium length bob and with the help of curler or round brush ends is curled. This hairstyle looks perfect for a bold look. This hairstyle requires little time to style. Mid-length bob is styled in many styles like side partition or mid partition etc. This haircut is more comfortable than big curls. You can wear a short dress with this hairstyle.
18. Glossy Short Hairstyle
Glossy short hairstyle is for short hair. The glossy look is now in trend after messy hairstyles. This hairstyle is for very thin hair and it's requires hair appliances. This hairstyle is comfortable for summers. You can wear some casual clothes with a hairstyle. If you have glowing, non-frizzy hair, then this short haircut is best. With little makeup or nude lipstick, the glossy hairstyle looks perfect.
19. Pixie Short Haircut
Pixie's short haircut is not everyone's style book. Very few girls like a pixie cut. A pixie haircut is normally short on the back and sides of the head with very short bangs. This hairstyle is loved by those who like the cool look. Pixie short haircut is styled according to your face shape. In the spring season, a pixie cut is perfect. You can add some hair color for a brighter shiner look. Many celebrities choose this look for red carpets or other functions.
20. Short Wispy Haircut
A short wispy haircut is for fine short hair. This short wispy hairstyle is best for a casual and fashionable look. In this hairstyle, hair is of equal length. You can add blonde color with brown highlights to look more eye-catching. This hairstyle is best for meetings, lectures, conferences, etc. Short wispy haircut comes with very low maintenance. Just use some hair serum, and you are ready to go.
21. Layered Very Short Haircut
Layered very short haircut looks so amazing. In this hairstyle side and back hair cut in layers and front hair cut according to your forehead. This hairstyle looks very classy. Mostly, models actresses prefer this hairstyle because it requires time to style perfectly. Some college going girls also like this haircut. With bold brighter makeup and funky look, this haircut looks good.
22. Long Straight Hair
Long hair is a dream of many girls. They looks very beautiful with every dress or occasion. But long hair is not easy to maintain. Straight long hair is styled in many ways. If your hair is frizzy then you should use hair products to remove fizziness. According to your face shape, you can try various hairstyles on long hair. By removing some dead ends, your hair looks so amazing and fresh. You can add little eye makeup to look natural.
23. Rose Gold Short Hair
In today's fashion world, short hair is in trend. Rose gold short hair looks perfect if you have a fair color. Hair coloring gives a different color than natural color. This short hair looks classy and elegant. Rose gold hair with bold eye makeup fits perfectly. This hairstyle provides with little maintenance. These rose gold hair is perfect for photo-shoots, movies, etc. This look is not for offices or any meetings.
24. Twisted Braid Ponytail
A twisted braid ponytail is for long hair. This hairstyle is mostly preferred for weddings or receptions. In this hairstyle front, hair is twisted to the ends and other hair tied in a ponytail. This hairstyle looks very beautiful but consumes time. You can add some flowers or hair accessories to this ponytail. This hairstyle looks very beautiful with gowns or prom dresses. You can add some makeup to look more attractive.
25. Blonde Wavy Hair
Blonde wavy hair is the choice of many girls. This hairstyle is unique and brightens up your look. Wavy hair is not easy to maintain but looks so good on a round face. This hairstyle is easy to maintain. It is perfect for every dress. You can add some black highlights to look more attractive. Blonde wavy hair is styled in many ways like side-parted, etc. With black eye makeup, these wavy hair provide your cool personality.
26. Mid-Length Chops
This hairstyle is for shoulder length hair. Mid-length hair is perfect for any season. This hairstyle is best for any occasion. You can add some products to look at your hair more glossy. In this hairstyle, ends are chopped only. Many celebrities love this hairstyle. If you are an office or college going girl, then this hairstyle is perfect for you. This hairstyle is for fine, straight hair. According to your outfit and makeup, this hairstyle is styled in many ways.
27. Blond Brown Trendy Hairstyle
Highlighting is the new trend of hairstyling. In this hairstyle also the pretty lady added light golden brown highlights in hair, which is making her more pretty. As they are giving more fairness and throwing light on her beautiful facial structure. To add style, she has curled hair, which is providing perfect volume to the medium hair. This hairstyle is worth a try for you.
28. Bangs With Medium Hair Cut
As we all know that bangs are the perfect hair cut for the winter and fall season, which is soon coming up, so here is the ideal hairstyle for you for this fall seasoned to enjoy your bangs as well as long hair. In the above-given picture, the lady as proper bang cutting and messy long hair. For the messiness, the straightening iron is used to put waves, which are giving them volume and fluffiness.
29. Blonde With Medium Haircut
The medium length hair cut is globed with the perfect blonde who is in so much in trend these days. Highlighting and changing hair colors are perfect, too, adding new personality in you plus make you more confident. In this hairstyle, she has also played the side trick by having not so side partition, which is unique and perfect for fashionista girls.
30. Brading Till The End
This hairstyle is all about the braiding. If open hair is not your cup of tea, then this is the solution to all the problems. For this effortlessly cute Indian hairstyle, you have to just start with the side partition and barding the hair into the simple braid, as shown in the picture. Tying them sidewise, the next step would be braiding but a fishtail braiding at the end, which is properly visible through the picture. To add more uniqueness the braid done first strands can be pulled out to give them the volume they need to finish the hairstyle.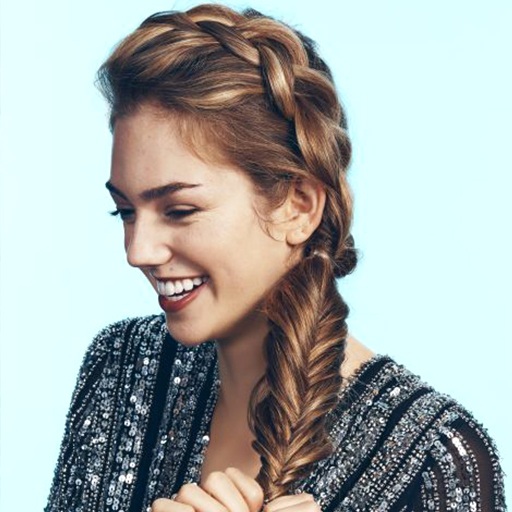 Hair is becoming a more and more prominent part of our personality in this fashion world for which we need a more and more unique hairstyle to cope up with the world. Here are the 30 most unique hairstyle which I hope has helped you. These all hairstyles are unique and easy to achieve as well as they go perfectly with any length of hair such as short, long, medium. In the above hairstyles, the incredible part is highlighting your hair, which is at the top of fashion trends these days; if you are going the first time for the highlights, do take professional advice before going through the process. I hope you enjoyed the hairstyle. Thank you.