There's nothing quite as cozy as the autumn aesthetic. Baggy sweaters, big scarves, and warm hair colors make this season great. There are also light fall hair colors that you may enjoy. They work excellently when styled nicely.
Delightful, rich brunette tones are very common this time of year. However, you'll also find some light blonde looks that will make you feel in the autumnal spirit. Both natural and unique shades are excellent this time of year.
Ultra-Cozy Fall Hair Color Ideas
If you're looking for a new look this autumn, you're in the right place. Below, you'll find some excellent, stylish looks to pick from this autumn season.
Curly Espresso Brown Locks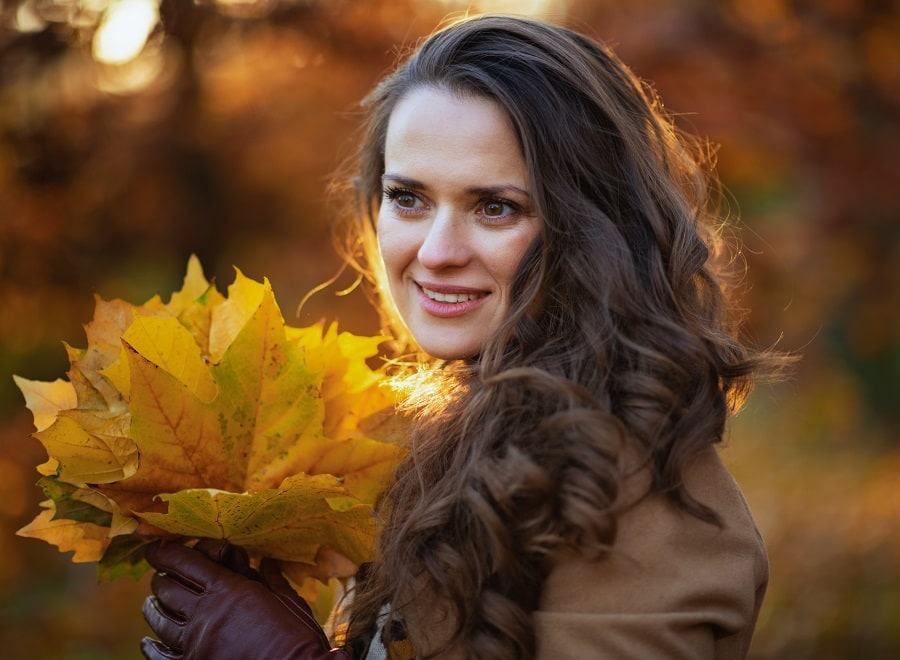 Curly hair creates such a soft look that's perfect for fall. It makes you seem sweet and approachable.
Natural hair color like espresso brown is also fantastic for this time of year. It creates a feeling of warmth deep inside you. Everyone will feel comforted by your presence when you're wearing this look.
Copper Waves with Full Bangs
If you'd like to match the fallen leaves, then copper is an excellent color to go within the pre-winter months. It's so warm and inviting, and it's also very eye-catching.
These gentle waves are highly natural to aid in your cozy aesthetic. The full bangs help add depth and warmth to the look.
Chocolate Bown Waves with Middle Parting
Middle partings are one of the trendiest ways to style your hair now. Waves add a lot of texture and keep things fun. The chocolate brown shade is reminiscent of warm cups of hot cocoa and crackling fire logs.
Straight Wheat Blonde Locks
If you like brighter colors, then blonde is the way to go. This wheat blonde shade has a nice warm tone. It's not too gold, so it doesn't have a summer vibe. Instead, it's a very relaxed shade.
Leaving y our hair long and mostly straight will also make you appear casual.
Gentle Chestnut Brown Waves
Chestnut hair color screams "fall." Therefore, chestnut brown is the perfect color for the season. These gentle waves are perfect for creating a very carefree look. The tresses have a side parting to create volume on top of the head.
Long Thick Ginger Tresses
Ginger is perfect for matching those vibrant autumn leaves strewn on the ground. It's such an eye-catching look, and it goes well with all styles.
Here the hair is left very natural with a side parting. It's mostly straight. There's a little natural movement in it.
Brown Curls with Blonde Highlights
Some of the best hair colors are ones that mix shades. This one has elements of brown and blonde to create a very dynamic look. These colors pair well with the fall aesthetic. The curls add a lot of movement and life to the style.
Dense Brunette Curls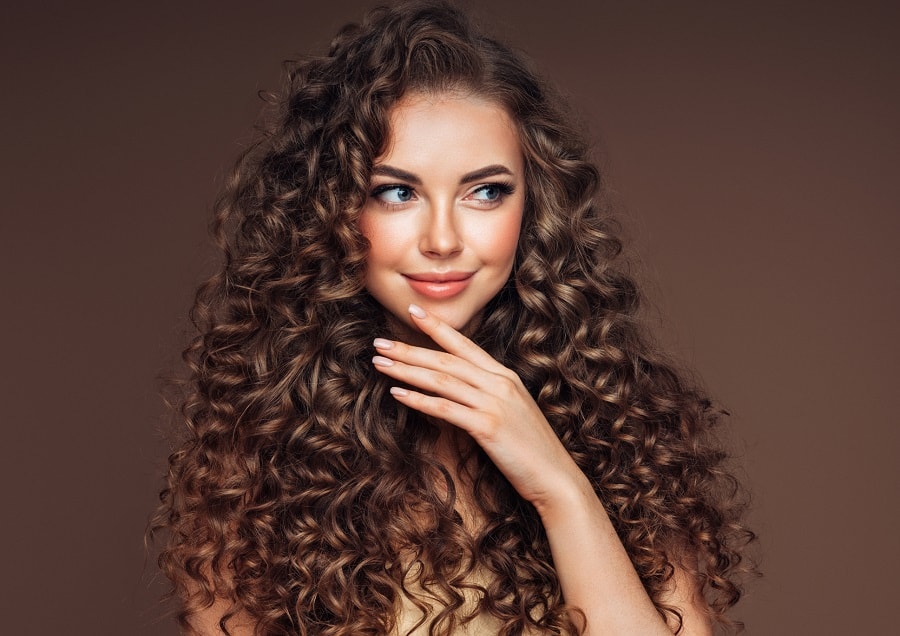 Thick curls are mesmerizing. They make it impossible to look away. They'll pair well with any aesthetic for the end-of-year season. This medium brunette shade really makes them pop and appear very shiny.
Coffee Brown Bob with Bangs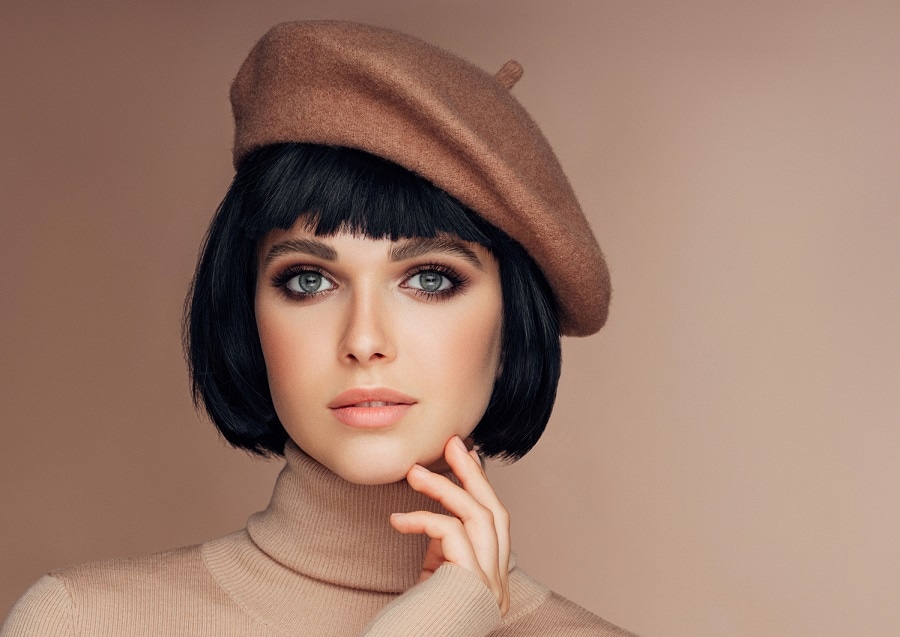 Coffee does a great job at warming you up on a chilly morning. It's also a great warm tone to wear this season. It's so dark that it pairs with every skin tone and makeup style.
The short bob and choppy bangs are other bold statements. The dark tone and daring style go great with nice dark brown eye makeup.
Graduated Hairstyle for Brown Tresses
A graduated hairstyle frames the face very well. At the front, it's the same length as a long bob. The sides are a little longer, and the back is the longest of all. It's an easy and natural everyday style that goes wonderfully with this brown tone.
Dark Purple Afro
Unique colors also have their place in the fall months. A dark purple tone has Halloween vibes and it's also very fashionable. Black and mixed-race women wearing their hair in a natural afro can easily show off this shade.
Messy Look for Caramel Brown Locks
Caramel-brown with dark roots has such warmth and depth to it. The messy half updo also adds that depth. It appears very lively all over. There's a gentle wavy texture in this bob that's very natural, too.
Dense Brown Curls with Blonde Highlights
Here's another fall hair color with brown with blonde highlights. It's perfect for someone with natural curls or a perm. The luscious locks are very long and thick with a side parting. This creates a lot of volume on top. It complements the curls nicely.
Ombre Balayage with Fall Headpiece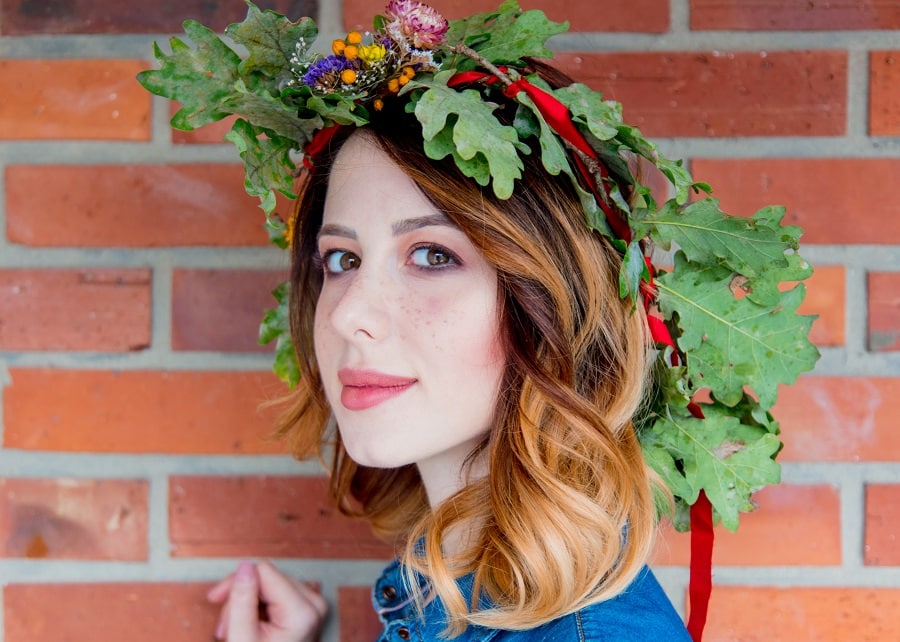 Ombre balayage styles are great for autumn as they combine two warm tones in a very natural style.
These large curls that sit on the shoulders help show off the brown and blonde well. A fall headpiece with leaves, flowers, and berries adds a unique touch.
Gentle Ashy Waves
This bright but ashy tone is cooler than many of the colors above. However, this hair color pairs well with the sweet and comfortable vibes of fall. The gentle waves are quite glamorous, so it would suit someone who likes to put a lot of effort in every day.
Light Purple Waves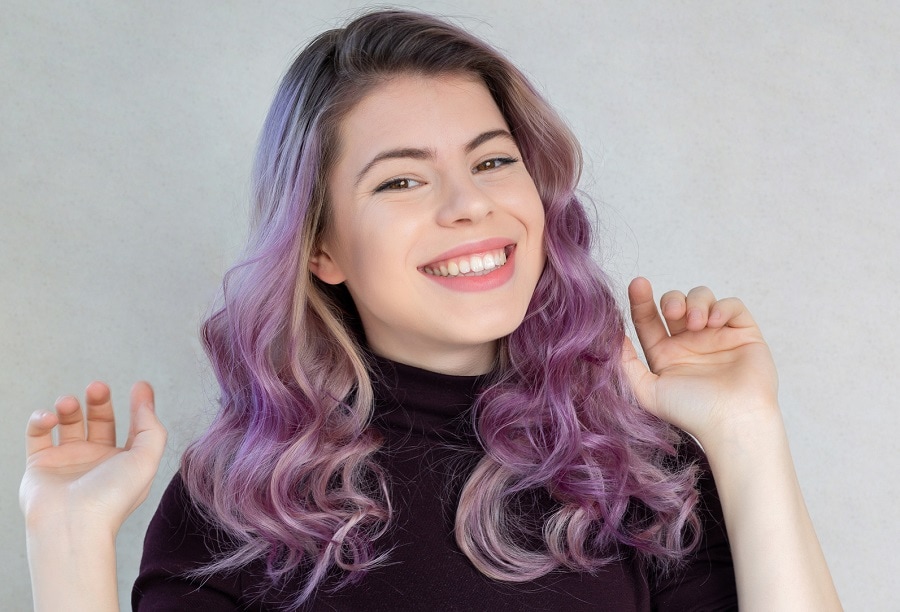 Purple is another cooler tone, but it's a great Halloween color. It's also a nice tone to wear if you like being unique. The waves are very natural and a little messy on one side. This makes it an excellent everyday look.
Golden Brown Short Haircut
Hay mazes and fun harvests are very common at this time of year. This golden brown shade matches the color of those mazes and the harvest very well. The short style makes the hair easy to manage. There's an undercut with a bowl cut on top.
Curly Rose Gold Balayage
Rose gold is such an appealing tone, and it's very trendy too. Here the rose element of it pops so the ends of these curls are very pink. The tresses on top have a lighter, silvery sheen.
This is quite a glamorous fall hair color to wear. You'll be the center of attention with it this year.
Dark Blonde with Leaf Accessory
Dark blonde tones certainly match many of the faded leaves on the ground in fall. The curls make this style look lovely and very natural as they cascade down the back. Decorating the style with a leaf hair clip adds to the autumn vibe.
Light Ombre Tone
Ombre tones often have dark tresses on top, then they transition into lighter tones. Here, however, there's a light brown on top that transitions into blonde.
It's a very natural and casual style. The locks are left naturally straight, too. That makes it even softer and more casual.
Warmth and soft styles are clearly very popular fall hair colors. Hopefully, these options gave you an idea of what you'd like to wear as you enter the autumn months.
They can certainly help you feel warmer on a chilly morning. They'll all look fabulous with every one of these tones. Adding flowery and leafy accessories also helps you stand out from the crowd.