Everybody loves chocolate. Therefore, it's no surprise that people are seeking chocolate brown hair color ideas all over the place. It's such a classy color, and it comes in a wide variety of rich tones you'll love.
If you're in the mood to find out the most fashionable, glamorous, and stunning hairstyles in these wonderful shades of brown, then you're in the right place.
Bold Chocolate Brown Hair Color
Below, there's a wide array of styles that'll make you fall in love. You can have a ton of fun experimenting with the many super fabulous styles shown below.
Thick Smooth Waves
Thick, smooth brown waves are a very common hairstyle to come across when you're looking at chocolate brown color. It's easy to look at them and be reminded of melted chocolate.
They're glamorous and shiny as they cascade over the shoulders. It's a perfect party hairstyle that'll turn heads the second you walk in the door.
Thick Bob
It's easy to tame thick hair if you cut it into a chic bob. There's a natural wave to this look that gives it a little more oomph than you'll simply adore.
The ultra-dark cocoa brown shade of the short hair goes well with darker skin tones. It also looks really nice when worn with nude eyeliner and matching dark eyebrows.
Straight Side Parted Locks
Sometimes all you need is a nice straight hairdo to make you look your absolute best. Parting your hair slightly to one side adds some shape that makes your look a little more interesting.
Soft Curls with Highlights
Sometimes super dark tresses can get washed out. Adding a few highlights to add depth to your chocolate brown hair will help brighten up your whole look.
These curls also add some depth to your style that really makes a world of difference.
Loose Side Swept Waves
It's really easy to create everyday styles you'll adore when you have long hair in a natural shade like this.
Sweep all your hair over one side of your head and push extra locks towards your back. The subtle waves add a hint of glamour to this simple everyday style.
Long Bob with Choppy Ends
Businesswomen who like a formal look will appreciate this long bob. It's stylish and has a side part that ensures your face is framed on one side but not on the other. The ends are slightly choppy so your hair looks more alive.
Thick Pixie Cut
Pixie cuts in dark tones look so sophisticated. They really help draw attention to your face as they brush across your forehead. They're a great way to keep thick hair in check, and thickness makes them look really alive.
Thick Chocolate Brown Curls
Some curl patterns create a lot of natural thickness that looks really nice with dark tones. The hair is naturally dynamic and alive as it falls in thick sheets by your face. Here it's parted in the middle to keep things simple.
Messy High Updo
Sometimes it's best to simply sweep your stunning locks up into an updo on top of your head. It's a perfectly round knot that sits just in front of the crown so effortlessly here.
Straight Locks with Highlights
Bright blonde highlights are a good idea on super dark chocolate brown hair colors. Here they're placed by the face to brighten up the features. The haircut itself is super simple and straight with hair that falls naturally over each shoulder.
Center Parted Straight Tresses
A center parting can often make you look effortlessly glamorous. This is especially true for women with naturally straight hair. It creates such an easy daily style that you can simply brush out and wear all day long.
Medium Hair with Red Undertones
Some hair colors look darker or just shiny when they catch the light. However, if you have red undertones in your hair, then it'll really come to life in the sun. You can see the stunning hints of red with one side of the hair pushed behind your ear.
Light Classy Curls
Light chocolate brown hair color looks really nice on young people. They can help amplify a youthful face. They look especially good when worn in long, loose curls like this. It's a low-effort look that young women who are short on time will appreciate.
Loose Braided Updo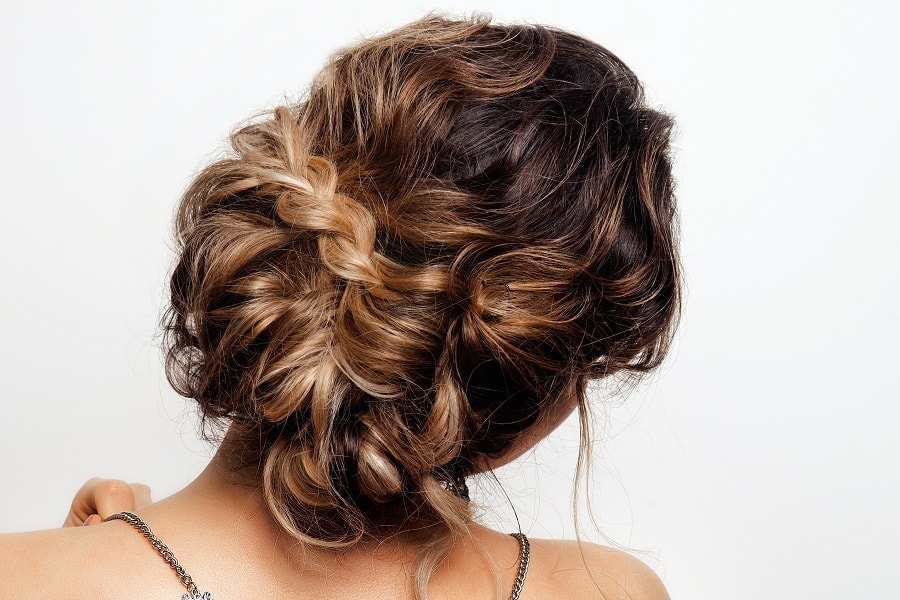 Loose updos are so versatile as they can be worn as everyday styles or to formal events. The hair is gathered up at the nape of the neck and curled towards the head.
A braid pulls in from the side to add some extra texture. There's a lot of movement in these lovely locks.
Neat Bob with Bangs
Bobs suit older women with less time to spend on their hair. They're great for working women, busy mothers, and anyone who doesn't love super long locks. A rich chocolate brown tone and some bangs add tons of dimension to this style.
Chic Ponytail
You can't beat a chic long ponytail. The straight locks are tight against the scalp as they're pulled into a ponytail on the crown of the head. It can be worn as an everyday or party style and the ultra-dark tone goes well with dark eye makeup.
Straight Layered Hair
Layers add dimension and help make your hair look fuller. A style like this can really help women with round faces as more people's attention will be drawn to your hair instead. The middle parting makes it a simple and sweet hairstyle.
Side Parted Asian Bob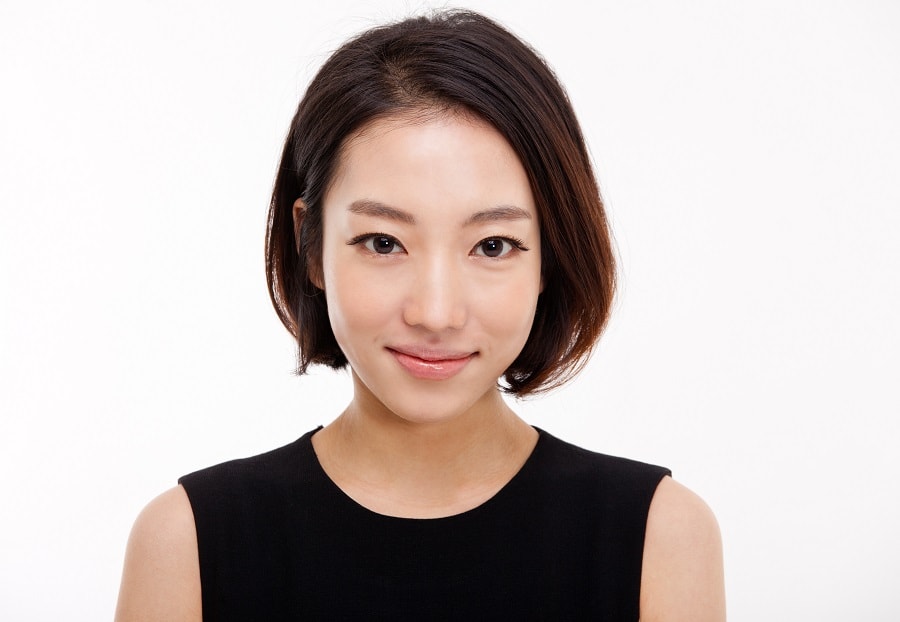 If you have a side parting with a bob you immediately look more chic and fashionable. Curling your bob in towards your jawline helps you highlight your face if you wish.
If you want to avoid highlighting one side of your face, push your locks behind your ear. It adds a touch of asymmetry that's fashionable.
Braided Pigtails with Flowers
Bright accessories look incredible with dark chocolate brown hair. The yellow of these flowers truly adds a pop that you won't be able to look away from as they decorate these nice braids.
The style itself is so simple but it looks more complex due to the flowers. The flowers also match the makeup of the model. That's a good idea if you want to look your best.
Long Tresses with Wispy Bangs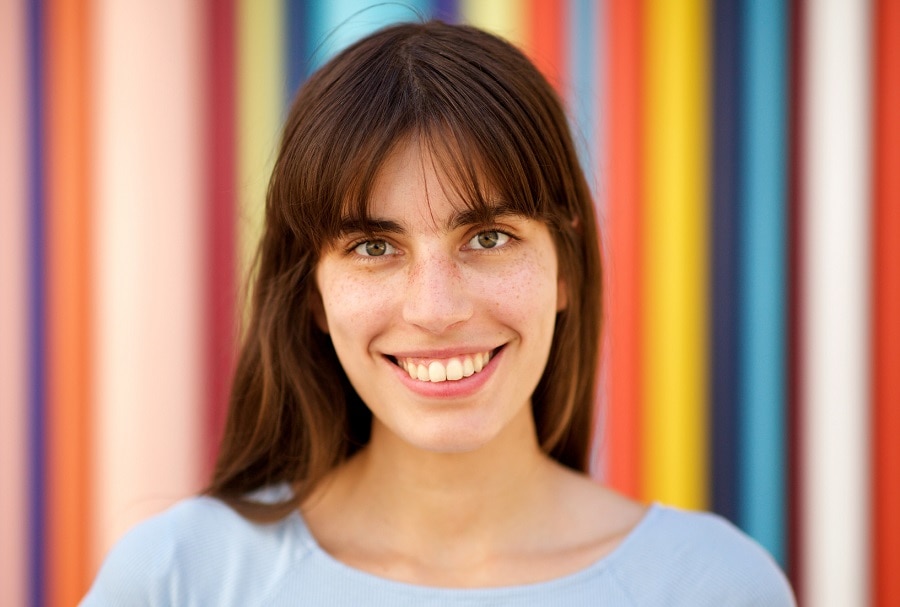 Wispy bangs are super fashionable these days as you can still see part of your forehead under them.
This ensures your look is much brighter than if you had thicker fuller bangs. That's very helpful if you have dark hair like this, as dark bangs can darken your look.
Layered Shag for Older Women
Certain layered types of a shag cut suit older women well. This one has all the hair fanned out away from the face.
It's a classic look that women have been wearing for decades now. It adds a lot of brightness to the face and creates a really approachable vibe that some more mature women may like.
Brunette Balayage Hair
It's always a good idea to look at celebrities for a little inspiration. Khloe Kardashian is showing off a nice chocolate tone with lighter highlights that add a little blonde to her look.
It's a totally desirable and fashionable hairdo to get for yourself. The highlights look amazing on naturally dark hair that's almost black.
Balayage Waves
Getting a balayage to add a lighter brown shade to your chocolate brown hair will add a ton of dimension as you can see here.
These nice loose waves with curly ends also infuse the tresses with some liveliness you'll simply adore. It's a great look to wear on thick hair as you really need something to make the thicker tresses pop.
There's something so beautiful about chocolate brown hair colors and there are tons of ideas you can explore. Somehow you'll always look chic when you wear any of these rich and vibrant chocolate tones.
Darker tones look best when highlighted with lighter ones. This is where balayage and face-framing highlights come into play. They'll make you look totally gorgeous and feel ultra-good.