Styling naturally brown hair can be tricky, and some of you might want to add some colors. Why not try the following brown hairstyle with blonde highlights? Adding a contrasting color to your dark base color can be thrilling. It will give your hair more definition, creates a voluminous look, and make you look more stylish.
There are warm and cold blonde hues, giving you a palette of colors to choose from. You can go for either blonde or colored highlights on your brown hair. So what are you waiting for? Let's explore the endless possibilities and try them soon…
Mesmerizing Blonde Highlights on Brown Hair
No need to worry about styling your brown hair; simply choose any of the highlighted looks, and you are set to go.
Arrow Straight Hair
Straight hair looks great, but the locs look like thread. But getting some wide mocha brown hair and blonde highlights will change the look. No heavy styling is required, just keep it straight and sassy.
Sleek Bob
If you have short, thin hair and still want to get a thicker look, choose this. Warm blonde streaks will surely give you a sassy look.
Keep the fringes long enough to give you a face-framing look. It's a great style for teens and college-goers.
Curly Half Updo
Hola brides! Do not opt for old updos or half updos for your wedding. Instead, choose a medium blonde highlighted half updo with loose brown coils.
No need for heavy accessories; adding a simple tiara will look awesome. Let a few bangs fall on your face, and it's all set for D-day.
Diva Look
This style looks so smooth that everyone is going to love it. The combination of mushroom brown hair and blonde highlights is simply awestruck here.
Each highlighted section is thick and perfectly arranged with loose waves to give a bouncy look. You can wear it to date nights, special occasions, and events.
Long Lustrous Waves
Let your long hair fall freely on your back and shoulder. Then, simply middle parts them, and voila, it's done. Rest the sweet, warm blonde highlights with light brown hair will work like magic. Use hair spray to keep them intact for a longer time.
Coily Shaggy Look
For curly hair, having a shag cut is just great. Not only the dark hair shag looks lovely but adding the golden touch gives it a royal appeal.
The cut will frame your face perfectly, covering your ears with your cheeks, and forehead. The look is simply awesome with highlights and goes with all attires.
Icy Blonde Mocha
Looking for an easy maintenance look? Try this one. Just color the front streaks and a few other stresses in an icy hue, leaving the rest of the hair in its natural color.
Go for subtle tones which can blend in with your brown hair. This style can never let you go out of style.
Wide Back Streaks
If you are a fan of heavy streaks, try this look. It's good for short to medium fine-textured hair. Go for a slight parting; keep the front hair in your base color.
At the same time, keep the highlights for the back portion. The style looks great on winter days. You can pair it with a jeans-top to evening gown.
You can't ever get over how dreamy this hairdo is, especially how it melts from dark brown sliding down to honey blonde highlights.
Add curtain bangs and keep them to one side; add a golden hue and get a dramatic look. Add a contrasting light-colored hairband, and it's done.
Cool Pearl Blonde
Another classic hairstyle for long hair is golden brown hair with blonde highlights. Again, go for a balayage wherein the coloring is more at the fringes and crown region.
The shade meltdowns at the hair end to your natural hair color, giving you a soothing look. If you have a long face and thin hair, try this.
Rustic Blonde Highlights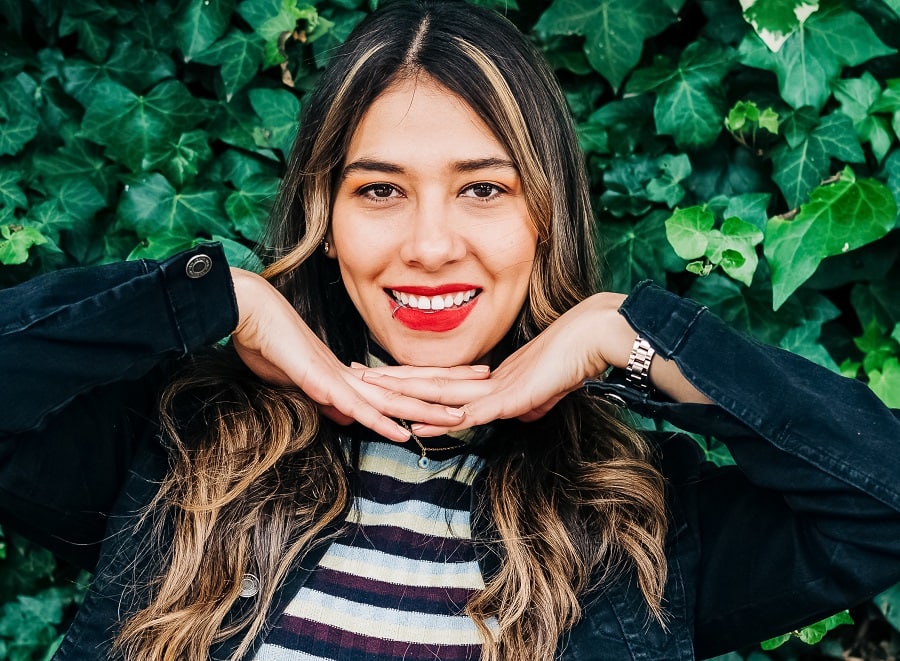 A great hairdo for thick frizzy hair, which will tame them perfectly and look amazing. Long dark brown hair with highlights is a bold choice. If you don't want to go for full red, choose this style and see how graceful it looks.
High Bun
Another sleek and elegant hairdo! Light brown hair with strawberry blonde highlights is incredible. Choose global streaks which will make the look even more impressive. Keep the fringes long to perfectly frame your face.
Chunky Highlights
If you are a natural brunette but want to try a blonde look, consider this. First, ask for some robust blonde color for highlighting.
Ask your hairstylist not to color your roots because any further outgrowth can easily blend in with your brown hair. Add curls at the end for a cheesy melt look.
Caramelized Chocolaty Look
Running out of styles? Try coloring them to get a chocolaty look that easily blends in with your natural hair.
This chocolate brown hair with light blonde highlights could be a perfect style inspiration. Create a small puff with your front fringes and tie it, leaving the rest open.
Ash Blonde Braid
Let's keep it simple and classic this time. Ash is a low light tone that blends evenly with light brown hair. Grab your hair at the back, and make a braid, including a colorful scarf. These ash highlights add a sparkle to your natural brown hair.
Caramel Tinged Curls
Blonde curls on natural brown hair look stunning. Many people often do free-handed curls; these caramel highlights add more glam to your look.
Chestnut Bleached Hairdo
Multi-tonal shades of chestnut brown and blonde blend naturally, creating high contrast and a perfect blend without making the style look bulky. It's a must-try for those with fine hair and can be worn by women of all ages.
Prom Hairstyle
Blonde highlights at the crown region create contrast with long dark brown hair. Without entirely coloring them, you can still have a multi-dimensional dramatic-looking style.
Now add curls to your hair ends, grab them messily to one side and tie them loosely. It's a great style for prom, parties, and special events.
Feathered Balayage Look
A bouncy bob with a streak looks lovely if done with balayage. The color is deep and dark near the roots, where the light hues increase as you go down to the ends. Lightly curls add a feathery look to the bob.
Magical Long Bob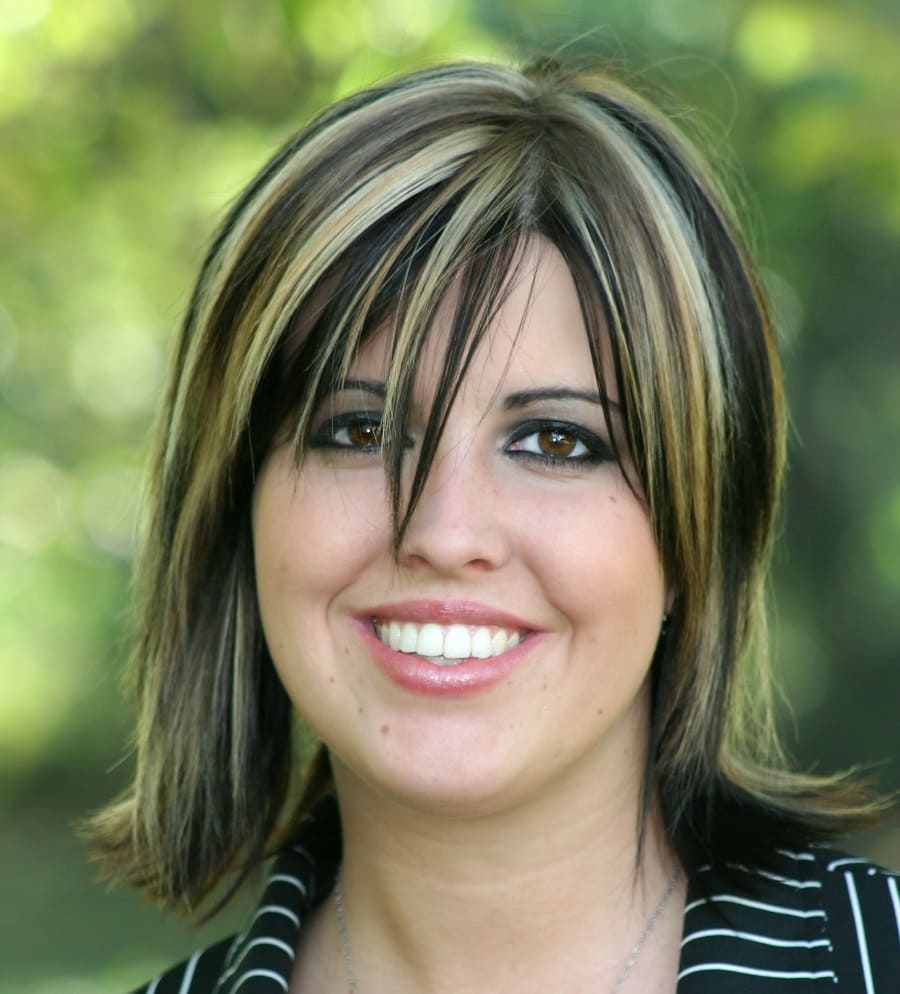 Deep-rooted blonde streaks with different shades of blonde give a different look. Though it's a bold choice, only a few will dare to go for it. But, if you do, the results will be incredible.
Just keep your hair straight, front bangs a little longer, and thin sections in different colors.
Wavy Brown Hair
These transitional platinum blonde highlights on wavy brown hair are perfect. Just take one section at a time and color it. Then curl it to create this dimensional look.
Brown is a versatile shade as it melts easily with any other hue, making it easier to experiment with. We hope you found your best match and inspiration to rock your brown hair with blonde highlights. Then, follow a proper hair care routine to have lasting floor effects.
Have fun trying these styles and get loads of compliments. Also, share it with your friends and relatives to give them a long-awaited hair transformation.