Everyone takes hairstyle inspiration from celebrities. Our favorite celebrities keep changing their hair shades, and strawberry blonde hair color is the one that's stuck on our minds.
Changing the shade of your hair gives you a massive makeover. It takes two things to make your hair look stunning- hair shade and hairstyle.
The hair shade part is fixed for now, but what about the hairdos? We can assure you that you'll have 18 different ways to style your hair by the end of our impressive list. First, we'll tell you what different you can do with your hair.
Prettiest Strawberry Blonde Hair Colors
Okay, let's not make you wait anymore and get to the list!
Loose Low Bun
You must've been tired but don't have the energy to tie your hair. No worries, a loosely tied low bun has become a fashion statement too.
It looks beautifully messy and prevents your long hair from disturbing you. Also, keeping your hair center-parted will give you more of a stylish look.
Curled Back Hairdo with Pink Lowlights
Pink lowlights will add depth to your strawberry blonde hair color. If you have medium-length to long-length hair, a curled back hairdo will be a perfect idea.
It looks neat and is a good hairstyle for parties and events. However, styling your hair this way requires time and patience.
Shaggy Lob
The shaggy lob haircut is perfect for those whose hair texture is rough. Keep the shade of your hair light. White highlights can work here beautifully.
Keeping your hair slightly center-parted will cover a wide forehead. It's a classic hairstyle for working women.
Curly Hair
Strawberry blonde hair color looks beautiful on bouncy curls. If you have natural curls, perfect. If not, no worries, get your hair curled when you're going out.
To make sure your curls are bouncy throughout the day, keep them moisturized. Good hair serum can do this.
Half Knot Hairdo
Keeping long blonde hair loose looks beautiful, but a little style will not harm. Therefore, we present you with a very quick hairstyle for your day-to-day life.
Take a little section of your hair and make a loose knot. If the knot doesn't stay, use small hair clips to hold it.
Effortless High Bun
An effortless high bun can be your go-to look for any occasion. Keep a darker strawberry blonde hair color as it will enhance your overall look.
Loose curly blonde tendrils will give the finishing touch to your hairdo. Bold lipstick is enough to complete your overall look.
Double Half Braided Back Band
A double half braided updo is a perfect look for decent occasions like a baby shower. You can even try this look when going to work.
It's nothing but a combination of two braids layered on top of one another. Keep your hair untangled for a neat look.
Pixie for Older Women
Pixies can be slain by older women, too, when styled right. As one ages, the face shrinks and has wrinkles; thus, keeping a voluminous hair texture will suit your face.
A fluffy pixie with white highlights will bring a glow to your face. Styling your hair this way is suitable for any occasion.
Messy Party Hairdo
Experiment with this strawberry blonde hair color and see how good it looks on your hair. A french bun with curly tendrils will be perfect if you're going to an occasion.
The lighter shade of your hair will look smooth and decent. Use hairspray to keep your hair stable for the day.
Balayage Hair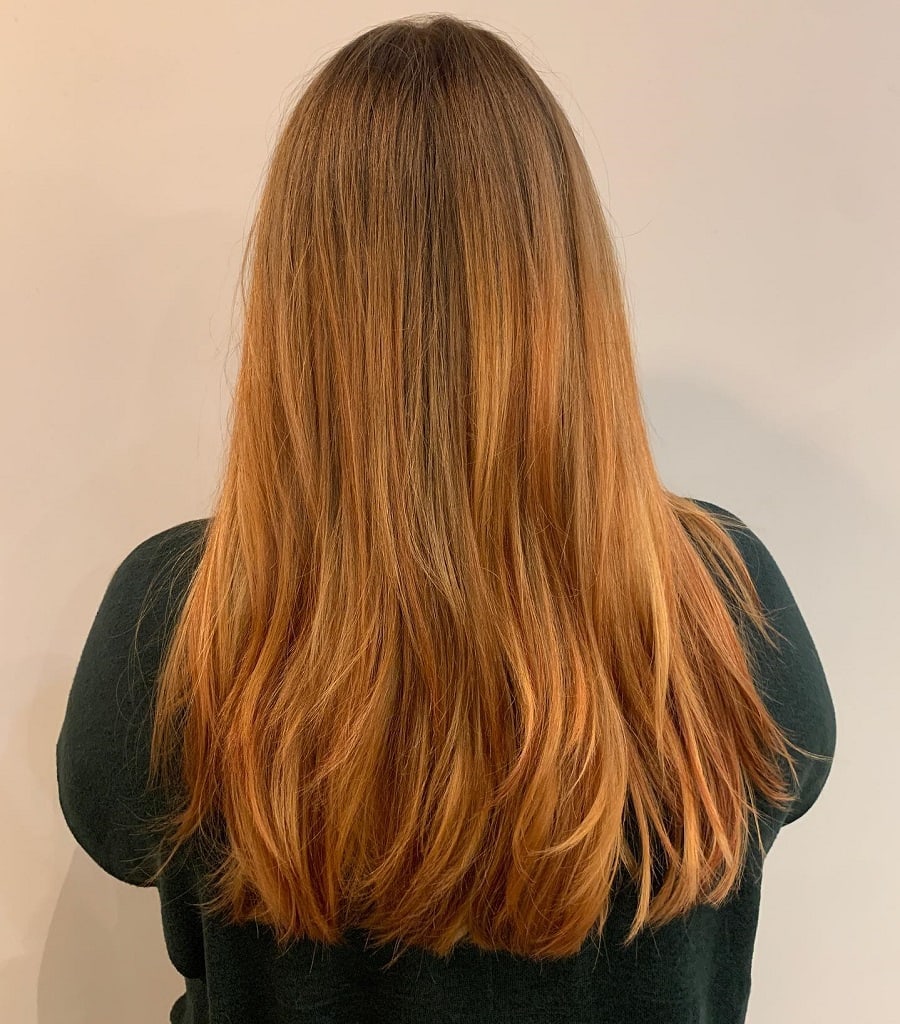 A balayage of blonde and strawberry will look very gorgeous on every skin tone. Those who don't prefer to get their whole hair colored in one shade can get a balayage. Keep your hair open whether you have short, medium, or long hair.
Layered Bob with Highlights
The right way to style thin hair is by adding depth to it. A layered bob haircut can help you bring depth to your hair.
On the plus side, strawberry blonde highlights will bring shine to your thin hair. If you have a chubby face, keep your hair parted from the middle.
Crop Cut
A cropped cut is great for you if you have voluminous hair. The volume will add bounciness to your haircut and looks fabulous.
Plus, the hair shade you opted for will suit this haircut. Keep your hair texture straight to achieve a subtle look.
Cinnamon Rolls
This hairdo can be achieved when you have ear-length hair. Then, you simply curl your hair and tuck them with hairpins.
This will help you get the cinnamon rolls hairstyle. Also, a darker strawberry blonde hair color will surely bring beauty to the look.
Wispy Bangs for 50+ Women
Wispy bangs suit older women very well, bringing sharpness to their faces. Keep your hair texture straight to add to the sharpness of the look. If you want a haircut, too, go for an angled haircut.
Messy Hair with Blunt Bangs
When the texture of your hair is rough, blunt bangs can be your best buddy. Keep the shade of your bangs dark, whereas go for a lighter shade for the rest.
Going from dark to light shade brings a beautiful flow to your hair.
Short Sleek Bob
Short blonde bob suits chubby as well as thin faces beautifully. If your wide forehead worries you, keep your hair side-parted to conceal it. This haircut is great for work-at-home moms.
The peach tint works beautifully with strawberry blonde hair color. However, in this look, the role of the peach hue will be more.
A wavy to curly hair texture is surely going to bring princess vibes. Keep your hair roots darker for a bold look.
Tight Outward Curls
If you're going to a club or a party, curling your hair will be the best way to style them. Get them in tight outward curls by keeping your hair in a middle partition. Don't be afraid to keep your makeup bold, as it's a party look.
After looking at the styles, we're sure that you must've decided to get this beautiful strawberry blonde hair color. This color will make you the center of attention wherever you go. Every eye in the room will be on you.
Style your hair in any of the above hairdos, and you'll see how many people come to compliment you, even strangers! To become your personal hairstylist with our chic list and give your hair a massive transformation.