Without any doubt, blonde is the most versatile hair color that can exist-ranging from the most intense whites and dusty tones. Despite being different, these shades are a perfect fit for any and all hairstyles.
Particularly taking the hairstyle industry by storm are the hairdos that style long, lush blonde hair into something unique and beautiful.
Who says a long blonde hairstyle will limit your choices? It doesn't mean you have to stick with your natural blonde hair. Go wild with fun highlights, ombre gradations, classic balayage, or even color melts!
Greatest Long Blonde Hairstyle to Try
There's a blonde style out there for each of you. We have rounded up the long blonde hair choices to give you the ultimate hairstyle guide.
Side Part Ombre Waves
Going with the bold and dynamic ombre effect is a big leap of faith and for all its worth, you have to show it to the world!
The highly dark shade at the roots like the darkest brown to make your hair appear fuller and the side part draws eyes to the contrasting colors. Style your hair in softer curls to give a more natural look.
Caramel Honey Retro Updo
Have an upcoming retro-themed evening party? The classy caramel honey updo exudes sophistication and vintage vibes, making it ideal for any such event.
The sweeping edges of the swirling rolled updo capture the subtle nuances of your overall look. Accessorize the hairdo with pearls and stones to go deeper with the retro era and let the glossy finishing enhance the color.
Long Dreadlocks Style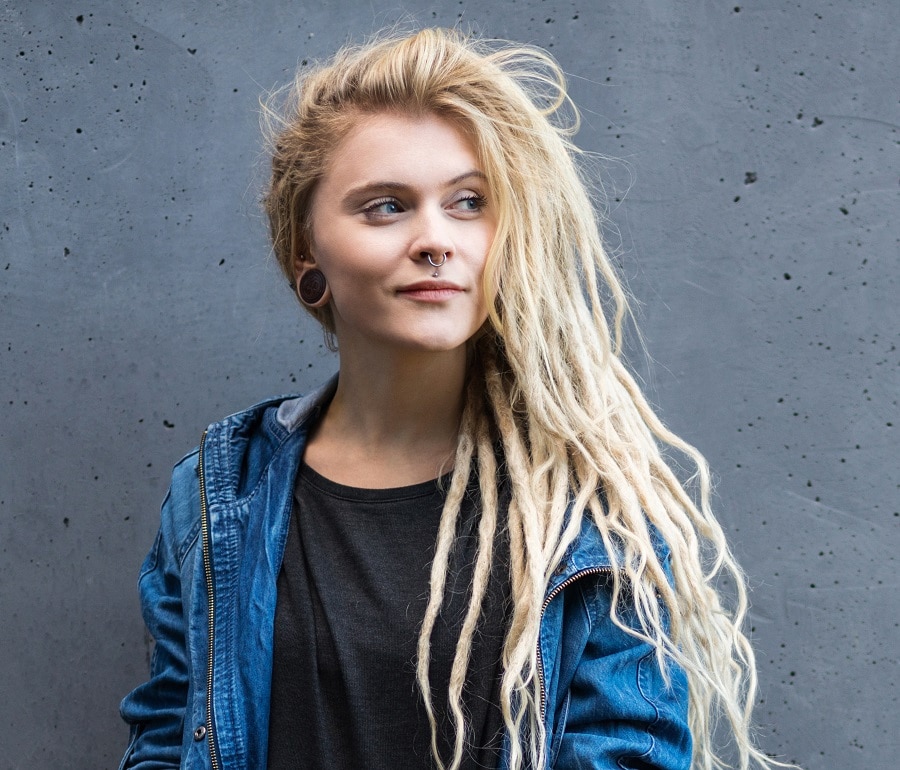 Blonde dreadlocks are perfect to keep your long hair tamed while still looking stylish and cool. Instead of dreadlocking all your hair, make a side part and leave some hair out to emphasize the darker roots and achieve a messy look!
Bronde Micro braids

This casual grunge hairstyle features a bronde hair color, with medium to dark brown roots and light blonde highlights peeking here and there. Worn in tightly twisted micro-braids with a top knot, at first glance, the hairstyle is a showstopper and an eye-catcher of any event.
Space Buns with Bangs
A light singular-toned color shows up here with maximum brightness for a clean look.
This hairstyle has a dominant youthful flair with the space buns and separated fringe bangs. Both this hair color and style are ideal for the crazy summer season.
70s Victory Roll Updo
The contemporary sunflower blonde shade looks exquisite on this 50s-themed double victory roll updo. This hair color is elegant, with the original dark roots visible only very slightly.
Icy White Curly Updo
If you have fine long hair with natural curls, the icy white blonde color that you need in your life to make a statement. The small delicate rings and pinned rolls on the side lend a defining edge and drama to this cool hue.
Yellow Toned Pigtails
Most girls with a fair, pink-toned or peaches and cream complexion tend to opt for a vibrant yellow blonde shade, as seen below, to get a balanced effect. The yellow tone gives off a cute and fun appeal with double ponytails.
Dusty Boho
The lightest shade of blonde with dusty light brown roots is an exciting combination. You can make this a hot spring favorite by incorporating a half-up hairdo, a lovely fresh flower, or even a flower accessory.
Disheveled Light Updo
If you are thinking about going lighter this summer, the coolest option for you will be a pale silver shade.
This visually striking color reflects an ashy hue, which differs from platinum only in the sense that it can appear a little darker. We can see that the messy updo with pulled-out strands framing the face makes the color pop out more.
Voluminous Braided Updo
The beautiful mix of this creamy and light blonde announces itself as a soft and feminine color.
This will be your go-to long blonde hair color if you lean toward the greek princess charm aesthetic. A combination of several knotted braids and tiny flowers tucked in makes for a romantic updo.
High Bow Bun
A honey balayage with medium brown roots helps add a mature and contemporary touch to this playful hairstyle. This hair color feels more low-maintenance because of the dark roots.
Strawberry Blonde Layered Hair
For all the redheads, a strawberry root melting into a peachy finish on the ends is the hair color of the moment. With a 70s-inspired layered cut, the color looks very attractive.
Light Champagne Wavy Hair
A long blonde hair that emerges as an understated winner from a long list of diverse shades and tones. It is a light champagne hue that makes a strong statement.
Brunette with Golden Highlights
Different shades of medium brown and golden are found entwined in this gorgeous balayage. This hair color is usually great for the festive season.
Grey Sleek Style
Monochromatic grey blonde on completely straightened long hair creates a highly sleek and eye-pleasing style. You could pair this up with a black dress for a chic look.
White Messy Hairstyle
Nail the "Just-got-out-of-bed" and "I don't care" aesthetic with this light-toned messy hairdo. The fluffy texture is ideal for representing this color on the white blonde spectrum.
Warm-Toned Beach Waves
The most popular choice among first-timers is a light caramel balayage with dark brown roots since they flatter both warm and cool skin tones. This warm balayage on a beach waves hairstyle is a match made in heaven.
Even though bleaching your hair at home can feel tempting and affordable, you need to go and see a professional hairstylist to get the results you want without compromising quality.
In addition to that, you must take proper care of your long blonde hair in-between salon visits by adding a purple shampoo and hair oil treatments to your hair-care routine. Lastly, try to protect your hair from the heat as much as possible.