Why wait for summer for a gorgeous sun-kissed look when you can have it right away with caramel balayage hairstyles? These stunning hairdos are a mix of natural colors with effortless execution.
When you step out in the sunlight with these hairstyles, you'll look like a queen of summer – the refined texture and classy look it's everything you need! And the best part? Pair it up with curly and straight hair, it'll all look perfect.
Best Caramel Balayage Hair Color for All
'Tis the season of wildflowers, daisies, and sunshine, so why should your hair be all boring! Try out these amazing caramel balayage to be the best in the whole world:
Natural Base Caramel Look
In a love-hate relationship with your hair?
If you want to keep the natural dark roots with lighter caramel at the end, then try this hairstyle! The slight caramel balayage curls at the end with a whiff of flicks on the side are perfectly complimented by the color.
Curled Balayage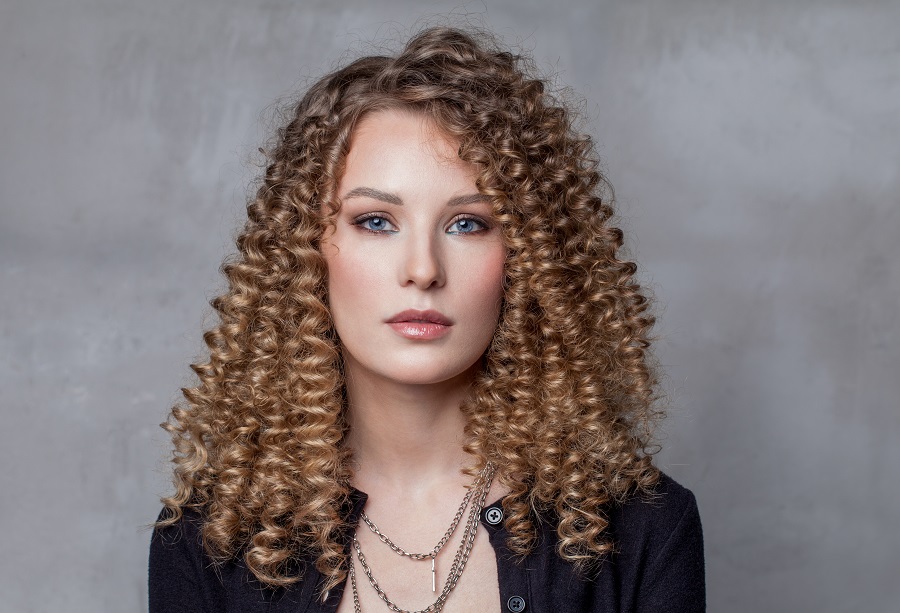 Natural curls are perfect as it is. But if you want to make it flawless, then pair it with caramel colors. Go with natural dark ringlets at the top and let it simmer down to a lighter shade in the lower ringlets.
Straight Middle Part
The balayage looks the best when you leave it in all its natural glory. If you've straight, sleek hair, then simply part it down from the middle and let it flow around your gorgeous face!
Shiny Marilyn Monroe Curls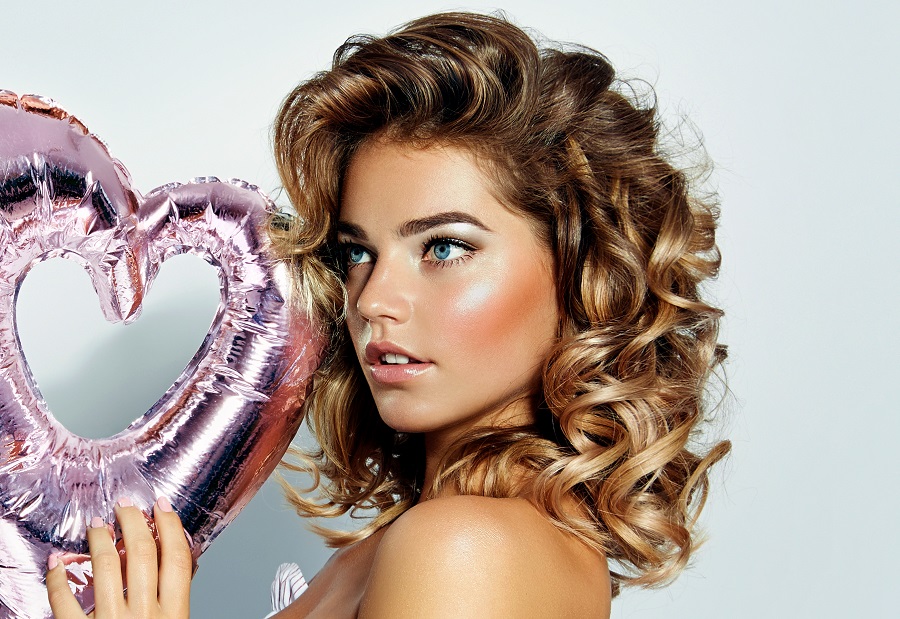 Marilyn Monroe was a diva and queen known for her iconic films and breathtaking hairstyles. This particular curled hairstyle with caramel balayage was her go-to look, and it is pretty evident why!
The darker, quiffed side part with lighter curls brings out the shape of your face and highlights your idiosyncratic features.
Subtle Curled Shades
This is perfect for you if you're not a fan of extremely curled hairstyles! It subtly brings out the nuances of caramel shade by curling right at balayage, giving it a flawless demure look!
Young Afro Flow
Do you know what we love? Ladies who proudly maintain their natural state of the hair. And this hairstyle is nothing short of naturalness.
The hairstyles allow your thick ringlets to run wild and free, with the evident balayage marking its quintessence! Your dark roots will frame the face, while the lighter shades will bring out its uniqueness.
Sunset Dipper
If you're the epitome of sunshine and smiles, why should your hair be a sad shade with a boring hairstyle? Try out this glorious hairstyle with orange and caramel-esuqe shade with a brown base to match your mood. After all, hairstyle and hair color is what make us, right?
Blonde and Caramel Blended
Intertwining the cool blonde shade with mocha caramel that, hands down, could be the best thing to happen to your hair. Pair it up with your long hair and middle part; it is a match made in heaven.
Ladies with light brown hair, this is your sign to gather up the courage and run to the nearest hairstylist!
Spiced Up Brunette
Brunettes are already winning in their life with such a captivating shade adorning their head. Now finish it up with a dark caramel balayage shade, and the hair game is theirs.
If you, too, are a brunette, pick up a brush and color your hair tips! Curls will be your savior if you want to highlight the colored part. Try it now!
Wavy Bob and Dark Roots
If you want your black, short hair to appear more pristine and groomed, try out the caramel balayage shade. It will give it an elegant angle without having to say goodbye to your black hair. Spread your wavy hair around more to give it a more voluminous and flaky appearance.
Messy and Wild Curls
Who says that always appearing sophisticated and put together is the way to go? Be the wild child of the house and go crazy with this messy, curled hairstyle!
You don't even have to stick to symmetry. Splash down the color wherever you feel the best and let it flow around you. Muss up the back, and you're ready to go!
Straight and Sleek
Caramel gets more nuanced when paired up with the right shade. And without much deliberation, it is, of course, a light brown shade.
The brown with this particular shade appears more natural on straight hair – it'll transition smoothly into an immaculate look! Moreso, the color and shade it suited for a professional setting where bright, catchy colors look out of place.
Braided Wedding Chignon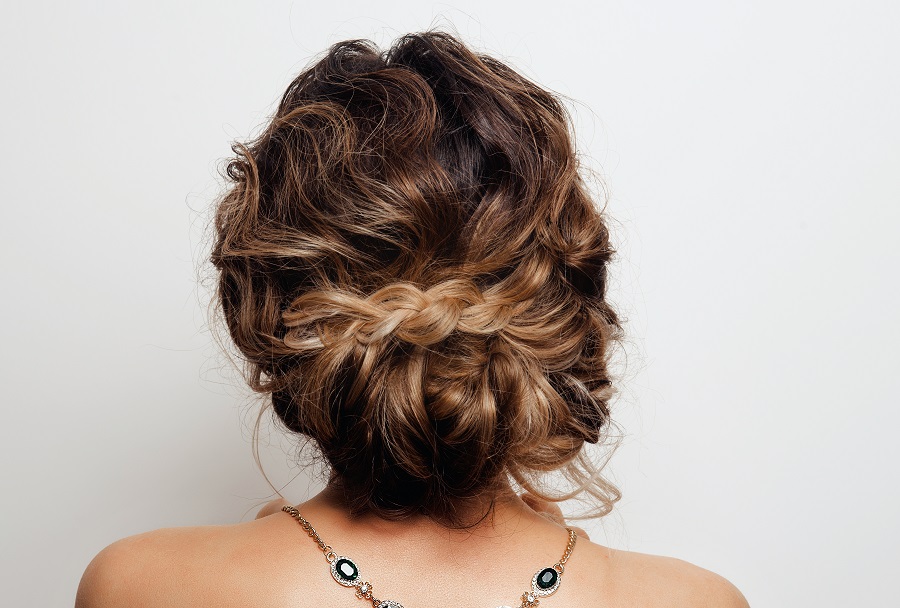 Got a wedding lined and worried about what hairstyle to go for with your caramel balayage color. Why not try a messy braided chignon?
Buns are a classic wedding go-to hairstyle. But you should spice it up with a messy look that appears effortless yet stunning. The braids on the top would add depth and emphasize the actual chignon. Very clever indeed!
Beyonce-esque Waves
If you're a fan of Beyonce, then you'll know that our pop queen is known for her dramatic long hair with slight waves rippling on the ends.
The dark to a slightly lighter shade will shine out under the sun and make you stand apart. Longer set waves also mean you wouldn't have to spend hours getting the hairstyle right to bring out the shade – it's already there!
Bronde Beachy Waves
Remember our summer promise? Well, then long beachy waves are for you!
The bronde shade really brings some summer vibes to the table. Waves in the bottom with a little blonde around the edges will set the tone for a great long hairstyle. Go all the way and pair it up with some cute accessories!
Sophisticated Golden Shade
Put an end to all your hairstyle worries with this golden-caramel shade! The balayage will complement your medium-length, straight hair perfectly and go with any colored cloth – that's the versatility of this color.
You can emphasize the color by doing a side or middle part of your hair more and bringing it to the front on each side. Finish the overall look with some gold jewelry!
Elaborate Bun With Crown Braid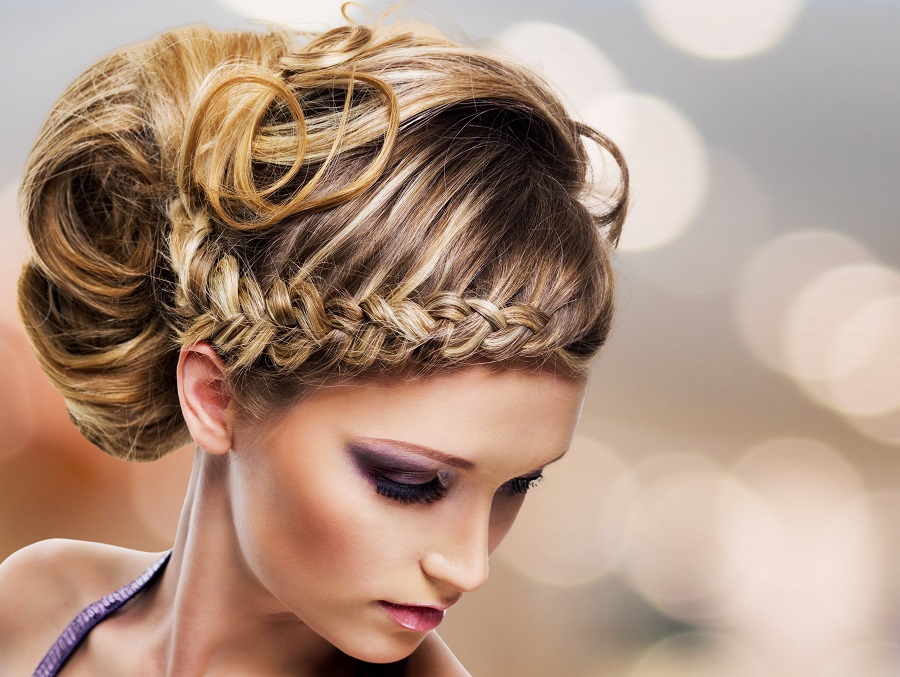 Going extra is the only way to go during some sophisticated party. And what hairstyle screams sophistication more than an elaborate bun with intricate braids and voluminous back do?
Start by parting your hair from the side and making a front braid. Then take the hair from the back into a bun that resembles the picture. Be sure to bring some twisting curls on the top to finish the look.
Blunt Bangs
For all the ladies with wide foreheads, bangs are the ultimate solution. But why stick with the norms and go astray with caramel balayage?
You can either stick to coloring just the tips of your long hair or even try coloring the bangs. It'll bring out a unique look that will leave everyone awestruck.
Lighter Shade
The caramel looks perfect against the curls at the tips. But amp it up a bit with a mushroom-shaded caramel that contrasts with the dark brown roots.
Face Framing Dark Waves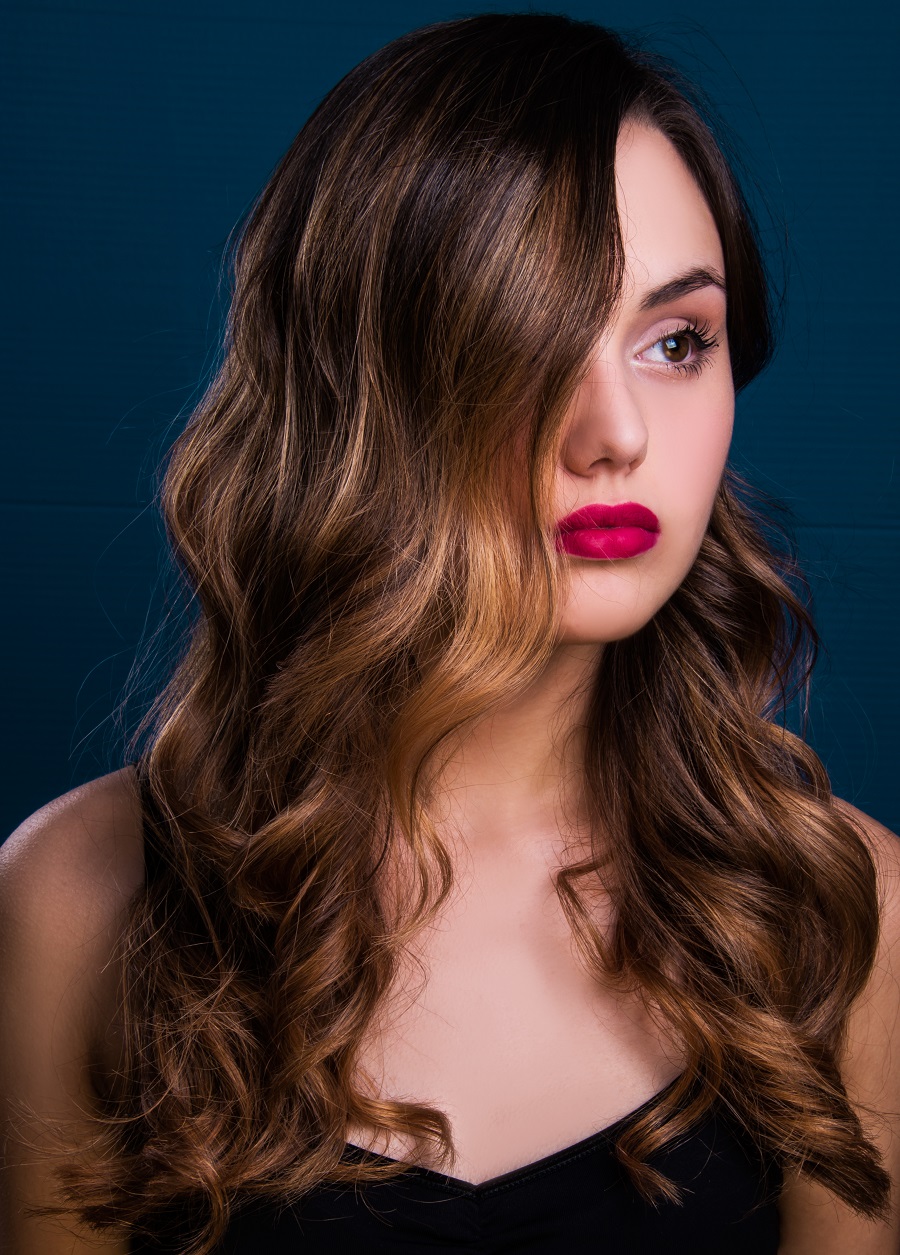 Highlight your black color with some dark caramel balayage shade. This hair color will still look natural while giving you an otherworldly goddess look. Complete the style by parting it from the side and letting the front curl frame your face.
And there you have it! If you've taken the bold step of adorning caramel balayage color, it is time to level it up with exquisite hairstyles. Try out our vast collection of balayage hairstyles, and let us know which one was your favorite!