Caramel seems to be the most trendy color these days. Wherever you go, you can spot this lovely shade of hair color on at least one person's head. And the thing is that, no matter how popular this hair color might get, there will still be many of us who want to get our hair colored in any variation of a caramel shade. Maybe it's something about the warm, brown and earthy color which makes all of us attracted to it. Perhaps it is the fact that it goes well with your hair no matter what hair color you have. Or maybe it is just that it simply looks gorgeous on everyone alike. Ombre, balayage, highlights, baby lights, or even just streaks, this hair color is surely taking the entire beauty industry by storm.
While speaking about caramel hair colors, we also take a look at the hairstyles that are done in different variants of shades of the caramel color itself. Darker shades or lighter shades of brown, it still looks amazing and this color is surely here to win all our hearts. Apart from being extremely beautiful, it is also extremely versatile and you can adjust the color into a darker or lighter shade depending upon your skin tone. Before we dig into the various caramel hairstyles, let us look at a few tips and tricks you should follow to keep your hair healthy even after coloring.
If you don't want your hair to be fully a caramel shade, you can choose to go for balayage highlights which gives a similar appearance while also staying low key at the same time
It is important to take proper care of your hair, especially after you get it colored.
Make sure you only use hair products that are specifically designed for colored hair and kindly refrain from using shampoos and conditioners that are made for normal hair.
Once or twice a week, exfoliate your hair and nourish your roots by applying a natural hair mask. Chemical hair masks may contain products that will make your colored hair more damaged and rough
Applying too much heat to your hair can tone down the color of your caramel shade, and this will only make it appear faded, in a not good way.
Give your hair proper space to breathe, so use straighteners, blow dryers or curlers as little as possible.
A little touch up on your roots every often will solve the issue of grey hair, and you don't need to spend money on coloring your hair every few months.
Now that we've learned the best ways to manage and take care of our colored hair, let is move on and check out this list of 35 caramel-colored hairstyles.
1. Warm Caramel Balayage Style
A balayage style is one in which the hair is painted with one's own hands itself. In this style, the long, thick, and wavy hair have been painted in a balayage style with a warm caramel shade. Caramel is a much-loved color and combining with such silky and wavy hair makes for a stunning combination. While this style may seem to be quite common, it is in-fact very stylish so don't hold back from trying out this classy hairstyle.
2. Cool Ash Brown Balayage
The tones of this ash brown balayage hairstyle look very real and beautiful. This hair color is perfect for anyone with really dark hair as it will help to even out the color on your hair and make it look much more attractive. The ash and brown mixture is quite brilliant and makes for a stunning hairstyle. The hair has been maintained in soft and smooth waves. This is also a shade that goes well with all skin tones.
3. Auburn Brown Hair Color
You will literally be reminded of a beautiful sunset when you see this hairstyle. The mixture of both the orange and brown shade simply looks amazing. A very dramatic and bold hair color with which you can make a bold statement about yourself, no matter where you are. The long wavy hair keeps this hairstyle from becoming too boring. This hairstyle is mostly suited for brunettes who have darker shades of hair.
4. Golden Brown Balayage
A fantastic hair color and an amazing hairstyle, this surely makes for one killer combo right there. The hair has been tousled up in a wonderful manner that makes it really stand out. The sheer volume of the hair as a result of this tousling is clearly visible and makes it a beautiful thing to look at. The golden brown balayage also helps to create the right dimension when complemented with the soft curls of hair.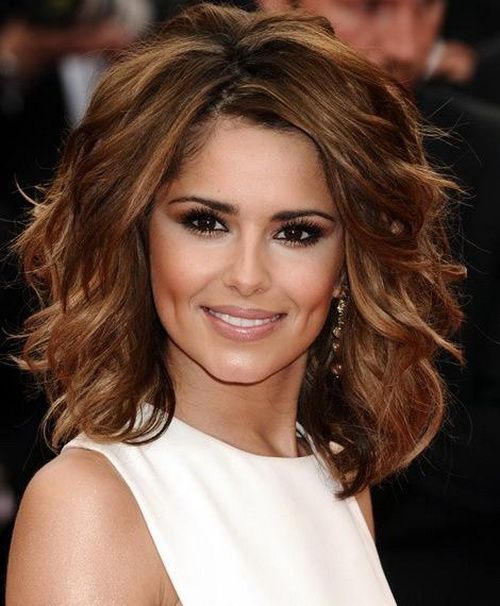 5. Warm Caramel Highlights
The highlights look amazing here in this style. To add some glow to the look, it has been painted in a warm caramel shade and looks like very light shade. This shade would definitely look good on anyone who has a lighter shade of hair. The highlights have been placed very freely as they have been painted all over the hair instead of just adding them in randomly.
6. Bronde Balayage Hairstyle
This bronde balayage style creates quite a beautiful illusion. The hair has been very casually swept to the sides in this long hairstyle, which also features messy waves. The messy structure of the hair gives it a very laid-back vibe. The bronde balayage colors which contrast beautifully against this textured hairstyle is a look that you should definitely check out.
7. Chocolate Balayage Hair
A very chic hairstyle that can never go wrong, especially with the texture of the hair and those beautiful chocolate highlights that have been painted all across the hair. A faro brown shade like this one is always a good choice to go with dark hair like this. You can also try out this hairstyle by making it a mixture of golden highlights along with the chocolate color of the hair. The balayage effect looks very natural, here with it being darker on the top and getting lighter on the ends.
8. Caramel Highlights On Dark Hair
This style is pure beauty. And the caramel highlights have painted all over the style, which has been hugely popularised by Jennifer Aniston. On the overall, it's a very cool-toned shade of caramel which looks very dope. Clearly, the highlights have been blended very neatly all across the hair strands.
9. Caramel And Blonde Mixture
Two amazing hair colors which together make a killer combo. The orange-ish shade that is projected from this caramel and the blonde mixture is surely a style that will go onto become a huge trend in the coming years. The blonde color has been contrasted against the many caramel layers of this hairstyle.
10. Sleek Hairstyle With Dark Brown Highlights
Another variation of the chocolate brown hair colors, this dark brown style, looks very dapper. It has been painted on the ends of the hair. The hair being straightened very smoothly and presented as a completely sleek look is something that we can all draw inspiration from. This hairstyle will surely make you look like the girl boss you are.
11. Platinum Blonde Hair
What a beautiful and surreal shade of blonde. And this hairstyle totally looks amazing too. While the hair on the upper portion is a dark brown shade, the hair on the lower portion is a beautiful shade of golden blonde that is simply looking gorgeous when both these colors have been combined. Simply middle part your hair and leave all of it lying on both your shoulders. This will help to add the much-needed definition and volume.
12. Wavy Mid-Length Hair
This wavy hairstyle featuring a dark brown shade on the upper part and a light golden blonde shade on the ends is looking naturally beautiful. A medium haircut like this one is a good and casual style you can easily wear as your everyday style, be it to work, parties, or just hangouts. The wavy way in which it has been styled adds some much-needed depth and definition to this style.
13. Light Brown Balayage Highlights
This is another low maintenance look that you can try out with a brown or caramel hair color. The hair is faded and cooled down version of the brown color and is a major aesthetic. The balayage which has been painted, boasts of many shades within one particular hair color itself. This shade goes well with all skin tones and its true beauty is seen when it is done on dark hair rather than on lightly shaded tresses.
14. Bronde And Blonde
So this is what it looks like when you mix both bronde and blonde shades on to the same hairstyle. Well, we have to say that it does look lovely. The colors have been melted seamlessly and blended in a gorgeous way that it is one hairstyle that will surely put the spotlight on you. You don't always need an extravagant hairstyle to speak volumes about yourself; a classy and graceful one is just enough. You can also recreate a similar bronde and blonde look by mixing in honey, beige and platinum shades together.
15. Dark Brown And Caramel Balayage
Dark hair at its most beautiful form, this hairstyle is great to show off all that texture and silkiness of your hair. The balayage has been done in the form of illuminating streaks that surely stand out perfectly. And if you are looking to switch up your hair colors after some time, this balayage also provides for a subtle and beautiful transition.
16. Medium Hair With Golden Blonde Highlights
A medium-length hairstyle is very convenient for busy ladies out there. Not only does it look stylish, but it also doesn't burden you with the task of maintaining your hair or longer durations took for styling it. The hair has been maintained here in natural texture and the hair has been painted all over in a mixture of light brown and golden blonde shades.
17. Rich Caramel Brown
A very rich dark caramel brown that has our heart-melting. Dark brown hair combined with caramel highlights always makes for a perfect combination of hair colors and that is quite visible in this style. It is a good color and even if the color starts fading out, it will make a good faded contrast against your new hair color. Or you can also just opt to get the tips painted in a much lighter shade which creates a perfect balayage illusion.
18. Long Caramel Blonde Hair
Not exactly a fuss-free look but it looks very flattering. Long and wavy hairstyles like this really compliment your round face and you can see that with the way this hairstyle looks gorgeous on Chrissy Teigen. The beachy waves of hair seem like they keep flowing and are simply beautiful in a messy kind of way. The waves don't look too made-up either as they have been done in an undone waves kind of style.
19. Twisted Wavy Hair And Faded Caramel Highlights
A faded caramel color looks much more dope than a rich caramel hue. This may be due to its aesthetic and how it looks intriguing as well as beautiful both at the same time. Faded colors go well against dark brown hair since it makes for a powerful contrast. The hair looks gorgeous too, in all its natural length and glory.
20. Metallic Brown Balayage
Here's a different hairstyle you can try out while also getting your hair colored. A trend among hair colors, the metallic brown shade is totally the new in factor these days. Many people are going for it. It gives you an overall sophisticated look that makes you very classy. Give this hairstyle a try before the trend fades away.
21. Wavy Golden Blonde Shade
Shay Mitchell here is seen wearing the golden blonde hair color of our dreams. Everything about this hairstyle, from the way it has been styled to the colors painted on it, it is entirely perfect. And the long kinda messy hair is also perfection. Just the summer look that we've all been dreaming to get. It definitely has major princess vibes about it that we can't lie.
22. Curly Golden Brown Hair
Golden brown, our favourite shade, if we are asked to pick one among all the Caramel hair colors. It's just genuinely gorgeous even if you leave your hair in a complete mess. Bet even the mess could be turned into something more beautiful with a lovely shade like this one. It also has a slight orange-ish tint to it that simply keeps on radiating light and glow. And the way the tresses have been curled so neatly shows how underrated this natural hairstyle actually is.
23. Faded Ash Brown And Golden Highlights
A great hairstyle for all those natural brunettes out there. This is that one perfect hair color which will go really well with your dark roost of hair. The colors aren't too bright either so it's good if you are new to hair coloring and would like to keep it as low-key as possible. You can also get this style done if all you want is a simple hair makeover and not anything major that you may later end up regretting it.
24. Faded Bronde Style
This bronde style contrasts beautifully against the dark shade of the hair. And add to that, a lighter shade, such a blonde color and it will surely freshen up your entire look. So what are you waiting for? If you have at least medium length hair with enough texture, then this hairstyle would definitely look good on you. The blonde color provides a subtle lift and adds to the overall glow of the look which otherwise would have looked like a faded shade.
25. Classic Bronde Style
And to end this list, we have a classic black and brown combination of hair colors. It brings out the beauty of the natural black roots as well as the richness of the dark brown highlights. The black contrast brings out a stunning hue of the browns which may not have been as effective on a lighter shade. This style is a must be recommended one for anyone who wants to try out an interesting hairstyle.
26. Gentle Sunkissed Caramel
This gentle sunkissed look is one of many popular caramel hair colors. The haircut is very basic, with a gentle side parting and the hair falling to the shoulders. However, various shades of golden blonde and darker brown come together to create a caramel look that you won't forget any time soon.
27. Long Wavy Look
This style has more volume to it than some other caramel hair colors haircuts. It falls very long, down to the chest, and has gentle waves to it. It's a light caramel color with lots of golden and lighter blondes creating the hue.
28. Thick Curly Pileup
These caramel curls are piled high on top of the head and let go wild. There's tons of volume and movement to the hair, and some fall by the face while other parts of the half stand up and add volume. It's a messy style that looks chic and clean.
29. Dark Roots and Big Curls
The longer parts of this hack are a beautiful caramel color, and the roots are dark brown. There's so much volume in the hair, you can hardly see the parting, but it's a side parting in the front. The thick abundance of curls adds lots of volumes.
30. Straight Shiny Caramel Sheets
This is a great way to show off your caramel hair. It's long and parted in the middle, falling in big sheets by the face. It's not too sleek, so there is still some movement to the hair that makes this a very fun style.
31. Sleek and Shiny Ponytail
Here the hair is put into a high ponytail with a big loop of hair wrapped around it, holding it in place. The bangs are sleek and shiny and cut straight across, and the hair is one solid caramel color.
32. Huge Fanned Waves
This hair is to die for. It's parted slightly to the side, and it's styled in huge fanned waves that are so perfect you'll be unable to look away every again. The hair is perfect and so dynamic that it seems like an impossible look to create, perfect and stunning in every way in all its caramel glory.
33. Long Loose Curls
This style is very long and free. The hair gently curls and waves in all directions as it cascades down one side of the body. \The color is touched with blonde. It's a casual, very fun look.
34. Perfectly Styled Ombre
This hair contrasts the one above. The waves and curls in it are perfectly uniform and all the same shape and size. The hair color is ombre with the caramel in the middle, sandwiched between gold and brown colors. It's a very complimentary look.
35. Dark Caramel and Brown
This style has caramel color all in the bangs, and the rest of the hair is brown. The bangs sweep across one eye, and the half has a blunt-cut look. It comes down to the shoulders. It's reminiscent of early 2000 punk-style haircuts. You'll look great with this amazing style.
By the time you finish going through all the 35 hairstyles, we are sure that you would have definitely made up your mind to get a caramel hair color done as soon as possible. And we encourage you to do the same because this is one color which will always remain timeless and classic. A beautiful blend of both brown and blonde, this is surely the hairstyle you need to get that gorgeous sun-kissed hue on your hair. So go ahead and take a plunge into these earthy and brown-colored hairstyles.