One of the most effective ways of changing your look depends on shifting the appearance of your hair. It is not like your natural hair color is not nice but it sure feels nice to spice up the color every now and then. With so many Hair Colors and Highlights ideas around, there is no reason for you to stick to one hair color for too long. There is no particular age to bring a change to your hair color or add some highlights here and there.
The word of caution to mention in this regard is that though highlights and hair color look really nice, they also mean that your hair needs extra care. There are special treatments, including special shampoos and serums, available for colored hair. Take advantage of these treatments as the color that you did so lovingly on your hair will not last long without proper care.
Blonde Hair
Blonde is one of the classics in hair color. It is one of those colors that is owner's pride and neighbor's envy. Those of you who do not have naturally blonde hue in their hair can go for this hair color for their next hair makeover. Blonde hair is really versatile in the ways you can style it. It looks great straighten or curled up.
Brunettes Hair
Brunette is undoubtedly a gorgeous color to have. It might sound like just another brown shade but it is not really so. The amount of variation that brunette color has is pretty impressive. Take your pick from honey, cocoa, and chestnut to mahogany colors. Add some light-colored highlights to the hair or leave it as it is. It will look amazing both ways.
Crazy Hair Color
Go for this hair color if the browns and blondes feel boring for you. You need to be really daring to try out this hair color. This one keeps up with the latest trend of using unicorn colors. Go crazy with colors and use all the shades of rainbow right from blue, pink, purple, to green. Cut your hair in a lob cut and flaunt the vibrant shades.
Balayage Hair
Balayage is one of latest techniques that hairstylists all over the world are using to apply highlights. The technique is all about getting natural looking sun-kissed highlights throughout your hair. Balayage gives you a softer effect than the traditional highlights. Ask your stylist to place platinum blonde color strategically using the balayage technique against the brown base of your hair.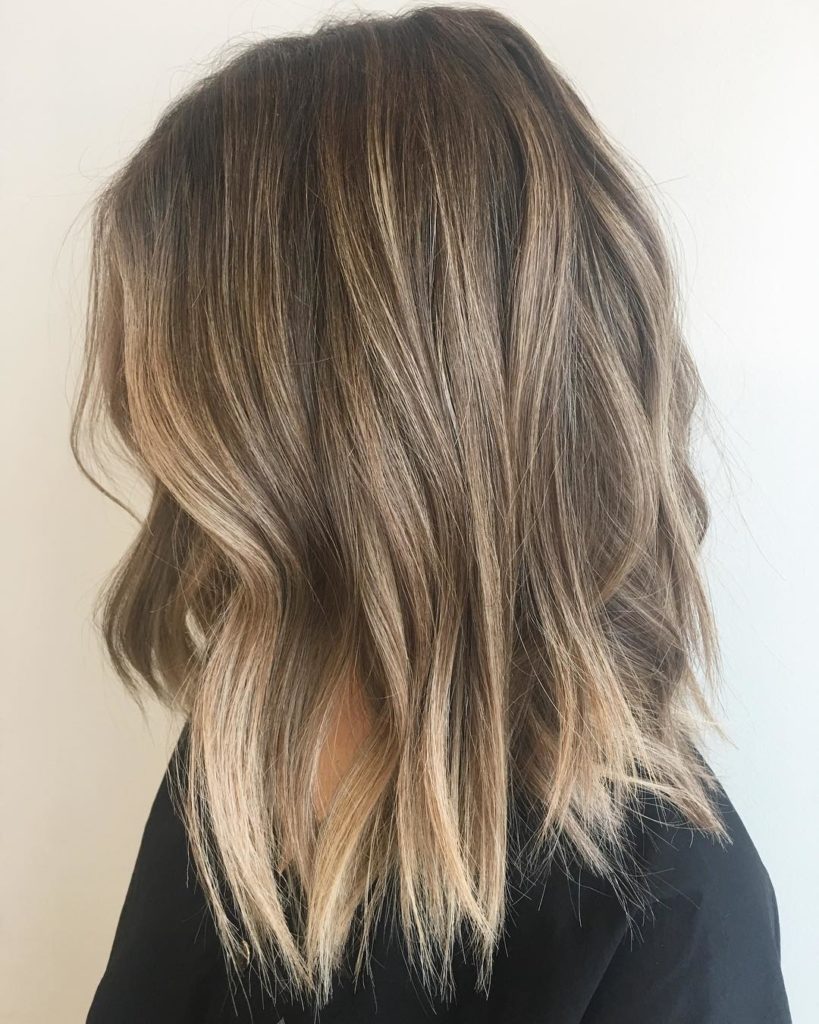 Fall Hair Color
Fall is a great time to rethink your wardrobe and hair color choice. The cool temperatures and the breezy weather brings back vibrant hue into hair trend. Are you thinking of getting new hair colors for the fall? Try this one that has reddish blonde and brown highlights placed on dark hair. Start the highlights from the middle and concentrate them more towards the ends.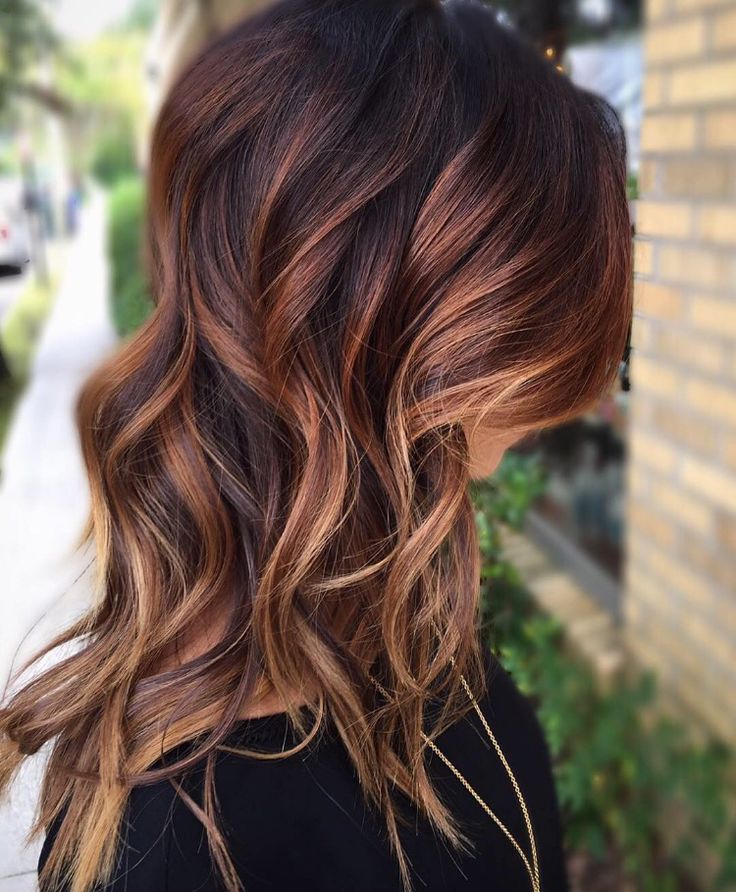 Rose Gold Hair
The rosy glow is no longer limited as a color of your blush. This beautiful shade has been trending as a hair color for quite some time now. Rose gold can bring a richness to blonde hair and looks perfect on women with pale complexions and yellow undertones. Simply make a middle parting, create some curls at the ends, and step out in style.
Red Hair
This fiery hair color can symbolize the strong and confident women you are. With a hair color like that, you look stunning naturally and not much accessorizing is needed. Your hair turns into your best accessory to flaunt. Go for a fiery red color and cut long fringes. Sweep the fringes to one side.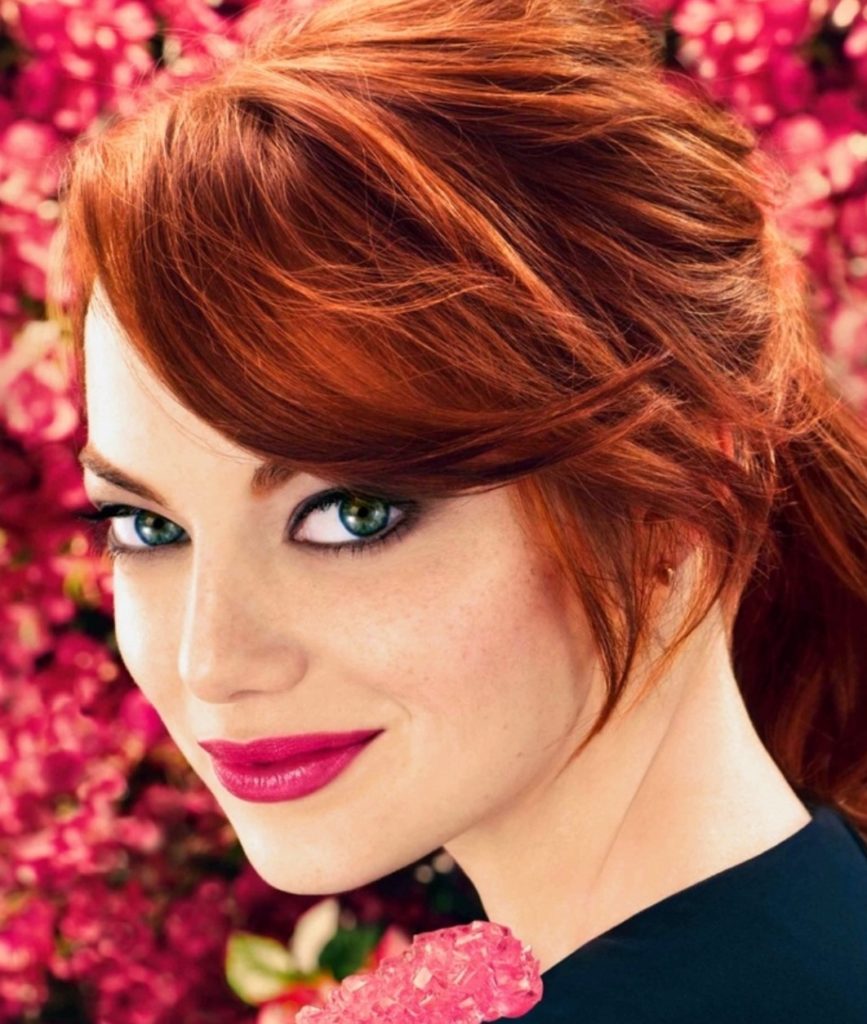 Auburn Hair
Auburn is a variation of the red color and it can be best described as dark ginger or reddish-brown color. You can color your hair in medium to dark auburn shades. Though it is the best fit for lighter complexions, it suits a range of skin tones and eye colors. You can try going for wavy hair, as you see here, after getting the hair color done.
Hair Color For Fair Skin
Fair skin tones with cool undertones, like in this particular case, are ideally suited for a range of hair colors. But if you really want to go for a contrasting shade to your pale complexion, try the ginger hair colors. Your hair will definitely earn lots of compliment wherever you go. Try this hairstyle by creating a side parting and then adding waves using flat iron.
Summer Hair Color
The summers are the season for going subtle on your hair color. This hair color is beautifully suited to the sultry summers. The classic technique of ombre hair color has been used in this one. The hair color gradient starts from the middle. The hair is deep brown on top from where it turns into light brown and then blonde at the ends.
Blue Hair
The vivid shades of blue are the x-factor you need to jazz up your regular hair. You need not go completely blue on your hair. Try this hairstyle where the blue starts from the middle of the hair length. The top of the hair has jet black color. Even the simplest of outfits are spiced up when blue is your hair color.
Purple Hair
Purple is another one of the funky hair colors that look fabulous on all skin tones. You can get purple highlights on thick strands of hair starting from the center of the hair length. Make sure you keep the base color dark to bring out the purple tone well. Curl up your hair to add to the glam effect of your hair color.
Ombre Hair
Ombre hair done right can flatter all skin tones, be it fair, medium, or dark. You can go for the ombre technique on poker-straight hair, or light wavy hair like you see in here. The colors selected for ombre here includes dark and light browns. The dark brown is kept on top from where it graduates to light brown color.
Grey Hair
Grey hair is not considered just another hair problem any longer. Women are gladly embracing the color as the main tone of their hair. You need no highlights for this one as the color speaks for itself. It can be the right match for the women who have fair to medium skin tone.
Hair Color For Brown Eyes
Getting a hairstyle that perfectly matches the wonderful chocolate brown color of your eyes is not too difficult. Just go for this hair color and you are sure to fall in love with your look. The hair is left dark in color all over with some cleverly placed highlights in the shades of dark brown and reddish-brown.
Dark Hair Color
Dark hair color is a style statement by itself and especially when you have a pale skin tone. The glossiness is the main draw for dark hair as the hair will look totally flat without the shine. So, make sure you go for the hair color that adds some shine to your locks. You can also apply shine serum before going out.
Pastel Hair Color
If you think pastel hair colors are too unexciting for you, take a look at this hair color. Here, the blue and pink colors accentuated the platinum blonde hair color. Make a middle parting and color the hair blue on one side and pink on the other side. The roots are left untouched in keeping with the exposed roots technique.
Winter Hair Color
A nip in the air is the right time to add some pretty hues to your hair. The exposed roots technique is continued in this one as well. The hair is made a nice shade of light and dark browns. The curls added to the hair make it look even prettier. Here, the hairstyle has been done on medium-length hair but you can try this on long hair as well.
Ash Hair Color
You can upgrade your basic brown hair by adding some balayage style ash color to it. The ash color looks really nice against the brown backdrop. This is the reason why women around the world are vouching for this hair color. Ash looks nice on all skin tones, no matter whether you have cool or warm undertones.
Hair Color For Spring
Welcome the spring with a new hair color. In case you are wondering what colors to try out, this one can serve as the answer to your queries. The lovely ombre hair coloring is used in the hair. It goes from a glossy dark brown to medium brown. Some light brown strands of hair peek from behind your medium brown part of hair.
Copper Hair Color
Copper hair color refers to the golden pink tints of hair that is inspired from the color of the ductile metal copper. This can be your shade if you are someone who does not like flashy hair colors and loves to keep it as close to natural as possible. Just pick up your flat iron to get the waves and you are good to go.
Silver Hair Color
If funky hair colors are your thing, the silver hair color can be your all-time favorite. The pixie cut makes the hair color look more glamorous. Get the shiny silver color all over your hair to stand out from the crowd. Let your hair color and style be the talk of the party.
Honey Hair Color
Are you looking for the interesting and unique hair color, which will give a bold and beautiful personality? Then trying honey hair color will give a sharp and edgy look. If you have long or medium wavy hair, then trying this one at the end strands will look quite voluminous and stunning. If you have fair complexion, you can surely go for this one.
Burgundy Hair Color
Burgundy is one of the trendiest and excellent hair colors, which adds some extra charm in your personality. So, trying Burgundy Hair Color for any kind of skin tone will make your features more prominent. Make a middle part on your hair and then dye your entire hair with this stunning color. This shade is absolutely ravishing and creates a gorgeous look on you as well.
Chocolate Hair Color
Chocolate Hair Color is an excellent way to add some flair to your regular brunette hair. There are some ways to go when this comes to blonde highlighting on brown tresses. You can either go bold or keep it neat and simple. This particular hair shade is absolutely suitable for any kind of skin tone. It is one of the popular and a gorgeous hair color that makes you look beautiful.
Peek A Boo Hair Color
When it comes to choose the excellent and unique hair color, you can easily try this Peek a Boo Hair Color. This is a different kind of color that contains blue, purple and burgundy color as well. Try adding some pastel shades in your strands in order to accomplish the unique and dazzling look. It brings the funky personality in you.
Caramel Hair Color
The Caramel Hair Color against a brown base offers a pretty and soft kind of look. This is a sophisticated way of adding highlights to your hair. It is safe for work too. So, you do not have to think twice before heading out to work the next day. Those who prefer to carry on it subtle along with their highlights can go for this balayage style of highlights.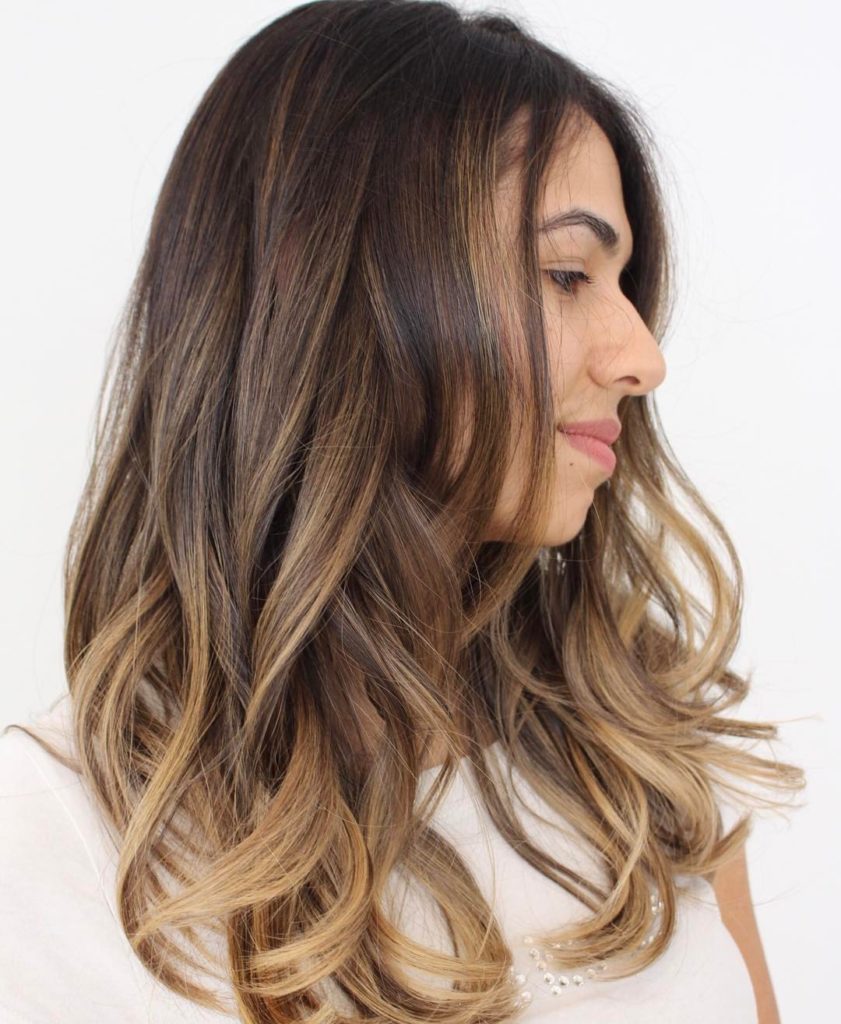 Flamboyage Hair Color
It is the way to go if you want the highlights that nicely frame your face and bring out your delicate features. Trying this Flamboyage Hair Color will help you to make your features more prominent. For any kind of skin tone this hairstyle is the perfect choice. If you are heading out for any party or event, you can easily choose this particular hair color.
Pink Hair Color
This hair color is for you if the color pink makes your heart flutter. The Pink Hair Color is one of the excellent and amazing hair shades that help you to look bold and beautiful. If you want to go absolutely funky and stunning, you can try this one. This particular hair shade is suitable for the fair complexion as it will provide a ravishing look.
Natural Hair Color
When it is all about natural hair color, you have to make sure that you choose it safely. Natural hair color is suitable to every skin tone and that is why it has gained an immense popularity too. Use the light brown and blonde black sparingly on only a few strands here and there. It will help you to look natural to carry it any party, corporal event or brunch with friends as well.
Black Hair Color
Black is the color that you can easily sport anywhere any time. So, if you want to look absolutely gorgeous and elegant, why don't you use this one? The eye-catching and striking black blonde hair color gives you a sleek hair and adds some extra charm to your personality. To create this hairstyle, you just have to make a middle parting and trying the mesmerizing shade, you will look classy.
Mahogany Hair Color
This style is just for you if you are someone who is not yet ready to go into full-fledged highlighting. For the ones taking baby steps into the world for blonde highlighting, this will be a top choice. Get the Mahogany Hair Color on entire strands of your hair and not on the top. This way when the winds sway your hair as you move, the highlights will play ravishing.
Ginger Hair Color
When it comes to choose the unique and dazzling look, you have to think of the classy hair color. So, trying the Ginger Hair Color it will look absolutely vibrant on you. The color ginger blonde looks really vivid and vibrant. This is the kind of highlight, which actually makes you stand out absolutely elegant. You will love this look on you as it will suit your bubbly personality rightly.
Bright Hair Color
The amazing thing about the Bright Hair Color is that they are really understated, but they look super fashionable. It is suggested that you should get the highlights like this one against pink and yellow hair color. The length of the hair is short and up to the neck and to get the super funky look, make the upper section dark pink shade and dye your end strands of the hair yellow.
Autumn Hair Color
Autumn Hair Color highlights are definitely unique in nature. The way this highlight has been used in this hairstyle makes it even more unique to look at. The highlight has been done in symmetrical strips all across the hair. So, when you make a parting and brush your hair, the brown blonde highlights show up symmetrically on both sides of the parting.
Merlot Hair Color
Merlot Hair Color is one of the trendiest and popular hair colors amongst women who love to carry bold and beautiful look. A big advantage of placing soft purple blonde hair is that it makes the hair look thicker than it actually is. If you are absolutely skeptical about how highlights will look on you, go for this one. You will not regret it.
Green Hair Color
Do you want to go absolutely funky and off the beat? Why don't you try this hair color? Well, green hair color will look super stylish and bold and it will also add the valiance and vibrancy on your personality. The ones with green vibrant hair color should steer clear of these highlights. Make the green highlights done in both thin and thick strands of hair.
Orange Hair Color
The dip-dyed Orange Hair Color would look extremely classy with the long hairstyle. The hair length is long and bangs make the hairstyle, as well as the hair color, look prominent. The thin highlights have been done at the ends of the hair strands. The front strands are sleek but the hair is kept messy and a little wavy. The hair color is a bit darker at the roots of the hair.
Hair Color For Pale Skin
The Hair Color for Pale Skin should be chosen very carefully. The light yellowish blonde hair looks best on lighter complexion. The dark-skinned beauties will need to find a bit of the darker variant of this hair color. It is a classy and absolutely elegant look, which you can sport for any kind of event or occasion as well.
Korean Hair Color
The Korean Hair Color would look very well with the long hairstyle. The hair highlight is kept complemented with the color of the hair. The hair length is long and is made straight. The original color of the hair is black. The lighter color is used at the ends of the hair strands. It is also a natural looking hair color, which is absolutely perfect for both of the lighter and darker skin tone.
Asian Hair Color
Asian Hair Color is quite natural for women who love to keep their looks simple yet stylish. So, for them this particular shade is perfect. When it comes to choose the natural hair shade, you can easily go with this one. This is one of the trendiest and popular hair shades that genuinely help you to look beautiful and elegant at the same time.
Californianas Hair Color
The blonde hair is something that looks best with highlights. In the blonde color of hair and highlight with dark hair would look suitable. The hairstyle is kept absolutely casual. The entire Californians Hair Color looks absolutely stunning. The end section of the hair is highlighted in orange and light brown shade. People with sleek and straight hair can easily go for this one.
Two Tone Hair Color
The Two-Tone Hair Color is an absolute elegant and gorgeous hairstyle. The hair length is medium long in length and the ends of the hair are elegantly wavy. An alternate highlight of darker and lighter hair strands is maintained in the entire hairstyle. The straight hair is maintained at the top of the head and it makes the style more prominent.
Cherry Coke Hair Color
The Cherry Coke Hair Color is a unique style which can go well with longer or shorter length of hair. The ends of the hair strands are made wavy in this particular style. The highlights are kept subtle. The darker hair color is maintained at the roots of the hair. The lighter color is maintained at the ends of the hair strands. This shades on the hair strands have made the style prominent and unique.
Dark Blonde Hair Color
The Dark Blonde Hair Color is for the elegant and classy look. The hairstyle is kept matching with the highlights in the hair. The top of the head is kept natural with highlighted dark and light colors. The ends of the hair strands are kept messy and wavy and have light highlights of a brown shade. For the fairer skin, it is absolutely perfect.
Warm Hair Color
The Warm Hair Color is good for a bold and defined look. The bold highlighter colors are used on the outer strands of the hair. The hair length is kept medium and little wavy in texture. The overall hair color in this style is dark blonde brown. In contrast with the hair color, lighter shade of highlights can be done on few strands of the hairstyle.
Hair Color With Lowlights
The Hair Color with Lowlights looks best with any length of hair. For women with thicker and voluminous hair, the brown highlights are suitable. The hair is maintained in alternating shades of dark black and golden. The look is a very casual one and yet can be made to look elegant. The hair highlights are perfect for the hairstyle.
Hair Color For Teens
When it comes to choose the Hair Color for Teens, you can easily try this one. The lighter yellowish shade looks absolutely excellent on you and makes your feature more prominent. The entire hairstyle is kept a bit messy towards the hair ends so that the color of the highlights is made prominent.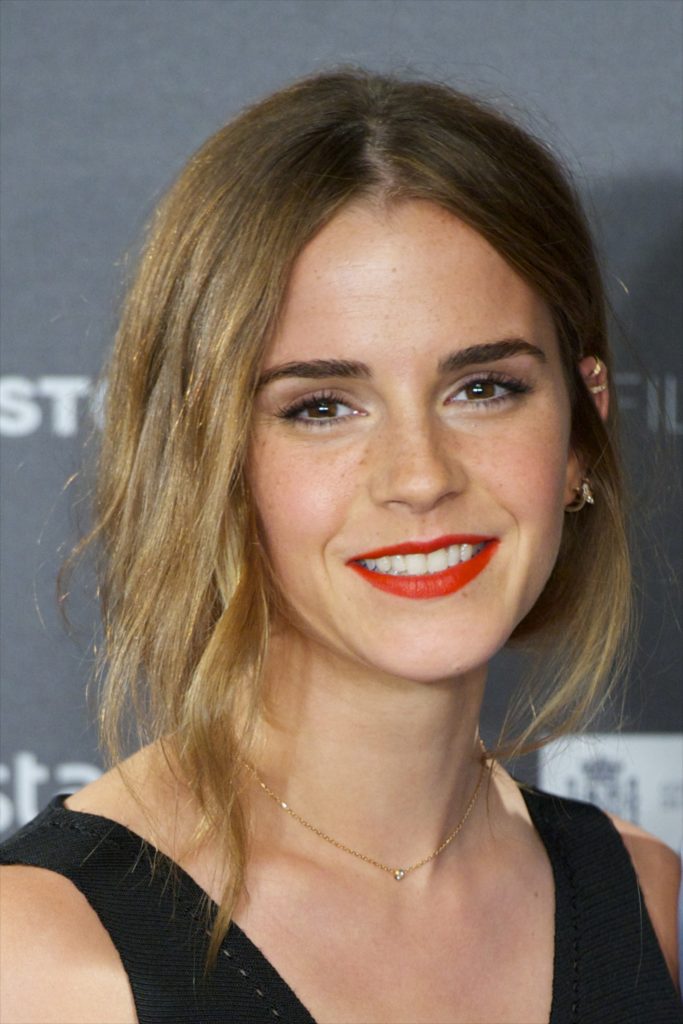 Light Hair Color
A big advantage of placing Light Hair Color on brown hair is that it makes the entire hair look thicker than it actually is. The color is suitable for both darker and lighter skin tone. And this particular hair shade gives an absolute bold and beautiful look as well. Sport the stunning look at any party or formal event too.
These Hair Colors and Highlights give you plenty of ideas before your next hairstylist appointment. So, pick one of these and discuss with your hairstylist to get the best look.
50 + Hair Colors and Highlights Inspiration for Women
was last modified:
April 22nd, 2019
by