Ginger hair is loved and admired by everyone. Finding that perfect hairstyle can be tricky, though, so that's what this article seeks to do. By the end of looking at these styles, you should have found one that suits you.
There's so much variance here, that it's almost impossible not to find one that you want to make your brand new look. There are also lots of ginger shades to choose from. There's something to suit every taste!
Exquisite Ginger Hair Colors for Women
Whether you're looking for a new everyday style, a coffee at midnight messy style, or a glam style to wear to formal events, you're certain to find it in the list below.
Wavy Ginger Bob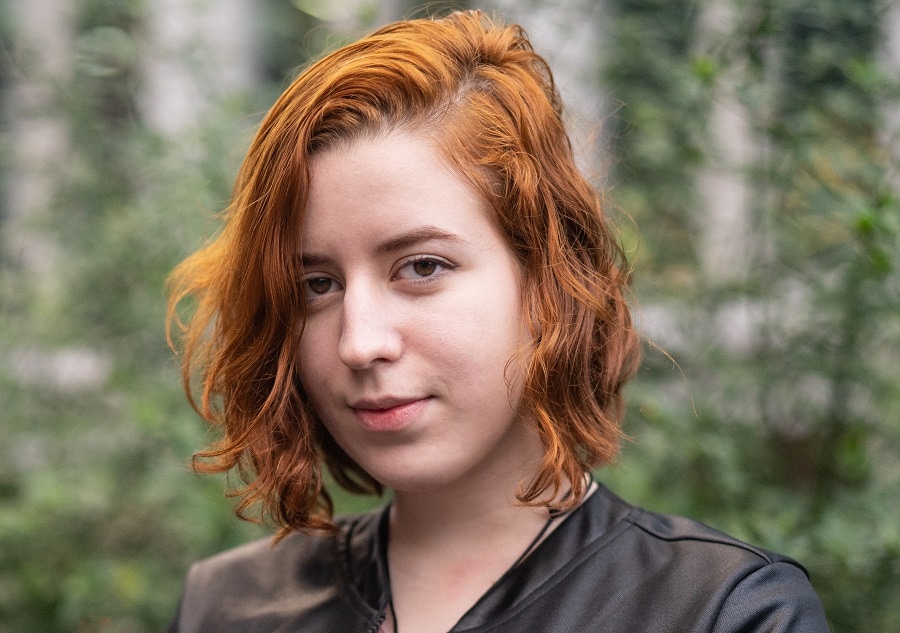 A wavy ginger bob is an easy, everyday look for someone who doesn't want to spend too much time styling their locks. It's parted at the side and has nice, loose curls and waves in it. It's slightly messy, and it appears highly natural for those who like that look.
Messy Bouncy Curls
Here's another highly natural look. This one is alive with bouncing curls in various shapes and sizes.
The look is very layered and not meticulously styled. It's clearly natural, and there's no distinct parting in the hair, either. It's just an abundance of curls.
Large Sleek Curls
If you prefer the more controlled and glamorous kinds of ginger red curls, here's a look for you.
The hair color is deeper and more vivid, and the curls are perfectly styled. The voluminous curls follow the same pattern from the top to the bottom of the hair.
Half Up with Curtain Bangs
Now we're back to more muted and natural looks with this one. The hair has curled ends, and the sides are pulled back away from the face. There are curtain bangs that help frame the face, and they're very neat and perfectly parted.
Thick Ginger Curls
Here's a look that's great if you have really thick curly hair. The hair is well-treated, not particularly messy, and has a side parting. The curls fall beside the face and over one shoulder.
Messy Long Hair
You'll love these huge curls in your vivid ginger hair. They've been given a messy look so they appear more natural for an everyday look. They're very large and have loose curls, but their pattern is all over the place.
Try out this if your hair is very long and you want to create a natural style.
There are some slight curls in the front which can be natural or achieved with a styling wand, and the front of the hair is pushed behind the ears.
Long Natural Look
Long, loose styles are perfect for a youthful look and for someone with naturally wavy hair. The waves are brushed through so they're very subtle. The long hair is let cascades down the back with the sides pushed behind the ears.
Deep Red Shade
If you'd love to dye your hair a bright red balayage shade, then consider this hairdo.
It's more red than ginger, adding a touch of added glamor, and it's very sleek and shiny while styled into large wavy sections that are perfect for parties.
Let It Loose
With this one, we're back to natural ginger hair. The hair is parted in the middle and is clearly naturally curly thanks to all the volume. The curls are loose and somewhat brushed out as they fall in layers on either side of the face.
Romantic Hairdo
You'll have great fun with this one. The hair starts straight on the scalp, and there are some slight twists in it.
Then it turns into a mass of fluffy and curly hair mixed together. It's a look for women with blue eyes that requires glamour, and there's a lot of teasing done in this hair.
Easy Side Braids
If you like braids, then you'll love this look. Three braids are pulling the side of the hair out of the face, and there's a heart center parting that draws the eye. The dark red ginger hair is natural yet highly vivid, and it's all straight but it's natural, not overly sleek.
Professional Hairstyle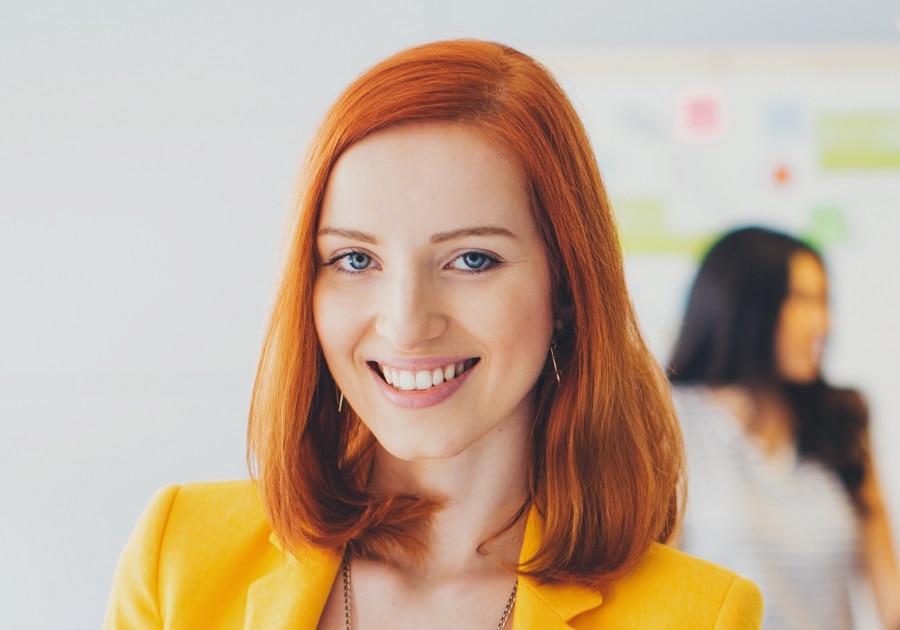 Long bobs are very easy looks that look great with any hair color. This delightfully chic look is longer than your average bob as it sits nicely on the shoulders. It's parted at the side, and it's a very professional look overall.
Messy Bun
You can't beat a messy bun. It's a surprisingly chic look, and there's one here. There are lots of flyaway hairs around the face and some at the nape of the neck. The messy bun is piled on top of the head with some hair pulled loose.
Ginger Curly Perm
Here's another look for someone with naturally curly hair. The hair is extremely thick and curly, and it's slightly parted at the side. There's so much volume that makes it hard to see an exact center part. However, there's more volume on the right than on the left.
Thick Ginger Hair
People with very long, thick hair sometimes struggle to find a suitable style. Here the locks are brushed over one shoulder in a very chic series of layers and slight waves.
The hair is mostly straight, though, but it has a natural movement to it that makes it look like the top layers have subtle layers to them.
Cute Ponytail
There's no everyday look more classic than the ponytail. This hair is super straight, a nice pale and muted ginger shade, and pulled back into a ponytail around midway down the head. There's some nice, light hair by the face that makes it look natural.
Short Frizzy Hair
If your hair is short but thick, then consider this hairdo. It fans out around the head and there's so much texture and movement to it that it's impossible to take your eyes away from it. It's truly a magnificent look.
Classic Pixie Cut
You can't go wrong with a totally classic pixie cut that sweeps across the forehead and is only as long as the tops of the ears.
It's stunning and sweet, and it suits someone who doesn't want to spend too much time styling their short ginger hair every day. The nice, thick locks at the front will keep you looking fabulous with little effort.
Center Parting
Simple styles are often very appealing. Here's a very easy look that makes you look chic while being low-effort.
The hair is also very smooth without being overly chic, and that adds to the natural feel of the look. It's best for naturally straight hair, but you can also use a flat iron to achieve the style. It'll take a lot of effort with locks this long.
Shoulder Length Curls
It can be difficult to maintain thick curls. Keep them out of your face by brushing the hair back.
There are still some pleasant little curls that sit around the face to add some depth and dimension. Layers in the hair also add depth to the look, so it's more dynamic.
Retro Updo
This is a total retro style with a big roll of hair in the front, smooth and full of volume. There's a large sleek bun at the back, and the ginger red hair is decorated with a nice little bandana tied into a ribbon.
Light Ginger Red Curls
Styling your full head of curls to the side helps keep them out of your face. The curls are very well cared for but still natural, and the light ginger shade does wonder for the look.
You can achieve this look with a perm, but otherwise, the curls will have to be natural. It's very difficult to get twists like this with a curling iron or wand!
Sleek Bun
If you'd like a ballet-inspired bun, then check this out. It's a nice sleek bun look where all the hair is pulled up and twisted into a donut bun directly on top of the head. The hair at the front twists slightly to go into the bun.
Gentle Beach Waves
Beach waves create such a nice hairstyle. The ginger red waves are loose and free, and the hair is somewhat all over the place while still looking well put together and neat.
It's a very freeing look with some hair pushed back and some pushed to the side. Darker roots peek through to add a little depth to the style.
Did you find the ginger hair color and style that rocks your world? If you did, then be sure to get that hair and let your best self shine with ultimate confidence.
Don't be afraid to mix and match these styles as you go on with your life. There are so many fun ones to choose from, so it would be a shame to stick with just one for the rest of your life! Have some fun and shake it up.