Black and red are everyone's all-time favorite colors as they bring out a bold and confident look. Keeping that in mind, we came up with some fierce bright red hair color ideas which you can easily try. So, next time when you want to color your hair, do go with these to get a different, unique yet bold look. Everyone will appreciate it for sure.
Worry not, these ideas are meant for every one of you irrespective of your age, color or hair texture. So, no need to hesitate anymore, just indulge in the brightness of these red shades.
Favorite Bright Red Hair Color
Check out our list of hairstyles for girls like you who like to play it bold. Each style is unique and beautiful in its own way. You have a full package of styles that will cover you for more than a year.
Long Bob Ombre
If your natural hair color is a shade of brown, you are recommended to try bright red ombre hair, keeping it on the front portion and a mix it with brown on the backside via the ombre technique. Keep your natural wavy texture and let the curls speak for themselves.
Pixie Bob for Older Women
Get away from your aging white or grey hair and get your hair colored in some funky color like a brick red. Then, get a pixie bob haircut that will surely compliment your face, and the color will make you look more confident and younger.
It will show that you're an adventurous woman who's not afraid of society. Get ready to go anywhere with your new look.
Bright Dreadlocks
Whether you have natural dreadlocks or are thinking about getting one, try coloring them with a bright red shade.
Color some of your locks in orange, too, as it's the buddy of red color. You can also wear beads in between to add more beauty to the look.
Red-Violet to Blonde Ombre
The violet-ruby to blonde ombre effect will be seen beautifully if you have long and thick hair. A pinch of purple in between your roots along with red will match the overall texture of your hair.
Take a few strands from the sides and loosely make a knot at the back, and let the rest of the hair open. Do it with 3-4 strands and you are all set to go out.
Layered Symmetrical Hair
The best thing you can do to your thin hair is to get a layered and symmetrical haircut. It will give the impression of volume, and the overall bright red hair will completely divert the focus off your thin hair. Simply, keep your hair open and center-parted.
Mushroom Cut with Bangs
A mushroom cut covers your whole face, and when you get side bangs along with it, it brings all the attention to your eyes.
You can color your whole hair in a scarlet ribbon color, leaving no signs of natural color. This bright color will make your face shine too.
Low Twisted Bun
The style is quite simple, choose a wine color for your hair and make a twisted bun with your long lustrous hair.
This is an elegant color, and the overall look gives you a classy, sophisticated look. Leave curly tendrils on the front.
Cotton Candy Curls
Color your naturally curly hair in three colors-pink, peach, and brownish-red. A small half ponytail on the back by leaving layers of hair on the front will make you look gorgeous.
Long hair will be a plus point for you. You can also curl your hair in case you have straight hair.
Stitch Braids
To add a glamorous touch to your stitch braids, try getting bright red hair color. The roots of your hair will be naturally darker, and your braids will be colored.
Stitch braids are a combination of several dutch braids. There's no need for a particular division; start anywhere.
Long And Layered Hair
You should get a layered haircut when you have long and thick hair. Keep the roots of your hair in a mixture of black and light red, whereas the rest will be in bright dark red hair color. Keep your hair curly if you don't have natural curls.
Textured A-line Lob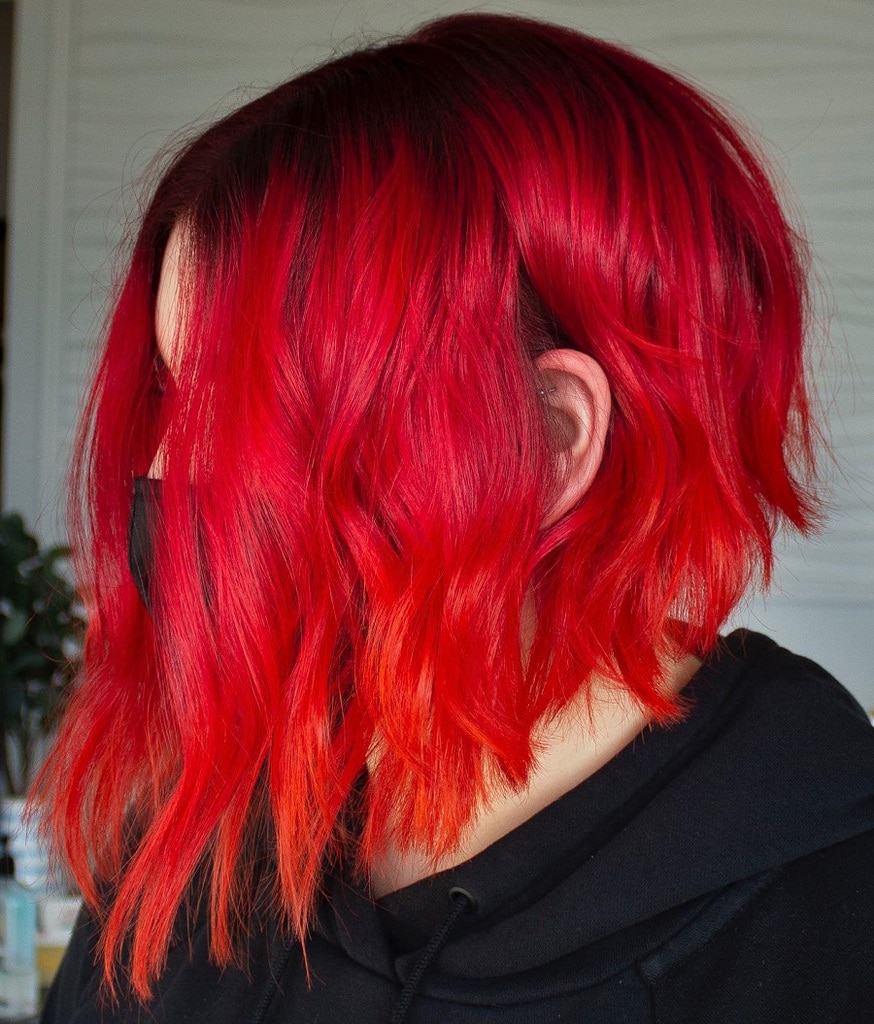 A textured lob is a haircut where each layer of your hair can be seen very clearly. This is an advantage to your choice of coloring your hair as it will enhance your hair color. For example, a curly textured lob will make the shades of red look so beautiful individually.
Two-Tone Long Hair
Two-tone can be done in any way; just your hair should be in two colors. For example, try coloring the front layers of your hair in bright red and leave the remaining in its natural darker shade. You should have long and almost straight hair for a beautiful two-tone effect.
Red-Orangish Balayage
Get an orangish balayage for your middle-length wavy hair when you go to your hairdresser. Keep the fronts and ends of your hair in fire yellow color, whereas the rest should be in shades of red. You can also keep the roots in a dark color and let the hair flow.
Neck-Length Bob
Give your naturally black hair a transformation by coloring them in a currant red color. Leave the roots in their natural color.
Bob will be able to define both the colors beautifully and is the perfect look for chubby faces. Get both the colors in even layers for a beautiful look.
Sunlight Effect
This combination of red and yellow will give the impression of fire on your hair, figuratively. This ombre will only be shown clearly if you have long hair. You can also keep the natural color of your hair in the roots. The symmetrical haircut will define the colors.
Peekaboo Hair
Peekaboo is a hairstyle when the outside and visible layers of hair will be in their natural color. Whereas the hidden layers of your hair will be in bright red hair color.
Shoulder-length hair will be perfect for this style. Straight and smooth hair is a plus point for this style.
Side Ponytail with Long Fringes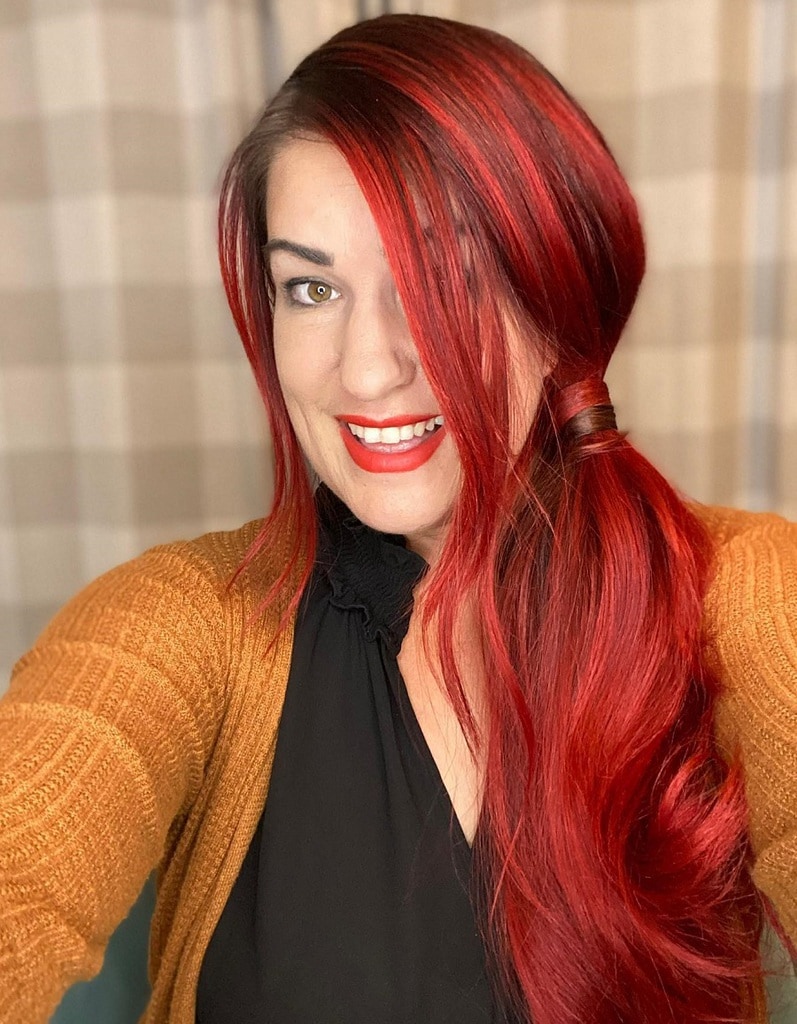 A side ponytail looks beautiful when you have very long hair because that's what the whole look is about. You can color your hair in copper-red color.
Long and side fringes will suit this style. Keep the texture of your hair wavy and make a hair wrap around your rubber band.
Bob with Baby Bangs
Get creative with your haircut and get baby bangs along with your bob. First, color your bangs red, then leave a thin layer of your hair in natural black color. Again color the rest of your hair in red with a mix of chocolaty colors. This will create a layered-colored impression.
We hope you have made up your mind about getting bright red hair color. Show everyone that you have a bold personality with your colored hair. This list has been created with every hair texture, length, and natural color.
We like to give you the best ideas about styling your hair so that you don't have to go anywhere. If you like our hairstyles, do recommend them to your gal pals. Once you get one of these hairstyles, you will not think about any other hairstyle for a few months.