You can make a bold statement with dark red hair. You can create an aura of mystery or show off a fierce personality with it.
There are lots of shades, from burgundy to rich scarlet. Choose the tone that suits your skin tone and preferences best. It's a versatile hair color. However, it's a big commitment, as it's very vibrant. Make sure your heart is truly set on these vivid locks.
Eye-Catching Dark Red Hairstyles
If you're interested in dark red locks like these, look no further. We've got plenty of dark red hairstyles below to browse.
Long Vivid Curls
Long locks are truly eye-catching, and applying a dark red tone to them makes it impossible to turn away. It's a glamorous style that works for everyday wear. It also looks great at parties.
Sharp Asymmetrical Bob
Bobs are always fun but you can make them chicer with an asymmetrical look. The hair is longer on one side and covers half the face. Then you can keep the other side neat. It curls in below the ear.
Ultra Dark Side Swept Bob
Some red shades are so dark they almost appear purple. This is one of those. The rich burgundy tone is simply mesmerizing and you'll find yourself really enjoying it.
It creates a mysterious look. The nice bob is slightly longer than chin length and brushes over one side of the head.
Corkscrew Curls
If you have natural corkscrew curls then your hair is already very eye-catching. You can make it even more attractive by applying a nice dark magenta red dye to it.
These curls appear to fall in layers as the hair is so thick. That creates a lot of life and volume, making for a great summer look.
Long Straight Hair with Middle Part
Beautiful sheets of long, straight hair always appear glamorous. However, it's a very easy look to achieve if you care for your hair right.
Make sure to use shampoos that promote shine, and brush your hair to keep it free of knots. Then you can go about your day wearing this style.
Funky Split
You don't have to keep the dark red hair all over your head. Here you can see it's only on half the head.
The other side is a bright yellow shade that beautifully complements the deeper ginger tone. The hair falls into a long, wavy bob that helps those colors come alive.
Thick Bob with Bangs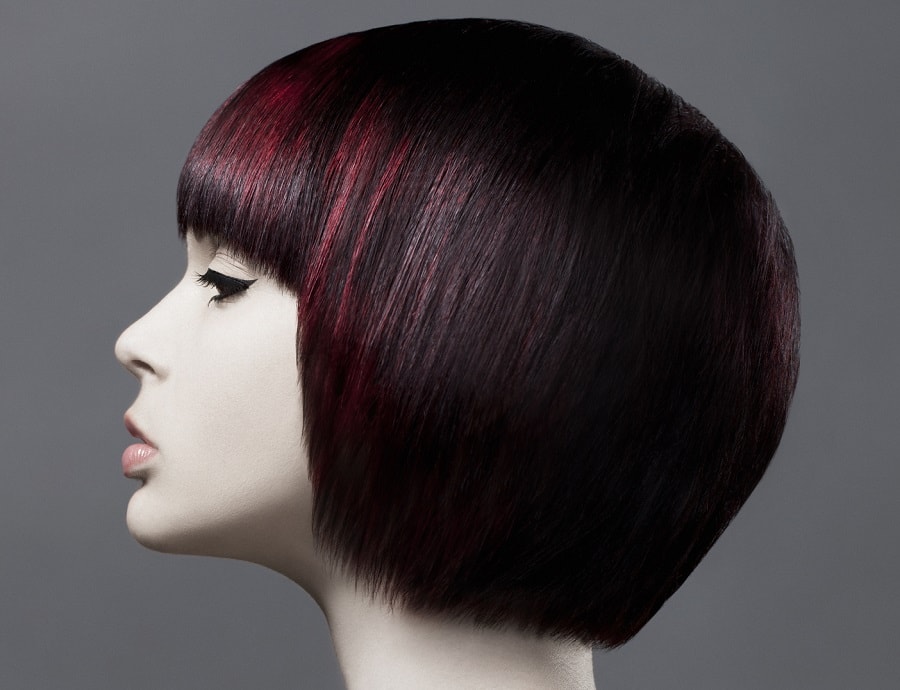 Hairstyles that hug close to your head are great for keeping the focus on your face. Dark red highlights like the ones you see here then make the understated hairstyle stand out.
This one is a neat bob that doesn't have a lot of volume. Full bangs help round out the look.
Messy Shag with Bangs
Are you a lover of the shag haircut? It looks so good in red. However, some blonde face-framing highlights make this appear more dynamic with lots of depth. The bangs dusting across the forehead with some volume also help add that.
Medium Bob with Feathered Bangs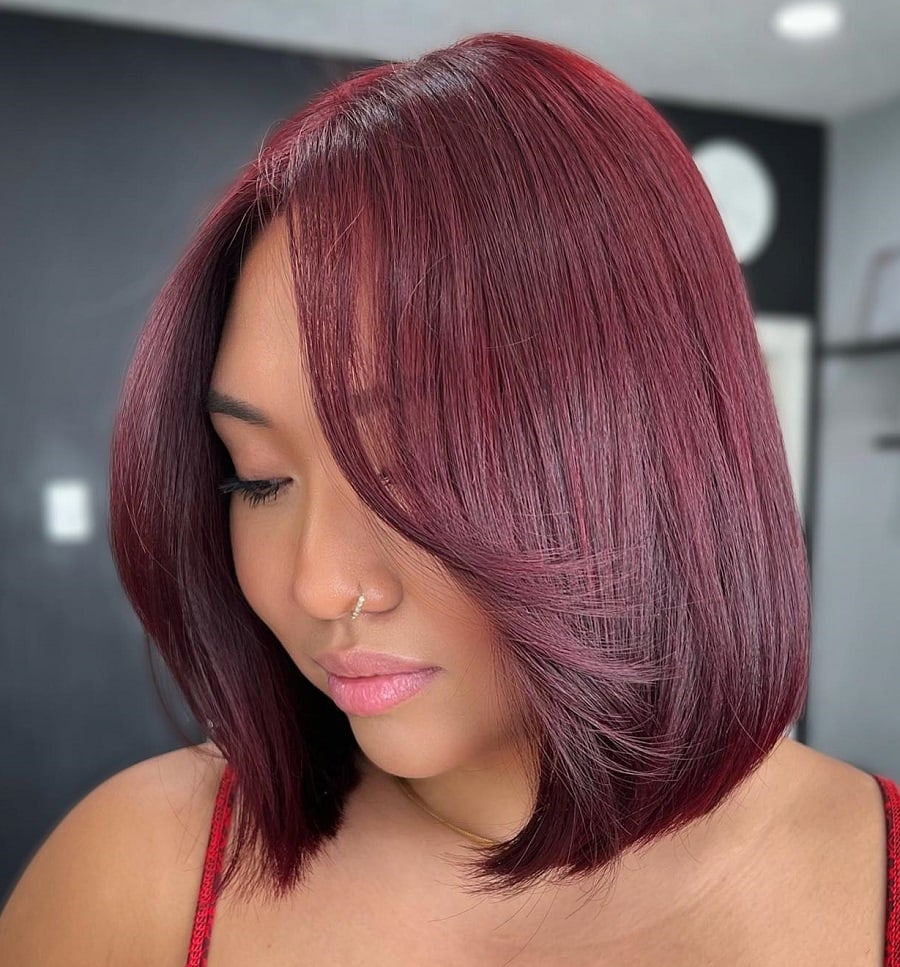 Medium bobs give you a little more hair to work with than their shorter counterparts. This is great if you like showing off your locks. Here they're a very deep red tone and the style curls in towards the neck. The bangs feather away from the face.
Classic Pixie Cut
Pixie cuts suit vivid colors well as the shorter hair is so easy to care for. This is a classic pixie that's longer on the sides than at the front and back. The vivid tone makes it appear very rich. It's perfect for someone who prefers short hair.
Black and Red Balayage
You can create a lot of depth by adding colored hair over black in a balayage style. The dark red shade is the main focus and has been painted onto the darker tone.
The hair forms perfect curls that angle away from the face. It's a great look for thin hair as it creates some extra volume around the middle of the head.
Natural Wavy Red Hairstyle
If you prefer your hair to look very natural, then consider this look. The hair is left with its natural waves which are very subtle.
It's made stand out due to the deep color and the delightful shine. You can easily wear this style every day with very little effort.
Layered Mid-Length Haircut
Spicing up your hair is easy if you have layers. The hair automatically looks like it has a lot of life and movement in it if you go with this particular cut. The ends fan out at different angles on each layer.
Long Natural Hair
It can be fun to curl or straighten your hair, but sometimes it's just best to leave it natural. This dark red hair has been let fall naturally straight.
There's some curling towards the ends as they point up towards the face. There are shorter sections in the front that blend in well with the rest of the hairstyle.
Glamorous Wine Red Waves
Red and purple go amazingly well together. You can see that here. This wine red style has a deep purple hue that's very obvious when it catches the light.
The hairstyle has a side parting and falls in glamorous sheets with waves and a lot of volume.
Dark red hair is always totally glamorous. It can turn an everyday style into something super chic. If that's what you're going for, then you go ahead and select one of these styles as your new go-to look. These deep, vivid shades often create sensuality. You'll have an easy time creating that vibe with these hairstyles.