A woman never stops being a woman when she ages. While most of us are taught as young girls about how important it is to keep our hair healthy and presentable always, this concept seems to be lost by society when these very same young girls become older women.
As a woman, you should never forget that your hair will always remain a part of your identity and personality even when you grow older, so nothing and nobody's opinion should change that fact.
This is also the reason why we have bought together 30 different hairstyles for older women. So go ahead and flaunt that hair, and don't let anybody tell you otherwise.
1. Short Pixie Cut With Bangs
Older women almost always prefer short hair because of how easy it is in maintaining as well as in styling. They can easily take care of hair and just as easily doll up beautifully even with short hair when a sudden event or occasion pops up.
This is one such hairstyle that is quite a convenient one and doesn't require too much effort to be put in. The hair has been styled in a short pixie cut with many short bangs that fall asymmetrically on the forehead itself.
2. Short Feathered Bob
Got very short hair in a bob hairstyle but one that looks quite plain and simple? You can spice up your hairstyle and transform it into something completely different simply by cutting your hair in a feather cut hairstyle that also has many short layers that will help to add a sense of texture and dimension to your plain hair.
The hair has been maintained in its natural silver color itself, thus remaining raw and unfiltered without any additional styling or highlighting.
3. Salt And Pepper Pixie With Bangs
The salt and pepper hairstyle is increasingly becoming popular these days as more and older women have begun to embrace the natural beauty and texture of the hair and are surpassing the traditional norms of society in which the usual belief is that styles and trends are for the youngsters only and not for older people.
So this one hairstyle here is surely breaking those norms while also making the person sporting this hairstyle look incredibly badass and stylish. A simple pixie cut has been given to the hair, and it is most suitable for those who have short and thin hair.
4. Short Thick Hair With Bangs
This style here is a great way in which you can style up your thick locks and strands of hair into quite a glam up-do. The hair has simply been maintained in a stylish and classy bob hairdo, and the length of the hair falls just right above the shoulders itself.
The hair has also been styled into many different and subtle layers across the entire length of hair. On the front, it has been done up in short bangs that will help to make your face look bigger and firmer.
5. Stacked Bob In A Deep Feather Cut
Well, this look here is simply mind-blowing. In most cases, it is the youngsters who take initiatives for such wild and crazy hairstyles bit as you can see in this picture this cool old woman is simply rocking the style.
She is also giving off major hippie vibes with that hairstyle of hers. The hair has been shaggily styled in a stacked up style and then has been cut in a feather cut with several different layers across the entire length of the hair.
6. Stacked Bob With An Undercut
Well, that's quite an exciting hairstyle and one that everyone should surely try out. The hair is of very short length and has been styled in a stacked up bob kind of style that helps to make the hair look extremely voluminous even with thin or fine hair.
On the top, the hair has been sectioned into various different layers of hair that have been cut in an angled cut, and the layers fall very beautifully on all sides of the face. The rest of the hair has then been tapered into a not so faded undercut beneath.
7. Feathered Pixie Cut
The feathered hairstyle is actually a brilliant twist to the normal pixie cut hairstyle, and this is what has been styled by an old woman. Her pixie cut hair has been neatly cut into many different volumes forming layers across the entire length of the hair.
There isn't a specific symmetry to the style, and it has been cut rather shaggily itself. On the front, the hair has been styled with very short fringes that do not precisely fall over the forehead but remain there upright on the top front itself, thus creating a messy kind of look.
8. Short And Wavy Blonde Hair
Well, this style has been clearly inspired by the famous haircut of Princess Diana. It is truly a classy look and is sure to make you look like royalty no matter where you go, what event you attend, or even whatever outfit you are wearing.
The hair is a brilliant shade of golden blonde, and on the front, it has been side-swept. The hair has also been cut in such a way that it remains in several short layers which really frame the face very well.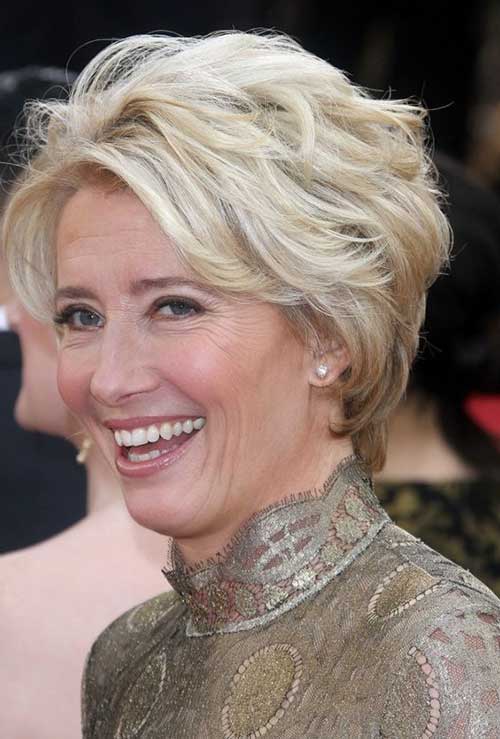 9. Short Messy Hair
For those of you who are looking to get a short hairstyle that is also the most convenient one well, then this is just the hairstyle for you.
Its subtly messy texture really looks great and complements the skin tone of the model perfectly, and mostly because of the lovely brown shade that she had on her hair.
The hair isn't too thin or thick either and is of medium length and thickness only thus can be maintained and styled by almost everyone who has this hair and this type of hair texture.
10. Silver-Blonde Pixie Hair
What makes this simple and minimal style look so fantastic is obviously the stark whiteness of this hairstyle, which simply looks not only adorable but extremely classy too. A best-suited style for those who have thin or fine hair.
The hair has been maintained in a very short pixie cut, and the length of the hair on the back is quite shorter as it has been cropped at the nape itself. It has also been cut into several face-framing short layers of hair that really look quite good.
11. Classic Short Bob
This short bob hairstyle will always look classy and elegant on all types of hair and especially more so on older women as it makes them look quite graceful. The hair is softly glowing in the subtle salt and pepper type hairstyle.
The length of the hair is quite short, but how the bob has been cut with the tips of the hair loosely and subtly curled in is sure to give you an edge over any other bob hairstyles for sure.
There isn't exactly a precise spot on which the hair has been parted to the sides, but it looks quite classic enough with to a subtle and no so visible parting in the top.
12. Short Feather Cut Hair
The hair here has been maintained at a very short length, and in fact, all of the hair has been styled in short layers in a feathered cut hairstyle. In most older women, with age, the texture of the hair becomes very rough and dry, and the thinning process of the hair also begins.
So for such ladies out there struggling with hair problems, then this is just the right hairstyle for you. It is easy to maintain due to its short length, and you don't have to worry about hair fall or any other problems.
13. Short Stacked Bob
A short and easy hairstyle that has been styled as a stacked bob, thus making it look extremely voluminous. The bob has been maintained at a single length itself, and so it looks really classy. The hair has also been maintained in its natural white color itself.
Best suited hairstyle for those who have very thick hair with more than enough volume. This hairstyle can also be worn in many different settings, be it office, brunch, or parties.
14. Medium Length Redhead Hair
Redhead styles are always classy, and you shouldn't stop your age prevent you from getting such a bold hairstyle. As seen here, the model has opted to keep her hair its natural texture itself and maintaining it as a medium-length hair that falls just across the shoulders.
The hair has also been neatly middle-parted to both sides, and this genuinely makes it look quite an elegant hairstyle. The fierce red color of the hair is sure to attract all eyes wherever you go.
15. Short Feather Cut Hair
As you can see here, the ash blonde hair has been maintained at a very short length, and while this style is not exactly a pixie cut hairstyle, it still has a close resemblance to it. This is also one of the looks that have been inspired by the hairstyles of the beloved Princess Diana.
The hair has been cut in a feathered cut hairstyle and as very short layers, and one can also definitely notice those face-framing short fringes parted to the side on the front itself. Quite an elegant look for older ladies out there.
16. Short Blonde Hairstyle
This hairstyle here is also another classic bob hairstyle that is sure to look amazing on older women. The hair has been maintained in a very short length, and while the hair on the top has been cut in short layers, the rest of the has just been simply let down as it is.
On the front, you can also find very short bangs that really help to frame the face and go perfectly with this hairstyle.
17. Medium Length Silver Hair
This is one of those timeless hairstyles that always make you look younger and much more elegant. It's quite a simple hairstyle, and the highlighting done on it is also a beautiful mix of both silver-blonde hair and dark brown hair also.
The hair falls in perfect tresses across the shoulders, and this only serves to enhance the entire look. A soft and warmly glowing look that will make you look like a beauty always. Best suited hairstyle for those who have thick or medium thickness hair with enough texture.
18. Short Pixie Hair In A Bold Feathered Cut
This style is best if you have got defining facial features and an extremely well-shaped jaw-line, and you are looking to really flaunt it. The hair has been cut in a loose feather cut while also being maintained in a pixie hairdo that simply looks amazing.
With such a hairstyle that literally speaks for your personality, you don't need to do much in terms of accessorizing or overdoing your outfit. Keep it simple and casual and go with the vibe of this hairstyle.
19. Wavy Blonde Hair
Well, this is another great hairstyle if you are looking to doll up but need to style your wavy and kinda messy hair in a presentable manner. The frizz can be beautifully hidden while also maintain the texture of your hair
. The hair has been neatly middle-parted to both sides, and you can add in some moisturizer or any other hair product to make sure that your hair really stays in place. A blow-drying session can also be a good idea for occasional styling.
20. Classic Fonda Hairstyle
The Fonda hairstyle is always classic and iconic. She has always maintained her hair in this way itself, as a short bob with some additional detailing and styling, but what makes this hair truly stand out is the beautiful way in which the curls have been styled.
The bob has been maintained at a very short length itself and has been cropped right below the nape. The hair has then been side-parted gently and styled in loosely falling curves, which simply look brilliant.
21. Long Silver Hair
Not many of them like to grow their hair out at such lengths, but those who actually do so, make sure that their hair always looks healthy and beautiful. While the maintenance of long hair is quite a task in itself, with determination and consistency, you can achieve it.
The beautiful silver locks of hair have been let down freely and loosely in its natural texture itself, and this is what makes this hairstyle look more amazing.
22. Neatly Side-Parted Hair
Well, this hairstyle is quite a twist from the normal side parted hairstyles. As seen here, the hair has been maintained at a short length itself, and the hair on the front top portion has then been parted to the sides and neatly pulled back and tied up.
The rest of the hair has been styled as gentle curls and let down to fall loosely and freely across the shoulders. It is a great hairstyle that is sure not to make you look like a grumpy old grandma and instead make you look times cooler.
23. Classic Bob With Front Bangs
This round bob hairstyle is one of those always popular looks that is not just a favorite among older people. With changing trends and hairstyle practices, more and more youngsters are also now adopting this hairstyle.
While it may look them look beautiful, on older women, it is sure to make them look very classy and elegant. Along with this, the silver-blonde hair locks have been a style very straight and with significant volume and texture. The hairstyle has also been paired with short side bangs on the front.
24. Short Wavy Hair With Fringes
A great hairstyle for those who have short and thick textured hair. The hair has been maintained at shoulder length itself and is in a beautiful shade of golden blonde.
Most people have this type of hair, and so it is also one that is quite a popular hairstyle. The hair has then been combined with long side-swept fringes on the front, and the fringes begin from the top middle of the head itself.
25. Short Voluminous Hair With Layers
This look is absolutely breathtaking and gorgeous. The hair has been maintained at a short length itself and has been styled in a feather cut. It also bears a slight resemblance to a layered pixie cut hairstyle.
While this is not exactly a low-maintenance hairstyle, styling it isn't too daunting a task either. This is also just the high-volume wand wavy bob hairstyle that everyone is going crazy about.
The fact that bobs look their best on thick and wavy hair can surely be taken to advantage of here.
26. Youthful Pixie Cut Hairstyle
A pixie cut like this will help to ensure that your hair looks flattering enough and avoids the problem of your lengthy hair looking plain and boring due to thinning issues. The hair has been cut in many different layers of shorter length, which looks like quite a bold hairstyle.
You can also find asymmetrical fringes on the forehead itself, which only add more beauty to the layers. With a right pixie cut like this, you can rest assured that you are gonna look much youthful and many years younger.
27. Short Bobbed Cut With Soft Layers
For those of you who are looking to get a much shorter haircut than what length it actually is, then this is the perfect hairstyle for you. The soft and short layers, as seen on this hairstyle, are sure to give you a fresh and neat look.
There is also a gentle glow that arises from styling your hair in such short waves. The hair has been kept very light, and this helps to add the required dimension to both your face as well as the haircut. The hair doesn't really fall down to the face as it is quite short and this will really help to accentuate your eyes.
28. Platinum Bob In Layers
Your grey hair is nothing that you feel like you need to color so that you can cover it up. In fact, you wouldn't believe us when we say that you can actually use your grey hair to the advantage by transforming it into a brilliant hairstyle.
You can choose to get your hair styled in a silver-blonde platinum blonde color so that they will complement your grey hair without making them look too unattractive. The layering also helps to add volume if you have thin hair.
29. Short Bobbed Hair
Quite a classy hairstyle, especially if you have short and thin hair. The hair has been maintained at a very short length and painted in a brilliant and warm blonde tone with streaks of darker and lighter shades of hair also present in between the already existing hairstyles.
The hair on the front has also been cut in some layers that are seriously face-defining. The rest of the hair has been let down, and on the front, it has been gently side-parted.
30. Angled Bob In Layers
Layers can literally transform your hair from the most basic hairstyle to something that truly looks glamorous and makes you look stylish at all times. Such is the power of layered haircuts. In this style here, the hair has been maintained at a short length right below the ears.
The hair has also been styled in an angle cut with many face-framing layers. With an angled cut like this, you can surely add some sharpness to your jaw-line and the edges of your face.
If you've always had the same type of hair at all times in life, well, it's still not too late to get a makeover. Whatever your type and length of hair are, there is definitely a cut for you, and we recommend consulting a stylist before finalizing a haircut.
FAQs
Can Old Ladies Have Long Hair?
The only limiting factor on the length of your hair is its ability to grow and your choices. While your hair may not grow as long as it did when you were young, it is entirely your choice whether you cut it or let it grow as long as it can.
Can an Older Woman Wear a Ponytail?
Wearing a ponytail has no age limit. If your hair is long enough to wear in a ponytail, it is completely up to you if you choose to wear it that way.
Why Does Older Women's Hair Thin Out?
As you age, your hair will likely have a shortened life cycle. The new hair replacing it will probably be finer. Additionally, hormone changes as women age can cause hair follicles to stop producing new hair.
Why Do All Older Women Have Similar Haircuts?
Women's hair becomes thinner, courser, and drier as they age. Coupled with possible deterioration of their eyesight and dexterity, older women often opt for hairstyles that are easier to maintain.
Does Your Hair Change With Age?
Hair goes through several changes over the course of a lifetime. As you age, it will often become thinner, drier, and courser, and it will also lose its pigmentation.
Why Do Old Ladies Dye Hair Blue or Purple?
As hair begins to go gray, it will often have ivory or yellowish tone that women generally don't enjoy. A blue rinse became a popular way of making hair a more vibrant and even shade of gray or white.
This technique creates a similar effect to a bluing agent on white laundry. However, if the blue rinse is left on the hair for too long, it can make the hair look blue or even purple.
Does Straight Hair Make You Look Older or Younger?
While full, flowing straight hair tends to make people look younger, thin straight hair makes women look older. If your hair remains thick, you can probably wear your hair straight and still look younger. Thick hair tends to appear more youthful when it is shoulder-length or longer.
However, once your hair begins to thin, you may want to cut it shorter, naturally creating more volume. Another option is to ask your stylist to layer your hair to make it appear to have more volume.